BRIDGEVIEW, Ill. -- The image currently in the Chicago Fire's minds is that of goalkeeper Jon Busch diving to his right and getting a couple of gloves on Real Salt Lake's final penalty kick, but the ball maintaining enough pace to find the back of the net and push RSL into the 2009 MLS Cup.
The Eastern Conference final was all on Busch's shoulders -- an unfair situation, perhaps. And with one final kick, Chicago's season ended. RSL's season pressed forward to Seattle's Qwest Field this weekend after Ned Grabavoy -- a Lincoln-Way Central grad and Chicago Fire Reserves product -- played the role of the hero.[+] Enlarge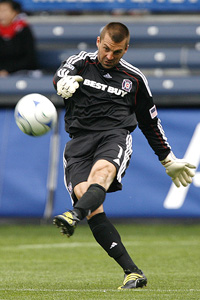 Brian Kersey/Getty Images
Fire goalkeeper Jon Busch kicks the ball after making a save against the Columbus Crew at Toyota Park in September.
But that shootout situation would not have existed if Busch hadn't come up with some clutch saves in regulation. Most importantly from the Fire's standpoint, Busch did not miss a single second of the MLS season for a second straight campaign, and he was forced to hold down the fort with a defensive back line that was entirely different from the one that started the year.
The 2008 MLS Goalkeeper of the Year did what he could to repeat last year's performance. There was a minor drop-off in his save percentage, but the number of clean sheets was the same (10) and the Fire repeated their position in a conference final game.
This year, Busch's name never was muttered in the same sentence as those of Zach Thornton, Kasey Keller, Pat Onstad -- three playoff goalkeepers who also fell short of the MLS Cup. But Busch came up with more saves than each goalkeeper in this trio. His shutout total matched Keller's and Onstad's and was two short of Thornton's. Busch's save percentage was better than all of theirs, ranked No. 3 in the league at 75.7 percent.
Busch had a successful run throughout a crazy, down-to-the-wire season that was not decided until the final week.
When Busch collided with New England Revolution midfielder Shalrie Joseph in Game 1 of the Eastern Conference semifinals and stayed down on the ground, there was a moment of pause. Fighting on without Busch in the net would have spelled doom; the mere thought was painful enough.
Perhaps backup Andrew Dykstra would have been up to the task. Dykstra did have that memorable second half against Club America that included a penalty kick save. But that's all Dykstra's résumé holds at this point.
In the end, the Fire should be grateful they had Busch for every minute, through thick and thin.
FINAL GRADE: A