Cincinnati Bengals:

Baltimore Ravens
October, 26, 2014
Oct 26
9:15
PM ET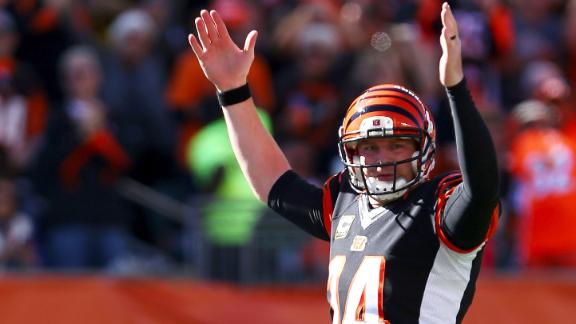 CINCINNATI -- Yes, the
Cincinnati Bengals
are now 4-2-1 and have a measure of momentum thanks in large part to quarterback
Andy Dalton
's 1-yard sneak into the end zone entering the game's final minute.
But they very easily could be 3-3-1 had it not been for a penalty that at least one Bengal considered "a great call."
With 32 seconds left on the game clock -- 25 seconds after Dalton fell forward for what would be the game-winning score -- Ravens receiver
Steve Smith
and Bengals safety
George Iloka
made contact near Cincinnati's sideline as a long pass from
Joe Flacco
closed in on Smith's hands.
After getting separation from Iloka, Smith jumped and caught the pass before sprinting away from desperate Bengals tackle attempts, and into the end zone. In lightning-quick fashion, he had just answered the Bengals' touchdown with one of his own. He propelled Baltimore forward with a go-ahead score that snatched the air out of Paul Brown Stadium. A mix of shock, fear, awe and anger started to fill the stands as fans let loose a chorus of boos.
They were interrupted.
There, sitting on the ground not far from Iloka was a late-thrown flag from the official closest to the play. He had seen why Smith was able to go up for the ball uncontested, even though Iloka was right there on him after dropping down from Cover 2 on Smith's vertical route.
"He had two hands on my chest. He knocked me off," Iloka said. "You can't do that. I was getting ready for a jump ball. I'm 6-3, about 220 [pounds]. I was like, 'There ain't no way he's going to out-jump me for the ball.' He knocked me off."
That's apparently what the referee saw as the smaller-in-stature Smith got free for the reception.
"Ultimately, you hope you don't allow plays like that to dictate the determination of a win or loss," Smith said. "So, it happens. I'm not disappointed, not upset, not frustrated, just exhausted and looking forward to the opportunity to play next week."
The Ravens go to Pittsburgh on Sunday night.
If Iloka were grading officials, it's safe to say he would be giving the one who threw the flag in question bonus points.
"You know how they do their grading sheets and grade the refs, they better give him a double-plus on that one," Iloka said. "That was a great call. It takes guts to make that call.
"You've got to jump straight up, is what we were told in the offseason. I can't prohibit the receiver from jumping for it and he can't prohibit me. That's what I felt, and that's what the ref felt, and he called it."
After the penalty, the Ravens were backed up to their own 10 on third-and-20. In four-down territory, they were unable to convert a first down on the next two plays and turned the ball over to the Bengals who had one kneel-down to preserve the
27-24 win
.
September, 3, 2014
Sep 3
6:30
PM ET
CINCINNATI -- A wry smile formed in the corner of
Vontaze Burfict
's mouth when he was asked Wednesday about the conditions he'll be expecting this weekend at M&T Bank Stadium in Baltimore.
He's bracing for hostility.
Burfict
"It's awesome," the
Cincinnati Bengals
linebacker said, still smiling. "They hate us there when we walk into the building. It just feels like us against the world."
For an outside linebacker who likes to play the role of road-stadium villain, the hatred is something Burfict doesn't fear. He doesn't try to run from it, either.
Bengals head coach Marvin Lewis, a former
Baltimore Ravens
assistant who coached in Baltimore when the organization first formed in 1996, understood what Burfict was alluding to. It seems to him that Ravens fans in recent seasons have had a feeling of invincibility, regardless of who their team is playing and regardless how well their season is going.
When you win two Super Bowls in less than 20 years of existence, you probably can feel good talking whatever talk there is. In the last 15 seasons, it's safe to say the Ravens have certainly walked a successful walk.
"Obviously I've been there from the ashes," Lewis said, referencing his six seasons as an assistant during Baltimore's establishment. "They've forgotten the ashes. They've let it go. The people that come to that game on Sunday think their team is invincible, and that's a great attitude to have and carry into that stadium."
Those attitudes can sometimes make the 71,008-seat stadium appear to house even more. That's especially the case on an opening weekend against a foe that has struggled recently in Week 1, and who hasn't played well historically when it has visited the Ravens' home.
All-time, the Bengals are 5-13 at Baltimore with losses in the last four games. They haven't won at the venue since 2009 and have only one opening-weekend win in the last six seasons. To begin the year 1-0 Sunday won't be easy.
"It's a tough task," Bengals quarterback
Andy Dalton
said, "especially when they've got a good atmosphere there, and it's tough when you're playing a good team, as well. So you've got to be sharp."
So sharp that you keep the mistakes to a minimum.
"Turnovers have been key in those games," he said. "We've played a lot of close games there. We just haven't been able to come out on top. So it's all the little things that get you to win on the road. That's our focus."
In three career games at M&T Bank Stadium, Dalton has thrown seven interceptions and three touchdowns. He's also been sacked 11 times, including five times in last November's 20-17 overtime loss.
Against those same Ravens teams in three games at Cincinnati's Paul Brown Stadium, he has completed three touchdown passes and thrown four interceptions. He's also been sacked three times in those contests and has a QBR of 42.2. His career QBR at Baltimore is 26.5.
Does the crowd there have anything to do with that?
You won't find the Bengals answering that question in the affirmative, but they do know that the stadium's atmosphere will make the challenge that much greater. That's why the goal this weekend is to get out to such a big late-game lead that the stadium, with time still on the clock, will be filled with
Adam Jones
' favorite road sound: silence.
"I like it when it's quiet during the fourth quarter when everybody's leaving," Jones said. "It means they're losing."
July, 29, 2014
Jul 29
8:00
AM ET
Join us today at 1 p.m. ET, 10 a.m. PT for ESPN's NFL Nation TV's Spreecast episode No. 16. Host Paul Gutierrez (
Oakland Raiders
reporter) and guests Jamison Hensley (
Baltimore Ravens
reporter) and Michael DiRocco (
Jacksonville Jaguars
reporter) discuss a range of topics from
Ray Rice
's two-game suspension to the Jaguars staying in
Justin Blackmon
's corner to a Browns fan desecrating Art Modell's grave, among other timely issues. Viewers are encouraged to log in and ask the panelists questions as well as contribute in the chat feature.
July, 11, 2014
Jul 11
10:00
AM ET
By
ESPN.com.staff
| ESPN.com
This offseason has seen plenty of high-profile additions and departures in the AFC North.
The
Cleveland Browns
and
Baltimore Ravens
brought more excitement to their offenses. The Browns drafted quarterback
Johnny Manziel
in the first round, and the Ravens signed wide receiver
Steve Smith
.
The
Cincinnati Bengals
and the
Pittsburgh Steelers
dealt with some significant losses. Bengals defensive coordinator Mike Zimmer left to become the head coach of the
Minnesota Vikings
, and three starters (
Brett Keisel
,
LaMarr Woodley
and
Ryan Clark
) are gone from the Steelers defense.
How will these changes affect the teams in the division? That's the focus for ESPN's AFC North reporters: Scott Brown in Pittsburgh, Coley Harvey in Cincinnati, Jamison Hensley in Baltimore and Pat McManamon in Cleveland.

Johnny Manziel will be the starting quarterback for the Browns in the season opener in Pittsburgh.
Scott Brown: Fiction. Johnny Football has too much ground to make up to overtake Brian Hoyer as the starter by the time the Browns open the regular season in Pittsburgh. Manziel will start at some point this season, but it won't be Sept. 7 at Heinz Field. Even if it is a toss-up between Hoyer and Manziel leading up to the season opener, the Browns will be wise enough to go with the player who has NFL starting experience over the one who will have a Texas-sized bullseye on his jersey. Steelers defensive coordinator Dick LeBeau generally torments rookie quarterbacks and definitely doesn't take selfies with them. The Browns wouldn't put Manziel in a position in which he has little chance of succeeding ... would they?
Coley Harvey:
Fiction. As bold a prediction as it might be to claim Manziel is Cleveland's Week 1 starter at Pittsburgh, it's simply not happening. For starters, the Browns already said he wasn't going to get the nod. Right now, the organization seems to view the first-string quarterback job as Brian Hoyer's to lose, and judging from the way Hoyer's once-promising year so abruptly ended, I can't imagine he's going to be handing many reps to Manziel if he can help it. While I'd expect Manziel to perform well in the preseason, it just doesn't seem right now that Cleveland feels comfortable putting so much control in his hands to start the season. Manziel probably hasn't helped himself in that regard by going against the reported wishes of management and continuing to put himself in vulnerable situations weekend after weekend. By ignoring their requests to calm the partying, a coach or executive has to feel a little less inclined to trust the young quarterback for now.
Jamison Hensley: Fiction. There are too many factors going against Manziel starting right away. Browns coach Mike Pettine was on the Bills' sideline this past season when he watched EJ Manuel struggle as a rookie. The Browns have a legitimate alternative in Brian Hoyer. And the Browns' first game is against the Steelers, who are known to rough up young quarterbacks. Including the playoffs, the Steelers are a league-best 17-2 vs. rookie quarterbacks since 2004, when coordinator Dick LeBeau re-joined the Steelers as defensive coordinator. Plus, Manziel hasn't done much to prove to the coaching staff that he's mature enough to handle the starting job after becoming Johnny Las Vegas on holiday weekends. It just makes too much sense to sit Manziel as a rookie. Then again, the Browns aren't known for making logical moves
Pat McManamon: Fiction. The Browns simply do not want Manziel to start the opener, and Mike Pettine has made no secret of that. Over and over, he's said that though Manziel can start at some point, he does not believe it's ideal. Given that the first three opponents are the Steelers, Saints and Ravens, it's even more reason not to rush him. Those three opponents have chopped up a lot of veterans, not to mention rookies. If Josh Gordon is not on the team, the quarterback's challenge is even more difficult. The Browns want to take things slowly with Manziel, and right now he admits he's not the best quarterback on the team. The only way he starts in Pittsburgh is if Brian Hoyer is hurt.
@PatMcManamon Fiction, too much to be lost by starting him before his time, plus i think most fans think @bHoyer6 is owed a chance

— Joe Jirgal (@limegreenmonza) July 2, 2014
---

The Bengals have a top-10 defense even without coordinator Mike Zimmer.
Brown: Fact. With all due respect to Zimmer, he didn't make one tackle in the six seasons he coordinated the Bengals' defense. Not to marginalize coordinators, but Dick LeBeau has one of the keenest and most imaginative defensive minds in NFL history, and he somehow forgot how to coach defense this past season, when injuries and age caught up with the Steelers. The Bengals have plenty of talent, assuming defensive tackle Geno Atkins and cornerback Leon Hall make a healthy return from their respective injuries. And the adjustment to new defensive coordinator Paul Guenther should be a relatively smooth one since Guenther coached the Bengals' linebackers before succeeding Zimmer. If the Bengals don't field a top-10 defense this season, it will be because they can't make up for the free-agent loss of defensive end Michael Johnson or their secondary springs too many leaks.
Harvey: Fact. Zimmer was rightfully deified during his time in Cincinnati, but his exit for Minnesota doesn't mean there's now a sudden end to the Bengals' era of defensive dominance. Cincinnati will be bringing back a defense that mostly mirrors the group it had last year. The only absences of note are Michael Johnson, James Harrison and Chris Crocker. Johnson was signed by Tampa Bay in free agency, and Harrison was released. Signed to a one-year deal when he emerged from retirement this past September, Crocker was a free agent this offseason who didn't have his contract renewed. Still, knowing Crocker's track record of signing as a September off-of-the-couch call-up the past two years, you can't fully rule out an appearance from him in Cincinnati at some point this year. Of all the Bengals' defensive departures, Zimmer's was certainly the biggest. The coordinator who helped revolutionize the Bengals' defensive system and turned them into a perennial power implemented unique rotations, lineups and blitz and coverage packages. As the league's No. 3 defense this past season, the Bengals pulled off a franchise feat that hadn't been replicated in more than 30 years. Under new coordinator Paul Guenther, who formulated many of the blitz packages for Zimmer, the Bengals are hoping to be even better than that No. 3 ranking this year. While they probably won't get ranked as high as No. 3, they still will be among the top 10.
Hensley: Fiction. It's true that a defense is only as good as its players on the field. But let's not disregard the impact of Zimmer on the Bengals' defense. In Zimmer's first season in Cincinnati (2008), the Bengals jumped from No. 27 to No. 12 in defense. The Bengals then went on to finish in the top 10 in yards and points allowed in four of the next five seasons under Zimmer. He's a fiery leader who got the most out of his players. Many expect a smooth transition with Paul Guenther being promoted to defensive coordinator, but he's never been in charge of a defense in the NFL. His job won't be made any easier by the fact that defensive end Michael Johnson left in free agency and defensive tackle Geno Atkins is still recovering from an ACL injury. The Bengals secondary is dealing with aging veterans (Terence Newman and Adam Jones), injury (Leon Hall) and unfulfilled potential (Dre Kirkpatrick). Don't be surprised if the Bengals slip out of the top 10 this season.
Pat McManamon: Fact. The Bengals have too many good players and too good a system to falter with Zimmer's departure. He'll be missed, but defenses are as good as the players on the field, and with stalwart Geno Atkins coming back from injury to go with a crew that includes Vontaze Burfict, the Bengals should still be formidable. Also, new coordinator Paul Guenther knows the system, knows the blitzes and worked closely with Zimmer. It always hurts to lose a coordinator like Zimmer, but the Bengals seemed to be as prepared as a team can be. The other thing to remember is that offenses can help defenses by possessing the ball, and new offensive coordinator Hue Jackson will run the ball more than Jay Gruden did.
@ColeyHarvey straight up truth coley!! #BeastMode...#PaulyG

— Who Dey Nation CEO (@BengalsFiend) July 7, 2014
---

Steve Smith will become Joe Flacco's top target this season.
Brown: Fiction. I'm tempted to say fact here because of the trust and rapport that Flacco developed with Anquan Boldin before the Ravens traded the veteran wide receiver to the 49ers this past year. Boldin, however, is bigger and more physical than Smith and doesn't rely as much on speed as the latter still does, even at the age of 35. Look for tight end Dennis Pitta to re-establish himself as a big part of the Ravens' offense after missing all but four games this past season because of a dislocated hip. Pitta caught 61 passes and was targeted 93 times by Flacco in 2012, while Boldin caught just four more passes than Pitta, despite getting targeted 112 times. A healthy Pitta becomes Flacco's go-to receiver again.
Harvey: Fiction. Another Smith will end up being Flacco's top passing target this season. Torrey Smith, the man who saw 139 throws directed his way this past season, will remain the go-to receiver in an offense that hopes for increased production from 2013. During the mostly down year for Baltimore's offense, Torrey Smith caught 65 of the 139 balls thrown his way, leading the team in receptions. While at Carolina last year, Steve Smith caught 64 passes on just 109 targets from Cam Newton. The longtime Panther was one of the stars of an offense that also relied on Newton to make plays with his feet, in addition to spreading the ball to other receivers. The Ravens had difficulty getting any kind of rushing offense going, which made it easy for defenses to sell out on guarding their receivers. If Ray Rice struggles to perform out of the backfield again this year -- or if he ends up missing considerable time due to a possible suspension from commissioner Roger Goodell following his arrest in Atlantic City this offseason for assault on his now-wife -- much the same could happen to the Ravens' receivers in 2014. Even if that happens, Steve Smith's addition ought to help Flacco and the Ravens. Still, don't look for the 35-year-old to take over as the team's dominant receiver. That title ought to remain Torrey Smith's.
Hensley: Fact. There's a chance tight end Dennis Pitta or wide receiver Torrey Smith will end up being Flacco's go-to receiver. In the end, Flacco will spread the ball around to Pitta, Torrey Smith and Steve Smith. But if you're asking who will be Flacco's top target, the best bet is Steve Smith. All you needed to do was watch one practice this offseason, and you'd see the chemistry building between Flacco and Smith. Many have compared Steve Smith to Anquan Boldin because both are tough receivers. Smith, though, stacks up more favorably to Derrick Mason, who averaged 71 receptions in three seasons with Flacco. Like Mason, Smith can get open on the comeback route as well as slants. A prideful player such as Smith will also do everything in his power to show the Carolina Panthers he can still play. The Ravens will get the best out of Smith this year.
Pat McManamon: Fiction. The Ravens still have this guy Torrey Smith, right? He's a little younger than the 35-year-old Steve Smith. A little bigger too. And he should be ready to be the No. 1 receiver on the team. This is not to say Steve Smith won't help. He will. He brings a veteran presence the Ravens lacked -- though it's curious they gave away Anquan Boldin before last year and signed another aging guy who fits the "crafty veteran mold" a year later. Ozzie Newsome said Smith is not the "typical aging player," which is good, because he'll catch a lot of passes and open up the field more to provide opportunities for Torrey Smith and tight end Dennis Pitta. The Ravens also seem to be a team well-suited to getting the most from veterans. But if Baltimore brought Steve Smith in to be the top guy, it's a problem. That role and responsibility belongs to Torrey Smith.
@jamisonhensley Fiction. Now that Pitta is healthy, the bromance will reignite this year. I see @dennispitta having a big year. #ravens

— Jordan Ours (@JO___14) July 7, 2014
---

The retooled defense is enough to get the Steelers back to the playoffs.
Brown: Fact: The Steelers got younger and faster and will be better on that side of the ball if their outside linebackers provide some semblance of a pass rush. The Steelers don't need dramatic improvement from their defense if their offense builds on its strong finish in 2013. The Steelers averaged just under 28 points in their final eight games this past season, and they only lost one starter (wide receiver Emmanuel Sanders) on offense. Pro Bowl center Maurkice Pouncey returns from a torn ACL to lead an offensive line that allowed just seven sacks in the final seven games last year. And the Steelers have enough talent at the skill positions for Ben Roethlisberger and the offense to carry the defense.
Harvey:
Fact. I've gone on record in recent days saying I believe the Steelers will pose a legitimate threat to the Bengals' chances at defending their division title, so I won't waver now. Pittsburgh's culture will be the real difference-maker in getting the Steelers back to the playoffs. You're simply not going to see coach Mike Tomlin or quarterback Ben Roethlisberger tolerating the type of year the team had in 2013. By the way, we can't forget how close Pittsburgh was by the end of the season, after imploding near the start primarily because of a lacking offensive line that caused a poor running game and offensive imbalance. When it comes to the retooled defense, offseason moves such as drafting outside linebacker
Ryan Shazier
and defensive end
Stephon Tuitt
ought to help. The addition of
Cam Thomas
on the line also should help counter the interior rushing attack teams like to employ in the physical AFC North. While I still see the Bengals making the playoffs too, the Steelers ought to get there again, thanks to their improved defense.
Hensley: Fact. The Steelers got younger and quicker with their first two draft picks this year, linebacker Ryan Shazier and defensive end Stephon Tuitt. Cam Thomas, a free-agent addition, will be a space-eater on the interior of the line. What will help this retooled defense become even better are the moves made on offense. The Steelers stockpiled their backfield by signing free agent LeGarrette Blount and drafting Dri Archer in the third round. Plus, Le'Veon Bell was beginning to hit his stride at the end of his rookie season. This commitment to the run will control the clock and take pressure off a defense adjusting to its new parts.
McManamon: Fact. There is no team in the league that finds personnel to fit its system better than the Steelers. With three new starters defensively, Pittsburgh continues its transition from the James Harrison-James Farrior-Casey Hampton-Brett Keisel days. Kevin Colbert's drafting is usually logical and sound, and in Ryan Shazier the Steelers believe they found an immediate starter. One thing will be true about Pittsburgh this season: They will be faster on the field and they will not start slow. Pittsburgh will build on the momentum of an 8-4 finish in 2013 (after an 0-4 start), and as they build the defense will grow.
@ScottBrown_ESPN Fact. They are faster and younger. It will be a sad year for @WarrenSapp. #AFCN4Downs

— Kat Harry (@katharry33) July 2, 2014
.
April, 10, 2014
Apr 10
8:00
AM ET
ESPN's AFC North team reporters -- Jamison Hensley (Ravens), Coley Harvey (Bengals), Pat McManamon (Browns) and Scott Brown (Steelers) -- take a look at the remaining free agents in the division:
BALTIMORE RAVENS
TE Dallas Clark
: He looked like a tight end playing in his final season, catching 31 passes for the Ravens (his fewest in a season since 2006). It wouldn't be a surprise if Clark retired. He turns 35 in June.
TE Ed Dickson
: The signing of
Owen Daniels
rules out a return for Dickson. He'll be playing in the NFL in 2014, and it will likely be for about the league minimum. Dickson needs a fresh start elsewhere, and he's visiting the Carolina Panthers.
RB Bernard Scott
: The Ravens opted to sign
Justin Forsett
instead of Scott to be their third running back. Scott could have trouble catching on with another team. This offseason, Scott turned 30, which is not a kind number for running backs.
WR Brandon Stokley
: He said after the season that he plans to retire after suffering another concussion. Stokley was the last active player from the Ravens' 2000 Super Bowl championship team.
CINCINNATI BENGALS
LB Michael Boley
: Signed to a one-year deal early last season, Boley has been seen as little more than a stop-gap for last season's team. His return is unlikely.
DB Chris Crocker
:
Danieal Manning
's signing last week might have been enough to prevent the Bengals from re-signing Crocker. The two play similar positions and serve similar purposes as older players. Crocker still hasn't announced -- for a third time -- if he's retiring.
P Zoltan Mesko
: Much like Boley, Mesko was a stop-gap solution while punter
Kevin Huber
was out injured. When OTAs and minicamps resume, Huber is expected to be near full health from a broken jaw.
OT Dennis Roland
: Though the Bengals signed former Packers tackle
Marshall Newhouse
this offseason, they still could re-sign Roland for depth, and to give them a tackle who can be a good short-yardage edge blocker.
TE Alex Smith
: There is still a chance the Bengals could bring Smith back, considering H-back
Orson Charles
was
arrested and charged with wanton endangerment
March 31 in Richmond, Ky., the result of what police believe was a road rage incident involving a handgun.
CLEVELAND BROWNS
C Alex Mack
: His only visit has been to Jacksonville, where the Jaguars are expected to sign him to an offer sheet. The Browns then will have five days to decide if they want to match the offer.
RB Willis McGahee
: Not surprising there has been so little interest. His age and the poor running back market make him a tough sign.
PITTSBURGH STEELERS
OT Levi Brown
: Suffered a season-ending triceps injury before playing a down for the Steelers last season; would have to accept a non-guaranteed contract to return and try to make the team in 2014.
WR Plaxico Burress
: Wants to play in 2014, but is 36 and coming off a shoulder injury that sidelined him all of last season; does not appear to be in Steelers' plans.
RB Felix Jones
: Didn't show enough last season as a change-of-pace back or a kickoff returner to warrant serious consideration for the Steelers to bring him back.
DE Brett Keisel
: Re-signing the 12th-year veteran is still an option for the Steelers, who are thin along the defensive line, though nothing will happen until after the draft.
P Mat McBriar
: McBriar did OK after the Steelers signed him in October, but it looks like they will go with a younger leg at the position in 2014.
C/G David Snow
: Didn't dress in final four games after signing with Pittsburgh last December, and the Steelers have added depth to their offensive line.
RB LaRod Stephens-Howling:
Another player coming off an injury (torn ACL) the Steelers might consider re-signing once he is healthy or close to full strength.
LB Stevenson Sylvester
: Is a core special teams player and a depth guy the Steelers would probably have interest in bringing back at the right price.
C Fernando Velasco
: The Steelers are likely to re-sign one of their most unsung players in 2013 once he has fully recovered from the ruptured Achilles tendon he suffered in November.
LB Jamaal Westerman
: Played in the regular-season finale after signing with the Steelers last December, but is not not in the team's plans.
March, 10, 2014
Mar 10
10:00
AM ET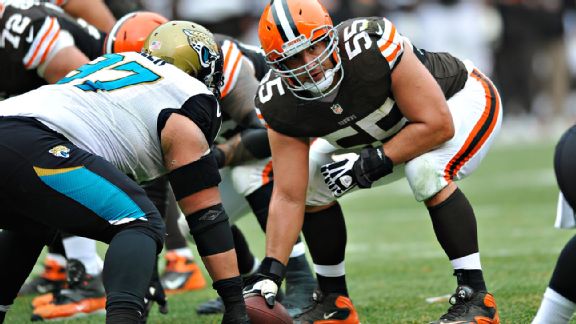 AP Photo/David RichardCleveland Browns center Alex Mack is the top free agent in the AFC North.
It's not a particularly strong free-agent class in the AFC North, although the top ones rank among the best in the NFL.
The free-agent group in the division took a hit when tight end
Dennis Pitta
, outside linebacker
Jason Worilds
and linebacker
D'Qwell Jackson
all signed before the official start of free agency.
So who's left? ESPN's four team reporters in the division -- Scott Brown, Coley Harvey, Jamison Hensley and Pat McManamon -- compiled a list of the top 15 free agents in the AFC North.
The
Baltimore Ravens
have the most free agents on this list with eight players. The
Cleveland Browns
have two of the top three free agents in the division, and the
Cincinnati Bengals
have two of the top five. The
Pittsburgh Steelers
placed one free agent in the top 10.
Here are the top 15 free agents in the AFC North:
1. Alex Mack, Browns center:
At 28, the two-time Pro Bowler is in the prime of his career. Mack was so coveted by the Browns that they placed a $10 million transition tag on him. It will be interesting whether another team can pry him away from Cleveland.
2. Michael Johnson, Bengals defensive end:
He was better in 2012 (11.5 sacks) than he was in 2013 (3.5 sacks). Still, his size, athleticism and age (27) will make him one of the most coveted pass-rushers this offseason.
3. T.J. Ward, Browns safety:
Considered one of the top 10 safeties in the NFL, Ward will draw interest from teams looking to get more physical in the secondary. He makes an impact on run defense and has improved in coverage.
4. Eugene Monroe, Ravens offensive tackle:
Some believe Monroe is the top offensive tackle in free agency, but ESPN's Bill Polian has five tackles ranked ahead of him. His athleticism and upside will command a big-money contract even though he's never been to a Pro Bowl.
5. Anthony Collins, Bengals offensive tackle:
He is an underrated left tackle who didn't allow a sack last season. The question mark with Collins is how he'll play as a full-time starter. He made seven starts last season and has 25 starts in six seasons in Cincinnati.
6. Jacoby Jones, Ravens receiver-returner:
He was one of the top playmakers in the Ravens' 2012 Super Bowl run, and he ranked among the top five returners in the league last season. Jones is inconsistent and one-dimensional as a wide receiver, but he made a lot of clutch plays for the Ravens in two seasons.
7. Art Jones, Ravens defensive end:
His impact as a run defender and interior pass-rusher makes him one of the top defensive tackles available. Teams, though, have to wonder whether he'll be the same type of player without
Haloti Ngata
drawing double-teams next to him.
8. Daryl Smith, Ravens linebacker:
He was quietly one of the NFL's top comeback stories. In his first season with the Ravens, Smith led the team with 123 tackles and finished with five sacks, three interceptions, 19 passes defensed and two forced fumbles. His age (32 this month) could be a drawback.
9. Michael Oher, Ravens offensive tackle:
His play never reached the expectations placed on a first-round pick. Oher is a throwback type of player whose strengths are durability and toughness. The biggest knocks against him are mental mistakes and pass protection.
10. Emmanuel Sanders, Steelers wide receiver:
He is almost 27, brings a lot of quickness and is coming off a season where he dropped just two passes (according to ESPN Stats & Information). What works against Sanders is the fact that he's never had more than 740 yards receiving in a season and averaged a career-low 11 yards per catch last season.
11. Jameel McClain, Ravens inside linebacker:
He isn't among the most talented linebackers, but he prides himself on outworking others. Even though he came back from a spinal cord contusion last season, some teams will be wary of a player who had such a serious injury.
12. James Ihedigbo, Ravens safety:
Known more for his special-teams play, Ihedigbo finished as the team's second-leading tackler. He'll try to find a team that will give him an opportunity to play defense now that the Ravens moved
Matt Elam
to his strong safety spot.
13. Ziggy Hood, Steelers defensive lineman:
He never became the difference-maker the Steelers envisioned when they drafted him in the first round, but it would be unfair to call him a bust. One of the strongest players on the team, Hood lost his starting job to
Cameron Heyward
last season.
14. Corey Graham, Ravens cornerback:
He was a starter on the Ravens' 2012 Super Bowl team and led Baltimore with four interceptions last season. Graham has proved to be a dependable nickelback, but he doesn't have the size or speed to be a full-time starter.
15. Brett Keisel, Steelers defensive lineman:
He had four sacks last season and 26 quarterback pressures, third most on the Steelers, despite missing four games and playing sparingly in another because of a nagging foot injury. His age (35) will scare away a lot of teams.
December, 29, 2013
12/29/13
10:00
AM ET
By
ESPN.com staff
| ESPN.com
Join our ESPN.com NFL experts as they break down the Baltimore Ravens' visit to the Cincinnati Bengals. Contribute your thoughts and questions beginning at 1:00 p.m. ET. And, be sure to visit our
NFL Nation Blitz page
for commentary from every game, as well as fan photos and the latest buzz from Twitter. See you there.
December, 26, 2013
12/26/13
10:00
AM ET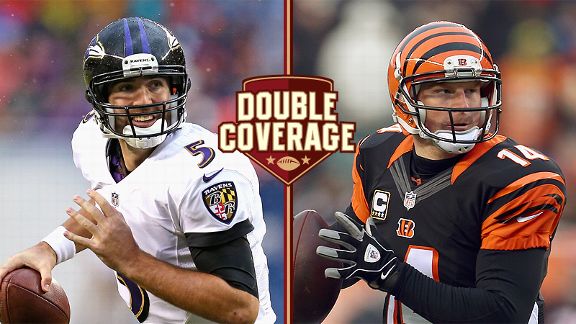 Getty ImagesJoe Flacco and Andy Dalton will need to come up big if they hope to emerge victorious on Sunday.
Thanks to the
Baltimore Ravens
' loss to the Patriots and the
Cincinnati Bengals
' win over the Vikings on Sunday, much of the drama has been snatched away from this weekend's regular-season finale between the Ravens and Bengals.
Cincinnati has already locked up a playoff spot and the AFC North crown. The winner-take-all scenario for Sunday's season finale no longer exists. If the Ravens are going to join the Bengals in the postseason, and perhaps back at Paul Brown Stadium for the wild-card round, a win this week will be crucial. There still is a lot riding on this must-win game for them.
In the season's first meeting between these teams, it took a last-second Hail Mary touchdown to take the game to overtime. In the extra period, a
Justin Tucker
field goal allowed the Ravens to walk off with the division victory at home.
As we get you set for this latest AFC North matchup, we turn to ESPN.com Ravens reporter Jamison Hensley and Bengals reporter Coley Harvey for more.
Harvey:
Jamison, what do you think the mindset of the Ravens is after their worst loss under coach John Harbaugh?
Hensley:
The Ravens are moving on as quickly as possible, and they have to do that in order to have a chance at beating the Bengals in Cincinnati. Baltimore has struggled enough on the road this season (going 2-5) that it can't have lingering memories of getting beaten up by the Patriots. The Ravens understand they lost their shot at winning the AFC North and controlling their playoff fate. But if they can clinch a playoff berth (and it will take some help), the Ravens control their destiny again. The Ravens' history is they don't dwell on getting blown out. The Ravens are 9-0 in games following a loss by double digits.
The Bengals have an impressive trend going as well with at least 40 points in four straight home games. What's been the key to Cincinnati's success at home?
Harvey:
That was the most-asked question in the locker room following Sunday's 42-14 win over the Vikings, and the Bengals could only attribute it to one thing: their fans. Initially, part of you doesn't want to believe that's possible. After all, there were a number of empty seats Sunday. But when you actually stop and think about it, the players may be right. When the Bengals' defense is on the field on third down, "The Jungle" as they call it, seems to come to life. Full or not, the stadium gets fairly loud, and it seems like opposing offenses have had all sorts of confusion during the most important parts of the games they've played in Cincinnati. The Bengals have a league-best 22.5 percent third-down conversion rate at home. They also rank second in the league in scoring at home, posting an average 34.4 points per game at Paul Brown Stadium. Only the Broncos are better inside their home venue.
Quarterback
Andy Dalton
has been key in helping them run up the score that often. So having said that, how do you think the Ravens plan to defend Dalton?
Hensley:
In the earlier meeting with the Bengals, Baltimore held Dalton to a 52.2 passer rating, the second worst of his career. The Ravens were relentless with their pressure, recording five sacks and hitting Dalton nine times. But the Baltimore defense has been in a pass-rush rut lately. The Ravens have produced four sacks in their past four games. There has been a lack of pressure off the edges.
Terrell Suggs
ended a six-game drought by getting to
Tom Brady
on Sunday.
Elvis Dumervil
, who has been dealing with an ankle injury, has one sack in his past five games. And the Ravens' best interior rusher, Art Jones, suffered a concussion on Sunday and it's unknown whether he'll play against the Bengals.
Speaking of concussions, what's the latest on linebacker
Vontaze Burfict
? Has he been the defense's MVP this season?
Harvey:
Quickly to your point about pressuring Dalton, that will most certainly have to be the Ravens' game plan against him. He hasn't faced a pass rush quite as challenging as Baltimore's since that game, and that's one reason he's been so successful recently. Pro Football Focus said he was pressured only eight times on his 41 dropbacks against the Vikings.
Back to Burfict. As we're filing this, there isn't much of an update on Burfict other than the fact that he has spent part of the week under concussion protocol. It's not clear when he picked up the possible concussion, but one of his last plays Sunday came when he delivered an accidental helmet-to-helmet blow on
Matt Cassel
as the quarterback was sliding at the end of a scramble. We'll see how he keeps progressing throughout the week, but I'd bet on Burfict playing. He hasn't missed a game this season, and clearly hates being off the field. Still, with much of the Bengals' postseason desires already wrapped up, I wouldn't be surprised if he doesn't play all game even if he is healthy enough to.
Speaking of injuries, how has
Joe Flacco
's knee injury affected his play recently?
Hensley:
Flacco has had his worst season in the NFL, so I'm not saying he struggled solely because of a sprained left knee. But the injury obviously has affected his mobility and ability to step into throws. Flacco didn't complete his second pass Sunday until the second quarter. Now he has to go to Cincinnati, where he has had his problems in the past. Flacco is 2-3 at Paul Brown Stadium with a 66.8 passer rating. He has completed 57.5 percent of his passes there with four touchdowns and six interceptions. The key for Flacco is limiting his mistakes. He's thrown a career-worst 19 interceptions, seven more than in any of his previous five seasons. With the Ravens' current playoff situation, there is little margin of error for Flacco and the Ravens.
This is the Bengals' first AFC North title since 2009, and the first for Dalton and
A.J. Green
. How is a young team like the Bengals handing this success?
Harvey:
Honestly, they're handling it quite well. Aside from their traditional post-win "Who Dey" chant, you didn't hear any other celebrating coming from the locker room following Sunday's win. By the time reporters were allowed in, word began trickling among the team that the Dolphins had just lost, giving them an official berth to the postseason. When players were asked about the meaning of clinching a playoff spot, they were a little excited, but mostly reserved. There was unfinished business, they felt.
For as young as the Bengals are, with their exhaustive list of second-, third- and fourth-year contributing players, it's still a group that has seen enough postseason disappointment to know that the journey isn't yet complete. The past two seasons, the Bengals have made it to the wild-card round and were immediately bounced out. They don't want that to happen again this year.
December, 19, 2013
12/19/13
2:39
PM ET

Voting is underway among the four ESPN.com reporters for the All AFC North Team of 2013.
Results will be announced after the season.
But we thought it might be fun to get input from readers on one of the tougher positions to select: wide receiver.
We can only pick two for the All AFC North Team, and the division includes four standouts and one up-and-coming rookie: Cleveland's
Josh Gordon
, Pittsburgh's
Antonio Brown
, Cincinnati's
A.J. Green
and
Marvin Jones
, and Baltimore's
Torrey Smith
.
Their numbers:
.
November, 10, 2013
11/10/13
11:15
AM ET
BALTIMORE -- Welcome to M&T Bank Stadium, where the
Cincinnati Bengals
and
Baltimore Ravens
are preparing for an important AFC North clash for both teams.


The Bengals are looking to bounce back from last week's 22-20 overtime loss at Miami, while also trying to close out their four road games in five weeks tour with a win. They enter Sunday afternoon's game with a 2-1 record in those games so far.
The Ravens are simply hoping to claim a win. They've lost their past three games, including the last two, which came against division rivals Pittsburgh and Cleveland.
As you get ready for the day's game, here are a few items to be aware of:
Kickoff/TV:
1 p.m. ET/CBS
Weather:
59 degrees. Winds: Gusts up to 21 mph during the game.
Records:
Bengals (6-3); Ravens (3-5)
Series history:
Baltimore has a 19-15 all-time advantage over the Bengals. Since 2011, the Ravens also are winners of four of the past five series meetings. In games played at M&T Bank Stadium, the Ravens are 12-5 over the Bengals. Cincinnati owns a 10-7 series lead in games played at Paul Brown Stadium. The teams have their second meeting in the season finale in Cincinnati on Dec. 29.
Worth noting:
Bengals running back
Giovani Bernard
and tight end
Jermaine Gresham
, who were declared questionable on Friday's injury report, were out on the field before pregame warmups officially began. The pair were testing out their respective rib and groin injuries by running a few routes and working on generating some first-step explosion. Gresham even ran the length of the field six times at a moderate speed before the majority of his other teammates came out for warmups. Gresham practiced Wednesday but didn't work out Thursday and Friday. Bernard practiced in a limited capacity all week. Will either be inactive? We'll find out by 11:30 a.m. ET.
Bengals Friday Injury Report
OUT:
LB
Rey Maualuga
(knee), DT
Devon Still
(elbow)
DOUBTFUL:
LB
Michael Boley
(hamstring)
QUESTIONABLE:
RB Giovani Bernard (ribs), TE Jermaine Gresham (groin)
PROBABLE:
OG
Kevin Zeitler
(hamstring)
Ravens Friday Injury Report
OUT:
OG
Kelechi Osemele
(back)
QUESTIONABLE:
CB
Corey Graham
(calf), S
James Ihedigbo
(toe), CB
Jimmy Smith
(thigh), LB
Daryl Smith
(thigh), WR
Brandon Stokley
(thigh)
PROBABLE:
WR
Marlon Brown
(finger), OLB
Terrell Suggs
(foot)
November, 10, 2013
11/10/13
10:00
AM ET
By
ESPN.com staff
| ESPN.com
Join our ESPN.com NFL experts as they break down the Cincinnati Bengals' visit to the Baltimore Ravens. Contribute your thoughts and questions beginning at 1 p.m. ET. And, be sure to visit our
NFL Nation Blitz page
for commentary from every game, as well as fan photos and the latest buzz from Twitter. See you there.
August, 26, 2013
8/26/13
7:30
AM ET
If Week 3 of the preseason is truly a dress rehearsal for the regular season, the AFC North teams have some work to do. All four division teams lost, and most of the starters had forgettable performances. Speaking of losing, the AFC North wake-up call will no longer have the Steelers in this space every morning. Steelers team reporter Scott Brown now will provide a post with morning links for the Black and Gold. So, let's see what is happening with the two Ohio teams and the franchise that used to located in Ohio:
RAVENS
: Running back Delone Carter has only a few days of practice and the preseason finale to prove he's worth a roster spot. He was acquired by the Ravens last week in a trade with Indianapolis, and is looking to make the team as the No. 3 running back. "It's a hurried evaluation, that's what it is," coach John Harbaugh said, via
The Baltimore Sun
. "We're going to have to see if we see enough. That's what it really boils down to. First impressions are positive, and we'll just see where it goes this week." ... For a look at the roster cuts made by the Ravens on Sunday, you can
click here
.
BENGALS
: Right tackle Andre Smith left in the second quarter of Saturday's preseason game with a left knee injury. According to
The Cincinnati Enquirer
, Smith appeared to be walking fine in the locker room after the game. "He should be ready to go for [the season opener against] Chicago," coach Marvin Lewis said. ... The Bengals released six players Sunday: tight end Richard Quinn, defensive tackle Vaughn Meatoga, wide receiver Jheranie Boyd, cornerback Terrence Brown, linebacker Jordan Campbell and kicker-punter Quinn Sharp. The team needs to make six more moves to get down to the league limit of 75 players by Tuesday afternoon.
BROWNS
: Kicker Shayne Graham and punter Spencer Lanning are leading the candidates to remain the Browns' specialists, but coach Rob Chudzinski wouldn't fully commit to them just yet, according to
The Akron Beacon Journal
. Graham made field goals of 50 and 44 yards against the Colts while undrafted rookie kicker Brandon Bogotay sat out with a strained groin. "It was good to see him be able to do that," Chudzinski said of Graham's 50-yard kick. ... According to
The Plain Dealer
, Chudzinski is leaning toward playing his starters in the preseason finale, although it may be just a cameo appearance. "We're going to approach this next game that those guys are going to play," he said. "And then I'll make that determination later in the week as it goes on."