Ten plays that shaped Bengals' year: No. 1
January, 27, 2014
Jan 27
3:30
PM ET
With the
Cincinnati Bengals
' season now over, we have been counting down the past two weeks the 10 plays that helped shape the Bengals' 11-5, AFC North championship season.
Here's a look at the plays from 10-2:
No. 10
--
No. 9
--
No. 8
--
No. 7
--
No. 6
--
No. 5
--
No. 4
--
No. 3
--
No. 2
.
Big plays, particularly those from Cincinnati's defense, and explosive ones from the likes of
Giovani Bernard
, were critical to the way 2013 played out.
So far, the key plays have ranged the gamut. From
James Harrison
's interception against the Browns, to
A.J. Green
's Hail Mary haul in Baltimore, to
Reggie Nelson
's big blitz that set up
Mike Nugent
's game-winning field goal at Detroit, the plays have covered significant moments in the season.
[+] Enlarge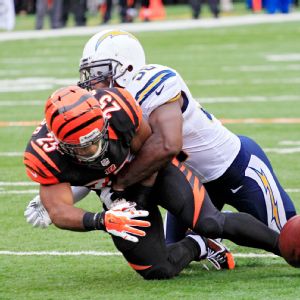 AP Photo/Tom UhlmanBengals running back Giovani Bernard fumbles as he is hit by Chargers linebacker Donald Butler in the first of of their wild-card playoff game.
As is the case with most top 10 lists, determining these plays was completely subjective. They could be placed in virtually any slot among these 10, or not among them at all. Some certainly won't make the cut that many believe should. It's the nature of lists. Somewhere a cut off has to come. So with that, let's end the countdown with No. 1:
BERNARD'S GOAL-LINE FUMBLE
When:
Jan. 5, 2014
Where:
Paul Brown Stadium, where the Bengals lost in the AFC wild-card game to the San Diego Chargers,
27-10
.
What happened:
It's only right to end this countdown with a play from the biggest game of the year for the Bengals; their lone playoff game. Before it even began, 2013 was supposed to be a season of great successes for them. The Bengals weren't just supposed to reach the playoffs, they were expected by many to breeze all the way to this week, Super Bowl week. After going 11-5 during the regular season and winning the AFC North, it appeared they were well on their way to possibly going on a long postseason run.
That all came to an end in the first round of the playoffs, though, when the third-seeded Bengals lost at home to the No. 6 seed Chargers, who took advantage of three second-half Cincinnati turnovers in order to roll to the big win.
Actually, we could have gone almost any direction with the No. 1 play that shaped what ended up being a relatively disappointing Bengals season. We could have picked
Andy Dalton
's fumble that began the second-half collapse, or any one of his interceptions that gave the Chargers strong field position on their ensuing drives. We went with one of the final plays of the first half, though, because it set an ominous tone for the rest of the game.
Just when it seemed the Bengals were rolling and heading for a 14-7 lead, the apparent curse that has existed in this city since January 1991 seemed to rear its head once again. There was that all too familiar "here we go again" feeling in Paul Brown Stadium when Bernard was stripped from behind at the end of a 12-yard reception that would have put the Bengals inside San Diego's 5. Right when Bengals fans began believing and started genuinely thinking this would be their year to turn around two decades of postseason misfortunes, a turnover snatched them away. For many, that was the moment the season ended and another long, cold Ohio winter began.
Of course, it's silly to think that play, which came with two minutes remaining in the second quarter, signaled the end. But for many, it did. Instead of going up 14-7 and taking some momentum into halftime, the fumble forced Cincinnati's defense back out on the field, where it held to force a punt. Six plays later, with just two seconds remaining in the first half, Bengals kicker
Mike Nugent
buried a 46-yard field goal that made it 10-7. Three more turnovers and 20 unanswered points later, and the Bengals' season officially concluded.
How the Bengals' season was impacted:
Again, Bernard's fumble wasn't the reason why the Bengals lost their fifth consecutive first-round playoff game under Lewis. Poor execution, other, less timely turnovers and several misguided play calls played the biggest roles in the defeat. But Bernard's fumble could be considered the spark that ignited the sequence of errors. It was, after all, the first of four Bengals turnovers. Maybe if he doesn't fumble, the Bengals still end up kicking a field goal to go ahead at half. Who knows? For many, that won't matter, though. All they will see this offseason is a dropped ball, three points instead of seven, and another first-round exit. It was one of the singular most talked about plays of the biggest game of the year, and for that reason, it closes out our countdown.
As for Bernard, the impact of the play should be minimal. He was a rookie who had many more great moments than bad ones in his first season, and he can expect that trend to continue throughout his career. The fumble will serve as a lesson for him -- he's already resolved to putting the ball away faster after catches and tucking it even deeper in his grasp. He'll learn from it, and perhaps carry the Bengals sometime in the coming seasons to their first playoff victory since he's been alive. (Bernard was born 11 months after the Bengals' Jan. 1991 win against the Houston Oilers)