Cincinnati Bengals:

2013 Week 11 CLE at CIN
November, 17, 2013
11/17/13
9:05
PM ET
CINCINNATI -- This time, just like the last time, an
A.J. Green
-
Joe Haden
tilt went in favor of the
Cleveland Browns
cornerback.
As much as Green, the
Cincinnati Bengals
' tall, wiry wideout from the University of Georgia wanted to have a better outing Sunday than the one he had seven weeks ago, Haden was committed to making sure that didn't happen.
But at the end of Sunday's game, Haden's efforts -- fueled by two first-quarter interceptions -- weren't enough. The Bengals still ended up winning,
41-20
. That win, coupled with a
Baltimore Ravens
loss and a
Pittsburgh Steelers
victory pushed Cincinnati's (7-4) AFC North lead to 2 1/2 games over the remainder of the division. The Browns, Ravens and Steelers all sit at 4-6 in a three-way tie for second place.
[+] Enlarge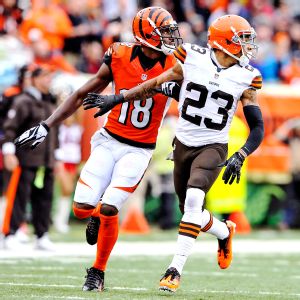 Kevin Jairaj/USA TODAY SportsA.J. Green had just two receptions for 7 yards, while cornerback Joe Haden had two interceptions, one of which he returned for a score.
Green, gaining just 7 yards on two receptions, had one of the worst performances of his career. It was enough for the player who entered the day leading the NFL in receiving yards to recognize the cornerback's work and to give a respectful nod.
"It's a tough road every time I go against him," Green said. "He's probably one of the best corners anywhere, but that also goes to their defense. The Browns have a real good defense and they scheme well. But he's also a great corner."
Haden's greatness aside, on a day when getting the win was the most important thing, Green added that individual numbers can take a backseat.
"My numbers are going to come regardless," Green said. "I'm just glad we came out with the 'W.' That's all that matters."
While Green-Haden V wasn't quite the classic that Green-Haden IV was, the matchup still lived up -- early, at least -- to its lofty pregame billing.
At the line of scrimmage in the first quarter, the physical Haden pushed Green around as much as he wanted. Green tried to respond by getting separation further downfield. That plan backfired.
Twice when Green exceeded the 10-yard mark on a route, he tried to slip double coverage by getting beyond Haden and into a soft zone. Both times, the zone Green thought he was getting into didn't match the one quarterback
Andy Dalton
was throwing to. The plays resulted in a pair of interceptions.
"I think there was a little miscommunication on what exactly we were doing," Dalton said. "Unfortunately it happened right there where Joe was able to make those plays."
The second of the two interceptions came when Dalton threw short of where Green turned around for the ball, and Haden jumped right into the passing lane. Barely breaking stride, Haden caught the ball and sprinted untouched for a 29-yard pick-six that pushed the Browns' early lead to 13-0.
"That's little stuff I need to clean up myself," Green said of being out of position. On both interceptions, he thought a linebacker dropped low, giving him a spot up top to make a play further downfield.
Back in September during the teams' previous meeting, Haden held Green to seven catches for just 51 yards. Like he did in that contest, Haden wasn't letting Green get open downfield. He was staying with him close to the line of scrimmage. When Green did catch a pass, he was always right there to come through with a swift tackle. Green only had four yards after the catch in that game.
November, 17, 2013
11/17/13
8:30
PM ET
CINCINNATI -- Within an hour of their
41-20 win
over the
Cleveland Browns
, the
Cincinnati Bengals
were informally polled about which play in the eventual rout was the biggest of all.
They had quite the selection. Was it a 9-yard interception return by linebacker
James Harrison
late in the first quarter? Was it tight end
Jermaine Gresham
's 25-yard touchdown at the start of the second? Maybe it was
Shawn Williams
' tipped punt that led to a Bengals go-ahead touchdown? How about
Jayson DiManche
's blocked punt that was returned for another score?
The possibilities seemed limitless.
Overwhelmingly, all of those who spoke to reporters after the game considered Harrison's pick the turning point. After that play, Cincinnati scored 31 unanswered points -- all in the second quarter. One of those scores came when fellow linebacker
Vontaze Burfict
forced a fumble and returned it 13 yards for a touchdown.
[+] Enlarge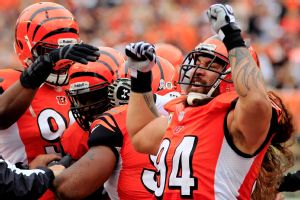 AP Photo/Tom UhlmanThe Bengals will tell you that Domata Peko's value goes well beyond his on-field production.
It was safe to say the Bengals, as they have been all season, were paced Sunday by their defense.
"The defense did a really great job of getting some turnovers and getting us jump-started on offense," coach Marvin Lewis said.
Before Harrison's interception, the Bengals were staring at the long odds of overcoming a 13-0 deficit against one of the NFL's top defenses. At the time, spirits inside Paul Brown Stadium were mostly low. On the drive before, some 13 minutes into the start of the game, thousands of fans began booing the Bengals' offense after its third three-and-out of the quarter.
While some players noticed the fans, others tried to tune it out.
"There was so much game left, and you can't get down at that point," quarterback
Andy Dalton
said. "It's kind of how I've been and how I am. I try not to get too high or too low with whatever's going on in the game. We didn't let it affect us. We came and we kept playing. We got some big plays on special teams and defense that helped us out and gave us some spark."
Cincinnati ended up with 224 yards of total offense; 93 of which came from Dalton's right arm.
Not only did Harrison's interception set up the avalanche of scoring, but just before it, the Bengals' defenders held firm on a pair of drives that ended with them playing with their heels on the goal line. After the Browns entered the red zone, the Bengals prevented them from crossing the goal line. Two early field goals kept the score at 6-0 ahead of
Joe Haden
's interception return for touchdown which put the Browns ahead 13-0. Had the field goals been touchdowns, the Bengals could have been looking at a 21-0 deficit before Harrison's interception.
"The defense was put into a couple of tough situations [Sunday]," Lewis said. "I expected us to play good on defense and I thought we really did."
All season Cincinnati's defense has come to its offense's rescue.
Against Green Bay in Week 3, it was the Bengals' defense that negated four offensive turnovers by forcing a fumble, scooping it and scoring what proved to be the game-winning touchdown in the closing minutes. One drive after the go-ahead recovery, the unit remained stout when defensive end
Michael Johnson
swatted a fourth-down pass at the line of scrimmage to preserve the win.
Two weeks later, at home against the Patriots, the Bengals escaped with another victory when cornerback
Adam Jones
caught a game-saving interception in a driving rainstorm with 16 seconds left. Despite gaining 341 yards, Cincinnati's offense only got in the end zone once.
Then, against the Lions in Week 7, it was the defense that had a timely third-down quarterback hurry ahead of a short Detroit punt. Following the punt, quarterback Andy Dalton moved the Bengals into field goal range, where they won on a 54-yard walk-off by kicker
Mike Nugent
.
When the Bengals' offense has been down, the defense always seems to be right there to pick it up.
"It goes both ways, you know?" Johnson said. "When they're feeling down, we try to get them up. When we're down, they get us up. We're a team, a family. We fight for each other."
November, 17, 2013
11/17/13
5:30
PM ET
CINCINNATI -- Observed in the locker room after the
Cincinnati Bengals
'
41-20 victory
against the
Cleveland Browns
.
DiManche
DiManche's note:
Each week when they go into meetings, the youngest members of the Bengals' special-teams units bring a stack of notes with them. Special-teams coordinator Darrin Simmons reads them all. According to Simmons,
Jayson DiManche
's note this week read: "Block a punt to help win the game." In the second quarter, he did. When he beat his man and blocked the ball, DiManche set up a touchdown return that helped turn the momentum in Cincinnati's favor.
Dye's TD:
Tony Dye
, making his first NFL start, was all smiles at his locker. He was the one who scooped DiManche's blocked punt and sprinted for the 24-yard score. "It was a lot of instinct," Dye said. "It just just kind of happened. It happened fast. Hey, the speed of the game is different at this level."
James Jr.?
Asked if he could be considered a younger version of Bengals linebacker
James Harrison
,
Vontaze Burfict
smiled. Much like Harrison, who had a key interception Sunday, Burfict plays with an edge that borders on reckless. "Sometimes he rubs off on me," Burfict said. "I take the same supplements that he does and sometimes I feel like, 'OK, I'm in his element.' I take the same energy that he does and sometimes that makes me feel crazy on the field."
November, 17, 2013
11/17/13
4:30
PM ET
CINCINNATI -- A few thoughts on the
Cincinnati Bengals
'
41-20 victory
against the
Cleveland Browns
.

What it means:
After getting derailed in their two previous games, the Bengals showed glimpses of their former selves in Sunday's blowout against the Browns. From a scoring perspective, they had a truly complete game, getting touchdowns on offense, defense and special teams. It was their best team performance since their 49-9 Week 8 home victory against the
New York Jets
. Even though quarterback
Andy Dalton
still struggled to get into a rhythm and play like the signal-caller who breezed through October, he still threw three touchdowns. Most importantly, though, Sunday's victory extended the Bengals' AFC North lead to 2 1/2 games over the Browns, who entered in a second-place tie with the
Baltimore Ravens
. If the Ravens beat the
Chicago Bears
-- their weather-delayed game didn't end until after the Bengals-Browns tilt -- Cincinnati's lead remains 1 1/2 games over them.
Stock watch:
Bengals special teams: rising. Bengals special teams coach Darrin Simmons has been hinting much of the season at how he believed his various units were making progress. That progress was quite visible against the Browns when his punt return team tipped one punt, blocked another (returning it for a touchdown) and set up a 27-yard return that was the longest of the season for
Adam Jones
. Add in punter
Kevin Huber
's 44.6 punting average and
Mike Nugent
's two made field goals, and it's clear Cincinnati's special teams had their best single-game showing of the season.
Momentum changer:
Early in the game, it appeared the Bengals were headed for a third straight loss. They spotted the Browns 13 points in the first quarter, and even gave up a defensive touchdown when cornerback
Joe Haden
jumped a pass route on
A.J. Green
and sprinted in for a 29-yard interception return for a touchdown. With 44 seconds remaining in the period, though, the momentum shifted. Bengals linebacker
James Harrison
tried to replicate Haden, tipping a
Jason Campbell
pass to himself and breaking tackles and pirouetting into the end zone. A penalty after the interception took away the touchdown, but it wouldn't matter. The Bengals ended up scoring on the ensuing possession, kicking off a string of 31 unanswered Bengals points. Their 31 points in the second quarter marked a franchise record for points in a single quarter.
What's Next?
The Bengals (7-4) will have two weeks off before going for their second straight win. They'll spend the next 14 days rehabbing minor injuries and getting refocused for their final five games of the regular season. That end-of-year stretch begins Dec. 1 when they travel to San Diego.
November, 16, 2013
11/16/13
4:00
PM ET
CINCINNATI -- As has been mentioned often this week, for the first time in a generation the
Cleveland Browns
and
Cincinnati Bengals
have a November ballgame that's worthy of attention from the rest of the NFL.


With the Bengals' loss last week at Baltimore, the Browns are suddenly in the thick of the AFC North race and could inch dramatically closer to first place if they beat their in-state foes Sunday afternoon at Paul Brown Stadium. A win would move the Browns within a half game of the Bengals' lead ahead of Cincinnati's bye next week. For the first time in a long time, playoff fever has attacked the entire Buckeye State.
A win is possible for Cleveland, too. Despite coming in with a 4-5 record, the Browns are already responsible for one of the 6-4 Bengals' losses this season. Way back in Week 4, Cleveland's defense stood firm in a 17-6 win at home over the Bengals.
When you watch the 81st edition of the Battle of Ohio, you'll definitely want to keep a close eye on both top 5 defenses. You'll also want to keep an eye on the following:
Weather report:
One week after their kickers and quarterback struggled in windy Baltimore -- gusts got as high as 28 mph -- the Bengals could be facing worse conditions at home this weekend. According to the National Weather Service, strong storms are expected to move across the Midwest on Sunday, hitting Southwest Ohio while the Bengals and Browns are playing. Lightning delays could occur at multiple games in the path of the severe weather, including Sunday's contest. In addition to intense downpours, winds with gusts up to 21 mph are being predicted. Said punter
Kevin Huber
about preparing for such harrowing elements: "You have to kind of trust when you're out on the field in pregame. You've got to trust that's what it's going to be like all game." It doesn't sound like that's a guarantee this week, even though coach Marvin Lewis believes the inclement weather will hold off until after the ballgame is over.
Red zone matchup:
Keep a close eye on the football when the Bengals possess it inside the Browns' 20. In an otherwise balanced matchup, this is one of the few areas in which there appears to be a mismatch. Cincinnati's offense has been pretty good much of the year in the red zone, ranking sixth in efficiency at 64 percent. As good as it has been overall, Cleveland's defense hasn't been that impressive inside its own 20. The Browns rank last in the league in defensive red zone efficiency, allowing scores on 68 percent of plays inside their 20-yard line. Of course, for this to be an issue for either team, the Bengals' offense has to reach the red zone. Against the Ravens last week, it took the Bengals nine drives before they reached the red zone. They were 1-for-2 on their only red zone drives of the game.
Matchup in the trenches:
In addition to seeing how well the teams fare against one another inside the 20s, keep an eye on the Bengals' offensive line and the Browns' defensive line. Cincinnati enters this game without offensive guard
Kevin Zeitler
, who was ruled out Friday with a foot injury. It'll be the first game in his two years that Zeitler will miss, prompting the Bengals to likely bring
Mike Pollak
off the bench to play his spot. The sixth-year veteran hasn't started a game since 2011 and has missed most of this season with a knee injury, but coaches are confident that he'll play well if called upon. Pollak, center
Kyle Cook
and left guard
Clint Boling
, in particular, will be facing a Browns defensive line that boasts one of the biggest and strongest interior players in the league in Phil Taylor. Defensive ends
Ahtyba Rubin
and
Desmond Bryant
have been headaches for offensive linemen, as well. Outside linebackers
Jabaal Sheard
and
Barkevious Mingo
will play close to the line too, providing an added element to the Bengals' blocking schemes.
Outside battle:
While the threat of inclement weather could force both teams into running the ball, still pay close attention to the battle on the outside between Bengals receiver
A.J. Green
and cornerback
Joe Haden
. In their earlier meeting, Haden got the better of the competition, holding Green to just seven catches for 51 yards. It seemed like every step Green took, Haden was right there with him. Even Green's yard-after-catch numbers were abysmal in that game -- he had only four. While Haden will be trying to lock him down, the Bengals are going to use a combination of corners
Adam Jones
,
Terence Newman
and
Dre Kirkpatrick
to slow receivers
Josh Gordon
and
Davone Bess
. Since
Chris Crocker
is doubtful with a hamstring injury, when Bess lines up in the slot, he likely will see Kirkpatrick opposite him.