Cincinnati Bengals:

2013 Week 17 BAL at CIN
December, 29, 2013
12/29/13
10:15
PM ET
CINCINNATI -- Frustrated,
Marvin Jones
was about ready to put his head in his hands and disappear from the 62,000-plus who had just filed into Paul Brown Stadium.
His teammates on the
Cincinnati Bengals
' defense wouldn't have let him do that even if he really tried.
Just 18 seconds into
Sunday afternoon's game
, the Bengals receiver had a pass snatched from him as he and quarterback
Andy Dalton
tried to catch the
Baltimore Ravens
off guard on a first-play "Go route" down the far sideline. As Jones jogged off the field after the interception, he heard from defenders intent on helping him make up for the miscue.
"Hey, you're all right," some of them said. "We got this," others added.
They sure did get it. Even with the Ravens beginning a drive at the Cincinnati 21 and coming within yards of snatching the game's early momentum with a touchdown, the Bengals' defense rose up the way it has countless times before this season. Held to just one yard on the drive, the Ravens entered the red zone and were denied a touchdown. For the sixth time in 12 red-zone tries on Cincinnati's home turf this season, the Bengals didn't let an opponent cross the goal line.
By the end of Sunday's game, a 34-17 victory, the Bengals defenders went on to prevent their 21st red zone touchdown in 41 total tries this season.
"That's our job regardless of where the team gets the ball. It's to go out and stop them," defensive end
Michael Johnson
said. "We can't worry about how they got it there. We just got to focus on doing our job as hard as we can and taking care of our business."
That mentality has helped Cincinnati's defense pick up its offense this year. It's a comforting fact for the Bengals as they prepare to host the
San Diego Chargers
next weekend in the
opening round of the playoffs
.
"The saying may be cliche, but defenses do win championships," cornerback
Chris Crocker
said.
That's exactly why he didn't flinch when asked which unit was the strength of the team.
"It would have to be the defense," Crocker said. "We've played really well all year. Regardless of the situations, we just stuck together and played our butts off. It didn't matter what the score said. If we were down, or if we were up, we just kept playing all year."
Cincinnati's back-to-back red zone drives that ended in Ravens field goals at the start of the game were prime examples of the type of play that Crocker proudly boasted. Thanks in part to interceptions on the Bengals' first two offensive drives, the defense was slapped with the unenviable task of not only holding for one field goal, but holding for two before 13 minutes had passed.
Very easily, the Bengals could have been down 14-0 at the first-quarter break. But thanks to the two defensive stands and a subsequent four-play Bengals drive that ended on a 53-yard touchdown pass to a wide-open
A.J. Green
, they went to the second quarter leading, 7-6.
"Just to have a defense like what we have, it's a blessing," said Jones, who later made up for his lost interception with a one-handed grab. "There's a lot of times we feed off of [the defense]. If we get started slow and they go and they get their shutouts and their stops, then we're like, 'OK, let's go. Now it's our turn.'"
While Bengals defenders like Crocker are also confident in the "explosive" nature of a Cincinnati offense that scored 40 or more points four times at home this season, they are comforted in knowing their defense can be the team's postseason difference-maker.
Around the time the Bengals found out they had received a postseason berth last week, defensive coordinator Mike Zimmer told his players to take a look at the top of the league rankings in total defense.
"He said, 'If you look at the teams going into the playoffs, our defense is one of the best out there,'" defensive tackle
Domata Peko
said. "Like they say, 'defenses win championships.'"
Entering Sunday night's Eagles-Cowboys game, the Bengals ranked third in the league in total defense. The other top-5 teams also reached the playoffs, but are from the NFC. The next-highest AFC defense that made the playoffs was ranked 19th.
December, 29, 2013
12/29/13
9:45
PM ET
CINCINNATI -- Has a quarterback ever been given more nicknames by fans and media than the
Cincinnati Bengals
'
Andy Dalton
?
The latest nickname for Dalton has popped up: "Greedy Andy."
When Cincinnati hosts the
San Diego Chargers
next week in the
opening round of the playoffs
, the Bengals have to hope they've completely vanquished Dalton's latest incarnation.
The desperate, overly aggressive and apparently touchdown-starved person who got behind center Sunday afternoon against the Ravens could have cost Cincinnati a victory in its
regular-season finale
. If he shows up again in a few days, he just might cost the Bengals an entire season.
There are any number of reasons the third-seed Bengals could fall flat next weekend. There also, naturally, are any number of reasons why they could succeed, too. One way to increase the odds of a victory? Prevent your quarterback from throwing four interceptions.
[+] Enlarge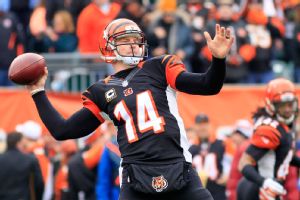 AP Photo/Tom UhlmanIf the Bengals draft a QB, it's not because the team has lost confidence in starter Andy Dalton, offensive coordinator Hue Jackson said.
That could be easier said than done.
"Sometimes when he gets into a rhythm he gets too comfortable and gets a little greedy, so to speak," offensive coordinator Jay Gruden said.
Now you know where the new nickname comes from.
Right before making that comment, Gruden was discussing how complacent his quarterback can sometimes be when the offense appears to be rolling. Decision making in those instances can be problematic for Dalton, who has misread routes or been a touch off with the precise delivery of his passes. Gruden felt that was the exact player who showed up in Miami on the last Thursday night of October. Against the Dolphins in that game, Dalton passed for 338 yards and three interceptions in an overtime loss that was decided by a walk-off safety.
Had it not been for several game-saving plays by Cincinnati's defense on Sunday, including three fourth-quarter interceptions, Dalton might have added another high-yardage but turnover-filled performance to his ledger.
"It was a roller coaster, man," Gruden said of Dalton's day. "He was either really, really good, as good as anybody, or he made a couple of really poor decisions. We need to eliminate those."
That might be the best summation of Dalton's latest performance. He was flat-out stellar the time he saw
A.J. Green
sprint past Baltimore's secondary, only to be hit in stride for a 53-yard touchdown pass. But when Dalton got picked off four times, including once on a ball that was thrown well over Green's head, Dalton didn't look so strong.
The greediest the quarterback got Sunday was in the middle of the fourth quarter when he tried to force a pass on first-and-goal from the Ravens' 1-yard line. One play after Bengals running back
BenJarvus Green-Ellis
plowed through Baltimore's defensive line with a physical tackle-breaking carry, Dalton was picked off when he tried to dump a fade route to a single-covered Green.
"I got a little greedy and I tried to take a shot," Dalton said. "I didn't throw it how I wanted to, and should have ran it in or handed it off."
There's that word again.
He's right, though. Instead of throwing short on the fade that looked more like a flat, he should have either switched to a play that would allow
Giovani Bernard
to run in or scramble out and take it in on the run himself. So why didn't he do that?
"Usually I'd put in goal-line personnel and we didn't have that," Gruden said. "We were in two tight ends and two receivers and thought they were in goal-line defense. We knew with numbers that we would have been splattered with a run, so we threw a fade. ... [But] he should have handed it off. But I'm not mad. We won the game, 34-17. Had we lost the game, that play would have been glaring and stuck out in our minds for a long time. But luckily our defense held us up and covered our backs because that was a terrible play and a terrible call."
Gruden wasn't shy about admitting that he had a few play calls that he wished he could take back. He shouldered as much of the blame for Dalton's performance as the quarterback himself.
While head coach Marvin Lewis wasn't pleased with the up-and-down nature of Dalton's play Sunday, he still couldn't feel more confident about where his quarterback can take him now that the playoffs are beginning. Performances like this one won't be repeated, he believes.
"I feel great about where Andy is right now," Lewis said. "He just keeps playing and is really unflappable. He is in a good spot as we move forward. We just have to coach better and play better as we move forward."
December, 29, 2013
12/29/13
4:11
PM ET
CINCINNATI -- A few thoughts on the
Cincinnati Bengals
' 34-17 victory against the
Baltimore Ravens
.

What it means:
It may not have been pretty, but the Bengals' victory Sunday was just what they needed to build a little momentum entering the postseason. All week players and coaches talked about how they didn't plan on packing it in despite having already earned a playoff berth and another division title. They had every intention of playing their starters throughout the ballgame and doing whatever they could to beat their AFC North-rival Ravens, thereby helping keep the defending league champions out of the playoffs. If the win itself was the good, the bad and ugly were the four turnovers and poorly struck punt the Bengals had in the ballgame. If a team is going to have those miscues, it has to be glad to have them in a win. They could serve as good motivation for Cincinnati, too, as the Bengals look to correct their issues as they get ready for postseason.
Stock watch:
Andy Dalton
-- Falling. It's hard to truly say the Bengals quarterback's stock is trending downward since he threw for two touchdowns and was close to going beyond the 300-yard mark for a sixth time this season, but he didn't look as good Sunday as he had for most of the rest of the month. Along with his prolific passing numbers, Dalton also threw four interceptions. His first interception came on a deep ball on the game's first play. That pass was slightly underthrown as receiver
Marvin Jones
had to slow his stride in order to get underneath the ball. When he did, he had the ball ripped from him by
Corey Graham
. The next interception was the result of miscommunication between Dalton and receiver
A.J. Green
. They will need to clean that up heading into the postseason. Dalton's performance also came on the same day he set Bengals single-season records in passing yards and touchdowns.
Near-costly Shank:
Bengals punter
Shawn Powell
, brought on two weeks ago in the wake of
Kevin Huber
's season-ending jaw injury, had a near-costly shank on a third-quarter punt. As he reached back to kick the ball, it appeared his foot got caught in the turf before swinging through and glancing off the ball. When the ball left his foot, it hooked immediately to the left, sailing over the Bengals' sideline and into the first two rows of stadium seats. Altogether, the punt traveled 10 yards, two yards shy of the first down marker the Bengals would have needed to reach if they went for it on fourth-and-12. On the ensuing Ravens drive, Baltimore scored and added a two-point conversion to tie the game. The sequence ended up not hurting the Bengals after all.
Dre's day:
Backup cornerback
Dre Kirkpatrick
had the best performance of his young career, coming away with two interceptions late in the ballgame. Both pickoffs came on consecutive plays on consecutive drives. The second opened the Ravens' second-to-last drive and resulted in an interception return for a touchdown with about four minutes remaining that effectively put the game out of reach.
What's next?
The playoffs are up next for the Bengals, who won't
know their opponent
until the conclusion of Sunday's late afternoon games. They either will play Pittsburgh or San Diego next week at Paul Brown Stadium. If the Patriots lose later Sunday afternoon, Cincinnati will have the No. 2 seed and a first-round bye.