Cincinnati Bengals:

2013 Week 5 NWE at CIN
October, 6, 2013
10/06/13
8:30
PM ET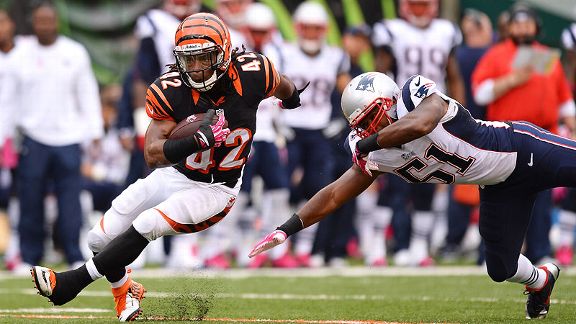 Jamie Sabau/Getty ImagesBenJarvus Green-Ellis and the Bengals were inspired by Marvin Lewis' tough week of practices.
CINCINNATI -- OK,
Cincinnati Bengals
, can we have a heart to heart?
Your win over the
New England Patriots
on Sunday afternoon was fantastic, amazing, stupendous, remarkable and any other adjective you can think of along those lines. The fact that one week after an uncharacteristic loss, you beat a Super Bowl-winning quarterback and his undefeated team, who everyone -- except Las Vegas, apparently; oddsmakers favored you all week -- thought would clobber you into submission, is something that bears applause.
You also ought to be recognized for the fact that despite a harrowing outdoor scene that looked like it was straight out of the Apocalypse, you held on, fended off Mother Nature and earned one of your most important wins of the young season.
Congratulations, you're back over .500.
But here's the thing, Bengals, football fans are fickle, as can be the media who cover the sport they so passionately love.
For that reason, the following question has to be posed: This time around, can we believe in you?
Can we, the voracious consumers of this sport you so courageously risk limb and livelihood for, take you seriously this time? Can we believe that now, you are officially, without a doubt, 100 percent able to live up to the hype so many built up for you this offseason? Can we believe this immensely-talented team does have the internal drive and desire to not only get by as an OK team, but to be a truly great one?
Essentially, what we're asking is this: Should Bengals fans start getting their hopes up again, or should they wait to see if you play down next week to a currently quarterback-less team in Buffalo that you should beat? The fans are on to your hot-and-cold style of play. Many of you are on to it, too. Like them, you know you have a habit of going into winnable games and, for whatever reason, not arriving.
"We can't do that. We can't be up and down. We can't be a roller-coaster team," defensive tackle
Domata Peko
said. "We've got to be consistent and steady. The guys in this locker room got the hint [Sunday]. We've just got to play that way every week."
Cincinnati, you know that in order to be taken seriously again, you must pressure every quarterback the way you did
Tom Brady
. Four-sack games were once a staple in your defense. Make it that way again. Pretend the Brian Hoyers of the world are just like the Mannings, the Flaccos, the Roethlisbergers and Rodgerses; you know, championship quarterbacks you've beaten the past year.
In order to be taken seriously again, you have to throw for more than 170 yards and simultaneously rush for more than 160 like you did in your
13-6 win
over the Patriots. That type of balance is your offensive identity, whether you believe you have really found such a thing or not. You have the horses, so keep figuring out ways to get the ball into
Giovani Bernard
's and
BenJarvus Green-Ellis
' hands. Keep tossing it to
Jermaine Gresham
and
Tyler Eifert
. Keep looking for
A.J. Green
,
Marvin Jones
and
Mohamed Sanu
. Don't deviate from that plan. If you do, you'll have a repeat of last week's bitter mood.
You don't want that.
[+] Enlarge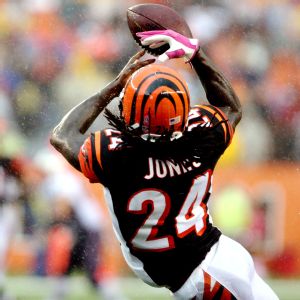 Mark Zerof/USA TODAY SportsAdam Jones' interception of Tom Brady iced the game for the Bengals.
Coach Marvin Lewis was so disgusted by that loss that he put you all through practices last week that were as close to training camp levels of intensity and physicality as the NFL would let him employ.
"We were ready," defensive end
Wallace Gilberry
said. "When you feel like your back is against the wall, that's how you come out fighting. You want to hit whoever it is, first. And when you hit them, you don't really want to give them a chance to hit you back. That's the mindset I take out there, and I'm quite sure I got 10 other guys feeling the same way. I don't care which quarterback you bring and what your case may be, when our back is against the wall, we fight you. So that's the results you get when you got 11 guys swinging and throwing haymakers for four quarters. You make stuff happen."
Gilberry wasn't the only one feeling inspired by the intense workouts. Green-Ellis, en route to his 19-carry, 67-yard performance, was, too.
"We hate losing around here, and anytime you lose, it leaves a sour taste in your mouth," Green-Ellis said, referencing last week's disappointment after a 17-6 loss at Cleveland. "We were anxious to go out [Sunday] whether it was rain, sleet or snow, monsoon, hurricane, tornado. We just wanted to go out and get the 'W.'"
It's fitting "monsoon" was one of the weather elements he invoked. Late in the fourth quarter, during a crucial Patriots drive, sheets of rain settled into Paul Brown Stadium. They soaked the venue so much that it was hard for spectators in the rafters to even see you all moving around the field. Many probably wondered how you even saw the ball.
Apparently, the Patriots couldn't see it, either. On a six-pass drive that started inside the final two minutes, Brady threw four incomplete passes and one interception. Just before the pickoff, the clouds began to lift, the rains started to ease. The precipitation had slowed just enough for
Adam Jones
to track Brady's deep, hopeful, potentially game-tying throw and tip it into the air, before securing it in his hands as he landed awkwardly. Even though 16 seconds remained, the Patriots were out of timeouts. The game had been iced.
You, as a team, had won.
Just like the Week 2 win over the rival
Pittsburgh Steelers
, a solid ground game complemented the passing attack. Just like the Week 3 victory over Green Bay, a big defensive play late effectively preserved a win.
You need more of the same, Bengals.
"As much as you hate letting a couple slip by here and there, you're going to have to win more," center
Kyle Cook
said. "We've already dropped two, so obviously we're going to need to go on some good streaks. But what better way to start it off? We have a hard one against us this week to go to Buffalo. As a team, we have to come together and not only play well at home, but play well on the road."
It all goes back to consistency. Play the way you did Sunday, and you'll start seeing people believe in you again, too.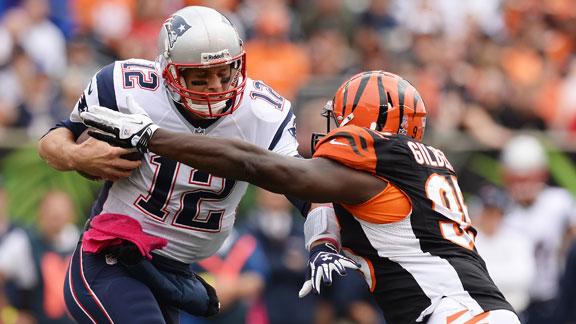 .
October, 6, 2013
10/06/13
5:07
PM ET
CINCINNATI -- Observed in the locker room after the
Cincinnati Bengals
'
13-6 win
over the
New England Patriots
:

Lewis
Partly cloudy Lewis:
As much as Bengals coach Marvin Lewis wanted to enjoy Sunday's win over one of the NFL's last unbeaten teams, he was quick to acknowledge a number of negatives.
Andy Dalton
's interception in the red zone wasn't a positive. Neither was
Giovani Bernard
's late fumble that could have set up a Patriots game-tying or winning scoring drive. "A lot to coach from and correct," Lewis said. Using the weather-forecast analogies that Lewis often correlates to injuries, it's safe to say he was partly cloudy about the win.
Quick change:
Speaking of the weather, most Bengals were quick to get out of their soggy uniforms and out the stadium. There were monsoon-like conditions late in the fourth quarter as sheets of rain moved across Paul Brown Stadium. The rains came during two of the game's most pivotal drives, then cleared when Cincinnati cornerback
Adam Jones
intercepted a
Tom Brady
pass to ice the game with 16 seconds remaining.
Crock Marshall'd:
Bengals cornerback
Chris Crocker
held court at his locker with two television crews from Huntington, W.Va. The former Marshall standout recorded seven tackles and broke up two passes.
October, 6, 2013
10/06/13
4:04
PM ET
CINCINNATI -- A few thoughts on the
Cincinnati Bengals
'
13-6 win
over the
New England Patriots
:

What it means:
Until the Bengals string together multiple wins, there really is very little that can be gleaned from their performance Sunday afternoon. They have been inconsistent much of the season, trading wins and losses. We'll see whether they can build momentum after the victory over one of the last of the NFL's unbeatens. Otherwise, the win meant Cincinnati did what we already knew it could -- beat a great team.
Stock watch:
Rising:
BenJarvus Green-Ellis
. Four games into the season, many around Cincinnati were questioning Green-Ellis' role in the Bengals' offense and whether or not he should completely take a backseat to rookie
Giovani Bernard
, whose speed-driven, electrifying style of play has made him an overwhelming fan favorite. Green-Ellis answered the critics Sunday with his best performance of the season, rushing 19 times for 67 yards and one touchdown. The effort came against the team he spent four years with. Ahead of Sunday's contest, the former Patriot had rushed for 142 yards and two touchdowns this season, and was among the league's worst with a 2.7-yards-per-carry average.
Identity found?
Six days after offensive coordinator Jay Gruden told reporters he felt the Bengals were still seeking their offensive identity, they came out with a more balanced and diverse attack than they showcased in recent games. Cincinnati started the game by running the ball four times on a four-play drive. The Bengals eventually turned the offense over to their tight ends;
Tyler Eifert
and
Jermaine Gresham
finished with a combined nine catches. By the middle of the second quarter, on their fifth drive of the game, the Bengals finally got their receivers involved, passing to
Marvin Jones
and
A.J. Green
. In all, the Bengals threw the ball 27 times and ran it 39 times.
Defensive pressure:
For the first time, the Bengals got a sack from someone other than a defensive lineman, when linebacker
Vontaze Burfict
came away with a sack on New England's
Tom Brady
in the third quarter. The sack was for a loss of 10 yards. In all, Cincinnati had four sacks, including two from defensive end
Wallace Gilberry
, who replaced
Michael Johnson
(concussion).
What's next:
Cincinnati (3-2) travels to Buffalo for its first of two straight road games.