Cincinnati Bengals:

2013 Week 7 CIN at DET
October, 20, 2013
10/20/13
9:20
PM ET
DETROIT -- When
Cincinnati Bengals
cornerback
Terence Newman
made it back to the sideline after the Lions' first-quarter touchdown Sunday, he was given some of the hardest news he's heard all season.
"I lost it," Newman said.
He didn't say much about what exactly his losing it entailed. He didn't have to.
Newman had been told one of his teammates, a veteran player who he has come to know quite well and grow even fonder of, had just gone down with an injury whose severity is not yet immediately known. That player, seven-year vet
Leon Hall
, was dealing once again with
an Achilles injury
. For that reason, there was very little reason for Newman to try to hold it together.
"It's just tough," Newman said of Hall's injury following Cincinnati's
27-24 win
. "He's one of the best in the league, you know? So to have one of the best corners in the league go down? It's tough. Especially when he's your brother. We all spend a lot of time together.
"It just sucks."
That, it does.
Hall's injury leaves the Bengals wondering what's next? Where do they turn from here? Who will pick up the mantle and take over where Hall left off?
Right now, the easy answer is for Cincinnati to look at its bench. After all, that's what the Bengals were forced to do Sunday when they had three quarters to play and couldn't snap their fingers, miraculously summoning someone off the street to add to their depth. In fact, when it comes to depth, from a talent and numbers standpoint, cornerback actually is one of the team's deepest positions. It's so deep that coach Marvin Lewis is quick to point out that he has a team full of "defensive backs."
What Lewis means is that he has safeties and cornerbacks who are so versatile that they can play either position. Players like
Chris Crocker
and
Taylor Mays
have performed multiple duties in their opportunities this season, and probably will even more now that Hall is hurt for what could be a long period of time.
"You can't replace somebody like Leon," safety
Reggie Nelson
said. "But somebody has to step up. One of our young dudes has to step up. That's something that [defensive coordinator Mike Zimmer] and those guys are going to have to look at and see who can go to battle for us."
In the event the Bengals don't make any external moves, they won't have far to turn when attempting to set their 46-man active roster ahead of next week's showdown against the Jets. In addition to having Crocker, potentially Mays and
Adam Jones
and
Dre Kirkpatrick
at cornerback, the Bengals also have
Brandon Ghee
and
Chris Lewis-Harris
who can be moved around for added depth. While Crocker is most likely to take on Hall's slot coverage duties, Jones and Kirkpatrick have filled in at times this season, as well. Ghee and Lewis-Harris were among the inactives this week, but could have that status changed next week, if need be.
Hall's injury is his second of the season, coming two weeks after he returned from a hamstring injury that kept him out of two games. It's also his second potentially major ailment in three years. During November of the 2011 season, he tore his left Achilles and was lost for the remainder of the year. Sources told ESPN's Bob Holtzman that it is believed Hall ruptured his right Achilles this time.
October, 20, 2013
10/20/13
8:40
PM ET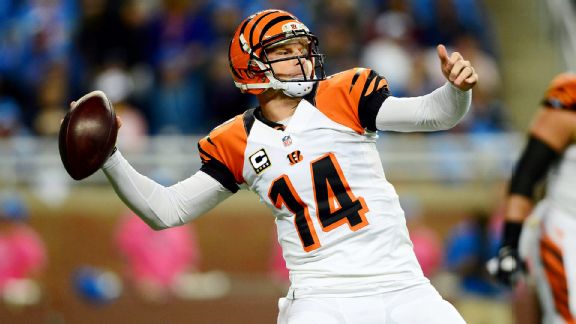 Andrew Weber/USA TODAY SportsBengals QB Andy Dalton throws one of six passes to wideout A.J. Green in a win at Detroit.
DETROIT -- The days of nicknaming Cincinnati's football team the Baby Bengals are officially done.
Finished. Kaput. Finito.
No more is this a fresh-faced group, wondering which way to turn, who to block and where to run. These days, the Queen City's club is a team of grown men who know exactly what to do when a game gets in doubt, and when the line between a win or a loss becomes razor-thin.
On Sunday, during yet another one of their big regular-season road games, the Bengals proved as much when, as time expired, they picked up a
27-24 win
against the
Detroit Lions
at Ford Field.
Mike Nugent
's game-ending field goal was his second in as many weeks and helped send a message to the rest of the league: This is one bad (the John Shaft kind of bad) team that seriously thinks it will end its season at MetLife Stadium.
If they keep grinding out victories like their past two, the Bengals have good reason to believe a Super Bowl appearance could be in their future. That's because, again, these aren't the Baby Bengals you've come to know the past few years. Defining wins such as these are signs they're maturing.
Last week, on the road in front of a hostile Buffalo crowd, the Bengals overcame a fourth-quarter rally by outlasting the Bills in overtime. Nugent's 43-yard field goal midway through the period led to another
27-24 win
. It was one that helped lay the foundation for Sunday's victory over a team that came in with the same record, a similar physical makeup on the offensive and defensive lines, and its own solid quarterback-receiver tandem that had big-play potential. All last week, the Bengals felt confident that if they could beat this mirror image of themselves, they finally could begin letting the rest of the football universe know what they already did: that they are pretty good.
"It means we're growing up," 24-year-old defensive end
Carlos Dunlap
said. "We're going to need this win right here down the road when we play a few other good teams on the road. Teams like this help build our confidence and make us grow up. We had a young football team last year and now we're older."
Cincinnati was so young last season that its opening-weekend 53-man roster ranked as the third-youngest in the NFL. After making a few tweaks this offseason, it entered 2013 as the 12th-youngest.
How fitting it was then, that on the day the Bengals faced the team that was the league's oldest in Week 1, Cincinnati would pull out perhaps its biggest win of the season.
"It's a win where the young guys and this team had to grow up and win the game by whatever it takes," eight-year veteran offensive tackle
Andrew Whitworth
said. "Two weeks in a row we've shown that. That's one of the biggest things you take from this. Is it perfect? Are there things that need to be better? Heck yeah. But this football team, two weeks in a row, with the game on the line, found a way to win. That's really where you want to be."
He's right. It is. But in order to understand where the Bengals were Sunday, you have to understand how they got there. It wasn't easy.
The Bengals have played physical games all season, but this one in Detroit may have been one of their most intense of the year. They certainly boarded the plane late Sunday banged and bruised in ways they hadn't been all year.
In all, seven players were evaluated for injuries at some point during the game. Two of them, cornerback
Leon Hall
and backup defensive tackle
Devon Still
, didn't return. Hall's Achilles injury is a "significant" one, according to coach Marvin Lewis. Still's injury is less severe, but could require him to miss some time.
As beat up as the Bengals were, they made it through this game thanks to their young stars. Specifically, it was the play of reserve cornerback
Dre Kirkpatrick
and roving defensive back
Taylor Mays
who helped plug in the hole Hall left. It was the gritty play of backup defensive tackle
Brandon Thompson
that helped alleviate any issues caused with Still's departure. On offense, it was quarterback
Andy Dalton
's 372-yard, three-touchdown performance, and
A.J. Green
's six-catch, 155-yard effort that helped keep the offense running while the defensive stars were falling out.
On the game-winning drive, third-year Bengals receiver
Dane Sanzenbacher
and rookie running back
Giovani Bernard
caught a pair of passes that pushed the Bengals, with less than 30 seconds, from their own territory and into a position where the veteran Nugent could forget his earlier miss, clear his mind as an elder player should, and deliver the clutch make.
"That's just poise," veteran
Reggie Nelson
said. "We always preach poise. And we did a good job of that [Sunday]. We just have to keep on grinding."
The more the Bengals grind, the more they trim up, shape up and clean up, the more they can put the Baby Bengals moniker behind them.
"This is a huge step forward," Whitworth said. "Does it mean you're world-beaters? No. You've got a lot of work to do. But, man, heck. It's a heck of a win."
It's a grown-man win.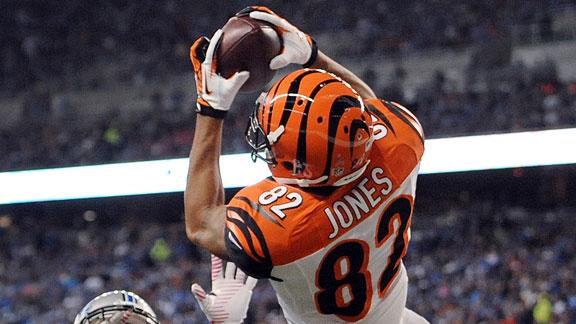 October, 20, 2013
10/20/13
4:18
PM ET
DETROIT -- A few thoughts on the
Cincinnati Bengals
'
27-24 win
over the
Detroit Lions
:
What it means:
The Bengals' win showed what we discovered last week: This team knows how to win at the buzzer and in the clutch. With the game on the line, kicker
Mike Nugent
buried his second game-winning field goal in as many weeks, slamming through a 54-yard field goal as time expired. He hit a 43-yard field goal to end the Bengals' overtime win over the Bills last week. He also missed a field goal earlier in Sunday's game. Now 5-2, Cincinnati appears to be gaining some momentum.

Stock watch:
Training room -- Falling. Just when it seemed the Bengals were becoming the envy of the NFL by returning to the closest thing there is in the league to a fully healthy team, they suffered a series of injuries Sunday. In all, six Bengals required some level of visible evaluation. First, it was cornerback
Leon Hall
, who left the game and didn't return after hurting his right Achilles late in the first quarter. Not long after, defensive tackle
Devon Still
was carted off with a game-ending elbow injury. In the fourth quarter, linebacker
Rey Maualuga
left with injury. Receiver
Marvin Jones
and defensive ends
Michael Johnson
and
Wallace Gilberry
also were checked out on the field for injuries but continued to play. While it might seem laughable to call the training room a stock-worthy group, just ask coach Marvin Lewis if the injuries have given him anything to smile about.
Streak stopped:
With Detroit quarterback
Matthew Stafford
's game-tying 50-yard touchdown pass to
Calvin Johnson
early in the fourth quarter, the Bengals had a streak spanning parts of two seasons snapped. They entered the ballgame having held opposing quarterbacks to fewer than 300 yards passing in 20 straight games. It had been the longest active streak in the league. Stafford reached 319 yards on the touchdown pass before finishing with 357 for the day. During the Bengals' streak,
Eli Manning
,
Aaron Rodgers
,
Ben Roethlisberger
and
Tom Brady
were among those who didn't cross the 300-yard plateau.
What's next?
The Bengals head home next Sunday, where they will host the
New York Jets
. The game will be Cincinnati's first at Paul Brown Stadium in three weeks and interrupts a five-week stretch that includes four road games. The Bengals are undefeated at home this season, beating Pittsburgh, Green Bay and New England.