Cincinnati Bengals:

2013 Week 9 CIN at MIA
November, 1, 2013
11/01/13
3:30
AM ET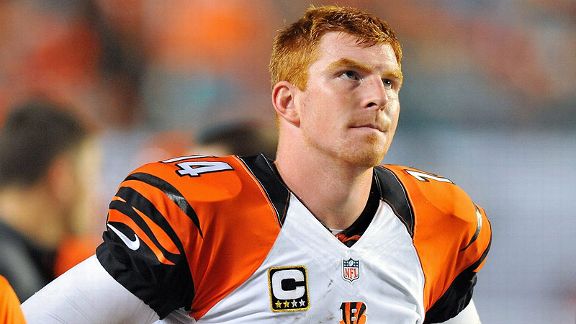 Steve Mitchell/USA TODAY SportsDespite a strong second half, Andy Dalton and the Bengals saw their four-game win streak end.
.
MIAMI -- OK, yes, the
Cincinnati Bengals
lost Thursday night. For the first time in five weeks, they weren't the better team on the field.
But does that suddenly mean they're a bad bunch? Does their
22-20 overtime defeat
at the hands of the
Miami Dolphins
, a team that until this week couldn't buy a victory, mean they should no longer be declared one of the AFC's elite teams? Does a 6-3 record mean they aren't a relevant part of future postseason projections?
Does
Geno Atkins
' potential ACL injury signal a death knell of sorts for this team that began the season with so much hope, so much promise and such high expectations?
No. No. No. And no.
Don't let the result, or even the final play, of Thursday's contest fool you. Cincinnati still has a strong team. The Bengals will be part of the playoff picture. It was just that, after nine games of all that grinding and fighting and scratching and clawing, they didn't have quite enough left when they needed it the most. As they concluded one of the more challenging obstacles they have encountered all season, they fell flat late.
A block was missed, a pass wasn't thrown, an imaginary line was drawn, a quarterback went down and a game was lost.
But still, even after all that, with about half the season still staring them in the face, very little changes for the Bengals.
"What we want to do is win the division, make it to the playoffs and win some football games," cornerback
Terence Newman
said. "We've got a little time off to regroup and try and get healthy and make another push."
Since Sept. 8, they've been pushing all right. Even after losing the season opener at Chicago, the Bengals worked their way to a 6-2 first-half record that included four wins in October before Thursday night. Against the tall odds of a stretch featuring four road games in five weeks, against more adverse conditions than most of the current playoff-contending teams have faced, the Bengals still have held it together. They've taken coach Marvin Lewis' most-used word to heart. They have been "grinding."
Just take Thursday's game. Before halftime, Cincinnati had every reason in the world to pack it in, play for the whistle and jump on the plane back home to rest their weary bones and aching muscles. Few would have blamed them. Outmatched at the line of scrimmage much of the physical first half, they were trailing 10-3 and had just lost arguably their best defensive player in Atkins. Besides, they had already come into the game down four of their top players overall. Their intense play from the first eight games was finally starting to catch up to them.
The grinding appeared to be coming to a screeching halt.
But then came the final 35 minutes. Right when it appeared the short week was catching up with the Bengals, it caught up to the Dolphins. As Miami's defenders struggled to slow them, the Bengals spent the third and fourth quarters staging a comeback and taking the lead on yet another field goal from their prized kicker,
Mike Nugent
, inside the final two minutes of regulation. He already had winning kicks against Detroit and, in overtime, against Buffalo.
Then came the final 20 seconds, a tying Dolphins field goal and the overtime period that followed. On Cincinnati's final possession, the game ended when, pinned against his own end zone, quarterback
Andy Dalton
was sacked. The play was close. He had entered the end zone, stepped out and may have still been out of the end zone with the ball when he was struck by
Cameron Wake
. The force of the hit sent Dalton backward and into the end zone, where he was downed for the winning safety.
A replay review sought to confirm whether he had been hit while the ball was still in the field of play. The review came back and determined that the ball was in the end zone when Dalton began to go down. He was indeed sacked for a safety.
It was the ending to a game, but not a season.
After the call was upheld, several Bengals stood around the Sun Life Stadium field looking perplexed. It was clear they were having trouble comprehending the bizarre ending.
"It hurts," said receiver
Marvin Jones
, who caught four touchdowns last Sunday. "You don't want to lose games like that. You don't want to lose games period. But we're a great team."
Part of the added difficulty to this week's grind stemmed from the Bengals' general lack of health. Four players left Sunday's 49-9 win over the
New York Jets
with injuries, and only one of them was activated against Miami. On an already-short week, the Bengals were asked to shuffle their lineup, giving young reserves opportunities to fill in for beat-up starters and Pro Bowl veterans.
Asked if the short week plus the slew of injuries had a hand in the loss, the Bengals vigorously shook their heads no.
"It's just part of the schedule," defensive tackle
Domata Peko
said. "We've got to finish better. We fought our tails off, we were down by 14, our guys played their hearts out and got back in the game, but we just couldn't finish."
Jones echoed those sentiments, saying he felt the Bengals had strong practices in the limited time they had to work out this week.
"Coaches did a great job of keeping us fresh, and I felt as fresh as I've been," Jones said. "So there was none of that. It just didn't come out right in the end. ... We fought, and Miami had those plays at the end. That's a tribute to them."
The fact that the Bengals were inches away from potentially getting out of Miami with a win some weren't sure would come anyway, speaks to how well they performed given the odds. This loss doesn't change much.
Cincinnati still has a very good team.
November, 1, 2013
11/01/13
1:19
AM ET
MIAMI -- Observed in the locker room after the
Cincinnati Bengals
'
22-20 overtime loss
to the
Miami Dolphins
:

Nugent
Coach's call:
Bengals kicker
Mike Nugent
said he wasn't disappointed with coach Marvin Lewis' decision to punt during the overtime period instead of going for a potential 57-yard game-winning field goal. Nugent had hit a 54-yarder with relative ease earlier in the game. "He's got to be thinking, 'If he misses the field goal, they get the ball at what? The [39]-yard line? ... As much as I wanted to be out there, at the end of the day, it's probably the right decision."
Newman's heady play:
On the first play of their final drive of the overtime period, the Dolphins went long on a go-route that pitted receiver
Mike Wallace
versus Bengals corner
Terence Newman
. Wallace had Newman beaten, but the veteran defender dove at the last second, tripping Wallace to draw a pass-interference penalty. "We couldn't have the game end that way," Newman said. "I figured, as long as we get another chance to make some plays." The Bengals' defense held and kept Miami out of field-goal range.
Disappointment:
As expected, there weren't many smiles in the Bengals' locker room. Several players, slow to change, conversed among themselves about how much the loss hurt. "It was a hell of a game," offensive coordinator Jay Gruden said. "It was a hard-fought game by both teams."
November, 1, 2013
11/01/13
12:03
AM ET
MIAMI -- A few thoughts on the
Cincinnati Bengals
'
22-20 overtime loss
to the
Miami Dolphins
.

What it means:
Thursday night's game was about one thing for the Bengals: survival. They nearly did just that. Unfortunately, in the end, it was the Dolphins' defense that had more mettle. Miami was able to come through with the win after bringing relentless pressure on Cincinnati quarterback
Andy Dalton
in the middle of the overtime period. It was
Cameron Wake
's blitz past Bengals guard
Kevin Zeitler
that led to the game-winning safety. This loss doesn't mean the Bengals are a bad team, it just means that they didn't have quite enough gas in the tank after a rough nine-week stretch to start the season.
Stock watch:
Giovani Bernard
continues to impress. The rookie's weaving, winding, tackle-breaking 35-yard touchdown run near the start of the fourth quarter wasn't just the latest in a stream of highlights for the South Florida native; it may have been the best array of moves he has showcased since donning a Bengals uniform. Reminiscent of the king of extending the play, Barry Sanders, the run started with a pitch right, saw a cutback to the left sideline and concluded as a score in the middle of the field. The Dolphins missed five tackles on the play. Bernard finished with 79 yards on nine carries and two scores. One of his touchdowns came at the end of a drive in which he carried the ball four times for 27 yards. It sparked the comeback. Bernard's successful game might have had a minor cost, however: He was run from it with a rib injury.
Geno sacked:
The Bengals lost one of their big defensive stoppers in the second quarter when defensive tackle
Geno Atkins
suffered a right-knee injury. It wasn't clear by the end of the game exactly how much time, if any, he might miss because of the injury, but the ailment itself appeared at the time to be rather significant. He needed assistance as he gingerly walked off the field.
What's next?
The Bengals take their 6-3 record on the road to face Baltimore on Nov. 10. With nine days to heal their very weary bones, the timing of the AFC North matchup couldn't be better. It will also be the end of a four-cities-in-five-weeks tour, on which they are now 3-1.
October, 31, 2013
10/31/13
10:15
PM ET
MIAMI -- Just when it seemed the news had gotten as bad as it could have for the
Cincinnati Bengals
, it took another awful turn Thursday night at Sun Life Stadium. Yet another player was escorted off the field with the type of injury that has Who Dey Nation holding its collective breath and wondering if its once-promising season is suddenly in peril.
Atkins
This time, it was defensive tackle
Geno Atkins
, who
suffered what appeared to be a serious injury
in the second quarter of the Bengals' game against the
Miami Dolphins
. Officially, it is a right-knee injury. As of halftime -- with the Dolphins leading
10-3
-- there are no real updates as to what Atkins' status is or will be going forward. All we know is that the injury was bad enough to run him from the game.
As Bengals fans well know, this isn't the first time one of their key players has left a game because of an injury. In the past three weeks, it seems as if the hits have just been coming, and coming, and coming.
Two weeks ago, cornerback
Leon Hall
tore his Achilles while trying to break up a pass intended for Detroit's
Calvin Johnson
. Last week, defensive back
Taylor Mays
' season came to an end because of a dislocated shoulder that came one play shy of halftime against the
New York Jets
. Linebacker
Rey Maualuga
also will miss three to four weeks because of an MCL sprain from that game. Now, it's Atkins, the $55 million man, who has suffered an injury that appeared so straining that he ripped his helmet off immediately after it occurred. It was one that had his teammates taking knees as they looked on in disbelief that another one of their leaders had fallen.
If you're the Bengals, you have to hope for good news when it comes to his injury. This is a team that can't take another season-ender.
If there is a silver lining to the hits that have come so far, though, it's this: The Bengals have been able to take them and bounce back. It is rather amazing that even with all they were dealing with entering Thursday's game, the Bengals had a 6-2 record and looked like one of the NFL's top teams.
We'll see if Atkins' injury has any long-term effect on how well they can continue to roll.
Keep your eyes peeled, folks.
Update:
A Bengals source
confirmed to ESPN's Bob Holtzman
that Atkins tore his ACL, but will have an MRI Friday to confirm the diagnosis.
October, 31, 2013
10/31/13
7:48
PM ET
MIAMI -- The injury-weary
Cincinnati Bengals
came into Thursday night's game against the
Miami Dolphins
battered and bruised and hoping that at least two of their banged-up starters might actually be able to play.
One was, one wasn't.
Whitworth
Less than two hours before kickoff, the Bengals announced that Pro Bowl left offensive tackle
Andrew Whitworth
was among a group of inactives that also included linebackers
Rey Maualuga
and
Michael Boley
. Maualuga's inactive status had already been announced when he was declared out on Wednesday's injury report. Boley, who was fighting through a hamstring injury during this short week, had been hoping to play.
The other injured starter whose playing status was in doubt much of the week was receiver
Mohamed Sanu
. He didn't practice the first days of the week after trying to get over a shoulder injury suffered in last Sunday's 49-9 win over the
New York Jets
. He ended up being declared active after warming up before the game alongside other receivers, like
Andrew Hawkins
, who had been on the injured reserve list until Thursday morning. Hawkins, along with
Ryan Whalen
, will be active for the game.
In place of Whitworth, the Bengals will start backup tackle
Anthony Collins
. The reserve will be making his 20th career start and second of the season. Collins started against the
Chicago Bears
in Week 1, drawing the difficult task of keeping Pro Bowl defensive end
Julius Peppers
out of the backfield. He did his job. Peppers didn't record a sack.
In place of Maualuga, the Bengals will start
Vincent Rey
at middle linebacker. This will be his second career start.
Along with Maualuga's injury -- one that is expected to keep the linebacker out three to four weeks -- the Bengals also lost defensive back
Taylor Mays
for the season with a shoulder injury suffered in Sunday's game. Earlier this week, he joined defensive tackle
Devon Still
and cornerback
Leon Hall
as being declared out.
Here is the full list of inactives for both teams:
Bengals:
LB Rey Maualuga, RB
Rex Burkhead
, CB
Chris Lewis-Harris
, LB Michael Boley, C
Trevor Robinson
, DT Devon Still, OT Andrew Whitworth
Dolphins:
QB
Pat Devlin
, RB
Mike Gillislee
, CB
Will Davis
, OG
Danny Watkins
, OG
Dallas Thomas
, OT
Jonathan Martin
, TE
Dion Sims