Cincinnati Bengals:

Alex Mack
April, 15, 2014
4/15/14
2:00
PM ET
Cleveland Browns
fans complained the past few years as the team sat idly by while free agency raged. The Browns fiddled while free agents burned holes in owners' pockets.
Or something like that.
Since the 2014 version of free agency began, the Browns have spent $55.8 million in guaranteed money.
That's the highest total in the AFC North, and following the matching of Jacksonville's offer to
Alex Mack
, ranks third in the league in guaranteed money spent since March 11.
Which means the Browns rank third to the Bucs and Broncos in guaranteed money, with most of it going to Mack ($18 million reported, though the number has not been confirmed), linebacker
Karlos Dansby
($12 million) and safety
Donte Whitner
($13 million). The Browns started free agency with a glut of cap space, and they've not been shy about using it.
And they've spend more than $50 million in guaranteed contracts without even addressing the quarterback position.
Second in the division in spending are the
Baltimore Ravens
at $36.3 million, though their total does not include re-signing
Dennis Pitta
just before free agency began. That signing brings the Ravens' guaranteed money total to $52.3 million -- still short of the Browns.
Most of Baltimore's money went to Pitta and offensive tackle
Eugene Monroe
($19 million).
Take away those two re-signings and Baltimore's guaranteed total of $18 million is more like a team that feels good about itself.
Same for the Bengals, a team that has made the playoffs three years in a row and feels it's close to something good. Cincinnati has spent just $7.3 million in guaranteed money, the fourth lowest total in the league.
Pittsburgh? The Steelers never go overboard in free-agent spending and this year is no different. Their total of $8.7 million is just ahead of Cincinnati.
March, 10, 2014
3/10/14
10:00
AM ET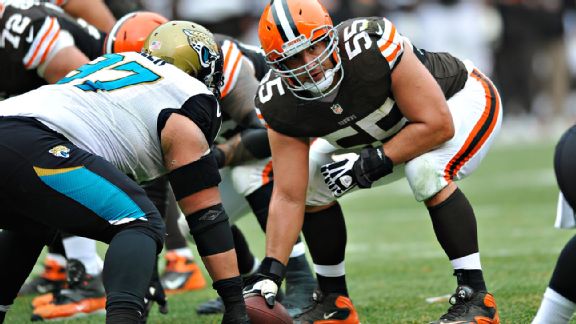 AP Photo/David RichardCleveland Browns center Alex Mack is the top free agent in the AFC North.
It's not a particularly strong free-agent class in the AFC North, although the top ones rank among the best in the NFL.
The free-agent group in the division took a hit when tight end
Dennis Pitta
, outside linebacker
Jason Worilds
and linebacker
D'Qwell Jackson
all signed before the official start of free agency.
So who's left? ESPN's four team reporters in the division -- Scott Brown, Coley Harvey, Jamison Hensley and Pat McManamon -- compiled a list of the top 15 free agents in the AFC North.
The
Baltimore Ravens
have the most free agents on this list with eight players. The
Cleveland Browns
have two of the top three free agents in the division, and the
Cincinnati Bengals
have two of the top five. The
Pittsburgh Steelers
placed one free agent in the top 10.
Here are the top 15 free agents in the AFC North:
1. Alex Mack, Browns center:
At 28, the two-time Pro Bowler is in the prime of his career. Mack was so coveted by the Browns that they placed a $10 million transition tag on him. It will be interesting whether another team can pry him away from Cleveland.
2. Michael Johnson, Bengals defensive end:
He was better in 2012 (11.5 sacks) than he was in 2013 (3.5 sacks). Still, his size, athleticism and age (27) will make him one of the most coveted pass-rushers this offseason.
3. T.J. Ward, Browns safety:
Considered one of the top 10 safeties in the NFL, Ward will draw interest from teams looking to get more physical in the secondary. He makes an impact on run defense and has improved in coverage.
4. Eugene Monroe, Ravens offensive tackle:
Some believe Monroe is the top offensive tackle in free agency, but ESPN's Bill Polian has five tackles ranked ahead of him. His athleticism and upside will command a big-money contract even though he's never been to a Pro Bowl.
5. Anthony Collins, Bengals offensive tackle:
He is an underrated left tackle who didn't allow a sack last season. The question mark with Collins is how he'll play as a full-time starter. He made seven starts last season and has 25 starts in six seasons in Cincinnati.
6. Jacoby Jones, Ravens receiver-returner:
He was one of the top playmakers in the Ravens' 2012 Super Bowl run, and he ranked among the top five returners in the league last season. Jones is inconsistent and one-dimensional as a wide receiver, but he made a lot of clutch plays for the Ravens in two seasons.
7. Art Jones, Ravens defensive end:
His impact as a run defender and interior pass-rusher makes him one of the top defensive tackles available. Teams, though, have to wonder whether he'll be the same type of player without
Haloti Ngata
drawing double-teams next to him.
8. Daryl Smith, Ravens linebacker:
He was quietly one of the NFL's top comeback stories. In his first season with the Ravens, Smith led the team with 123 tackles and finished with five sacks, three interceptions, 19 passes defensed and two forced fumbles. His age (32 this month) could be a drawback.
9. Michael Oher, Ravens offensive tackle:
His play never reached the expectations placed on a first-round pick. Oher is a throwback type of player whose strengths are durability and toughness. The biggest knocks against him are mental mistakes and pass protection.
10. Emmanuel Sanders, Steelers wide receiver:
He is almost 27, brings a lot of quickness and is coming off a season where he dropped just two passes (according to ESPN Stats & Information). What works against Sanders is the fact that he's never had more than 740 yards receiving in a season and averaged a career-low 11 yards per catch last season.
11. Jameel McClain, Ravens inside linebacker:
He isn't among the most talented linebackers, but he prides himself on outworking others. Even though he came back from a spinal cord contusion last season, some teams will be wary of a player who had such a serious injury.
12. James Ihedigbo, Ravens safety:
Known more for his special-teams play, Ihedigbo finished as the team's second-leading tackler. He'll try to find a team that will give him an opportunity to play defense now that the Ravens moved
Matt Elam
to his strong safety spot.
13. Ziggy Hood, Steelers defensive lineman:
He never became the difference-maker the Steelers envisioned when they drafted him in the first round, but it would be unfair to call him a bust. One of the strongest players on the team, Hood lost his starting job to
Cameron Heyward
last season.
14. Corey Graham, Ravens cornerback:
He was a starter on the Ravens' 2012 Super Bowl team and led Baltimore with four interceptions last season. Graham has proved to be a dependable nickelback, but he doesn't have the size or speed to be a full-time starter.
15. Brett Keisel, Steelers defensive lineman:
He had four sacks last season and 26 quarterback pressures, third most on the Steelers, despite missing four games and playing sparingly in another because of a nagging foot injury. His age (35) will scare away a lot of teams.