Cincinnati Bengals:

brandon ghee
October, 20, 2013
Oct 20
12:00
PM ET
DETROIT -- The
Cincinnati Bengals
left home earlier this weekend knowing they would be healthy when they met the
Detroit Lions
at Ford Field on Sunday.
For that reason, they knew they wouldn't have to juggle their roster to accommodate for injured players before the nonconference showdown. Still, they had to trim their 53-man roster down to 46 active players ahead of the ballgame. They have done just that.
Among the list of inactive players will be cornerback
Brandon Ghee
, a four-year veteran who has dealt with injuries much of the season. He wasn't listed on the Bengals' injury report after returning from a thigh injury the week before. He also missed much of the preseason and the first three weeks of the regular season with a concussion. Ghee's inclusion on the inactives list was a sign that cornerback
Terence Newman
, who missed Wednesday's and Thursday's practices, will indeed play. He had been declared probable after working out Friday.
Like Sunday, Ghee probably could have played last week. He was declared inactive then in part to make room for cornerback
Leon Hall
, who returned to action last week after a hamstring injury held him out for two games. Another cornerback,
Chris Lewis-Harris
, made it to this Sunday's inactives as well.
Another addition to the list of inactives was center
Trevor Robinson
, who was declared inactive for the first time this season after guard
Mike Pollak
recovered from a knee injury and was added to the active roster.
Here is the full list of Bengals and Lions inactives:
Bengals:
CB Brandon Ghee, RB
Rex Burkhead
, CB Chris Lewis-Harris, C Trevor Robinson, OG
Tanner Hawkinson
, WR
Ryan Whalen
, DE
Margus Hunt
Lions:
WR
Nate Burleson
, QB
Kellen Moore
,
Jonte Green
CB, RB
Theo Riddick
, OG
Leroy Harris
, OT
Jason Fox
, TE
Tony Scheffler
October, 13, 2013
Oct 13
11:47
AM ET
ORCHARD PARK, N.Y. -- The
Cincinnati Bengals
' defense, one that prevented
New England Patriots
quarterback
Tom Brady
from throwing a touchdown pass last week, just got stronger ahead of its Sunday afternoon road tilt against the Bills.

Defensive end
Michael Johnson
and cornerback
Leon Hall
were declared active for the game after dealing with injuries the past few weeks. Johnson suffered a concussion in the Bengals' Week 4 loss at Cleveland. He was held out of practices from that game until Friday, when he was finally cleared following a battery of tests that he had to go through per the NFL's concussion protocol.
Hall practiced all of last week after suffering a hamstring injury in the Bengals' Week 3 win against the
Green Bay Packers
.
With Johnson and Hall in the mix, the Bengals' eighth-ranked unit gets a good lift just in time to face a Bills' offense that is in a bit of flux. Buffalo lost starting quarterback
EJ Manuel
to a knee injury at Cleveland last weekend, causing it to start former practice squad player
Thad Lewis
. This is Lewis' second-career start.
While Johnson and Hall were declared active, cornerback
Brandon Ghee
was declared inactive once again as he deals with a thigh injury. He has only played one game this season as he has had to battle through concussion issues, as well.
Here are the full lists of inactives for the Bills and Bengals:
Bengals
RB
Rex Burkhead
CB Brandon Ghee
CB
Chris Lewis-Harris
OG
Tanner Hawkinson
OG
Mike Pollak
WR
Ryan Whalen
DE
Margus Hunt
Bills
QB EJ Manuel
WR
Stevie Johnson
CB
Justin Rogers
CB
Brandon Burton
CB
Ron Brooks
LB
Ty Powell
OG
Antoine McClain
October, 4, 2013
Oct 4
2:40
PM ET
CINCINNATI --
Cincinnati Bengals
defensive end
Michael Johnson
missed much of Friday's final walkthrough as his teammates prepared for Sunday afternoon's game against New England, but coach Marvin Lewis is still expressing optimism that the fifth-year lineman will play.
Johnson has missed all of this week's practices because of a concussion he received in last Sunday's 17-6 loss at Cleveland. After the game, he informed trainers that he thought he picked one up during the contest and needed to be evaluated. Their tests determined he was right.
"We'll see," Lewis said about Johnson on Friday. "Michael's feeling good. He was able to get back and get some activity. We'll see what happens."
The activity Johnson went through was limited to conditioning work. Until Johnson is cleared to suit up and play, he has to go through a battery of tests and evaluations that are part of what's called the "concussion protocol."
"The protocol is just a process," Lewis said. "So we've got to go through the protocol."
At this point, Johnson could be a game-time decision. If he doesn't play, he'll see an end to his 71-game streak that is tied with punter
Kevin Huber
for the longest one on the team.
Cincinnati listed Johnson as questionable in its Friday injury report.
Along with him, the Bengals listed cornerbacks
Leon Hall
(hamstring) and
Brandon Ghee
(thigh) and guard
Mike Pollak
(knee) as doubtful, and cornerback
Dre Kirkpatrick
(hamstring) as questionable.
Here is Cincinnati's full injury report:
Doubtful:
CB Brandon Ghee (thigh), CB Leon Hall (hamstring), G Mike Pollak (knee)
Questionable:
CB Dre Kirkpatrick (hamstring), DE Michael Johnson (concussion)
Probable:
LB
Vontaze Burfict
(neck), LB
James Harrison
(knee), S
Reggie Nelson
(hamstring)
September, 28, 2013
Sep 28
4:00
PM ET
Plain and simple, teams in the AFC North just don't like one another. They can't stand each other. If there is a division in the NFL in which the teams involved have the truest sense of hate for one another, it's this one.
Just think about it. Whenever the
Cincinnati Bengals
and
Cleveland Browns
get together, enormous, vocal crowds usually turn out. Both franchises can enter a particular meeting having a poor season, stumbling to their respective losing records and still, FirstEnergy Stadium or Paul Brown Stadium will be rocking. That's what makes a true football rivalry.
This year, though, neither team appears to be bad. Far from it. The Bengals are a hot pick to end up in the AFC Championship Game, and the Browns, post-
Trent Richardson
trade, are suddenly the darling upstart of the conference. If there has been an underdog in the AFC to root for the last two weeks, Cleveland has been it.
When the two teams meet for the first time this season at 1 p.m. ET Sunday, here are four things you'll want to watch for:
1. The homecoming.
As a teenager in Cleveland,
Brian Hoyer
attended Browns games, dreaming he'd one day get an opportunity to start a game there as a professional quarterback. That day is on the horizon. It's Sunday. For the first time in his five-year career, the longtime backup will be taking starting snaps for the team he grew up cheering, in the city that raised him. After his impressive performance in last week's win over Minnesota, Hoyer was given the starting nod again this week, playing in place of
Brandon Weeden
, who has been dealing with a thumb injury. Watch for Hoyer's excitement level. Understandably, it will be high, and a packed home crowd ought to make it even higher. If he's too pumped up, though, it could be a problem for the Browns. If the Bengals can put pressure on him early and fluster him, the homecoming could be a long one for Hoyer.
[+] Enlarge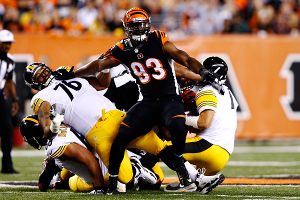 AP Photo/Joe RobbinsBengals defensive end Michael Johnson will have his hands full Sunday against the Browns' Pro Bowl tackle Joe Thomas.
2. The battle in the trenches.
Both teams feature offensive and defensive lines with a mix of young, promising talent and cagey, wily veterans. Cleveland's offensive line is anchored by six-time Pro Bowler
Joe Thomas
. The left tackle will be matched up with Bengals fifth-year defensive end
Michael Johnson
, who had his best game of the season last week against Green Bay. Among Johnson's more memorable plays from the win was his forced fumble that led to
Terence Newman
's recovery and 58-yard touchdown return, and his pass deflection on a fourth-and-5 one drive later that iced the win. Cincinnati's offensive line is anchored by Pro Bowl left tackle
Andrew Whitworth
. He likely will be paired against defensive end
Desmond Bryant
. When Bryant isn't giving him trouble, though, rookie outside linebacker
Barkevious Mingo
could. Mingo and Whitworth hail from the same Louisiana town and college football power (LSU) and have a long friendship that will be put to the test on the field for the first time.
3. Cameron coverage belongs to ...
Be on the lookout for where Browns tight end
Jordan Cameron
lines up on the line of scrimmage, and keep an eye out for which Bengals linebacker gets awarded the responsibility of covering him. Through three games, Cameron already has tied a career high in receptions (20) and set career marks with 269 receiving yards and four touchdowns. At the start of his third season, Cameron is blossoming into another one of the NFL's bright, young, pass-catching talents at tight end. Cincinnati certainly has had its eye on him all week, and the team feels confident it has a game plan that will stop him. Against the Vikings last week, Cameron had six receptions for 66 yards and three touchdowns.
This will be the first such test for the Bengals since the season opener, when Chicago's
Martellus Bennett
had three catches, including a touchdown in the Bears' 24-21 win. In the Bengals' other two games, injuries kept them from seeing just how effective the tight end could be in those offenses. The Packers'
Jermichael Finley
went down with a concussion in the first quarter of Cincinnati's 34-30 win last week.
4. Cornerback watch.
There may be more attention paid to the Bengals' pregame by their fans than anything else Sunday as they await the fate of their cornerbacks. Three of them,
Leon Hall
,
Dre Kirkpatrick
and Newman, were dealing with injuries this week. Safety
Reggie Nelson
also had his own injury concerns. Only Newman appears set to go, though, after Kirkpatrick, Hall and Nelson were listed as doubtful on the Bengals' injury report Friday. Coach Marvin Lewis is holding out hope that more optimistic news may come Sunday morning, but there is a strong possibility it might not. If it doesn't, look for
Brandon Ghee
, a young cornerback who is just returning from a concussion that had kept him out since the preseason, to slip into Hall's role. Newly re-signed safety
Chris Crocker
also could be in the mix to replace Nelson if need be. The cornerback watch will be a captivating one because it could have an impact on the Bengals' efforts at slowing Browns receiver
Josh Gordon
, who hauled in 10 passes from Hoyer last week.
September, 26, 2013
Sep 26
3:50
PM ET
CINCINNATI --
Brandon Ghee
would rather you save your sympathy. Give it to someone else who he feels is more deserving.
From a health standpoint, yes, he has had a rough start to his career, but he's not feeling badly about it. So to him, neither should anyone else.
Despite being concussed twice in the last four seasons, most recently this past preseason, the Bengals cornerback contends he's fine now and is ready to finally -- yes,
finally
-- get his career going Sunday afternoon in Cleveland. And yes, he says, knock on wood, he's for real this time.
"I just look at the bright side," Ghee said late Thursday morning. "Cup's half full. I'm not half empty."
After being forced to sit the last six weeks due to concussion-like symptoms, the fourth-year defensive back is all in again, fully cleared and ready to contribute. He was given the OK to return to practice earlier this week, and the timing couldn't have been any better.
As they recuperate from their third straight physical contest to open the year, the Bengals this week have been without several key defensive backs. Cornerbacks
Leon Hall
,
Dre Kirkpatrick
,
Terence Newman
and safety
Reggie Nelson
were among the members of the secondary who missed some or all of Wednesday's and Thursday's practices.
In an effort to keep the secondary's non-injured body count high, the organization added veteran
Chris Crocker
to the mix earlier this week. After dabbling this offseason into his post-football life by serving as a referee and brushing up on his broadcast skills, Crocker was pulled from home and welcomed back to the club for the second time in as many years. While the safety believes he can give the Bengals meaningful minutes if needed this weekend, the team knows it clearly will be better served by having as many healthy corners and safeties as possible.
For that reason, the timing of Ghee's return is critical.
"Definitely good to see him on the field to get some reps," defensive backs coach Mark Carrier said.
Ghee said he actually could have played last week, but trainers opted to keep him sidelined out of caution.
"With the new lawsuit, they're watching everything. They're watching concussions," said Ghee, who picked up his latest concussion during the Bengals' preseason opener at Atlanta in early August. Against Buffalo his rookie season, he experienced another after a hard hit left him motionless on the field for several minutes.
"If I had a third one, it would be pretty much over," he said. "They were making sure I was healthy."
Now that he has been deemed healthy and is cleared to play again, Ghee believes he can have an immediate impact.
"I feel as ready as I can be," he said. "I'm not the type of person to be all nervous and stuff. I like the pressure."
He added that he won't change his style of play because of the head injuries. Even though they came on tackles, the one in Atlanta was the result of helmet-to-helmet contact, he believes he can't play fearfully. "That's where you get beat," he added.
During organized team activities last year, Ghee was moved around the secondary from the boundary cornerback spots into the Nickel corner position where he routinely lined up against interior receivers. With strong play during the offseason workouts, he turned enough heads to convince the Bengals he could play that position. If Hall's bum hamstring ends up keeping him out this weekend, Ghee's ability to play in the slot could be key.
"I hope they throw me in the slot," Ghee said. "It's more opportunities for me. It's more plays."
Such opportunities largely have not come in his career. Since joining the Bengals in 2010, Ghee had mostly been used as a special teams contributor. Last preseason, it finally appeared he was going to get a chance to play a key role in the defense. Instead, a dislocated wrist shelved him for the entire season. Then, 359 days later, he was back on the sidelines with the latest concussion.
Through those three major injuries and four seasons, Ghee has seen the field just 14 times as a defensive player.
"Things happen," Ghee said. "To me, this is all a small stepping stone."
September, 25, 2013
Sep 25
4:25
PM ET
CINCINNATI -- The health of the
Cincinnati Bengals
' secondary will end up being a dominant story line this week as Cincinnati tries to prepare for Cleveland's rejuvenated offensive attack when the teams meet at FirstEnergy Stadium on Sunday afternoon.
During their first full practice since beating Green Bay last weekend, the Bengals were without several key defensive backs Wednesday afternoon. Veterans
Leon Hall
,
Terence Newman
and
Reggie Nelson
joined
Dre Kirkpatrick
in either limited or non-practice capacity. On the heels of arguably the most physical and draining game of the season for the Bengals' defense, it shouldn't be too surprising that they, along with others, were out.
Said linebacker
Vontaze Burfict
, who did practice Wednesday after playing all 81 snaps last Sunday: "I was exhausted."
Still, just because the four didn't practice, that doesn't mean they won't be ready for kickoff. Coach Marvin Lewis was as optimistic as he has been all season when he provided an injury update during his Wednesday afternoon news conference.
"The sun came up a little bit," Lewis said, jokingly referencing the weather terms he sometimes uses to describe his players' health. "Everybody's doing a lot better than the initial Sunday-afternoon prognosis. We just have to go through the week and see how we do."
Among the good signs the Bengals do have on the injury front are those that concern cornerback
Brandon Ghee
. The Wake Forest product participated in the practice. It was his first since suffering a concussion in Cincinnati's preseason opener at Atlanta nearly two months ago.
"Definitely good to see him on the field to get some reps," defensive backs coach Mark Carrier said. "He hasn't played since August."
Here's the Bengals' full injury report:
Did Not Practice:
CB Leon Hall (hamstring), CB Dre Kirkpatrick (hamstring), S Reggie Nelson (hamstring), G
Mike Pollak
(knee)
Limited Practice Participation:
RB
BenJarvus Green-Ellis
(ankle), CB Terence Newman (knee)
Full Practice Participation:
OT
Anthony Collins
(knee), CB Brandon Ghee (concussion)