Cincinnati Bengals:

brandon thompson
January, 26, 2014
Jan 26
3:00
PM ET
With the offseason here, we've been spending the past week taking a position-by-position review of the
Cincinnati Bengals
' 2013 season and give a sneak peek at what may lie ahead in 2014.
After
quarterbacks
,
running backs
,
receiver
s
,
tight ends
,
offensive tackles
and
guards/centers
, up next:
DEFENSIVE TACKLES
2014 free agents:
None.
The good:
As part of an overall defensive unit that ranked third in the NFL, the Bengals' tackles had much to be proud of in 2013. When you consider how much injuries, particularly the one to Pro Bowl talent
Geno Atkins
, affected the tackles' rotation, it's easy to see why the entire line could boast if it wanted to. Led by veteran
Domata Peko
, the group of tackles weathered a barrage of changes that were brought about by Atkins' midseason ACL tear at Miami. In an effort of replacing him for the rest of the season, backups
Brandon Thompson
and
Devon Still
-- who dealt with his own injuries much of the season -- played regular roles on the interior. So did ends
Wallace Gilberry
and
Margus Hunt
and linebacker
James Harrison
. In certain situations late in the year, it wasn't uncommon for the Bengals to rotate the edge rushers inside to add to their pass-rushing presence.
The bad:
Quite honestly, the injuries were the only real concerning thing about the line's interior play. Still's injury problems may have been more of an issue than Atkins'. Once Atkins went down, it was clear he was done for the year. Still, however, returned from a dislocated elbow, only to be sidelined by a lower-back issue by the end of the regular season. He was healthy and active for only three games in the latter half of the year.
The money (2014 salary-cap numbers):
Atkins ($9 million), Peko ($4.2 million), Still ($1 million), Thompson ($705,300),
Larry Black
($497,000). There's no reason to believe the Bengals' defensive tackle hierarchy this offseason will look drastically different from what's outlined here. Atkins and Peko are expected to be the starting tandem on the interior again this fall, particularly if Atkins recovers fully from ACL surgery and rehab by the start of training camp. If he doesn't, Thompson likely would get the starting reps with Peko until Atkins is healthy. It will be interesting to track contract talks concerning Peko next offseason. The 29-year-old has been a key member of the Bengals' turnaround. His contract expires after the 2014 season, though. Will Cincinnati try to lock him up long-term with Atkins and make him a lifelong Bengal? This offseason, Black will be one to watch. Placed on injured reserve during training camp in August, the Cincinnati native still has two years left on his contract. Most might remember him from HBO's "Hard Knocks," when he was filmed suffering a serious injury in practice, and being given news that his year was over. He entered training camp as a likely fringe player, but had impressed coaches leading up to the injury.
Draft priority:
Moderate. Defensive end likely will end up being more of a draft priority for the Bengals this year, but that doesn't mean they shouldn't explore adding an interior lineman. Even though depth isn't a major issue, Atkins' injury this year was a bit of a wake-up call. Things got so bad for the line that it was forced to move players from other positions over in order to fill needs. While it's a luxury having versatile ends like Hunt and Gilberry, it's even better having players who are already suited to play the tackle position.
November, 15, 2013
11/15/13
8:00
AM ET
All week, the media in Cincinnati has been wondering the following: When was the last time a Cleveland Browns vs. Cincinnati Bengals game meant as much as Sunday's could?
Some have brought up 1995, when the teams were tied for first in the former AFC Central division.
What those on the 1995 bandwagon forget, though, is the fact that both teams were 3-4 and in a tie with the Pittsburgh Steelers, as well.
It seems you have to go all the way back to 1988 -- just a few years after one strapping Bengals beat reporter, who shall remain nameless, was born -- to find a game that had as much postseason and divisional value as the one that will play out inside Paul Brown Stadium later this weekend. That year, both teams ended up reaching the playoffs. Cincinnati rode a 12-4 record all the way to the Super Bowl, and the Browns fell to the Houston Oilers in the AFC wild-card game after posting a 10-6 regular-season record. That year also marked the last time both teams made the playoffs in the same season.
Across its first 80 editions, the Battle of Ohio had its share of important contests, but this certainly will be the most intriguing one of the last 25 years. If Cleveland continues to play the way it did in its last game two weeks ago, it could actually make the playoffs this season.
To keep our "Battle of Ohio" Week going, we kick off the Friday Morning Stripes with a look at how significant this rivalry has always been to some native Southwest Ohio Bengals, and how much they're looking forward to Sunday's game:
November, 14, 2013
11/14/13
4:30
PM ET
CINCINNATI -- The
Cincinnati Bengals
' roster shuffling creativity may be put to the test again this weekend when they host the
Cleveland Browns
.
That's because there is a chance that after appearing to come out of last week's game at Baltimore injury-free, they could actually be without a pair of key players Sunday afternoon.
For the second straight day, offensive guard
Kevin Zeitler
and veteran cornerback
Chris Crocker
missed practice Thursday while nursing injuries. Zeitler, for now, appears to be the one most likely to miss the in-state, AFC North showdown. Since Monday, he has been seen wearing a boot and walking on crutches through the Bengals' locker room. Officially, he has been diagnosed with a foot injury.
Crocker, meanwhile, hasn't needed to move around with any aids, but he has been listed with a hamstring injury. Although he did not participate in Wednesday or Thursday's workouts, he still stands a chance to go Friday.
If Zeitler is unable to play Sunday, he likely will be replaced at right guard by left guard
Clint Boling
. To account for the vacancy at Boling's spot, the Bengals then may move left tackle
Andrew Whitworth
to the left guard spot, and bring
Anthony Collins
off the bench to play left tackle. If the Bengals decide not to go that route, they could simply replace Zeitler with backup Mike Pollack, who has been healthy in recent weeks after dealing much of the first half of the year with a knee injury.
Zeitler's injury, if serious enough to make him inactive, could lead to backup offensive guard
Tanner Hawkinson
being activated to the 53-man roster. Since Pollack's return, he and fellow lineman
Trevor Robinson
haven't seen much action.
To account for the possible injury to Crocker, the Bengals would probably move backup cornerback
Dre Kirkpatrick
into the nickel spot that Crocker normally plays.
While Crocker and Zeitler were absent Thursday, the Bengals did have linebacker
Vontaze Burfict
(knee), center
Kyle Cook
(shoulder) and defensive tackle
Brandon Thompson
(ankle) back. The three all missed Wednesday's workout. Thompson even missed it while sporting a hard boot around a foot.
Here's the Bengals' full Thursday injury report:
Did Not Practice
LB
Rey Maualuga
(knee)
DT
Devon Still
(elbow)
CB Chris Crocker (hamstring)
OG Kevin Zeitler (foot)
Limited Practice Participation
LB Vontaze Burfict (knee)
C Kyle Cook (shoulder)
DT Brandon Thompson (ankle)
LB
Michael Boley
(hamstring)
CB
Terence Newman
(ankle)
Full Practice Participation
TE
Jermaine Gresham
(groin)
November, 13, 2013
11/13/13
4:25
PM ET
CINCINNATI -- As they enter their 11th straight week of competition, the
Cincinnati Bengals
continue to limp along.
After back-to-back-to-back games in which the Bengals lost some of their best defensive players to injury, they were without seven Wednesday when this week's practices officially began.
Defensive tackles
Brandon Thompson
and
Devon Still
, linebackers
Rey Maualuga
and
Vontaze Burfict
, cornerback
Chris Crocker
, center
Kyle Cook
and offensive guard
Kevin Zeitler
did not participate in the workout. Still and Maualuga likely will be out the rest of this week and all of next week during the Bengals' bye as they eye Week 13 returns. Still has been out recovering from a dislocated elbow since Cincinnati's 27-24 win at Detroit last month, and Maualuga has been nursing an MCL sprain the past three weeks.
Thompson and Zeiter have lower leg injuries that came in Sunday's 20-17 overtime loss at Baltimore. Both have sported walking boots in the days since the game. It isn't yet clear how much time either will miss or even if they will be out this Sunday when Cleveland comes to town. The Browns beat the Bengals 17-6 when the teams played in September.
Burfict, who left with an injury at one point in the game, likely will return to practices later this week. Often this season, he has missed the first day of a weekly practice, only to return in later days.
There was some good news for the Bengals on the injury front. Tight end
Jermaine Gresham
, who was declared inactive Sunday, was back practicing for the first time since last Wednesday. He missed the end of last week with a groin injury. He tried to play Sunday, but trainers and coaches weren't completely sold on his pregame work and decided to keep him on the bench.
In addition to Gresham's presence, linebacker
Michael Boley
returned. He came back after missing the last two weeks with a nagging hamstring injury. Left offensive tackle
Andrew Whitworth
, who had been cleared last week to take every Wednesday off, also practiced.
Here is Cincinnati's full injury report:
DID NOT PRACTICE
LB Rey Maualuga (knee)
DT Devon Still (elbow)
LB Vontaze Burfict (knee)
C Kyle Cook (shoulder)
DT Brandon Thompson (ankle)
OG Kevin Zeitler (foot)
CB Chris Crocker (hamstring)
LIMITED PRACTICE PARTICIPATION
LB Michael Boley (hamstring)
CB
Terence Newman
(ankle)
FULL PRACTICE PARTICIPATION
TE Jermaine Gresham (groin)
November, 11, 2013
11/11/13
8:45
PM ET
CINCINNATI -- It has been a busy Monday back in the Queen City following the
Cincinnati Bengals
' 20-17 overtime loss at Baltimore.
In addition to there being a mid-afternoon news conference with coach Marvin Lewis, a few players and even offensive coordinator Jay Gruden spoke for a while with reporters later in the day. For that reason, we're a little slower getting this by-the-numbers posting up than I would have liked, but here it is nonetheless. (By the way, be on the lookout for a little more featuring the session with Gruden late, late Monday and during the day Tuesday)
Before we get too deep into the numbers from Sunday's loss, I just wanted to point out this one: 55.
As in the number of yards separating the distance that Cincinnati was penalized from the combined distance Baltimore's rushing and passing offense traveled.
For the curious, the Ravens had 189 yards of total offense, and the Bengals were slapped with 134 yards in penalties. That's the most number of yards they have been penalized for in franchise history. The previous high was 133, which was set in 1978. According to ProFootballReference.com, Cincinnati had 13 penalties in that game.
Well, without further ado, let's get to a few other key figures:
4:
Number of times since 1970 that a game has either been tied or won on the final play of regulation by a 50-yard-plus pass, according to Elias.
1:
Number of those four quarterbacks who have lost a game in which they completed a 50-yard-plus pass to either tie or win a game on the final play of regulation. That quarterback, of course, is Cincinnati's
Andy Dalton
.
51:
Yards on the fourth-quarter touchdown reception by
A.J. Green
off a Hail Mary that was tipped into Green's hands.
151:
Yards receiving Green totaled on his eight receptions. He has now had more than 100 yards receiving in each of the last five games. That's a new franchise record.
17.3:
Dalton's QBR for the game. After posting QBRs of 92.8 and 98.9 in consecutive games two and three weeks ago, Dalton has now had QBRs of 13.5 and 17.3 in his last two games.
4.1:
Yards per carry for Bengals running back
Giovani Bernard
.
4.0:
Yards per carry for Bengals running back
BenJarvus Green-Ellis
.
14:
Number of carries for Bernard.
9:
Number of carries for Green-Ellis.
59:
Career-high number of snaps the rookie Bernard played.
27:
Snaps for Green-Ellis.
37.2:
Yards per punt for the Bengals'
Kevin Huber
.
44.4:
Yards per punt for Baltimore's
Sam Koch
.
28:
Miles per hour of recorded wind gusts in Baltimore on Sunday, according to Weather.com.
15.3:
Yards per return on the three Andy Dalton passes that were intercepted by the Ravens.
26:
Percentage of third downs the Bengals converted. They were 5-for-19.
19:
Percentage of third downs the Ravens converted. They were 3-for-16.
5:
Times the Bengals went for it on fourth down.
2:
Times the Bengals didn't convert on fourth down. They missed on a fourth-and-1 during their first drive, and were pushed backwards on a fourth-and-2 on their final drive of the game that came in the overtime period.
9:
Times Bengals were penalized.
8:
Times Ravens were penalized. They only incurred 65 yards in penalties.
13:
Tackles for reserve middle linebacker
Vincent Rey
.
3:
Career-high number of sacks for Rey.
36:
Combined yards the Ravens lost on quarterback
Joe Flacco
's five sacks.
30:
Combined yards the Bengals lost on Dalton's five sacks.
14.8:
Run-stop percentage for Bengals defensive tackle
Brandon Thompson
, who was playing his first full game in relief of injured tackle
Geno Atkins
, according to Pro Football Focus.
5:
Times Rey was targeted, according to PFF. He only allowed two catches for 14 yards, and caught an interception off a deflection.
6:
Times Bengals cornerback
Adam Jones
was targeted. He only allowed two catches for 25 yards, according to PFF.
Information from ESPN Stats & Info was used in this report. Follow on Twitter @ESPNStatsInfo.
November, 6, 2013
11/06/13
6:30
PM ET
CINCINNATI -- Aside from the one or two random shouts of anger that arose from one particular corner of the
Cincinnati Bengals
' locker room late Thursday night, quiet conversations and hush-toned interviews dominated the sound levels inside the space.
The Bengals were looking for answers and searching for direction mere minutes after returning to their cramped Sun Life Stadium quarters from a 22-20 overtime loss to the Dolphins. The heartbreak didn't end there. As reporters began hopping between interview subjects, news began spreading throughout the room that yet another key defender was being lost for the season. Preliminary tests had showed that All-Pro defensive tackle
Geno Atkins
had torn an ACL in the game.
Hours later, back home, those fears were confirmed when an MRI came back positive.
[+] Enlarge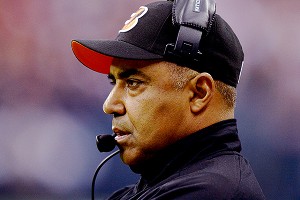 Kirby Lee/USA TODAY SportsMarvin Lewis is confident the Bengals can keep winning despite their injury woes.
In the days after Atkins' season-ending injury was revealed, coach Marvin Lewis felt his team needed a lift. He believed it needed some kind of pep-talk and pick-me-up that might let all involved know that everything was going to be OK.
So he did a little research.
"I explained, I showed our guys that if you look at the last four or five Super Bowl champions and the amount of people that went on IR, they've overcomed it," Lewis said. "If you go all the way back to 2009 with the
New Orleans Saints
, and you go each year, you look at those teams, and those teams put double-digit numbers of players on injured reserve."
He's right. The research and math adds up.
Last season, the
Baltimore Ravens
had 13 players on IR entering their Super Bowl showdown with the
San Francisco 49ers
. The
New York Giants
had 11 before winning the Lombardi Trophy the year before. A year before that, the Packers had 14 on IR. And in 2009, the Saints had 16 on IR when they beat the Colts.
Lewis' message to his team: injured teams can be winners, too.
With Atkins' addition to the IR, the Bengals now have eight players unable to compete the rest of the season. He joined cornerback
Leon Hall
, defensive back
Taylor Mays
and defensive end
Robert Geathers
as key contributors who have been added to the list since the season began. In the preseason, linebackers
Sean Porter
,
Brandon Joiner
and
Emmanuel Lamur
were placed on IR, along with defensive tackle
Larry Black
, the Cincinnati native whose ankle injury was chronicled on HBO's "Hard Knocks." Black was trying to make the team, and had begun really catching the coaches' attention just prior to the injury.
It is Lewis' opinion that with each of those Super Bowl-winning teams, it was the intangibles that eventually surfaced and helped carry those talented groups all the way to their respective championships.
"Their leadership of the team, the maturity of the team, it all plays out," Lewis said. "The playmakers of the team have to step up and win, and the coaching of the team."
Defensive coordinator Mike Zimmer, whose unit has been hit hardest by these injuries -- each of the players on IR are defensive players, and another two, linebacker
Rey Maualuga
and defensive tackle
Devon Still
, are still battling through injuries that will have caused them to miss significant time once they return -- had a similar message this week.
"We've got competitors that like to compete," Zimmer said. "So they don't want me to say, 'We can't win now because we don't have Geno, and Leon, and this guy.' They don't want to hear that. Imagine if I walked in that room and said that to these guys. 'Oh no, we can't win now. What are we going to do?'"
If Zimmer had relayed such sentiments to them, some Bengals say they would have simply ignored him. One of them, defensive tackle
Brandon Thompson
, believes he and the rest of a now more inexperienced defensive line can only remain focused on trying to win games.
As badly as Thompson feels for his friend and mentor Atkins, he knows he has a real opportunity to make a name for himself and to keep this top-10-ranked defense on track.
"Injuries are a part of the game," Thompson said. "We lost one of our best defensive tackles, but we've got to push forward and keep doing what we're doing, which is come out there every day and work hard, and be the best team we can be."
Along with Thompson, the Bengals' new Atkins-less pass rush will feature a rotation that eventually includes second-year players Still and
Kheeston Randall
. Still said Wednesday that he was rehabbing from an elbow injury that arose in the win at Detroit three games ago, but was hopeful that after this week he'll be close to full strength. With Still continuing to work through his injury, the Bengals signed Randall to the 53-man roster Tuesday in an effort to shore up depth on the line.
As odd as it might seem, the Bengals really are motivated by the bevy of injuries that have ransacked their roster. Just as Lewis believes his team can live up to its lofty expectations and obtain the greatness that he believes still exists, the players themselves view the hurt-filled past few weeks as motivation, too.
"Geno and Robert, those are our brothers," Thompson said. "We grind with those boys every day. We spend more time with them than their own families do. So we grow a bond, and seeing those guys go out, it makes us want to work harder and become better for those guys. We're ready for this."
November, 6, 2013
11/06/13
12:00
PM ET
CINCINNATI -- OK, so technically the season's midpoint was last week for the
Cincinnati Bengals
, but considering how jam-packed the week was with the Thursday night game, and that most of the NFL is hitting the halfway mark this week, we decided to look at how the Bengals have progressed so far.
Be on the lookout for more midseason analysis throughout the day on all the ESPN NFL Nation blogs.
Cincinnati kicked off the second half of its season at Miami last Thursday with a 22-20 overtime loss that also saw it lose arguably its best defensive player. Without defensive tackle
Geno Atkins
out,
Brandon Thompson
becomes the next man up and takes on a role similar to what
Adam Jones
,
Dre Kirkpatrick
and
Wallace Gilberry
took on when
Leon Hall
and
Robert Geathers
went down, respectively.
[+] Enlarge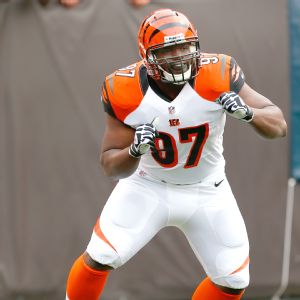 AP Photo/Scott BoehmThe loss of Geno Atkins will change the way offenses attack the Bengals the rest of the season.
The bevy of injuries that have hit the Bengals are among the first-half storylines that will spill over into the second half. How they handle those losses could have an affect on how the remainder of the season goes. The injuries aren't their only questions, though. As they continue the season with this weekend's game at Baltimore, here are a few others to keep in mind:
1. How possible is a 5-2 finish over the final seven games?
This is a tough question to answer because, obviously, anything can and will happen down the stretch of any season. Through their first eight games, the Bengals were a play or two away from being 4-4 or even 7-1. Instead, they were 6-2 and still put the entire league on notice. Expectations were high in the preseason, and for the most part, the Bengals matched them with an impressive first half that included a four-game winning streak. Last week's loss to the Dolphins brought Cincinnati back down to earth a bit. But with games against the struggling Steelers, Ravens and Vikings coming up, the Bengals have opportunities to post another winning mark across the final seven games. With a bye the week before they travel to San Diego, they should be rested enough to handle that challenging cross-country trip. If they win that one, beat the Vikings, split the remaining two games against Steelers and Browns, and win both games against the Ravens, they will get to five wins. A sixth could come when they host the Colts on Dec. 8. A win in that game certainly could create momentum as the Bengals make their final playoff push. A 5-2 mark is a very strong possibility.
2. How might injuries frame the rest of the season?
The absence of Atkins, Hall, Geathers, safety
Taylor Mays
and linebacker
Rey Maualuga
-- for possibly another two weeks -- could be the difference between wins or losses the rest of the way. Without Atkins on the defensive line, offensive lines likely will scrap their double-team plans and start going man-to-man when blocking the Bengals' four-man front. As a result, there could be more bodies to pick up blitzing defenders, meaning the Bengals might have to temper some of their blitzing plans. The lack of the Pro Bowl pass-rusher could lead to an adverse domino affect for the rest of the team.
3. How will Giovani Bernard be used in the second half?
Calls have been coming all season for Bernard to be given more touches. They still are. Even though his snap counts have mostly stabilized since Week 2 -- he's had fewer than 30 in only three games since -- there still is a belief that the rookie running back needs to be an even bigger part of the offense. Should the Bengals listen to those calls? Probably not. As much as many of you may want Bernard to have 20 carries and 10 receptions a game, it's not going to happen. He averaged 9.0 rushes per game and 3.3 receptions after nine games. With
BenJarvus Green-Ellis
also at tailback and the slew of playmakers at receiver and tight end, there really is no need for Bernard, particularly in his first year, to carry the offense to that extreme. It'll be interesting to see if a rib injury suffered last week causes the Bengals to back off using Bernard as much.
4. Will A.J. Green lead the NFL in receiving?
That would be a no. But it's not a firm no. After sneaking into the top 5 of the receiving charts after a couple of comparatively quiet games in the first half, Green currently ranks first in receiving with 862 yards. That's 39 more than the No. 2 receiver, Philadelphia's
DeSean Jackson
. Detroit's
Calvin Johnson
ranks third with 821 yards. Keep in mind, Green has already played in nine games. Johnson, in addition to missing one game because of injury, is coming off his team's bye. So Johnson will have eight games in order to pass Green. Still, as long as he doesn't drop passes, the Bengals' big target will continue to rack up the yards as defenses start having to respect the rest of Cincinnati's pass-catching standouts like
Marvin Jones
,
Mohamed Sanu
,
Jermaine Gresham
,
Tyler Eifert
and
Andrew Hawkins
.
5. Why should we believe in Andy Dalton?
We'll be answering this question in a host of ways down the stretch, but for now, Dalton deserves a measure of belief because he hasn't been all bad this season. Of course, he hasn't been all good, either. As long as he doesn't start making bad games like his 206-yard showing against Cleveland the norm, the Bengals have to believe he can help them rally through the final few games of the season. They have no choice. If they have any plans of going 5-2, 6-1 or even 4-3 in these seven games, they will need Dalton to play the best ball he has played his entire career. Then, they'll need him to be even better in the postseason as he tries to earn his first playoff win. Watch how he comes out against Baltimore this weekend. If he plays worthy of a QBR as low as last week's 13.5, then the belief has good reason to fade. It's all about consistency for him.
November, 5, 2013
11/05/13
8:00
AM ET
The Cincinnati Bengals see a real opportunity looming before them the next two weeks. With a pair of AFC North games on the horizon, including Sunday's contest at Baltimore, they are in the very real position of being able to establish some separation in the division race.
Wins the next two weeks could give the Bengals enough of a cushion that thoughts of a division title might begin playing out inside their heads. Although they don't really want to have any of those thoughts until after the final whistle of Week 17 blows late next month, they certainly wouldn't be faulted if they allowed such thoughts to manifest in their minds, even if ever so briefly.
The bottom line is this: These next two weeks are crucial to dictating how the remainder of the season will go. Just like how the last four -- five if you want to include this week -- were important because of how often the Bengals were on the road, these next couple are important because of their division significance.
When the Bengals began this four-road-trip in five-week tour that ends this weekend, they had hoped to go a clean 5-0, winning all those games away from home. Some fans and most media thought they'd be lucky to win at least four of those games; the home contest being among them. Currently at 3-1 during this stretch, the likely 4-1 finish that most expected is still a very real possibility. Those wins do, in fact, include the 40-point blowout of the New York Jets at home two weeks ago.
As the Bengals step back into AFC North action with this road game at Baltimore and next week's rematch against the Browns at Paul Brown Stadium, the need to win increases dramatically. By beating Pittsburgh at home in Week 2 and losing at Cleveland in Week 4, the Bengals are currently 1-1 in division play this season. As well as they have played non-AFC North teams, they can ill-afford to lose to their familiar foes these next two weeks.
In this Tuesday's Morning Stripes, we begin with a look at how seriously the Bengals are taking the next two games which precede their bye week:
November, 1, 2013
11/01/13
4:00
PM ET
CINCINNATI -- The glass door opened. When it did, a new phase of
Geno Atkins
' football-playing life began.
Whether his
Cincinnati Bengals
teammates knew it or not, at the very same time, a new era started for them, too -- particularly for those who occupy a now suddenly thin defensive line.
With a backpack strapped around his shoulders, a pair of metal crutches tucked underneath his armpits and a massive tape job that stretched the length of his right leg and was covered by a bulky plastic brace, Atkins ever-so-gently tiptoed through the doorway, smiling and nodding hello to a nearby observer.
Just before his exit from the Bengals' Paul Brown Stadium locker room Friday, the defensive tackle had just been given news he and others around the organization were dreading. Yet, there he was, smiling. It was the kind of smile that said, "I'm not worried, I'll beat this. Everything is going to be just fine. It'll only be a matter of time until I'm back."
[+] Enlarge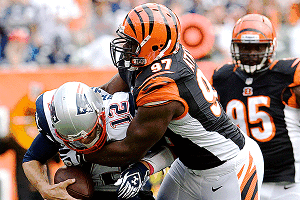 Mark Zerof/USA TODAY SportsCincinnati's defense was one of the NFL's best despite losing Geno Atkins in Week 9.
It wasn't the kind of smile you'd expect to see from a 25-year-old who had just been told he had suffered an ACL tear in Cincinnati's overtime loss Thursday at Miami and was being put on the shelf for the
rest of the season
, slated for return as early as next summer. There was good reason for him to feel crestfallen and to look that way, too. He was stepping into an uncertain realm, unsure if he will return from the knee injury the same player, a better player or a worse one.
Similarly, the Bengals defensive line's overall future isn't very clear, either.
Without Atkins, Cincinnati's hope for interior-line success now rests squarely on the shoulders of veteran
Domata Peko
and reserve
Brandon Thompson
. When
Devon Still
returns from an elbow injury, he will add depth at the tackle positions, too. It's still unclear when Still will be able to return from the injury that sidelined him at Detroit three games ago, but according to coach Marvin Lewis, that day could come sooner rather than later.
"Devon is well on his way to progressing back," Lewis said during his news conference Friday. He didn't want to say whether he thought Still would be healthy enough to play at Baltimore next weekend.
When Still gets back in the mix, the Bengals will be incorporating an interior front that will feature a heavy rotation of the two young linemen. Both Still and Thompson are in their second seasons and are still growing in the Bengals' aggressive system. If one of them or Peko goes down, the once-deep defensive-tackle pool turns into really slim pickings. If that happens, it could cause
Wallace Gilberry
to shift away from his defensive-end duties and slide into tackle responsibilities.
It might take quite the domino fall for that final scenario to occur, but it's a possibility. Gilberry has rotated into tackle responsibilities at times as he helps give a new look, and some depth, to the Bengals' style of play on the inside.
Another reason Atkins' departure has some uncertainty attached to it is because the Bengals still aren't yet sure if they are going to go out and add a defensive tackle or two in free agency to fill the 300-pound player's spot. If a move comes, it likely would come by Monday, or some other day next week. Whenever it happens, it should correspond with the announcement of the Bengals formally placing Atkins on the injured-reserve list. It doesn't appear that will come this weekend.
"We came in heavy and now we'll be thin," Lewis said about his line. "We'll have to look at some kind of adjustment."
One defensive lineman whose spot Cincinnati never did fill was end
Robert Geathers
. He suffered an elbow injury during Week 2 and was immediately placed on IR. With a strong, deep stable of defensive linemen, the Bengals didn't think they needed to get another at the time. They had other positions that needed shoring up first.
When Atkins does eventually join the IR list, he will become the fourth Bengals player to end up on it this regular season. Along with Geathers, cornerback
Leon Hall
and defensive back
Taylor Mays
are already there.
Absent Atkins, a potential run-stopper who has a knack for getting into the backfield on passing downs, the Bengals will go through a bit of uncertainty across the next two weeks as they begin transitioning to this new post-Atkins defense. Will the rest of the interior line share the optimism Atkins appeared to have as he started walking with crutches Friday? Or will Atkins' previous successes prove to be too much for the rest of the line to live up to?
Just as Atkins hobbles through the door and makes his exit, the Bengals are hoping others step up quickly and make their own entrances.