Cincinnati Bengals:

Clinton McDonald
March, 14, 2014
Mar 14
11:00
AM ET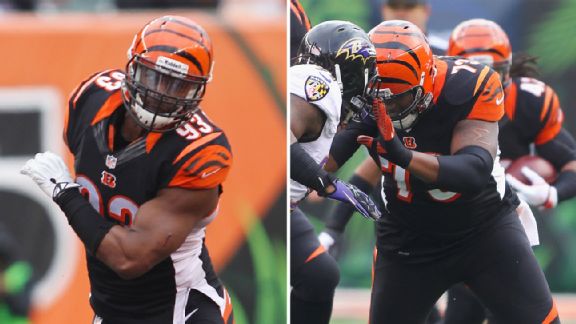 Getty ImagesFormer Bengals Michael Johnson and Anthony Collins have both landed with the Buccaneers.
Each week during the regular season you saw ESPN's NFL Nation reporters team up for "Double Coverage," a back-and-forth midweek banter about the biggest storylines going on ahead of that weekend's games.
There may not be any games right now, but teams have made all kinds of moves during this opening week of free agency. Few moves have been as big as the one that brought defensive end
Michael Johnson
to the
Tampa Bay Buccaneers
on Tuesday, officially putting an end to his five-year stint with the
Cincinnati Bengals
. He wasn't the only former Bengal to start calling Tampa Bay home this week. Offensive tackle
Anthony Collins
also left Cincinnati to sign with the Bucs.
Clinton McDonald
, a 2009 Bengals draft pick who spent the last three seasons in Seattle, also arrived in Tampa Bay.
Bengals reporter Coley Harvey and Bucs reporter Pat Yasinskas decided to check in with each another to put the moves in perspective for you:
Coley Harvey:
Of course we still don't know the date yet, Pat, but the Bengals will be scheduled to visit Tampa Bay this fall as part of the AFC North/NFC South scheduling crossover. Did any of the former Bengals address playing their old team in their news conferences? Whether they did or didn't, what did they say about the ways their careers in Cincinnati ended?
Pat Yasinskas:
None of them really talked about Cincinnati. They all seemed focused on a new start with Tampa Bay. But I'm sure the Cincinnati game will carry extra meaning for them. Playing against your old team always means a little more.
Michael Johnson was the crown jewel of Tampa Bay's free-agent class. He had only 3.5 sacks last season, but 11.5 the year before. Which season is a better indicator of what Johnson brings to the table?
Harvey:
You know, Pat, I'd say the latter. If you look at his stats since the start of his career in 2009, you'll see that the 11.5 number was a bit of an aberration. He had 6.0 in 2011, but 5.5 combined in 2009 and 2010. That said, he can be a good pass-rusher, but I have to imagine Lovie Smith saw something else, too. Johnson has been noted for being a good run-stopper and his insanely long arms are a benefit, too. Why do I bring up his arms? Johnson was a basketball player growing up, and by most accounts a really good one. That skill must have translated to football because he's become known for his ability to swat passes at the line of scrimmage. He tied for the league lead with eight batted balls last year. Two of them tipped into his teammates' hands for momentum-changing interceptions. Another helped negate a potential Packers touchdown pass on their final play of a
34-30 Bengals win
.
Part of the reason there wasn't much pressure on Johnson to collect sacks last season was because of left end
Carlos Dunlap
's success. Dunlap had 7.5 sacks in 2013, tying for the team lead. Now that he's teaming up with another good end in
Gerald McCoy
, what are the Bucs expecting from Johnson?
Yasinskas:
The Bucs envision Johnson as a strong outside pass-rusher. That's something the Bucs sorely lacked last season. McCoy was a force in the middle, but there was almost no outside pass rush. The Bucs are hoping Johnson can be a double-digit sack guy. I think he can do that and I think his presence will only make McCoy better.
On offense, the Bucs invested a lot in Anthony Collins to be their left tackle. Is he capable of keeping the league's best pass-rushers off quarterback
Josh McCown
?
Harvey:
Absolutely. According to Pro Football Focus, we're talking about a guy who hasn't allowed a sack since 2009. Granted, he didn't play much until last season. He was a pure backup from 2008 to 2012. In 2013, injuries forced him into a greater role. He earned seven starts between the playoffs and regular season last year and he didn't disappoint. Called upon to fill in for Pro Bowl veteran
Andrew Whitworth
at Chicago in the season opener, Collins completely shut down sack king
Julius Peppers
. He did the same against
Elvis Dumervil
late in the year and kept outside linebacker
Robert Mathis
silent when the Colts visited Cincinnati. Bengals quarterback
Andy Dalton
has to be pleased with how clean Collins kept him.
Now, it was becoming clear in Cincinnati that Collins was ready to be a starting left tackle, but what was it about his play off the bench that impressed the Bucs so much?
Yasinskas:
General manager Jason Licht said he studied the seven games Collins started very closely and he came away very impressed. Licht said Collins' footwork and athleticism stood out. The Bucs obviously believe strongly that Collins can be a solid starter. They're
paying him $6 million a season
and they released veteran
Donald Penn
to open up the spot for Collins.
Defensive tackle Clinton McDonald is kind of the wild card of Tampa Bay's class of free agents. He had a big impact for Seattle last year. But McDonald was with Cincinnati in 2010 and did very little. The Bucs are planning on having him as a starter. Is he ready for it?
Harvey:
Based off what I saw in Seattle last year, I'd say yes. We talked a lot earlier about sacks. It's not easy for a defensive tackle in constant rotation with others to pick up 5.5 sacks, particularly on a defense like Seattle's that had so many playmakers at every level. That's a dedication to McDonald's blue-collar work ethic and team-focused mentality. He may not have been a great player in Cincinnati, but he was a respected teammate. If he keeps grinding the way he clearly has since he left the Bengals, he should be just fine for the Bucs.
January, 30, 2014
Jan 30
8:00
AM ET
For players on 30 of the NFL's 32 teams, this week can be the hardest to get through.
With their teams done for the season and unable to compete for the Super Bowl, they all have to make a decision that, for some, can be one of the more difficult they will make in their careers. They have to decide whether to attend events leading up to the championship game (if invited), to watch at home, or to tune out the festivities of the week altogether.
Some players are so disappointed when their teams come up short of the Super Bowl that they can't watch the pageantry that goes along with the game. Many more will watch it, whether up close at the event or from the comforts of their own homes.
For the Cincinnati Bengals who will be tuning into Super Bowl XLVIII on Sunday night, there may be some mixed emotions as far as which team they'll support. That's because a pair of their former teammates will be pitted against one another when the Seattle Seahawks and Denver Broncos meet at MetLife Stadium in New Jersey.
Broncos receiver Andre Caldwell spent four seasons with the Bengals after being picked by the team in the third round of the 2008 draft. Before his departure following the 2011 season, Caldwell had been one of Cincinnati's third- and fourth-receiving options behind the likes of Chad Johnson, Terrell Owens and A.J. Green.
Selected by the Bengals in the last round of the 2009 draft, defensive tackle Clinton McDonald spent two seasons in Cincinnati's locker room before getting dealt to Seattle in 2011 for cornerback Kelly Jennings. At the time, cornerback depth was more important, and Jennings stood a better chance of contributing more -- which he did -- than McDonald. Besides, there were some other guys named Geno Atkins and Domata Peko hogging all the action at defensive tackle.
This season, McDonald proved to be a big part of the Seahawks' defensive success, coming away with 5.5 sacks in the regular season.
Both were respected by their peers when they played for the Bengals. Many of their former teammates still call Paul Brown Stadium home. As Caldwell and McDonald prepare to square off on the biggest stage of their careers, we take a look at them in this installment of the Morning Stripes:
We'll start with McDonald, the 290-pound interior lineman who weighed more than that while trying to crack the Bengals' starting rotation. In this story from Bengals.com's Geoff Hobson, filed from the Super Bowl, McDonald points out how getting his start with the Bengals helped him reach this week's big stage. By the way, check out the team site's nifty web page redesign.
Staying with Bengals.com, here's a shorter item on McDonald and Caldwell. According to his current Denver teammate, Wes Welker, Caldwell is the "best fourth receiver in the NFL."