Cincinnati Bengals:

dane sanzenbacher
April, 15, 2014
Apr 15
8:30
AM ET
We're back with our second installment of the morning Quick Takes on the
Cincinnati Bengals
blog. Here are five thoughts to get your day going:
1. Hall takes a step.
We knew the day would eventually come when injured Bengals cornerback
Leon Hall
would return to football activity. According to
Bengals.com
, it has. After all, he and head trainer Nick Cosgray had a timeline, one rather similar to what they had two years ago when Hall had the misfortune of trying to return from the exact same injury. That 2011 injury, one to his left Achilles, sidelined him for the latter half of the season. He had the advantage -- if there is such a thing in these cases -- of hurting his right Achilles a few weeks earlier in the 2013 season, giving the Bengals hope that he would at least progress a little quicker this time around. He appears to be right on schedule to make his full-strength debut ahead of training camp in July. After the 2011 injury, he was cleared to full activity a couple weeks before the 2012 training camp started. Hall says he is "in a good place right now." It looks like we'll see him out there in a few months, as expected.
2. Hall's place.
Right now, Hall says he's working on cuts, turns, back-peddling and breaking on the football. His training had previously revolved around getting the Achilles healthy again and to the point where it could do each of those things. He and Cosgray still aren't practicing in poor weather that might cause more harm than good, but they are doing enough to get Hall's body back used to doing everything it could before the latest injury occurred. ... When Hall returns by training camp, he'll be joining a cornerbacks group that will of course include fellow veterans
Terence Newman
and
Adam Jones
. Younger players
Dre Kirkpatrick
,
Chris Lewis-Harris
and
Brandon Burton
also will be part of the crew, as will newcomer R.J. Stanford, a free-agency addition who previously played in Miami. Chances are high another one or two young cornerbacks could tag along in July, as well, with expectations high the Bengals will use draft picks on such players. So where would that leave Hall? Still very much in the starting rotation, where he and Newman could trade snaps at the No. 1 left cornerback position. With high odds that the Bengals will see a number of three- and four-receiver sets this year, expect Hall to remain at the primary slot corner spot, too. As old as the Bengals are in the secondary -- Hall will turn 30 by the end of the season, joining Newman and Jones -- they also will be very deep there once they get their longtime vet back to full health.
3. Charles awaits court.
Another update we didn't get to in Monday's Quick Takes has to do with Bengals H-back
Orson Charles
and where things stand following his March 31 arrest for wanton endangerment. Charles was in court last Friday while I was still off. He entered a not guilty plea 12 days after Richmond, Ky., police said he allegedly waved a gun at a motorist while traveling down Interstate 75. The road-rage incident has the Bengals in their normal mode of waiting for more facts to be revealed before commenting. It's about the only stance anyone, the team or otherwise, can take at the moment. Still, it should be noted that Charles is facing some serious charges and the people around him are approaching them that way. His attorney, Michael Eubanks, told Lexington, Ky., television station LEX 18 News after Friday's plea hearing that his team was doing its own investigation into Charles' arrest and the circumstances surrounding it. If convicted, Charles could be sentenced for one to five years. He'll be back in court April 23, when a preliminary hearing begins.
4. Dane's back.
We mentioned on the Bengals blog Monday that receiver
Dane Sanzenbacher
re-signed with the team for an
amount just less than the tender
he had been offered back at the start of March. Like the other two restricted free agents the Bengals had at the time, Sanzenbacher was given the low-round tender, which equaled about $1.43 million for the 2014 season. The tender was offered that low in hopes that other teams wouldn't go much higher than that if they wanted to reach out to any of the three free agents. In
Andrew Hawkins
' case, those plans backfired. Cleveland offered him an amount much greater than the Bengals' tender. It was one they couldn't match, allowing him to leave. It's interesting that Sanzenbacher ended up signing for just $1.2 million on his one-year contract. The Bengals had leverage in his case, though, seeing as how he was inactive for seven games last year and he wasn't a major piece to the offensive puzzle.
5. NFL Nation TV.
Plug time. Be on the lookout on ESPN.com's NFL pages around 1:30 p.m. ET Tuesday where a link will go live to a Spreecast chat featuring yours truly, Raiders reporter Paul Gutierrez and Broncos reporter Jeff Legwold. We'll be talking about all three teams, as well as all the latest headlines around the league in a new, interactive live chat that the NFL Nation team is excited to launch. Should be fun and informative for all. Paul and I will be regulars on the weekly segment, so check often for it. The event begins at 2 p.m. ET.
April, 14, 2014
Apr 14
10:30
AM ET
CINCINNATI -- When the
Cincinnati Bengals
declined to match the offer sheet
Andrew Hawkins
had signed with the Browns last month,
Dane Sanzenbacher
's return began coming into focus.
Sanzenbacher
It made sense for the slot receiver to come back. With Hawkins officially out of the picture, the Bengals needed a player who could fill the role they envisioned for Hawkins before he left. While not as fast as Hawkins, Sanzenbacher plays similarly to him. He can be tough to keep track of in open space and can catch passes deep across the middle of the field, just out of the reach of safeties who might lose track of him.
It took about three weeks after Hawkins' departure for the Bengals to work out a deal with Sanzenbacher, but it finally happened. Sanzenbacher's status as a restricted free agent ended last week when Cincinnati re-signed him to a one-year, $1.2 million contract.
That's about $230,000 less than the late-round tender the Bengals extended Sanzenbacher, Hawkins and linebacker
Vincent Rey
just before the start of free agency. Rey, who recorded career highs in tackles (47), sacks (four), and interceptions (two) last season, was the first of the three to sign. He agreed to a two-year deal that could pay him $2.1 million. As part of his deal, he also was given a roster bonus of $1 million. All of that money is guaranteed.
Sanzenbacher's contract isn't as attractive, a deal that will pay him just $200,000 of guaranteed money. His comparative hit on guaranteed money likely has more to do with his status as a reserve receiver who was inactive in seven of the 17 games the Bengals played last season. Rey appeared in all 17 of those games, and started in three of them.
Cincinnati was deep at receiver last season, and figures to be again this year.
A.J. Green
will continue his reign as the top pass-catcher on the team, and
Marvin Jones
and
Mohamed Sanu
are the first receiving options after him.
Brandon Tate
also will be in the mix there because of his special-teams contributions. Tight ends
Jermaine Gresham
and
Tyler Eifert
also ought to have an impact in the passing game, as should running back
Giovani Bernard
. That leaves relatively few opportunities for Sanzenbacher and fellow reserve wideouts
Cobi Hamilton
and
Ryan Whalen
. Then there's still a chance the Bengals could add a receiver in the draft, making the position that much deeper.
Still, Sanzenbacher ought to have a much greater impact in 2014. In two seasons, he's been targeted just 11 times. During his rookie year at Chicago, quarterbacks threw his way 53 times.
On his eight targets last season, Sanzenbacher caught six passes for 61 yards. The Ohio State product hasn't had a touchdown reception since his three with the Bears in 2011.
Below is a quick breakdown of Sanzenbacher's contract, as provided by ESPN's Stats & Information:
Cap value:
$1,200,000
Cash value:
$1,200,000
Signing bonus:
$200,000
Roster bonus:
$0
Workout bonus:
$50,000
Base salary:
$950,000
Guaranteed money:
$200,000
April, 14, 2014
Apr 14
8:50
AM ET
Good Monday morning, everyone.
I suppose this is a bit of a welcome back for yours truly. Even though we had a few items here on the Bengals blog the last couple of days, I was officially away since Thursday, taking a few days off before things start getting busier with players reporting back to Cincinnati next week.
Now that we're rested and recharged, we've got a new daily blog post that I'm going to be trotting out this week called "Bengal Quick Takes." A nod to ESPN.com colleague John Keim for inspiring the idea. These blogs are designed to help catch you up on the latest news revolving around the Bengals, and to analyze it in five brief bullet points each morning.
Since the Bengals signed defensive end
Sam Montgomery
on Friday and we didn't get a chance to address it at the time, we'll use this first "Quick Take" with some thoughts on what his signing means:
1. Adding Montgomery.
Before arriving in the NFL three years ago, Montgomery was a key piece in LSU's intimidating defense as a defensive end and outside linebacker. He had relatively high upside and was drafted by Houston in the third round. Criticism followed, though, after he admitted to taking plays off and giving less effort in certain games than he did for others. Fast-forwarding to last October, Montgomery was one of three players released by Houston after they were allegedly caught smoking marijuana in a hotel before a road game. The players initially denounced the releases and talked about filing grievances. While those off-field events and admissions are prominent parts of Montgomery's background, the Bengals believe he has the potential to rise above it all and contribute on the field. They are positive that he can give them an additional defender with stand-up linebacker ability, and a defensive end foundation.
2. What Montgomery brings.
Specifically, Montgomery brings a measure of versatility to the defensive end position that can help dictate what the Bengals decide to do from a personnel standpoint while in various front-line packages. New defensive coordinator Paul Guenther has indicated a desire for having multiple fronts and revolving fronts that might include linebackers dropping down to the line and rushing the quarterback. Guenther's plans for the defense will be based on situations. While the Bengals will have a base scheme, they will be moving bodies around so often that the lineups should change regularly, keeping players fresher and mixing the looks to offensive lines constantly. Montgomery's ability to drop down and stand up should help those plans.
3. More on a versatile defensive front.
Montgomery isn't the only player the Bengals have signed this offseason with that type of positional versatility. They also added off waivers
Dontay Moch
, a former Bengals draft selection who has played both defensive end and outside linebacker. He's listed as a linebacker on Cincinnati's current roster (so is Montgomery). Both players were added in the wake of the departures of defensive end
Michael Johnson
(signed with Tampa Bay) and linebacker
James Harrison
(cut) earlier this offseason. With the possibility the Bengals might add an outside linebacker through the draft, it wouldn't be surprising to see Montgomery and Moch competing for a roster spot in training camp.
4. Quickly, on receiver.
We'll get more on this later this week, but as Bengals.com's Geoff Hobson acutely pointed out over the weekend,
Cobi Hamilton
may have the
most to prove among Cincinnati's receivers
when training camp opens later this year. On paper, he's the last man in the rotation and doesn't have as much special-teams value as
Brandon Tate
or the game experience of
Dane Sanzenbacher
, who was re-signed as a restricted free agent last week.
5. Finally, on Andy Dalton.
There will be more to come on this, too, but it sounds as if Dalton was
encouraged by his weeklong session
in California with throwing coach Tom House. A few tweaks were made to his throwing motion that ought to help him get more zip on certain shorter passes and possibly be more accurate on longer throws. Closed, squared up shoulders and hips ought to help tighten his delivery. That's the Bengals' hope, at least. We'll see this fall how much the tweaks pay off.
April, 8, 2014
Apr 8
3:30
PM ET
CINCINNATI -- The
Cincinnati Bengals
reached an agreement with their last restricted free agent Tuesday, re-signing receiver
Dane Sanzenbacher
.
Sanzenbacher was one of three restricted free agents who the Bengals offered low-round tenders, and his low-round tender came to about $1.43 million for the 2014 season. Terms weren't released with respect to his new deal.
Sanzenbacher
A fourth-year player out of Ohio State, Sanzenbacher remains with the club after joining in 2012. He played for the first time as a Bengal last season, appearing in 10 games, making a start in one. He caught six passes for 61 yards in 2013 to go along with his 34 career catches for 344 yards and three touchdowns.
"Dane is a player with an instinctive feel for the game," Bengals receivers coach James Urban said, "and he should have the chance for more playing time this year than we were able to find for him last year. He's got assets that can help make us better."
Sanzenbacher would at best be the Bengals' fourth option at receiver behind
A.J. Green
,
Marvin Jones
and
Mohamed Sanu
. Tight ends
Tyler Eifert
and
Jermaine Gresham
also figure to be pass-catching options ahead of him. For half of last season, Sanzenbacher was even lower on the receiving totem pole because fellow wideout
Andrew Hawkins
was still on the roster. The speedy, shifty player caught 12 passes for 199 yards appearing in just eight games because of an ankle injury.
Hawkins was another one of the three players who was tendered last month. A couple weeks after receiving his low-round tender, Hawkins fielded a much larger offer from the
Cleveland Browns
that the Bengals ultimately were unable to match. Hawkins left, joining the Browns and leaving open a hole at receiver that Sanzenbacher had been expected to fill.
Sanzenbacher joins linebacker
Vincent Rey
as a restricted free agent who the Bengals re-signed. After receiving the low tender, Rey signed a two-year deal worth $2.1 million. Of that amount, $1 million is guaranteed.
March, 18, 2014
Mar 18
5:00
PM ET
CINCINNATI -- They had until midnight to make a decision, but the
Cincinnati Bengals
figured it pointless to make the
Cleveland Browns
sit around and wait that long.
Shortly after 3 p.m. Tuesday, word began trickling out the Bengals had in fact
decided not to match the offer
Cleveland had extended to restricted free agent receiver Andrew Hawkins last week. The four-year, $13.6 million deal was simply too pricey for them to justify. As much as they liked having the shifty, speedy player on their roster the last three years, they had to part ways.
It was an expected outcome.
Just last Thursday, ESPN.com reported it was
unlikely the Bengals would match the offer
once it made a final increase earlier in the day. Originally, the Browns had offered Hawkins four years at just more than $12 million. In addition to the slight increase in overall price, his revised deal also stipulates that $10.8 million of the $13.6 million be paid out in the first two years.
It wasn't the best deal for the Bengals to match on a receiver who didn't play much last season due to injury, and who would have entered the preseason as the No. 4 receiving option behind
A.J. Green
,
Marvin Jones
and
Mohamed Sanu
.
So where does Cincinnati go from here?
Essentially, not far. The Bengals seemed to operate just fine without Hawkins through the first eight games last season as he rehabbed from an ankle injury. When he finally was able to play, Hawkins caught 12 passes for 199 yards. Several of those receptions helped set up scores or positive field position for the Bengals, but if you took them away, quarterback
Andy Dalton
still would have passed for 4,094 yards and completed 351 passes.
Those are still some pretty good passing numbers. They also are a sign the Bengals will be OK without Hawkins.
But the thing is this. Had Hawkins been healthy all season, there may have been even more catches, yards and first downs to be had. Remember, the year before, Hawkins was Cincinnati's third-leading receiver, catching 51 passes for 533 yards and four touchdowns. This story from last week about the
impact of Hawkins' playmaking ability
shows that he averaged 6.12 yards after catch per reception made in 2012 as a slot receiver. That was better than the likes of
Wes Welker
,
Randall Cobb
and
Victor Cruz
.
Numbers like that one and others that appear in that story become important when you consider new offensive coordinator Hue Jackson's plans. He wants to build a physical offense that starts with the run, and thrives on unexpected passes. You'll see
Giovani Bernard
and
BenJarvus Green-Ellis
carry the ball more often than they did last year. You'll also see the Bengals run more playaction than they did. You'll see more reverses and wide receiver screens; patterns that a healthy Hawkins would dominate. His combination of elite speed and size -- he's listed at 5-foot-7 -- should make it difficult for safeties and linebackers to key on him when he's running behind bigger pulling guards and tackles who are good at blocking downfield like Pro Bowler
Andrew Whitworth
.
As much as Hawkins could have done all of that and been quite good at it, it bears mentioning that the Bengals have others who can fill those shoes.
Green was used on a few screens last season and could certainly be used in them again this year. Jones was the Bengals' early-season option for reverses while Hawkins was still out. In Weeks 1 and 6, he had carries of 14 and 34 yards, respectively.
As for who will take Hawkins' spot on the roster? That remains to be seen. For now, it seems that
Dane Sanzenbacher
will slip into that role as soon as his free agency status finds resolution. Like Hawkins and linebacker
Vincent Rey
, Sanzenbacher was given a low-round tender two weeks ago, just before free agency started. He hasn't yet had any offers for the Bengals to match. It is expected that he will be re-signed. Sanzenbacher had six catches for 61 yards last season.
It might still be in the Bengals' best interest to look in the draft for a player with speed similar to Hawkins' who can play the slot and the edges. One player to keep an eye on is Pittsburg State's John Brown. He doesn't appear on many mocks currently, but Brown ran a 4.34 40-yard dash at the NFL combine and shares some of the same underdog characteristics that Hawkins embraced and that made him a fan favorite. Since Brown didn't play at a Division I school, it's easy to overlook him, just like it was easy to overlook Hawkins when he came out of the CFL to play for the Bengals.
Also like Hawkins, Brown has some experience playing the gunner position in college. While it was Hawkins' speed as a slot receiver that got the most attention, his ability to quickly get to punt returners on the coverage team solidified his spot on the field.
March, 15, 2014
Mar 15
10:50
AM ET
CINCINNATI -- In need of as much help at linebacker as they can get, the
Cincinnati Bengals
on Saturday announced they re-signed fourth-year linebacker
Vincent Rey
. He becomes the third Bengals free agent that has re-signed, according to the team.
Rey
Along with two other restricted free agents, Rey earned a low-round tender from the Bengals last week. That meant he was slotted to make $1.4 million in 2013 unless he signed an offer sheet of greater value from another team. If the other team made an offer, the Bengals would have five days after receiving the offer to match it. None of that appears to have happened with Rey.
He reportedly agreed to a two-year deal.
Rey has been with the Bengals since entering the league as an undrafted free agent in 2010. The Duke product spent his first three seasons primarily playing special teams, but saw his overall role increase dramatically last season as he started on defense, too.
When starting "Mike" linebacker
Rey Maualuga
went down with a knee injury in the middle of last season, Rey replaced him, starting in three contests. Even when Maualuga returned, he shared more time at linebacker with him than he had at points before the injury.
Rey's 47 tackles, four sacks and two interceptions in 2013 were career highs. Three of those sacks and one of the interceptions came in the Week 10 overtime loss at Baltimore. He's the only player in franchise history to have that many sacks and an interception in a single game.
In addition to stepping up defensively, he also continued contributing on special teams, playing a key role on the various kick and punt coverage and return teams.
"Vinny is a tough guy and a pleasure to coach, and it's great to have him back in the fold," coach Marvin Lewis said in a news release. "He really helped us in winning the division title last year."
Rey joins receiver/return specialist
Brandon Tate
and offensive guard/center
Mike Pollak
in re-signing with the Bengals this offseason. Defensive back
Taylor Mays
also has reportedly signed, but the Bengals have not yet announced that news. Mays was reported to have signed Wednesday.
The news of Rey's re-signing also comes hours after the team announced that defensive end
Dontay Moch
, a 2011 third-round Bengals draft pick, was coming back to Cincinnati. After playing four games last season for the Cardinals, Moch cleared waivers late Friday afternoon.
Cincinnati's other two restricted free agents, receivers
Andrew Hawkins
and
Dane Sanzenbacher
, also were extended low-round tenders last week, but neither has signed elsewhere or with the Bengals yet. Hawkins has signed an offer sheet with the
Cleveland Browns
, but Cincinnati has until Tuesday to match it. The Bengals still have not made a decision about what they will do, although ESPN.com has
reported that they likely won't match
the four-year, $13.6 million offer.
March, 11, 2014
Mar 11
2:00
PM ET
CINCINNATI -- There will be other, more glamorous free-agency signings than the one the
Cincinnati Bengals
announced just before noon Tuesday. That is a fact.
But that shouldn't diminish the importance of the organization's decision to bring back
Brandon Tate
.
OK, so his name didn't have the free-agency sex appeal of
Michael Johnson
's. He wasn't courted by as many teams as
Andrew Hawkins
and won't be making as much money next year as
Anthony Collins
. Still, his return to Cincinnati has a much deeper meaning than the fact he's a little-used backup receiver who occasionally returns a few kicks.
[+] Enlarge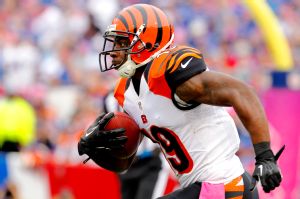 Timothy T. Ludwig/USA TODAY SportsFifth-year veteran Brandon Tate is considered to be one of the Cincinnati Bengals' "core special teams players," says coordinator Darrin Simmons.
Tate's re-signing
embodies what this particular offseason will be all about for the Bengals. When it comes to adding and retaining players, the mission in 2014 is about creating depth. You've already seen it in free agency with Cincinnati's re-signing of offensive guard
Mike Pollak
last weekend. You'll see it in the draft when the Bengals start looking at cornerbacks who can play both the edge and the slot, as well as offensive linemen who can line up at some combination of guard, center and tackle.
Since their starting rotations are nearly set with defensive end
Michael Johnson as the only casualty
from 2013's regular rotation (it seems it will stay that way), the Bengals are calmly going through this offseason looking like a team with few major needs to address. That's why once the attention surrounding Johnson and Collins begins to fade, the Bengals' focus will shift toward role players, such as Tate.
The role Tate played last year in his third season in Cincinnati was an important one. Among qualifying kick returners he ranked ninth in the league in kick return average, consistently advancing the ball 26.1 yards per return. He also served as the team's primary punt returner once injuries in the secondary forced longtime return man
Adam Jones
to be a special teams observer.
While he was mostly better at returning kickoffs than he was at returning punts, Tate still had a knack for breaking a timely punt return, too. Arguably his best punt return of 2013 was a 29-yarder in overtime that helped set up
Mike Nugent
's game-winning field goal at Buffalo in October.
"Brandon's numbers speak for themselves, and I've got a lot of confidence in him," Bengals special teams coordinator Darrin Simmons said. "This could be a real breakout year for him."
Simmons and the Bengals haven't yet said whether Tate will remain the team's starting punt returner, but his statement of confidence seems a clear indication they're hopeful he can continue contributing there. With the anticipation of having a fully healthy secondary ahead of training camp, the Bengals have good reason to put Jones back in the normal punt-return rotation.
Tate's return gives the Bengals options, and those options could even increase in the coming months depending upon which players the Bengals end up drafting. Some of the defensive backs who stand the best chance of being claimed early in the draft by Cincinnati have punt and/or kick return experience.
Along with Tate's occasionally explosive special teams play, he also provides a measure of sure-handedness. In his five NFL seasons -- the first two in New England -- Tate has only one fumble and three dropped passes in 71 attempts. He's another veteran who not only knows what it takes to win in Cincinnati, but has some measure of postseason experience with a franchise regarded as one of the NFL's modern-era dynasties.
There's also the depth Tate provides at receiver. One of the deepest returning positions, the Bengals have strong personnel numbers at receiver. Still, they need to bolster their ranks there just in case. Hawkins is an unrestricted free agent, as is
Dane Sanzenbacher
. After offering tenders to both players last week, the Bengals are in wait-and-see mode until another team formally offers the pair salary numbers that can be matched. In the event Cincinnati can't match one or both of the free-agent receivers, at least they still have Tate as a last resort pass-catching option.
No, Tate's re-signing isn't sexy nor should it even be attempted to be construed that way. But it's just the type of important, depth-chart specific move that a team looking to build off its relative success from a year ago is trying to maintain.
March, 7, 2014
Mar 7
10:00
AM ET
Now that the
Cincinnati Bengals
have
placed tenders on all three
of their restricted free agents, let's take a look at the value each player brings to the team.
With the low-round tender option, the Bengals would pay all three $1.4 million next season if another team doesn't reach out and try to woo them away. If another team does make a higher offer when free agency starts next week, the Bengals' tender gives them the ability to match that same offer. Normally, if they didn't match the other team's offer, the Bengals would be compensated by that team through the draft. Whichever round the respective free agent was originally drafted, the Bengals would receive a selection in that round.
Since all three of these players went undrafted, though, the Bengals won't be getting draft-round compensation.
So should the Bengals try to match offers and keep these three? Or should they be content to let them go if higher offers come? We'll briefly examine each player's value here. We've already looked at
receiver Andrew Hawkins
and linebacker
Vincent Rey
. Up next:
WR Dane Sanzenbacher
The good:
A fan favorite in Cincinnati from his days at Ohio State, Sanzenbacher has a sizable following here. He's spent only two seasons with the Bengals after starting his career with a one-year stint in Chicago. That season, though, was the most productive of his career. He caught 27 passes for 276 yards and three touchdowns. His production that year proved that he could be a contributor as a third- or fourth-option receiver. After a couple of key departures from Cincinnati's 2011 team, namely
Jordan Shipley
's and
Jerome Simpson
's, the Bengals needed to add to their depth at receiver. Along came the slot playing Sanzenbacher.
The bad:
Opportunities haven't been the greatest for Sanzenbacher since his Queen City arrival. There has been a relative backlog of talent at the third- and fourth-receiver spots with
Marvin Jones
, Hawkins,
Mohamed Sanu
and
Brandon Tate
all cycling through those spots on the receiver's depth chart at some point the last two seasons. Although Tate only caught one pass in 2013, he has been a problem for Sanzenbacher's playing time because of his ability to return punts and kickoffs. At times last season when the Bengals needed to make a cutoff at receiver for pregame inactives, Sanzenbacher and
Ryan Whalen
were the first to be benched to accommodate having Tate in the lineup. In all, Sanzenbacher was declared inactive seven times last season, including the wild-card round playoff game against San Diego. During the 10 games he was active, he caught six passes for 61 yards.
His anticipated future role:
Sanzenbacher's future depends in part on Tate's future. If the Bengals are able to re-sign the unrestricted free-agent return specialist this month, then getting Sanzenbacher on the field next fall could continue to be a difficult proposition. Very little will change about the Bengals' receiving ranks this offseason. If Hawkins gets re-signed, the same top four receivers will all return, as will the top two pass-catching options at tight end. If Tate doesn't return, then that could open up more opportunities for Sanzenbacher to avoid the inactives. It would mean someone from another position group would take Tate's place on return teams, helping to possibly allow for another receiver to be active each week. Regardless what happens in free agency, Sanzenbacher would remain down on the Bengals depth chart if he gets re-signed.
Try to keep him?
Of Cincinnati's three restricted free agents, Sanzenbacher appears to be the most expendable. His re-signing, however, depends on what happens in free agency with respect to Tate and Hawkins. Cincinnati has good reason to want to go after the other two a little harder than Sanzenbacher simply because of what they have been able to do lately. Tate was a strong kick returner and had a timely punt return or two last season. Hawkins was injured half of 2013, but posted some of the Bengals' best receiving numbers the year before. Since Sanzenbacher and Hawkins play similar roles, the Bengals have a compelling reason to hold onto him in case the faster Hawkins gets away.
March, 5, 2014
Mar 5
10:00
AM ET
Now that the
Cincinnati Bengals
are expected to
place tenders on all three
of their restricted free agents, let's take a look at the value each player brings to the team.
With the low-round tender option, the Bengals would pay all three $1.4 million next season if another team doesn't reach out and try to woo them away. If another team does make a higher offer when free agency starts next week, the Bengals' tender gives them the ability to match that same offer. Normally if they didn't match the other team's offer, the Bengals would be compensated by that team through the draft. Whichever round the respective free agent was originally drafted, the Bengals would receive a selection in that round.
Since all three of these players went undrafted, though, the Bengals won't be getting draft-round compensation.
So should the Bengals try to match offers and keep these three? Or should they be content to let them go if higher offers come? We'll briefly examine each player's value the rest of this week. Up first:
WR Andrew Hawkins
The good:
There's a lot of good when it comes to Hawkins. Signed out of the CFL as an undrafted free agent ahead of the 2011 season, he quickly became a fan favorite in Cincinnati. His combination of elite speed and smaller size -- the Bengals list him at 5-foot-7 -- earned the respect of Bengals fans. When he became the team's third-leading receiver in 2012, catching 51 passes for 533 yards and four touchdowns, that admiration grew. It was that production that had Hawkins and others anticipating a breakout season for him in 2013.
The bad:
As he tried to make an athletic catch during a preseason practice last August, Hawkins suffered a serious ankle injury that forced him to the injured reserve/designated for return list. He ended up missing the first eight weeks of the 2013 season because of the injury, and was still trying to work himself back into midseason form when he returned to action in Week 9. For the first half of the season, the injury negated a key part of the Bengals' offensive plans. He finished with just 12 catches during the regular season.
His anticipated future role:
Hawkins was mostly known as a slot receiver in the offense previously coached by Jay Gruden. Under new offensive coordinator Hue Jackson's watch, it's possible to see him line up at virtually any spot on the field. OK, maybe not offensive line. At 5-7, 180 pounds, he might not be the right person to block for
Giovani Bernard
flanked just off the right tackle. Still, it's possible he could be used in a fashion more like how Seattle used
Percy Harvin
in the Super Bowl. Hawkins could be flanked out wide catching screens or out routes. He could be used, like he has in the past, in reverses or fake reverses or double reverses. He also could remain in the slot, continuing to be a matchup mismatch for Nickel cornerbacks who might not be able to keep up with his shifty speed.
Try to keep him?
By setting the tender so low on Hawkins, the Bengals have made it clear they don't expect to get into too high a bidding war with another team that tries to take him away. If the Bengals end up deeming a team's offer too high, they will pass. But should they? Obviously that depends on how high the offer goes. In part because of the injury it's hard to imagine Hawkins will be fielding offers higher than the maximum tender level compensation of $3.1 million that he and the other restricted free agents could have received. As long as the opposing offers are reasonable, the Bengals, to me, have to match and keep him. Yes, there are a variety of other playmakers on offense between
A.J. Green
,
Marvin Jones
,
Mohamed Sanu
,
Jermaine Gresham
,
Tyler Eifert
,
BenJarvus Green-Ellis
and Bernard, but Hawkins gives the unit a measure of added athleticism and speed that can be tough to replace. Much like the difficulty opposing defenders say they have in locating the smaller and shifty Bernard, they are similarly leery of spotting Hawkins in traffic, too.
October, 20, 2013
10/20/13
8:40
PM ET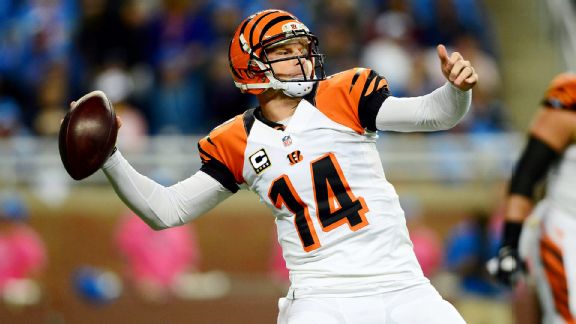 Andrew Weber/USA TODAY SportsBengals QB Andy Dalton throws one of six passes to wideout A.J. Green in a win at Detroit.
DETROIT -- The days of nicknaming Cincinnati's football team the Baby Bengals are officially done.
Finished. Kaput. Finito.
No more is this a fresh-faced group, wondering which way to turn, who to block and where to run. These days, the Queen City's club is a team of grown men who know exactly what to do when a game gets in doubt, and when the line between a win or a loss becomes razor-thin.
On Sunday, during yet another one of their big regular-season road games, the Bengals proved as much when, as time expired, they picked up a
27-24 win
against the
Detroit Lions
at Ford Field.
Mike Nugent
's game-ending field goal was his second in as many weeks and helped send a message to the rest of the league: This is one bad (the John Shaft kind of bad) team that seriously thinks it will end its season at MetLife Stadium.
If they keep grinding out victories like their past two, the Bengals have good reason to believe a Super Bowl appearance could be in their future. That's because, again, these aren't the Baby Bengals you've come to know the past few years. Defining wins such as these are signs they're maturing.
Last week, on the road in front of a hostile Buffalo crowd, the Bengals overcame a fourth-quarter rally by outlasting the Bills in overtime. Nugent's 43-yard field goal midway through the period led to another
27-24 win
. It was one that helped lay the foundation for Sunday's victory over a team that came in with the same record, a similar physical makeup on the offensive and defensive lines, and its own solid quarterback-receiver tandem that had big-play potential. All last week, the Bengals felt confident that if they could beat this mirror image of themselves, they finally could begin letting the rest of the football universe know what they already did: that they are pretty good.
"It means we're growing up," 24-year-old defensive end
Carlos Dunlap
said. "We're going to need this win right here down the road when we play a few other good teams on the road. Teams like this help build our confidence and make us grow up. We had a young football team last year and now we're older."
Cincinnati was so young last season that its opening-weekend 53-man roster ranked as the third-youngest in the NFL. After making a few tweaks this offseason, it entered 2013 as the 12th-youngest.
How fitting it was then, that on the day the Bengals faced the team that was the league's oldest in Week 1, Cincinnati would pull out perhaps its biggest win of the season.
"It's a win where the young guys and this team had to grow up and win the game by whatever it takes," eight-year veteran offensive tackle
Andrew Whitworth
said. "Two weeks in a row we've shown that. That's one of the biggest things you take from this. Is it perfect? Are there things that need to be better? Heck yeah. But this football team, two weeks in a row, with the game on the line, found a way to win. That's really where you want to be."
He's right. It is. But in order to understand where the Bengals were Sunday, you have to understand how they got there. It wasn't easy.
The Bengals have played physical games all season, but this one in Detroit may have been one of their most intense of the year. They certainly boarded the plane late Sunday banged and bruised in ways they hadn't been all year.
In all, seven players were evaluated for injuries at some point during the game. Two of them, cornerback
Leon Hall
and backup defensive tackle
Devon Still
, didn't return. Hall's Achilles injury is a "significant" one, according to coach Marvin Lewis. Still's injury is less severe, but could require him to miss some time.
As beat up as the Bengals were, they made it through this game thanks to their young stars. Specifically, it was the play of reserve cornerback
Dre Kirkpatrick
and roving defensive back
Taylor Mays
who helped plug in the hole Hall left. It was the gritty play of backup defensive tackle
Brandon Thompson
that helped alleviate any issues caused with Still's departure. On offense, it was quarterback
Andy Dalton
's 372-yard, three-touchdown performance, and
A.J. Green
's six-catch, 155-yard effort that helped keep the offense running while the defensive stars were falling out.
On the game-winning drive, third-year Bengals receiver
Dane Sanzenbacher
and rookie running back
Giovani Bernard
caught a pair of passes that pushed the Bengals, with less than 30 seconds, from their own territory and into a position where the veteran Nugent could forget his earlier miss, clear his mind as an elder player should, and deliver the clutch make.
"That's just poise," veteran
Reggie Nelson
said. "We always preach poise. And we did a good job of that [Sunday]. We just have to keep on grinding."
The more the Bengals grind, the more they trim up, shape up and clean up, the more they can put the Baby Bengals moniker behind them.
"This is a huge step forward," Whitworth said. "Does it mean you're world-beaters? No. You've got a lot of work to do. But, man, heck. It's a heck of a win."
It's a grown-man win.