Cincinnati Bengals:

Danieal Manning
July, 29, 2014
Jul 29
9:00
AM ET
Welcome to the
Cincinnati Bengals
' first off day of training camp.
[+] Enlarge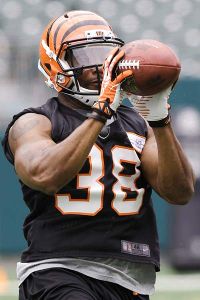 Al Behrman/AP PhotoDanieal Manning, a free-agent pickup by the Bengals this offseason, says he hopes to contribute on special teams.
We begin with ith only one morning take, and we'll have our regular multiple "takes" again Wednesday. This lone take has to do with
Danieal Manning
, the veteran safety who came to Cincinnati via free agency.
While Manning's addition ought to aid the Bengals' establishment of secondary depth, he was brought on board for at least one more reason. A noted kick returner from his time in Chicago and Houston, his special teams versatility was a plus, too. He's quick to point out that he's not out to take any other player's job, but he's hopeful he can help this area of the Bengals' game.
"The guys we've got back there working are a set of explosive players that are definitely returners already or some that are hidden talents," Manning said. "You've got a lot of options on this team to put guys in who are comfortable enough to make the play. What I bring is just more experience."
Brandon Tate
is another veteran with kick-return experience. He came into camp as Cincinnati's primary returner following his impressive season in 2013. Unlike what Manning is trying to do as a defensive back/returner, Tate wasn't used as regularly at his offensive position in 2013. Special teams was his forte. On offense, he caught just one pass. If the Bengals elect to use him more offensively this season, Tate says he'll be happy. But he'll also be just fine if his primary job is to return kicks again. He just wants to make the team.
Tate's comparable lack of versatility has made him a potential roster bubble candidate.
Manning, who has practiced as a returner, along with Tate,
Cedric Peerman
, and others, approaches kick-returning as a science. He broke down for me last week ways he focused on bursting past wedges and through seams in the past, and compared them with tweaks he might make if he has difficulty enacting those old ways. Like many things in football can be, kick-returning is about adjustments and improvisation, he said. It's also about figuring out whether you're a returner who uses his speed to set up the play, or one who shows off some physicality.
"That's the thing about it, you have to know your skill," Manning said. "I'm a fast guy, and I'm a physical runner. Some guys are fast and very elusive."
The nine-year veteran was one of the NFL's best physical returners before injuries started creeping in the past two years. He contends that injuries aside, his ability is still there. It's sometimes easy to forget how solid a returner Manning was when he played for the Bears between 2006-10, simply because of the punt returner who stole all the special teams headlines,
Devin Hester
.
Manning had 28 or more kick returns for the Bears each season between 2008-10, as the Bears paired him with Hester and Johnny Knox. Manning's best kick-returning season came in 2008 when he returned 36 kicks for an average 29.7 yards. Granted, that was seven seasons ago.
When it comes to setting up strong field position as a kick returner, Manning has given his teams slightly better starting field position than Hester and Tate. Offenses have an average 68.8 yards to travel following one of Manning's returns since he's been in the league, according to ESPN Stats & Information. Hester's career returns on average set up field position that started drives 72.1 yards away from the end zone. Tate's returns have set up an average 75.0 yards for his offenses to travel. With respect to Hester, it's also worth mentioning that he has five career kick-return touchdowns while Tate and Manning only have one each.
As much as his defensive talents are currently a reason he's on the Bengals' roster, Manning's special teams background gives the Bengals a noted measure of experience that could at the very least make him a valuable meeting-room resource, if not a regular returning talent himself.
June, 23, 2014
Jun 23
7:00
PM ET
For the next 11 days we're taking a look at
Cincinnati Bengals
who could be on the dreaded training camp roster bubble later this summer. These are players whom we think you should expect to see fighting for spots when the eventual 75-man preseason roster gets trimmed to the regular-season 53.
As permitted by league rules, the roster currently stands at 89.
Mays
In no particular order, we start this offseason bubble watch with safety
Taylor Mays
Why he's on the bubble:
Mays, like so many other potential bubble candidates, could fall victim to the numbers game this fall. There are simply too many safeties and not enough spaces for them all. Starters from the 2013 season,
Reggie Nelson
and
George Iloka
, are obvious locks to be retained by the club this year, as is second-year safety
Shawn Williams
. Veteran
Danieal Manning
was added to the mix this offseason, giving the Bengals a measure of depth and experience at the position. Manning, too, could be fighting for a place on the team by the end of August, but I'm thinking right now that Mays would be the one to go if it came down to him and Manning. It's worth noting the Bengals carried five(ish) safeties much of last season. The "ish" is because
Chris Crocker
was added early in the season, coming out of retirement to primarily play a cornerback role. He ended the season playing a hybrid position that was more safety than cornerback.
Another reason Mays could be released? His contract. While he'll be well-compensated if he sees the full value of his $755,000 cap figure for the 2014 season, he was only given a guarantee of $40,000 when he signed a one-year deal earlier this offseason. If he gets cut, the Bengals will end up saving his entire $755,000 cap value. It wasn't the kind of deal that indicated much long-term belief in the 26-year-old safety.
What he has to do to get off the bubble:
All
he
has to do, really, is play the way he did during organized team activities (OTAs) and minicamp this spring. Often during the practices that were open to media, co-defensive backs coach Mark Carrier could be heard on the sideline giving Mays measured encouragement. It seemed like Mays not only was in the right position more times than not, but he was executing just the way Carrier and other coaches wanted him to. Naturally, it's easy to look like you're doing the right things in shorts and a helmet. The real test will come for Mays when the pads come on.
Odds he makes the team:
50/50. He could give the Bengals a good lift off the bench at the position, and perhaps most importantly, he could give them a bigger body to shift from true safety and into a cover role if needed like last season. Part of the reason Mays saw the field regularly before his season-ending injury in Week 8 against the Jets was Cincinnati's lack of depth at linebacker. When
Emmanuel Lamur
, the Bengals' top cover linebacker went down with an injury in the preseason finale, the team needed someone with the size and athleticism to hang in the passing game with tight ends, running backs and receivers. Mays' versatility in that regard could make it a smart decision to keep him around.
Then again, it's all about numbers in the NFL each August, and Mays could be one of many to fall just over the team's limit.
May, 27, 2014
May 27
6:00
PM ET
CINCINNATI -- The
Cincinnati Bengals
held Tuesday their first organized team activity (OTA) of the offseason. For the first time since January's wild-card round playoff loss to San Diego, the Bengals were back inside Paul Brown Stadium, participating in full-team football activities.
Gresham
Only one player appeared to be missing from the workout; tight end
Jermaine Gresham
. It's not clear why the veteran wasn't present for the voluntary workout, but he has been seen around the stadium since the team returned to town for voluntary strength and conditioning workouts last month.
Otherwise, the Bengals were all present and accounted for. Even injured defensive tackle
Geno Atkins
, injured cornerback
Leon Hall
, injured offensive guard
Clint Boling
and injured punter
Kevin Huber
attended the workout. Each took part in the stretching and warm-up period of the practice. Huber was the only one of the four who had his jersey on, and who actually participated in the rest of the practices. He spent much of the day punting across the field from sideline to sideline. Atkins and Boling continue rehabbing from ACL surgeries. Hall is nearly fully recovered from an Achilles injury that ended his season in Week 7 last year. Huber is coming back from a neck fracture.
Along with those absences from team drills, the Bengals also appeared to be without defensive back
Danieal Manning
and center
Mike Pollak
. Both attended the workout but were not in uniform and not participating in the drills.
In addition to those observations, here are a few more from what I saw during the hour and 45 minutes that practice was open to reporters:

Jackson
1.
We start with the beginning of the practice, when newly promoted offensive coordinator Hue Jackson loudly shouted "I love this day!" as players wrapped up stretching. Why is that worth mentioning? Because it was only the first of many things Jackson could be heard shouting all during the workout. He has been known league-wide for his energetic and intense style of coaching. Cincinnati's noticeably faster practice tempo certainly was a credit to him. Very seldom did he stay in one spot. He rotated regularly between the different position groups, and could be heard when he moved.
2.
When it comes to depth-chart rankings, let me begin by saying this: Don't read too much into depth chart updates in May. Things are likely to change. Simply read the following and know it happened on the very first day of OTAs. Dig no further than that. Now, with that disclaimer out of the way, as expected,
Giovani Bernard
did indeed take the bulk of the first-team snaps at running back.
BenJarvus Green-Ellis
had opportunities, as did rookie
Jeremy Hill
. Also of note in the backfield: on a high percentage of snaps, it seemed a fullback or H-back was also lined up behind quarterback
Andy Dalton
. Don't be surprised if you see the fullback make a comeback this season, folks.
3.
Speaking of Dalton, he took snaps as the starting quarterback.
Jason Campbell
made the second-string throws, and recent addition
Matt Scott
made the third-string tosses. Fifth-round draft pick
AJ McCarron
was effectively the fourth-string quarterback, taking snaps primarily with reserve offensive players who primarily were comprised of undrafted free agents.
Jones
4.
A former Bengals fifth-round draft pick who did make noise Tuesday was receiver
Marvin Jones
. As expected, he lined up as the No. 2 receiver opposite
A.J. Green
. Jackson told Bengals.com last week that he wanted Jones to push Green for the No. 1 receiving job; a sentiment Jackson first expressed to reporters at the combine in February.
5.
Cobi Hamilton
and
Brandon Tate
were two other receivers who caught their share of passes. Hamilton's size -- 6-foot-2 -- and leaping ability make him a good deep option. Tate's shiftiness as a kick returner makes him a candidate to be lined up in the slot or passed to in quick-screen scenarios. Although returning kicks takes a slightly different skill than dodging defenders, he still is being given a chance to prove he can wiggle on offense like he can on special teams. Tate caught one pass last season, and Hamilton wasn't active a single game.
6.
Cincinnati's offensive line had a little bit of a different look in the interior with Pollak and Boling out. In Pollak's stead,
Trevor Robinson
and rookie
Russell Bodine
traded snaps at center. Robinson took the majority of the day's first-team snaps. In Boling's place at left guard, several different players saw action, including Pro Bowl left tackle
Andrew Whitworth
. Undrafted free agent
Trey Hopkins
also played there. Free agent acquisition
Marshall Newhouse
lined up at left tackle when Whitworth wasn't playing there.
7.
Outside linebacker
Emmanuel Lamur
was back practicing and going through drills for the first time since suffering a injury in the final preseason game last year.
8.
Like Jackson, members of Cincinnati's front office and scouting department couldn't wait to see their recent signees in action, too. Along with team president Mike Brown and his daughter, executive vice president Katie Blackburn, Bengals scouts also attended the OTA from start to finish.
May, 20, 2014
May 20
6:00
PM ET
OK, it's only late May, and the
Cincinnati Bengals
still haven't held an offseason organized team activity (OTA). Still, that doesn't mean we can't try to break down their depth chart.
Now that the draft is over and a few additional signings have been made, we're spending this week looking at the three phases of Cincinnati's game, and taking a stab at how the team's position-by-position rotations may look when training camp opens July 24 (NOTE: the original date was July 23, but the Bengals last week pushed the camp's start back a day).
After
looking at offense Monday
, we're breaking down the defense:
Dunlap
Defensive end
1.
Carlos Dunlap
(LE)
2.
Wallace Gilberry
(RE)
3.
Margus Hunt
4.
Robert Geathers
5.
Will Clarke
6.
Sam Montgomery
7.
Dontay Moch
8.
Christo Bilukidi
9.
David King
Analysis:
Nine defensive ends? Well, not technically. Montgomery and Moch could play hybrid end-outside linebacker roles depending upon the schemes they are part of when on the field. Not to mention, there's a strong chance not all of the players listed above will make it to the regular season. For now, though, Dunlap seems likely to retain his starting left end spot, while the right end position could really be anyone else's for the taking at this point. That was where
Michael Johnson
primarily played before signing with Tampa Bay earlier this preseason. Gilberry seems like the logical choice for now at right end, with Hunt, Geathers and Clarke as possible options to mix in with him. Hunt and Clarke may be the future at the position, but Gilberry is a proven veteran who performed well getting to the quarterback last season.
Atkins
Defensive tackle
1.
Geno Atkins
(NT)
2.
Domata Peko
3.
Devon Still
4.
Brandon Thompson
5.
Ogemdi Nwagbuo
6.
Zach Minter
7.
Larry Black
Analysis:
Like at the end position, the Bengals are deep on the line's interior. It's likely at least one of the seven tackles won't make it to the season opener, but the rest of the core group will be there. It's a group that should be led during the preseason by Atkins, the nose tackle who missed half of last season because of an ACL tear. While Atkins hasn't been in the most talkative of moods this offseasons, all signs seem to be pointing toward him returning to full health sometime during training camp. Still and Thompson remain the top two tackles off the bench behind Atkins and Peko, and Black is a player many around Cincinnati likely will be rooting for following his training-camp leg injury last season. The Cincinnati native's raw, emotional response to the injury was a memorable part of the first episode of last year's HBO "Hard Knocks."
Burfict
Outside linebacker
1.
Vontaze Burfict
(Will)
2.
Vincent Rey
(Will)
3.
Emmanuel Lamur
(Will)
4.
Jayson DiManche
(Sam)
5.
Sean Porter
(Sam)
6.
Bruce Taylor
(Sam)
7.
Brandon Joiner
(Will)
8.
Marquis Flowers
(Will)
Others:
James Davidson
(Sam)
Analysis:
With spread-style offenses becoming so prevalent in the NFL, a team can never have enough defenders who can cover receivers, tight ends and running backs. The Bengals learned that the hard way last season when Lamur went down with a season-ending injury at the end of preseason camp. The injury took away the team's most athletic cover linebacker, and forced a few roles to change. Since the Bengals are almost in constant nickel packages, they want each of their linebackers to have some coverage ability. They also want them to be able to step up and tackle in run support. For that reason, the "Sam" and "Will" tags may at times be interchangeable, specifically as they try to find a true "Sam" in the wake of
James Harrison
's release in March. As a result of the incessant use of nickel defense, Harrison wasn't on the field much during his only season in Cincinnati.
Maualuga
Middle linebacker
1.
Rey Maualuga
2.
J.K. Schaffer
Analysis:
Maualuga and Schaffer aren't the Bengals' only interior linebackers. Burfict may play inside, depending upon the situation. Rey could, too. So might DiManche. While the focus is on having linebackers who can cover and help counter this pass-first offenses, there still is great importance on having a player who can help set the defense. Burfict did much of that last season, despite technically playing an outside linebacker position. Maualuga was a leader on the inside throughout the year, too, and expects to be again this year.
Hall
Cornerback
1.
Leon Hall
2.
Terence Newman
3.
Adam Jones
4.
Dre Kirkpatrick
5.
Darqueze Dennard
6.
R.J. Stanford
7.
Chris Lewis-Harris
8.
Brandon Burton
9.
Lavelle Westbrooks
Analysis:
This is one position that could easily look much different by the start of September. Hall anticipates being healthy from an Achilles tear just in time for the start of camp, meaning the Bengals will have their starting corner by Week 1. He's also their best slot corner option, meaning he'll be on the field often with Newman and Jones, who will be playing the two boundary corner spots. The rest of the depth chart after Dennard, a rookie, could look very different by July.
Cobb
Safety
1.
Reggie Nelson
2.
Danieal Manning
3.
George Iloka
4.
Taylor Mays
5.
Shawn Williams
Analysis:
It's hard to rank the safety rotation because it will primarily be just that, a rotation. Aside from Nelson, who will be playing a safety role that permits him to blitz and rush up at times, the Bengals will have a revolving door at safety and the hybrid safety/slot corner position that
Chris Crocker
ended up playing last year, and that Manning will take on this season. Iloka, Mays and Williams could all be used in deep zone or tight man coverage. With new co-defensive backs coach
Vance Joseph
on board, the Bengals' secondary will be worth watching.
April, 22, 2014
Apr 22
10:30
AM ET
CINCINNATI -- By showing up to Paul Brown Stadium these next few weeks, several
Cincinnati Bengals
could collectively earn more than $3.2 million in bonus money, according to ESPN's Stats & Information.
Twenty-seven Bengals have workout bonuses provisions in their contracts related to their attendance at strength and conditioning workouts and voluntary OTAs. Combined, the group has $3,205,000 at stake just for appearing and participating in the optional practices. The latest collective bargaining agreement places stipulations on the types of team-sanctioned practices and the number of them that players can take part in during the offseason. Participation, in many cases, still can lead to additional compensation.
Defensive linemen
Carlos Dunlap
and
Geno Atkins
have the most at stake when it comes to the bonuses. They both stand to earn $300,000 in 2014 for participating in the workouts.
Both were spotted Monday when the locker room was opened to reporters. There are other workouts continuing this week, but the media are only permitted to meet with players on Monday. Players won't be available again until next Monday.
As a result, it's hard to tell who has made it back for voluntarily workouts. Players were in and out of the locker room during the time it was open, but many who weren't seen could have been in other parts of the building.
It should be noted that even players who don't have bonus provisions in their contracts will still show up just to work out. For example, receivers
A.J. Green
,
Marvin Jones
and
Mohamed Sanu
aren't due workout bonuses this year, but each was at the stadium Monday.
April, 20, 2014
Apr 20
9:00
AM ET
Happy Easter, folks.
One day afteranswering a number of draft-related questions, our Cincinnati Bengals mailbag is back for a second installment of the weekend.
Yes, that's right. A two-part mailbag. Our Bengals readers were so inquisitive last week that we decided to turn this into a mailbag that spanned two days.
In this mailbag, the players already on the team are the focus. With all 71 currently signed players expected to return to Cincinnati on Monday for the start of the official offseason strength and conditioning program, we're answering questions about the players whose signings and departures might have affected the Bengals' plans moving forward. Also, we'll address whether there is more the Bengals can do.
Let's get to it:
April, 7, 2014
Apr 7
5:00
PM ET
CINCINNATI -- The 2015 offseason could be a busy one for defensive backs and the
Cincinnati Bengals
.
Manning
Just like
R.J. Stanford
and
Taylor Mays
before him,
Danieal Manning
signed a one-year deal with the Bengals to end his time as a free agent this offseason. It means that like the other two, he'll be looking for a new contract when next March rolls around.
They aren't alone, either. Cornerbacks
Terence Newman
and
Brandon Burton
also will be eligible for free agency. That's one of the few reasons why the cornerback position is an area of need for the Bengals in the upcoming draft. As they reassess their long-term plans for the secondary, it makes sense that they turn toward younger and cheaper players at those positions in the next few seasons.
But Cincinnati also knows that it's going to win anything in the postseason with the current group, it has to do so now. That's one reason why the Bengals signed Manning last Thursday. His addition likely pushes veteran free agent
Chris Crocker
out of the picture, and gives the team another experienced defender who can serve as a mentor to the younger players, and who can also provide meaningful snaps at safety -- either as a starter or a first-off-the-bench backup.
The belief has been that Manning could end up taking playing time from
George Iloka
. But since Iloka is one of those young players the Bengals are trying to groom, that might not happen as quickly as some think.
The Bengals are anticipating production from Manning, and his contract reveals some of that expectation. It's a deal that's similar to backup quarterback
Jason Campbell
's $1.5 million one-year contract that will require him to primarily play the role of mentor for starting quarterback
Andy Dalton
. Manning's contract just won't award him quite as much guaranteed money as Campbell's $400,000.
Manning's cash value will be $1.6 million in 2014, according to contract details from ESPN Stats & Information. He also will make $100,000 guaranteed that came from a signing bonus. Before he was cut by the Texans last week, Manning had just come off the third year of a four-year deal that paid him about $5 million each season.
Here are the full details of Manning's contract with the Bengals:
Cap value:
$1,318,750
Cash value:
$1,600,000
Signing bonus:
$100,000
Roster bonus:
$450,000 ($450,000 is the max value, but he'll make $28,125 per game that he's active)
Workout bonus:
$50,000
Base salary:
$1,000,000
Guaranteed money:
$100,000
April, 5, 2014
Apr 5
10:00
AM ET
Last weekend, it was
DeSean Jackson
. This weekend,
Chris Johnson
is the talk of free agency as many wonder where the former Titans running back might end up.
Let's just get right to it. Would Cincinnati be a good fit?
.
April, 4, 2014
Apr 4
12:00
PM ET
CINCINNATI -- Now that the
Cincinnati Bengals
have signed former Houston Texan
Danieal Manning
to a one-year deal, let's take a look at how his career numbers compare to the other safeties already on Cincinnati's roster.
Manning, an eight-year veteran who also spent five years with the Bears, joins a defensive backfield that includes safeties
Reggie Nelson
,
George Iloka
,
Taylor Mays
and
Shawn Williams
. Unrestricted free agent
Chris Crocker
is still technically in the mix at the position, too, even though Manning's signing seems a clear indicator that Crocker won't be re-signed before free agency ends. It was doubtful he'd want to make a comeback next season anyway after entering retirement the past two years. Still, we included Crocker's numbers to give an idea of how Manning compares.
One area where Manning will be a help, particularly at the strong safety position he and Iloka could conceivably battle for, is in forcing turnovers. The numbers show that, like Nelson, he has a knack for doing that.
As you can see, he stacks up quite favorably in other areas, too:
April, 3, 2014
Apr 3
3:45
PM ET
CINCINNATI -- Each of the last three offseasons, the
Cincinnati Bengals
' personnel plans were easily identifiable.
[+] Enlarge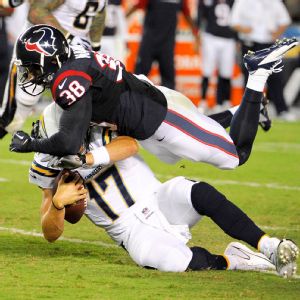 AP Photo/Denis PoroyDanieal Manning's addition follows the Bengals' plan of adding mentors to the roster.
As they turned the page from a disastrous four-win 2010 season and tried to carve a fresher path under coach Marvin Lewis and his renewed contract, they made a clear and obvious focus on youth. The idea at the time was to spend those drafts selecting the best talent available and to continue molding the other young stars from the 2009 and 2010 classes that were already on the roster. They felt if they could build from the bottom, a playoff team could be created.
Three straight postseason appearances later, it seems they were right.
But now that much of that recently drafted talent has started maturing and entering second contract deals, the Bengals have realized they need to attack this offseason's personnel changes slightly differently. The youth movement is all but over. As their last few free-agency signings will attest, these days the Bengals are riding a new wave of roster additions that are all about age.
Experience, leadership and mentorship are at the forefront of the last two free-agency adds and extensions, in particular.
The latest elder
added to the Bengals' ranks
was 31-year-old safety
Danieal Manning
, a nine-year veteran who spent the last three seasons with the Texans. He played a key role in helping stop the Bengals in the 2011 wild-card round playoff game by recording seven stops, and he was part of a Houston team that beat Cincinnati in the 2012 postseason, too.
His playoff experience is just one of the many traits Manning has in common with fellow newly signed or extended Bengals
Domata Peko
,
Marshall Newhouse
and
Jason Campbell
.
Another trait Manning has in common with that trio is familiarity. Not only did Peko recommit to the team on a two-year contract extension that will keep him in Cincinnati through 2016, but Newhouse is coming from Green Bay getting set to play with the quarterback he helped protect for three years in college. Campbell's signing last month meant that he and his former
Oakland Raiders
head coach and offensive coordinator, Hue Jackson, are reunited. Manning will have his own reunion of sorts by reconnecting with
Vance Joseph
, his former secondary coach who the Bengals hired earlier this offseason to help lead the safeties.
Aside from Newhouse, who is 25, age is another tie that binds the Bengals' latest free-agency signings. Peko will be 30 in November. Campbell will be 33 in December and Manning will turn 32 in training camp.
More than all those common characteristics, though, Manning's addition -- just like Peko's, Newhouse's and Campbell's -- has to do with the Bengals wanting to sign a seasoned veteran who can give quality minutes and help take Cincinnati's youngest stars through the next stage of their development. Now that players like second-year safety
George Iloka
have played regularly since their rookie seasons, it's time for them to get added guidance they may have missed with so few veterans playing alongside them.
In Campbell,
Andy Dalton
now has a quarterback who he can truly learn from and talk to off the field. In Newhouse, the offensive line might have a new voice in the huddle, but it's one who knows how to handle Dalton. In Peko, the entire team just got back a leader whose words and actions helped inspire the organization through its three-year transition.
It's a transition that appears to have come to as much of an end as a youth movement in the NFL can. When the draft comes next month, the Bengals won't focus on adding must-start rookies like they had been. They'll instead look for players who will add to their depth and who can be groomed into their system.
For now, that's a good thing for the Bengals. It means they feel so good about the on-field side of their team that the focus is on creating additional off-field influences. When a team's personnel moves are dictated in part by the mental and psychological nurturing of its core, that's a clear sign it feels more than confident in the everyday talent it already has.
It's all part of a new wave of age that is on its way to Cincinnati.