Cincinnati Bengals:

Darren McFadden
March, 8, 2014
Mar 8
9:00
AM ET
Welcome to free agency, folks.
The NFL's ban on teams being allowed to speak with eligible free agents from other teams gets lifted at noon Saturday, officially kicking off the 2014 free agency period. On Tuesday, the
Cincinnati Bengals
and the rest of the teams in the league will be able to sign whichever players who are free agents that they would like.
While rumors pertaining to defensive end
Michael Johnson
and offensive tackle
Anthony Collins
may dominate the chatter surrounding the Bengals this weekend, another name many of you will have your eyes on is Oakland running back
Darren McFadden
. Could he end up coming to Cincinnati later this month and fitting? We'll address that, among many other concerns in the mailbag below. (As a quick reminder, you can have your Bengals-related questions answered for a mailbag each weekend. Just tweet me
@ColeyHarvey
before Friday afternoon with your inquiry. Hashtag it #Bengalsmailbag if the question is specifically for the mailbag)
Let's get to it.
March, 2, 2014
Mar 2
9:00
AM ET
As we mentioned Saturday, because of a great flood of questions for this weeks'
Cincinnati Bengals
mailbag, we've split up the mailbag into two parts.
Part 1 ran Saturday and had a heavy free-agency focus. Part 2 below has a question about this year's free agent Bengals star, but it begins with an inquiry about what should happen with arguably the biggest name in next year's large class of free agents: quarterback
Andy Dalton
.
Along with receiver
A.J. Green
and a number of well-liked veteran standouts like
Domata Peko
,
James Harrison
and
Terence Newman
, Dalton's contract will be expiring after the 2014 season. If they would like, the Bengals can begin negotiating his second contract in two weeks. That puts them in a bit of a dilemma, though. Do they negotiate now and end up getting him relatively cheaply, or do they wait him out until after the season, only to possibly end up paying him a lot more if he goes on to have a great fourth year?
Decisions, decisions. We start with that question:
March, 1, 2014
Mar 1
9:00
AM ET
Good Saturday morning to you.
After taking a week off last weekend due to a busy couple of days at the NFL combine in Indianapolis, we're back with another
Cincinnati Bengals
mailbag. And because we got such a great rush of questions on Twitter this week, we'll be splitting this mailbag up into two separate posts. Here is Part 1. Come back Sunday morning to check out Part 2.
This edition of the weekend's Bengals mailbag is devoted primarily to free agency (although, a couple of free agency questions will sneak into Sunday's post, as well). Are there free agents the Bengals could go after, including their own 14 unrestricted and restricted players? Who might some of those targets be? Is Oakland running back
Darren McFadden
one of them?
We try to answer some of these questions below:
February, 24, 2014
Feb 24
10:00
AM ET
Last week, in the days leading up to the start of on-field workouts at the NFL combine, we counted down five of the top position needs for a
Cincinnati Bengals
team that will go into May's draft looking to build depth instead of trying to find immediate starters.
As part of the countdown, I listed three players from each position who I said I would have my eyes on during the interview and testing portions of the event. Now that the combine is concluding, wrapping up Monday and Tuesday with all defensive workouts, I figured this would be a good time to go back and look at the numbers posted by the players who were part of the countdown. Each day this week, we'll be doing a rewind of the countdown, analyzing how well the players who were in it worked out.
Up first:
Running back
The Bengals have shown over the years that they are more apt to adding impact players through the draft over free agency, but could that change this year? Last month new Bengals offensive coordinator Hue Jackson, the one-time head coach of the
Oakland Raiders
, made waves when he gushed about Raiders running back
Darren McFadden
to a San Francisco Bay Area radio station. McFadden is up for free agency starting next month, opening the door for the Bengals to maybe consider signing him.
Not saying it'll happen, but as the Bengals think about shoring up a physical running game that they want to use to pace the balance of the offense, we still may want to keep him in mind as the next two months play out.
Whether McFadden gets brought to Cincinnati or not, the Bengals still have to think a little about the running back position from a depth standpoint.
BenJarvus Green-Ellis
will be 29 when training camp opens for the final season on his current contract. His production was down in 2013, too, raising some concern about his longer term future in Cincinnati. So even if McFadden comes in to form a three-headed monster at running back, the Bengals may want to add another young rusher to pair with
Giovani Bernard
, and to groom for the coming years when McFadden and Green-Ellis won't be there.
The three running backs I highlighted last week -- James Wilder Jr. (Florida State),
Antonio Andrews
(Western Kentucky) and
David Fluellen
(Toledo) -- are all physical runners who are likely to be selected in the middle-to-late rounds. A taller, upright runner with good balance, Wilder actually reminds me of McFadden. Wilder measured at 6-foot-3, 232 pounds last week. McFadden is listed at 6-1, 218.
Here are numbers (per NFL.com) from the trio's workout Sunday:
James Wilder Jr. (Florida State)
40-yard dash: 4.86 seconds
Bench: 18 reps (at 225 pounds)
Vertical: 35 inches
Broad jump: 121 inches
3-cone drill: 6.92 seconds
-- Wilder didn't test well Sunday. His 40-yard time was the third worst among running backs, and his bench-press numbers were in the lower tier, too. The bench might be explained by the shoulder injuries he battled in college, but the speed tests were a bit of an anomaly for a player who previously had been recorded running a 4.55 40. His vertical and broad-jump numbers were strong for a player his size and reflected the athleticism he routinely showcased on his longer runs.
Antonio Andrews (Western Kentucky)
40-yard dash: 4.82 seconds
Bench: 20 reps (at 225 pounds)
Vertical: 29.5 inches
Broad jump: 106 inches
3-cone drill: 7.24 seconds
-- Andrews had a tough time with the drills that tested his speed, too. Although a shade faster than Wilder, the 5-10, 225-pound back still was looking to test a little better in those exercises. Per ESPN Insider, he previously ran a 4.6 40. During the receiving drills, Andrews performed considerably better, drawing audible praise from coaches on the NFL Network telecast of the session. As the first running back to begin the drills -- drills are done in alphabetical order -- he had the unenviable task of setting the tone for everyone else.
David Fluellen (Toledo)
40-yard dash: 4.72 seconds
Vertical: 36.5 inches
Broad jump: 120 inches
3-cone drill: 6.9 seconds
-- Fluellen could be drafted the lowest of the players in this group, but his athleticism should end up making him attractive to some team. Like Wilder, his three-cone drill numbers indicate a measure of agility and quick feet. His vertical and broad-jump distances show some explosive ability, as well. At 5-11, 224 pounds, he and Andrews are similar sizes.
January, 13, 2014
Jan 13
4:30
PM ET
CINCINNATI -- Hue Jackson's "introductory" news conference Friday morning had barely ended before I started getting bombarded with tweets from those curious about the possibility the newly promoted offensive coordinator might want to bring one of his old players to the
Cincinnati Bengals
.
At the time, I wasn't so sure the Bengals would be interested in bringing in an injury hobbled
Darren McFadden
to join their already dynamic two-man running back tandem of
Giovani Bernard
and
BenJarvus Green-Ellis
. I even
wrote as much
in the first question of a Twitter mailbag that ran Saturday morning.
Well, it looks like the gag may be on me.
Comments Jackson
gave a San Francisco Bay Area radio station
late Friday would seem to suggest the coach isn't just interested in exploring the possibility of putting McFadden in his backfield, but he might strap on the six-year veteran's helmet, tie his shoelaces and tape his wrists, too.
[+] Enlarge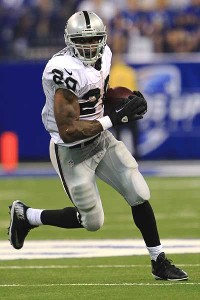 Pat Lovell/USA TODAY SportsOakland running back Darren McFadden will become a free agent in March.
One thing is clear from Jackson's interview -- which comes here courtesy of ESPN.com colleague Paul Gutierrez -- he loves some Darren McFadden.
"He's still one of my favorite players," Jackson told the ESPN affiliate. "What a tremendous talent."
Jackson, who was McFadden's offensive coordinator in Oakland in 2010 and head coach in 2011, went on to add that he still thought McFadden is "a downhill runner." He still believes McFadden can make a difference not only in gaining chunk yards on the ground, but by catching screens and taking them those long distances, too.
"Somebody's going to get a really good football player here in the future if he doesn't stay there in Oakland and I just wish him the best," Jackson said.
McFadden's contract has come to an end, and he'll be entering free agency if the Raiders don't re-sign him by March 8. That date has some significance because it's the last day the Raiders hold exclusive negotiations rights with McFadden. Until that time, no representative from another team can make "any public or private statement of interest, qualified or unqualified, in another club's player or to that player's agent or representative, or to a member of the news media," according to the NFL's anti-tampering policy.
So, having said that, the Bengals could have another issue on their hands with respect to the Jackson-McFadden affair, depending upon how the NFL interprets the interview and depending upon whether the Raiders believe any measure of tampering has occurred with their player.
OK, with all of that background out of the way, let's get back to how we started this post: me arguing against a McFadden sighting in the Bengals' running back rotation.
There's a chance Jackson just purely admires the player and wishes he had a spot on the roster for him, but doesn't. There's also a chance Jackson was trying to help prop up one of his former players so that another team might be interested in giving him a try after March 8. There's also a chance that Jackson really does want McFadden and will figure out a way to squeeze him in this offseason.
If you parse Jackson's words, it sounds just he might be thinking the latter.
He shouldn't, in my most humble opinion.
You'll often see these words from me: "If it ain't broke ..."
In this case, the Bengals' running game doesn't need fixing. All it needs is life. If Cincinnati ran as often during this past season as it appears it will next season, the Bengals could have had two 800-yard rushers, and might still be competing in the playoffs.
From a talent perspective, they're set. Green-Ellis is the team's steady veteran and straight-ahead, pile-moving power rusher. He's the workhorse. As the young, flashy -- in play only -- speedy, shifty and entertaining finesse runner, Bernard is Cincinnati's show horse. In most backfields, there's room for only two such horses, unless a third, a pure blocker, gets added to the mix. The Bengals do need one of those, but it would be hard for any team to convince a back like McFadden to pick up and move some 2,400 miles just to be a fullback.
Between their slew of receivers and backs, the Bengals have enough show and workhorses to go around. Another playmaker like McFadden would add to the complications of figuring out just who all deserved to be fed the ball.
I just don't see where McFadden factors into Jackson's plans.
Bernard, who was drafted by Jackson and head coach Marvin Lewis last April, rushed for 695 yards in the regular season and had a hand in seven total touchdowns, certainly appears to be a heavy part of the Bengals' game plan going forward. For now, Green-Ellis does, too, although it will be interesting to track his contract negotiations after next season. He'll be turning 30. McFadden is two years his junior, and could make for a logical replacement for Green-Ellis if the Bengals are committed to developing Bernard and bringing along a bigger veteran to pair with him.
To me, that's about the only reason you bring in a rusher like McFadden next year. But even that's a shaky argument, to me.
So, to answer the question (
could McFadden fit into the Bengals' running-back rotation?)
I say "no." Maybe at a different time. And maybe also if the circumstances involving the Bengals' current backfield setup were slightly altered. But for now, the Bengals appear to be doing just fine with their two-back scheme.
If it ain't broke, Hue ...