Cincinnati Bengals:

darrin simmons
June, 13, 2014
Jun 13
8:30
AM ET
As we wrap up this week's
Cincinnati Bengals
factoids, we make a return to special teams.
The week began with a factoid on kicker
Mike Nugent
's field goals
from beyond 40 yards
. Friday, blocked punts are the topic of conversation, specifically the amount the Bengals have allowed since head coach Marvin Lewis and special-teams coordinator Darrin Simmons have been in Cincinnati.
So, without further ado, here's the Friday factoid:
4
.
Since 2003, the year Lewis became the Bengals' head coach and Simmons the special-teams coach, the team has allowed four blocked punts.
That's not particularly good. According to ESPN Stats & Information, 18 other teams have allowed four or fewer blocked punts in that time. Houston is the only team in the league that hasn't given up a blocked punt in those 11 years. Buffalo and Cleveland have given up one each. On the other end of the spectrum are the Falcons who have had 11 punts blocked since 2003. The Panthers have had 10 blocked and the Chargers who have had eight. Seven of San Diego's opposing blocked punts have come since 2008.
While they've had four punts blocked in the last 11 seasons, the Bengals have also blocked three punts themselves. They had one in 2013 when
Jayson DiManche
knifed through Cleveland's punt coverage unit in the first half of a November game against the division rival. After DiManche's block, reserve Bengals safety
Tony Dye
scooped up the loose ball and sprinted in untouched for his first career touchdown.
The score contributed to a massive swing in momentum in that game. Through the first quarter, the Browns led 13-0. Then Cincinnati chipped away at a lead in the second quarter, with DiManche's block and Dye's touchdown. After taking the 21-13 lead, the Bengals continued rolling all the way to a 41-20 win.
As far as allowing punt blocks, the last time the Bengals gave one up, they lost a home game to Pittsburgh in Week 9 of the 2010 season. Current punter
Kevin Huber
was blocked in the first quarter of the game. Unlike DiManche's block, though, this one didn't do quite as much damage. The Steelers took over 15 yards behind the original line of scrimmage, starting a drive at Cincinnati's 30. The Bengals' defense remained firm, forcing Pittsburgh into attempting a 25-yard field goal that kicker Jeff Reed successfully hit.
March, 11, 2014
Mar 11
2:00
PM ET
CINCINNATI -- There will be other, more glamorous free-agency signings than the one the
Cincinnati Bengals
announced just before noon Tuesday. That is a fact.
But that shouldn't diminish the importance of the organization's decision to bring back
Brandon Tate
.
OK, so his name didn't have the free-agency sex appeal of
Michael Johnson
's. He wasn't courted by as many teams as
Andrew Hawkins
and won't be making as much money next year as
Anthony Collins
. Still, his return to Cincinnati has a much deeper meaning than the fact he's a little-used backup receiver who occasionally returns a few kicks.
[+] Enlarge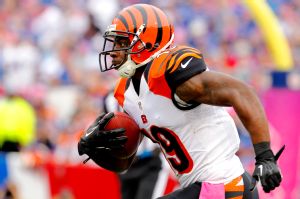 Timothy T. Ludwig/USA TODAY SportsFifth-year veteran Brandon Tate is considered to be one of the Cincinnati Bengals' "core special teams players," says coordinator Darrin Simmons.
Tate's re-signing
embodies what this particular offseason will be all about for the Bengals. When it comes to adding and retaining players, the mission in 2014 is about creating depth. You've already seen it in free agency with Cincinnati's re-signing of offensive guard
Mike Pollak
last weekend. You'll see it in the draft when the Bengals start looking at cornerbacks who can play both the edge and the slot, as well as offensive linemen who can line up at some combination of guard, center and tackle.
Since their starting rotations are nearly set with defensive end
Michael Johnson as the only casualty
from 2013's regular rotation (it seems it will stay that way), the Bengals are calmly going through this offseason looking like a team with few major needs to address. That's why once the attention surrounding Johnson and Collins begins to fade, the Bengals' focus will shift toward role players, such as Tate.
The role Tate played last year in his third season in Cincinnati was an important one. Among qualifying kick returners he ranked ninth in the league in kick return average, consistently advancing the ball 26.1 yards per return. He also served as the team's primary punt returner once injuries in the secondary forced longtime return man
Adam Jones
to be a special teams observer.
While he was mostly better at returning kickoffs than he was at returning punts, Tate still had a knack for breaking a timely punt return, too. Arguably his best punt return of 2013 was a 29-yarder in overtime that helped set up
Mike Nugent
's game-winning field goal at Buffalo in October.
"Brandon's numbers speak for themselves, and I've got a lot of confidence in him," Bengals special teams coordinator Darrin Simmons said. "This could be a real breakout year for him."
Simmons and the Bengals haven't yet said whether Tate will remain the team's starting punt returner, but his statement of confidence seems a clear indication they're hopeful he can continue contributing there. With the anticipation of having a fully healthy secondary ahead of training camp, the Bengals have good reason to put Jones back in the normal punt-return rotation.
Tate's return gives the Bengals options, and those options could even increase in the coming months depending upon which players the Bengals end up drafting. Some of the defensive backs who stand the best chance of being claimed early in the draft by Cincinnati have punt and/or kick return experience.
Along with Tate's occasionally explosive special teams play, he also provides a measure of sure-handedness. In his five NFL seasons -- the first two in New England -- Tate has only one fumble and three dropped passes in 71 attempts. He's another veteran who not only knows what it takes to win in Cincinnati, but has some measure of postseason experience with a franchise regarded as one of the NFL's modern-era dynasties.
There's also the depth Tate provides at receiver. One of the deepest returning positions, the Bengals have strong personnel numbers at receiver. Still, they need to bolster their ranks there just in case. Hawkins is an unrestricted free agent, as is
Dane Sanzenbacher
. After offering tenders to both players last week, the Bengals are in wait-and-see mode until another team formally offers the pair salary numbers that can be matched. In the event Cincinnati can't match one or both of the free-agent receivers, at least they still have Tate as a last resort pass-catching option.
No, Tate's re-signing isn't sexy nor should it even be attempted to be construed that way. But it's just the type of important, depth-chart specific move that a team looking to build off its relative success from a year ago is trying to maintain.
February, 20, 2014
Feb 20
8:00
AM ET
Good Thursday morning from Indianapolis.
After a quick drive over from Cincinnati on Wednesday afternoon, yours truly is here along with several other ESPN.com staffers to bring you coverage from the NFL combine. We'll have a number of Cincinnati Bengals-specific items here this weekend, particularly across Friday and Saturday. With Bengals head coach Marvin Lewis speaking Friday, along with former Bengals coordinators (and new head coaches in Minnesota and Washington, respectively) Mike Zimmer and Jay Gruden, there should be a fair amount of news coming that day.
News isn't necessarily what Lewis and the rest of his coaching and scouting staffs will be looking for between now and Tuesday, but they will be wanting their questions and concerns about some of the league's top draft prospects answered. And this year, like so many before it, they will have an opportunity to have all of that addressed when they step onto Lucas Oil Stadium's field or into the rooms used for medical exams.
New linebackers coach Matt Burke will be among those Bengals assistants helping coordinate drills at the combine, as will special teams coordinator Darrin Simmons, who will be running the punting portion of the on-field workouts that begin Saturday.
That firsthand look at not only punters and kickers but other special-teams possibilities has proven invaluable over the years for Simmons. Along with watching various drills up close, his interviews with prospects has given him an idea of how his special-teams units could come together if the Bengals drafted particular players. That's one reason it's hard to accurately predict a team's draft. While linebackers and safeties aren't major needs like a few other defensive positions, Cincinnati may still end up taking players from those position groups specifically because they like the contributions those prospects could give them on special teams.
By May 8 and the start of the draft, we'll see how much this year's firsthand look benefits the Bengals.
In the meantime, we start this Thursday's Morning Stripes with a deeper look on the value of the on-field evaluations from Simmons:
Bengals.com's Geoff Hobson has that story. Earlier this week, Simmons walked him through his notebook from the 2013 combine. Stars and notes indicated that he wasn't too far off in his expectations for running back Giovani Bernard, whom the Bengals drafted in the second round last year, and defensive end Margus Hunt, another second-round selection.
Hobson also has this item for Bengals.com on former Bengal John Thornton, who will be attending his first combine as a player representative. After getting certified for agent status by the NFL Players Association last summer, he has completed the transition from player to media member to player rep. One of the current Bengals he's co-representing is defensive end Michael Johnson. Deep in the story, he has some interesting comments about the existence of talks between Johnson's camp and the Bengals. Johnson is arguably Cincinnati's most valued unrestricted free agent, but appears to be the one who will be most difficult to re-sign because of how much he could be owed.
Finally, here's a broad combine primer from the Cincinnati Enquirer's Joe Reedy. In case you missed it Wednesday night, Reedy, who has covered the Bengals the last five years, announced in a podcast he was leaving the beat in the coming weeks to cover the Cleveland Indians for Fox Sports Ohio. Even though I've only known Joe for barely six months, it's been an honor working alongside such a dogged veteran NFL reporter. All the best to him in this new endeavor.
January, 2, 2014
Jan 2
12:45
PM ET
CINCINNATI -- At the moment
Shawn Powell
's foot connected with the football for a second time last Sunday, all of Paul Brown Stadium knew what would be coming in the next few days.
The punter would be packing his bags.
The odds seemed high that after his 10-yard shank made a beeline for the second row of stands behind the Bengals' bench, his short stay in Cincinnati would come to an end. Tuesday afternoon, it officially did.
[+] Enlarge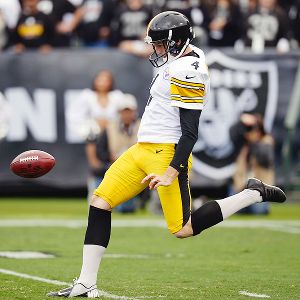 Thearon W. Henderson/Getty ImagesZoltan Mesko was with the Steelers for seven games this season, averaging 42.5 yards per punt.
Bengals special-teams coach Darrin Simmons told reporters this week what most had already assumed: The shanked punt played a key role in Powell getting waived, and
Zoltan Mesko
signed to take his spot ahead of Sunday's first-round playoff game against the Chargers.
"I hated that it didn't work out for Shawn. I know he wanted it to and I wanted it to for him," Simmons said. "But there comes a time when we're trying to win a series of games and a 10-yard punt is like a blocked punt to me. When we're playing critical games and field position is such a factor, that figures into it. Sometimes, it's just not the right place or the right time for someone or something. So we decided to make a change."
The punt didn't end up hurting the Bengals too badly. Although it was part of a rough third quarter that got the Ravens back into the contest, Cincinnati ended up holding on for a 34-17 win in the regular-season finale.
In Mesko, the Bengals are getting a fourth-year punter who has kicked on the big postseason stage before. Signed by the Bills after the 2012 draft, Powell didn't have the experience Mesko had.
Along with spending seven games this season with the Steelers, Mesko punted three seasons for the
New England Patriots
. He performed in the playoffs each of those years, averaging a net of 40.1 yards per punt in the postseason. That figure is actually higher than his regular-season average of 39.0 yards. Mesko is hopeful he can help factor into the Bengals' postseason success, but he's not sure if simply playing in the postseason will be much of a benefit or not.
"Just because I have playoff experience doesn't mean it's going to pay off for me," Mesko said. "The experience is always good. But I'm saying I have to earn it and we all have to earn this victory."
Mesko wasn't part of the five-man group of punters who the Bengals invited to tryout for the position two days after
Kevin Huber
suffered a season-ending injury at Pittsburgh. Huber was lost when a vicious blindside hit from the Steelers'
Terence Garvin
broke his jaw and cracked vertebrae in his neck.
Even though they felt more comfortable going in Powell's direction two weeks ago, the Bengals believe they made the right decision to sign Mesko this time.
"For me, it's a plug-and-play thing," Simmons said. "The thing you try to do with somebody new when it's a crash course is you try to reduce their anxiety with change. So there's little change that we could have for him. That's a positive."
Mesko said he only needed one day to get into a rhythm catching snaps from long-snapper
Clark Harris
. Like Powell and Huber, Mesko will be holding for kicker
Mike Nugent
on field goal and point-after attempts.
December, 21, 2013
12/21/13
4:00
PM ET
CINCINNATI -- For most of the week, the special teams chatter revolving around the
Cincinnati Bengals
has had to do with how they will deal with the top return units in the league now that their starting punter has been lost to injury for the year.
[+] Enlarge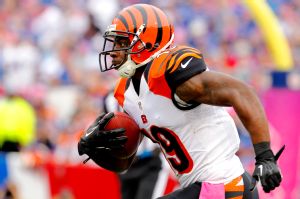 Timothy T. Ludwig/USA TODAY SportsBrandon Tate's kick return abilities have given the Bengals favorable field position since Week 10.
The conversations have been good ones, but maybe it's time someone starts talking about the Bengals' own kick return team. After all, the unit does rank fifth entering Sunday's game against the
Minnesota Vikings
.
"We always talk about what the other guy or other team does in terms of defending a player, but they have to defend us, too," Bengals special teams coach Darrin Simmons said. "We have a lot of confidence in what we've done in the return game the past three to five weeks. We've made some explosive plays in virtually every game."
Brandon Tate
, a fifth-year player in his third season with the Bengals, has been the one making the types of cuts and jukes that have led to big kick return gains and strong starting field position for the Bengals.
Since Week 10, the Bengals rank third in the NFL in starting field position that resulted from a kickoff. On average, they have 73.9 yards to travel after kickoffs in that span, meaning they are starting drives around their own 26. That compares favorably to their all-drive starting field position across that stretch of their own 31. Regardless whether their offense got the ball due to a punt, kickoff or turnover, the Bengals since Week 10 have begun their average drive at their own 31.
In the past two games, Tate has been particularly strong, giving the Bengals an average post-kickoff starting field position of their own 30. Only the Vikings have been better, starting such drives at their own 30.
"It's good to see Brandon get hot," Simmons said. "You want him to be hot at this time of the year because you want to put the feat in other teams, too."
Tate is averaging 26.4 yards per kickoff return this season. Against the Steelers last week, he was the only bright spot in an otherwise dark day for Cincinnati's special teams. He averaged 32.8 yards per kick return, routinely setting the Bengals up for strong starting field position. The problem, though, was that each of his four kick returns came after the Bengals were already down 21-0.
It appears teams are already receiving the message about Tate's recent explosive exploits. It could have been the wind, but Pittsburgh's first two kickoffs in the game were short. So much so that
Cedric Peerman
fielded both, even causing him to wave off Tate on one in a manner that forced officials to rule the ball down where he waved. They said that his signal, performed at the 9-yard line, was perceived as a call for a fair catch.
After a punt on the ensuing drive, the Steelers drove ahead of a 12-yard touchdown pass that put them up 14-0. A Bengals drive later, the Steelers took the 21-0 lead when
Antonio Brown
had a 67-yard punt return for a touchdown. The score came after Bengals punter
Kevin Huber
took a hard shot from Pittsburgh's
Terence Garvin
as he turned back to seal a hole Brown ultimately ended up sprinting through. The hit forced Huber to injured reserve.
Part of what has made Tate so solid of late has been his ability to commit to one juke or one cut and to see it through, head coach Marvin Lewis said. He's not playing indecisively.
"Brandon has done a nice job of committing himself to the one cut and go. Good things happen that way," Lewis said. "As a kick returner, [the play] is developed like an offensive play. We have to attack the point of attack. We have to block the point of attack and then the runner has to take the correct read and hit it and go. Brandon has done that pretty well. Later in the year, you get more kicks you can handle in those situations."
November, 17, 2013
11/17/13
4:30
PM ET
CINCINNATI -- A few thoughts on the
Cincinnati Bengals
'
41-20 victory
against the
Cleveland Browns
.

What it means:
After getting derailed in their two previous games, the Bengals showed glimpses of their former selves in Sunday's blowout against the Browns. From a scoring perspective, they had a truly complete game, getting touchdowns on offense, defense and special teams. It was their best team performance since their 49-9 Week 8 home victory against the
New York Jets
. Even though quarterback
Andy Dalton
still struggled to get into a rhythm and play like the signal-caller who breezed through October, he still threw three touchdowns. Most importantly, though, Sunday's victory extended the Bengals' AFC North lead to 2 1/2 games over the Browns, who entered in a second-place tie with the
Baltimore Ravens
. If the Ravens beat the
Chicago Bears
-- their weather-delayed game didn't end until after the Bengals-Browns tilt -- Cincinnati's lead remains 1 1/2 games over them.
Stock watch:
Bengals special teams: rising. Bengals special teams coach Darrin Simmons has been hinting much of the season at how he believed his various units were making progress. That progress was quite visible against the Browns when his punt return team tipped one punt, blocked another (returning it for a touchdown) and set up a 27-yard return that was the longest of the season for
Adam Jones
. Add in punter
Kevin Huber
's 44.6 punting average and
Mike Nugent
's two made field goals, and it's clear Cincinnati's special teams had their best single-game showing of the season.
Momentum changer:
Early in the game, it appeared the Bengals were headed for a third straight loss. They spotted the Browns 13 points in the first quarter, and even gave up a defensive touchdown when cornerback
Joe Haden
jumped a pass route on
A.J. Green
and sprinted in for a 29-yard interception return for a touchdown. With 44 seconds remaining in the period, though, the momentum shifted. Bengals linebacker
James Harrison
tried to replicate Haden, tipping a
Jason Campbell
pass to himself and breaking tackles and pirouetting into the end zone. A penalty after the interception took away the touchdown, but it wouldn't matter. The Bengals ended up scoring on the ensuing possession, kicking off a string of 31 unanswered Bengals points. Their 31 points in the second quarter marked a franchise record for points in a single quarter.
What's Next?
The Bengals (7-4) will have two weeks off before going for their second straight win. They'll spend the next 14 days rehabbing minor injuries and getting refocused for their final five games of the regular season. That end-of-year stretch begins Dec. 1 when they travel to San Diego.
October, 14, 2013
10/14/13
8:00
AM ET
Good Monday morning, Cincinnati Bengals fans. Welcome to sole possession of first place in the AFC North.
How does it feel?
I'd imagine it feels great, although you know very well that a win next week at Detroit and this team can begin scripting a postseason story that, for now at least, appears it won't include a loss at Houston. With the Texans, that AFC South bugaboo that knocked the Bengals out of their last two playoff trips, stumbling through a four-game losing streak, the Bengals appear to be clear of having to make a trip down to Reliant Stadium as long as everything continues trending the way it currently is.
And what way is that? The winning way.
Sunday's 27-24 overtime win over Buffalo was not pretty by any stretch of the imagination. Cincinnati didn't even need to be in overtime. With a 14-point fourth-quarter lead, the Bengals should have been hopping on the bus to the airport, not bracing the sideline for a sudden-death period.
But it happened anyway. And, as has been
the case the last three winning games
, they won Sunday in the clutch anyway. Coupled with losses by Baltimore and Cleveland, the victory placed Cincinnati all alone atop the division. If the three teams can replicate those exact winning and losing efforts next weekend, the gap for the Bengals can grow.
As you revel in the glory of being all alone in first place, we take a look back in Monday's Morning Stripes at what got your Bengals there:
October, 11, 2013
10/11/13
8:00
AM ET
Wallace Gilberry has heard the unflattering ways his NFL career has been described.
"Retread," some have called him. "Lifelong backup," others have said. And his favorite: "journeyman."
Yes, the six-year veteran has seen more NFL locker rooms than he'd care to admit, but it looks like he has finally found a home in Cincinnati. Not only was he signed in the offseason to a three-year deal with the Bengals, but he has actually seen his production and performance trend much higher in the Queen City than during earlier stops in Kansas City, New York (with the Giants) and Tampa.
With an injury to starting right defensive end Michael Johnson, Gilberry has been called upon to step up and play more often and to play even better. Against the Patriots last Sunday, he was the perfect replacement for Johnson, who continues to miss practice time this week with a concussion. Gilberry had a hand in two sacks, including a crucial late-game stop in the 13-6 win.
In the event Johnson won't be playing again this week, the Bengals feel the position will be in adequate hands once again.
As we kick off Friday's Morning Stripes, we take a more extended look at Gilberry, the "nuts and bolts" player who has been one of the hidden gems to Cincinnati's 3-2 start:
October, 10, 2013
10/10/13
5:45
PM ET
CINCINNATI -- As more healthy players finally return to their defensive backfield, the
Cincinnati Bengals
are starting to see a sort of domino effect play out on the rest of the team.
It's one they are happy to see.
Now that
Dre Kirkpatrick
and
Reggie Nelson
have come back from injuries, and
Leon Hall
and
Brandon Ghee
appear poised this weekend to do the same, the Bengals are in the enviable position of having a perfectly healthy secondary. By extension, it means they ought to have a fully healthy group of special teams units, too. As strange as it might sound to some, the amount of injuries in one area of a team very much coincides with the amount of injuries on another.
[+] Enlarge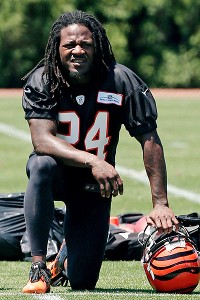 AP Photo/Al BehrmanBetter timing is all that is keeping Adam Jones from breaking a long punt return, says special teams coordinator Darrin Simmons.
"We've got a lot of moving parts," special teams coordinator Darrin Simmons said of his unit. "Hopefully now with the injuries we're starting to get through, guys can settle in. Through the first five games, we were very unsettled as far as personnel."
That's one big reason why he believes Cincinnati wasn't as good as it could be on punt returns through the first quarter of the season. After witnessing a couple of flashes on one of the two returns the Bengals did have against New England last weekend, Simmons said this week that he believed his now more stable return group was getting "close" to being exactly where it should.
Adam Jones
, the veteran cornerback who also returns punts for the Bengals, missed two games on special teams because of a dearth of players at his defensive position. Forced into making him a defensive starter, Cincinnati couldn't run the risk of getting Jones hurt on the punt return unit. If he did get injured trying to return punts, the Bengals would not only have been without a punt returner, they would have been down a much-needed defensive player.
Sunday's game against the Patriots was Jones' first as a punt returner after the two-game layoff. Even though he only had two returns totaling 10 yards, it was the second one, on which he gained all 10 of his yards, that really caught Simmons' attention.
"On his first one, he didn't have much of a chance," Simmons said. "It was a good job by them. They did a good job of identifying some things. The second one, we had a chance to get out of it."
The Bengals were steps away from converting a long return on Jones' second return, Simmons said.
"We've just got to play it better," Simmons said. "We've got to get another block, and he's got to make one more cut."
Jones, the player also known by his nickname "Pacman," wasn't so sure about the block, but he knew if he could have been a little quicker making a decision as to which hole he wanted to sprint through, he could have ripped off a big return.
"I just have to stick it," Jones said. "Hopefully I'll get better this week, get a little bit of room and see if I can wiggle through there."
He displayed significant wiggle in the season opener when he broke off a 50-yard punt return that had the potential to set the Bengals up with great field position for a score. The play was nullified, though, when officials penalized
Cedric Peerman
for an illegal block below the waist.
Jones hasn't had a return as long since. Overall this season, he has four returns for 29 yards. Again, Simmons says a big part of that is because the Bengals haven't had much continuity on their special teams units as roles have shifted on the various coverage and return teams because of injuries. Another factor is the lack of opportunities Jones has had because of those injuries.
Another lesser, but still important, factor has to do with Jones himself.
"He's got so much confidence in himself, and that's the good and the bad," Simmons said. "In his mind, he's going to score every time."
Because of that thought process, Jones has a tendency to over-think his returns, Simmons said. At times, he'll try to dance a little too much or not fire through his best hole quick enough because he thinks he sees another.
"You've got to be decisive, and once he's decisive, he's got to go," Simmons said. "That's the good part and the bad part about him. The good part about that is what you saw in the Chicago game. He can make a ton of cuts that nobody in the league can make.
"The time he makes one too many cuts, he gets tackled."
At earlier points in his career, Jones wasn't getting tackled much. Twice since 2005, he has averaged more than 10 yards a return. In 2006, arguably his best all-around season, he took back three for touchdowns. In his career, he has five punt returns for touchdowns.
"The more opportunities he gets, the better he'll get," Simmons said. "The return game is a lot about timing. It's getting to this spot at this time when this guy gets there, and it's not quite there yet."
But it's close.