Cincinnati Bengals:

double coverage
March, 14, 2014
Mar 14
11:00
AM ET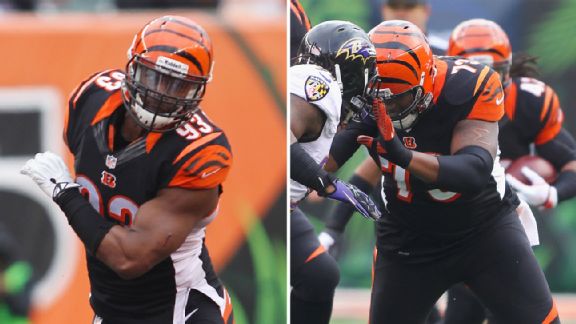 Getty ImagesFormer Bengals Michael Johnson and Anthony Collins have both landed with the Buccaneers.
Each week during the regular season you saw ESPN's NFL Nation reporters team up for "Double Coverage," a back-and-forth midweek banter about the biggest storylines going on ahead of that weekend's games.
There may not be any games right now, but teams have made all kinds of moves during this opening week of free agency. Few moves have been as big as the one that brought defensive end
Michael Johnson
to the
Tampa Bay Buccaneers
on Tuesday, officially putting an end to his five-year stint with the
Cincinnati Bengals
. He wasn't the only former Bengal to start calling Tampa Bay home this week. Offensive tackle
Anthony Collins
also left Cincinnati to sign with the Bucs.
Clinton McDonald
, a 2009 Bengals draft pick who spent the last three seasons in Seattle, also arrived in Tampa Bay.
Bengals reporter Coley Harvey and Bucs reporter Pat Yasinskas decided to check in with each another to put the moves in perspective for you:
Coley Harvey:
Of course we still don't know the date yet, Pat, but the Bengals will be scheduled to visit Tampa Bay this fall as part of the AFC North/NFC South scheduling crossover. Did any of the former Bengals address playing their old team in their news conferences? Whether they did or didn't, what did they say about the ways their careers in Cincinnati ended?
Pat Yasinskas:
None of them really talked about Cincinnati. They all seemed focused on a new start with Tampa Bay. But I'm sure the Cincinnati game will carry extra meaning for them. Playing against your old team always means a little more.
Michael Johnson was the crown jewel of Tampa Bay's free-agent class. He had only 3.5 sacks last season, but 11.5 the year before. Which season is a better indicator of what Johnson brings to the table?
Harvey:
You know, Pat, I'd say the latter. If you look at his stats since the start of his career in 2009, you'll see that the 11.5 number was a bit of an aberration. He had 6.0 in 2011, but 5.5 combined in 2009 and 2010. That said, he can be a good pass-rusher, but I have to imagine Lovie Smith saw something else, too. Johnson has been noted for being a good run-stopper and his insanely long arms are a benefit, too. Why do I bring up his arms? Johnson was a basketball player growing up, and by most accounts a really good one. That skill must have translated to football because he's become known for his ability to swat passes at the line of scrimmage. He tied for the league lead with eight batted balls last year. Two of them tipped into his teammates' hands for momentum-changing interceptions. Another helped negate a potential Packers touchdown pass on their final play of a
34-30 Bengals win
.
Part of the reason there wasn't much pressure on Johnson to collect sacks last season was because of left end
Carlos Dunlap
's success. Dunlap had 7.5 sacks in 2013, tying for the team lead. Now that he's teaming up with another good end in
Gerald McCoy
, what are the Bucs expecting from Johnson?
Yasinskas:
The Bucs envision Johnson as a strong outside pass-rusher. That's something the Bucs sorely lacked last season. McCoy was a force in the middle, but there was almost no outside pass rush. The Bucs are hoping Johnson can be a double-digit sack guy. I think he can do that and I think his presence will only make McCoy better.
On offense, the Bucs invested a lot in Anthony Collins to be their left tackle. Is he capable of keeping the league's best pass-rushers off quarterback
Josh McCown
?
Harvey:
Absolutely. According to Pro Football Focus, we're talking about a guy who hasn't allowed a sack since 2009. Granted, he didn't play much until last season. He was a pure backup from 2008 to 2012. In 2013, injuries forced him into a greater role. He earned seven starts between the playoffs and regular season last year and he didn't disappoint. Called upon to fill in for Pro Bowl veteran
Andrew Whitworth
at Chicago in the season opener, Collins completely shut down sack king
Julius Peppers
. He did the same against
Elvis Dumervil
late in the year and kept outside linebacker
Robert Mathis
silent when the Colts visited Cincinnati. Bengals quarterback
Andy Dalton
has to be pleased with how clean Collins kept him.
Now, it was becoming clear in Cincinnati that Collins was ready to be a starting left tackle, but what was it about his play off the bench that impressed the Bucs so much?
Yasinskas:
General manager Jason Licht said he studied the seven games Collins started very closely and he came away very impressed. Licht said Collins' footwork and athleticism stood out. The Bucs obviously believe strongly that Collins can be a solid starter. They're
paying him $6 million a season
and they released veteran
Donald Penn
to open up the spot for Collins.
Defensive tackle Clinton McDonald is kind of the wild card of Tampa Bay's class of free agents. He had a big impact for Seattle last year. But McDonald was with Cincinnati in 2010 and did very little. The Bucs are planning on having him as a starter. Is he ready for it?
Harvey:
Based off what I saw in Seattle last year, I'd say yes. We talked a lot earlier about sacks. It's not easy for a defensive tackle in constant rotation with others to pick up 5.5 sacks, particularly on a defense like Seattle's that had so many playmakers at every level. That's a dedication to McDonald's blue-collar work ethic and team-focused mentality. He may not have been a great player in Cincinnati, but he was a respected teammate. If he keeps grinding the way he clearly has since he left the Bengals, he should be just fine for the Bucs.
December, 26, 2013
12/26/13
10:00
AM ET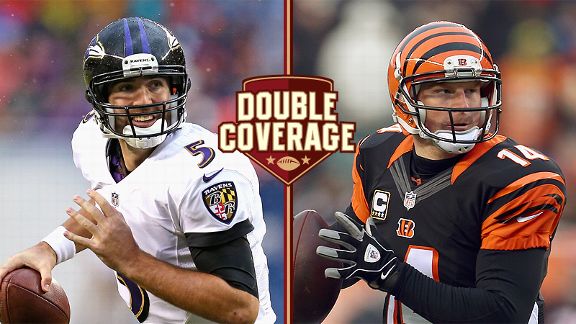 Getty ImagesJoe Flacco and Andy Dalton will need to come up big if they hope to emerge victorious on Sunday.
Thanks to the
Baltimore Ravens
' loss to the Patriots and the
Cincinnati Bengals
' win over the Vikings on Sunday, much of the drama has been snatched away from this weekend's regular-season finale between the Ravens and Bengals.
Cincinnati has already locked up a playoff spot and the AFC North crown. The winner-take-all scenario for Sunday's season finale no longer exists. If the Ravens are going to join the Bengals in the postseason, and perhaps back at Paul Brown Stadium for the wild-card round, a win this week will be crucial. There still is a lot riding on this must-win game for them.
In the season's first meeting between these teams, it took a last-second Hail Mary touchdown to take the game to overtime. In the extra period, a
Justin Tucker
field goal allowed the Ravens to walk off with the division victory at home.
As we get you set for this latest AFC North matchup, we turn to ESPN.com Ravens reporter Jamison Hensley and Bengals reporter Coley Harvey for more.
Harvey:
Jamison, what do you think the mindset of the Ravens is after their worst loss under coach John Harbaugh?
Hensley:
The Ravens are moving on as quickly as possible, and they have to do that in order to have a chance at beating the Bengals in Cincinnati. Baltimore has struggled enough on the road this season (going 2-5) that it can't have lingering memories of getting beaten up by the Patriots. The Ravens understand they lost their shot at winning the AFC North and controlling their playoff fate. But if they can clinch a playoff berth (and it will take some help), the Ravens control their destiny again. The Ravens' history is they don't dwell on getting blown out. The Ravens are 9-0 in games following a loss by double digits.
The Bengals have an impressive trend going as well with at least 40 points in four straight home games. What's been the key to Cincinnati's success at home?
Harvey:
That was the most-asked question in the locker room following Sunday's 42-14 win over the Vikings, and the Bengals could only attribute it to one thing: their fans. Initially, part of you doesn't want to believe that's possible. After all, there were a number of empty seats Sunday. But when you actually stop and think about it, the players may be right. When the Bengals' defense is on the field on third down, "The Jungle" as they call it, seems to come to life. Full or not, the stadium gets fairly loud, and it seems like opposing offenses have had all sorts of confusion during the most important parts of the games they've played in Cincinnati. The Bengals have a league-best 22.5 percent third-down conversion rate at home. They also rank second in the league in scoring at home, posting an average 34.4 points per game at Paul Brown Stadium. Only the Broncos are better inside their home venue.
Quarterback
Andy Dalton
has been key in helping them run up the score that often. So having said that, how do you think the Ravens plan to defend Dalton?
Hensley:
In the earlier meeting with the Bengals, Baltimore held Dalton to a 52.2 passer rating, the second worst of his career. The Ravens were relentless with their pressure, recording five sacks and hitting Dalton nine times. But the Baltimore defense has been in a pass-rush rut lately. The Ravens have produced four sacks in their past four games. There has been a lack of pressure off the edges.
Terrell Suggs
ended a six-game drought by getting to
Tom Brady
on Sunday.
Elvis Dumervil
, who has been dealing with an ankle injury, has one sack in his past five games. And the Ravens' best interior rusher, Art Jones, suffered a concussion on Sunday and it's unknown whether he'll play against the Bengals.
Speaking of concussions, what's the latest on linebacker
Vontaze Burfict
? Has he been the defense's MVP this season?
Harvey:
Quickly to your point about pressuring Dalton, that will most certainly have to be the Ravens' game plan against him. He hasn't faced a pass rush quite as challenging as Baltimore's since that game, and that's one reason he's been so successful recently. Pro Football Focus said he was pressured only eight times on his 41 dropbacks against the Vikings.
Back to Burfict. As we're filing this, there isn't much of an update on Burfict other than the fact that he has spent part of the week under concussion protocol. It's not clear when he picked up the possible concussion, but one of his last plays Sunday came when he delivered an accidental helmet-to-helmet blow on
Matt Cassel
as the quarterback was sliding at the end of a scramble. We'll see how he keeps progressing throughout the week, but I'd bet on Burfict playing. He hasn't missed a game this season, and clearly hates being off the field. Still, with much of the Bengals' postseason desires already wrapped up, I wouldn't be surprised if he doesn't play all game even if he is healthy enough to.
Speaking of injuries, how has
Joe Flacco
's knee injury affected his play recently?
Hensley:
Flacco has had his worst season in the NFL, so I'm not saying he struggled solely because of a sprained left knee. But the injury obviously has affected his mobility and ability to step into throws. Flacco didn't complete his second pass Sunday until the second quarter. Now he has to go to Cincinnati, where he has had his problems in the past. Flacco is 2-3 at Paul Brown Stadium with a 66.8 passer rating. He has completed 57.5 percent of his passes there with four touchdowns and six interceptions. The key for Flacco is limiting his mistakes. He's thrown a career-worst 19 interceptions, seven more than in any of his previous five seasons. With the Ravens' current playoff situation, there is little margin of error for Flacco and the Ravens.
This is the Bengals' first AFC North title since 2009, and the first for Dalton and
A.J. Green
. How is a young team like the Bengals handing this success?
Harvey:
Honestly, they're handling it quite well. Aside from their traditional post-win "Who Dey" chant, you didn't hear any other celebrating coming from the locker room following Sunday's win. By the time reporters were allowed in, word began trickling among the team that the Dolphins had just lost, giving them an official berth to the postseason. When players were asked about the meaning of clinching a playoff spot, they were a little excited, but mostly reserved. There was unfinished business, they felt.
For as young as the Bengals are, with their exhaustive list of second-, third- and fourth-year contributing players, it's still a group that has seen enough postseason disappointment to know that the journey isn't yet complete. The past two seasons, the Bengals have made it to the wild-card round and were immediately bounced out. They don't want that to happen again this year.
December, 19, 2013
12/19/13
10:00
AM ET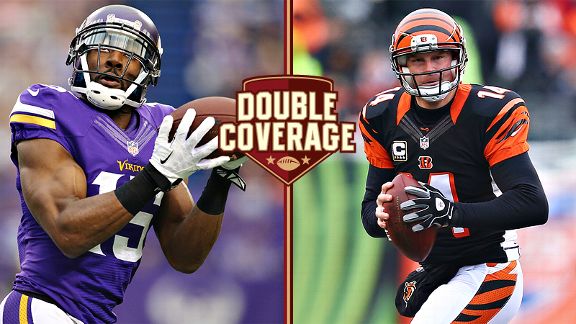 Getty ImagesCan Greg Jennings and the Vikings help spoil the playoff hopes of Andy Dalton and the Bengals?
The
Minnesota Vikings
and
Cincinnati Bengals
are two teams headed in completely opposite directions.
For the Vikings, the 2013 season has been a difficult one, defined mostly by a quarterbacking carousel and the lack of wins because of it. As for the Bengals, the year has been a mostly good one. With home wins over the Packers and Patriots, and road victories against the Lions and Chargers, the Bengals have looked for much of the year like a team poised for a longer postseason run than the past two years. Cincinnati's 2011 and 2012 seasons ended with first-round playoff losses.
If the 9-5 Bengals are even going to get to this postseason this year, though, they first have to bounce back from a Sunday night loss at Pittsburgh and beat the four-win Vikings. Such a win isn't a guarantee. Minnesota has embraced the role of postseason spoiler, rolling NFC East-leading Philadelphia last weekend.
To break down the contest, ESPN.com Vikings reporter Ben Goessling and Bengals reporter Coley Harvey teamed up for this edition of Double Coverage. As this week's visitor, we'll start with Ben:
Ben Goessling:
Andy Dalton
was one of the Vikings' options at QB when they drafted
Christian Ponder
in 2011. The Vikings seem to have given up on Ponder, and while Dalton has been better, it's hard to tell whether he's going to be the answer in Cincinnati long-term. How do the Bengals feel about his progress?
Coley Harvey:
It certainly appears that for now the Bengals feel comfortable with Dalton moving forward. Despite calls at times this season from some groups of angry fans, the Bengals have remained firm in their support of him. No matter how poorly Dalton played, they weren't shopping for another quarterback, and they weren't trying to give backup
Josh Johnson
any shared playing time. In short, they were committed to seeing Dalton through the year. And why not? Although he has had some struggles this season, Dalton has still shown that he can handle the duties of being a starting quarterback. He was the AFC's offensive player of the month for October, and had three consecutive 300-yard passing games during one stretch. If Dalton can't get the Bengals past the first round of the playoffs, it will be interesting to see whether the sides discuss a contract extension, with the 2014 season his last on his current contract.
To your broader point, Ben, that 2011 quarterback class certainly hasn't been all that amazing.
Speaking of progressing quarterbacks, it seems like
Matt Cassel
has given the Vikings some semblance of offensive success in games he's appeared in this season. Why didn't Minnesota stick with him sooner?
Goessling:
That's been the big question all season here, and on Sunday, coach Leslie Frazier finally gave those of us in the media a hint of what we'd expected all along. He said the Vikings always liked Cassel, but had to go through the "process" a little bit, and unfortunately weren't able to win games in the meantime. The "process" I believe he's referring to is the act of evaluating Christian Ponder to a point where the Vikings could be absolutely sure he wasn't the answer at the position. When
Josh Freeman
got inserted into the mix -- and both Frazier and general manager Rick Spielman said the Vikings planned to play Freeman soon -- that complicated things even more. The biggest thing Cassel had working against him was his age (31), and the Vikings didn't necessarily see him as the long-term guy. The question will be whether the quarterback tryouts wind up costing Frazier his job, but now that Cassel's starting, maybe Frazier will be able to make a case to keep his job by showing he can win when he has a competent quarterback.
The Vikings have struggled all year with small, shifty running backs. How do you expect
Giovani Bernard
to fare against them Sunday?
Harvey:
If the Vikings have struggled with those types of backs, then they could be in serious trouble Sunday, Ben. Bernard has been the five-tool player the Bengals thought they were drafting earlier this year and more. Not only can he hit the edge hard on pitches and outside runs, but he has enough power in his smaller body to hit the middle of a defensive line hard and keep going. His most important trait, though, may be what he's able to do as a receiver. You'll see the Bengals use him fairly regularly in the screen game. If the blocking sets up right on those plays, he won't just go for 5 or 6 additional yards. He typically will break off another 10, 15, 20 or more yards after the catch. Once the rookie gets in space, it's like he hits a fourth and fifth gear.
Having said all of that, I do believe he and the more between-the-tackles running
BenJarvus Green-Ellis
will be keys to the game. If they get going, the Bengals have a chance to showcase the balanced offense that has been coming on of late.
Minnesota has obviously had one of the NFL's best rushing attacks the past seven seasons because of
Adrian Peterson
.
Matt Asiata
did a great job of getting to the end zone last week. What kind of challenge do you think he poses the Bengals if he ends up playing in place of Peterson?
Goessling:
Not much of one, based on what we saw last week. Asiata averaged less than 2 yards a carry, and while he runs hard between the tackles, he doesn't offer much else; he doesn't break tackles the way
Toby Gerhart
can, and Peterson's gifts are obviously on a different level from either of those guys. I think Peterson will play, though; he wanted it known last week that he could have gone, and Frazier said after the game that he expected Peterson would be back. The guy prides himself on his pain tolerance, and as hard as he pushed to play last week, I'd be really surprised if he's not in there Sunday.
Assuming he plays, how tough a matchup is this for Peterson? The Bengals have been one of the NFL's best teams against the run this year. What's made them so effective there?
Harvey:
It won't be an easy one for Peterson. This Bengals' defense prides itself on playing physically, emotionally and flowing quickly to the football, particularly when it's on the ground. If this were a normal week, I might contend that as good as Cincinnati's run defense has been that Peterson might still end up surprising them and have a big day. This isn't a normal week, though. The Bengals are coming off a loss that had many questioning their heart and attitude, and they also happen to be playing this game at home. There's something about Paul Brown Stadium this season. Opponents have struggled, and the Bengals have fed off the crowd's energy. Cincinnati is 6-0 at home this season, and the defense is a big reason. If linebacker
James Harrison
(concussion) doesn't play, that could take away a key piece of the Bengals' run defense.
Cincinnati lost punter
Kevin Huber
to a season-ending injury last week and is bringing along his replacement,
Shawn Powell
, this week. He'll be kicking to Minnesota's
Marcus Sherels
. How dynamic is Sherels, Ben? His numbers seem so-so for most of the season, but he does have a return for touchdown.
Goessling:
I think you summed it up nicely there, Coley. Sherels did have the punt return touchdown, but his numbers otherwise have been just OK. The thing the Vikings like about him is that he doesn't make mistakes. He fumbled a punt earlier this year, but he's typically very sure-handed and makes good decisions about when to call for a fair catch. He doesn't get them in trouble by taking unnecessary chances, and special-teams coordinator Mike Priefer is a big fan of his partly because of his decision-making skills. But watch out, though. The Vikings are trying to find ways to get
Cordarrelle Patterson
the ball now that teams have stopped kicking to him, and Frazier mentioned they could give him a look on punt returns. If that happens, the Vikings will have a completely different kind of threat back there on punts.
December, 5, 2013
12/05/13
10:00
AM ET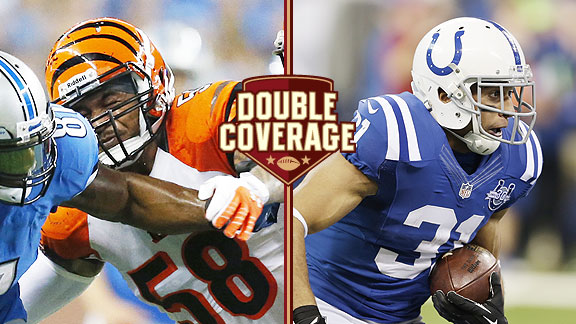 AP PhotoRey Maualuga and the Cincinnati Bengals know the Indianapolis Colts will try to establish the running game with Donald Brown.
After holding off the
Tennessee Titans
and
San Diego Chargers
last weekend, respectively, the
Indianapolis Colts
and
Cincinnati Bengals
come into this Sunday's showdown with one another knowing the stakes have been raised.
Whichever division leader emerges victorious from Paul Brown Stadium will have the No. 3 playoff seeding, and most likely will retain it, barring a complete collapse across the final three weeks of the season. The only other reason they wouldn't retain the No. 3 seed? Because they would have the No. 2 seed. Currently, the
New England Patriots
have that.
Cincinnati could claim that this weekend with a win and a Patriots loss. The Bengals have a tiebreaker over New England after beating the Patriots in October.
Like Sunday's game, that one was in Cincinnati. The Bengals are 5-0 at home, providing an added layer of difficulty for the Colts. Why have the Bengals been so good there? How can the Colts prevent losing their No. 3 seed? ESPN NFL Nation Bengals reporter Coley Harvey and Colts reporter Mike Wells have the answers to those questions and more.
Coley Harvey:
Mike, there are so many different places I could go with this first question, but I really want to ask about the Colts' rushing game. Bengals fans certainly were intrigued when the
Trent Richardson
trade deal went down earlier this season because they knew their team still had to face him this year, even if he was no longer playing for the division-rival Browns. He's had a rough go of it in Indy, prompting
Donald Brown
's start this past Sunday. Does Indianapolis believe Brown really is the back who will lead it through the postseason?
Mike Wells:
The Colts hope the demotion will turn out to be a good thing for Richardson. I know that sounds crazy considering the Colts gave up a first-round pick to acquire Richardson. Not starting should ease some of the pressure on Richardson because he's had a problem of overthinking since he joined the team. Brown may be the starter now, but coach Chuck Pagano will go with the hot hand during the game. So all it takes is a few big runs by Richardson and he'll be back in the mix. The trade so far is completely in Cleveland's favor, but this setback doesn't mean the Colts are throwing in the towel on Richardson. They really can't afford to when you think about all they gave up to acquire him. The Bengals have excelled at playing at home. What makes them a dangerous team there?
Harvey:
That's a good question. I'd say the weather has made them dangerous. The crowd has made them pretty dangerous, too. The reason I say the weather has made them dangerous is because twice this season, coach Marvin Lewis has been accurate in his prediction of what the weather would do. Back in early October, he smartly told his players to expect a sudden rain shower late in a game against the Patriots. A fourth-quarter monsoon came right when New England got the football for the last time and attempted a comeback drive.
Tom Brady
couldn't complete a pass. The rains were too hard. Eventually,
Adam Jones
intercepted Brady with 16 seconds remaining, clinching a big early-season Cincinnati win. Against the Browns three weeks ago, Lewis also told his players not to worry about the possibility of a delay that some weathermen had predicted. He was right. The game went along mostly smoothly, and about an hour after play, a line of strong storms moved through the area.
In addition to the advantage "meteorologist" Marvin gives them, the Bengals have had a great lift from their fans. Every game has been a sellout, and has had some moment in it that sent the crowd into a frenzy that's barely been seen since the team moved from the old Riverfront Stadium. The Bengals are confident they'll keep getting that energy the rest of the season.
Andrew Luck
has played in some meaningful games already in his young career. Most notably this season, he gutted out a win during
Peyton Manning
's return to Indianapolis. Because of what's at stake in Sunday's game, how much confidence do you think Luck's big-game play gives the Colts, Mike?
Wells:
Luck will have to carry the Colts if they expect to go into Cincy and get the victory. The former No. 1 overall pick doesn't have much to work with on offense now that veteran receiver
Reggie Wayne
is out for the season with the torn ACL. Opponents have found a way to slow
T.Y. Hilton
down lately by sending help over the top. Tight end
Coby Fleener
is doing what he can to help Luck out. I'm not even going to talk about receiver
Darrius Heyward-Bey
. The running game can't gain any traction and the offensive line has struggled this season. That leaves Luck having to improvise and do what he can to make things work. That won't be an easy task since the Bengals have the sixth-best defense in the league. The Bengals probably like their chances at being able to sack Luck. He's been sacked 29 times this season.
Speaking of quarterbacks, there seemed to be different stories floating around earlier this season that questioned whether
Andy Dalton
could win big games. Do you think he has the ability to take the Bengals to the next level?
Harvey:
In all honesty, it's tough to say, Mike. Dalton has been so inconsistent this season that it's tough to actually believe he'll be able to put this team on his back and be as successful as Luck has proven to be. That said, it looks like the Bengals learned something about Dalton and the rest of their offense in San Diego this past weekend. They discovered that with a little help from a solid running game, their passing game can actually produce big, explosive plays.
For a four-game stretch in October, Dalton looked like he would be able to make the Bengals an unbeatable force come the postseason. But since then, he hasn't been as efficient and he hasn't had the same type of prolific passing numbers. After throwing for more than 300 yards in four straight games in October, Dalton has hit the 200-yard mark just once since. Two games ago, against Cleveland, he didn't even reach 100. If the Bengals are going to make noise in the playoffs, it's probably not going to be because of Dalton. It most likely will be because of their defense.
Speaking of defenses, tell us about the Colts' defense. What has contributed to its struggles this year, particularly against the run?
Wells:
The Colts have struggled to stop the run all season -- 28
th
in the league -- and things may get worse for them. Defensive tackle
Ricky Jean Francois
is out two to four weeks with a partial tear of his plantar fascia.
Fili Moala
will start in his place. Stopping the run is just one problem for Indianapolis. The secondary has also had a difficult time stopping teams from passing on them. It all started when cornerback
Greg Toler
went down five games ago with a groin injury. But the defense stepped up by forcing four turnovers, including three interceptions, against Tennessee on Sunday. And there's a chance Toler will be back in the lineup this weekend. The rest of the secondary feeds off of Toler's energy. It's a perfect time for Toler to return because the Colts can use his help to try to slow down receiver
A.J. Green
, who is averaging 91.9 yards a game receiving.
Like Pagano, Marvin Lewis is a defensive coach. What makes the Bengals' defense so successful?
Harvey:
It starts with the combination of Lewis' background and defensive coordinator Mike Zimmer. The pair of defensive gurus have established quite the formidable two-headed monster for the Bengals, coming up with a slew of adjustments and lineup tweaks that has made the unit one of the best in the league, even when it maybe shouldn't be. Injuries have ravaged the Bengals' defense, most notably at defensive tackle (
Geno Atkins
) and cornerback (
Leon Hall
). The fact Will linebacker
Vontaze Burfict
has come on and had an unbelievably strong sophomore season has helped, too. The former undrafted free agent leads the NFL in tackles and played last week on a bad ankle. Because of his near-reckless style of play and the fact Zimmer's scheme has produced results, the Bengals believe in their system and that has made them successful.