Cincinnati Bengals:

Emmanuel Lamur
June, 8, 2014
Jun 8
9:00
AM ET
Since so many questions were sent following Friday's call for this weekend's mailbags, we ended up having room for a second, albeit shorter, mailbag entry.
This is it.
And, we'll get right to it with our first question about outside linebacker
Emmanuel Lamur
:
June, 3, 2014
Jun 3
8:30
AM ET
CINCINNATI -- After closing their last two organized team activity practices to the media last week, the
Cincinnati Bengals
are back open Tuesday morning as they begin the second week of voluntary OTAs.
There was a lot gleaned from the lone open practice last week, and there ought to be even more learned this week as the team starts finally settling into the flow of the workout schedule. Following this week's three practices, the team will convene again three times next week for a mandatory minicamp before meeting for one final three-day stretch of OTAs the week of June 16. After that players are released until July 24, when they begin training camp at Paul Brown Stadium.
Ahead of this week's lone day of open practice, here are a few items to watch for:
Gresham's status. Tight end Jermaine Gresham was the lone holdout during last week's workouts. According to Bengals.com, he has an injury he suffered earlier this offseason, but isn't believed to be in jeopardy of missing training camp. We'll see if more official word will be provided by the team Tuesday, and if he ends up making at least a sideline appearance. Last week, other injured players, Leon Hall, Geno Atkins, Clint Boling and Mike Pollak showed up but did not go through the full practice. Pollak didn't go through stretching like the other three.
Offensive line rotations. With Pollak presumably still out, we'll be keeping an eye on the Bengals' offensive line rotation. Last week they subbed Trevor Robinson and rookie Russell Bodine in at center. With Boling still out rehabbing from his ACL injury, Pro Bowl left tackle Andrew Whitworth got a few snaps at left guard just as he did at the end of last season. Others played the position with the first-team unit, as well, though, including undrafted free agent Trey Hopkins. At this stage in the offseason, it's all about getting reserves some meaningful snaps and figuring out who might be able to play where in the event an emergency insertion is needed.
Rookie learning curve. Along with Bodine and Hopkins, the Bengals have 18 other first-year players who are trying to pick up their offensive and defensive schemes and acclimate themselves to the terminology both playbooks have. Cornerback Darqueze Dennard addressed his steep learning curve in interviews last week. He said he's been helped by many of the veterans on the defense, including third-year linebacker Vontaze Burfict. Two other rookies to watch this week are running back Jeremy Hill and quarterback AJ McCarron. Both missed part of last week while attending the NFLPA's "Rookie Premiere" event in Los Angeles. After practicing last Tuesday, they were at the event Wednesday and Thursday, meaning they will be a bit behind their peers now that they are back this week.
Defensive line rotations. Much like the offensive line with its changes due to injuries, the Bengals experimented with defensive line rotations last week and ought to continue to do so. Second-year defensive end Margus Hunt got some playing time at left end, although that was the position Carlos Dunlap occupied much of last season. Dunlap played some at right end, as well, as the Bengals started tinkering with possible switches along the front based upon the packages they're playing. Several of the ends could see action on the line's interior as part of pass-rush details in Cincinnati's nickel defense.
Lamur's place. After missing the entire 2013 regular season, outside linebacker Emmanuel Lamur is back. More of a cover linebacker, the Bengals would like to see if he can stay on the field often as their linebacker rotation takes shape. With his size and length, the 6-foot-4 Lamur matches up well with tight ends. In a division that has some good ones, it'll be important the Bengals have such a healthy defender of Lamur's make up this year.
Tempo, tempo. It wasn't hard to notice the Bengals' stepped up offensive tempo during last week's practices. It probably won't change this week, either. Again, it's not so much that the Bengals are getting into hurry-up mode, it's just that they're getting out of the huddle and to the line a lot quicker.
April, 20, 2014
Apr 20
9:00
AM ET
Happy Easter, folks.
One day afteranswering a number of draft-related questions, our Cincinnati Bengals mailbag is back for a second installment of the weekend.
Yes, that's right. A two-part mailbag. Our Bengals readers were so inquisitive last week that we decided to turn this into a mailbag that spanned two days.
In this mailbag, the players already on the team are the focus. With all 71 currently signed players expected to return to Cincinnati on Monday for the start of the official offseason strength and conditioning program, we're answering questions about the players whose signings and departures might have affected the Bengals' plans moving forward. Also, we'll address whether there is more the Bengals can do.
Let's get to it:
March, 17, 2014
Mar 17
3:45
PM ET
CINCINNATI --
Taylor Mays
' re-signing with the
Cincinnati Bengals
had been reported last week, but the Bengals still had paperwork to process and a few other items and had to hold off on making the announcement official until now.
The Bengals formally announced Monday afternoon that Mays had re-signed with the club, joining the
Mike Pollak
,
Brandon Tate
and
Vincent Rey
. A defensive back who was traded to Cincinnati in 2011, Mays officially becomes the fourth 2014 Bengals free agent to stay with the franchise. Defensive end
Michael Johnson
and offensive tackle
Anthony Collins
signed with the
Tampa Bay Buccaneers
last week. Cornerback
Brandon Ghee
signed with the
San Diego Chargers
. Center
Kyle Cook
and linebacker
James Harrison
also were cut.
After playing in all 16 games in 2012, Mays entered 2013 in a bit of depth-chart limbo. Was he a safety? Was he a linebacker? Was he just an additional cover defender? Coaches weren't too keen on saying what his exact role was.
Originally, then-linebackers coach Paul Guenther claimed Mays as one of his own because of a late-preseason injury to Nickel linebacker
Emmanuel Lamur
. Head coach Marvin Lewis, though, dismissed that notion and said Mays wasn't a linebacker. In Lewis' eyes, he was simply a defensive back.
With more time train to be a cover linebacker, Mays could line up alongside Lamur during workouts later this year. His combination of size and athleticism make him a logical fit to battle in coverage with tight ends and running backs. Guenther seemed committed to the tweak when he was the Bengals' linebackers coach. Now that he's the defensive coordinator, he may decide to try it out again.
Just when Mays was beginning to find a niche in Cincinnati's defense in the middle of last season, he suffered a season-ending shoulder injury. It came on the final play of the first half of the Bengals' 40-point Week 8 rout of the Jets.
A former Southern Cal standout, Mays was originally drafted in the second round by San Francisco in 2010.
Chris Crocker
, the player who joined the Bengals' secondary out of retirement the last two seasons, is the franchise's only remaining free agent defensive back.
March, 13, 2014
Mar 13
2:00
PM ET
To this point, signs have mostly pointed to the
Cincinnati Bengals
drafting a cornerback in the first-round of this year's NFL draft.
ESPN draft insider Mel Kiper Jr. ignored them in his
latest mock draft

that was unveiled earlier Thursday. Instead of taking a cornerback like he suggested in his first two mocks, Kiper now has the Bengals taking outside linebacker
Ryan Shazier
.

An Ohio State product, Shazier would certainly be welcomed by Bengals fans in southwest Ohio. Fellow Buckeyes
Mike Nugent
and
Dane Sanzenbacher
(currently a tendered restricted free agent) are already on the roster.
One of the many underclassmen in this year's draft, Shazier left Ohio State after his junior season. While helping lead his program to the Big Ten championship game, he had 133 tackles and 6.0 sacks in his final year. As a "Will" linebacker, he fits one of the Bengals' many needs.
Vontaze Burfict
currently starts at the "Will" position and figures to do so for a long time, but an injury at the position on the depth chart put Cincinnati in a bind when it came to numbers for its nickel defense.
Emmanuel Lamur
's season-ending injury in the preseason forced the Bengals to get creative with their rotations on pass-specific downs. They even flirted at one point with moving safety
Taylor Mays
into the nickel linebacker spot to give the position a bigger, athletic body in order to help cover tight ends, running backs and extra receivers.
Shazier's coverage ability, particularly his physical style of play in coverage, has been noted as a strength. His speed and range are also positives. ESPN's draft team currently ranks him the third-best outside linebacker on the boards.
While the cornerback need still exists, if Shazier is still around at pick No. 24, he wouldn't be a bad selection for the Bengals.
March, 4, 2014
Mar 4
8:00
AM ET
Good morning from chilly Bristol, Conn.
If you follow me on Twitter
@ColeyHarvey
, you probably saw Monday where I mentioned that I was spending the day bouncing around airports and making my way to ESPN's main campus with the rest of our NFL Nation reporters. I'm looking forward to coming back to Cincinnati in a couple of days with even more ideas for where I'd like to take my Bengals coverage over the next year.
In the meantime, if you're a daily follower of the blog, you've probably seen where Morning Stripes posts like this one have kind of slowed down. I mentioned a couple of weeks ago that they likely would as the news around the Bengals begins to slow. With a nearly complete roster returning, the draft and free agency storylines revolving around this team aren't quite as ripe with drama as some of those circulating around other teams.
There was activity around the franchise Monday, though, as the league's deadline for naming franchise/transition tag players passed without the Bengals making a move. Unrestricted free agents Michael Johnson and Anthony Collins were the two most likely to draw tag consideration, but the Bengals passed on that option, meaning they are ready to go into free agency in order to see if they can convince one or both players to stick around for a longer-term deal.
This marks the first time in three offseasons that the Bengals did not use a franchise tag on a player. Johnson played with the tag in 2013, making more than $11 million. He would have made more than $13 million in 2014 had he been given the franchise tag for a second straight year. Just before Johnson, kicker Mike Nugent spent 2012 as the franchise-tagged player before signing a two-year deal last offseason. That contract expires next year.
Since none of their unrestricted free agents are franchise tagged, the Bengals now must compete in the open market with any team that wants to bid for the services of any of the 11 players. It's time to bring on free agency.
Cincinnati will make pitches to both Johnson and Collins once the free-agency period begins next Tuesday, but they may not be enough. The salary-cap mathematics may not add up in a way that ensures both will have deserving contracts. Even with about $30 million to spend this offseason, the Bengals have other pressing needs to be addressed, including tendering the three restricted free agents and trying to sign extensions for players whose contracts expire next year. If both Johnson and Collins re-sign, they could be doing so at a hometown discount.
We begin this Tuesday's Morning Stripes with a look at how the Bengals want to stay in-house as much as possible with the start of free agency:
February, 26, 2014
Feb 26
8:30
AM ET
Last week, in the days leading up to the start of on-field workouts at the NFL combine, we counted down five of the top position needs for a
Cincinnati Bengals
team that will go into May's draft looking to build depth instead of trying to find immediate starters.
As part of the countdown, I listed three players from each position who I said I would have my eyes on during the interview and testing portions of the event. Now that the combine has ended, I figured this would be a good time to go back and look at the numbers posted by the players who were part of the countdown. Each day this week, we've been doing a rewind of the countdown, analyzing how well the players who were in it worked out.
After
running backs
and
offensive linemen
, we turn now to the:
Defensive line
The defensive linemen who we looked at last week were all ends, tasked with getting drafted by the Bengals simply as roster fill-ins for
Michael Johnson
, the defensive end and expensive unrestricted free agent Cincinnati appears poised to lose when free agency starts in two weeks. If the Bengals don't re-sign Johnson, they will be in market to add another player to their depth chart as a combination of
Robert Geathers
,
Wallace Gilberry
and
Margus Hunt
prepare to take Johnson's place. The hope is that Geathers will have fully recovered from an elbow injury that sidelined him all but two games in 2013, and that Hunt will improve leaps and bounds from what he was as a rookie last year.
Defensive tackle is an area the Bengals might, in theory, want to begin adding depth to, particularly with the deficiencies there that were highlighted when both
Geno Atkins
and
Devon Still
went down with long-term injuries last season. The fact that 29-year-old
Domata Peko
is entering a contract year also is a sign tackle might be a place the Bengals turn for more depth in this draft. The problem with the tackle spot in this draft class, though, is that aside from some of the top tackles, Pittsburgh's
Aaron Donald
and Florida State's
Timmy Jernigan
, there are relatively few standouts. One college defensive end who might become a tackle in the NFL and who could be around when the Bengals make their first-round pick at 24 is Notre Dame's
Louis Nix III
. He has the combination of size and athleticism that Cincinnati could use on pass-rushing downs. With him on the line next to Atkins and Dunlap, nickel rushes could lead to sacks more often than not.
While we're talking defense, it's also important to note that one position you'll find missing on this countdown is "Will" linebacker. While
Emmanuel Lamur
's return from injury will shore up depth at that spot, particularly in nickel scenarios, the Bengals could be looking at bringing along a bigger linebacker in the later rounds who can cover like Lamur. One player they showed interest in at the combine was Florida State's
Christian Jones
, a defender who played both "Will" and "Sam" positions in college.
As for the three players listed in last week's pre-combine look --
Scott Crichton
(Oregon State),
Kareem Martin
(North Carolina) and
Taylor Hart
(Oregon) -- two, Martin and Hart, are 6-foot-6. Size-wise, they match what the Bengals would look for in an end.
Here are numbers (per NFL.com) from the trio's combine workouts:
Scott Crichton (Oregon State)
40-yard dash: 4.84 seconds
Bench: 24 reps (at 225 pounds)
Vertical: 31.5 inches
Broad jump: 108 inches
3-cone drill: 7.19 seconds
-- From a testing standpoint Crichton didn't look all that great compared to other defensive linemen. In past years, a 4.84 40-yard dash time might be considered as run of the mill for a Day 2 defensive end. With South Carolina's
Jadeveon Clowney
pacing the position at 4.53, though, that number looks dramatically worse. Crichton had been getting late-first or second-round projections before the combine. If scouts go off his numbers alone, he could dip.
Kareem Martin (North Carolina)
40-yard dash: 4.72 seconds
Bench: 22 reps (at 225 pounds)
Vertical: 35.5 inches
Broad jump: 129 inches
3-cone drill: 7.20 seconds
-- Martin's numbers were a little better, as he had some of the top figures in the 40-yard dash, the vertical and the broad jump. His 40 was the ninth-fastest among defensive linemen, his vertical was the fifth-highest and his broad jump was the longest. The numbers show he has a considerable amount of athleticism, particularly for an end with a mid-round projection. He also has the right combination of height and weight that the Bengals like for his position.
Taylor Hart (Oregon)
40-yard dash: N/A
Bench: 21 reps (at 225 pounds)
Vertical: N/A
Broad jump: N/A
3-cone drill: N/A
-- Hart only competed in the bench press, putting up a rather tame 21 reps of 225 pounds. He was already pegged as a late-round selection and likely will remain that way. If the Bengals end up making other draft needs early and decide to wait until fairly late on defensive end -- it's unlikely they do that -- this bigger-framed lineman could be around.
February, 14, 2014
Feb 14
8:00
AM ET
This edition of the Morning Stripes is dedicated to a trio of Cincinnati Bengals backup linebackers who can be easy to forget and a starting offensive lineman who could briefly become a backup next season if his recovery from a season-ending injury progresses more slowly than he anticipates.
It can be difficult to remember that Emmanuel Lamur, who figures to be a key piece of the Bengals' linebacker rotation, is even on the team. After being lost for the entire 2013 season to an injury suffered in the final preseason game, he quickly faded from the depth chart, disappearing into the black hole that the injured reserve list can sometimes become. He was joined there by another rookie linebacker, Sean Porter, who also suffered a season-ending injury in the preseason.
Without their services, the Bengals were forced to be creative with some of their plans at linebacker, particularly when it came to certain pass defense packages. Since they were forced into playing so many offenses with two-tight-end or multiple-receiver sets early in the season, the Bengals had plans to use Lamur in nickel coverage. Once he was lost for the year, though, they tweaked that role in part by adding to safety Taylor Mays' responsibilities.
All signs currently point toward Lamur and Porter being healthy for training camp. Their presence should give the Bengals the depth at three linebacker positions that they lacked during the regular season.
We'll get to the third linebacker, Jayson DiManche, later in this post. Although it can be easy to forget about him as a defensive player because of where he ranks on the depth chart, there are many people back in his hometown who will let him know this weekend that they remember him quite well and quite fondly. More on that in the links portion of this post.
Left guard Clint Boling was a starter throughout 2013 until he tore his ACL in Week 13, effectively ending his season. Boling is pegging a summertime return from the injury. Rehab times from ACL surgery can vary. While it's wholly possible for him to recover that quickly from a December surgery to repair the ligament, it's also possible for that recovery period to be a little longer. If it does go longer than he anticipates, Boling might not start the season at the spot he began last year.
It's also not yet a foregone conclusion that he would start there even if fully healthy by August. Pro Bowl left tackle Andrew Whitworth was moved to left guard after Boling's injury and helped create an even more physical tone to the offense because of the way his large, yet athletic frame was able to pull and block on the line's interior. While Whitworth maintains that he is a left tackle, the Bengals will spend part of the offseason debating whether they want to move him to guard more permanently, giving them even more incentive to re-sign tackle Anthony Collins. A longtime backup in Cincinnati, Collins is set to earn a veteran starter's salary when free agency begins next month. He could be lured away.
Here's a little more on each of the aforementioned backups:
Bengals.com's Geoff Hobson caught up with Lamur and Boling as each detailed their recovery processes and how they anticipate factoring heavily into the team's schemes by the start of training camp.
According to The Times of Trenton (N.J.), DiManche, a backup linebacker who mainly starred on special teams in 2013, will be back home in Hamilton, N.J., this weekend to be honored by his alma mater, Hamilton High School. A special ceremony will occur before a basketball game Saturday. The undrafted free agent signed last May.
September, 14, 2013
9/14/13
10:00
AM ET
CINCINNATI -- It may be the biggest mystery within the
Cincinnati Bengals
' locker room. Chances are, it could go unsolved for perpetuity.
Just what position is Taylor Mays actually playing right now?
If you ask his head coach, the tall secondary defender is not a linebacker. Far from it. Marvin Lewis' mindset is that Mays still is more of a true defensive back, relying on some of his old safety principles and slot cornerback techniques.
The answer may be different, though, if you ask Mays' current position coach, linebackers coach Paul Guenther.
[+] Enlarge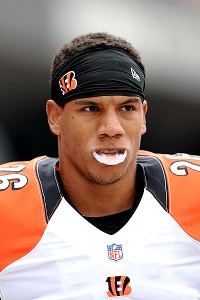 AP Photo/Greg TrottNo one on the Bengals seems to want to put a label on where Taylor Mays is playing these days.
Last week, Guenther excitedly told reporters about how he was spending extra time with Mays,
cross-training him at the position
that even Mays acknowledged as being the nickel linebacker position. In the wake of a season-ending injury to slot outside linebacker
Emmanuel Lamur
, the change in Mays' duties was a way the Bengals felt they could more comfortably absorb Lamur's injury without having to sign a new linebacker.
It made sense. Mays, who drew his share of preseason criticism for appearing lost at times while playing safety, was in need of playing a position a little closer to the line of scrimmage that could better use his size and get him closer to the football. Instead of constantly struggling to race in from the back end, he would be more involved with man-coverage packages.
So since Mays was essentially moving into Lamur's old spot, Guenther didn't bat an eye at the suggestion that he was moving to a linebacker position. For the week leading up to the season opener at Chicago, Mays had even stopped practicing with the safeties and was participating in drills with all linebackers.
This week, ahead of Monday night's home opener against Pittsburgh, he was still lining up with the linebackers.
So is Mays a linebacker? And how well did he do in his first game at the position last weekend?
"Taylor didn't play linebacker," Lewis said Monday, responding to a similarly posed question at one of his two news conferences. "But in Taylor's snaps he had, he did OK."
Posed the same questions, Guenther hedged on calling Mays a linebacker. Instead, he told reporters they could call Mays whatever they wanted.
If it looks like a duck and quacks like a duck ...
With respect to Mays' performance at whatever position it is he's playing that the linebackers coach is coaching him at, Guenther said, "He did good. He got in there. He didn't really miss a beat much. He did a good job for us."
Mays made three tackles last week as he came in on nickel situations.
Guenther remarked before the game about how he essentially had nine days to teach Mays his new role. For his entire pro career before last weekend, and for all of his college years, Mays had considered himself a safety only.
"Every week, it's just that he's getting better at it, at whatever you want to call what he's playing," Guenther said. "He did good, and hopefully he'll continue to grow in that role and he'll get better every week."
It bears mentioning that, after the tweak to Mays' role, the Bengals brought in several true outside linebackers and worked them out as they continue to assess their options after Lamur's injury. Free agents
Thomas Howard
,
Tyrone McKenzie
,
Michael Boley
and
Leroy Hill
reportedly worked out for Cincinnati in the past two weeks. None of them was signed.
One way to read it is that Mays must be doing a good enough job to keep whatever title it is he's currently holding.
"I just work the guys out," Guenther said. "If they decide to sign them, they sign."
OK, so we still haven't answered the question: What position is Mays playing?
Maybe Guenther had it right. Flip a five-cent coin; you decide.
September, 4, 2013
9/04/13
7:20
PM ET
One of the favorite words in a football coach's dictionary is "cross-train." In Cincinnati this week, there has been a whole lot of it going on.
For the uninitiated to that bit of football nomenclature, cross-training occurs when players at one specific position are taught techniques at another. Days before the Bengals head to Soldier Field to open the 2013 season against the
Chicago Bears
, safety
Taylor Mays
has seen his share of it.
According to Mays, the Bengals long had designs of alternating him between the safety and linebacker positions. It was just a matter of when the learning would take place.
Enter last Thursday night, when, in Cincinnati's preseason finale, nickel linebacker
Emmanuel Lamur
went down in the first quarter with a shoulder injury so bad it finished him for the season. All of a sudden, as coaches began trying to set the 53-man roster, an opening appeared on the depth chart. Expecting to be down to just five linebackers entering the season, they began scrambling for a solution.
Part of that solution included working out a rehabbed
Thomas Howard
and young free agent
Tyrone McKenzie
on Tuesday. Either could fill the linebacker hole at any time. For now, though, it doesn't appear they will. Cincinnati's big fix will come from within.
[+] Enlarge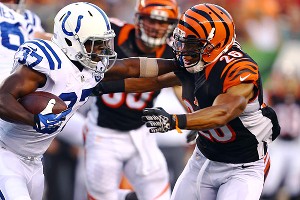 Andy Lyons/Getty ImagesTaylor Mays said his move from safety to nickel linebacker in Cincinnati's system could be a natural fit.
"Next guy up's gotta play. Whoever it may be," linebackers coach Paul Guenther said Wednesday afternoon. "Whether it's a backup player or a guy who we're putting in at a new spot. Chicago's not going to feel bad for us. So we've got to get the guys ready to play."
Part of getting each of his linebackers ready for the opener means making sure they each know and understand multiple roles and multiple positions. That's where cross-training comes into play.
"We kind of train guys to know all the positions," Guenther said. "That's how I teach it from Day 1. It's kind of putting guys in different situations. The techniques and responsibilities are similar in what we're doing. If they learn the techniques and understand the difference in the formations and the motions or whatever that may be, it'll be just like in practice."
Rey Maualuga
, a fifth-year veteran who has starred in Guenther's system at middle linebacker, echoed those sentiments. Now that Cincinnati's linebacker numbers are down, the knowledge of concepts at the Mike, Will, Sam and nickel positions becomes paramount for each of the Bengals' 'backers.
"We've just got to make sure to know every single position on the field so if somebody goes down, you might be thrown into that spot you've never played before," Maualuga said.
Mays has never played linebacker. He didn't during his first two seasons with the Bengals, despite insistence from some fans who were puzzled that the 6-foot-3, 220-pound defensive back hadn't made the switch. He didn't play it in college, either, despite leading USC in tackles as a senior with 96.
Despite lacking linebacker experience, Mays feels very confident he'll learn Guenther's techniques and will shine at the nickel linebacker position.
"It's definitely exciting," Mays said. "Maybe naturally, for me, it's a little better [fit]. I'm more in the box and it could be a better position for me. I felt good about it and excited. It's the kind of plays that I can make."
Mays didn't seem comfortable at safety in the preseason, and at times drew the ire of fans who still wanted to see him moved. Through those four games, he had 10 total tackles, including a sack.
At the nickel linebacker spot, one that Guenther contends will see an occasional rotation featuring Maualuga and Will linebacker
Vontaze Burfict
, Mays will be required to cover receivers and tight ends. His experience as a safety may make him more suited for that job than the more physical, run-stopping Maualuga and the defense-setting Burfict. At the position, Mays also will play closer to the line of scrimmage, enabling him to have a presence in certain blitz packages.
"It's the same thing as when a safety inserts into the box," Mays said. "Some of the run-gap fits are a little different. Paul does a great job of teaching and making things simple. I've been picking it up quick."
Guenther's teaching methods include getting into a gymnasium with Mays and simulating coverages and formations by using chairs and other inanimate fill-ins. It was the same approach the coach took last season when he quickly had to move Burfict into an outside linebacker's role after Howard went down with a season-ending injury to his anterior cruciate ligament.
"He'll be fine," Guenther said of Mays. "He's the same body type as E-man, the same ability as far as his coverage. So he can play in the back half on some of the things. He's a versatile guy. Really, I'm doing the same thing with Taylor that I'm doing with Vontaze. We're getting him ready the same way. It worked last year, so hopefully it'll work this year."
August, 30, 2013
8/30/13
8:30
AM ET
Here is what they're saying about the
Cincinnati Bengals' 27-10 win
over the Indianapolis Colts in the preseason finale:
Fighting for a roster spot, linebacker J.K. Schaffer finished with six tackles, an interception and a sack. "I know I went out and played hard. I left it all out there," Schaffer told The Cincinnati Enquirer. "It's out of my hands from here. I think the preseason went pretty well for the most part. There are still some things I need to clean up and get better at but we will see what happens from here."
Backup linebacker Emmanuel Lamur injured his shoulder in the first quarter and needed to be taken off on a cart. Trainers worked on his shoulder and as the pain got worse the cart was called out, The Cincinnati Enquirer reported. "It slipped out and they slipped it back into place," coach Marvin Lewis said about Lamur's shoulder. "But that's about all we know, we'll have to see how he responds."
The Bengals had more runs than passes for the third time this preseason, according to the team's website. Cincinnati won all three times, finishing with 175.8 rushing yards per game. John Conner, who is battling Orson Charles for the starting fullback job, was impressive as the lead blocker. "Obviously, we are two different kinds of players," Conner said. "He has done a great job of coming over from tight end. He is more of an H-back kind of guy, and I am more of a side fullback. It kind of goes by what this offense needs and what we need at the moment. I hope I did everything that I could to make this team."
August, 29, 2013
8/29/13
9:44
PM ET
Fantasy alert:
Giovani Bernard
can score in the red zone.

In the
Cincinnati Bengals
'
27-10 victory
Thursday over the
Indianapolis Colts
in the preseason finale, Bernard finished off the Bengals' first drive with a 1-yard touchdown. It marked the third 1-yard touchdown for the 5-foot-9, 208-pound Bernard. While starter
BenJarvus Green-Ellis
has been a touchdown machine (30 rushing touchdowns in the past three seasons), Bernard should get some chances to punch the ball in, if the preseason is any indication.
"To me, it's all about determination and heart. How bad do you want that touchdown?" quarterback
Andy Dalton
said at halftime. "I really think anybody should be able to get 1 yard if you want it bad enough, no matter your size."
Bernard showed toughness in the open field, too. After taking a dump-off pass from
Josh Johnson
, Bernard ran for 16 yards and delivered a hit on a Colts defensive back before going out of bounds. Bernard finished with 28 yards on five touches.
Overall, it was a crisp effort by the Bengals after a sloppy performance last week in Dallas. Cincinnati had one turnover (
Cedric Peerman
's fumble didn't lead to any points) and committed two penalties.
Here are my other thoughts on the final preseason game for the Bengals, who finished 3-1:
Dalton made a cameo appearance, leading the Bengals to a touchdown in his only drive of the night. He completed one pass for 18 yards, a short pass to Mohamed Sanu, who broke a tackle. Dalton's only other pass was an underthrown ball to receiver A.J. Green in the end zone, but Green drew a pass-interference penalty. The Bengals got the ball on the 1-yard line, where Bernard scored the game's first touchdown.
Linebacker Emmanuel Lamur was carted off the field in the first quarter with a right-shoulder injury. Lamur is one of the Bengals' top backups and plays in their nickel defense. If Lamur is lost for a significant amount of time, the player who could benefit the most is J.K. Schaffer, who had a mauling, third-down sack and an interception against the Colts.
Brandon Tate once again provided a spark on special teams. After scoring on a 75-yard punt return in his last preseason game, he set up the first touchdown with a 51-yard kickoff return. This latest big return happened because of great blocking by the Bengals, and Tate just had to hit the open lane.
It looks like John Conner will be the Bengals' starting fullback. He was the first fullback to play, and he was the lead blocker on Bernard's touchdown. Orson Charles, who has been battling Conner for the job, could still make the team because of his versatility. The Bengals may decide to keep Charles as the third fullback (behind Jermaine Gresham and Tyler Eifert) and cut Alex Smith.
Backup quarterback Johnson still struggles with his accuracy, but he can make big plays with his feet. He led the Bengals in rushing in the first half with 38 yards on two scrambles. As far as his passing, he was 4-of-5 for 26 yards and one touchdown on his first two drives (both scoring drives). His touchdown pass, a 3-yard toss to Marvin Jones, was on the same fade route as the incompletion thrown by Dalton earlier in the game. For the rest of the first half, Johnson was 3-of-8 for 41 yards. John Skelton, the Bengals' other backup, was 6-of-10 for 99 yards, which probably won't be enough to leapfrog Johnson for the job.
The first-team defense got pressure on Colts backup quarterback Matt Hasselbeck. Linebacker James Harrison nailed Hasselbeck on an inside blitz to force an incompletion, and defensive tackle Geno Atkins pressured on third down to rush Hasselbeck into another incompletion.