Cincinnati Bengals:

James Wilder Jr.
September, 2, 2014
Sep 2
11:00
AM ET
CINCINNATI -- We're all about transparency on ESPN.com's
Cincinnati Bengals
blog.
So let's take a look back to earlier this summer when we ran a series of "Bubble Watch" projections that attempted to pinpoint which fringe players would and wouldn't make the Bengals' 53-man roster (or in one case, the practice squad).
As you can see in this
"Bubble Watch" from July 17
, our last post in the 11-player series, we placed odds on whether the player would make the team. We have included those odds below in parenthesis:
WR James Wright (odds were high)
Wright made the team as the last receiver on the roster. He's likely to be part of the 46-man game-day roster because of his ability to play on coverage units on special teams. He had two penalties in the preseason on special teams that drew concern. He'll have to make sure he avoids them now that the season is beginning.
RB BenJarvus Green-Ellis (low)
The veteran rusher was cut Friday as the Bengals officially signaled they were ready for the
Jeremy Hill
era to begin. Hill was a rookie who was faster, more physical and more athletic than Green-Ellis. He also has much fresher legs, and ought to be better able to withstand the pounding the Bengals will put their backs through this year.
RB Rex Burkhead (50/50)
Burkhead made the team, beating out Green-Ellis despite picking up a knee injury in Week 2 of the preseason. The Bengals are hopeful he'll be able to play again soon.
LB Jayson DiManche (high)
DiManche was on the bubble, but it almost seems strange suggesting he belonged there. He's a difference-maker on special teams, he plays well enough when he's in on defense. There's a reason his odds were high.
DE Sam Montgomery (low)
In a certain sense, we were right about this one. Montgomery didn't make the 53-man roster, but he did get added to the practice squad over the weekend. So he is among the 63 players still in the locker room.
DE Dontay Moch (50/50)
The "50/50" odds were probably accurate on Moch entering camp. He didn't show much that made it clear he deserved to stick, particularly when Montgomery did some of what Moch could do, as a player with hybrid defensive end, rush outside linebacker experience. Montgomery's ability to play on the line's interior also helped set him apart from Moch, who was just an edge rusher.
LB J.K. Schaffer (low)
Schaffer's odds weren't great to begin with because he was at a stacked position, but when he had two concussions in training camp, you knew his spot on the 53-man roster would be filled. He's still around the team, though. He's on the injured reserve.
WR Cobi Hamilton (high)
This might be the worst miss of the projections. There was reason to believe in Hamilton, but once he struggled with consistency and kept dropping passes, you knew he wouldn't make the team. He also didn't originally make the practice squad.
RB James Wilder Jr. (high)
In Wilder's case, we looked specifically at odds to make the practice squad. The running back position was just too loaded for the rookie who left college a year early. Still, his raw ability did in fact make him a practice-squad body.
WR Brandon Tate (high)
We didn't really believe Tate was in jeopardy of losing his job, but you never know. The Bengals were loaded at receiver in camp, and he was a bit of a one-trick pony as primarily a returner.
S Taylor Mays (50/50)
Mays was mainly "50/50" because of numbers. It seemed over the summer that veteran safety
Danieal Manning
would eventually pick up the defense and stick, possibly taking Mays' spot. When Manning struggled getting the system as quickly as he needed to, though, he got cut. Mays had already been in the scheme.
August, 29, 2014
Aug 29
2:00
PM ET
CINCINNATI -- In all, the
Cincinnati Bengals
kept 33 players sidelined Thursday night for their final game of the preseason.
As we've been mentioning, it wasn't much of a surprise. The goal in the finale was to remain healthy and spare the contributing players as much as possible. That definitely happened.
The only starter who actually took the field for the first drives was rookie center
Russell Bodine
. As the only rookie starter on the team, he was being trotted out to receive a little extra playing time before the regular season . Along with him, rookie running back
Jeremy Hill
saw serious minutes. Hill might not be a true starter in the official sense, but he should expect to receive significant playing time this season.
As you'll see below, Hill was on the field for 38 plays. Long enough to rush 20 times for 90 yards and catch six passes for 63. Coach Marvin Lewis said the objective was for Hill to get used to playing a full game. Because once the regular season begins the hope is to give him several touches a game behind fellow back
Giovani Bernard
.
Here's a snapshot of Cincinnati's snap counts from Week 4:
OFFENSE (56 plays)
WR
Cobi Hamilton
(52), OT
Will Svitek
(48), OT
Marshall Newhouse
(47), OT
Tanner Hawkinson
(44), WR
Colin Lockett
(42), OL
Mike Pollak
(39), RB Jeremy Hill (38), QB
Jason Campbell
(34), WR
Dane Sanzenbacher
(31), C Russell Bodine (31), OG
T.J. Johnson
(31), H-back
Ryan Hewitt
(28), TE
Alex Smith
(28), C
Trevor Robinson
(26), H-back
Orson Charles
(24), FB
Nikita Whitlock
(23), QB
Tyler Wilson
(23), RB
James Wilder Jr
. (19), OT
Dan France
(19).
DEFENSE (61 plays)
LB
Marquis Flowers
(58), S
Shawn Williams
(55), S
Danieal Manning
(52), CB
Dre Kirkpatrick
(51), CB
Chris Lewis-Harris
(49), DE
Will Clarke
(49), DT
David King
(44), S
Taylor Mays
(43), LB
Jayson DiManche
(39), DT
Christo Bilukidi
(38), CB
Victor Hampton
(37), DE
Margus Hunt
(33), DE
Dontay Moch
(32), LB
Brandon Joiner
(29), DE
Sam Montgomery
(28), DT
LaKendrick Ross
(23), CB
Onterio McCalebb
(13), LB
Vincent Rey
(13), DT
Brandon Thompson
(5), LB
Sean Porter
(2).
SPECIAL TEAMS (22 plays)
Hamilton (10), Svitek (5), Newhouse (1), Hawkinson (5), Lockett (10), Pollak (4), Hill (4), Sanzenbacher (8), Bodine (1), Johnson (1), Hewitt (13), Smith (7), Robinson (4), Charles (18), Whitlock (11), Wilder (12), France (5), Flowers (13), Williams (12), Manning (10), Kirkpatrick (9), Lewis-Harris (11), Clarke (2), King (4), Mays (11), DiManche (15), Bilukidi (1), Hampton (12), Moch (14), Joiner (15), Montgomery (14), Ross (1), McCalebb (13), Rey (4), Porter (4), K
Mike Nugent
(11), P
Kevin Huber
(11), LS
Clark Harris
(11).
August, 29, 2014
Aug 29
9:00
AM ET
CINCINNATI -- Cut-down time has arrived.
By Saturday evening, we will know who stays and who goes.
I must admit it was kind of strange sort of saying goodbye Thursday night to a few of the
Cincinnati Bengals
' bubble players I've gotten to know over the past year.
At this time last year when I first walked into the Bengals' locker room to cover the team, I did so on the Monday following cuts. The purge had already ended.
So that'w why I had to admire the bubble players who spoke to the media after Thursday night's 35-7 win over the Colts. I admired the general peace they exhibited considering how their lives and their families' lives might get flipped upside down this weekend.
"I care, but it's at the point where it doesn't matter,"
Danieal Manning
said, referencing his peace. "I can only do what I can do. I don't care what the coaches decide to do at this point. I don't go out there to play for them. I play for my family, for me and my heavenly father and then the teammates that I met."
Rookie running back
James Wilder Jr
., an undrafted free agent who had a few big runs late in Thursday's win, echoed Manning's sentiments.
"I feel like I did real good this camp," Wilder said, before outlining a litany of the types of plays and traits he showcased. "Talking to everybody out there, they say that everything you're putting out here is just your résumé. If it's for this team, that team or whatever team it's for, it's your résumé. You're building your brand when you go out there and are playing."
Wilder said he believed he built the type of brand the Bengals will want to keep around. But if he didn't do enough, he knows he'll end up somewhere.
We'll see what happens with Wilder once the 53-man roster cut deadline approaches at 6 p.m. ET Saturday. While he still has some raw tools that need refining at this level, he has looked good most of the preseason. His 11 rushes for 49 yards and a touchdown Thursday were filled with impressive runs. It's most likely he'll be placed on the practice squad, but with injuries to backs on the depth chart above him, maybe he has a shot to sneak onto the active roster. We'll soon find out.
Just like we'll soon find out Manning's fate. The longtime kick returner and return-team blocker hasn't had many opportunities to showcase his skills in those areas this preseason, but he does have that measure of versatility. He also has the veteran savvy that makes him a leader in the locker room.
When the nine-year vet arrived in the offseason after being let go by the Texans, Manning's focus was on returning from the serious knee injury that sidelined him last October and proving he belonged. He said it's never taken him this long to prove that.
"It was fun, but it's something I've got to get used to," Manning said of his rare roster-bubble experience. "I know at this point in my career that's going to have to happen."
August, 28, 2014
Aug 28
4:00
PM ET
CINCINNATI -- In no particular order, here are six
Cincinnati Bengals
you'll want to pay attention to during Thursday night's preseason game against the Indianapolis Colts (7 p.m. ET).
[+] Enlarge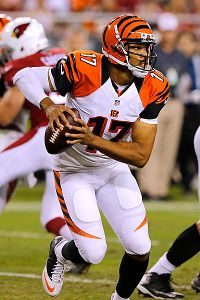 AP Photo/Rick ScuteriJason Campbell is expected to get a lot of action in the Bengals' last preseason game.
QB Jason Campbell.
Expect a heavy dose of the Bengals backup quarterbacks Thursday night as Cincinnati attempts to fulfill it's primary preseason objective: staying healthy. Of course, there have been injuries this preseason, and Campbell is among those who have gotten hurt. Still, the plan for the Bengals is to get to opening weekend with a fully healthy
Andy Dalton
. So don't be surprised if he's only in for one series with other starters. Campbell, who missed the Week 2 game against the Jets because of an elbow injury, will look to get extended action in his final tune-up before the regular season. The veteran is 13-for-29 for 130 yards in two games this preseason. He also has two touchdowns and two interceptions.
QB Tyler Wilson.
Just like Campbell, the emphasis for Wilson will be to eliminate turnovers. The Bengals offense did an admirable job of that Sunday at Arizona. They didn't have a single interception or fumble. They retained possession, all while battling horrid field position all night. Wilson hasn't played since the Week 2 loss to the Jets after suffering a concussion late in that game. Now that he's been healthy enough to practice, look for extended action from Wilson, assuming he has been cleared to play. Not all of the players on concussion protocol this preseason have made it on the field. Offensive tackle
Andre Smith
still hasn't played despite practicing the past two weeks.
RB James Wilder Jr
. With a battered and bruised running back group, the Bengals probably will turn to Wilder much earlier than they have at other points this preseason. Look for the undrafted rookie free agent to get heavy action in the second half as Cincinnati tries to save second-round draft pick
Jeremy Hill
's legs. He'll probably see extensive action in the first and second halves as the Bengals try to ease starter
Giovani Bernard
through a very non-taxing evening. Remember, the goal is to keep everyone healthy, particularly the starters. Since that is the case, Wilder ought to see significant action since
Cedric Peerman
,
Rex Burkhead
and BenJarvus Green-Ellis may be missing in action. All three were held out of Tuesday's practice, the only one the Bengals had this short week.
DT Christo Bilukidi.
While I'm still not sure Bilukidi will end up earning a spot on the 53-man roster later this week, he's still a player worth paying attention to. Coaches have liked some of what they've seen out of the backup defensive lineman. He has helped contribute to the Bengals' pass rush when he has been in the games, even coming away with one sack through the first three preseason contests. He has three total tackles in his appearances. On Sunday, Bilukidi was on the field for 23 plays, one of the higher snap counts of the team's reserve linemen. This will be his last chance to prove where he belongs: on the 53-man roster, on the practice squad, or released for another team to grab.
DE Sam Montgomery.
Like Bilukidi, Montgomery has spent the preseason lining up both at tackle and end as the team tries to test out places it could use him if he makes the team. Also like Bilukidi, I'm not high on Montgomery making the final roster, but he does have tools that could be useful for the Bengals' pass rush. A lineman who has stand-up end ability, Montgomery could give Cincinnati's defense an added dimension from its standard rushes.
Dontay Moch
also has some of that same playing style and ability. It will be interesting to see how both fare when the roster gets set Saturday.
LB Sean Porter.
One of the more impressive players on the back of the depth chart, Porter has caught the coaches' attention now that he's had a chance to play. Placed on injured reserve all last year, the former Texas A&M standout is just now getting an opportunity to show what he can do. The fourth-round 2013 draft pick filled in for
Vontaze Burfict
in practices last week when the starting weakside linebacker was out sick. He also capped Sunday night's 19-13 win with a final-play interception. He could be a special-teams addition to this year's 53.
August, 20, 2014
Aug 20
9:00
AM ET
CINCINNATI -- Two more jobs just came open for the
Cincinnati Bengals
.
On Tuesday afternoon the NFL and the NFL Players Association agreed to expand practice squad rosters for this season and next season from eight players to 10. Though the 53-man roster remains unchanged and still holds the highest value, the Bengals and every other team now have space to keep additional players when the preseason officially ends.
Practice squad eligibility also was tweaked under the new agreement. In order to qualify for accruing a practice squad season, a player must have a minimum of six games on the practice squad instead of three games, extending the amount of playing time a player can have and still be eligible for the practice squad.
Additionally, teams are now permitted to sign a maximum of two practice squad players who have earned no more than two accrued seasons of free-agency credit. Absent that exception, a player who has earned one or more accrued seasons would not be eligible for a practice squad unless the player spent fewer than nine games on a team's 46-player active list in each of his accrued seasons. That means third-year players could qualify for the practice squad.
Here are 10 Bengals I'd consider for the practice squad:
Scott
QB Matt Scott
It seems evident the Bengals are trying to put
AJ McCarron
on an injury-list to keep him off the practice squad where he could be claimed by another team. If that is the case, and the Bengals enter the season with just two quarterbacks --
Andy Dalton
and
Jason Campbell
-- I could see them keeping a third who could be called off the practice squad.
RB James Wilder Jr.
The Bengals view Wilder as a project right now with physical tools any team would love to use. He won't make the 53-man roster, but I expect the Bengals to keep him around this way.
WR Colin Lockett
Lockett has so many special teams intangibles as a returner and special teamer that the Bengals have reasons to keep him around and evaluate him further. He won't make the 53-man roster because of the depth at receiver, but he could be a solid addition to help the defense prepare this season for speedy and shifty slot receivers like former Bengal
Andrew Hawkins
.
Hamilton
WR Cobi Hamilton
Cincinnati didn't enter this season with plans of putting Hamilton on practice squad for a second-straight season, but his play has warranted it. He has not dominated the position battle he is in with
James Wright
and
Ryan Whalen
, among others. Consistency and drops have been the issue. When he has looked good, though, he has looked really good. He will be beaten out for a job on the 53-man roster, but should still be part of the club.
OL Trey Hopkins
I've still got Hopkins pegged as a bubble player, but I'm thinking he ultimately makes the 53-man roster. He has too many intangibles as an undrafted rookie to be put on the practice squad, but in the event there isn't enough room for him on the 53-man, he could go here.
DE Will Clarke
Like Hopkins, I believe Clarke ends up making the 53-man roster, but in the event the Bengals want to eat one of their defensive line positions to open up an opportunity elsewhere on the roster, I could see Clarke going to the practice squad. He could be like McCarron, though, in the sense that you don't want someone poaching the talented rookie away.
DT LaKendrick Ross
The Bengals liked the young and little-known Ross enough to sign him, so I'm not expecting him to get cut this year. He's a completely raw and unpolished product who had FBS offers, but ended up at tiny Virginia-Lynchburg, where he used his size to completely overpower opposing offensive lines. He only had one college season, so a year on the practice squad could benefit him.
LB James Davidson
You haven't heard much about Davidson from camp, but he's been a fairly consistent contributor on special teams and defense. He also has been receptive to coaching from both coaches and his teammates. If he survives waivers, the undrafted rookie could end up here.
CB Chris Lewis-Harris
Lewis-Harris has had a fairly impressive preseason, even after getting suspended during it for a violation of the league's substance abuse policy. He will be unavailable for the first two regular-season games, but still can be on the overall roster. He would be one of those third-year eligible players. A crowded cornerback room might land him back on the practice squad.
CB Lavelle Westbrooks
This final spot was a tough determination. It came down to choosing Westbrooks over
Isaiah Lewis
, the undrafted rookie safety from Michigan State. It seems to me that Westbrooks has had a better preseason. Still, the Bengals might want a safety instead of two cornerbacks, making Lewis would be a better fit for the practice squad.
July, 22, 2014
Jul 22
9:05
AM ET
The so-called "free" time that has been a luxury most of the spring and summer (here's the catch: on an NFL beat there really isn't too much of it) has already started melting away for yours truly.
By late Tuesday, it'll fade away even more. Come Thursday, it flat out will be obliterated.
Welcome to training camp.
Let's take a moment to keep our cool before the storm that's about to hit, and reflect about how the next few days will go for the Cincinnati Bengals.
I did a little of that myself Monday ahead of what will end up being a busy week chock full of Bengals stories, Bengals blogs, Bengals analysis, one-on-one interviews, media-scrum interviews, television hits, NFL Nation TV hits (we'll run the show on Thursday this week, by the way; due to the arrival of a special guest), radio spots and football practice viewing time.
I devoted the early portion of the day to getting organized for the week and lining up ideas for the ways I wanted to attack the first NFL training camp of my career. You'll recall I didn't make it to Cincinnati in time for the start of camp last season. I was still on my old beat, covering preseason camp at Florida State for the Orlando Sentinel around this time last year. I finally walked into Paul Brown Stadium for the first time Monday, Sept. 2 -- Labor Day -- just six days before the first regular season game of 2013.
Needless to say, I'm happy I'm getting a little time this season to actually see the team work out and compete before the real action starts this year.
After reflecting over the ideas and coverage options, I spent the latter part of Monday doing some slightly different reflecting when I took in an impromptu charity event a few Bengals decided to hold on their own. There were no press releases sent about this event. It wasn't coordinated by the team's community relations department. It was simply something these five players wanted to do without someone else telling them they had to.
I had been driving through the Over-the-Rhine area of Cincinnati when I happened to pass rookie running back
James Wilder Jr
. walking down the street. Following an exchange of quick hellos, I asked him where he was headed. He told me he and a few other players were about to feed homeless Cincinnatians a few blocks away. After running a quick errand, I headed over to where he told me the event was.
Like I tweeted, I'm glad I went.
It's so easy in my business, especially this time of year, to only attach rankings and numbers and salaries and statistics to the players we cover. Sometimes you need a gentle reminder, or a little nudge to let you know they are often much more than that. These are men every bit as complex as the rest of us, and men who do want to see others around them uplifted.

Peko
After signing autographs and posing for photos with whomever around the city block wanted them, the players stood on the back of a truck's trailer bed and shared a couple of personal stories about some of the adverse conditions in their lives, and offered their reasons for wanting to be there at that moment. H-back
Orson Charles
, linebacker
Emmanuel Lamur
and defensive tackle
Domata Peko
were among those who spoke. Then, they opened up the food line.
Wilder helped hand out plates of spaghetti, meatballs, hamburgers and salad; it was food Peko's wife, Anna, spent about seven hours preparing.
Safety
George Iloka
also was there.
Hat tip to the guys at Bengals blog
Cincy Jungle
for seeing my tweets and sharing them Monday night. Also, even bigger kudos to
cn|2 Sports Cincinnati
's Kaci Kust for writing just this weekend about the group's spontaneous feedings at other times this offseason.
Here are a couple other really quick takes to know this Tuesday:
Kickoff luncheon:
The Bengals are unofficially kicking off training camp with a media luncheon later Tuesday morning that will feature all three coordinators (that includes special teams coordinator Darrin Simmons), head coach Marvin Lewis and team president Mike Brown.
Flurry of moves:
The Bengals were quite active Monday. In addition to
signing big defensive tackle LaKendrick Ross
, they also waived receiver
Alex Neutz
and
placed nine on the active physically unable to perform list
and three on the active non-football injury list. Most should be cleared by Thursday.
Dunlap's memorabilia stolen:
According to
WCIV in North Charleston, South Carolina
, where defensive end
Carlos Dunlap
is from, thieves broke into Dunlap's father's home last week and stole about $30,000 in memorabilia. The items included jerseys Dunlap had signed, and his 2008 national championship ring from when he played at the University of Florida.
July, 19, 2014
Jul 19
8:00
AM ET
Can you believe it? The summer is almost over and the end of the
Cincinnati Bengals
' offseason is at hand.
Soon, the Bengals will have a chance to start washing out the bitter taste they still have in their mouths over January's 27-10 loss to San Diego in the wild-card round of last season's AFC playoffs.
Before they get to play any games, though, the Bengals first have to set their roster. The 89 souls who will enter their locker room Thursday morning must be cut down to 53 by the end of August. How will they get to the magical 53? And who will be among those to make the cut? Well, that's a question many of you had in Part 1 of this final, pre-training camp mailbag:
@ColeyHarvey what 10 players are fighting for the last 5 spots on the Bengals 53 man roster?

— Andrew Hursh" (@Hursshhh) July 18, 2014
@ColeyHarvey
. Thanks for the question, Andrew. Since you and others have pretty similar questions in this mailbag, I'm going to take the time now to shamelessly plug an item ESPN.com ran on each of its NFL Nation blogs Friday. All 32 team reporters broke down their teams' depth charts, and offered their best guesses at what each 53-man roster will look like when it's all said and done. Here is my
Bengals projection
. Along the same lines (another shameless plug coming, my apologies), I also spent part of the summer looking at the 11 Bengals players who I consider "on the bubble" entering training camp.
To fully answer your question, I would
refer to the players outlined here
: running backs BenJarvus Green-Eliis,
Rex Burkhead
and
James Wilder Jr
., receivers
Cobi Hamilton
,
Brandon Tate
and James Wright, defensive end
Sam Montgomery
, linebackers
Dontay Moch
,
Jayson DiManche
and J.K. Schaffer, and safety
Taylor Mays
. In the individual blogs on the players, I offered odds I felt they made the team. Each of them are at positions that will feature some intriguing battles to watch.
@ColeyHarvey don't you think Moch could be the better pash rusher behind Atkins and Dunlap if he makes the roster?

— Alberto Luque (@muertedeatenas) July 18, 2014
@ColeyHarvey
. Moch certainly could bolster the Bengals' pass rushing presence, but I'd have a hard time saying right now that he's a better rusher than
Wallace Gilberry
or
Margus Hunt
. Cincinnati is aware of what Moch could bring to the table as a hybrid outside linebacker/rush defensive end. The organization signed him out of free agency for much that reason. As the Bengals try to confuse opposing lines with a series of defensive line rotations, having a player with Moch's versatility at the two levels of defense could be a big benefit. Sam Montgomery presents a little bit of that versatility, as well, although he's more of a true end than Moch is.
Right now I don't have Moch making the team, but you never know what could happen. His length -- he's 6-foot-2 with long arms and range -- makes him an intriguing option for the many rotations the Bengals hope to enact. But again, Gilberry -- who tied with
Carlos Dunlap
for the team lead in sacks last season -- can't be completely dismissed. Neither should Hunt, who ought to have greater playing time than he did a "redshirt" last year.
@ColeyHarvey Who has the better shot of making the team, either Practice or 53-man. Wright or Wilder?

— Scott Hulett (@ScottHulett1) July 18, 2014
@ColeyHarvey And can they really afford to let either walk and join another squad?

— Scott Hulett (@ScottHulett1) July 18, 2014
Interesting questions, Scott. If I had to choose between the two, I'd pick James Wright right now. That's primarily because of the special teams benefit he provides, as well as the impressive play he consistently had on offense during minicamps and organized team activities this spring. Coaches certainly like him, as they do James Wilder Jr. The problem for Wilder is that he's at a position that's already chock-full of versatile talent. Both
Cedric Peerman
and Rex Burkhead could factor into the Bengals' special teams plans, making them that much more marketable in the battle for the final running back roster spots. Wilder also has some special teams experience, playing on coverage units in college at Florida State, but it just seems that Wright's exploits in that area are universally accepted as being better.
To answer the second part of your question, right now, I don't think the Bengals can really afford to let either walk. In the event the Bengals hold on to Green-Ellis and allow him to play out this final year of his contract, it would be important to keep Wilder around. The young, physical runner would then be able to fill Green-Ellis' spot next season. Essentially, I could see them giving Wilder a year to "redshirt" to get a little more polished ahead of 2015. Wright's aforementioned abilities also make him an ideal candidate to remain part of the team.
@ColeyHarvey Which players are primed for a breakout 2014 season in your opinion?

— Shawn Coleman (@SColeman8109) July 18, 2014
@ColeyHarvey
. You could come up with any number of answers to this question, Shawn. But I think we'll certainly see rookie running back
Jeremy Hill
break out this year. I could see first-round pick
Darqueze Dennard
play well in a backup cornerback role, too. That's particularly if a player ahead of him on the depth chart goes down with an injury (which, as we saw last season, isn't out of the realm of possibility) he would be asked to play a key role for the defense. His reputation as a shutdown corner helped him get to the NFL, and that style of play should help him turn heads in this first year. Tight end
Tyler Eifert
seemed poised for a productive year, as do the ends Dunlap, Gilberry and Hunt. Also, as I've said before, don't be surprised if quarterback
Andy Dalton
plays consistently better in offensive coordinator Hue Jackson's system. Oh, and I might as well include former onetime-undrafted free agent
Vontaze Burfict
since his two-year career has been defined by breakout seasons.
July, 16, 2014
Jul 16
3:15
PM ET
Late last month and earlier this month we began taking a look at 11
Cincinnati Bengals
who could soon be on the dreaded training camp roster bubble. Camp opens next Thursday.
We had a bit of an interruption, but here is one of the final two players on our bubble watch. Each of the players on this list are ones we think you should expect to see fighting for spots when the eventual 75-man preseason roster gets trimmed to the regular-season 53.
Green-Ellis
As permitted by league rules, the roster currently stands at 89.
Here are links to the nine players who we already analyzed:
Taylor Mays
,
Brandon Tate
,
James Wilder Jr.
,
Cobi Hamilton
,
J.K. Schaffer
,
Dontay Moch
,
Sam Montgomery
,
Jayson DiManche
and
Rex Burkhead
.
Up right now:
BenJarvus Green-Ellis
. One more on the way Thursday.
Why he's on the bubble:
Do I really have to answer this? If you've been following along the past two months you know quite well that BenJarvus Green-Ellis' future in Cincinnati looks extraordinarily cloudy. Ever since the Bengals picked
Jeremy Hill
in the second round of May's draft, conventional logic has said that the veteran Green-Ellis no longer has a place on the team. Hill's drafting coincides with Green-Ellis entering the final year of a three-year deal. After lacking production last season, it stands to reason the Bengals are more willing to build for their future, instead of giving a vet like Green-Ellis an opportunity to continue playing. That's the signal Hill's selection sent, at least. Publicly, the Bengals maintain Green-Ellis has a place on this team and that they believe he can contribute. During minicamps and organized team activity practices, though, he was relegated in some cases to third- and fourth-back status, playing behind the likes of Hill,
Giovani Bernard
and a combination of
Cedric Peerman
and Rex Burkhead. Green-Ellis has been playing for his job since May, and he'll continue to do so when the Bengals return next week.
What he has to do to get off the bubble:
On the carries that he receives both in practices and in preseason games, Green-Ellis will have to prove he still has a little home run ability. By rushing for a career-low 3.4 yards per carry last season, Green-Ellis seemed to indicate that his age -- he just turned 29 -- was beginning to catch up to him, and that he wasn't quite the same big-play threat he was even a year prior. In 2012, he had 10 runs in which he gained 15 yards or more. In 2013, he rushed for 15 yards or more on only two carries. It's worth mentioning that Green-Ellis had injuries last season that slowed him some early on. That aside, if he can show off a propensity for picking up big yards this training camp, he might be able to stave off the push Peerman, Burkhead and Wilder certainly will give him. If the Bengals decide to take just four running backs, better big-play production could help Green-Ellis ensure he's part of that group. He also will need to showcase the hands that made him such a valued running back at the start of his career. Through his first four years, Green-Ellis didn't fumble the ball once in a regular-season or postseason game. He's done it five times in the past two seasons. He also caught only four passes in 2013 after having 22 receptions the year before. As the Bengals look to get their running backs more involved in the passing game, Green-Ellis will want to stand out in that regard, as well.
Odds he makes the team:
Low. While I'm inclined to go 50/50 here, I'm beginning to think that deep down the Bengals have seen the writing on the wall. They like Burkhead's work ethic and potential, they value Peerman's versatility on offense and special teams and they may like the one-two punch Bernard and Hill could give them atop the running back depth chart. It seemed rather telling when Green-Ellis barely saw less action during the spring practice season than some of his aforementioned counterparts. He has the experience and leadership that can be invaluable to a team with a backfield as young as Cincinnati's, particularly in the playoffs. There are reasons to keep him, but the reasons for dumping him seem more compelling right now.
June, 28, 2014
Jun 28
10:00
AM ET
For the next six days we're taking a look at
Cincinnati Bengals
who could be on the dreaded training camp roster bubble later this summer. These are players whom we think you should expect to see fighting for spots when the eventual 75-man preseason roster gets trimmed to the regular-season 53.
As permitted by league rules, the roster currently stands at 89.
[+] Enlarge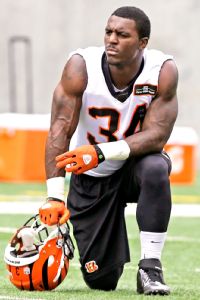 AP Photo/Al BehrmanJames Wilder Jr. is fighting for a roster spot as one of the Cincinnati Bengals' running backs.
We're not going in any particular order. After starting with
Taylor Mays
on Monday, then
Brandon Tate
on Tuesday,
J.K. Schaffer
on Wednesday,
Cobi Hamilton
on Thursday, and
Rex Burkhead
on Thursday, we turn next to running back
James Wilder Jr.
:
Why he's on the bubble:
As we mentioned in Burkhead's post, the Bengals' running backs have arguably the highest percentage of players on the training camp bubble. It's because they had so many during organized team activities and minicamp, and have relatively few spots that are truly available. Of any player in this "Bubble Watch" series, though, perhaps no player is more clearly in a practice-squad scenario than Wilder. Only playing three years of college ball in a system at Florida State that operated on a shared-carries routine, Wilder still is a little raw for the NFL. He's got the instincts, size and vision to play at this level, but a little more polishing would help the undrafted free agent become even better. Where the "bubble" comes into play has to do with whether the Bengals decide if he is purely practice-squad material, or if they feel it best to simply part ways with him during training camp. For now, the former appears to be the case.
What he has to do to get off the bubble:
Unlike the others we're looking at here, there really is no way for Wilder to get off the bubble. Unless he starts running faster than second-round pick
Jeremy Hill
and showcases better hands than him, there's no reason to believe Wilder will end up cracking the 46-man game roster by the start of the season. Circumstances occur and injuries happen, though, meaning he has a shot to be called up if the right situation presents itself.
Odds he makes the (practice squad):
Very high. We amended this section of the Bubble Watch specifically for Wilder, since it's quite doubtful here in late June that he ends up making a 46-man game-day roster. Because he is a bit of a project, it would make sense for the Bengals to hold on to him for practice-squad purposes, assuming they feel confident no other team would want to snatch him away and do the same. If Wilder progresses as a "redshirt," he could give the Bengals a unique addition to their backfield plans in 2015. A three-man rotation certainly would be in the cards at that time. New offensive coordinator Hue Jackson used three backs somewhat regularly in his last coordinator's gig in Oakland, and hasn't said one way or the other if he'll employ that back-field setup again this season. With
BenJarvus Green-Ellis
possibly sticking around and
Cedric Peerman
and/or Rex Burkhead joining Hill and Bernard, the Bengals definitely will have enough backs to set up a three-man rotation.
June, 21, 2014
Jun 21
9:00
AM ET
Now that the
Cincinnati Bengals
' springtime practices have ended, we turn to the portion of the offseason when we look for just about anything to discuss and debate until training camp begins.
As a result, this week's post-practice mailbag doesn't begin by discussing any of the team's starters. Instead, we open by chatting about a pair of rookies who likely won't see any real game action this season. These two rookies are certainly worth the attention, though.
(By the way, programming note: if you didn't get your question asked this week, it has been rolled into next week's mailbag. Oh, and get any other submissions for next week's mailbag in early. I'm giving you until noon ET on Tuesday. Hashtag your question #Bengalsmailbag so I see it. I'll be on vacation late next week, but want to answer your questions.)
@ColeyHarvey Assuming you got to see him workout, what is your take on A.J. McCarron?

— D.J. Wells (@DwellsD) June 20, 2014
@ColeyHarvey
. I like AJ, D.J. Granted, we only really got a chance to see the rookie quarterback compete for one of the four weeks of organized team activities and minicamp, but still, he was as impressive as he could be in shorts and a helmet. He didn't get a chance to pass early in the OTA schedule because of an arm injury that had him limited just after his arrival following the draft. But by the end of the first week when he did finally throw, you could see where some of the Bengals' offensive concepts were beginning to make sense. The former Alabama signal-caller didn't think quite as much when determining which read he needed to make in various 7-on-7 and 11-on-11 drills. One thing that also impressed me was the amount of work he regularly put in after practice. After Monday's OTA, he walked back in the locker room a good 30 minutes after practice concluded. That's not a surprising trait, but one I definitely took notice of. That post-practice work reminded me of another quarterback I covered when I was on the beat covering Florida State: the recently transferred and current Alabama quarterback Jacob Coker. While they didn't overlap at Alabama, Coker and McCarron did play together in high school. Maybe they just teach that post-practice work ethic in Mobile, Alabama.
@ColeyHarvey What's the word on Wilder and how do you see him fitting in at RB?

— Swampy Heartland (@SwampyHeartland) June 20, 2014
@ColeyHarvey
. Another player I had a chance to cover at FSU,
James Wilder Jr
. was the thunder in the Seminoles' thunder, lightning and rainstorm trio of Wilder,
Devonta Freeman
and Karlos Williams. While it was clear where Wilder fit when he came to college and proclaimed that he was a running back and wanted nothing to do with playing linebacker, it's not quite as certain where he fits in the Bengals' plans. He was added as an undrafted free agent along with defensive-tackle-turned-fullback
Nikita Whitlock
.
Jeremy Hill
also came to Cincinnati last month, taken with the 55th overall pick in the draft. Since Hill appears slated to get a number of reps alongside
Giovani Bernard
, and since backs like
BenJarvus Green-Ellis
,
Cedric Peerman
and
Rex Burkhead
also are part of the Bengals' plans for now, there doesn't seem to be much of a role for Wilder on the active roster. For that reason, plus the fact he still needs a little refining for the NFL, my guess is he begins the year on the practice squad, but that'll be a tough decision to make. Why? Because on Thursday Wilder tweeted that he broke the Bengals' conditioning test record. You don't want to run the risk of letting go of such an already finely tuned rookie back if you can help it.
@ColeyHarvey How will the carries and targets be distributed this season with the new offense? #Bengals

— Carp (@Carp513) June 20, 2014
@ColeyHarvey
. Interesting question, Carp. Honestly, I can't tell you how the carries and targets will be broken down. At the end of a week that's been all about playbooks in the NFL, the Bengals haven't given me theirs. My educated guess is Bernard and receiver
A.J. Green
will play their anticipated big roles. But
Marvin Jones
,
Mohamed Sanu
, Hill,
Tyler Eifert
,
Jermaine Gresham
and presumably Green-Ellis, will all play complementary roles, too. The short of it: look for the same type of balance you saw last season, just maybe with a few more run plays. I do anticipate Sanu having a greater role than he did last year.
@ColeyHarvey with the departure of Hawkins is Sanu in line to be the designated slot receiver? Seems like the role best suited to his skills

— Rob - Oskar Blues (@RobOskarBluesOH) June 20, 2014
@ColeyHarvey
. How's that for a segue? Yes, I'd say that Sanu is in line to receive the bulk of the Bengals' catches in the slot. I actually hinted I felt that way in this
Bengals factoid about Sanu's slot production
. Of his 47 receptions last season, 48.9 percent came while he was lined up in the slot. That was a higher percentage than any other Bengals receiver had last year. Add that to Sanu's possible increase in speed -- receivers coach James Urban told me earlier this week he thought Sanu was faster -- and it makes sense he gets the bulk of the Bengals' passes in the slot. That said, though,
Dane Sanzenbacher
seems to better fit the mold of the stereotypical shifty, speedy and smaller "slot" receiver.
@ColeyHarvey are any of them watching the World Cup and who are they rooting for?

— Ramón D. Salgado (@ramon_d_s) June 20, 2014
@ColeyHarvey
. Nice question, Ramon. My friend Kaci Kust of cn|2 Sports in Cincinnati has a more expansive answer
in this package
, and it's clear a few Bengals are paying attention. Defensive tackle
Domata Peko
and cornerback
Leon Hall
are among the biggest soccer fans on the team. Peko -- who reminded reporters this week that his native American Samoa had the worst World Cup qualifying loss in history; 31-0 to Australia in 2011 -- has been tweeting his support for the United States. He also came to the Bengals' facility Monday wearing an Didier Drogba's Ivory Coast jersey. That same day, Burkhead wore a U.S. World Cup jersey.
May, 17, 2014
May 17
9:00
AM ET
One of the most asked questions
Cincinnati Bengals
fans and pundits have posed since the team drafted
Jeremy Hill
last Friday night has been this one: What now for
BenJarvus Green-Ellis
?
It's a good question, because on the surface, it appears that his time in stripes might have neared its end. With another running back in the fold and a few others coming in as undrafted free agents, the Bengals have made it known that they plan on taking a deeper look at their run-game plans this offseason, and figuring out if there are any better options than Green-Ellis at running back.
As we get into this Saturday edition of the Bengals mailbag (look for a Part 2 on Sunday), we discuss what might happen at the running back position given last week's news:
May, 16, 2014
May 16
8:00
PM ET
CINCINNATI -- The year
Jeremy Hill
joined LSU's football program, he wasn't expected to do much.
At the start of the Tigers' preseason camp in 2012, he was considered, at best, to be the team's fifth running back.
But before too long, those perceptions would change. He finished the year as LSU's primary rushing weapon and was one of its top overall playmakers.
That is why as Hill begins embracing the idea of having to compete for a roster spot, he doesn't appear too worried.
[+] Enlarge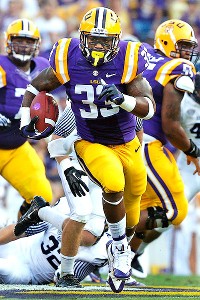 AP Photo/Bill HaberPower running back Jeremy Hill is confident he can carve out a role in the Bengals' attack.
"It can only elevate your game," Hill said of the competition. "We have a bunch of guys, especially veterans who know what their doing and new guys who are coming in with the same knowledge as you, you get it from all angles. So you've got guys competing as rookies, and you're competing with the vets, as well. Just the more the merrier for me, because it just ups my level of play."
He'll be joined in the backfield battles by
BenJarvus Green-Ellis
,
Giovani Bernard
,
Cedric Peerman
and
Rex Burkhead
, and undrafted free agents Jeff Scott and
James Wilder Jr
.
Much has been debated since last weekend's draft about what Hill's selection meant for Cincinnati's ballcarriers, specifically Green-Ellis. It has widely been viewed as a sign that Green-Ellis will be released at some point this offseason. With a cap savings of $2.5 million, Green-Ellis' release would add to the Bengals' available salary-cap space. That figure sits just shy of $24.5 million, but much of it is expected to be occupied on contracts for quarterback
Andy Dalton
and linebacker
Vontaze Burfict
.
With the Bengals needing to sign Dalton, Burfict and the eight draft picks soon, that $24.5 million, plus the potential $2.5 million cap savings a Green-Ellis cut could provide, will evaporate quickly.
Whether Green-Ellis gets cut is a moot point. The Bengals have specified their interest in wanting to keep him around, and continuing to give him opportunities to prove he belongs.
Wilder could be one of the young undrafted running backs who makes the team. He fits a lot of what the Bengals are looking for in terms of running style, strength and size.
"They want physicality, and I feel I can bring that to the table," Wilder said. "They already had it, but bringing even more of it to the table with a few of us younger guys should help bring even more firepower into the backfield."
At Florida State, Wilder was used in a multi-back system and was the bruiser of the bunch.
For Cincinnati, Bernard provides the lightning in an offense that is predicated on getting the ball in the playmaker's hands. Green-Ellis is a physical runner, but didn't have a rush for more than 25 yards last season. Hill is a bigger back who can break long runs on the edge, dive ahead in between the tackles and catch passes. Wilder can do some of those things, too.
According to Hill, the veterans are helping out the younger players and helping them understand the way the organization and the NFL works.
"I'm just picking up anything I can from those guys as far as advice and understanding plays," Hill said. "That will all be helpful and it'll help build great camaraderie in our running back room."
Among the most helpful to Hill? Green-Ellis, he says; the player whose job he is out to take.
May, 12, 2014
May 12
5:20
PM ET
CINCINNATI -- At the same time they announced backup quarterback
Josh Johnson
's release Monday afternoon, the
Cincinnati Bengals
named the 10 undrafted free agents they signed to post-draft contracts. Six were running backs or offensive linemen.
The heavy emphasis on the backs and linemen followed true to the team's run-inspired offensive philosophy. Newly promoted offensive coordinator Hue Jackson has made it quite plain since January he intends to have the
Bengals run the ball more often
and more effectively this season.
Two of their draft picks from the weekend, second-round running back selection
Jeremy Hill
and fourth-round center
Russell Bodine
, were good examples of that. Hill is a physical runner who can also make defenders miss, and Bodine is a physical lineman praised for his strength. His 40-plus bench reps at the combine had draft analysts pegging him as one of the strongest players in the entire draft.
Hill and Bodine will be joined by the likes of offensive tackle Curtis Feigt (West Virginia), offensive guard Dan France (Michigan State), tight end/fullback Ryan Hewitt (Stanford), offensive guard Trey Hopkins (Texas), defensive tackle-turned-fullback Nikita Whitlock (Wake Forest) and running back James Wilder Jr. (Florida State). Of that group, Wilder might have the most recognizable name. The back was used in tandem at FSU with
Devonta Freeman
and Karlos Williams as part of a multi-back system.
With
BenJarvus Green-Ellis
still on the roster, for now at least, it appears the Bengals are going to implement a similar multi-back scheme this season headed by
Giovani Bernard
. If Green-Ellis sticks, he and Hill likely would split the bulk of the remaining carries.
Along with those additions, the Bengals also added through post-draft free agency receivers Colin Lockett (San Diego State) and Alex Neutz (Buffalo). Defenders James Davidson, a linebacker from Texas-El Paso, and safety Isaiah Lewis of Michigan State, rounded out the group of undrafted free agents.
The rookies were each scheduled to report Monday for physicals.
Here's a list of the players with their heights and weights, colleges and hometowns:
" James Davidson, LB, 6-3, 242; Texas-El Paso; Huntsville, Texas
" Curtis Feigt, OT, 6-6, 307; West Virginia; Berlin (Germany)
"
Dan France
, G, 6-5, 300; Michigan State; North Royalton, Ohio
"
Ryan Hewitt
, TE-FB, 6-4, 246; Stanford; Denver, Colo.
"
Trey Hopkins
, G, 6-3, 307; Texas; Galena Park, Texas
"
Isaiah Lewis
, S, 5-10, 211; Michigan State; Indianapolis, Ind.
"
Colin Lockett
, WR, 5-11, 188; San Diego State; Diamond Bar, Calif.
"
Alex Neutz
, WR, 6-3, 214; Buffalo; Grand Island, N.Y.
"
Nikita Whitlock
, FB, 5-10, 251; Wake Forest; Wylie, Texas
"
James Wilder Jr.
, HB, 6-3, 232; Florida State; Tampa, Fla.