Cincinnati Bengals:

Jason Verrett
May, 6, 2014
May 6
6:30
PM ET
CINCINNATI -- Take a good, hard look at the
Cincinnati Bengals
' defensive backfield and what do you see?
Age and experience, yes. But what else?
A slew of former first-round draft picks.
Leon Hall
,
Adam Jones
,
Terence Newman
,
Dre Kirkpatrick
and
Reggie Nelson
are all Bengals defensive backs who were selected in the first round. Free-agent addition
Danieal Manning
wasn't far behind them, either, going 42nd overall in the second round in 2006.
No, not all of those players began their careers with the Bengals and the jury is still out on how the youngest member of the crew, Kirkpatrick, will ultimately fare. Regardless, the number of former first-round picks in Cincinnati's secondary indicates just how much the Bengals value those who play those positions, especially cornerback.
"Quarterback and cornerback are the toughest positions to play in the league," Bengals coach Marvin Lewis said during a pre-draft news conference Tuesday. "If you're not good enough there, everyone else suffers. And there's no way to mask it. It takes certain rare ability to play those two spots. To play cornerback on defense, to run with a guy that can be bigger than you, can be faster than you, knows where he's going and you've got to run with him and you've got to defend him and you can't touch him.
"Other than that, it's an easy job."
The Bengals will be looking for at least one cornerback in the NFL draft that begins Thursday night. A cursory read of the Bengals' draft needs suggests that when they pick near the end of the first round at No. 24, they will snag a corner.
Which corners could be there? Well, the list is exhaustive, but it primarily features any one of five names:
Darqueze Dennard
(Michigan State),
Justin Gilbert
(Oklahoma State),
Kyle Fuller
(Virginia Tech),
Jason Verrett
(TCU) and
Bradley Roby
(Ohio State). It all depends on how highly the Bengals have each one of those players rated and which ones are available when they make their pick.
In Tuesday afternoon's
ESPN.com NFL Nation mock draft
, I was surprised to find cornerback Kyle Fuller still on the draft board deep into the first round. Granted, our little experiment may not be an adequate reflection of what will end up happening Thursday night, but I thought it did give a strong glimpse into how each team might think when draft day comes.
I'll admit, I thought briefly about trading up after Dennard went extremely early at No. 10 overall to Detroit. But when another corner wasn't picked until the Packers took Gilbert at No. 21, I had a good feeling that either Fuller or Jason Verrett would be on the board. I should note, this draft was about what we as NFL Nation team reporters think the various teams WILL do Thursday. Not what we think they should do. Cincinnati's recent history shows that the franchise isn't too keen on wheeling and dealing and making big draft-weekend trades. In fact, the Bengals are largely more remembered for their trade busts than for ones that were successes, like 2012's move down that landed them offensive guard Kevin Zeitler.
So I tried to stay true to my guns and not make a move, even after an enticing overture from the Vikings for the No. 40 overall pick early in the second round, and possibly another in the third. (We didn't get far enough along in trade talks to determine what the pick behind No. 40 would have been.)
Anyway, I reference all of that to say, there could be a cornerback available in the first round to keep the trend going.
"That's a tough position," Lewis said. "I've been fortunate in the league to be around a bunch of good corners, and most of them came in the first round. I feel pretty good about that."
Safety also has been an option for the Bengals in this draft, as they look to add as much speed and cover ability to their defensive backfield as possible. As more NFL teams adopt the multiple-receiver spread offenses that have been such a big part of college football the last decade, there is a need to have safeties who can cover and bigger corners who can play both on the inside and outside to help negate some of those passing options.
"I've been that way philosophically for a while," Lewis said, referring to his desire to have bigger corners and cover safeties. "It's to my upbringing and so forth in the NFL, where we've had safeties that way that could also do that. We've been that way since I've been here, and the trend will continue that way because the trend in college football is that way. So these guys are becoming more of big corners with the style of coverage, the style of offense and the things that people are playing."
Some options at safety for the Bengals could include
Ha Ha Clinton-Dix
(Alabama),
Calvin Pryor
(Louisville),
Terrence Brooks
(Florida State),
Jimmie Ward
(Northern Illinois) and
Deone Bucannon
(Washington State).
May, 6, 2014
May 6
9:15
AM ET
The question posed above is one I can assure you the
Cincinnati Bengals
have thought about a few times during this incredibly long draft process, and it's one that could surface Thursday night.
In his
latest mock draft

that appeared Monday, ESPN draft insider Todd McShay crafted a 32-pick scenario that was heavy on corners, putting the Bengals at No. 24 into a bit of a bind with their pick.
[+] Enlarge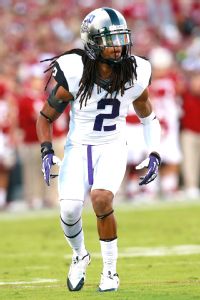 Tim Heitman/USA TODAY SportsJason Verrett had a productive career at TCU, but he lacks prototypical measurables.
McShay's Mock 6.0 requires ESPN Insiders access, so for the non-subscribers I can only say this about it: when Cincinnati's pick comes up, the draft's top 3 cornerbacks --
Darqueze Dennard
,
Justin Gilbert
and
Kyle Fuller
-- are all gone. A pair of highly valued receivers and safeties were gone, too. As was outside linebacker
Ryan Shazier
.
So who did the Bengals end up taking?
McShay went with the speedy
Jason Verrett
. Part of me really likes the pick simply because of what I've seen from Verrett and what I've heard about him. Maybe I just like fast players who have a tendency to be undervalued primarily because they're a little shorter or weigh less than some of their counterparts. (Now you know a reason why I liked Andrew Hawkins so much.) Maybe I just like a good underdog. I believe Verrett's blue-collar persona and physical tools are a rare combination. I personally believe he'll have a fulfilling career, wherever that is.
Having said all of that, I'm not so sure the Bengals automatically draft Verrett at 24 just because all of the other corners are gone. The more I've thought about it, the more I believe such a move could scream panic. And the Bengals' draft philosophy the past four years has been anything but panic. The team has made shrewd, calculated moves that at times might not make much sense, but in the end, typically prove to be the right ones.
While adding Verrett would address a need, he wouldn't necessarily address an immediate impact need. For now he's a slot corner, one who would be good to have as an insurance policy in case something happens to
Leon Hall
. When it comes to playing corner on the outside, though, he could be a year or two away. With boundary corner
Terence Newman
potentially retiring after this season, the Bengals likely will need an outside corner sooner than they will need someone to take over in the slot.
Still, that doesn't diminish my man-crush on Verrett.
So if the Bengals don't go with Verrett at 24, who might they pick in a draft where cornerbacks come off the board quickly? They instead will turn to the best player available and pick the most athletic player who best suits their other needs. And no, at No. 24,
Teddy Bridgewater
is not that player. No quarterback is, for that matter.
One name that has kind of dropped off the radar who I could see at No. 24 is defensive end
Dee Ford
from Auburn. He has impressive game tape and turned heads at the combine in February. He also could be a good fit as a rush end in the Bengals' multiple defense that figures to have a heavy emphasis on getting ends and outside linebackers regularly into the backfield. He could also aid in depth at end, particularly as the franchise starts looking for players to pair with
Margus Hunt
and
Carlos Dunlap
. Veteran
Robert Geathers
, who was slowed by a serious injury last year, turns 31 during training camp and could be nearing the end of his career.
Ford was still available on McShay's mock draft board at 24. UCLA outside linebacker
Anthony Barr
also was surprisingly still on McShay's board.
It's just something else to ponder as we enter the two-minute drill of the pre-draft process.
May, 4, 2014
May 4
2:40
PM ET
Alright, folks. We're bringing the power to the people ... you.
The
Cincinnati Bengals
are on the clock in our NFL Nation mock draft, and I'm looking for a little help. With the No. 24 overall pick, who do you think they select?

On Tuesday, the entire 32-reporter NFL Nation team will execute its lone pre-draft mock. When it comes to making the Bengals' pick, I want your input. I already know who I probably would draft, but in order to make this a fun and interactive experiment, I'm looking for some help from you.
Down below you'll find five names who I've singled out as targets for the Bengals' first-round pick. Select a name and tweet it to me
@ColeyHarvey
or email me at
coley.harvey@espn.com
. You don't have a lot of time, either. Make your pick by 6 p.m. ET Sunday. There's no grace period, either. (OK, if it's in at 6:01 p.m. ET, I'll accept it. But not 6:02!) I'll tabulate all your votes and see how well your selection matches up with mine. Chances are, you're probably thinking like I am.
We, as the Bengals collective of NFL Nation, will use that pick (so no funny business. Serious picks, folks) for the mock draft that you'll see on ESPN.com on Tuesday. Speaking of Tuesday, we'll have an all-draft bonanza here that day. Check back all that day not only for our NFL Nation mock, but check back to also participate in our live pre-draft Spreecast chat. Yours truly and Raiders reporter Paul Gutierrez will be joined by a pair of other NFL Nation reporters for that live video chat. Both our guests cover teams with top-5 picks. More details on that Tuesday. The draft starts at 1 p.m. ET. The Spreecast will be a little later than normal at 4 p.m. ET.
In the meantime, here are the five names you're allowed to send me via Twitter or email:
QB Teddy Bridgewater, Louisville
The Bengals have reasons to be interested in him, but will they really draft him at No. 24? Will he even be around at 24?
CB Kyle Fuller, Virginia Tech
The cornerback fits an area of need for the Bengals. He's known for his ability to stay with receivers and to hit hard in run support.
CB Jason Verrett, TCU
More of a slot corner because of his smaller 5-foot-9, 189-pound frame, he has the speed (4.3 in the 40) to challenge some of the fastest receivers in football.
CB Bradley Roby, Ohio State
A pre-draft citation may have cooled the chatter around Roby, but the risk-taking cornerback is regarded among the top 5 corners in a draft that's full of talent at the position.
OLB Ryan Shazier, Ohio State
Another Buckeye, Shazier could fill the Bengals' needs for an extra outside linebacker and rusher. He had six sacks and 133 tackles as college junior in 2013.
April, 28, 2014
Apr 28
9:30
AM ET
CINCINNATI -- In years past, NFL reporters like myself would be spending this Monday wrapping up draft coverage and preparing for a possible rookie minicamp this coming weekend.
But not in 2014. This is the year of the May draft. It could be the first of many.
We hope not.

ESPN's NFL Nation reporters had a chance last week to chat with ESPN draft insider Todd McShay as we continue our coverage leading up to this later-than-usual draft. Unfortunately, we ran out of time before I could sneak in a Bengals question or two to McShay, but thankfully my colleague
Eric Williams
covers a team with similar draft needs and a pick in a similar spot in the first round.
The
San Diego Chargers
own this year's 25th pick; one place behind the Bengals at No. 24.
Eric's question about breaking down cornerbacks who could be available late in the first round wasn't far off from the one I had in mind. So, with Eric's blessing, we're using McShay's comments here. If you're so inclined to see where things stand with the Chargers and their cornerback concerns, you can
read Eric's post from Friday
.
As for what McShay had to say about
Jason Verrett
(TCU),
Bradley Roby
(Ohio State) and
Kyle Fuller
(Virginia Tech), read on. These are the most likely cornerback options the Bengals will see when they make their pick. None of these four is expected to be around when the Bengals make their second-round pick at No. 55. Most mock drafts this offseason have had the Bengals taking a cornerback in Round 1.
McShay on Fuller: "Kyle Fuller is probably the best route [technically for the Chargers at 25, but this could apply to the Bengals at 24 just as easily] because he's a complete player. He's versatile in that he can play man and he can play zone. He can get physical with receivers."
McShay on Verrett: "He's one of my favorite players in the draft. But he's 5-9 1/2 and 189 pounds. He's got the 4.38 speed [in the 40-yard dash] and he's as tough as nails. He'll knock you out like he knocked out [Texas Tech tight end] Jace Amaro, and he can mirror against the most explosive receivers like he did against LSU's Odell Beckham. But he's still 5-9 1/2 and 189 pounds. And he's got 30 5/8-inch arms. So, to me, he's probably, at least early in his career, a slot-cover corner that can maybe earn his way to the perimeter."
McShay on Roby (who was charged last week in Columbus, Ohio, for operating a vehicle while impaired. He's since denied on social media accusations he was drunk and driving, and made it clear he wasn't arrested): "I actually think he might be the most athletic corner in this draft. I just would be real nervous to pull the trigger on him because I just don't know what I'm getting. He's a young man that has some growing to do. He's got to become more focused, and there's just a lot of inconsistent tape on him. ... Now, he wasn't all that well coached. With the right coaching and teaching him how to use his eyes properly, I think he can improve. But then he's got to make the decision that he's going to work hard to become disciplined enough with his eyes, and to trust his eyes. So he's a wild card. He could be the best defensive back five years from now. Or he could wind up becoming another first-round cornerback that doesn't pan out in this league because he didn't do what he had to do mentally from a preparation standpoint. He's a classic boom or bust."
So with all of this in mind, who would you take, Bengals fans? Fuller, Verrett or Roby?
April, 27, 2014
Apr 27
9:00
AM ET
Part 2 of this weekend's
Cincinnati Bengals
mailbag begins with a pointed question from one of our readers.
I like pointed questions.
Before you read my answer below, I'm going to ask you to ponder it for yourselves: At this point in the offseason (before the draft), do you think the Bengals are still the front-runners in the AFC North?
While you think of your answer, check out my response to that question and others:
April, 25, 2014
Apr 25
10:00
AM ET
A day-by-day look this week at five position groups where the Cincinnati Bengals have draft needs. We started with quarterbacks, then looked at defensive ends, outside linebackers and running backs. Now we continue with defensive backs.
Defensive backs lost:
CB
Brandon Ghee
, signed with San Diego in free agency.
Defensive backs added:
CB
R.J. Stanford
, signed as a free agent who spent 2013 at Miami. DB
Danieal Manning
, signed after being cut by Houston.
Draft likelihood:
High.
Rounds drafted?
Any.
Analysis:
No set of positions have garnered more pre-draft attention on the Bengals beat this offseason than cornerback and safety. For starters, in a league that increasingly favors quarterbacks who can sling it to tight ends and receivers who keep getting bigger and bigger, it's necessary for any defense to have players who have the speed to keep up with and tackle those athletic offensive players on the back end. It's particularly necessary for the Bengals to bring in as many defensive backs as their roster will reasonably hold because their stars at the cornerback position primarily, are getting older.
Terence Newman
, 35, is entering the final year on his contract.
Adam Jones
will turn 31 during the season.
Leon Hall
, who has battled serious injuries two of the last three seasons, will be 30 later this year, too. Cincinnati has to have an eye on the future there.
The Bengals also have to watch out for their long-term interests at safety. Young players
George Iloka
and
Shawn Williams
appear to be well in those future plans, and seven-year player
Reggie Nelson
, 30, figures to be in Cincinnati a little longer, too. Signed to just a one-year deal, the Bengals seem curious to see how well the 31-year-old Manning bounces back this year after missing most of last season in Houston with a knee injury.
So it stands to reason in this draft, which primarily is about adding depth, the Bengals will be using one of their early picks on a defensive back. With so many good cornerbacks available early in the draft, it wouldn't be too surprising if they made a move to take one with their first-round pick at No. 24. It's quite possible that some combination of
Darqueze Dennard
(Michigan State),
Justin Gilbert
(Oklahoma State),
Bradley Roby
(Ohio State),
Jason Verrett
(TCU) and
Kyle Fuller
(Virginia Tech) will be around when the Bengals pick. ESPN's draft team considers those the top five corners in this year's draft. Once they all get selected, though, the pool begins to dry. Florida State's
Lamarcus Joyner
and Nebraska's
Stan Jean-Baptiste
could be second-round options, too, if the Bengals use the first-round pick on another position. It's doubtful, though, that either will fall all the way to 55th overall, where the Bengals make their second selection.
It's also possible the Bengals could go after a safety with one of their first two picks. While the group of safeties isn't quite as top-heavy as the cornerbacks, it's still arguably one of the strongest position groups in this draft class. At a point, it becomes all about philosophy. The Bengals have to go with the best available player who will match their defensive needs. On paper, Fuller seems to be that guy. Verrett would be an option, too, if the Bengals want to start shoring up their slot corner depth with a true speedster.
Potential picks:
Darqueze Dennard (Michigan State), Justin Gilbert (Oklahoma State), Bradley Roby (Ohio State), Jason Verrett (TCU) and Kyle Fuller (Virginia Tech), Lamarcus Joyner (Florida State), Stan Jean-Baptiste (Nebraska),
Calvin Pryor
(Louisville),
Jimmie Ward
(Northern Illinois),
Terrence Brooks
(FSU).
April, 19, 2014
Apr 19
9:00
AM ET
Normally we would be spending this weekend putting a few finishing touches on the last few pre-draft stories and blogs.
But alas, there are no finishing touches being placed down this Saturday and Sunday. Thanks to a draft process that's ending in May instead of the traditional April, you'll be seeing much more pre-draft coverage for another two weeks.
The long march to May 8 continues.
Many of you have grown more curious lately about what the
Cincinnati Bengals
' draft plans might be and are anxious about understanding why they might take a slot cornerback over an offensive lineman with their first-round pick, or draft a defensive end instead. I'm here to answer those questions in Part 1 of our two-day Bengals mailbag. The second part will deal with issues related to players currently on the team.
April, 16, 2014
Apr 16
9:00
AM ET
As we get this Wednesday started, here are four recent
Cincinnati Bengals
storylines (plus one personal plug) to ponder. Let's start it off by chatting about draft-hopeful cornerbacks and their visits to Paul Brown Stadium:
1. Visiting corners.
Reports have trickled out in the last two weeks linking the Bengals to visits with a host of soon-to-be-drafted players. Chief among them seem to be cornerbacks, namely the types of cornerbacks who could still be available when the Bengals make their first-round pick at 24th overall. TCU's
Jason Verrett
, Michigan State's
Darqueze Dennard
and Virginia Tech's
Kyle Fuller
are most recognized corners who have reportedly come to Cincinnati to chat with coaches and ownership, and to perform in controlled workouts. So what do the visits mean? They are clear signs the Bengals are at least interested in those players and may be flirting with the idea of taking one of them with the first-round pick. They also are signs that Cincinnati's staff believes their "best-available" philosophy has to include cornerbacks this season since there are so many good ones for the picking.
2. Who should the Bengals pick?
That's the question that all draftniks who have a radio show, blog, Twitter account, pen and pad or voice wants to answer. The suggestions for the first-round selection have spanned quite the gamut, too. Some are still contending that the defensive end position is a spot the Bengals might target and that Missouri's
Kony Ealy
ought to be the 24th pick. Oregon State end
Scott Crichton
has gone on a few mock drafts there, too. But by and large, mocks have sent one of the aforementioned corners to Cincinnati. If it isn't one of those three, then it's been Ohio State's
Bradley Roby
. At this point, I have no clue who the Bengals are going to pick, but I'm leaning toward seeing them take a cornerback with that late-round selection. If I had to pick who among that cornerback quartet will end up being the best pick and having a career that best suits the Bengals, I personally would pick Verrett. His size (5-foot-9, 189 pounds) is about the only true knock he has, but his speed, athleticism, strong performance at the NFL combine in February and ability to play both in the slot and out of it make him attractive to me. His speed could make him a good blitz option, too. It seems that new defensive coordinator Paul Guenther would like to have more blitzes from the secondary as part of his package. Naturally, Verrett wouldn't be starting in the slot for the next two years with
Leon Hall
still under contract through 2015, but he could give another option there in case of injury. The Bengals haven't really had a good backup slot corner recently, forcing them to get creative with their depth chart when Hall went down with his last two season-ending injuries.
3. Small spenders.
It's not a surprise, but as ESPN.com Browns reporter Pat McManamon noted Tuesday, the Bengals are
among the league's cheapest
teams this offseason in terms of paying guaranteed money. The Bengals have so far spent just $7.3 million in guaranteed money on players either signed or re-signed in free agency. That's the fourth-lowest amount in the league. The bulk of the money they have spent has gone to defensive tackle
Domata Peko
, who was extended through 2017. He's set to receive $4.4 million in guaranteed money this year as part of a signing bonus. The Browns and Ravens are among the league's biggest free-agent spenders, McManamon's story noted. The reason it isn't surprising that the Bengals haven't paid much to free agents this year is because big spending through that avenue just isn't part of their philosophy. The only times they really open up the checkbook is when trying to keep certain stars. Just last offseason,
Geno Atkins
and
Carlos Dunlap
signed massive deals that will pay them $55 million and $40 million, respectively, across five and six years.
Andy Dalton
,
A.J. Green
and
Vontaze Burfict
appear to be next in line to receive big contract boosts, too. Aside from them, though, don't expect to see much coin doled out. The Bengals contend that aside from the big stars, the money just isn't there for everyone.
4. Playing with numbers.
We took a look at a few other numbers on the Bengals blog Tuesday. Specifically, we
updated you on Cincinnati's current salary-cap numbers
. The Bengals still have a lot to spend, but it's clear they're holding onto some for the draft and some for one of the three looming free agents that are still on their horizon (Dalton, Green, Burfict). We also examined where the Bengals stood in relation to pay
compared to players from other sports teams across the globe
. Like all NFL players, the Bengals don't get compensated as well as some of their baseball, basketball and soccer counterparts. But their $2.1 million per year, per player average is competitive in the NFL. It ranks 11th among the 32 teams.
5. A thank you.
Finally, a quick thanks to everyone who caught the debut of "NFL Nation TV" on Tuesday. If you missed it, you can
check out the first installment of our weekly football show here
. Yours truly will join Raiders reporter Paul Gutierrez and another NFL Nation team reporter each week to discuss the latest headlines in a fun and interactive chat with you, our loyal readers. So come back next Tuesday at 2 p.m. ET for Episode 2.
March, 6, 2014
Mar 6
2:00
PM ET
CINCINNATI -- While
Cincinnati Bengals
coaches insist they are open to using their first-round draft pick on virtually any position this year, ESPN draft insider Todd McShay shares the same thought that most outside of Paul Brown Stadium have.

To McShay and many others, the Bengals will begin their draft May 8 by
taking a cornerback

.
As it currently stands on McShay's series of mock drafts, Virginia Tech cornerback
Kyle Fuller
would be packing his bags for Cincinnati later this spring, taken with the 24th overall pick. A good-sized cornerback, the 6-foot Fuller would give the Bengals height that they wouldn't get from other corners who could be available that late in the first round.
Fuller is a bit of a departure for McShay, who previously listed the 5-foot-8
Lamarcus Joyner
as his selection for a Bengals corner in his mock draft 2.0. The Florida State defensive back played both corner and safety in college and could be a good fit at nickel corner for Cincinnati. He had a strong showing at the combine in Indianapolis last month. So did Fuller.
Touted for playing with good instincts, as well as his ability to help in run support, Fuller has started climbing up the draft boards. Lately he has been sneaking into the first round on projections like McShay's. With veterans like
Adam Jones
,
Leon Hall
and
Terence Newman
all now over 30 and having battled in recent years through their share of injuries, the Bengals could use a physical corner like Fuller as they start shoring up depth behind the starters. Newman's contract expires after the 2014 season. Hall and Jones will be up for new deals the following year.
The biggest question marks surrounding Fuller before the draft dealt with his speed and durability, McShay said. From what he's been told, though, the durability is no longer an issue. After Fuller's 4.49 40-yard time, speed doesn't appear to be, too.
Fuller's selection in McShay's mock came after Oklahoma State's
Justin Gilbert
and Michigan State's
Darqueze Dennard
were selected by teams ahead of the Bengals. TCU product
Jason Verrett
, another potential Bengals target built much in the same mold as Joyner, was claimed one spot after Cincinnati in the mock. McShay has him going to San Diego.
Joyner went unpicked in McShay's first round but remained on his board as one of the best available.
During the combine, Bengals defensive coordinator Paul Guenther made it clear that he and the rest of the staff weren't just looking at cornerbacks for the first overall pick. There might be a need at defensive end with unrestricted free agent
Michael Johnson
possibly on his way out. Outside linebackers could be part of the equation after a lack of depth there rocked the position last season. Safeties could be an area of need depending upon what happens in free agency, too.
Still, it's my contention the Bengals would be best served picking a cornerback with their first-round pick. The pool of defensive backs is so deep this season that it might be in the Bengals' best interest to grab one of the best as early as they can, and then focus on the rest of their draft needs in later rounds. Because of their versatility of being able to play in the slot, as well as outside, Joyner and Verrett seem to be the better options for Cincinnati, in my opinion.
Either way, whichever team ends up picking Fuller -- first round or not -- will not regret the decision.