Cincinnati Bengals:

Jay Hayes
July, 30, 2014
Jul 30
3:00
PM ET
CINCINNATI -- At one point in the middle of the
Cincinnati Bengals
' walkthrough Wednesday morning, defensive line coach Jay Hayes decided to stir up the defensive huddle.
Given the OK from the Bengals' training staff, he told
Geno Atkins
, his long-injured Pro Bowl defensive tackle, to jog out and line up for a drill the unit was working through. It was the lineman's first time participating in a football activity with his teammates in a day shy of nine months.
Initially, Atkins' appearance caught them a little off guard. But the surprise didn't last long.
[+] Enlarge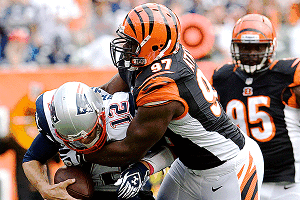 Mark Zerof/USA TODAY SportsGeno Atkins' participation in practice had the Bengals pumped on Wednesday.
"Everybody had big smiles on their faces because they knew then that the big 9-7 [No. 97] was back to work," fellow defensive tackle
Domata Peko
said. "We are excited around here. Probably the whole city will be, too, once they hear that Geno is back."
When it comes to the city and its Bengals fans, the word "excited" might not be enough. Try "thrilled," "energized," "electrified" ... "relieved." Or, as one tweeter put it in a rapid reply to my initial social media message about Atkins' return: "Hallelujah!!!"
Yes, with good reason, the vibes in Cincinnati are good now that Atkins' 273 days of torture are over. But what about elsewhere? How might the nice people in Cleveland, Pittsburgh and Baltimore feel now that the Bengals' All-Pro is back? More specifically, how might the offensive linemen now set to face Atkins again feel about his return?
I'll let Hayes describe what they all are most certainly now thinking.
"If you can get him in one-on-one situations, people are going to have a long day," Hayes said. "Whoever that guy is [who has to block Atkins], he's going to have a bad day."
Double-teams or not, Atkins was having his share of good days last season before he tore his ACL on Halloween night at Miami. He had 20 tackles and six sacks to that point. While the tackle numbers were a little low and may have had many concerned, the sacks were right in line with where he was the season before. He was on pace to possibly reach the 12.5 sacks he had in 2012.
Already an offensive line coach's nightmare from a game-planning standpoint, Atkins' return shouldn't only positively impact him. His teammates ought to benefit from having him back around, too. The double-teams Peko had to fight through after Atkins' injury ought to dissipate. The amount of single-man matchups likely will increase for defensive ends
Carlos Dunlap
,
Wallace Gilberry
and
Margus Hunt
, too.
"It makes things a lot easier when a quarterback can't step up in the pocket or is worried about somebody else in the D-line getting sacks," Dunlap said.
Following Atkins' injury, Dunlap and the Bengals' other starting defensive end,
Michael Johnson
, noticed quarterbacks stepping up in the pocket a little more as they tried to escape the Bengals' pass rush, which was more externally focused at that time. Before, when Atkins still was able to help clog the middle and put pressure on quarterbacks, the passers would be more apt to rolling to the edges and running into lanes the ends were occupying.
Another unintended byproduct of Atkins' injury was the fact that it got young linemen like
Brandon Thompson
and
Devon Still
(before his own injury issues) opportunities to see regular playing time. Gilberry and Hunt were among those who were forced into expanding their roles to include rushing from the inside, thereby increasing the versatility they can provide the defense.
"The injury wasn't a blessing, but it just goes to the adage of next man up," Hayes said. "They all know that. They all know now that at the drop of a hat, 'I have to be ready. I just can't be pigeon-holed as the backup.' If you're a backup, you have to be able to play all the positions to some extent. ... You have to have that position versatility because we just don't have enough people to have a backup for each guy."
As well as his backups may have played in relief last season, neither of them was striking the type of fear in offensive linemen that Atkins will again.
Here's how
Clint Boling
, the Bengals' left guard who will be facing Atkins often in practice again, described the defender's return: "I'm probably the only guy in the building that's disappointed he's coming back."
Don't worry, Clint. Outside the stadium, you certainly aren't alone.
May, 10, 2014
May 10
1:10
AM ET
CINCINNATI -- How did the
Cincinnati Bengals
end up landing
Jeremy Hill
and
William Clarke
in the second and third rounds of the NFL draft?
Because someone with the Bengals knew someone else who knew another person who happened to know both players well.
OK, that may be simplifying it a bit but it's true. At the heart of both Hill's and Clarke's selections were relationships that Bengals assistant coaches had with coaches at the players' schools, as well as relationships with other people that extended off the field. That was specifically the case for Clarke, whose parents knew Bengals defensive ends coach Jay Hayes before the newly drafted end was even born.
While the Hayes connection may have helped Clarke get recognized by the Bengals, the connection between Hill's coaches and offensive coordinator Hue Jackson helped get the LSU running back a job some outside the organization are stunned Cincinnati would allow him to take.
Hill has been arrested twice -- once in 2011 for sexual assault and again in 2013 for punching another man in a bar fight. The punch was caught on camera.
Following the 2011 arrest which occurred while he was still in high school and months before he was to begin his career at LSU, Hill plead guilty in Jan. 2012 to carnal knowledge of a juvenile. It was a misdemeanor. According to Baton Rouge police, he and another student pressured a 14-year-old girl to perform oral sex. He wasn't allowed to play for LSU until after a judge sentenced him to two years probation in Jan. 2012. As a result, he missed the entire 2011 season.
After his arrest following the bar fight, Hill was suspended for parts of two games. Because of the red flags in his history, many Bengals fans expressed shock on social media Friday night when they saw the Bengals were welcoming him to the franchise.
"Anyone who comes in contact with me on a daily basis -- equipment managers, coaches, trainers -- they know what kind of person I am," Hill said to Cincinnati-based reporters on a conference call. "Once I get into the locker room, they'll see that and they'll see my leadership skills and how I work hard day in and day out. I think they'll be happy with it."
To head off inquiries from teams who would be curious about the off-field incidents, Hill sent a letter to all 32 teams outlining his side of the story in both events. Bengals head coach Marvin Lewis said he didn't read the one that arrived at Paul Brown Stadium. Neither did Jackson nor running backs coach Kyle Caskey.
"I did not get the letter, but I didn't need the letter because I have a real connection with several coaches [at LSU]," Jackson said. "I trust their opinion and they coached in the National Football League. They know exactly what you need to do to have a chance up here. It's all behind him and his future's bright."
Similarly, Hayes says he believes Clarke possesses a promising career.
"I know the family," Hayes said. "Like [defensive coordinator] Paul [Guenther] says, the guy fits into the type of guys we have. We have long, tall, athletic players and he definitely is one of those guys."
Hayes contends the Bengals' interest in Clarke wasn't due to the coach's pre-existing relationship with the family, but it had to help him know just how well the youngest Clarke could fit into the locker room.
"I knew this kid's history when it comes to that. And you guys all know there's a couple of southwestern Pennsylvania guys running around this building," Hayes said to reporters. "To us, that's something where you know football is important to people back there."
Like Hayes and his brother, tight ends coach Jonathan Hayes, Lewis is from southwestern Pennsylvania.