Cincinnati Bengals:

jayson dimanche
August, 7, 2014
Aug 7
9:35
AM ET
CINCINNATI -- In no particular order, here are five
Cincinnati Bengals
you'll want to pay attention to on the defensive side of the ball during Thursday night's preseason opener at the
Kansas City Chiefs
:
Thompson
1. DT Brandon Thompson.
A third-year player from Clemson, Thompson enters the Bengals' preseason opener as a starter at defensive tackle with Pro Bowler
Geno Atkins
continuing his slow return from ACL surgery last November. Although Atkins has been cleared medically to practice, he hasn't participated yet in any 11-on-11 drills and hasn't been part of any contact since his official return last week. Atkins won't play against the Chiefs, but Thompson will. The former backup ought to get his share of action in Thursday's game, too, likely playing deep into the game.
Larry Black
and
LaKendrick Ross
are among the players who could cycle in and replace him in the Bengals' base defense late, but don't be surprised if Thompson lasts into the second quarter.
2. CB Darqueze Dennard.
Of course you have to keep your eyes on the Bengals' first-round draft pick, right? With veterans
Leon Hall
,
Terence Newman
and
Adam Jones
likely to see very limited playing time, Cincinnati probably will be turning to Dennard early and often. The rookie could get in as early as the late first quarter. You may want to pay attention to Hall's few reps, too. This will be his first live, game-speed action since last October when he tore an Achilles. With the Bengals likely using a vanilla game plan on both sides of the ball, expect Dennard to be tasked with doing what he does best: attempt to shut down receivers with his patented man-press coverage. Dennard's man coverage skills made him a first-rounder. Since the Bengals have been running more man-cover defense in training camp, coaches have remarked about how much looser and better Dennard has played.
Stanford
3. CB R.J. Stanford.
Not expected to get quite the same early playing time as Dennard, Stanford still should see a large share of action when he dresses Thursday night. A fifth-year corner noted for his special-teams skills and versatility, Stanford has been a bit of a surprise addition in Bengals camp this year. The veteran has gotten his share of reps covering some of the team's best receivers, and he's handled his own. If Cincinnati's cornerbacks were ranked by how well they have performed in camp, Stanford could be among the top 3-4. Stanford's veteran coaching skills have been noteworthy. Since an afternoon when he surprised receiver
Cobi Hamilton
with a deflection on what had looked like a surefire first-down catch, Hamilton has performed better. Stanford was among those who gave the wideout a quick tutorial after the pass breakup. Before that, Hamilton had been going through a rough camp, dropping most everything that came his way. He's been much more impressive since.
4. LB Marquis Flowers
. An outside linebacker who played safety in college, Flowers might be best compared to fellow Bengals linebacker
Emmanuel Lamur
. They play the same position and will be asked to fulfill many of the same roles. When it comes to playing style, though, Flowers might be best compared to Bengals weakside linebacker
Vontaze Burfict
. Both talk a lot of trash Both can hit hard. Both are former Pac-12 defensive players who feel they have a lot to prove. While tackling might be a concern for some defenders who haven't done much of it in camp, there are no worries with Flowers. His very first play of preseason practices was a hard forearm shiver that leveled Hamilton in a non-contact 7-on-7 drill. They know he can hit. Keep an eye on his playing time. He figures to be on the field often in place of Lamur, whose playing time might be monitored somewhat closely these next four weeks. Lamur suffered a serious shoulder injury in the preseason finale last season.
DiManche
5. LB Jayson DiManche.
Back in a fight for a roster spot this year, DiManche is among the Bengals defenders who will want to perform well in these next four games. He made the team last year and was a valued addition to its specia- teams units, but the depth at his position keeps him in a true battle. Another linebacker in a fight for a job is local product
J.K. Schaffer
. The second-year player hasn't had the best luck so far. For more than a week he's been under concussion protocol, forcing him to miss valuable practice time. Like Flowers, DiManche ought to be on the field often. He'll primarily be playing the strongside linebacker position in relief.
July, 31, 2014
Jul 31
8:30
AM ET
For five days the Cincinnati Bengals' play at practice was so clean, coach Marvin Lewis considered it one of the more positive parts of his team's opening week of practices.
Then Day 6 rolled around.
On Wednesday, the Bengals were joined at practice by four NFL officials. The crew will be in town through Saturday, and make calls in 11-on-11 situations to help the Bengals get an idea if their play really is as clean and penalty-free as it has appeared.
"We did get off to a really good start," Lewis acknowledged during a news conference three hours before Wednesday's practice. "Now coming off a day off, we need to have just that much focus, and we'll work hard to get their attention right away."
The staff wasn't as successful in that regard as it would have hoped.
Flags flew furiously throughout the workout as officials punished linebackers at least twice for illegal touching downfield on tight ends or running backs. On at least another three occasions, penalties were levied for false starts. Then there were the penalties that would have come had the one brawl and the other near-brawl taken place in a game. You can read more about the skirmishes in
Wednesday's camp report
.
To top all of that ugly, penalty-filled play, the Bengals also had a botched snap. Rookie center Russell Bodine sent a shotgun exchange flying several feet over quarterback Andy Dalton's head.
"I hope that we have a pretty good understanding of responsibilities and focus," Lewis said before the practice. "When you understand and know your job in and out, then you reduce a lot of that anxiety and you ought to be able to concentrate on some of the things and the details which really matter. We don't want to have pre-snap fouls, things that are basically a mental error, just as bad as an assignment error. We want to continue to limit those."
While the officials are around, it will be easier for the Bengals to see where they need to refine some of their issues that involve penalties. In some cases, namely in the illegal touching situations, the official might exaggerate the foul for the player who committed it to have a better understanding what he can and cannot do this season. Certain penalties like illegal touching downfield are going to receive a bit more scrutiny than before.
Later Thursday, the four officials at Bengals camp -- head linesman Kent Payne, umpire Undrey Wash, back judge Todd Prukop and side judge Michael Banks -- will discuss some of the rule changes with reporters.
By the end of the week, it will be interesting to see how much the Bengals have learned from the officials, and how much better they will be at limiting the infractions.
Let's get to a couple Quick Takes for the morning:
Four under concussion protocol:
As the league continues its crusade to emphasize player safety, particularly issues involving head trauma, it isn't really that surprising to see so many Bengals get placed under concussion protocol following the first two days of fully padded practices. You can read a little more about J.K. Schaffer, Jayson DiManche, Kevin Brock and Andre Smith
being placed under the protocol here
.
The two players this time away from practice probably hurts most are DiManche and Schaffer. Much like last training camp, both are in the middle of a battle for the final linebacker spots on the 53-man roster. DiManche might have the early edge since he has had an extra day of practice (Schaffer hasn't practiced since Sunday. DiManche has so far only missed Wednesday's workout). They both eked onto the team last year, and saw occasional action primarily as special teams additions.
Lewis-Harris suspended:
You also can read more here about cornerback Chris Lewis-Harris' two-game suspension for
violating the league's substance abuse policy
. Already in a fight for one of the final cornerback spots, Lewis-Harris did not need this issue to pop up right now. Since he is allowed to practice and play in preseason games but won't be on the active roster the first two weeks of the regular season, the Bengals could break camp carrying him and all the other cornerbacks they would have planned to take. It will give them a chance to perhaps keep an eye on another cornerback before determining which of the two they ought to release when Lewis-Harris would be able to rejoin the team.
June, 30, 2014
Jun 30
9:00
AM ET
For the next four days we're taking a look at
Cincinnati Bengals
who could be on the dreaded training camp roster bubble later this summer. These are players whom we think you should expect to see fighting for spots when the eventual 75-man preseason roster gets trimmed to the regular-season 53.
As permitted by league rules, the roster currently stands at 89.
DiManche
We're not going in any particular order. After looking at
Taylor Mays
,
Brandon Tate
,
J.K. Schaffer
,
Cobi Hamilton
,
Rex Burkhead
,
James Wilder Jr
. and
Dontay Moch
, we look at linebacker
Jayson DiManche
:
Why he's on the bubble:
If there's one player on this list of 11 "bubble" players who has the best chance to make the team, DiManche could be it. Since it's likely he'll see time this year at strongside linebacker as well as the middle linebacker spot, there ought to be a place for him on the 53-man roster. Besides, DiManche was lauded as a special-teamer last season, factoring in one of the best special-teams plays of 2013. His blocked punt against Cleveland contributed to a massive momentum shift and the eventual 41-20 rout that came after the Bengals started down 13-0. Still, DiManche gets on the bubble for a second straight year simply because he's a reserve defender who could have a tough time separating himself from the pack this year.
Vincent Rey
will surely take snaps away from DiManche, as could Schaffer. Competition with
Sean Porter
,
Brandon Joiner
, and rookies
Marquis Flowers
and
James Davidson
could challenge DiManche, too.
What he has to do to get off the bubble:
DiManche has to make his mark on special teams during training camp. If he can continue showcasing the big impact he can have in that area of the game, he'll end up locking down a roster spot for himself. The defensive opportunities will come, but as we've mentioned before, the days of the Bengals -- and a lot of other teams for that matter -- exclusively using strongside linebackers are gone. We saw it last season when
James Harrison
had difficulty getting on the field. Since so many offenses are going to more spread formations, nickel defenses are becoming much more the norm. As a result, the strongside linebacker gets used less and less, which means DiManche and others won't be seeing as much action at that spot as they might have in years past. As long as he plays solid enough defense and has real impact on special teams, DiManche will ensure he won't be going anywhere.
Odds he makes the team:
High. I'm pretty sure I'll never forget DiManche's joyous reaction to the news last August that the Bengals wanted to keep him. As coach Marvin Lewis made the career-defining phone call, HBO's "Hard Knocks" cameras rolled in DiManche's hotel room. Once he happily accepted Lewis' update, DiManche called his "Mommy," who could barely contain her emotions. It was certainly quality television and one of those moments when as you watched, the room around you suddenly got dusty and your eyes began inexplicably watering. It's always cool to see someone accomplish a dream. The drama around DiManche shouldn't be as high this year, but still, he' has to put in the work or he won't make the team this year.
June, 25, 2014
Jun 25
11:00
AM ET
For the next nine days we're taking a look at
Cincinnati Bengals
who could be on the dreaded training camp roster bubble later this summer. These are players whom we think you should expect to see fighting for spots when the eventual 75-man preseason roster gets trimmed to the regular-season 53.
As permitted by league rules, the roster currently stands at 89.
We're not going in any particular order. After starting with
Taylor Mays
on Monday, then
Brandon Tate
on Tuesday, next up is linebacker
J.K. Schaffer
:
Why he's on the bubble:
Unfortunately for Schaffer these training camp battles are becoming habit. But that's the nature of being an undrafted, slightly undersized player at a position that already has a well-paid veteran and another promising young talent playing it. As a second-year player, Schaffer enters training camp behind
Rey Maualuga
and
Vincent Rey
at middle linebacker. He's also competing for a roster spot with fellow outside linebacker
Jayson DiManche
, who like Schaffer, also has solid special-teams value. As a bubble player last preseason, Schaffer impressed coaches and fans in his native Cincinnati to the point that it would have caused serious heartache around Paul Brown Stadium had he not been placed on the final 53-man roster. Last preseason he was the team's top tackler, playing often in the four games in order to give coaches and idea of where he could play and how he could be used. But with Maualuga and Rey -- another former undrafted player who exploded into the league's consciousness after playing well in place of the injured Maualuga last season -- ahead of him, Schaffer's battle to remain on the roster continues to be difficult.
What he has to do to get off the bubble:
Quite simply, Schaffer needs to perform the way he did last preseason to convince his bosses that he deserves to be part of this team in September. He'll have plenty of opportunities in practices to do that, and he ought to be given his share of game snaps again. He made the most of those opportunities by making plays last preseason. This year, he'll want to continue making plays, but he'll also want to show he has what it takes to lead from middle linebacker by getting plays called and making sure the defense is lined up properly. He was doing some of that during organized team activities and minicamp this spring.
What also could help Schaffer get off the bubble is Rey's role. Although he enters training camp as the No. 2 middle linebacker behind Maualuga, Rey showed last season that he probably deserves to be on the field as much as possible. Rotations with Maualuga could be enhanced a bit for Rey to see more action, and the Bengals could also move him around to an outside linebacker spot, like the "Sam" position. Not only was Rey solid at times in run support, but he was impressive in blitz and pass coverage scenarios at times last season, too. He had a career-high four sacks and two interceptions last year. If the Bengals can find more places to move Rey, Schaffer has a slightly better chance to stick around behind Maualuga.
Odds he makes the team:
Low. The odds for Schaffer to make the team last year may have been closer to "very low" but he ignored them and did it anyway. That was a credit to his hard work and in-game execution. Believe me, there are a lot of people both inside and outside the Bengals' locker room rooting for him to remain part of the organization. But unless dramatic changes take place with the players listed ahead of him, this could be the year Schaffer falls victim to the numbers game.
June, 13, 2014
Jun 13
8:30
AM ET
As we wrap up this week's
Cincinnati Bengals
factoids, we make a return to special teams.
The week began with a factoid on kicker
Mike Nugent
's field goals
from beyond 40 yards
. Friday, blocked punts are the topic of conversation, specifically the amount the Bengals have allowed since head coach Marvin Lewis and special-teams coordinator Darrin Simmons have been in Cincinnati.
So, without further ado, here's the Friday factoid:
4
.
Since 2003, the year Lewis became the Bengals' head coach and Simmons the special-teams coach, the team has allowed four blocked punts.
That's not particularly good. According to ESPN Stats & Information, 18 other teams have allowed four or fewer blocked punts in that time. Houston is the only team in the league that hasn't given up a blocked punt in those 11 years. Buffalo and Cleveland have given up one each. On the other end of the spectrum are the Falcons who have had 11 punts blocked since 2003. The Panthers have had 10 blocked and the Chargers who have had eight. Seven of San Diego's opposing blocked punts have come since 2008.
While they've had four punts blocked in the last 11 seasons, the Bengals have also blocked three punts themselves. They had one in 2013 when
Jayson DiManche
knifed through Cleveland's punt coverage unit in the first half of a November game against the division rival. After DiManche's block, reserve Bengals safety
Tony Dye
scooped up the loose ball and sprinted in untouched for his first career touchdown.
The score contributed to a massive swing in momentum in that game. Through the first quarter, the Browns led 13-0. Then Cincinnati chipped away at a lead in the second quarter, with DiManche's block and Dye's touchdown. After taking the 21-13 lead, the Bengals continued rolling all the way to a 41-20 win.
As far as allowing punt blocks, the last time the Bengals gave one up, they lost a home game to Pittsburgh in Week 9 of the 2010 season. Current punter
Kevin Huber
was blocked in the first quarter of the game. Unlike DiManche's block, though, this one didn't do quite as much damage. The Steelers took over 15 yards behind the original line of scrimmage, starting a drive at Cincinnati's 30. The Bengals' defense remained firm, forcing Pittsburgh into attempting a 25-yard field goal that kicker Jeff Reed successfully hit.
February, 18, 2014
Feb 18
11:00
AM ET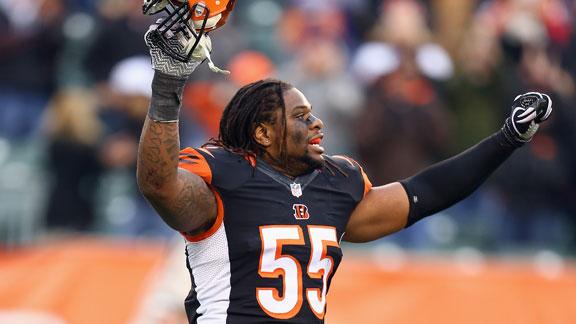 CINCINNATI -- You are going to hear the following phrases a lot this week and next: "great burst," "explosive legs," "powerful hip turn," "downhill runner," "could be a great professional football player."
Beware of what you hear. Proceed with caution when reading or watching TV.
By May, it might all mean nothing.
Cincinnati Bengals
linebacker
Vontaze Burfict
knows that fact all too well.
On Friday, the annual hyperbole fest known as the NFL combine begins in Indianapolis, where more than 300 draft prospects will showcase their skills in a week of drills that will test how well their talents might translate to the sport's highest level. Interviews with media, scouts and front office officials also will be on tap for the former all-conference stars and small-college heroes who are hoping an NFL franchise goes out on a limb and drafts them later this spring.
You'll read from me and countless others these next few days about how great particular players' strengths are, and how damaging their various weaknesses could be. It's the nature of this time of year. No matter how hard one tries to avoid it, it's easy to get wrapped up in hyping how fluidly a receiver runs his routes, while also admonishing him for dropping multiple passes. During an event predicated on players demonstrating as close to perfect performances as possible, it's easy to nit-pick the bad and overstate the good.
For that reason, be careful with what you read and hear, and remember Burfict.
Two years ago, Burfict arrived at the combine with a dark cloud hanging over his head. The Arizona State product came heavy and out of shape. Scouts were looking for any little tell-tale sign that would suggest he was as lazy as many had believed. Owners and general managers were curious as to why they had mostly heard about discipline issues with him. They wanted to get a gauge as to why he and his college coach apparently had friction.
They must not have gotten the answers they needed in order to draft him. Burfict, once deemed one of the top defensive prospects in his draft class, slipped completely out of it. Not long after the selection process was over, though, the Bengals came calling. He was signed as an undrafted free agent.
Burfict is currently entering the final year of a three-year deal earning the league minimum. While making less than $500,000 during the 2013 season, Burfict, in his second year, earned his first Pro Bowl selection and led the league in tackles by setting a franchise record with 171. His first year wasn't too bad, either. As a rookie, he had 127 tackles after coming in and playing due to early-season injuries above him.
Last week, ESPN's
Tedy Bruschi
and Jim Basquil talked about Burfict's
road to redemption
in this ESPN.com video. Even though Bruschi still has some concerns about Burfict's on-field maturity -- he was fined three times for $52,000 in 2013, and was penalized 13 times for 150 yards -- he still applauds him for having completely changed the narrative that existed before he was signed in 2012.
"It didn't look good for Vontaze Burfict coming out of Arizona State. You didn't know if he was going to be able to overcome some of those issues, those character problems," Bruschi said. "But Marvin Lewis really showed that he had faith in him and now you have a linebacker that looks like hes going to solidify your defense for years to come."
After it was announced in late December that he made the Pro Bowl roster, Burfict spoke fondly about the many phone calls he shared with Lewis between his Pro Day at Arizona State and the draft.
"He was pretty much the only person who kept reaching out and who kept talking to me and who kept me motivated and telling me to keep my head up and stuff like that," Burfict said.
It was at Burfict's pro day -- after the combine -- when Lewis first got to know the controversial linebacker. During a dinner at a P.F. Chang's in Tempe, Ariz., he first realized how much Burfict reminded him of
Ray Lewis
, the soon-to-be Hall of Fame former
Baltimore Ravens
linebacker who now serves as an analyst for ESPN. Their mannerisms were the same, their humility was similar and their respect for the position was comparable, Marvin Lewis said.
"I told [owner] Mike Brown, 'I don't mean to overstate this, but he's special,'" Marvin Lewis said. "He reminds me of another guy I've coached. ... They're not full of themselves. It's all about, 'How do I get better? How do I help the team win?'"
Burfict isn't the only undrafted free agent who has become a recent Bengals star. Backup linebacker and longtime special teams standout
Vincent Rey
emerged as a viable defender in 2013 after he was claimed in undrafted in 2010. Rey became even more of a fan favorite for the way he helped carry the defense when
Rey Maualuga
went down with a knee injury around midseason.
Jayson DiManche
and
Andrew Hawkins
are other undrafted players of note who have become possible key pieces to the Bengals' 2014 season. Neither were even invited to the combine their respective years.
As much as first-round guys like
Leon Hall
and
A.J. Green
and
Tyler Eifert
have formed a significant part of the Bengals' backbone, blue collar players like Burfict, Rey, DiManche and Hawkins have, too.
So as you go through this week of half-truths and half-exaggerations, keep in mind players like them. Don't believe all of the hype because as great as some prospects might seem this week, they may not end up having the same impact in September as the guy who didn't show up at the combine, or the one who was a flop during it.
February, 14, 2014
Feb 14
8:00
AM ET
This edition of the Morning Stripes is dedicated to a trio of Cincinnati Bengals backup linebackers who can be easy to forget and a starting offensive lineman who could briefly become a backup next season if his recovery from a season-ending injury progresses more slowly than he anticipates.
It can be difficult to remember that Emmanuel Lamur, who figures to be a key piece of the Bengals' linebacker rotation, is even on the team. After being lost for the entire 2013 season to an injury suffered in the final preseason game, he quickly faded from the depth chart, disappearing into the black hole that the injured reserve list can sometimes become. He was joined there by another rookie linebacker, Sean Porter, who also suffered a season-ending injury in the preseason.
Without their services, the Bengals were forced to be creative with some of their plans at linebacker, particularly when it came to certain pass defense packages. Since they were forced into playing so many offenses with two-tight-end or multiple-receiver sets early in the season, the Bengals had plans to use Lamur in nickel coverage. Once he was lost for the year, though, they tweaked that role in part by adding to safety Taylor Mays' responsibilities.
All signs currently point toward Lamur and Porter being healthy for training camp. Their presence should give the Bengals the depth at three linebacker positions that they lacked during the regular season.
We'll get to the third linebacker, Jayson DiManche, later in this post. Although it can be easy to forget about him as a defensive player because of where he ranks on the depth chart, there are many people back in his hometown who will let him know this weekend that they remember him quite well and quite fondly. More on that in the links portion of this post.
Left guard Clint Boling was a starter throughout 2013 until he tore his ACL in Week 13, effectively ending his season. Boling is pegging a summertime return from the injury. Rehab times from ACL surgery can vary. While it's wholly possible for him to recover that quickly from a December surgery to repair the ligament, it's also possible for that recovery period to be a little longer. If it does go longer than he anticipates, Boling might not start the season at the spot he began last year.
It's also not yet a foregone conclusion that he would start there even if fully healthy by August. Pro Bowl left tackle Andrew Whitworth was moved to left guard after Boling's injury and helped create an even more physical tone to the offense because of the way his large, yet athletic frame was able to pull and block on the line's interior. While Whitworth maintains that he is a left tackle, the Bengals will spend part of the offseason debating whether they want to move him to guard more permanently, giving them even more incentive to re-sign tackle Anthony Collins. A longtime backup in Cincinnati, Collins is set to earn a veteran starter's salary when free agency begins next month. He could be lured away.
Here's a little more on each of the aforementioned backups:
Bengals.com's Geoff Hobson caught up with Lamur and Boling as each detailed their recovery processes and how they anticipate factoring heavily into the team's schemes by the start of training camp.
According to The Times of Trenton (N.J.), DiManche, a backup linebacker who mainly starred on special teams in 2013, will be back home in Hamilton, N.J., this weekend to be honored by his alma mater, Hamilton High School. A special ceremony will occur before a basketball game Saturday. The undrafted free agent signed last May.
February, 8, 2014
Feb 8
12:00
PM ET
With their rookie seasons now done, let's take a day-by-day look at the
Cincinnati Bengals
' first-year players and examine what went right and what went wrong for them individually. Let's also examine the path ahead for the group that will comprise a key chunk of Cincinnati's foundation moving forward.
We started near the bottom of the depth and snap charts and are working our way up, culminating with the first- and second-round rookies who had a major impact on the direction of the Bengals' offense in 2013.
Tyler Eifert
emerged as a quality blocker and pass-catcher at tight end, while
Giovani Bernard
was Cincinnati's most explosive playmaking threat, catching passes and piling up yards after the catch, and pulling off numerous highlight-show worthy runs.
DiManche
Because of injuries predating the start of the 2013 season or time mostly spent on the practice squad, several first-year Bengals won't be discussed in this particular series. At a later date, we'll break down what their impact could be going forward. The names you shouldn't expect to see this week include: Cobi Hamilton, T.J. Johnson, David King, Onterio McCalebb, Quinn Sharp, Bruce Taylor,
Larry Black
,
Brandon Joiner
and
Sean Porter
.
After
Shawn Williams
,
Tanner Hawkinson
and
Margus Hunt
, next up on the Bengals rookie review:
LB Jayson DiManche
2013 stats:
Appeared in every game and recorded four defensive tackles and 14 on special teams.
How acquired:
Undrafted free agent.
The good:
Most outside of Cincinnati remember DiManche from HBO's "Hard Knocks." On one of the final episodes from last summer's behind-the-scenes look at the Bengals, he showed pure, unadulterated joy when coach Marvin Lewis called to tell him he had finished training camp by making the team. One scene after rolling around on his bed in glee, DiManche called a number in his phone that cameras showed as "Mommy." She, too, let loose a proud scream when she learned the news. Those phone calls weren't the only highlights from DiManche's first season with the Bengals. He played often when the season began, appearing occasionally on defense, and serving as a regular member of an overall special teams unit that saw a lot more good than bad in 2013. Among DiManche's better moments was his blocked punt against Cleveland in November. The block preceded Tony Dye's 24-yard scoop and score. That key special teams play was one of several that effectively got the Bengals not only back in the game they once trailed by two scores, but helped establish a growing margin in what became a 41-20 win in an important division contest.
The bad:
DiManche didn't have many glaring weaknesses during his first season. The former Southern Illinois Saluki was never noticeably in the wrong spots during the 47 plays he played defense. And he didn't seem to be at fault if something went wrong on the various special teams units he was part of. In addition to rushing the kicker on the punt return team, he also chased down returners on the punt coverage and kick coverage teams, and blocked for his own returners in the kick return game. Maybe the only real bad for DiManche was that despite a general lack of depth in the Bengals' linebacking corp, he didn't see extensive action in relief. Although, those 47 plays probably were many more than most might have predicted last August.
Looking ahead:
So far in his young career, DiManche appears to be following the path of one of his locker room neighbors, Vincent Rey, who also was an undrafted when he was signed by the Bengals in 2010. Since then, Rey has starred on special teams, turning heads along the way. In 2013, injuries and the aforementioned lacking linebacker depth combined to get Rey the most extensive playing time of his career. When he got it, he ran completely away with it, recording career-highs in tackles, sacks and interceptions. DiManche has a chance to see his career progress similarly if he continues to impress on special teams. Because of Rey, Vontaze Burfict and Rey Maualuga in the lineup, DiManche likely won't see regular starting action this fall, but he still could be key to deepening Cincinnati's talent pool at linebacker.
November, 19, 2013
11/19/13
8:00
AM ET
Usually when an offense turns the ball over in its own territory, it sets up a subsequent chain of bad events for that same team's defense.
Given a short field on which to stop the opposing offense on the sudden possession change, the aforementioned defense doesn't always stand firm. Touchdowns are often the product of the quick field flip and can push a team further and further out of contention in a game.
That hasn't really been the case, though, for the Cincinnati Bengals in recent weeks. For the most part when Cincinnati's offense turns the ball over at any point on the field -- but particularly in its own territory -- its defense has been able to answer with a hold. We'll get into it more with the first link of this Tuesday edition of the Morning Stripes, but the Dayton Daily News' Jay Morrison provided the figures that show whether its on a short field or long field, the Bengals' post-turnover defense has been really strong of late.
In the last three games, the Bengals' offense has turned the ball over 19 times. Three of those turnovers, like Joe Haden's interception that was returned for a score in Sunday's 41-20 win over the Browns, came when the opposing defense returned the turnover for a touchdown. So that leaves 16 other drives when the Bengals' defense has been asked to stand firm and not allow a touchdown.
According to Morrison's research, on 15 of those drives, it has done just that. Only once in the past three games has a Bengals offensive turnover led to a turnover given up by their defense. And that, ladies and gentlemen, is one reason why Cincinnati's offense
has its defense to thank
for keeping it in arguably all but one game this season.
Let's get to the rest of the Morning Stripes:
November, 18, 2013
11/18/13
8:00
AM ET
Finally, the Cincinnati Bengals are saying, after 11 physical weeks, it's here: the bye week.
With now 13 days to rest, heal up and refocus their energies, the Bengals are thankful for the much-anticipated arrival of this year's late off week. On Sunday afternoon, in their final game before the bye, the Bengals got things steered back into a positive direction when they rallied past the Cleveland Browns for a 41-20 victory. Along with a Ravens loss and Steelers win, the victory pushed Cincinnati's lead over the rest of the AFC North to 2 1/2 games, providing a rather significant cushion ahead of the bye.
It's a better place to be than the alternative. A loss Sunday would have left Cincinnati with a 1 1/2-game lead, and at risk of watching it drop to a single game while idle this week. A loss also would have been the third straight for the Bengals, and could have had a truly devastating psychological effect on the team. After starting 6-2, it would have lost three straight to go to 6-5, and would be looking to stay above .500 at San Diego in two weeks.
Even though that's not the case, that alarming possibility prompted Bengals safety George Iloka to say the following: "From here on out, every game will be crucial."
For the rest of the season, the Bengals don't want to have to climb out of the type of early 13-0 hole that they were able to get out of Sunday. They want to shake the slow starts and start hitting teams with their best shots earlier.
As we begin this look-back edition of the Morning Stripes, we'll start off with a couple of links from our ESPN NFL Nation Bengals blog:
The Bengals may be getting ready to take a few days off, but the work doesn't stop here on the Bengals blog. Make sure you stay with us every day this week where we'll have analysis and features.
November, 17, 2013
11/17/13
5:30
PM ET
CINCINNATI -- Observed in the locker room after the
Cincinnati Bengals
'
41-20 victory
against the
Cleveland Browns
.
DiManche
DiManche's note:
Each week when they go into meetings, the youngest members of the Bengals' special-teams units bring a stack of notes with them. Special-teams coordinator Darrin Simmons reads them all. According to Simmons,
Jayson DiManche
's note this week read: "Block a punt to help win the game." In the second quarter, he did. When he beat his man and blocked the ball, DiManche set up a touchdown return that helped turn the momentum in Cincinnati's favor.
Dye's TD:
Tony Dye
, making his first NFL start, was all smiles at his locker. He was the one who scooped DiManche's blocked punt and sprinted for the 24-yard score. "It was a lot of instinct," Dye said. "It just just kind of happened. It happened fast. Hey, the speed of the game is different at this level."
James Jr.?
Asked if he could be considered a younger version of Bengals linebacker
James Harrison
,
Vontaze Burfict
smiled. Much like Harrison, who had a key interception Sunday, Burfict plays with an edge that borders on reckless. "Sometimes he rubs off on me," Burfict said. "I take the same supplements that he does and sometimes I feel like, 'OK, I'm in his element.' I take the same energy that he does and sometimes that makes me feel crazy on the field."
October, 30, 2013
10/30/13
8:00
AM ET
Good Wednesday morning, everyone.
We're finally inside the 36-hour window to kickoff for the Cincinnati Bengals' Thursday night game at Miami. While the ESPN NFL Nation Bengals crew -- yes, you're right, that would just be yours truly -- will be making its way to South Florida this morning, we encourage you to keep checking back throughout the day as several items will hit this blog to help you continue to get ready for the big midweek showdown.
One way the Bengals have been finalizing preparations extends not only to work they have put in this week, but also practice time going all the way back to the preseason. It was first during camp that each of the team's linebackers began training at multiple spots, getting an understanding how each of the Mike, Will, Sam and nickel linebacker positions operate. Due to injuries at the outset of the season, defensive back Taylor Mays was even taught the fundamentals of various linebacker responsibilities by linebackers coach Paul Guenther.
This week, with Mays and the team's second-leading tackler, middle linebacker Rey Maualuga, out with injuries, Guenther's lessons from long ago could have an impact against the Dolphins on Thursday. If veteran Michael Boley, signed during the season as a free agent, can't go due to a hamstring issue that has prevented him from practicing this week, Cincinnati will be remarkably thin at the position.
For that reason, don't be surprised if young backups Vincent Rey and Jayson DiManche end up having their highest defensive snap counts of the season. Also don't be surprised if former University of Cincinnati product J.K. Schaffer ends up taking some of DiManche's and Mays' special-teams snaps as the injury-induced ripple effect trickles down toward him. Schaffer was added to the 53-man roster Tuesday, moved up off the practice squad for the second time this year.
The linebacker shuffle -- pun intended, Mr. Ickey Woods -- gets the top-of-the-order treatment in Wednesday's Morning Stripes:
That's all for now, folks. It's about time to get ready to fly.