Cincinnati Bengals:

jermichael finley
October, 21, 2013
10/21/13
4:15
PM ET
CINCINNATI -- The news
Cincinnati Bengals
safety
George Iloka
had dreaded hearing the past five weeks finally came Monday. After reviewing his appeal of a fine that stemmed from his Sept. 22 hit that left
Green Bay Packers
tight end
Jermichael Finley
with a concussion, the NFL decided Iloka's fine deserved to be upheld.
Iloka told reporters the day after the Bengals' 27-24 win at Detroit that the appeal was denied.
If there was a silver lining to the news for Iloka, though, it was that the league reduced his original fine of $15,000 to $10,000, he said.
The hit came in the first quarter of Cincinnati's 34-30 win over the Packers when Finley was stretching out for a throw deep down the middle of the field. As Finley started reaching for the ball, Iloka closed in, preparing for a tackle. He appeared to slow his momentum, though, as Finley started bobbling the ball. As the ball left Finley's hands, Iloka, slowed momentum and all, still ended up making contact with the back of the tight end's head, brushing by with his forearm in a tackle-ready position.
After Iloka bumped into him, Finley's head ended up hitting the ground. Finley was slow to get up and needed to be evaluated by trainers. After several moments, he finally walked to the sideline and then eventually went into the Packers' locker room, where he was officially diagnosed with a concussion.
Finley, who may have suffered
yet another serious head injury
in Sunday's game against the Browns and is in the intensive care unit of a hospital, didn't miss a game following Iloka's hit. He would have missed the next week, but the Packers had a bye. He returned when their schedule resumed two weeks later.
About two weeks after Iloka's hit,
Finley told reporters
in Green Bay that he thought the play was clean. Referees must have thought so, too. They did not flag Iloka at the time.
"It was a great hit," Finley said. "I didn't think it was dirty at all. That's my opinion. If I was [Iloka], I'd do the same thing. It's a part of the game."
Iloka defended the hit, as well.
"You've just got to eat that fine," he said when the original fine was handed down. "I'd rather take whatever the fine is than let a guy make a big catch on third-and-whatever."
The Bengals allowed plenty of "third-and-whatever" catches in Sunday's win over the Lions. All three of Detroit's touchdowns came on third down.
Iloka is the second Bengals player to receive a fine this season. Linebacker
Vontaze Burfict
had already been slapped with fines for two separate incidents, including a $7,875 fining that came last week for a face mask during the Bengals' game against the Patriots two weeks ago. He also was fined $31,000 for two different infractions that came against the Packers.
September, 20, 2013
9/20/13
10:50
PM ET
CINCINNATI -- Mike Zimmer has made it a habit in recent years to hand out to his defenders a pair of orange shorts that feature a common logo. The gesture is a subtle attempt by the
Cincinnati Bengals
' defensive coordinator to bring his unit closer together and remind players of their top mission.
This year, the "brotherhood" shorts, as they are nicknamed, feature the phrase "HEET Swarm." According to defensive tackle
Geno Atkins
, the phrase stands for "Heart, Effort, Execution, Technique and swarm to the ball."
[+] Enlarge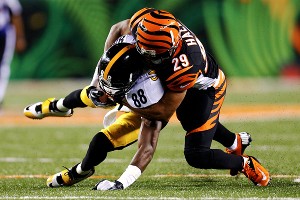 Kirk Irwin/Getty ImagesAs Leon Hall did against Pittsburgh, the Bengals must keep Green Bay's receivers from picking up extra yards after the catch.
When the Bengals face the
Green Bay Packers
at home Sunday afternoon, they will certainly want to heed the latter portion of that motto.
Sure, they want to swarm to the ball every week, but this week the practice takes on added significance because Cincinnati is facing the NFL's top receiving corps at picking up yards after the catch.
"No defense wants to give up big plays, so our goal is to give up no explosive plays over 15 yards," Bengals safety
George Iloka
said. "We definitely want to limit those and try to stop those."
The first two teams the Packers faced this season had trouble doing that.
According to ESPN Stats & Info, of the 965 yards of offense Green Bay amassed against San Francisco and Washington in the first two games of the season, 610 were the product of passes caught by Packers wide receivers. That's the most production of any group of receivers in the NFL. And of those 610 yards, 234 came after contact. That's the second-most of any group of receivers in the entire league.
And if you throw in tight ends and running backs, Green Bay's 439 yards after the catch also leads the NFL.
"In both games, they made the first guy miss and got 20, 30 yards afterwards," Bengals cornerback
Leon Hall
said. "They're dangerous from that aspect."
What else makes the Packers' receivers dangerous?
Their quarterback.
"[Aaron] Rodgers is pretty mobile and his receivers adjust well," Hall added.
One of the league's dominant passers since he took over as the Packers' starter in 2008, Rodgers has put on his share of passing clinics inside Lambeau Field. He's had the type of big-bodied, rangy and athletic receivers to do it, too. This season, in particular, he has enjoyed having the likes of
Jordy Nelson
,
James Jones
and the speedy
Randall Cobb
, not to mention tight end
Jermichael Finley
, on the other end of his throws. Each member of the quartet has already caught 10 or more passes, and all at an average of at least 11 yards per reception.
"The biggest thing when you have a perimeter player come into your program, you want him to be able to play all four positions," Packers coach Mike McCarthy said. "Our tight ends can play on the line, in the backfield or displaced. Our receivers can play all four wide-receiver positions. It definitely does help you when you're game-planning. The biggest challenge is to get the reps with the quarterback to get the timing and the rhythm down with moving those guys around."
Even still, Rodgers has shown that no matter where his pass-catchers line up and no matter the difficulties of mixing up repetitions, he's able to get into a rhythm with them, and he's quite capable of getting the ball in their hands.
Last week against Washington, Rodgers tied a team record when he passed for 480 yards. More than 280 of those came after the catch.
"As a defense, you have to tackle," Iloka said. "Teams are going to catch balls, but you have to tackle and bring them down right there. This week, we have been focusing on open-field tackling. As a secondary, that comes down on us. You can't stop a team from getting zero receptions in a game, but when they catch it, you want to minimize the damage by tackling them right there on the spot."
One reason the Packers are able to spread opposing defenses to the point that safeties, corners and linebackers can't get good angles on their receivers has to do with Rodgers' release time. According to Pro Football Focus, against a strong rush versus Washington, Rodgers got rid of the ball, on average, within 1.95 seconds. If a defender isn't on tight man coverage on his receiver within two seconds of the ball being snapped, he likely won't be getting immediate help bringing that player down once he catches the ball. Chances are, his help wouldn't be in the best position to swarm and make a play.
Still, regardless of how good Rodgers is and regardless of what he may do against the Bengals on Sunday, Cincinnati's defenders have to take the swarm mentality seriously.
"The main thing is they've done a good job so far in yards after catch," Iloka said. "That's going to be our job to neutralize that."
The Bengals do have one statistic in their favor. They currently have the NFL's longest streak of holding quarterbacks below 300 passing yards -- a run of 16 games. That streak will definitely be put to the test this weekend. If they can extend it, 2-1 may well be on the Bengals' horizon.