Cincinnati Bengals:

joe haden
November, 17, 2013
11/17/13
9:05
PM ET
CINCINNATI -- This time, just like the last time, an
A.J. Green
-
Joe Haden
tilt went in favor of the
Cleveland Browns
cornerback.
As much as Green, the
Cincinnati Bengals
' tall, wiry wideout from the University of Georgia wanted to have a better outing Sunday than the one he had seven weeks ago, Haden was committed to making sure that didn't happen.
But at the end of Sunday's game, Haden's efforts -- fueled by two first-quarter interceptions -- weren't enough. The Bengals still ended up winning,
41-20
. That win, coupled with a
Baltimore Ravens
loss and a
Pittsburgh Steelers
victory pushed Cincinnati's (7-4) AFC North lead to 2 1/2 games over the remainder of the division. The Browns, Ravens and Steelers all sit at 4-6 in a three-way tie for second place.
[+] Enlarge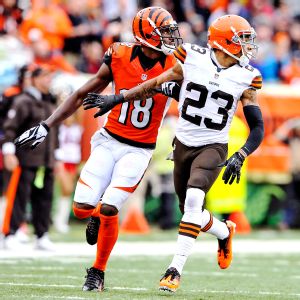 Kevin Jairaj/USA TODAY SportsA.J. Green had just two receptions for 7 yards, while cornerback Joe Haden had two interceptions, one of which he returned for a score.
Green, gaining just 7 yards on two receptions, had one of the worst performances of his career. It was enough for the player who entered the day leading the NFL in receiving yards to recognize the cornerback's work and to give a respectful nod.
"It's a tough road every time I go against him," Green said. "He's probably one of the best corners anywhere, but that also goes to their defense. The Browns have a real good defense and they scheme well. But he's also a great corner."
Haden's greatness aside, on a day when getting the win was the most important thing, Green added that individual numbers can take a backseat.
"My numbers are going to come regardless," Green said. "I'm just glad we came out with the 'W.' That's all that matters."
While Green-Haden V wasn't quite the classic that Green-Haden IV was, the matchup still lived up -- early, at least -- to its lofty pregame billing.
At the line of scrimmage in the first quarter, the physical Haden pushed Green around as much as he wanted. Green tried to respond by getting separation further downfield. That plan backfired.
Twice when Green exceeded the 10-yard mark on a route, he tried to slip double coverage by getting beyond Haden and into a soft zone. Both times, the zone Green thought he was getting into didn't match the one quarterback
Andy Dalton
was throwing to. The plays resulted in a pair of interceptions.
"I think there was a little miscommunication on what exactly we were doing," Dalton said. "Unfortunately it happened right there where Joe was able to make those plays."
The second of the two interceptions came when Dalton threw short of where Green turned around for the ball, and Haden jumped right into the passing lane. Barely breaking stride, Haden caught the ball and sprinted untouched for a 29-yard pick-six that pushed the Browns' early lead to 13-0.
"That's little stuff I need to clean up myself," Green said of being out of position. On both interceptions, he thought a linebacker dropped low, giving him a spot up top to make a play further downfield.
Back in September during the teams' previous meeting, Haden held Green to seven catches for just 51 yards. Like he did in that contest, Haden wasn't letting Green get open downfield. He was staying with him close to the line of scrimmage. When Green did catch a pass, he was always right there to come through with a swift tackle. Green only had four yards after the catch in that game.
November, 16, 2013
11/16/13
4:00
PM ET
CINCINNATI -- As has been mentioned often this week, for the first time in a generation the
Cleveland Browns
and
Cincinnati Bengals
have a November ballgame that's worthy of attention from the rest of the NFL.


With the Bengals' loss last week at Baltimore, the Browns are suddenly in the thick of the AFC North race and could inch dramatically closer to first place if they beat their in-state foes Sunday afternoon at Paul Brown Stadium. A win would move the Browns within a half game of the Bengals' lead ahead of Cincinnati's bye next week. For the first time in a long time, playoff fever has attacked the entire Buckeye State.
A win is possible for Cleveland, too. Despite coming in with a 4-5 record, the Browns are already responsible for one of the 6-4 Bengals' losses this season. Way back in Week 4, Cleveland's defense stood firm in a 17-6 win at home over the Bengals.
When you watch the 81st edition of the Battle of Ohio, you'll definitely want to keep a close eye on both top 5 defenses. You'll also want to keep an eye on the following:
Weather report:
One week after their kickers and quarterback struggled in windy Baltimore -- gusts got as high as 28 mph -- the Bengals could be facing worse conditions at home this weekend. According to the National Weather Service, strong storms are expected to move across the Midwest on Sunday, hitting Southwest Ohio while the Bengals and Browns are playing. Lightning delays could occur at multiple games in the path of the severe weather, including Sunday's contest. In addition to intense downpours, winds with gusts up to 21 mph are being predicted. Said punter
Kevin Huber
about preparing for such harrowing elements: "You have to kind of trust when you're out on the field in pregame. You've got to trust that's what it's going to be like all game." It doesn't sound like that's a guarantee this week, even though coach Marvin Lewis believes the inclement weather will hold off until after the ballgame is over.
Red zone matchup:
Keep a close eye on the football when the Bengals possess it inside the Browns' 20. In an otherwise balanced matchup, this is one of the few areas in which there appears to be a mismatch. Cincinnati's offense has been pretty good much of the year in the red zone, ranking sixth in efficiency at 64 percent. As good as it has been overall, Cleveland's defense hasn't been that impressive inside its own 20. The Browns rank last in the league in defensive red zone efficiency, allowing scores on 68 percent of plays inside their 20-yard line. Of course, for this to be an issue for either team, the Bengals' offense has to reach the red zone. Against the Ravens last week, it took the Bengals nine drives before they reached the red zone. They were 1-for-2 on their only red zone drives of the game.
Matchup in the trenches:
In addition to seeing how well the teams fare against one another inside the 20s, keep an eye on the Bengals' offensive line and the Browns' defensive line. Cincinnati enters this game without offensive guard
Kevin Zeitler
, who was ruled out Friday with a foot injury. It'll be the first game in his two years that Zeitler will miss, prompting the Bengals to likely bring
Mike Pollak
off the bench to play his spot. The sixth-year veteran hasn't started a game since 2011 and has missed most of this season with a knee injury, but coaches are confident that he'll play well if called upon. Pollak, center
Kyle Cook
and left guard
Clint Boling
, in particular, will be facing a Browns defensive line that boasts one of the biggest and strongest interior players in the league in Phil Taylor. Defensive ends
Ahtyba Rubin
and
Desmond Bryant
have been headaches for offensive linemen, as well. Outside linebackers
Jabaal Sheard
and
Barkevious Mingo
will play close to the line too, providing an added element to the Bengals' blocking schemes.
Outside battle:
While the threat of inclement weather could force both teams into running the ball, still pay close attention to the battle on the outside between Bengals receiver
A.J. Green
and cornerback
Joe Haden
. In their earlier meeting, Haden got the better of the competition, holding Green to just seven catches for 51 yards. It seemed like every step Green took, Haden was right there with him. Even Green's yard-after-catch numbers were abysmal in that game -- he had only four. While Haden will be trying to lock him down, the Bengals are going to use a combination of corners
Adam Jones
,
Terence Newman
and
Dre Kirkpatrick
to slow receivers
Josh Gordon
and
Davone Bess
. Since
Chris Crocker
is doubtful with a hamstring injury, when Bess lines up in the slot, he likely will see Kirkpatrick opposite him.
November, 15, 2013
11/15/13
11:00
AM ET
CINCINNATI --
A.J. Green
was so bothered by his play at Cleveland seven Sundays ago that instead of cycling through the coaches' film like he normally does during his personal game film review the next day, he turned to the televised copy.
What he saw angered him even more.
"It wasn't my best game," the
Cincinnati Bengals
Pro Bowl receiver began. "A lot of out of character stuff. I can't get frustrated like that ever."
[+] Enlarge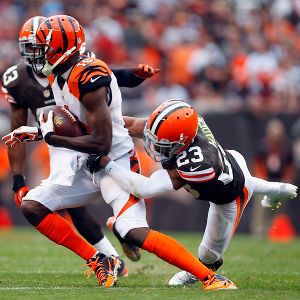 Matt Sullivan/Getty ImagesJoe Haden and A.J. Green will again be matched up against each other in this week's second meeting of the season between Cleveland and Cincinnati.
On the sidelines, in between series of the Bengals'
17-6 loss
to the Browns, Green was caught by cameras throwing his arms up in the air in exasperation and stalking off to corners of the bench on his own, visibly flustered by the way he and those around him were playing. Despite being targeted 15 times, he ended the game with seven catches for only 51 yards.
Part of the reason Green struggled so much in the Bengals' first meeting with the Browns was because of who was covering him, and how.
Joe Haden
, a former consensus All-America selection from the University of Florida and one of the best young cornerbacks in the conference if not the league, drew the responsibility of shadowing Green that day. With Haden's tight, physical, blanket-type coverage, Green had difficulty breaking away for too many long routes and picking up big gains after the passes he did catch.
On Sunday, the Green-Haden showdown enters its second act of the season.
"I'm just looking forward to getting better every week and have a better outcome," Green said when asked about the matchup.
This will be the seventh time in their football-playing careers that Green and Haden have met. They played twice in college when Green's Georgia Bulldogs lost back-to-back neutral-site games to Haden's Gators. In those meetings, Green caught eight passes for 141 yards. Haden, who was drafted one year ahead of Green, had 14 tackles and an interception in those same games.
Since Green's career began three years ago, the pair have squared off five times. If the meetings continue to trend the way they have so far, then Green ought to come out the winner of the battle this time.
In 2011 and 2012, whenever Green was held to a comparatively quiet game against the Browns in the teams' first meetings of those respective seasons, he posted a much better showing in the following contest that year. After being held to one catch, a touchdown, for 41 yards in his first game as a rookie in the 2011 opener, Green came back and caught three passes for 110 yards in the rematch against the Browns later that year. Held to just seven catches for 58 yards in an early-2012 game Haden didn't play in, Green went off in the next game against Haden, catching seven balls for 135 yards and two touchdowns.
"He's one of the best," Green said of Haden.
Haden's style of play made Bengals coach Marvin Lewis agree.
"I hate to compare people, but he's very good," Lewis said. "He's been that way, in my opinion, since he came here as a rookie. He's got great speed, length, and he's not afraid. He just keeps playing. He has all the qualities of great cornerbacks."
With 35 total tackles, Haden is well on pace to set a new career mark in single-season stops this year. He also has one interception, but that's far from the six he had as a rookie in 2010.
Along with the fast and fearless style of play Haden showcases, he also has a bit of trash-talking flamboyance about himself that seems to annoy the receivers he faces. While Green denied being bothered by Haden's antics -- after one hard hit on Green in the first meeting this year, Haden stood over him in a taunting fashion -- his frustrations seemed to stem from the brash manner in which Haden was handling him.
"That's what he does," Green said. "Their whole defense does that. That's the character of their defense."
Because of how quickly the Browns' intimidating front line can get into the backfield during pass rushes, Green is anticipating quicker throws from quarterback
Andy Dalton
. That means he'll still be running shorter routes against Haden. Until recent weeks when it seems more teams started sending full-house blitz packages more consistently at the Bengals, Dalton had been good about getting the ball out of his hand quickly.
Regardless of how quickly Dalton has been getting the ball out of his hand, Green's play has skyrocketed since he was abused by Haden. In the six games since, Green has caught 39 passes for 713 yards and three touchdowns. He has 239 yards after the catch in that stretch, as well, helping propel him into the league lead in receiving yards (1,013).
"He's got a lot more in him," Lewis said. "We need him to keep playing better and better and better. He's, if not our best player, one of our best players. He's got to play great. We've got to keep pushing him to play great."
September, 26, 2013
9/26/13
12:00
PM ET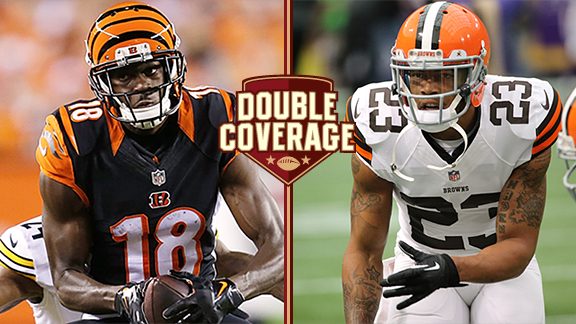 Getty ImagesJoe Haden, right, hopes to contain A.J. Green, who had two TDs in his last game in Cleveland.
The 80th edition of the Battle of Ohio may be one of the more intriguing ones in quite some time.
Then again, it is still very early in the season, so maybe not.
Yes, in general, victories have seemed to elude both teams throughout their long tenures. But perhaps the winds have shifted this year. With a new quarterback and a revamped offensive look after the blockbuster trade of their biggest young star, the
Cleveland Browns
enter the game buoyed by a win and believing in
Brian Hoyer
.
For the
Cincinnati Bengals
, hope and hype have meshed this season as their fans think this might finally be the year Cincinnati gets past its first-round playoff hurdle.
As you get set for Sunday afternoon's contest between the 2-1 Bengals and 1-2 Browns, check out the spirited exchange between Coley Harvey and Matt Williamson as they pondered a few storylines:
Matt Williamson:
The Browns' pass protection improved dramatically in Week 3 in Minnesota.
Joe Thomas
and the edge protection did a great job against
Jared Allen
& Co., but
Michael Johnson
is coming off a spectacular performance himself. Do you think the Bengals' pass-rushers continue their dominant ways?
Coley Harvey:
It certainly seems the Bengals' pass rush has finally hit its stride. All season their fans had been waiting for a performance like Sunday's against the Packers, when they hurried quarterback
Aaron Rodgers
for eight sacks, and limited him to just 244 yards of passing offense. The week before, he threw for 480. The line also accomplished something that hadn't been done in five years: batting down three of Rodgers' passes at the line of scrimmage. Johnson was key in those deflections, coming away with arguably the game's biggest when he swatted Rodgers' fourth-and-5 passing attempt on Green Bay's last play of the 34-30 Cincinnati win.
One name that hasn't appeared much on stat sheets through the first three games is
Geno Atkins
. The newly re-signed defensive tackle has been swallowed up by double-teams and has been chipped by virtually every player on the offensive lines he has faced. The attention teams are giving him has benefited players such as Johnson and fellow defensive end
Carlos Dunlap
. You have to imagine that trend continues.
Pressure is something Hoyer seemed to handle pretty well in his start against Minnesota last week. If he gets the nod behind center again this week, do you think he'll pick up where he left off?
Williamson:
I like Hoyer quite a bit ... as the Browns' long-term backup quarterback. It has surprised me a great deal that he bounced around the league so much in a short amount of time, and I respect how he played in Minnesota, but again, I think his ceiling is that of a high-end backup. Can he spark this team, though? For sure. He clearly has eyes for
Jordan Cameron
and especially
Josh Gordon
-- for good reason. Gordon being out of Cleveland's lineup had a much bigger effect on this offense than many realize. But overall, yes, I think Hoyer can have a nice day once again targeting Gordon and Cameron.
A.J. Green
is obviously a very special wide receiver, but the Bengals have gotten away from him at times. They now have a wealth of other receiving options, including the rookies
Giovani Bernard
and
Tyler Eifert
, but if
Joe Haden
can slow down Green one-on-one, much as
Ike Taylor
did in Week 2, could the Bengals struggle to create offense through the air?
Harvey:
Yeah, I suppose that could happen, but I'm not banking on it. There's just something about playing on the road that seems to get Green going. His home-road splits are actually quite creepy. In the 16 road games he has played in his career, Green has 106 receptions for 1,619 yards and 16 touchdowns. In the 18 games he has played at Paul Brown Stadium in Cincinnati, he's caught just 75 passes for 1,037 yards and eight touchdowns. He's even been targeted by quarterback
Andy Dalton
about 8 percent more often on the road than he has been at home. The two games in which Green was stifled this season? Yep, you guessed it: They were at home.
OK, so maybe I'm reading too far into the home-road splits, but I have a feeling Green will do well this weekend. He had a tough matchup in Week 1 at Chicago. Even though
Charles Tillman
intercepted two passes while covering him, Green still caught nine passes and two touchdowns. Still, Browns fans should watch Bernard and Eifert. The two rookies figure to be an even larger part of the offense.
There obviously has been a lot made of Cleveland's offense in the past few weeks, but it looks like
D'Qwell Jackson
has been the unsung hero of the defense. He had 10 tackles last week. How much should Bengals wideouts and running backs be wary of going across the middle with Jackson out there?
Williamson:
Jackson has played very well and is highly productive, for sure. He has excellent range, reads plays well and is excelling against the run and in coverage. But I would say the true unsung heroes are those in front of him.
Phil Taylor
is a personal favorite of mine as a dominant interior presence that demands extra blocking attention. Taylor makes room for everyone, especially Jackson, to do what they do best, but
Desmond Bryant
,
Ahtyba Rubin
,
John Hughes
and others are also playing very well on the interior for Cleveland and should give Cincinnati's guards and center all they can handle against both the run and pass.
I briefly mentioned Gio Bernard earlier and I must say, I don't think it will be long before he is putting up Pro Bowl numbers year after year for the Bengals. But right now, he and
BenJarvus Green-Ellis
split carries, which makes some sense so early in Bernard's career. However, coach Marvin Lewis needs to unleash his rookie running back. When do you see that happening?
Harvey:
I agree with you, Matt. At some point, Lewis needs to start going even more with Gio. And that's not a slight to Green-Ellis. He's been a solid back since he arrived in Cincinnati, and has even benefited from having Bernard on the field. When they're on the field together, Green-Ellis' yards-per-carry average is higher than it is when he's back there in a one-back formation.
I suspect the Bengals will keep bringing along Bernard slowly, but before the season is over he should be seeing 20 touches.