Cincinnati Bengals:

Ken Zampese
September, 22, 2014
Sep 22
6:15
PM ET
CINCINNATI -- Hue Jackson had to avert his eyes.
When the
Cincinnati Bengals
' offensive coordinator called the now infamous touchdown pass from receiver
Mohamed Sanu
to quarterback
Andy Dalton
in Sunday's
33-7 Bengals win
against the
Tennessee Titans
, he felt he had drawn the play up perfectly.
[+] Enlarge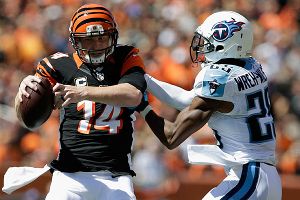 AP Photo/Darron CummingsTennessee's Blidi Wreh-Wilson failed to make a play on this pass to Bengals QB Andy Dalton in the first quarter. Dalton caught the ball and ran in for a TD.
Even if the Titans had practiced against that play, they still weren't going to be ready for it at that moment, Jackson reasoned. In his mind, he was going to run it regardless. All Sanu had to do was take his pitch from Dalton, stop, turn to his left and deliver a strike back across the field to the wide open quarterback. That's precisely the way he expected the play to go.
But it didn't.
As soon as Sanu let go of the ball, Jackson peered across the field and simultaneously saw what made
Sanu dejectedly mutter to himself, "Oh s---."
It was Titans cornerback
Blidi Wreh-Wilson
, stepping up after originally dropping back in coverage, and sprinting back to the line of scrimmage.
Wreh-Wilson was making a beeline for Dalton. With the ball floating to the quarterback, all Wreh-Wilson needed to do was make one of two decisions. Either he was going to jump the route and intercept the pass for an interception return for touchdown, or he was going to light Dalton up with a blindside hit that would rattle the Ohio River Valley.
It was the latter that flashed quickly through Jackson's mind. So he turned away.
"The last thing you know, I'm talking to [quarterbacks] Coach [Ken] Zampese on the headset and I go, 'Oh no,'" Jackson said, reliving the play Monday afternoon. "The ball is thrown and Kenny says, 'He's going to score.' I quit watching. I turned around and was like, 'What's going to be the next call?'
"Ken goes, 'Hue, he's going to score.'"
Sure enough, Wreh-Wilson made the odd decision to pull up and completely avoid both Dalton and the ball, allowing Dalton to catch the pass without contact and sprint toward the pylon. With a dive across the goal line, Dalton completed the first touchdown reception of his career.
As the crowd erupted, Jackson looked back up and saw Dalton celebrating. He let out a sigh of relief.
"It's a calculated risk," Jackson said.
It's the type of risk that he'll repeat.
"We'll just keep spreading this thing around because the more versatile we are as an offense, the harder we are to defend," Jackson said. "We have several guys that when they touch the ball, a lot of good things can happen."
June, 11, 2014
Jun 11
6:00
PM ET
CINCINNATI -- Since his Queen City arrival about a month ago,
AJ McCarron
's nights have followed a distinct pattern.
If the rookie quarterback is not at a Cincinnati Reds baseball game or taking in a quick meal at a local eatery, he is in his new Ohio River Valley abode with his nose buried in a
Cincinnati Bengals
-issued iPad until past midnight while his famous fiance looks on.
Still six weeks and one day shy of the start of training camp, it's all about learning for the first-year player. It's not about trying to supplant the veteran starter from Day 1 of training camp, or taking first- or second-team reps throughout the preseason. For the foreseeable future, it's about learning the Bengals' offense, adapting to it and playing as well within it as he can.
[+] Enlarge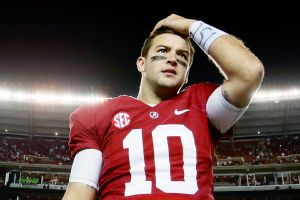 Kevin C. Cox/Getty ImagesAJ McCarron is spending his early days with the Bengals just trying to get a handle on the playbook.
All of that means it's also about subjecting his partner, Sports Illustrated model and former Miss Alabama Katherine Webb, to hours upon hours of football.
"She's having to sit there and watch the game when she probably didn't want to," McCarron said Wednesday, adding that he felt bad for subjecting her to it. "But right now, it's just a lot of studying and trying to make everything like it's natural and I don't have to think about it."
McCarron added that part of his Sunday night was spent watching the Miss USA beauty pageant with Webb.
Tuesday night, though, it was back to football. McCarron said he stayed up to 12:30 a.m. breaking down protections, coverages and blitzes as he sifted through offensive coordinator Hue Jackson's new system. He thinks the study has been paying off.
"I feel like I'm in a good groove right now, and I feel like I'm in a good place," McCarron said. "I'm catching on."
He's also healing. After being forced to only hand off the football during the first two weeks of voluntary organized team activities, McCarron has been throwing during the minicamp all this week. On both Tuesday and Wednesday, he was mostly firing shorter passes to running backs tucked at the bottom of coverage patterns. After dealing with so-called "arm tightness" the first two weeks, he's been cleared to at least throw in a limited capacity. Eventually, the Bengals will work up to allowing him to make longer throws.
Still, he was glad to have a chance to make the ones he did.
"Just to get back in the swing of things and being able to have reps throwing the ball instead of just run plays the whole time; it's definitely good," McCarron said.
In addition to his late-night film study, McCarron credited Jackson and quarterbacks coach Ken Zampese for helping him quicken his pace of learning.
"It's Coach Zamp. We're really close," McCarron said. "He's a really good friend and a great coach. He's helped me a ton. We've spent a lot of hours together going over everything. He's been a huge help to me so far, and he pushes me. That's what I like. I want somebody where, if I don't do right, they get on me and just throw me in the fire. Coach Hue and Zamp have done that."
January, 23, 2014
Jan 23
8:00
AM ET
Andy Dalton's successes and struggles have been well documented. So we'll avoid rehashing them as much as we can with this particular post to kick off your Thursday.
What hasn't been stated quite as much are the reasons the Cincinnati Bengals continue to believe he is their quarterback of the present and, at the very least, short-term future.
Why exactly have head coach Marvin Lewis and his assistants been so firm in their support of Dalton over the years, almost to the point of defiance at times? It comes down to patience. While there really isn't much patience to be had in today's quick-trigger NFL, it is through remaining patient that the Bengals believe the quarterback heading into his fourth season will soon turn the final corner they have been confidently awaiting for so long.
Dalton's struggles come down to two things: lacking consistency and lacking success in the playoffs. The time for Dalton to finally be the quarterback the Bengals envisioned he could be is now. He's already performed some rather impressive feats in his first three seasons, putting up numbers that even some of the game's current elite quarterbacks weren't able to touch in their first three years in the league.
But his failure to win a playoff game in three tries and the apparent problem he has at maintaining his high level of play from week-to-week have hurt perceptions about him. Most around the NFL believe Dalton is a good quarterback, but that he's just not in that upper echelon of signal-callers.
So why are we talking about Dalton this morning? Because it was while evaluating quarterbacks and other soon-to-be professional players at the Senior Bowl in Mobile, Ala., all week that Bengals coaches were reminded of the 2011 Senior Bowl. It was one they coached, and one that gave them an up-close-and-personal look at quarterbacks like TCU's Dalton, Florida State's Christian Ponder and Nevada's Colin Kaepernick. Of the three, Kaepernick appears to have had the better NFL career, winning more playoff games and reaching the Super Bowl already.
At the time, the Bengals had no room for patience. They needed someone to replace Carson Palmer immediately. So Dalton was drafted. Don't be surprised if the patience the Bengals have tried to show with their quarterback since that rookie season begins to lessen. They know the time to win in the postseason is at hand.
This Thursday's Morning Stripes begins with a look at remaining patient with Dalton: