Cincinnati Bengals:

kyle cook
December, 10, 2013
Dec 10
1:30
PM ET
CINCINNATI -- Much of the talk the last two weeks surrounding the
Cincinnati Bengals
' recent offensive line overhaul has centered, with good reason, on Pro Bowl lineman
Andrew Whitworth
.
After moving over from left tackle to left guard during the Week 13 game at San Diego, the eight-year veteran's physical and athletic play at the new position has been among the key reasons the Bengals' offense is coming off two of its best offensive performances of the season. The call to switch Whitworth was indeed a good one, and it should stick.
But that change isn't the only one that deserves credit. Equally important to Cincinnati's offensive line changes has been the move that took
Anthony Collins
off the bench, and inserted him into Whitworth's old starting left tackle spot. Without a player the caliber of Collins on their sideline, the Bengals might not be enjoying the run- and pass-block protection that has factored heavily in their last two wins.
From the moment the line changes were made, the Bengals have rushed for 316 yards and passed for 456. Quarterback
Andy Dalton
has only thrown one interception, and he hasn't been brought down for a sack. The Bengals also were just nine yards away from having respective 100-yard rushing performances in the two games for running backs
BenJarvus Green-Ellis
and
Giovani Bernard
. Yes, since the changes were made, Cincinnati has been rolling offensively.
The changes that moved Whitworth over one spot and inserted Collins into a more active role came on the sixth play of the game at San Diego. On the play before, previously starting left guard
Clint Boling
tore his ACL. His season was effectively over.
Last week, while debating whether to make the changes stick, offensive coordinator Jay Gruden praised his deep pool of tackles. The group was even so strong to him and head coach Marvin Lewis before the Chargers game that both felt comfortable starting Collins at right tackle in place of
Andre Smith
, who was benched that day for an unspecified reason. When Boling went down, Smith came in, Whitworth shifted over and Collins moved across the line to Whitworth's previous spot.
"Obviously great tackles are hard to find, but luckily we have three tackles in here that can play NFL football with Collins, Smith and Whit," Gruden said. "And with Whit's versatility and unselfishness, we can play him anywhere and be pretty good."
As a team leader, Whitworth very easily could have declined the opportunity to stay at left guard ahead of last Sunday's game against the Colts, but in deference to his team, he decided to remain on the line's interior. In his eyes, the Bengals are better off with him there than if he stayed on the outside.
"Jay Gruden all week was like, 'I love you in there, but I feel bad if you're going to miss out for going to the Pro Bowl or having an opportunity to be all these things by moving,'" Whitworth said. "I told him, 'To be honest, that's why I wear a 'C' on my chest. Whatever it is that's going to help us win football games, that's what I want to do."
Although his opportunities have been limited, Collins has helped the Bengals win in his own right for much of the year, too.
Sunday's game against Indianapolis marked the fourth time this season that Collins played more than 30 snaps in a game. The extensive playing time came after he also started at left tackle in place of an injured Whitworth during the season opener at Chicago and in the 22-20 overtime loss at Miami on Halloween. He has played in 12 games total. Aside from the four starts he has made, Collins also played 26 snaps in the Monday night win over the Steelers and 25 more in relief of Whitworth during the 49-9 blowout over the Jets in October.
Of those six games he has enjoyed such action in, four have resulted in wins. The loss at Miami came on an overtime sack for a safety that was the result of a protection breakdown on the opposite side of the line. The loss at Chicago came after a 15-yard Bengals defensive penalty negated a punt that could have returned to set up a possible Bengals comeback drive.
In the six games Collins has played the most in, Dalton has been sacked seven times total. Five of those came against a Dolphins defense that was intent on pressuring the third-year quarterback the whole night. In three of the six games, Dalton was kept upright and didn't get sacked once. As for the ground game, the Bengals rushed for more than 150 yards in three of the six, specifically hitting 164 yards and 155 yards in the last two. They also have eight rushing scores in the six games.
"We all knew he had it in him," center
Kyle Cook
said of Collins. "He's a very athletic guy. He's had the ability to practice with the 1s at both [tackle] positions, right and left. So it wasn't like he's been around here all these years but he's never played. When Chicago came around, we knew he was going to be able to do it. It was like, 'If Whit can't go, no sweat. A.C.'s got it.'"
As long as the Bengals maintain that confidence in Collins across the remainder of the regular season and into the playoffs, expect his addition to continue having a big impact on their offense.
December, 9, 2013
Dec 9
7:25
PM ET
CINCINNATI -- The next three weeks could end up being the most important of the
Cincinnati Bengals
' season.
Playoff berths are on the line and other postseason prizes are at stake, too. If the Bengals win all of their final games games and end the regular season on a 6-0 winning streak, they have a strong chance at claiming the AFC's No. 2 playoff seeding -- along with the first-round bye and home-field advantage that would come along with it.
Of course, they also need a little help from the current No. 2-seed
New England Patriots
. Even one Patriots loss in the next three weeks could end up being all the help the Bengals need in order to clinch that coveted spot.
But the Bengals are more focused on other things: namely winning their game Sunday night against the
Pittsburgh Steelers
. Beyond that, their focus remains on doing whatever will allow them to clinch a postseason berth. As much as their play recently may have made it seem like they had already wrapped up a playoff spot, the Bengals have not.
In order to receive a playoff berth this weekend, the Bengals need the following to happen:
To beat or tie the Steelers on Sunday.
A Dolphins loss to the Patriots on Sunday.
In order to clinch their third AFC North title under coach Marvin Lewis this weekend, the Bengals need the following to happen:
To beat or tie the Steelers on Sunday.
A Baltimore Ravens loss to Detroit next Monday night.
In order to move from No. 3 to No. 2 in next week's AFC seeding, the Bengals need the following to happen (note: they won't be able to clinch the seeding until Week 16 at the earliest):
To beat the Steelers on Sunday.
A Patriots loss to the Dolphins on Sunday.
As you can see, much remains in flux when it comes to the playoff picture. That's why some players like center
Kyle Cook
are taking a patient approach to letting the various scenarios play out.
"It's tough. I don't look at it," Cook said. "When somebody says, 'You're in no matter what,' then great. But until that happens, it's too hard with people walking around and saying, 'If this wins and this team loses, then you do this.'
"Hopefully we just keep winning and go from there."
Don't tell Cook, but if you want to play around with some of the scenarios and tiebreaks yourself, be sure to check out
ESPN's Playoff Machine
. This can be a useful tool for those who do feel like playing the "what if," "if then" game.
Here's a roadmap outlining what the next three weeks look like for the teams the Bengals need to keep the closest tabs on as they look toward what appears to be an immediate postseason future:
Cincinnati Bengals (9-4 overall, 6-0 home, 3-4 road)
Week 15 -- at Pittsburgh, Sunday night
Week 16 -- vs. Minnesota, 12/22
Week 17 -- vs. Baltimore, 12/29
Baltimore Ravens (7-6 overall, 6-1 home, 1-5 road)
AFC North title depends on them
Week 15 -- at Detroit, Monday night
Week 16 -- vs. New England, 12/22
Week 17 -- at Cincinnati, 12/29
Miami Dolphins (6-6 overall, 3-3 home, 3-3 road)
AFC playoff berth this weekend depends on them
Week 15 -- vs. New England, Sunday
Week 16 -- at Buffalo, 12/22
New England Patriots (10-3 overall, 7-0 home, 3-3 road)
AFC No. 2 seeding this weekend depends on them
Week 15 -- at Miami, Sunday
Week 16 -- at Baltimore, 12/22
Week 17 -- vs. Bills, 12/29
Indianapolis Colts (8-5 overall, 4-2 home, 4-3 road)
AFC No. 3/4 seeding could depend on them if Bengals lose last two games
Week 15 -- Houston, Sunday
Week 16 -- at Kansas City, 12/22
Week 17 -- Jacksonville, 12/29
December, 8, 2013
Dec 8
10:05
PM ET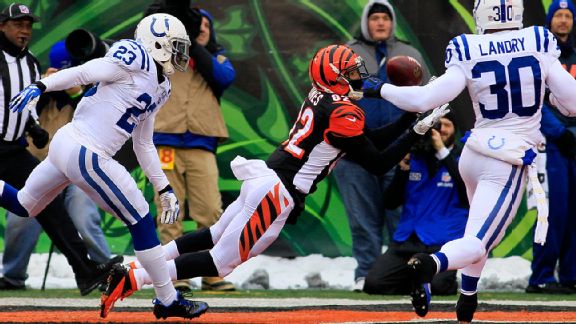 AP Photo/Tom UhlmanMarvin Jones' touchdown catch opened the scoring for what was a balanced Bengals offense.
CINCINNATI -- Mere minutes after jogging off Paul Brown Stadium's frigid field and back into the warm comforts of their locker room late Sunday afternoon, several
Cincinnati Bengals
crammed into a small space near an equipment room. Huddled close together in a corner, they watched the other early games, specifically those featuring a pair of division rivals and their unsuccessful attempts at holding on to late leads.
Compared with what many of the Bengals had to say after their
42-28 win
over the playoff-bound, division-winning
Indianapolis Colts
, it was a bit of an awkward sight to see them pulling for another team for the sake of boosting their own postseason seeding and the probability of a first-round bye.
Seeing as how virtually every Bengal who was asked argued for "controlling what
we
can control," and ignoring all others in order to focus on themselves, it was a strange scene to digest.
"The key to that, though, still is just to handle our business," said defensive tackle
Domata Peko
, admittedly one of those who tiptoed from his nearby locker to watch the two tight finishes. "If we win out, we're in a good situation. If we just take it one game at a time like we have been, we should be fine."
So after witnessing the
Pittsburgh Steelers
, next Sunday night's opponent, lose a fourth-quarter lead at home against the
Miami Dolphins
, and even after watching the
Cleveland Browns
blow their own late-game lead against the
New England Patriots
, the Bengals remained confident in themselves.
Asked whether his team had what it took to go on a long postseason run, Bengals offensive lineman
Andrew Whitworth
quickly replied: "We have the potential to."
Peko isn't so sure that many outside Paul Brown Stadium believe that. Much of what he's watched or read from pundits in recent days goes against what he witnesses every day.
"A lot people haven't given us much respect," the defender said.
As hard as it may be to believe, these Bengals are different from the majority of those who share their ancestral football bloodline. The Bengals of old, for now, at least, are no more. The team that calls southwest Ohio home this year really is a good one. Defense has been its calling card, but solid special-teams play of late and a newfound offensive identity that hinges on true run-pass balance have the Bengals suddenly looking like an even more formidable bunch.
So why, then, were the Bengals doing a little postgame scoreboard-watching?
It was mainly so that they still have an idea of where some of the other teams around them in the AFC standings are, center
Kyle Cook
said. He knows that a team like the Patriots -- who retained their No. 2 seeding thanks to a narrow win over the Browns -- controls its fate, but a misstep here or there can help Cincinnati reach its goals.
"That No. 2 is going to to be big, and we know it," Cook said. "But you just got to put your mind to the grindstone. These last three weeks, this is what you've been preparing all offseason for, all camp. We want to be in this situation."
Two weeks ago, coming off their bye, the Bengals were adamant about going 5-0 in December to set up an end-of-season roll into the playoffs. So far, they're 2-0 in the month.
"That's why when we say we control our own destiny and if we win out, we'll be great," linebacker
Vontaze Burfict
said.
Yes, it may be difficult to digest, but the Bengals really are in this position. Unlike their last two playoff runs, though, a much greater postseason fate could be on the horizon. Does that fate include multiple postseason wins? A Super Bowl berth?
Stay glued to your TVs to find out.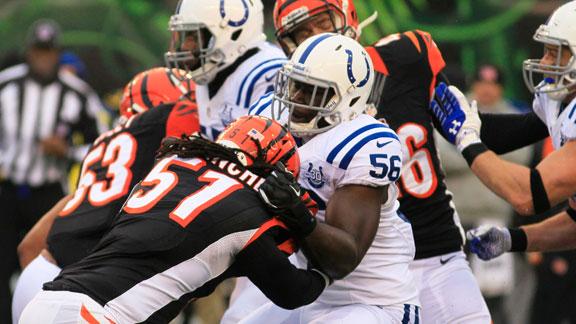 November, 15, 2013
Nov 15
2:50
PM ET
CINCINNATI -- When the
Cincinnati Bengals
return from their bye next week, expect them to get back to some semblance of normalcy on the injury front.
Just after his team's final practice before hosting Cleveland this weekend, coach Marvin Lewis told reporters Friday that he believed his team would be at "full strength" when it headed out west for its Week 13 contest in two weeks.
Maualuga
"We're on the mend," he said.
Full strength, of course, doesn't mean the entire roster that started the season will be back. It just means the players who the Bengals have been waiting to get rehabbed from different ailments will have returned.
One of them, middle linebacker
Rey Maualuga
, took a turn in that direction Friday when he practiced for the first time since leaving the Bengals-Jets game four weeks ago with a knee injury and a concussion. He was held to limited work. The Bengals had been expecting Maualuga's MCL sprain to heal by Week 13. Since his injury, backup
Vincent Rey
has started, collecting 18 total tackles, three sacks and an interception in the past two games. Both sacks and the interception came in last week's 20-17 overtime loss at Baltimore.
Maualuga, who has been listed as Out for the past two weeks, was declared Doubtful on the injury report released Friday. Taking his place as an Out designation was offensive guard
Kevin Zeitler
, who suffered a foot injury last week. Zeitler hasn't practiced all week and has been hobbling around the locker room with a boot and crutches.
Along with being down Zeitler, the Bengals also will be without defensive tackle
Devon Still
, who has been recovering the past five weeks from a dislocated elbow. The Bengals have been expecting him to return by Week 13, too. The missed start will be Zeitler's first of his two-year career.
It appears he will be replaced by reserve guard
Mike Pollak
. The backup, who missed nearly all of the first half of the season with a knee injury, took Zeitler's reps during open practice periods this week. He has been impressing coaches since his return.
"He's done well," Lewis said. "He's not had obviously much opportunity in a game, but he's done well in practice and looked good. He's a smart guy, and this is why we have him here; to back up the interior, and he's got a chance to do that."
A six-year veteran, Pollak hasn't started a game since 2011.
"You sit there and as a veteran player, you're waiting for your chance and you understand why your chance doesn't come," Lewis said. "So you know the urgency of when your chance comes to make good on it."
Cincinnati likely won't have cornerback
Chris Crocker
on Sunday, either. The veteran hasn't practiced all week because of a hamstring injury and was declared Doubtful on the injury report.
Otherwise, the Bengals should be healthy for the Browns. Outside linebacker
James Harrison
, who didn't practice Friday after working out the first two days this week, was listed as Questionable with a calf injury. Another six players who spent time on the injury report this week were listed as Probable.
OUT

OG Kevin Zeitler (foot)
DT Devon Still (elbow)
DOUBTFUL
CB Chris Crocker (hamstring)
LB Rey Maualuga (knee)
QUESTIONABLE

LB James Harrison (calf)
PROBABLE
TE
Jermaine Gresham
(groin)
C
Kyle Cook
(hamstring)
CB
Terence Newman
(ankle)
DT
Brandon Thompson
(ankle)
LB
Michael Boley
(hamstring)
LB
Vontaze Burfict
(kne)
November, 10, 2013
Nov 10
5:54
PM ET
Observed in the locker room after the
Cincinnati Bengals
' 20-17
overtime loss
to the
Baltimore Ravens
.
Crocker
Perturbed by penalties:
The Bengals were glad to get
A.J. Green
's 51-yard Hail Mary touchdown reception at the end of regulation, but they didn't want to talk much about it. Instead, penalties were the hot topic of conversation in the locker room. Cincinnati was flagged nine times for 134 yards. It held a 7-2 advantage in penalties at halftime. "You can't speak about the refs without getting fined," cornerback
Chris Crocker
said, "but I'm not going to totally agree with what happened." Coach Marvin Lewis said the calls seemed one-sided at times.
Total-yard shocker:
As a few reporters walked past the defensive back's wing of the Bengals' cramped visitors locker room inside M&T Bank Stadium, three curious players asked them what the Ravens' total yardage for the game was. When they were told "189," the defenders shook their heads. It isn't often a team loses a game in which it allowed fewer than 200 yards of offense.
Still in it:
Center
Kyle Cook
may not be pleased with the loss, but the Bengals still lead their division, he noted. Not all is lost: "We've got three more division games left, and we'll write our own destiny here."
October, 24, 2013
Oct 24
6:50
PM ET
CINCINNATI -- The start of the regular season was still several months away, but
Cincinnati Bengals
right guard
Kevin Zeitler
began preparing anyway for one of the biggest challenges of his football-playing life.
When he sat down early in the offseason and looked at the Bengals' schedule for the first time, he was instantly struck by one thing: he and his offensive linemates had better get ready because they were about to experience a true five-month gauntlet. In nearly all of their 16 games, they would be going up against a set of defensive lines that featured existing All-Pro defensive tackles, future All-Pro defensive tackles, or confusing, multi-look schemes with perpetually stunting linemen and blitzing linebackers. Buffalo's blitz-first defense and its set of burly defensive tackles were a mixture of all of the above.
So how then does one describe the
New York Jets
' similarly confounding defense that comes to Paul Brown Stadium on Sunday?
[+] Enlarge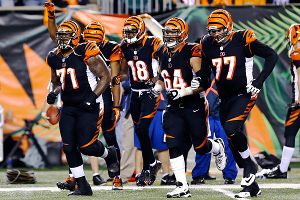 AP Photo/Scott BoehmAndre Smith (71), Kyle Cook (64), Andrew Whitworth (77) and the rest of the Bengals' offensive line have faced a steady stream of challenges this season.
"Everyone's been using the term 'Buffalo on steroids,'" Zeitler said.
Much like the Bills, the Jets like to throw blitz packages from all over their unit at opposing offenses. Their trio of defensive linemen --
Muhammad Wilkerson
,
Damon Harrison
and
Sheldon Richardson
-- are considered among the league's top run-stoppers, and they possess quick, athletic first steps that often put them in opposing backfields. The Jets rank seventh in the league in sacks per dropback.
"Taking nothing away from Buffalo's defense, they're playing very well and they are very good. But [Jets coach] Rex Ryan's got this system in place for a lot of years," Bengals offensive coordinator Jay Gruden said. "His interior people. Those big guys, they stop the run like nobody I've ever seen. It'll be a great challenge for us to get guys in the right spots as far as protection's concerned and finding guys to throw it to."
If Bengals center
Kyle Cook
thought he was playing a
chess match
two weeks ago when he was calling out line protections and making sure the rest of his unit was in sync on the road against the smoke-and-mirrors Bills, just wait until he puts his hand on the football Sunday. Along with Cook, the entire Bengals line will be barking orders to make sure the group knows exactly where the pressure is coming from.
"They do a lot of crazy personnel groups, a lot of different things that are going to put you in tough situations," Bengals left tackle
Andrew Whitworth
said. "It's kind of a call-and-run defense. You just never know what personnel might be in the field, what kind of things they might be lined up in. So it's a lot of recognition and being able to know where they are.
"These are good players and they try to confuse you and get you off base."
So what will it take to stop them?
"A lot of studying," Whitworth said.
While Whitworth and fellow offensive tackle
Andre Smith
will have their hands full studying for Wilkerson and outside linebacker
Quinton Coples
, the players on the Bengals' interior, Zeitler, Cook and left guard
Clint Boling
, must prepare for a tough rookie in Richardson and the second-year nose tackle Harrison.
As difficult as the inside tandem can be to go against, it will be another notch on the Bengals offensive line's proverbial belt if the unit is successful keeping the Jets out of the backfield. Richardson and Harrison would be added to the list of impressive defensive tackles the Bengals have faced and held their own against.
In Week 1, it was Chicago's
Henry Melton
. He only had one tackle in a game the Bengals nearly won. Three weeks ago,
Tommy Kelly
did an admirable but not good enough job filling in for
Vince Wilfork
in New England's loss to Cincinnati. A week later, the tag team of
Marcell Dareus
and
Kyle Williams
combined for 1.5 sacks, but were torched along with the rest of the Bills' defense by Bengals quarterback
Andy Dalton
, who threw for 337 yards and three touchdowns. Last week, Detroit's
Nick Fairley
and
Ndamukong Suh
combined for a sack, but Dalton still passed for 372 yards and three scores.
By holding those respective tackle groups in check, Cincinnati's line has seen its confidence grow.
"We've faced different guys different weeks," Whitworth said. "When you can kind of have the game look the same no matter who has the hard guy lined up against him, that's when you know you have a good group. That's what we have been able to do. It really doesn't matter where their player is, things look the same. That's what your goal is every time you play a game."
For Zeitler, a second-year player who coaches say has allowed only three pressures while drawing some of the more difficult man-to-man matchups of the season, such growth is evident.
"It's fun when you see the building," he said. "It's like, 'OK, we're getting there and we know we can do better.' We see our mistakes every week and we all know we can do better and can take that play to the next level and keep going."
October, 17, 2013
Oct 17
6:45
PM ET
CINCINNATI -- If there were another position on the football field that
Cincinnati Bengals
center
Kyle Cook
could play, according to him, it would be quarterback.
No, don't rub your eyes and don't adjust your computer screen. If you're reading this on a tablet or mobile device, don't go running to your settings, either. You read it right. The 295-pound lineman would like to be a gunslinger.
"I'd be one awful quarterback," Cook said, "but I'd like to play a position where you get that, like, chess game kind of thing and where you can see what they're giving you [defensively]."
In the past when I've asked coaches about the positions they think are not only the hardest on the field to learn but also the most difficult to play, they always say quarterback and center. The quarterback portion of that makes sense. On just about every team, at every level, it is the one position that has the most eyeballs on it, and more scrutiny than any other.
[+] Enlarge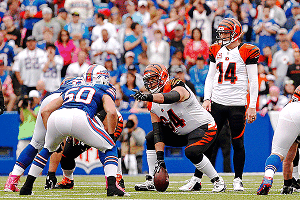 Kevin Hoffman/USA TODAY SportsBengals center Kyle Cook has developed the art of pointing out potential blitz packages.
Quarterbacks have to have the shortest memories and toughest skin of any player on their team. They also have to have some measure of athletic ability, a sharp mental acuity and an ability to see one, two or three plays into the future. They have to be able to see the play take shape, from both the offensive and defensive side of the ball, before the ball is even snapped.
For that reason, it's an important position.
But because quarterbacks can't quite see everything, they have another set of eyes. Those that belong to their centers, who make line checks and calls that can buy a little extra pocket time before a pass gets thrown.
Cook's eyes, according to offensive coordinator Jay Gruden, have been among the more underrated components of his overall game.
Against Buffalo last Sunday, Cook was playing the same kind of chess game that Dalton was as the pair went through constant line checks to spot blitz packages and inform their teammates where rushes were coming from. A seemingly nonstop blitz team, the Bills were sending defenders from every angle at Cincinnati's offensive line, forcing Cook and quarterback
Andy Dalton
to spot more rooks, bishops and pawns than they had much of the season.
"They're all over the joint," Gruden said about the Bills' blitzers, including defensive backs. "They're bringing nickels, they're bringing dimes. It's hard.
"And that's where the value of Kyle Cook really separates itself. He did an excellent job with the calls. Him and Andy both, getting us to the right protection, sliding the guards or doing whatever we had to do to pick up the blitzes."
Even though Dalton was sacked three times, Gruden blamed them on tight Bills coverage that left Dalton with nowhere to throw. He also thought they were the result of his quarterback not throwing the ball away at times when he should have. The offensive line, he felt, had it's pieces in the perfect places to protect his third-year gunslinger.
According to ProFootballFocus.com, the Bengals boast the NFL's second-best pass blocking efficiency at 84.5. Only Denver ranks ahead of the. Cincinnati's Sunday opponent, the
Detroit Lions
, rank fourth.
Much of that success is a credit to Cincinnati's entire offensive line. But when it comes to getting the right protections in place for the remainder of the line to block, that starts with Cook and Dalton.
"Kyle's done a great job," Dalton said. "One of his big strengths is he's a really smart player and communicates well and gets us into some of those right protection checks."
While the Bengals defense will have its hands full trying to break through the seemingly impenetrable wall the Lions line has built this season, Cincinnati's offensive line will be facing a slightly different challenge than what it saw in Buffalo. Detroit's defense doesn't blitz quite as often, instead relying on getting good pressure from a line that has three former first-round picks on it. This week, it'll be all about being physical and not letting
Ndamukong Suh
,
Nick Fairley
and
Ezekiel Ansah
, in particular, into the backfield.
"Yeah, they're a more straightforward defense," Cook said. "They're a 'here's what we are, here's what we're going to play' kind of thing."
Maybe that's a good thing. Compared to what he saw from the Bills, Cook may as well be playing checkers this week.
October, 16, 2013
Oct 16
7:50
PM ET
CINCINNATI --
Andrew Whitworth
, the outspoken Pro Bowl veteran and unofficial spokesman of the
Cincinnati Bengals
' offensive line, has the perfect solution for handling
Detroit Lions
defensive tackle
Ndamukong Suh
and the post-play antics that have caused most around the NFL to consider him a dirty player.
When they face the 307-pounder and the rest of the intimidating defensive line that boasts two other first-round draft picks Sunday afternoon, Whitworth believes he and his teammates need to have one concern: block him.
[+] Enlarge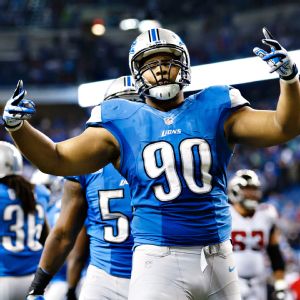 AP Photo/Rick OsentoskiThe Bengals are focused on blocking Ndamukong Suh and not concerned about his other antics.
"It doesn't matter the extra antics that he does. They don't help him win," Whitworth said. "What helps them win is if you are worried about him and everyone takes a shot on him. Some of the stuff you've seen makes you ask, what will teams do? But if you are worried about whether or not you can get a cheap shot in, too, then you are playing into their game.
"The truth is, we need to worry about stopping him from getting to the quarterback and blocking him in run plays and scoring points. It really doesn't matter what else he does."
The NFL certainly cares about what Suh does post whistle. On Wednesday, ESPN's Adam Schefter reported that
Suh was fined
for the seventh time of his four-year career for a hit on Cleveland quarterback
Brandon Weeden
last weekend. This time, Suh will be short $31,500, Schefter reported.
One of Suh's earliest fines came in August of 2011, when the NFL docked him $20,000 for a hit during a preseason game on Cincinnati's then-rookie quarterback
Andy Dalton
. The play in question came in the first quarter of Dalton's first game in a Bengals uniform. Suh broke past the offensive line, galloped into the backfield toward Dalton, and in one motion, grabbed the quarterback -- who had just gotten rid of the football -- around the neck, forcing his helmet to come off. Even as the helmet came dislodged, Suh's momentum continued, resulting in him picking up Dalton and slamming him, helmet-less, into the ground.
The Bengals remember the play quite well, but good luck getting any of them to talk about it this week. Many of them don't want to feed a story line that they don't think exists.
"He's a good player," Dalton said Wednesday, asked about the preseason hit. "He's an aggressive guy. He's a disruptive guy. So you've got to find ways to slow him down. You've got to do certain things because he's pretty good. We know where he's going to be, but it's a big challenge for us."
He had nothing else to say about the takedown.
Bengals center
Kyle Cook
, who was working on a double-team on another Lions defensive tackle when Suh ripped past and into Dalton two years ago, was similarly noncommittal when asked if Suh was a dirty player.
"He's a good player," Cook said, staying tight-lipped. "He's a good player."
Pushed a little further, Cook provided a slightly deeper answer.
"He plays with passion, obviously," Cook said. "Some people think his passion is stretched out at times to where he does some things that he probably wishes he didn't do but in the moment he thought were in the game."
Whether or not they are distressed about Suh's after-the-whistle play, the Bengals do truly seem to respect him.
"You are going to play lots of guys who have antics and a lot of that crap. It's going to happen," Whitworth said. "He happens to be a real good player who also has it so more people know him because of that. ... He's just a football player who plays the game intensely. You don't want him to take some cheap shot on you on an interception where you don't see him coming, but you can't really do anything about it. Truth is, let's just talk about blocking their guys and winning the football game."
October, 16, 2013
Oct 16
4:05
PM ET
CINCINNATI -- The
Cincinnati Bengals
entered Sunday's game at Buffalo mostly healthy. They came out of it in similar shape.
Only three players missed the team's workout Wednesday, the first day the Bengals got outside and practiced as a team since Sunday's 27-24 overtime win over the Bills.
Cornerback
Terence Newman
, running back
BenJarvus Green-Ellis
and defensive tackle
Devon Still
comprised the trio that was absent from the workout. Newman was limited to conditioning drills during the open portion of practice as he nursed an abdomen injury. Green-Ellis was out sick and is expected back later this week. Still, a reserve defensive lineman, was being held out because of a back injury.
All three played Sunday.
In addition to those members of the 53-man roster who missed practice time, the Bengals also were without
Chris Pressley
,
Zac Robinson
and
Andrew Hawkins
. Pressley and Robinson have been on the physically unable to perform list all season, and Hawkins has spent the year on the injured reserve list with a designation for return. Week 7 -- this week -- is the first time players who fall under both categories can officially practice with the team, if the team chooses to allow them to.
In Hawkins' case, the speedy receiver can only practice beginning this week. He can't actually play until Week 9, when Cincinnati travels to Miami.
Here is a look at the Bengals' complete Wednesday injury report:
Did Not Practice
RB BenJarvus Green-Ellis (illness)
CB Terence Newman (abdomen)
DT Devon Still (back)
Limited Practice Participation
C
Kyle Cook
(shoulder)
October, 6, 2013
Oct 6
8:30
PM ET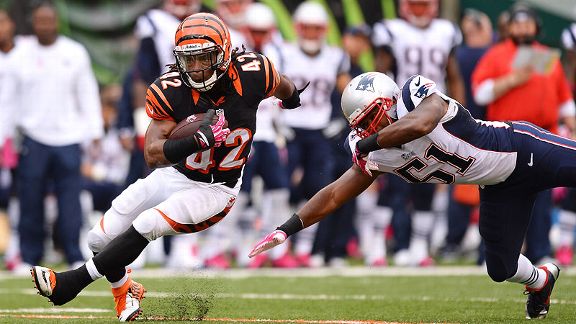 Jamie Sabau/Getty ImagesBenJarvus Green-Ellis and the Bengals were inspired by Marvin Lewis' tough week of practices.
CINCINNATI -- OK,
Cincinnati Bengals
, can we have a heart to heart?
Your win over the
New England Patriots
on Sunday afternoon was fantastic, amazing, stupendous, remarkable and any other adjective you can think of along those lines. The fact that one week after an uncharacteristic loss, you beat a Super Bowl-winning quarterback and his undefeated team, who everyone -- except Las Vegas, apparently; oddsmakers favored you all week -- thought would clobber you into submission, is something that bears applause.
You also ought to be recognized for the fact that despite a harrowing outdoor scene that looked like it was straight out of the Apocalypse, you held on, fended off Mother Nature and earned one of your most important wins of the young season.
Congratulations, you're back over .500.
But here's the thing, Bengals, football fans are fickle, as can be the media who cover the sport they so passionately love.
For that reason, the following question has to be posed: This time around, can we believe in you?
Can we, the voracious consumers of this sport you so courageously risk limb and livelihood for, take you seriously this time? Can we believe that now, you are officially, without a doubt, 100 percent able to live up to the hype so many built up for you this offseason? Can we believe this immensely-talented team does have the internal drive and desire to not only get by as an OK team, but to be a truly great one?
Essentially, what we're asking is this: Should Bengals fans start getting their hopes up again, or should they wait to see if you play down next week to a currently quarterback-less team in Buffalo that you should beat? The fans are on to your hot-and-cold style of play. Many of you are on to it, too. Like them, you know you have a habit of going into winnable games and, for whatever reason, not arriving.
"We can't do that. We can't be up and down. We can't be a roller-coaster team," defensive tackle
Domata Peko
said. "We've got to be consistent and steady. The guys in this locker room got the hint [Sunday]. We've just got to play that way every week."
Cincinnati, you know that in order to be taken seriously again, you must pressure every quarterback the way you did
Tom Brady
. Four-sack games were once a staple in your defense. Make it that way again. Pretend the Brian Hoyers of the world are just like the Mannings, the Flaccos, the Roethlisbergers and Rodgerses; you know, championship quarterbacks you've beaten the past year.
In order to be taken seriously again, you have to throw for more than 170 yards and simultaneously rush for more than 160 like you did in your
13-6 win
over the Patriots. That type of balance is your offensive identity, whether you believe you have really found such a thing or not. You have the horses, so keep figuring out ways to get the ball into
Giovani Bernard
's and
BenJarvus Green-Ellis
' hands. Keep tossing it to
Jermaine Gresham
and
Tyler Eifert
. Keep looking for
A.J. Green
,
Marvin Jones
and
Mohamed Sanu
. Don't deviate from that plan. If you do, you'll have a repeat of last week's bitter mood.
You don't want that.
[+] Enlarge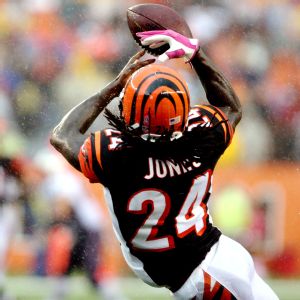 Mark Zerof/USA TODAY SportsAdam Jones' interception of Tom Brady iced the game for the Bengals.
Coach Marvin Lewis was so disgusted by that loss that he put you all through practices last week that were as close to training camp levels of intensity and physicality as the NFL would let him employ.
"We were ready," defensive end
Wallace Gilberry
said. "When you feel like your back is against the wall, that's how you come out fighting. You want to hit whoever it is, first. And when you hit them, you don't really want to give them a chance to hit you back. That's the mindset I take out there, and I'm quite sure I got 10 other guys feeling the same way. I don't care which quarterback you bring and what your case may be, when our back is against the wall, we fight you. So that's the results you get when you got 11 guys swinging and throwing haymakers for four quarters. You make stuff happen."
Gilberry wasn't the only one feeling inspired by the intense workouts. Green-Ellis, en route to his 19-carry, 67-yard performance, was, too.
"We hate losing around here, and anytime you lose, it leaves a sour taste in your mouth," Green-Ellis said, referencing last week's disappointment after a 17-6 loss at Cleveland. "We were anxious to go out [Sunday] whether it was rain, sleet or snow, monsoon, hurricane, tornado. We just wanted to go out and get the 'W.'"
It's fitting "monsoon" was one of the weather elements he invoked. Late in the fourth quarter, during a crucial Patriots drive, sheets of rain settled into Paul Brown Stadium. They soaked the venue so much that it was hard for spectators in the rafters to even see you all moving around the field. Many probably wondered how you even saw the ball.
Apparently, the Patriots couldn't see it, either. On a six-pass drive that started inside the final two minutes, Brady threw four incomplete passes and one interception. Just before the pickoff, the clouds began to lift, the rains started to ease. The precipitation had slowed just enough for
Adam Jones
to track Brady's deep, hopeful, potentially game-tying throw and tip it into the air, before securing it in his hands as he landed awkwardly. Even though 16 seconds remained, the Patriots were out of timeouts. The game had been iced.
You, as a team, had won.
Just like the Week 2 win over the rival
Pittsburgh Steelers
, a solid ground game complemented the passing attack. Just like the Week 3 victory over Green Bay, a big defensive play late effectively preserved a win.
You need more of the same, Bengals.
"As much as you hate letting a couple slip by here and there, you're going to have to win more," center
Kyle Cook
said. "We've already dropped two, so obviously we're going to need to go on some good streaks. But what better way to start it off? We have a hard one against us this week to go to Buffalo. As a team, we have to come together and not only play well at home, but play well on the road."
It all goes back to consistency. Play the way you did Sunday, and you'll start seeing people believe in you again, too.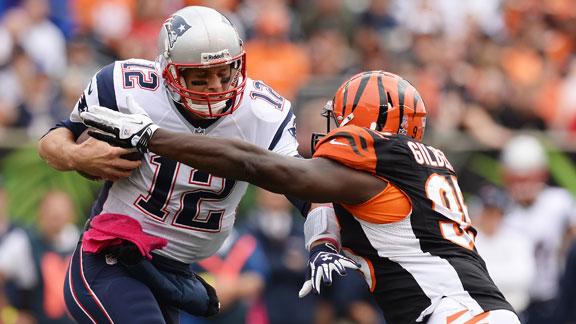 .