Cincinnati Bengals:

Marshall Newhouse
November, 23, 2014
Nov 23
4:06
PM ET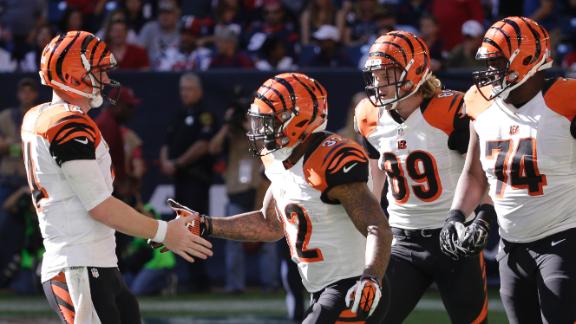 HOUSTON -- A few thoughts on the
Cincinnati Bengals
'
22-13
victory over the
Houston Texans
at NRG Stadium:
What it means:
Two years ago, the Bengals won seven of their last eight games to get into the playoffs. Last year, they went 4-1 in December to also reach the postseason. So with all that in mind, what did Sunday's win, one week after another victory in front of another hostile crowd, mean? It meant that maybe the Bengals aren't the inconsistent club they have been most of this season. Perhaps they're just a good late-season team? If you had told the Bengals before the season that they would go 2-0 in back-to-back weeks at New Orleans and Houston, they'd have taken it. As part of one of their more difficult parts of the schedule, it seemed the Bengals would be lucky to earn a split in these two games. But they now have a second straight win and are 7-3-1.
Stock watch:
Linebacker
Rey Maualuga
's stock continues trending upward after six tackles and an interception Sunday. His presence has clearly had a positive impact on the Bengals' defense. After missing four games with a serious hamstring injury, Maualuga returned last Sunday at New Orleans. In each of the seven previous games, the Bengals had allowed opposing offenses to rush for 100 yards or more. In these past two games, the Bengals haven't allowed a team to gain more than 74 yards on the ground. Even if Maualuga isn't the one recording the tackles, he is moving teammates into the right running lanes and gaps that stop ball carriers quickly.
Newhouse hangs tough:
Although he didn't do enough to earn a game ball, you have to credit Bengals right tackle
Marshall Newhouse
for hanging tough given the harrowing circumstances in which he entered the game. Newhouse was forced into action in the first quarter after starting right tackle
Andre Smith
left with a left arm injury -- he got tangled up with defensive end
J.J. Watt
while trying to block a pass that Watt swatted. Charged with blocking Watt, Newhouse held the right edge pocket just long enough that the all-world lineman was held in check late in the game.
Game ball:
Although the Bengals had a relatively balanced game plan offensively -- running 43 times and passing 35 -- they spent a good portion of the afternoon going to receiver
A.J. Green
, who nearly set a franchise record in catches. Green caught 12 passes, one shy of the record 13 that Carl Pickens had in a game in 1998. Green's 12 catches also set a career high, passing his previous high of 11 that he set last Halloween at Miami. While Green's receptions were spread throughout the game, his best sequence came on the Bengals' second drive, when he caught three passes for 27 yards on four targets. His final catch of that series put the Bengals into goal-line territory ahead of their first score of the game.
What's next?
Cincinnati's great November road swing ends next Sunday when the Bengals travel to Tampa Bay for the last of a three-game stretch away from Paul Brown Stadium. The Buccaneers lead the all-time series 7-3 and haven't lost in the past six meetings. The last time the Bengals beat the Buccaneers was in 1989, the last year Cincinnati went to the Super Bowl.
November, 18, 2014
Nov 18
11:00
AM ET
A weekly look at what the Cincinnati Bengals must fix:
For the Bengals to adequately make this week's fix ahead of their game Sunday at Houston, they may need offensive tackle
Andre Smith
's left ankle to magically heal in time for kickoff.
Backup right tackle
Marshall Newhouse
had a second straight disappointing game playing in relief of Smith at New Orleans on Sunday. He made considerable improvements, though, opening lead holes on a couple of the Bengals' longest runs of the game, and not allowing quarterback
Andy Dalton
to get sacked. Still, Newhouse was credited by Pro Football Focus with allowing three quarterback hurries, including one on the Bengals' first offensive play. As the pressure came fast from his right side, Dalton spun, and avoided contact as he scrambled free for an 11-yard, first-down gain. On the very next play, the Bengals started giving Newhouse help on the right edge as he blocked against the likes of
Junior Galette
and
Akiem Hicks
the rest of the game.
My film review indicated that on 42.1 percent of the non-penalized plays Newhouse was part of, the Bengals either had an extra tight end, fullback or receiver on the line of scrimmage to assist him in blocking that side of the line, or to at least mask the appearance that he was getting help. On 33 of the 57 plays I watched, Newhouse blocked unassisted. On the other 24, either
Jermaine Gresham
,
Kevin Brock
,
Mohamed Sanu
or a combination of Gresham and H-back
Ryan Hewitt
began plays on the line of scrimmage next to Newhouse. Sometimes they'd chip and run routes, but for the most part, they were blocking alongside him. Once, the Bengals moved left tackle
Andrew Whitworth
to the right side to flank Newhouse, but the play was ruled an illegal formation. The Bengals lost 2 yards on the run, anyway.
As Cincinnati travels to the place where it has lost two of its last three playoff games, NRG Stadium, it needs to ensure Dalton will be well protected. If Smith can't go again, don't be surprised if Newhouse gets help like he did in the win over the Saints.
November, 17, 2014
Nov 17
7:30
PM ET
CINCINNATI -- The
New Orleans Saints
are now in the
Cincinnati Bengals
' rearview mirror, but before we completely move on from Sunday's game, let's take a quick peek at some of the ways our friends at Pro Football Focus graded various Bengals players in Week 11.
As always, take the grades with a certain grain of salt because they can end up being later amended, and they can sometimes be the product of particular schemes or coverages or set ups a team happens to play within a respective week.
Here are a few Bengals grades and notes following the 27-10 win:
OFFENSE
Four Bengals, three of them offensive players, made PFF's all-star team of the week. Headlined by quarterback Andy Dalton, who had a plus-6.8 overall grade that was his best since Week 16 last season, the group also included offensive guard Clint Boling, H-back Ryan Hewitt and defensive end Carlos Dunlap.
Completely turning around from Week 10's abysmal showing, Dalton was quite good in multiple facets of his game Sunday. Specifically, he handled both blitzes and no pressure, well. The Saints blitzed just eight times, with Dalton going 4-for-6 for 66 yards and a touchdown on those plays.
According to PFF, Dalton saw pressure on seven of his 25 dropbacks (a 28 percent figure). To this point this season, he has been pressured on just 23.3 percent of his dropbacks. Only Peyton Manning's 22.7 percent is lower. On those 18 non-pressured dropbacks, Dalton was 13-for-18 for 184 yards and two touchdowns. PFF gave him a plus-4.8 passing grade on those plays.
The interior of the Bengals' offensive line was strong, anchored by left guard Clint Boling. Per PFF, he had a plus-2.9 grade in run blocking.
The only offensive lineman to have negative grades in both pass and run blocking from PFF was backup right tackle Marshall Newhouse, who was filling in a second straight game for injured Andre Smith. Newhouse gave up three quarterback hurries one week after he allowed three hurries, a quarterback hit and a sack. To his credit, Dalton routinely avoided pressure from Newhouse's side. It seemed he sensed it coming much better than last weeks.
Running back Jeremy Hill (49 snaps), H-back Ryan Hewitt (40) and tight end Kevin Brock (15 snaps) had their highest snap totals of the season.
Hill forced five missed tackles, including two on his 13-yard reception. On 129 touches this season, he's forced 23 missed tackles.
DEFENSE
Dunlap was key in stopping both the run and the pass. He was credited with two run-stop tackles, and didn't miss a tackle. In the passing game, he had seven quarterback disruptions (three quarterback hurries, four quarterback hits) on 38 pass rushes.
Dunlap's pass-rush productivity -- a metric PFF tracks pertaining to the pressure a player gets on the quarterback -- has doubled the last five weeks from what it was through the first six. In the first half of the season, Dunlap's pass-rush productivity was 6.5. Since, it's 12.8.
Cornerback Darqueze Dennard was back in action for the first time since Week 7, enjoying 15 snaps. The rookie quietly had a good game in the brief amount of time he was out there, allowing just one catch on three targets for 5 yards.
Fellow corner Adam Jones didn't fare quite as well, allowing six catches on eight targets. He also had three missed tackles. One of his toughest assignments revolved around stopping rookie receiver Brandin Cooks. Of the catches Cooks had, three of them came on four targets while Jones was matched on him.
November, 15, 2014
Nov 15
9:00
AM ET
CINCINNATI -- It's only November, and already we're talking about next spring's NFL draft.
Yes, you read that right.
The
Cincinnati Bengals
don't even know where they'll be picking next year, but we're devoting some attention to at least one possible draft scenario in this week's Bengals mailbag.
If you happened to catch the following link on ESPN.com's NFL page earlier this week, then you know that it really is
never too early to talk about the NFL draft
. Before you know it, Todd McShay and Mel Kiper will be mainstays on your televisions.
@ColeyHarvey It's a long way away, but Marshall Newhouse is... well, I don't want to be mean. Would you suggest an OT early in the draft?

— av (@blahmed) November 14, 2014
@ColeyHarvey: Yes, av, you are absolutely right. The draft is a long, long, long way away. But we'll indulge you and other readers who I'm sure have been wondering the same thing this past week. Marshall Newhouse certainly had a bad game last Thursday against the Browns, as he was regularly turned around by pass rushers off the right edge. He finished with a minus-6.6 overall grade from Pro Football Focus after allowing three quarterback hurries, a quarterback hit and a sack. He hasn't fared all that well all season, in fact, earning a team-low minus-5.9 overall grade from the website. Then again, as bad as those figures are, he isn't the only one who has played poorly at the position this season. Starting right tackle Andre Smith hasn't fared much better, with untimely penalties serving as his bugaboo.
It appears that for the second straight week, the Bengals will be forced to start Newhouse, as Smith was listed as doubtful on Friday's injury report with an ankle injury that dates back two weeks. Since he'll have other opportunities, I'd like to give Newhouse a little more of a chance to prove himself before completely writing him off as a backup next season. We'll see if he holds his own this week with a pair of tough defensive ends in New Orleans. If he can't, then yes, it might be time to start evaluating college offensive tackles. With Newhouse only on a one-year contract this season, the Bengals have reason to court tackles in a few months.
@ColeyHarvey is the problem really dalton? He was running for his life with no one to throw to. Can we adjust the playbook to fix this?

— charles gorny (@eatsfoodgood) November 14, 2014
@ColeyHarvey:
It's far too late to be making any massive, wholesale tweaks to the playbook, Charles. What the Bengals can do, though, is maybe adjust their philosophy a bit. It seems like last week they got away far too early from the run, and once they got behind, it became difficult to go back to it. It definitely would have helped quarterback
Andy Dalton
last week to have a good running game that could have balanced the offense and helped ease some of the pressure Dalton had to be feeling in the prime-time game. By running the ball consistently, teams also keep their offensive linemen aggressive. That seemed to be an issue in last week's 24-3 loss, too. The Bengals were way too passive, soft even. If they are to win in a hostile road environment Sunday, they will need to be more physical. None of that excuses the quarterback from his miscues, though. Dalton has to remain calm and confident in the pocket, and simply be more accurate. He missed several passes he normally hits with ease.
@ColeyHarvey how much longer do you anticipate Bernard being out for?

— Tanner Montano (@tannergobammer) November 14, 2014
@ColeyHarvey:
Not long, Tanner. It appears Bernard is easing back into playing time. All three days this week, he participated in some type of on-field conditioning and agility activity while his teammates practiced. That's a clear sign that he's taking steps to get back on the field soon. It also was the first time he had gone through any type of on-field routine in three weeks, when he was first shelved following a series of physical hits he had taken in his last few games. Will he be back next week? It's too early to say that definitively. One thing is for certain: The Bengals aren't going to trot Bernard back out onto the field until he's as close to 100 percent as possible. Remember, he's only in his second season, and they'd like him to spend several more healthy years in Cincinnati.
@ColeyHarvey what can they do besides get healthy to straighten out this defense

— Joe Cassaro (@Joecassaro) November 14, 2014
@ColeyHarvey:
Joe, getting healthy is a big part of what the Bengals need to do defensively. Specifically, they need to get linebacker
Vontaze Burfict
back from the knee surgery that has had him out the last three weeks. He's the linchpin in this defense; through him, the entire unit operates at its best. Without their chief playcaller and defensive quarterback, communication has been difficult. Execution has been even worse. Aside from getting healthy, they need to fit better in run gaps and maintain assignments. As multiple players have mentioned to me, they have had a tendency this year of voiding their responsibilities and overpursuing when plays break down. That overpursuit has led to big runs and a plethora of missed tackles. Clean all that up and they've got a chance.
@ColeyHarvey What's the number 1 weakness of the Bengals defense, and inability to stop the run, and lack of pass rush? My guess D Tackles

— David Meredith (@DMeredith28) November 14, 2014
@ColeyHarvey:
I wouldn't say defensive tackles by themselves are the problem. They haven't gotten much consistent help from the ends, and as mentioned above, the revolving door of linebackers has been an issue, too. The entire unit is struggling, giving defensive coordinator Paul Guenther headaches. Getting better push from the line's interior in both passing and running situations would certainly help, though. That's where
Geno Atkins
and
Brandon Thompson
become important. Consider this for perspective: The Bengals have just 13 sacks compared to 30 at this time last year.
November, 13, 2014
Nov 13
4:00
PM ET
CINCINNATI -- If you watched last Thursday's game against the
Cleveland Browns
, you probably saw
Cincinnati Bengals
reserve right offensive tackle
Marshall Newhouse
get repeatedly turned around by the linemen and linebackers he was charged with blocking.
Dalton
According to Pro Football Focus, he allowed three quarterback hurries, a quarterback hit and a sack.
Those raw numbers are not very good. Neither was Newhouse's overall play.
He wasn't alone.
Do those numbers suggest that quarterback
Andy Dalton
was under duress all night and didn't have time to throw? Are numbers like them the reason behind the quarterback's poor play that was best summed with his career-low 2.0 passer rating?
In other words, did his issues in the 24-3 loss stem from protection problems?
It doesn't appear to be the case. Protection breakdowns certainly might have factored, but as we have seen this season, Dalton can negotiate poor blocking and still do enough to lead his team to a win.
Dalton's problems likely went much further than the Bengals' offensive line.
Per PFF's analysis of the Bengals' nine games this season, pass protection wasn't good against the Browns, but it wasn't the worst, either. The website awarded the overall group a minus-3.1 grade in pass blocking. Cincinnati's worst pass-blocking performance, according to PFF, actually came in the Week 8 win against Baltimore. That week, the unit amassed a minus-9.3 pass-blocking grade, with five players getting negative marks.
Still, Dalton fought through the poor protection against Baltimore and successfully led a fourth-quarter comeback drive that was punctuated with his 1-yard dive on fourth-and-goal.
The Stats & Information team has the Bengals at a season-low 43.7 pass protection percentage in the Baltimore game. The percentage is calculated by determining how often an offensive line controls the line of scrimmage on all passing plays, including scrambles.
Using the Stats & Information formula, in what game did the Bengals have their best pass protection?
Last week's loss to the Browns. Cincinnati's offense controlled the line of scrimmage 56.5 percent of the game.
So much for the theory that the Bengals' offensive line was the source of Dalton's issues.
Protection still is a major issue for the Bengals, though. The offense's pass-blocking grades have, on average, declined sharply in the past six games compared to the first three. During the Bengals' 3-0 start, the unit had a combined plus-3.5 pass-block grade, per PFF. In the games since, it is averaging a plus-0.08 grade. That grade is even below the combined plus-0.4 grade they have in the three losses this season.
What do these numbers all mean?
That the Bengals' offense had a lot of problems last week, and the offensive line's inadequacies are only a small portion of them. The numbers also mean it's time for Dalton to play around his offense's problems -- firm line or not -- like he has before.
November, 10, 2014
Nov 10
10:30
AM ET
CINCINNATI -- As we begin this week, we'll take one final look back at the
Cincinnati Bengals
' revolting performance in last Thursday's
blowout loss
to the
Cleveland Browns
. We'll do so through the lens of our friends at Pro Football Focus.
Let's take a quick peek at some of the ways PFF analyzed and examined Cincinnati's Week 10 game.
As always, take the grades and notes you see below with a certain grain of salt, as they can end up being amended. Bad grades also can sometimes simply be the product of particular schemes, coverage or formations a team happens to employ in a respective week based upon the opponent.
Here are a few Bengals grades and notes following Thursday's 24-3 loss:
OFFENSE
Whitworth

The Bengals' offensive line continues to be anchored by veteran left tackle Andrew Whitworth, who was one of the few bright spots on a rough night overall for the line. As he held the left edge, Whitworth allowed just one hurry on 47 blocking attempts, according to PFF. He leads all offensive tackles in pass-blocking efficiency with a 99.0 percentage.
Right guard Kevin Zeitler also had an impressive night, returning for the first time in two weeks and playing all 68 snaps. He and left guard Clint Boling were given plus-1.8 overall grades.
As well as Whitworth, Zeitler and Boling played, rookie center Russell Bodine and backup right tackle Marshall Newhouse didn't play so well. Newhouse specifically had a rough game, amassing a minus-6.6 overall grade from PFF. As he filled in for the injured Andre Smith, Newhouse allowed three quarterback hurries, one quarterback hit, a sack and had two penalties.
A byproduct of the pressure Newhouse allowed was that quarterback Andy Dalton was nowhere close to as sharp as he could be. Dalton, Newhouse's former TCU teammate, had the worst overall grade of his career, as PFF handed him a minus-7.7. That went along with his career-low passer rating of 2.0.
Dalton was pressured on just 11 of his 37 dropbacks. On the 26 dropbacks in which he faced no pressure, though, Dalton played terribly. He was just 8-for-25 for 60 yards and two interceptions on those dropbacks, per PFF. Much of his negative overall grade came from those non-pressured plays.
Dalton struggled between the numbers as well, going 7-for-17 for 71 yards and three interceptions when he directed passes into the middle of the field.
Rookie running back Jeremy Hill, playing in place of the injured Giovani Bernard, had a tough time getting yards, collecting just 55 on 12 carries. Of those 55 yards, 33 came after initial contact, meaning there weren't very many holes present for him.
Hill ended up forcing three missed tackles. On 101 touches this season, he has forced 18 missed tackles total, good enough for a 42.1 elusive rating.
DEFENSE
Only two defensive notes from PFF jump out. The first involves safety George Iloka, who continues to impress this season. He had three run stops -- it's never a good sign when your safeties are recording tackles on runs; it's a sign of breakdowns against the run at the defensive line -- and recorded a quarterback hit on his lone pass rush. He also had a pass defense on the one pass that came into his area of coverage.
Defensive end Wallace Gilberry was surprisingly a source of the line issues in run defense. PFF credited him with missing a tackle and not having a single run stop. He had chances, too. Gilberry was on the field for 36 of the 52 running plays the Browns had.
November, 3, 2014
Nov 3
9:30
PM ET
CINCINNATI -- After holding on to beat the
Jacksonville Jaguars
on Sunday, the
Cincinnati Bengals
have already placed that game in the rearview mirror.
But before we completely turn attention to Thursday's rapidly approaching game against the
Cleveland Browns
, let's take a quick peek at some of the ways our friends at Pro Football Focus analyzed and examined Cincinnati's Week 9 game.
As always, take the grades and notes you see below with a certain grain of salt because they can end up being amended. Bad grades also can sometimes simply be the product of particular schemes, coverage or formations a team happens to employ in a respective week based upon the opponent.
Here's a few Bengals grades and notes following Sunday's 33-23 win:
OFFENSE
Cincinnati's offensive line drew strong remarks from PFF, which bestowed the best grades to left offensive tackle Andrew Whitworth and right offensive guard Mike Pollak, who was filling in for the injured Kevin Zeitler. Pollak wasn't the only backup getting action. Marshall Newhouse also came in at right tackle for Andre Smith, who was lost to an ankle injury. Newhouse played a season-high 46 snaps, allowing just one quarterback disruption on 20 blocks, according to PFF. Center Russell Bodine was the only lineman with a negative overall grade at minus-0.1.
According to PFF, through Week 9, the Bengals' offensive line pass blocking efficiency is 87.4, good enough for second in the league.
Quarterback Andy Dalton has been OK with standard pressure this season, but he didn't get many opportunities to show that Sunday. PFF said he was pressured just four times on 33 dropbacks.
Dalton also had an apparent affinity for passing into the middle of the field. Of his 29 aimed passes -- those that targeted a specific player -- 17 went into the middle of the field. That's a 59 percent rating on throws in between the numbers.
When the Jaguars blitzed Sunday, Dalton didn't look as good as he has for most of the year. He was 3-for-7 for 56 yards, a touchdown and two interceptions.
A quick breakdown of running back snap counts: Jeremy Hill had 44, Cedric Peerman had 18, and Rex Burkhead had seven.
The majority of Hill's yards came while hitting the edges. Of his 154 yards, 133 of them came outside the tackles. Yes, he can run into the middle of the field, but clearly he's effective outside the numbers, too. His 60-yard run went outside the right tackle.
DEFENSE
PFF believed defensive tackle Geno Atkins had his best performance this year Sunday. He was credited with five run stops en route to picking up a plus-2.4 run defense grade. He also was credited with two quarterback disruptions and batted away a pass.
The most quarterback disruptions on the team went to defensive end Carlos Dunlap, who had five in the win. He had three quarterback hits, one hurry and a sack. Per PFF, he also had the most opportunities to hound and harass quarterback Blake Bortles, rushing him 36 times, more than any other Bengal.
In pass coverage, safety George Iloka had a plus-1.1 grade as he allowed just one catch on three targets into his area of coverage. He also iced the game with about four minutes remaining when he had the Bengals' only interception of the game. They dropped at least four more passes that should have been turnovers.
August, 13, 2014
Aug 13
9:00
AM ET
CINCINNATI -- As the
Cincinnati Bengals
get going with Day 15 of training camp, here are three items we are going to be watching:
Pollak-Bodine position battle?
We will have a little more on this note later Wednesday morning, but we will be keeping an eye on reserve offensive lineman
Mike Pollak
. The veteran has been snapping from center the past three days as the second-team option behind rookie
Russell Bodine
, who has been starting at the position. Bodine's struggles with shotgun snapping have been noted all camp. Pollak told reporters Tuesday afternoon that he has shared a few thoughts on snapping with Bodine, but knows it's up to the first-year player to decide how he wants to correct the issues. With Pollak recovered from a knee issue, we have a once-expected, but still relatively new mid-camp position battle.
Time for Hamilton to shine:
The time for second-year receiver
Cobi Hamilton
to show he deserves a spot on the Bengals' roster has arrived. He can't let it pass him by. With
Marvin Jones
out with a foot injury, the Bengals are looking for replacements to keep on the roster through the first five weeks of the regular season. It will be a by-committee style of replacing the wideout, with
Mohamed Sanu
taking over the No. 2 receiver reps and
Brandon Tate
,
Dane Sanzenbacher
and most likely Hamilton and
James Wright
fighting for the remaining spots. Drops have plagued Hamilton. He will have to address those issues and finish off routes for the rest of camp if he wants to ensure he continues to have a roster spot.
Injury watch:
Among the banged up players to watch will be swing tackle
Marshall Newhouse
, who suffered an unknown injury at the end of practice Tuesday. He was carted off while the Bengals were finishing up practice with a field-goal drill. When asked about Newhouse moments later, coach Marvin Lewis said he wasn't sure what happened. We will also look for defensive tackle
Domata Peko
to return to full activity Wednesday after practicing in a limited capacity Tuesday following missed time because of concussion protocol. Offensive tackle
Andre Smith
might be another day or so away from practicing after returning Tuesday from concussion protocol.
April, 30, 2014
Apr 30
8:01
AM ET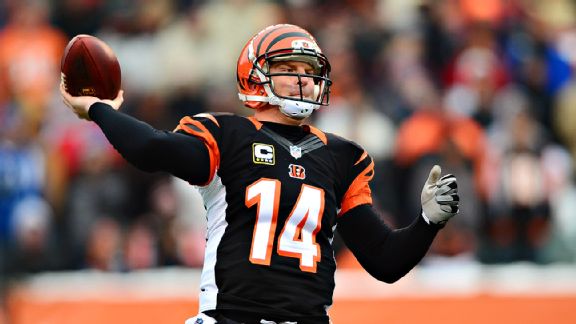 Andrew Weber/USA TODAY SportsNew Bengals offensive tackle Marshall Newhouse isn't surprised by the success quarterback Andy Dalton has had in the NFL.
CINCINNATI -- At the time, it was quite possibly one of the biggest days in TCU football history.
The fourth-ranked Horned Frogs, led by then-junior quarterback
Andy Dalton
, were 9-0 and rolling entering a nationally televised Saturday night contest against No. 16 Utah. With talk of an undefeated season beginning to take shape, ESPN's "College GameDay" crew traveled to Fort Worth, Texas, to let the rest of the country meet the possible BCS busters from the Mountain West Conference.
The day was Nov. 14, 2009.
Marshall Newhouse
, an offensive tackle from that team, remembers it well.
"We came out and knocked [Utah] in the jaw, and that was because of Andy to begin with," Newhouse, one of the newest
Cincinnati Bengals
, said earlier this week. "We ran the ball. He started it and the rest of the team finished it. That was when I was kind of like, 'Whoa.'"
Since that day, Newhouse has been amazed by Dalton's growth across his three years as the Bengals' starting quarterback. He sees even brighter days ahead for his longtime teammate.
As for that famed 2009 game, TCU won 55-28. Dalton's line wasn't his most impressive, but it was efficient. He ran nine times for 48 yards and completed 17 passes for 207 yards and a touchdown and interception. His passer rating was 123.1.
That night wasn't about stats, though, to Newhouse. It was about the way Dalton managed the game. Even though he had shared a locker room and huddle with Dalton for three seasons by that point, Newhouse had never seen his quarterback step up and lead the team for an entire game the way he did against Utah. That was when Newhouse believed the Horned Frogs had something special; something he was anxious for the NFL to see, too.
"I was done after that year, but I was like, 'They're going to win and do some big things next year because they've got him at the head of it,'" Newhouse said.
TCU finished the 2009 season 12-1, with its only loss coming to Boise State in the Fiesta Bowl. It was the program's first trip to a BCS bowl game. As a senior in 2010, Dalton led the Horned Frogs to their first undefeated season in more than 70 years. They went 13-0 and won the Rose Bowl.
[+] Enlarge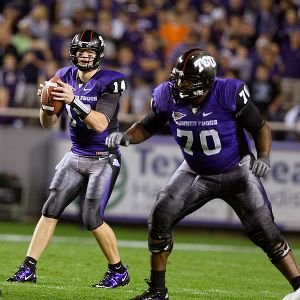 AP Photo/Donna McWilliamMarshall Newhouse (70) protected Andy Dalton during their college days at TCU.
Three months later, he was selected 35th overall by the Bengals in the 2011 draft and tasked with turning them around after a 4-12 season.
Taken in the fifth round of the 2010 draft by the Packers, Newhouse had mostly been watching his longtime teammate's career from afar. That was until earlier this offseason, when the Bengals signed him in free agency following
Anthony Collins
' departure for Tampa Bay. Much like Collins, Newhouse has experience playing both left and right tackle. It's that versatility that most attracted the Bengals to him, even though chances are high they'll be taking a similarly versatile lineman in next week's draft.
While in Green Bay, Newhouse had a greater appreciation for Dalton's accomplishments.
"You learn stuff about guys being close to them, and I've been close to him for a long time," Newhouse said. "You [also] get a different perspective when you're on another team. You see the success and what he can bring, and then you come here and you're like, 'All right. That's for real.' It's for real and then some. There's a lot of stuff to be excited about."
Bengals fans have been excited at times during Dalton's career -- namely when he scorched through last October, going 4-1 with four straight 300-yard passing games -- but they've seen their share of disappointment, too. Despite leading the team to three straight playoff berths, he has factored heavily in the Bengals' three straight first-round playoff losses. He has six interceptions and just one touchdown pass in those three games.
It's performances such as those that have many questioning whether Dalton ought to lead the franchise past the 2014 season once his rookie contract expires. Dalton confirmed last week, though, that his representatives and Bengals officials are currently discussing a contract extension. Bengals coach Marvin Lewis has said he hopes a deal gets done soon so Dalton isn't distracted by questions in the preseason about his contract status.
Newhouse, who will mostly be backing up Pro Bowl left tackle
Andrew Whitworth
and right tackle
Andre Smith
, thinks there are good reasons for Dalton to be in stripes long term.
"As long as things are progressing upward, which they very obviously are, Bengals fans and members of the organization should have nothing but positivity to feel," Newhouse said. "You see where the organization is going with him at the helm. He's got all the tools you need. All the tools you're desiring at quarterback."
Among those tools is an apparent ability to be unaffected by criticism, Newhouse said.
"I know he was self-motivated before he ever got here," Newhouse said. "Whether it was with the Bengals or another team, he knows what he's got in the tank and he knows what he can provide. He's confident in that. Having that confidence when you walk out of the tunnel and you look at the rest of the 46 or however many other people that are dressed on Sundays, that's all that matters. He's going to get it for us. He goes and gets it.
"I know that."
April, 26, 2014
Apr 26
12:00
PM ET
A day-by-day look this week at five position groups where the Cincinnati Bengals have draft needs. We started with quarterbacks, then looked at defensive ends, outside linebackers, running backs and defensive backs. Now, a weekend bonus: offensive linemen.
Offensive linemen lost:
OT
Anthony Collins
, signed with Tampa Bay in March. C
Kyle Cook
, cut in March.
Offensive linemen added:
OT
Marshall Newhouse
, signed in free agency in March.
Draft likelihood:
High.
Rounds drafted?
Any.
Analysis:
OK, we spent the first five days this week looking at a few of the more glamorous positions on a football team and the Bengals' draft-weekend needs at them. But we couldn't let this exercise disappear without taking a look at the one unit that most specifically dictates a team's offensive success and identity. One of the unwritten rules of the game goes something like this: You can never have too many offensive linemen.
Games are won and lost in the trenches. It's where offenses fight for first downs on the ground and have to scrap and claw in order to keep their quarterbacks standing upright long enough to deliver passes downfield. The Bengals have long known that. Like most teams, they've tried to keep centers, guards and tackles part of their annual drafting rotation. Cincinnati has drafted at least one offensive lineman every year since 2001.
While they seem to have adequate depth after adding Newhouse and re-signing
Mike Pollak
last month, the Bengals still would like to take at least one more lineman into training camp with them. It's possible they could spend any one of their nine picks on a lineman. Guards would probably top that list seeing as how the Bengals still never really addressed finding an alternative backup for left guard
Clint Boling
. Pro Bowl tackle
Andrew Whitworth
played for Boling at the end of last season after Boling was lost for the year with an ACL injury. The guard believes he'll be back to 100 percent in time for the start of the season. Beyond just bringing in an additional guard, the Bengals are looking at players who can be versatile -- linemen who can play some combination of tackle, guard and center. There is a thought that they could add a true center, but Pollak, for now, appears to be the front-runner to start at the position following Cook's release.
The draft hopefuls the Bengals could be looking at span the gamut. If he's there (and because of legal issues, he could fall to late in the first round or into the second), Michigan's
Taylor Lewan
could be a decent fit at tackle. As could Virginia's
Morgan Moses
.
Cyrus Kouandjio
(Alabama) has generated some buzz as a second-round option at tackle, while Stanford's
Cameron Fleming
has turned heads since the combine. At guard, Clemson's
Brandon Thomas
is an interesting study following his ACL tear suffered at a private pre-draft workout earlier this month. Even though he won't be able to compete for several months, he could slip into the third round or later, where he would be a veritable steal for whichever team took him and got him healthy in time for 2015.
Also worth watching, Penn State's
John Urschel
and Baylor's
Cyril Richardson
.
Potential picks:
Taylor Lewan (Michigan), Morgan Moses (Virginia), Cyrus Kouandjio (Alabama), Cameron Fleming (Stanford), Brandon Thomas (Clemson), John Urschel (Penn State), Cyril Richardson (Baylor).
April, 22, 2014
Apr 22
10:30
AM ET
CINCINNATI -- By showing up to Paul Brown Stadium these next few weeks, several
Cincinnati Bengals
could collectively earn more than $3.2 million in bonus money, according to ESPN's Stats & Information.
Twenty-seven Bengals have workout bonuses provisions in their contracts related to their attendance at strength and conditioning workouts and voluntary OTAs. Combined, the group has $3,205,000 at stake just for appearing and participating in the optional practices. The latest collective bargaining agreement places stipulations on the types of team-sanctioned practices and the number of them that players can take part in during the offseason. Participation, in many cases, still can lead to additional compensation.
Defensive linemen
Carlos Dunlap
and
Geno Atkins
have the most at stake when it comes to the bonuses. They both stand to earn $300,000 in 2014 for participating in the workouts.
Both were spotted Monday when the locker room was opened to reporters. There are other workouts continuing this week, but the media are only permitted to meet with players on Monday. Players won't be available again until next Monday.
As a result, it's hard to tell who has made it back for voluntarily workouts. Players were in and out of the locker room during the time it was open, but many who weren't seen could have been in other parts of the building.
It should be noted that even players who don't have bonus provisions in their contracts will still show up just to work out. For example, receivers
A.J. Green
,
Marvin Jones
and
Mohamed Sanu
aren't due workout bonuses this year, but each was at the stadium Monday.
March, 26, 2014
Mar 26
9:15
AM ET
The
Cincinnati Bengals
added free agents
Marshall Newhouse
and
R.J. Stanford
this week and last in hopes of improving their depth at a pair of crucial positions.
Newhouse
Noted for his ability to be a "swing tackle" -- a first-off-the-bench offensive tackle who can play the left or right side -- Newhouse was signed to help fill a void left by
Anthony Collins
, who left via free agency for the
Tampa Bay Buccaneers
. Collins had been used as a utility tackle of sorts, most notably filling in at left tackle last season when Pro Bowler
Andrew Whitworth
was moved inside to left guard after
Clint Boling
's late-season ACL injury.
As for Stanford, the Bengals gained a cornerback who ought to provide them another player to mix in off the bench after
Brandon Ghee
left via free agency. In addition to playing in Cincinnati's defensive backfield, Stanford also could play special teams. With the Dolphins the past two seasons he excelled as a gunner on punt coverage teams.
Neither player was brought to Cincinnati with the expectation of being an every-down starter. Their contracts reflect as much.
Both were signed to the same one-year deal worth a total of $805,000. Of that, they are only guaranteed a $50,000 signing bonus. They both are to make $730,000 in base salary next year, with a $25,000 workout bonus added.
Among the reasons the Bengals felt it was important to bring Newhouse in from Green Bay was his relationship with quarterback
Andy Dalton
. Newhouse was Dalton's blind-side protector when they played at TCU together in 2008-10. As the Bengals keep working through ways to re-sign Dalton to a long-term contract -- his rookie deal expires next March -- they have started trying to surround him with more players who might be able to help his career.
In addition to Newhouse's signing last Friday, the Bengals last Thursday signed nine-year veteran quarterback
Jason Campbell
to serve as Dalton's backup. Campbell was added specifically to serve as a mentor for the 26-year-old starter; something Dalton didn't have in the locker room his first three seasons.
Here are breakdowns of Newhouse's and Stanford's contracts, provided by ESPN Stats & Information:
Marshall Newhouse 2014
Cap value:
$805,000
Cash value:
$805,000
Signing bonus:
$50,000
Roster bonus:
$0
Workout bonus:
$25,000
Base salary:
$730,000
Guaranteed money:
$50,000
R.J. Stanford 2014
Cap value:
$805,000
Cash value:
$805,000
Signing bonus:
$50,000
Roster bonus:
$0
Workout bonus:
$25,000
Base salary:
$730,000
Guaranteed money:
$50,000
March, 22, 2014
Mar 22
8:00
AM ET
Welcome to the weekend. If the temperatures in Cincinnati on Friday were any indication, the next few days in this part of the Ohio Valley ought to be quite pleasant. Spring appears to have finally arrived.
A few people some in the region have been waiting most of the month for are finally starting to arrive, too. After relative inactivity through the first week of free agency, the
Cincinnati Bengals
have begun closing out Week 2 by signing a couple of players who are expected to aid their offensive depth. It once looked like the Bengals might be completely quiet when it came to signing free agents who weren't already on their roster. Now, they have a couple of key additions and continue looking for a few more.
In the immediate wake of the signings of
Jason Campbell
and
Marshall Newhouse
, we open up the mailbag to answer your questions about the Bengals' free agency efforts so far: