Cincinnati Bengals:

Matt Cassel
December, 21, 2013
12/21/13
8:00
AM ET
CINCINNATI -- There is one player on the
Minnesota Vikings
' roster who the
Cincinnati Bengals
deem so dangerous that many simply refer to him by his jersey number: 28.


Before some of you start Googling the Vikings' roster, we'll let you know that No. 28 is the running back phenomenon himself,
Adrian Peterson
.
"The special thing about 28 is he's a special player," Bengals defensive tackle
Domata Peko
said about the player who currently has 1,221 yards rushing this season, and who last season went over the 2,000-yard mark, one year removed from ACL surgery.
"He can take one long, he can make all the cuts and also, he's a powerful runner," Peko continued. "He has all those aspects that a running back needs."
Clearly, the Bengals will be paying close attention to No. 28. Here are a few statistical numbers you ought to pay attention to ahead of Sunday's contest at Paul Brown Stadium:
5:
Number of games the Vikings have lost in their past six trips to Cincinnati.
382:
Yards Vikings quarterback
Matt Cassel
threw for last week against the Eagles, making him the sixth player in NFL history to throw for 380 yards in a game for three different teams. Former Bengals Boomer Esiason and
Carson Palmer
were among those who also have accomplished the feat.
6:
Number of home wins for the Bengals this season. They are 6-0 at Paul Brown Stadium.
6:
Number of road losses for the Vikings this season. They are 0-6-1. They haven't gone winless on the road in a season since 2001. This game is their last road contest of the year.
33.2:
Points per game the Bengals are averaging in home games this season.
19.4:
Points per game the Bengals are averaging in road games this season.
17.2:
Points per game opponents are averaging in Bengals home games this season.
21.4:
Points per game opponents are averaging in Bengals road games this season.
10:
Receptions Bengals receiver
A.J. Green
needs in order to have the most career catches in NFL history by a single player through the first three seasons of his career. He currently has 249 receptions. That's 19 more than
Larry Fitzgerald
had and 23 more than
Brandon Marshall
and Randy Moss at those points of their careers.
259:
Receptions
Anquan Boldin
had through his first three seasons, setting the NFL record for most career catches in a player's first three seasons.
74:
Touchdown passes Bengals quarterback
Andy Dalton
has thrown to this point in his three-year career, tying him with Jeff Garcia for the third-most touchdown completions in NFL history through a QB's first three seasons.
20:
Field goals the Bengals have attempted this season. That's an NFL low. Kicker
Mike Nugent
has made 16 of those 20.
71.1:
Cincinnati's red zone efficiency. One reason why the Bengals haven't called upon Nugent much this season is because they are the NFL's second-best team at scoring touchdowns in the red zone. Only the
Denver Broncos
at 78.3 percent have a better red zone efficiency.
504:
Plays the Bengals have run with rookie running back
Giovani Bernard
on the field this year.
402:
Plays the Bengals have run with veteran running back
BenJarvus Green-Ellis
on the field this year.
5.9:
Yards per play for the Bengals with Bernard on the field.
4.9:
Yards per play for the Bengals with Green-Ellis on the field.
Plus-48.9:
The expected points added (EPA) for the Bengals when Bernard is on the field. (EPA measures impact of every play on each team's potential points)
Minus-1.6:
The expected points added for the Bengals when Green-Ellis is on the field. Part of the disparity is the result of how the two backs are used in different situations. Green-Ellis is a third-and-short type of runner. Bernard is a scoring downs kind of back.
5:
Consecutive home wins the Bengals have over teams from the NFC North.
Information from ESPN Stats & Info was used in this report. Follow on Twitter @ESPNStatsInfo.
December, 19, 2013
12/19/13
10:00
AM ET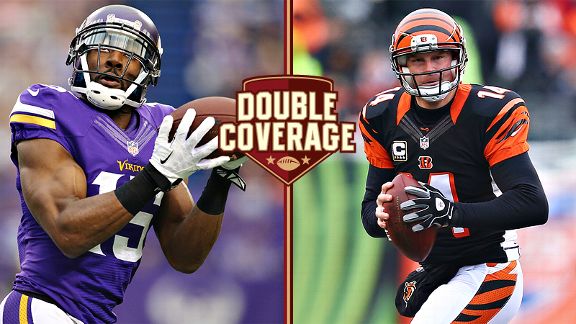 Getty ImagesCan Greg Jennings and the Vikings help spoil the playoff hopes of Andy Dalton and the Bengals?
The
Minnesota Vikings
and
Cincinnati Bengals
are two teams headed in completely opposite directions.
For the Vikings, the 2013 season has been a difficult one, defined mostly by a quarterbacking carousel and the lack of wins because of it. As for the Bengals, the year has been a mostly good one. With home wins over the Packers and Patriots, and road victories against the Lions and Chargers, the Bengals have looked for much of the year like a team poised for a longer postseason run than the past two years. Cincinnati's 2011 and 2012 seasons ended with first-round playoff losses.
If the 9-5 Bengals are even going to get to this postseason this year, though, they first have to bounce back from a Sunday night loss at Pittsburgh and beat the four-win Vikings. Such a win isn't a guarantee. Minnesota has embraced the role of postseason spoiler, rolling NFC East-leading Philadelphia last weekend.
To break down the contest, ESPN.com Vikings reporter Ben Goessling and Bengals reporter Coley Harvey teamed up for this edition of Double Coverage. As this week's visitor, we'll start with Ben:
Ben Goessling:
Andy Dalton
was one of the Vikings' options at QB when they drafted
Christian Ponder
in 2011. The Vikings seem to have given up on Ponder, and while Dalton has been better, it's hard to tell whether he's going to be the answer in Cincinnati long-term. How do the Bengals feel about his progress?
Coley Harvey:
It certainly appears that for now the Bengals feel comfortable with Dalton moving forward. Despite calls at times this season from some groups of angry fans, the Bengals have remained firm in their support of him. No matter how poorly Dalton played, they weren't shopping for another quarterback, and they weren't trying to give backup
Josh Johnson
any shared playing time. In short, they were committed to seeing Dalton through the year. And why not? Although he has had some struggles this season, Dalton has still shown that he can handle the duties of being a starting quarterback. He was the AFC's offensive player of the month for October, and had three consecutive 300-yard passing games during one stretch. If Dalton can't get the Bengals past the first round of the playoffs, it will be interesting to see whether the sides discuss a contract extension, with the 2014 season his last on his current contract.
To your broader point, Ben, that 2011 quarterback class certainly hasn't been all that amazing.
Speaking of progressing quarterbacks, it seems like
Matt Cassel
has given the Vikings some semblance of offensive success in games he's appeared in this season. Why didn't Minnesota stick with him sooner?
Goessling:
That's been the big question all season here, and on Sunday, coach Leslie Frazier finally gave those of us in the media a hint of what we'd expected all along. He said the Vikings always liked Cassel, but had to go through the "process" a little bit, and unfortunately weren't able to win games in the meantime. The "process" I believe he's referring to is the act of evaluating Christian Ponder to a point where the Vikings could be absolutely sure he wasn't the answer at the position. When
Josh Freeman
got inserted into the mix -- and both Frazier and general manager Rick Spielman said the Vikings planned to play Freeman soon -- that complicated things even more. The biggest thing Cassel had working against him was his age (31), and the Vikings didn't necessarily see him as the long-term guy. The question will be whether the quarterback tryouts wind up costing Frazier his job, but now that Cassel's starting, maybe Frazier will be able to make a case to keep his job by showing he can win when he has a competent quarterback.
The Vikings have struggled all year with small, shifty running backs. How do you expect
Giovani Bernard
to fare against them Sunday?
Harvey:
If the Vikings have struggled with those types of backs, then they could be in serious trouble Sunday, Ben. Bernard has been the five-tool player the Bengals thought they were drafting earlier this year and more. Not only can he hit the edge hard on pitches and outside runs, but he has enough power in his smaller body to hit the middle of a defensive line hard and keep going. His most important trait, though, may be what he's able to do as a receiver. You'll see the Bengals use him fairly regularly in the screen game. If the blocking sets up right on those plays, he won't just go for 5 or 6 additional yards. He typically will break off another 10, 15, 20 or more yards after the catch. Once the rookie gets in space, it's like he hits a fourth and fifth gear.
Having said all of that, I do believe he and the more between-the-tackles running
BenJarvus Green-Ellis
will be keys to the game. If they get going, the Bengals have a chance to showcase the balanced offense that has been coming on of late.
Minnesota has obviously had one of the NFL's best rushing attacks the past seven seasons because of
Adrian Peterson
.
Matt Asiata
did a great job of getting to the end zone last week. What kind of challenge do you think he poses the Bengals if he ends up playing in place of Peterson?
Goessling:
Not much of one, based on what we saw last week. Asiata averaged less than 2 yards a carry, and while he runs hard between the tackles, he doesn't offer much else; he doesn't break tackles the way
Toby Gerhart
can, and Peterson's gifts are obviously on a different level from either of those guys. I think Peterson will play, though; he wanted it known last week that he could have gone, and Frazier said after the game that he expected Peterson would be back. The guy prides himself on his pain tolerance, and as hard as he pushed to play last week, I'd be really surprised if he's not in there Sunday.
Assuming he plays, how tough a matchup is this for Peterson? The Bengals have been one of the NFL's best teams against the run this year. What's made them so effective there?
Harvey:
It won't be an easy one for Peterson. This Bengals' defense prides itself on playing physically, emotionally and flowing quickly to the football, particularly when it's on the ground. If this were a normal week, I might contend that as good as Cincinnati's run defense has been that Peterson might still end up surprising them and have a big day. This isn't a normal week, though. The Bengals are coming off a loss that had many questioning their heart and attitude, and they also happen to be playing this game at home. There's something about Paul Brown Stadium this season. Opponents have struggled, and the Bengals have fed off the crowd's energy. Cincinnati is 6-0 at home this season, and the defense is a big reason. If linebacker
James Harrison
(concussion) doesn't play, that could take away a key piece of the Bengals' run defense.
Cincinnati lost punter
Kevin Huber
to a season-ending injury last week and is bringing along his replacement,
Shawn Powell
, this week. He'll be kicking to Minnesota's
Marcus Sherels
. How dynamic is Sherels, Ben? His numbers seem so-so for most of the season, but he does have a return for touchdown.
Goessling:
I think you summed it up nicely there, Coley. Sherels did have the punt return touchdown, but his numbers otherwise have been just OK. The thing the Vikings like about him is that he doesn't make mistakes. He fumbled a punt earlier this year, but he's typically very sure-handed and makes good decisions about when to call for a fair catch. He doesn't get them in trouble by taking unnecessary chances, and special-teams coordinator Mike Priefer is a big fan of his partly because of his decision-making skills. But watch out, though. The Vikings are trying to find ways to get
Cordarrelle Patterson
the ball now that teams have stopped kicking to him, and Frazier mentioned they could give him a look on punt returns. If that happens, the Vikings will have a completely different kind of threat back there on punts.