Cincinnati Bengals:

Mel Kiper Jr.
April, 7, 2014
Apr 7
10:00
AM ET
CINCINNATI -- It has been
the
multimillion dollar question looming over the
Cincinnati Bengals
.
Are they going to extend quarterback Andy Dalton's contract this offseason?
[+] Enlarge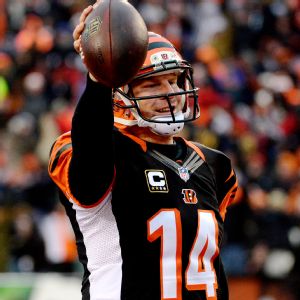 Marc Lebryk/USA TODAY SportsThe right set of circumstances have kept Andy Dalton secure with the Bengals despite his shortcomings on big stages.
The inquiry has gone from one asked out of sheer curiosity to becoming the opening setup for a punchline many Bengals fans don't find the least bit funny.
The masses are nervous. They aren't sure they trust the path the Bengals are carving at quarterback. It's a path that intends to keep Dalton in stripes for the foreseeable future. Dalton is safe.
But what's keeping him that way? What is it that has the often-inconsistent quarterback holding the title of Mr. Untouchable this spring? What is it about him that has the Bengals convinced he is their man for the long haul?
It's all about timing. We'll get to more on that shortly.
The anxiety of the vocal majority -- Bengals fans who aren't yet sold on Dalton -- was heightened late last month when coach Marvin Lewis spoke about the signal-caller's potential contract extension at the owners meetings in Orlando, Fla.
"We feel like we have a great young player in Andy. We're hopeful that we can get a deal done that works," Lewis said. "Andy's done a fine job for us. We all want him to be better, and once he does that, all the rest will go away."
If we're using the regular season as the base metric for Dalton's success, then yes, Lewis is right. He has done a fine job for the Bengals. Through 48 career regular-season starts, the 2011 second-round pick is an impressive 30-18 and has led the Bengals to three consecutive playoff berths to begin his career. No other stretch in franchise history had as many consecutive postseason appearances, and few quarterbacks in league history have started with as many consecutive playoff trips.
Last year, Dalton set season franchise records for passing yards (4,293) and passing touchdowns (33), easing just past marks previously held by
Carson Palmer
, the No. 1 overall draft pick in 2003.
When Dalton has played well, he's played exceptionally well. When he's played poorly, he's been about as bad as a quarterback can be. The latter performances often seem to come on big stages -- AFC North contests, Monday and Thursday night games and the postseason. He is 0-3 in two playoff starts against the Texans and one against San Diego.
That's the tricky part about consistency. The best players seldom have a break in it, or at least keep that break from being too noticeable.
That's where timing can be important. It is at the foundation of being a good quarterback, the key to longevity at the position. It's needed to complete passing routes. A favorable set of well-timed conditions can lead a player to quarterbacking his team for years.
The on-field component of Dalton's timing has been OK, but it ought to undergo a positive transformation this offseason as new offensive coordinator Hue Jackson pushes Dalton and Pro Bowl receiver
A.J. Green
to limits neither knew he had. With the fiery Jackson riding them, the hope is the pair eliminates some of the cutoff routes and overthrows that have been a rather large part of their existence in Cincinnati.
Jackson's promotion to offensive coordinator has also been one of those off-field conditions that has led Dalton to earning the type of trust that appears to be setting him up for a long tenure with the organization.
The day he took over as offensive coordinator, Jackson made it known that he planned to run more in an effort to take pressure off Dalton and keep the ball in the hands of the many dynamic playmakers who fill Cincinnati's roster. By doing that, and particularly by doing that in the playoffs, he believes Dalton will perform better, creating a domino effect across the team.
Dalton also seems poised to benefit from the Bengals' addition this offseason of veteran
Jason Campbell
. He finally has an older quarterback around who feels comfortable working with him as a mentor. Ahead of arguably the most important year of Dalton's young career, the timing of the addition couldn't have been better.
This year's quarterback draft class has also helped Dalton. As far as immediate impact players go, this class might be the worst since Dalton's 2011 group. These quarterbacks have teams like the Bengals thinking about bringing in signal-callers for depth, not to battle for the starting job.
That effectively keeps Dalton safe. Even though the Bengals likely will be drafting a quarterback in the middle rounds, he has no reason to be looking over his shoulder for now. The rookie would simply be an insurance policy, one that it just so happens could be groomed to start in future seasons.
"Helping out Dalton ought to be the argument rather than trying to sign his successor," Mel Kiper told me last week. "Because if you don't win, who knows what's going to happen with this organization."
Timing has saved Dalton. But will Dalton's salvation be enough make the Bengals on the whole more competitive?
Only time will tell.
January, 23, 2014
Jan 23
4:30
PM ET
CINCINNATI -- Projections can be good starting points for establishing foundations for expectations.
For example, without knowing exactly what the 2013 NFL season held for the
Cincinnati Bengals
, ESPN Insider and draft analyst Mel Kiper Jr., projected late last April that the Bengals' newest crop of drafted players would pan out quite well. Just after tight end
Tyler Eifert
was taken in the first round and running back
Giovani Bernard
was claimed in the second, Kiper gave the Bengals an "A-" grade for their draft efforts.
The thing about projections, though, is that in order for them to be considered successful or failures, they need to be evaluated once enough time has passed for them to no longer be considered educated guesses.
On Thursday, Kiper did just that when he looked back at his post-draft grades and reconfigured them now that a full season has passed. Every
team was regraded

, including the Bengals. If he had to put a new letter grade on the 10 picks Cincinnati landed last year, he'd give the class a "B+." You have to be an ESPN Insider in order to read the full article.
Without giving too much away, it's fair to say Kiper is a little unsure about the bottom of the draft class and how good it actually will end up. Even
Margus Hunt
, the Bengals' third pick in the draft and the second of two second-round selections, has Kiper a little concerned. For those reasons primarily, he dropped the Bengals down ever so slightly.
Is he right? Well, in reference to the bottom portion of the draft class, sure.
Shawn Williams
is the only one of the final seven picks who saw a fair amount of playing time this year, participating on the Bengals' special teams units. His tipped punt against the Browns in Week 11 kicked off a series of fortuitous events that ultimately led to a Cincinnati comeback and eventual rout. Not long after his tipped punt, fellow rookie, undrafted free agent
Jayson DiManche
, blocked a punt that was returned for a touchdown by former practice squad player
Tony Dye
.
Linebacker
Sean Porter
was injured in training camp and placed on injured reserve. Offensive lineman
Tanner Hawkinson
was inactive most of the season, but played five snaps in the Week 16 blowout over the Vikings after several Bengals linemen, including center
Kyle Cook
, left the game with injuries.
Running back
Rex Burkhead
was inactive for all but one game, receiver Cobi Hamilton was used nearly extensively on the practice squad, as was center T.J. Johnson. Offensive tackle
Reid Fragel
was waived and later signed with Cleveland.
The other three players, Hunt, Eifert and Bernard, were the only ones to see regular action during the season. Hunt only had three tackles, but he appeared in 10 games. He played at defensive end often, but rotated into the defensive tackle position fairly regularly after
Geno Atkins
' season-ending injury in late October.
Eifert and Bernard were mainstays in the offense. Bernard's rookie year was so successful that he was named to the Pro Football Writers of America's all-rookie team earlier this offseason. He totaled more than 1,200 yards rushing and receiving and had eight touchdowns.
It will be interesting in the coming years to track the progressions of Williams, Porter, Hawkinson, Burkhead and Hamilton. By most accounts, Williams has impressed coaches with his special teams contributions. If that can translate to defense, he could see more playing time in the next year or two. Depending upon how Porter bounces back from his injury, he could aid in the Bengals' depth at the remarkably thin linebacker position.
Hawkinson's growth may go undetected for another two seasons. He's proven to be a typically versatile Bengals lineman, but might not crack the starting rotation until the contracts of some current starters, like Cook, expire. Cook is on contract through the 2015 season. Compared to the others, Burkhead and Hamilton are the current mysteries of the 2013 draft class. It's possible after going through the NFL equivalent of a "redshirt" first season, both will be used more regularly in 2014 and beyond, even though in Burkhead's case, it's clear the Bengals want Bernard to be their running back of the future.