June, 3, 2014
6/03/14
6:30
PM ET
CINCINNATI -- For the second time in as many weeks
Jermaine Gresham
's absence
headlined one of
the
Cincinnati Bengals
' voluntary organized team activities.
As you'll read here, injuries and absences weren't the only events worth mentioning from Tuesday's practice.
Here is a rundown of seven observations from the open session:
[+] Enlarge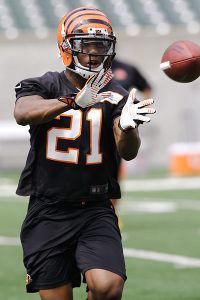 Al Behrman/AP PhotoBengals' first-round pick Darqueze Dennard sees plenty of action on the field during Tuesday's OTAs.
1. Dennard gets work.
Rookie cornerback
Darqueze Dennard
, the Bengals' first-round pick, got his share of action with the first-team defense playing the slot cornerback position early in the practice. He also got his share of snaps at the right cornerback position, playing on the outside with second-teamers such as fellow cornerback
Dre Kirkpatrick
. If you recall, Kirkpatrick told reporters last month that
he hoped the Bengals would draft a cornerback in the first round
because he felt that with
Leon Hall
,
Adam Jones
and
Terence Newman
getting up in age, it was time the cornerback group got younger. His hope is that he and Dennard can form a solid tandem for years to come. It's clear the learning still is taking place for Dennard. Coaches were in his ears often, talking to him after many of the first-team plays.
2. Hill and Bernard a tandem?
Speaking of duos, the Bengals may already have one at running back with second-year player
Giovani Bernard
and rookie
Jeremy Hill
. When the Bengals picked Hill in the second round, it seemed they were committing to making him not only part of their backfield of the long-term future, but also to using him in their immediate plans, as well. It's clear after the first two open OTAs that they are trying to see whether he'll be ready to be used regularly this fall. So far, Hill has gotten his share of hand-offs with the first-team unit alongside Bernard. The two have been in the backfield at the same time, in addition to trading roles as the lone back in single-back sets that get called. It's left veteran
BenJarvus Green-Ellis
a little bit out of the starting picture. Green-Ellis has gotten his opportunities to work in Cincinnati's running back rotation, one that includes
Rex Burkhead
and
Cedric Peerman
, but it's clear Hill and Bernard are trending toward being the top tandem in the Bengals' backfield.
3. D-line rotations.
Cincinnati's defensive line will get its share of tweaks and looks all throughout this OTA season as
Geno Atkins
continues rehabbing from an ACL tear. Those rotations include figuring out exactly where the large group of defensive ends will go, and determining which of them will have duties as defensive-tackle pass-rushers in nickel defenses. It appears
Carlos Dunlap
, the end who had been playing on the left side, might end up getting real action at right end this year. Second-year lineman
Margus Hunt
likely would take his spot on the left side.
Wallace Gilberry
could rotate with Hunt at left end, with rookie
Will Clarke
potentially doing the same with Dunlap on the right side. In nickel situations, Gilberry has fit on the interior of the line often in practices, just as he did at times last season. In truth, though, multiple ends could rotate into playing on the interior. Hunt and Clarke most specifically have backgrounds playing there.
4. Keep a close eye ...
on the Bengals' offense this fall. Offensive coordinator Hue Jackson has alluded to them in the past, but don't be surprised if the Bengals incorporate a few trick plays next season. They certainly have the capability with all the playmakers they have, but the added luxury of having a player as versatile as
Mohamed Sanu
helps. The receiver is a former quarterback who still throws accurate, tight passes. He's also athletic enough to be a threat to run or pass if he gets the ball behind the line of scrimmage. It's quite possible Jackson uses him and others for a host of unique reasons as he starts injecting some life and big-play capability into the Bengals' scheme.
5. Slow movers.
Jackson was none too pleased once during practice when he shouted to players about breaking the huddle too slowly. This is only worth mentioning because tempo and pacing are two things he and others have harped on all offseason as Cincinnati's offense gets tweaked. Jackson wants the Bengals to break their huddles quickly so they can get to the line, dissect the defense, make any changes, and get the ball snapped early in the play clock. In that sense, it's not a true no-huddle, but it will operate at a pace that requires the play to come in quickly from the sideline and relayed even faster. Jackson hopes to limit the amount of times he has to call out a slow-moving huddle.
6. Burden practices.
The newest Bengal, Cincinnati-area product
Chandler Burden
, practiced Tuesday. He had just cleared a physical and was signed earlier in the morning. The offensive lineman can be used at either tackle or guard. His addition comes at the same time center/guard
Mike Pollak
has missed time during OTAs with an unspecified injury.
7. Green in midseason form?
The NFL's official Twitter account tweeted a picture Tuesday afternoon of receiver
A.J. Green
leaping high and catching a pass (see below). The photo tagged Green's handle and said he was "already in midseason form." It may have been easy to see that from the picture, but it was pretty evident just by watching the way he was going for passes that Green was practicing at a high level. He looked like an elite receiver at times, running through routes and catching difficult passes he could have otherwise let sail on by in a voluntary workout. He jumped at least three times for passes, including through defenders at least once.
.@ajgreen_18 already in mid-season form. #OTAs pic.twitter.com/BVay5NJl63

— NFL (@nfl) June 3, 2014
June, 3, 2014
6/03/14
3:35
PM ET
CINCINNATI --
Jermaine Gresham
missed another voluntary organized team activity Tuesday, marking the fourth consecutive practice the
Cincinnati Bengals
have been without the veteran tight end.
Gresham
Coach Marvin Lewis said Gresham is dealing with an injury but should be fine by the start of training camp. Lewis declined to speak further about the extent of the injury and what happened but he said it was minor. He also said that tight end
Tyler Eifert
was dealing with a similar injury that forced him to sit out Tuesday's practice. Unlike Gresham, though, Eifert was on the field and in uniform during the workout.
"They're doing what they need to do. On the mend, trying to get healthy," Lewis said.
Eifert later said he had a shoulder issue that was unrelated to his neck injury that popped up at the end of last season. He had a stinger that kept him out of the regular-season finale.
Gresham hasn't physically attended either of two OTA sessions that have been open to media. Lewis said he's been nearby, though, working on getting back to full health.
"He's just not out here because he's not practicing," Lewis said. "He's doing what he has to do."
The Bengals make a strong push to hold on in the offseason to players who are injured. They like to hand the players over to trainer Nick Cosgray and rehab them at their own facilities, instead of watching the players go back to their hometowns and rehab there.
"Yeah, our guys are all here," Lewis said. "We prefer our guys to rehab in house. We prefer they spend the time. Nick has done an excellent job with our guys rehab-wise. We've seen the outcome be much better and quicker here than elsewhere. Our people have a vested interest in the outcome. The toughest part of rehab is the ups and downs of rehab, and the tough days. The people here have a better response and can do a better job of getting a player through a hard time and a rough day."
Gresham wasn't the only player not in attendance. Defensive tackle
Devon Still
was also missing from the voluntary workout. Offensive tackle
Andre Smith
, unsigned tight end
Alex Smith
, offensive guard
Clint Boling
, defensive tackle
Geno Atkins
, defensive back
Danieal Manning
and cornerback
Leon Hall
were all in attendance despite nursing their respective injuries. Alex Smith remains one of the Bengals' unsigned unrestricted free agents. He's still rehabbing from a wrist injury that came in the regular-season finale when Gresham and Eifert were both out.
The Bengals are expected to have their entire roster in place next week when they hold a mandatory minicamp for veterans and rookies. It remains to be seen if Gresham will attend it.
June, 3, 2014
6/03/14
8:30
AM ET
CINCINNATI -- After closing their last two organized team activity practices to the media last week, the
Cincinnati Bengals
are back open Tuesday morning as they begin the second week of voluntary OTAs.
There was a lot gleaned from the lone open practice last week, and there ought to be even more learned this week as the team starts finally settling into the flow of the workout schedule. Following this week's three practices, the team will convene again three times next week for a mandatory minicamp before meeting for one final three-day stretch of OTAs the week of June 16. After that players are released until July 24, when they begin training camp at Paul Brown Stadium.
Ahead of this week's lone day of open practice, here are a few items to watch for:
Gresham's status. Tight end Jermaine Gresham was the lone holdout during last week's workouts. According to Bengals.com, he has an injury he suffered earlier this offseason, but isn't believed to be in jeopardy of missing training camp. We'll see if more official word will be provided by the team Tuesday, and if he ends up making at least a sideline appearance. Last week, other injured players, Leon Hall, Geno Atkins, Clint Boling and Mike Pollak showed up but did not go through the full practice. Pollak didn't go through stretching like the other three.
Offensive line rotations. With Pollak presumably still out, we'll be keeping an eye on the Bengals' offensive line rotation. Last week they subbed Trevor Robinson and rookie Russell Bodine in at center. With Boling still out rehabbing from his ACL injury, Pro Bowl left tackle Andrew Whitworth got a few snaps at left guard just as he did at the end of last season. Others played the position with the first-team unit, as well, though, including undrafted free agent Trey Hopkins. At this stage in the offseason, it's all about getting reserves some meaningful snaps and figuring out who might be able to play where in the event an emergency insertion is needed.
Rookie learning curve. Along with Bodine and Hopkins, the Bengals have 18 other first-year players who are trying to pick up their offensive and defensive schemes and acclimate themselves to the terminology both playbooks have. Cornerback Darqueze Dennard addressed his steep learning curve in interviews last week. He said he's been helped by many of the veterans on the defense, including third-year linebacker Vontaze Burfict. Two other rookies to watch this week are running back Jeremy Hill and quarterback AJ McCarron. Both missed part of last week while attending the NFLPA's "Rookie Premiere" event in Los Angeles. After practicing last Tuesday, they were at the event Wednesday and Thursday, meaning they will be a bit behind their peers now that they are back this week.
Defensive line rotations. Much like the offensive line with its changes due to injuries, the Bengals experimented with defensive line rotations last week and ought to continue to do so. Second-year defensive end Margus Hunt got some playing time at left end, although that was the position Carlos Dunlap occupied much of last season. Dunlap played some at right end, as well, as the Bengals started tinkering with possible switches along the front based upon the packages they're playing. Several of the ends could see action on the line's interior as part of pass-rush details in Cincinnati's nickel defense.
Lamur's place. After missing the entire 2013 regular season, outside linebacker Emmanuel Lamur is back. More of a cover linebacker, the Bengals would like to see if he can stay on the field often as their linebacker rotation takes shape. With his size and length, the 6-foot-4 Lamur matches up well with tight ends. In a division that has some good ones, it'll be important the Bengals have such a healthy defender of Lamur's make up this year.
Tempo, tempo. It wasn't hard to notice the Bengals' stepped up offensive tempo during last week's practices. It probably won't change this week, either. Again, it's not so much that the Bengals are getting into hurry-up mode, it's just that they're getting out of the huddle and to the line a lot quicker.
May, 28, 2014
5/28/14
8:30
AM ET
Well, the one day this week media were permitted to see the
Cincinnati Bengals
' voluntary organized team activity (OTA) has come and gone. We have six more days before we can see them at work again.
That doesn't mean they're done for a week, by the way. Unfortunately, the media doesn't have the kind of dictatorial power that affect schedules and practice times. In fact, dictatorial or not, the media has no power over schedules, practice times and even roster and game strategy. Bummer.
All of that is to say that the Bengals will practice two more days this week, even without our presence. They go back to work Wednesday and Thursday before breaking for the weekend and resuming OTA practices next Tuesday.
Let's take a deeper look at a few items we gleaned from Tuesday's OTA-opening workout:
1. Eight observations.
If I had the space and time I probably could have made 88 observations from Tuesday's open OTA, but as you hopefully saw I only
made eight from the first full-team practice
of the spring. Again, let me stress just as I did in the link here that it's really hard to glean much from the first workout of a voluntary spring session, but those are a few items that I figured were worth mentioning. We'll see if they have any impact on what the team ends up doing in training camp and during the preseason when we actually can make some determination about Cincinnati's scheme and depth-chart moves. One thing to keep in mind with all observations this time of year is the fact that in some cases, teams like the Bengals might simply be experimenting with situations that reporters aren't privy to. So when Pro Bowl tackle
Andrew Whitworth
lines up at left guard, it may only to give him a little work there on the off chance they end up having to play him at the position again this year. It doesn't necessarily mean he's switched positions and is officially playing left guard from here on out. This is the time of year for experimentation.
2. Experimenting with tempo.
One of the most noticeable changes during Tuesday's practice was the high tempo with which plays were called and the Bengals' offense jumped out of its huddle and to the line of scrimmage. Newly promoted offensive coordinator Hue Jackson and players have spoken recently about how they hope to increase the offense's tempo in an effort to get more plays off on a given drive. It also gives the offense time to get to the line, break down the defense and make any necessary line changes. There were several times when players went in motion in offense-defense drills, causing the defense to work on its side-of-line coverage switches and pass-rush priorities. You could see the defense having to adjust to what the offense was doing. The Bengals hope to make that the case offensively all season. Technically the Bengals aren't experimenting with tempo. They're pretty well sold on moving forward with the high-intensity pacing that it's worth noting isn't quite done at true hurry-up speed. Quarterback
Andy Dalton
seems to like the offensive tweak. "It's going to be to our advantage," he said. "You get to the line quicker, it gives you a chance to do more stuff at the line and gives you a better chance to read what the defense is doing."
3. Expect a lot of nickel -- everywhere.
We've talked about it before, but with the arrival of so many offensive players who come from spread college systems, the NFL is undergoing a particular offensive identity crisis. As some teams, like the Bengals, begin making a conscientious move to a multiple-back setup, they are also quite open to employing multiple-receiver sets for the majority of their games. In some cases, they'll use two-tight end sets with one of the tight ends getting flanked off the line and used in the slot as a bigger bodied extra receiver. It's caused defenses to adjust, forcing defensive coordinators to work on developing their sub-nickel packages. While the 4-3 would be considered Cincinnati's base defense, the nickel may be what the Bengals are in the most. A lot of the Bengals' 11-on-11 defensive work Tuesday revolved around nickel formations. Defensive ends like
Will Clarke
and
Wallace Gilberry
shifted into the line's interior on occasion to boost the pass-rush presence. Extra defensive backs kept shuffling in and out. Outside linebacker
Emmanuel Lamur
spent a good chunk of time occupying a nickel linebacker position while
Rey Maualuga
played the middle linebacker spot and
Vontaze Burfict
resumed his duties as the "Will" outside linebacker.
4. Huber's steady return.
Each of the Bengals' seriously injured stars from last season were in attendance Tuesday and participated in stretching and other warm-up activities.
Leon Hall
,
Geno Atkins
and
Clint Boling
were going through the low-impact portion of the practice and weren't dressed.
Kevin Huber
, on the other hand, was in uniform and he was doing what he knows best: punting. You'll recall, he received a broken jaw and a cracked vertebrae on the same violent blindside hit in the Dec. 15 game at Pittsburgh. He's still taking things slowly, but Huber expects to be fully rehabbed by the start of training camp.
May, 27, 2014
5/27/14
7:30
AM ET
After an extended weekend off, the
Cincinnati Bengals
are headed back to work (voluntarily, of course) Tuesday morning for the start of their organized team activities (OTAs).
We, too, are back after taking an extra day away from the blog. Once again, here's hoping you had a safe, relaxing and reflective Memorial Day weekend. Let's work to not only remember our fallen service members for one weekend out of the year, but to think often about their sacrifices that have kept this nation great.
As we get back into our morning Quick Takes, we start by taking a look at the OTA process and a few things we might be able to glean from the next few weeks:
1. What are OTAs about?
The OTA period was rigidly set by the last collective bargaining agreement. While teams had OTAs before 2011, the rules on the amount of time workouts could be done, how often they could be done and what exactly can be done during them were firmed by the most recent CBA. Since late April -- or early April in the case of teams with new head coaches -- players have been able to work out at their team facilities. The first wave of that workout period included only strength and conditioning training indoors in the weight room with some in-stadium work. No coaches were permitted to be around. The next workout period allowed players to get some modified on-field instruction in a one-on-one style setting, but even then they weren't able to get the amount of coaching that potentially can go on during the OTA period. Some teams have already had informal OTAs, with rookies going through minicamps that started the week after the draft. The Bengals were one of two teams that opted against having a minicamp and will be practicing instead for the first time Tuesday with both their first-year players and veterans. They'll host the voluntary OTA workouts in three three-day increments between now and June 18. They also will have a mandatory minicamp for the full team June 10-12. Media will get a chance to view all of the mandatory minicamp, but is only invited to watch one OTA session per week. Tuesday is that one day this week.
2. What can be learned at OTAs?
Not much, really. The rules stipulated by the CBA make it pretty clear that the amount of time players are on the field during the workouts has to be closely monitored and no contact is permitted during the practice sessions. Normally teams would be working on fundamentals this time of year anyway, but in the past, it wasn't uncommon for some low-intensity contact to occur. Now, you won't see it at all really, even in one-on-one, offense vs. defense drills. That's done with player safety in mind. Besides, the OTAs are still a time when players are just trying to get back to regular-season playing shape and trying to keep up with any playbook changes. It's particularly important for rookies who are learning a new system. From a depth chart standpoint, you probably won't hear too much the next few weeks. The real action will occur when the position battles get going in earnest during training camp that starts July 24. Still, this is a crucial time for players to get educated, healthy and conditioned. That said, OTAs are important, but they also aren't necessarily making or breaking a player's standing on the team, either.
3. Position battles to watch.
Again, we'll see more later this summer, but there are a number of position groups to keep an eye on starting this week. Although there are some obscure reports to the contrary, nothing has changed or will change anytime soon at the quarterback position.
Andy Dalton
is the starter and will stay the starter unless he does something in the next three months to completely lose that opportunity. There's absolutely no reason at this point to believe he'll be in any real danger of losing his starting job. By extension,
AJ McCarron
is the No. 3 quarterback behind
Jason Campbell
. It still will be interesting to see how their snaps will get broken down. Center is another position to watch, with rookie
Russell Bodine
expected to challenge for the No. 1 job with versatile interior lineman
Mike Pollak
.
A.J. Green
and
Marvin Jones
appear to enter OTAs as the No. 1 and No. 2 receivers, but behind them, there's a jumble; much like there is a jumble beyond
Giovani Bernard
,
BenJarvus Green-Ellis
and
Jeremy Hill
at running back. The defensive end rotation could get some clarity these next few weeks as
Will Clarke
joins
Wallace Gilberry
,
Carlos Dunlap
,
Robert Geathers
and
Margus Hunt
. Cincinnati's other tweaks at defensive end, as well as at "Sam" and "Will" linebacker might get a little clarity, too, as they start putting in the skeleton of their blitz-heavy, multiple defensive system.
4. NFL Nation TV returns.
The seventh episode of ESPN.com's NFL Nation TV will air Tuesday at 1 p.m. ET. I'll be coming off the practice fields when we begin, so I should have some updates from the Bengals' first OTA practice. Also, Colts reporter Mike Wells and Cardinals reporter Josh Weinfuss will join co-host Paul Gutierrez (Raiders reporter) and myself. Indianapolis has had a busy offseason off the field, and Arizona has a cornerback who has to be applauding all the cornerback contracts that have come recently. Take a long lunch break and join us.