Cincinnati Bengals:

Paul Alexander
August, 20, 2014
Aug 20
8:00
AM ET
CINCINNATI -- It was rather surprising to me that on Tuesday, some four days after the
Cincinnati Bengals
' backup offenses first took blitz after first-team
New York Jets
blitz, we were still discussing the issue.
Scott
Was it really that big of a deal? Did the blitzes that came long after starting quarterback
Andy Dalton
was out of the game help fluster third-string-turned-second-string quarterback
Matt Scott
? Is it possible they played a big role in the Bengals' lack of offensive firepower after Dalton's departure and the eventual
25-17 loss
Saturday night?
No, yes and most definitely yes.
I mean, this is the NFL. Teams blitz. Teams try to win by exploiting opposing teams' weakest links. Teams also talk trash -- even in the preseason -- and play extremely physical -- even in the preseason. It happens. So why then did this storyline take on such a life of its own early this week?
The answer to that question is unclear, but what is evident is the fact Bengals offensive line coach Paul Alexander didn't like the continued blitzing on his reserve-filled offensive line after the first quarter. It's also clear Jets head coach Rex Ryan isn't too apologetic for bum-rushing the Bengals' young backup quarterback and trying to intimidate Cincinnati's overall offense.
"We weren't going to be a punching bag," Ryan told reporters in New York on Monday.
Ryan's defenses have long been known for their physicality and probably had a point to prove after last October's 49-9 loss in Cincinnati. Defensive tackle
Sheldon Richardson
even said the week before he and his teammates "owed" the Bengals for the blowout. He vowed aggressive play from his team when it visited Paul Brown Stadium for the preseason game.
The Jets did just that. They were flagged 12 times for 133 yards, including a whopping six penalties that were the result of personal fouls. The most egregious came when the Jets were on offense after offensive lineman
Willie Colon
roughed up Bengals cornerback
Terence Newman
after Newman intercepted a pass. Colon contended he didn't hear a whistle and wanted to make sure Newman was down after he got up off the turf possibly untouched. Newman's helmet came off with Colon's shove, resulting in Bengals defensive end
Margus Hunt
violently shoving away another Jets lineman.
The two New York linemen were tagged with personal foul penalties early in a game that was filled with them.
When the Bengals were on offense, they were given similar rough treatment by a blitz assault that annoyed Alexander.
"Notice he didn't bring that stuff when our starters were out there," Alexander said Monday. "We'd have scored quicker. If he wants to put his starting defense out there and blitz all that garbage against our third-stringers, if he feels good about it, then all the power to him."
Jets defensive starters remained in the game well into the second quarter, and kept coming after Scott. Dalton and the starting offense left the field after just three series and an 8-for-8 performance from Dalton that included a 21-yard pass to
A.J. Green
in the flat as the Jets brought one blitz. As injured backup
Jason Campbell
pointed out Monday, once the Bengals beat that blitz, the Jets didn't bring another one on Dalton's crew.
The Bengals also shouldn't worry about the blitzing because it did nothing but prepare the line for what's coming in less than three weeks. Even if rookie center
Russell Bodine
wasn't on the field for the most intense rushes, other backups such as
Mike Pollak
,
Trey Hopkins
and
Tanner Hawkinson
were. On the off-chance that something happens to Cincinnati's starting linemen this season, the reserves need to be ready to communicate through such blitzes together.
"You try to think all preseason is going to be so vanilla, and then you get in a game like that where you really have to make sure you know who you're responsible for and who the other guys are going to," Pollak said. "It's just a good awakening experience to see those younger guys go through."
August, 18, 2014
Aug 18
7:00
PM ET
CINCINNATI -- If the regular season were to begin this week, rookie
Russell Bodine
would be the
Cincinnati Bengals
' starting center.
According to offensive line coach Paul Alexander, there's no ifs, buts or maybes about that. Alexander believes Bodine is
the
guy at the position. From what I've been able to tell after three weeks of training camp practices and two preseason games, he probably should be.
[+] Enlarge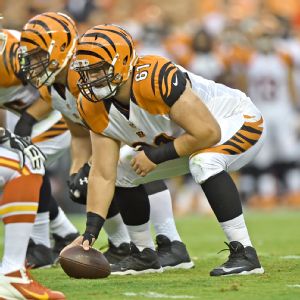 Photo by Peter G. Aiken/Getty ImagesRookie Russell Bodine has impressed the Bengals and could be Cincinnati's starting center.
"Right now it's full speed ahead with Bodine," Alexander said Monday afternoon, according to the
Cincinnati Enquirer
. "That kid has so much talent; he's loaded with talent. He has a tough, physical demeanor and he can block the big nose guards in our division. He's exactly the type of player we've been looking for."
At the moment when Alexander spoke with reporters from the Enquirer and Bengals.com, I was chatting with offensive coordinator Hue Jackson about Bodine and a few other unrelated topics. So I missed Alexander's firm pronouncement, and didn't hear about it until perusing Twitter moments later after the post-practice availability had ended.
Jackson didn't know about it at that moment, either.
I mention that because during our chat, Jackson didn't have the same unequivocal belief that Bodine's name was scribbled in red -- or in this case, orange -- ink on the Bengals' opening-day depth chart. While Jackson contended he likes much of what Bodine has done thus far as the team's starter at center, he still hasn't completely shut down the possibility that veteran
Mike Pollak
could earn starting time at the position.
"We're going to play it out and see how it goes," Jackson said. "[Pollak] is a returning player who has played here and played well for us. Like anybody, he deserves an opportunity to see what he can do with the guys. We'll see how it all unfolds. Pollak is very important to us and what we do."
Then, most importantly, Jackson added: "I'm sure [head coach] Marvin [Lewis] will figure that one out as we move forward."
As much as Bodine's position coach may say the position battle is over, it technically isn't.
But it should be.
Yes, Bodine has had his shown inexperience with his share of rookie miscues. Yes, his snaps have been problematic at times this preseason. And yes, the recently-injured Pollak gave the Bengals valuable minutes as an interior lineman at right guard last season when
Kevin Zeitler
injured his foot.
While those statements are true, so are these. Bodine has become more comfortable and stable at the position. He has cleaned up his snap issues in recent days, playing a completely clean game Saturday against the Jets in that regard. Bodine also has shown some of the physicality and strength that made him instant eye candy for the Bengals in May while they were looking for mid-round linemen in the draft.
As much as Bodine's snap issues may have caused headaches at times in training camp, his overall play has been the magic pill that's made them go away.
"He has the right characteristics," Jackson said. "Every now and then, there's a [botched] call or two here or there, but I've been happy with him. Don't get me wrong, I'm going to push him as far as I can push him because again, I want all these guys to achieve and be as good as they can be."
Few plays encapsulate Bodine's value like the Bengals' goal-line push on third-and-1 late in the first quarter of Saturday's game. As the play began and running back
Giovani Bernard
got stood up at the line of scrimmage, Bodine and the rest of the offensive line started pushing him and the Jets' defense into the end zone. As Jackson put it, a "glob of bodies" fell foward with Bernard in tow.
The push resulted in a 1-yard touchdown run.
"You get on the goal line, your offensive line has to take pride and get the ball in the end zone," Bodine said. "You can't get that close and not get in the end zone.
"That's kind of a statement situation for all of us."
The message that play clearly sent to Alexander? The rookie's ready.
March, 11, 2014
Mar 11
4:30
PM ET
CINCINNATI -- More times in the past two months than I care to admit, my email inbox and Twitter mentions were filled with questions about
Cincinnati Bengals
center
Kyle Cook
.
Most of them had to do with Cook's future with the Bengals.
None of them had to do with adding to that future.
Will Cook get cut? What will it take for the Bengals to cut him? Can't they find anyone better to play the position?
Cook
Every time I received one of those inquiries or included them in a mailbag, I always thought to myself "well yes, it's entirely possible he might be cut." But never did I feel convinced enough to believe that the six-year Bengals veteran who had been lauded both inside and outside Paul Brown Stadium for his ability to spot "Mike" linebacker checks and to shift his offensive line into the right sets really would be sliced off the roster. It just didn't seem right to me.
Looks like my gut was wrong.
In a move that didn't necessarily come out of left field but was somewhat stunning nonetheless, the Bengals announced Tuesday afternoon that they had indeed
parted ways with the lineman
.
"Thank you Cincinnati for the memories ... Looking forward to our next opportunity," Cook wrote to his Facebook page just before the announcement. "Thank you everyone for the support these past seven years, we have made many friends and tons of great memories..."
And so ends the Bengals career of a player who spent six seasons on their roster and one more on the practice squad. Now that he's gone, where do they turn?
Offensive line coach Paul Alexander isn't yet ready to name a replacement, but believes one currently exists on the roster.
"I couldn't tell you right now who our No. 1 center will be, but that's because we do have a few different options that we're confident will improve us in the end," Alexander said. "That's what the offseason programs and training camp are for: to evaluate those possibilities and come up with the best one."
Likely front-runners to replace Cook include
Trevor Robinson
and
Mike Pollak
. Robinson will be entering his third season this fall, and will be looking to build upon the experience he gained in the final weeks of last season. With Cook injured most of the finale against the Ravens, Robinson played 58 snaps in the 34-17 win. Pollak was re-signed Saturday. Though he mostly plays guard, he can be used at center, as well.
It will be in the locker room where the Bengals will miss Cook the most. He might not have been as vocal as Pro Bowl veteran
Andrew Whitworth
, but Cook was among those linemen who pleaded behind the scenes for more rushing opportunities for Cincinnati's offense. With Hue Jackson taking over as offensive coordinator this season, the Bengals are expected to start using their ground game more regularly.
"Kyle has been a great Bengal, a tough guy and an excellent leader," Alexander said. "In addition to being a good player, he showed great ability to coordinate things at the line of scrimmage. He has been a big help to
Andy Dalton
as Andy has developed into a veteran player."
Much to my relative surprise, Dalton will now need a new helper.
March, 8, 2014
Mar 8
2:45
PM ET
CINCINNATI -- Chalk up a win for Hue Jackson and his plans of establishing a more physical
Cincinnati Bengals
offense.
From the time the new offensive coordinator was introduced in mid-January until now, the talk surrounding his unit has centered around his desire to make the Bengals more intimidating offensively by running powerfully and efficiently, while using a punch-first mentality to open up play action and other passing options downfield. The news Saturday that the Bengals have re-signed guard
Mike Pollak
was a clear sign that Jackson's plans are beginning to take shape.
Rule No. 1 in structuring a physical offense: take care of your offensive line.
Pollak's re-signing begins what will be a tedious, rumor-filled next few weeks. With a three-day window this weekend in which teams are permitted to talk to certified agents of free agents, the NFL's signing season has unofficially started.
While defensive end
Michael Johnson
and offensive tackle
Anthony Collins
will dominate the Bengals' free agency news cycle, there are other meaningful signings that deserve attention, too. Namely, those like Pollak's, that have to do with building depth on Cincinnati's front lines. One of three free agent offensive linemen, Pollak had been considered one of the Bengals' more important unsigned players. Offensive tackle
Dennis Roland
also is up for a new contract, and could get one as the Bengals continue strengthening their line.
Pollak, a six-year veteran, missed nearly half the 2013 season because of a knee injury, but returned just in time to contribute to some of the Bengals' better offensive performances of the year. He either started or received significant action in each of the final six games of the regular season, originally coming in off the bench to relieve starting right guard
Kevin Zeitler
who hurt a foot at Baltimore in Week 10.
Even when Zeitler was healthy enough to return, Pollak remained in the starting rotation. He averaged 49 snaps per game across the final six games, and gave the Bengals a relatively fresh extra blocker as the season came to an end.
"Very simply, we are just glad to have Mike back," Bengals offensive line coach Paul Alexander said in a news release. "He's a veteran you can count on. When some injuries provided him an opportunity last year, he came through with flying colors for us."
The insertion of Pollak into the primary rotation coincided with some of the Bengals' best rushing performances and most prolific scores of the season. In the six games when Pollak saw significant action, they rushed for more than 100 yards four times, including the 164-yard effort in a win at San Diego, and the 155-yard showing in a win the next week against Indianapolis. That win over the Colts was one of three in the end-of-year stretch that saw Cincinnati scoring 40 or more points. The Bengals also scored 49 in a 40-point win over the Jets in Week 8. Pollak played just six snaps in a backup capacity during that game.
The point here is that Pollak's bump in playing time overlapped with the contests in which the Bengals' offense played some of its most physical and complete games last season. Other offensive line changes came around that time, too, including Pro Bowl tackle
Andrew Whitworth
's move to left guard to replace an injured
Clint Boling
, and Collins' addition from the bench as the starter at Whitworth's old left tackle spot. Each of those changes came early in Week 13's 17-10 win over the Chargers.
If the Bengals are to institute the type of aggressive offense that Jackson envisions, they'll need to mimic much of what went right in the last six weeks of the regular season. Few games provide the type of blueprint Cincinnati is seeking than that late-season Bengals-Chargers game. The Bengals had their most balanced offensive attack of the year in that game, and prominently featured a heavy dose of their rushing offense.
When asked earlier this offseason about Jackson's plans on offense, Whitworth praised his new coordinator's wishes. Yes, he knows that putting a greater emphasis on the run is important to Jackson, but the veteran lineman also believes that attitude and willpower are at the heart of what Jackson will soon be asking his players to do.
"It's more about an attitude and a confidence and about imposing your will on another team," Whitworth said. "That could be done in the air or on the ground. That's more of what [Jackson] is talking about. He knows to be able to do that, you're going to have to run the ball successfully."
He also knows that a team will need a strong and deep offensive line to get that done.
With Pollak back on board, the framework of Jackson's looming physical system has started taking shape.