Cincinnati Bengals:

Pro Bowl
April, 23, 2014
Apr 23
5:15
PM ET
CINCINNATI --
Marvin Jones
' list of individual goals for the season begins and ends with two words: Pro Bowl.
Months after emerging as a legitimate secondary passing option behind
A.J. Green
, the
Cincinnati Bengals
receiver is thinking all-star status can, and will, come during his third season.
"I want to go to the Pro Bowl," Jones said earlier this week. "Straight up. No sugarcoating it. I want to be one of the top receivers."
It's entirely possible he will be.
[+] Enlarge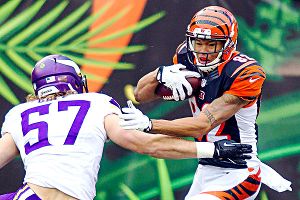 Trevor Ruszkowksi/USA TODAYMarvin Jones aims to be more physical against defenses this season.
The former Bengals fifth-round pick was the team's second-leading receiver last season, hauling in 51 passes for 712 yards. Most of those yards came in the weeks after his career-high 122-yard, and four-touchdown performance against the Jets in Week 8. Only once in the previous seven weeks did he have more than 60 receiving yards in a single game. Following his breakout effort, though, he went beyond 60 yards receiving on four additional occasions.
"Obviously, I had a good year down the stretch, but I want a better year, and then I want a better year than that," Jones said. "I want to be one of the top receivers in the league. That's always been my goal, and I'm moving towards that.
"Us as a receiver corps, that's all of our goals. When we have goals like that, it makes it easy to go out there and go to work and do all the necessary things to get to where we need to be."
Part of what the Bengals' receivers want to be this offseason is bigger. Green, the three-time Pro Bowler, is among those Bengals wide outs who have spent the last four months bulking up. Green said earlier this week he's added between six to 10 pounds of muscle in order to play more physically at the line of scrimmage and to be tougher for cornerbacks down the field. He also joked that his advanced age could be the culprit behind the weight gain.
"I'm getting older, the weight is sticking to me," the 25-year-old said, laughing. "For me, it's about being more physical off the line, getting [cornerbacks'] hands down and just helping create that physical nature on the offensive side of the ball no matter what position."
That focus on physicality has come from up top. Had coach Marvin Lewis and new offensive coordinator Hue Jackson made it clear they want more of a smashmouth edge to their offense. They want to run more often and with better purpose. Their thought is that the pass should feed off the run. To that end, their backs and offensive linemen aren't the only ones who need to be physical. Their receivers do, too.
Coaches are pushing the receivers to be more combative when it comes to blocking in the running game, and more aggressive when it comes to fending off defensive backs for passes thrown their way. On more than one occasion last season, quarterback
Andy Dalton
threw interceptions that partially resulted from punchless efforts by receivers to break up those throws or to prevent them from being picked off.
Green has clearly heard the memo, noted by his visible weight gains. He looks noticeably bigger in his shoulders, arms and chest. Jones also returned to Paul Brown Stadium for offseason workouts this week with a larger upper body.
"It's about making everything look the same. Making sure that if it's a run, it looks like we're running downfield for a pass, and vice versa," Jones said. "That physicality starts in all spots with our burst [off the line] and how we act in the run game and the pass game."
Those intangibles -- fighting better for passes deep downfield, creating extra separation whether the ball is thrown his way or not, and holding blocks better for the running backs -- won't help get Jones to the Pro Bowl. He'll need receiving statistics and touchdowns. He'll need to catch enough timely passes that makes him compliment Green even better than he did last season. The pair were so in sync by the end of last year that they both had double-figure touchdown receptions. It was the first time in franchise history that multiple receivers had 10 or more touchdown catches.
The only receivers who reached last year's Pro Bowl were players who were the No. 1 passing options on their teams. Green, as he has been his entire career, was among the field.
Still, Jones is optimistic at this stage in the offseason that he still will not only build on his stellar sophomore season, but he'll completely overshadow it by claiming a Pro Bowl nod.
How does he do that?
"I just need to be Marvin Jones," he said. "Obviously I'm at the point where I'm going to start getting more snaps and things like that, so I need to just play and being the team guy that I am and letting the opportunities come to me. That's all I've done since I've been here. Controlling my opportunities, however many they are. If I keep doing that, then I'll get to where I need to be."
December, 27, 2013
12/27/13
9:10
PM ET
CINCINNATI -- Cell phones have played an integral role in
Vontaze Burfict
's self-described "father-son" relationship with Marvin Lewis.

If it wasn't for them, Burfict might not be with the
Cincinnati Bengals
.
Of all the phone conversations the football player and the football coach have had in the last two years, though, few have hit Burfict like the one Friday afternoon. It caused him to cry. None have carried the same heavy weight of validation as that particular call.
He officially was no longer the same so-called lazy, overweight, fallen college superstar that so many had considered him. He was now an all-star.
"It brought tears to my eyes when I got off the phone," Burfict said, referencing one of his latest phone conversations with the man who decided to take a gamble on him. "All that hard work that I've put in, and it's getting noticed."
Burfict has, of course, done the heaviest lifting. But you have to credit Lewis for the fact that people are now paying attention to the hard-hitting linebacker. If it wasn't for Lewis' stubbornness about getting Burfict on the field when injuries hit the linebacker corps last year, this chapter in Burfict's life may never have been written. At the very least, it would have been delayed.
Although the NFL formally named Burfict a Pro Bowl invitee during a Friday night show on NFL Network, the second-year standout originally found out he had earned the trip to Honolulu earlier in the day when Lewis called. Burfict was joined as a selection to the "unconferenced" all-star game by Bengals receiver
A.J. Green
, who was tabbed to the Pro Bowl for a third time in his three-year career.
Burfict and Green are joined by left offensive tackle
Andrew Whitworth
and quarterback
Andy Dalton
. Whitworth was named the third alternative at left tackle, and Dalton is the seventh alternate at quarterback. Pro Bowl alternates are added to the roster when replacements are needed due to injuries or for other reasons. Burfict and Green, for example, hope they'll need alternates since the Jan. 26 Pro Bowl is being played one week before the Super Bowl. Players whose teams reach the Super Bowl naturally would not be participating in the Pro Bowl.
"Everyone knows what an exceptional player A.J. continues to be, and we kind of expect him to be in the game, but it's very gratifying to see Vontaze recognized for the fine season he's had," Lewis said.
It was amazing that Burfict in the weeks leading to the selection that wasn't doing better in
Pro Bowl fan voting
.
Just last week he told reporters that he wasn't thinking about the Pro Bowl and that he didn't think it was a goal to aspire to, unless his whole team could go with him. The same day he made those comments, it was revealed that the league's leading tackler ranked 10th in fan voting at his position. If you consider he has led the NFL in tackles most of the season and has forced a fumble, recovered two, intercepted a pass and scored a defensive touchdown, you can better understand my bewilderment.
Whether the broader national audience has truly grasped Burfict's impact on his defense or not doesn't really matter to him. What does matter is the fact that when scouts and draft experts were shunning him last March and April, his phone was still ringing.
Marvin Lewis kept calling.
"That's the reason why I pretty much became a Bengal," Burfict said. "He was pretty much the only person who kept reaching out and who kept talking to me and who kept me motivated and telling me to keep my head up and stuff like that."
Eventually, the draft came and went and Burfict, once projected an early-round pick, wasn't claimed. Sure, there were issues in his background -- past marijuana usage, clashing with his college coach, issues with Personal Foul penalties, coming to the Combine overweight -- that contributed to teams passing on him. But he only wanted a chance.
"After the fifth round, I just wanted to at least hear my name called and see my name at the bottom [of the television screen] or get a phone call from a coach," Burfict said. "I was kind of heartbroken that day, but I'm happy that I'm here and am a Bengal. I've got people that care about me around the stadium. That's why I play so hard on Sundays."
It's that style of play that makes Burfict worthy of his first Pro Bowl honor. But if it wasn't for Lewis' insistence on building a relationship with the young linebacker, perhaps none of this would have ever happened.
Click here
for the complete Pro Bowl roster.