Cincinnati Bengals:

robert geathers
December, 11, 2014
12/11/14
4:00
PM ET
CINCINNATI -- With a hole that appeared on their practice squad overnight, the
Cincinnati Bengals
signed defensive tackle Kwame Geathers on Thursday.
The 24-year-old is the younger brother of Bengals defensive end
Robert Geathers
. A rare veteran for this modern era of the NFL, the 31-year-old Robert Geathers has spent his entire career in Cincinnati.
Kwame Geathers comes to the Bengals after having spent parts of the last two seasons with the Chargers. He replaces David King, a defensive lineman who was poached late Wednesday by the
Seattle Seahawks
and added to their active squad.
Signed as an undrafted free agent out of Georgia, Kwame Geathers played in seven games last season. He had four tackles. He began this season on San Diego's injured reserve after suffering a preseason knee injury. Upon completion of his rehab Dec. 3, he was waived.
The Geathers family has deep roots in the college and NFL game. In addition to Robert and Kwame, their brother
Clifton Geathers
played college ball at South Carolina. Their father, Robert Sr., was drafted by the Bills in 1981. An uncle, James "Jumpy" Geathers, spent 13 seasons in the NFL, playing for New Orleans, Atlanta, Washington and Denver. Cousins Jeremy Geathers and Jarvis Geathers played at UNLV and Central Florida, respectively. And another cousin, Clayton Geathers, is a senior safety at UCF.
August, 9, 2014
8/09/14
7:00
PM ET
CINCINNATI -- A daily review of the hot topics coming out of
Cincinnati Bengals
training camp:
Paul Brown Stadium was loud Saturday afternoon, and the noise had little to do with the estimated 7,000 who were scattered among parts of its lower bowl. For the first time this training camp the Bengals piped in audio, blaring across their loudspeakers gameday sounds like thousands of screaming fans. Done primarily to get the Bengals to figure out snap calls and to work on silent snap counts, the noise came in the first practice after the Bengals lost 41-39 to the Kansas City Chiefs in a preseason-opening game at the always loud Arrowhead Stadium. An illegal procedure penalty in the game could have been attributed to the volume. During Saturday's practice, the Bengals committed only one infraction. It came when defensive end Robert Geathers jumped offside.
Andy Dalton played only one series at Kansas City, but in it the quarterback looked about as good as the Bengals could have hoped. He went 3-for-5 with 71 passing yards, including a 53-yard hookup with receiver A.J. Green for a first down in the middle of the field. The reception was a clear sign that Dalton has made strides since last season. Early in Saturday's practice, though, he didn't look quite as sharp as he has all throughout camp. He wasn't as accurate in the first couple of drills, sometimes overthrowing his receivers. One explanation might have to do with pacing and tempo. In a pads and shorts workout, perhaps his body was still operating at a game pace when his receivers weren't. Regardless of what caused him to be a little out of sync early, Dalton corrected his issues by the end of practice.
Three of his pass-catchers got involved in their first true, 11-on-11 team drills of camp. Receivers Marvin Jones and Ryan Whalen practiced in the team drills for the first time after spending Monday and Tuesday's practices -- the last two before the preseason game -- going through limited 7-on-7 and position-specific exercises. Both practiced Monday for the first time after entering the year on the Bengals' injury lists. Along with them, tight end Jermaine Gresham also got his first team action of camp with the first team. He spent last week's practices training with the backup units as he returned from a back injury.
Speaking of Gresham, he probably got the practice time he received because fellow tight ends Tyler Eifert and Alex Smith didn't work out. Neither were dressed Saturday, joining offensive tackle Andre Smith (concussion protocol), linebacker J.K. Schaffer (concussion protocol) and linebacker Sean Porter (knee) as players who didn't practice. Defensive tackle Geno Atkins, who has been slow with his rehab, was dressed, although he still didn't participate in any team drills. Neither did veteran offensive tackle Andrew Whitworth, who is still easing back from a calf injury.
Among the situations the Bengals worked on were red-zone drills, and ones that began with the offense backed up into its own end zone. One of those plays included the loudest contact of the day, when fullback Nikita Whitlock and safety Shawn Williams met at the line of scrimmage on a Whitlock block. The two created a loud crunch with their pads that had linebackers standing on the sidelines squealing with glee.
Up next: The Bengals will take Sunday off before resuming practice at 5:30 p.m. Monday. They'll leave Paul Brown Stadium for the only time this training camp, practicing about an hour north in Dayton, Ohio, at West Carrollton High School. The practice is free and open to the public.
April, 29, 2014
4/29/14
5:30
PM ET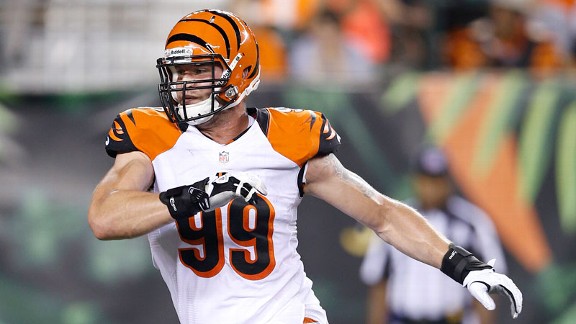 AP Photo/Joe RobbinsThe Bengals expect more out of second-year defensive linemen Margus Hunt this season.
CINCINNATI -- Until January,
Margus Hunt
had only a working knowledge of what a jab, hook, cross and uppercut were.
He didn't know much about his nickname, Ivan Drago, either. He still doesn't, even after months of boxing lessons and in-ring endurance training.
Drago, for those uninitiated to the American cult classic that is the "Rocky" movie franchise, is a fictional boxer whose athletic prowess was honed in Russian labs in 1985's "Rocky IV". The 6-foot-8, 280-pound Hunt reminds many of Drago.
Hunt isn't completely sure about the comparison, but he also hasn't watched much of the movie. Learning more about Drago is on the native Estonian's to-do list.
That pop-culture lesson isn't the only schooling Hunt still needs. He believes he needs to learn how to play the defensive end position well enough to help fill the shoes of
Michael Johnson
, who departed via free agency. Learning remains Hunt's primary focus.
With Johnson out of the mix, the Bengals are looking to establish their right defensive end rotation. They have Hunt and veterans
Wallace Gilberry
and
Robert Geathers
at the position. Gilberry, playing largely as a reserve, had 7.5 sacks last season. That tied him with left end
Carlos Dunlap
for the team lead. Geathers missed all but two games after suffering an early-season elbow injury. It might not be until late in training camp before a decision is made about who will start and predominantly play at right end.
"We'll see how it works out," Hunt said. "Wallace had an unbelievable year last year. He was playing his heart out. It will be fun. They're my teammates and we're a family, so whatever happens, happens. The main thing is we want to win, and we want to win bad."
Hunt had a hand, if ever so small, in the Bengals' 11 wins and division championship last year. The rookie backed up Johnson and occasionally played on the line's interior in certain pass-rush and nickel situations. He appeared in 10 games, picking up three tackles and getting credited with half a sack. Like defensive tackle
Domata Peko
said, Hunt was mere inches from having more backfield stops.
"He had a lot of pressures where he was like one step away," Peko said. "That all takes practice, and that's why we're here right now. If he just keeps practicing hard, I can't wait to see the stats for big Margus."
Before returning last week for the start of the Bengals' offseason workout program, Hunt had been spending his time in Houston, where he was mostly working on endurance training. To help enhance his stamina, the former track and field star took up a new sport: boxing. At times, he sparred up to 11 or 12 rounds.
It was all part of learning about what his body could and couldn't do. Now, it's back to learning about what his body should and shouldn't do in various situations and on certain plays to turn those one-step gaps Peko talked about into big-game sacks.
Hunt got a crash course in playing defensive end last spring and summer that left his mind spinning. In college at SMU, he relied on his size and instincts to maul typically smaller offensive tackles and tight ends to generate sacks and knock down passes. He had displayed a knack for blocking field goals. Barely one month into his senior season, he set the NCAA record in career blocked field goals with nine.
One of the areas the Bengals could end up missing Johnson the most is in batted passes. Johnson, who signed with Tampa Bay in March for about $8.75 million per year, tied for the league lead last season with eight batted passes at the line of scrimmage. Part of Hunt's learning curve has been to include his old knack of getting his hands up as part of his repertoire on defense.
Hunt's lessons started not long after his arrival, but they hit their stride when he was placed on the scout team early in the season, and eventually shifted to occasional defensive tackle duties following
Geno Atkins
' midseason injury.
"I was just about to start getting what I needed to do as a defensive end, and then it all kind of collapsed on itself because I had to be sure I knew what to do inside and how to play the inside position," Hunt said.
At times, it was all almost a little much.
"It seemed like that," Hunt said. "But a lot of time in the playbook really got me on track. Now I don't feel it's a lot to put on me. I've had a year behind me. Last year, the whole 4-3 system was new and what the defensive end had to do with some of the drops and some of the reads. It was just a lot of information."
As he continues to digest that information and other info he has learned along the way, Hunt believes he will have an even clearer mind this season and a better understanding of what can make him a good defensive end.
"I just need to learn the defense a lot better," he said. "I had to learn during the season, as well. But it was good. I felt like I got caught up pretty fast."
The good news for the Bengals is that with Gilberry and Geathers around, Hunt doesn't have to be in a rush to pick up concepts this offseason. Still, in the words of Drago, the former second-round pick must eventually "break" his learning curve. The faster he can, the better.
March, 10, 2014
3/10/14
5:15
PM ET
CINCINNATI -- Brace yourselves,
Cincinnati Bengals
fans. As the hours start flying by between now and the start of free agency Tuesday afternoon, it is beginning to look more and more as though losing
Anthony Collins
and
Michael Johnson
will be a real possibility.
Collins, the backup offensive tackle who has starter's potential, and Johnson, the formerly franchise-tagged defensive end who is entering free agency with him, are likely too expensive for the Bengals to keep. Reports have already indicated that Collins could command between $6-7.5 million per year from the teams that have courted him during this soon-to-expire three-day legal tampering period.
[+] Enlarge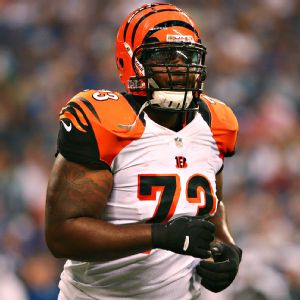 Mark Zerof/USA TODAY SportsThe Bengals are well positioned to absorb the loss of Anthony Collins.
Johnson could be looking at slightly better numbers that the Bengals just won't be able to match.
In the event they sign elsewhere, where would that leave the Bengals? Would all hope be lost for the franchise that exhausted as much time and effort as it could at re-signing the pair? Not at all.
Truthfully, the Bengals are in the envious situation of bringing back a roster that is full of veterans. Even their young players have had significant playing time across the past three seasons. Because the overall depth on the team is solid, particularly at Collins' and Johnson's positions, the Bengals ought to have very little to worry about if they aren't able to re-sign either player.
Let's focus on offensive tackle first.
If they are able to re-sign Collins, the Bengals are setting themselves up for a rather tenuous situation on the left side of their offensive line, one that Collins may not want to go through another couple of seasons, let alone one more.
With Collins back in the rotation at left tackle, the Bengals will have to decide whether they will allow him to start permanently or continue to have him come off the bench as needed. Although he only started seven games last season, Collins still was used quite extensively as a backup to Pro Bowl left tackle
Andrew Whitworth
and right tackle
Andre Smith
. If Collins returns and the Bengals start him, it would mean Cincinnati was moving Whitworth from left tackle to left guard, forcing previous starting left guard
Clint Boling
to the bench. Boling started 12 games last season until an ACL injury early in the Week 13 game at San Diego ended his season. To replace him, the Bengals moved over Whitworth and started Collins.
From a financial standpoint, the only way Collins would return to Cincinnati is if the Bengals could match an offer that would pay him close to $6 million a year. That's a lot of money to pay him to ride the bench again, so team officials would have to think long and hard about how much they wanted to shake up the lineup with his return. It wouldn't necessarily be a bad decision to have.
The reasons for such free-agency frugality are many. Among them include the team's hopes of re-signing each of its three tendered restricted free agents, keeping several of its other less pricy unrestricted free agents, making pushes to extend quarterback
Andy Dalton
, receiver
A.J. Green
and linebacker
Vontaze Burfict
a year early, and just trying to balance the books. Even with a salary cap that's about $7 million more than expected, so much of the nearly $30 million the Bengals have in cap space will be eaten by other budgetary obligations before some $15 million miraculously appears for Collins and Johnson to get paid.
Speaking of Johnson, a logjam similar to what Collins could be facing might be staring at Johnson and his fellow defensive ends if he re-signs.
After placing the franchise tag on Johnson last March, the Bengals re-signed defensive ends
Robert Geathers
and
Wallace Gilberry
and drafted
Margus Hunt
in hopes of building up their depth and talent at the right end spot. Their thinking last offseason was to simply get the position group ready in the event they were unable to re-sign Johnson this offseason. Geathers' season-ending elbow injury in Week 2 helped the Bengals avoid any playing-time issues at the position last season.
Coupled with an expected healthy
Geno Atkins
at defensive tackle and
Carlos Dunlap
at defensive end, the rotation of Geathers, Gilberry and Hunt should give the Bengals a measure of freshness and relief at Johnson's old spot.
Life in Cincinnati without Collins and Johnson also could include draft picks in May as the Bengals start looking even further into their future for replacements for veterans like Whitworth, Geathers and Gilberry. With draft picks coming and what Cincinnati already has in place, it's a future that's not as dark and morbid as many might want to believe.
Yes, Collins and Johnson were the big metaphorical fish they had hoped to land once again.
But get ready, Bengals fans, because you may soon have no choice but watch your organization adapt to life without them.
March, 8, 2014
3/08/14
9:00
AM ET
Welcome to free agency, folks.
The NFL's ban on teams being allowed to speak with eligible free agents from other teams gets lifted at noon Saturday, officially kicking off the 2014 free agency period. On Tuesday, the
Cincinnati Bengals
and the rest of the teams in the league will be able to sign whichever players who are free agents that they would like.
While rumors pertaining to defensive end
Michael Johnson
and offensive tackle
Anthony Collins
may dominate the chatter surrounding the Bengals this weekend, another name many of you will have your eyes on is Oakland running back
Darren McFadden
. Could he end up coming to Cincinnati later this month and fitting? We'll address that, among many other concerns in the mailbag below. (As a quick reminder, you can have your Bengals-related questions answered for a mailbag each weekend. Just tweet me
@ColeyHarvey
before Friday afternoon with your inquiry. Hashtag it #Bengalsmailbag if the question is specifically for the mailbag)
Let's get to it.
February, 19, 2014
2/19/14
8:00
AM ET
With the NFL combine starting Wednesday, we're taking a look at positions of need and who the Cincinnati Bengals might be looking at during the combine at those positions
.
Position of need:
Defensive line
As we mentioned in Monday's look at the Bengals'
pre-combine situation at running back
and Tuesday's
pre-combine look at the offensive line
, there really aren't many pressing needs for the team this offseason. It's even a bit of a stretch to say that the Bengals need help on the defensive line, but depending on what happens with unrestricted free agent
Michael Johnson
starting next month, they may be in the market for at least one defensive end when the draft rolls around in early May. Johnson, as you're probably well aware, is coming off a year as the team's franchise player and stands to command big bucks from any number of teams when free agency begins March 11. The Bengals would like to retain the player who was one of their third-round draft picks in 2009, but it seems quite unlikely that they'll be able to afford keeping him. Even though
Wallace Gilberry
,
Robert Geathers
and
Margus Hunt
are expected to fill Johnson's spot in the event he does leave, the Bengals still may want to look for defensive end help with Geathers getting up in age -- he'll turn 31 during training camp while coming off a major injury. With a shortage of ends in the draft who would meet the Bengals' specifications for the right end spot, the team has greater incentive to retain Johnson and hope for a healthy and productive Geathers in August.
Three players the Bengals might be targeting (all three are expected to attend the combine)
Scott Crichton (DE), Oregon State:
Currently projected as a second-rounder, Crichton may not be available when the Bengals are ready to make a pick for him late in that round. Some early projections had him sneaking into the first round. With a strong showing at the combine, that's not out of the realm of possibility, either. Whether he's around for the Bengals or not, he seems like the type of lineman who would catch their attention. At 6-foot-3, 260 pounds, he's shorter and lighter than the type of ends whom the Bengals like to sign, but he has a measure of versatility that could help him. He's built primarily for playing the edge rushing position, but he did play on occasion on his line's interior in college. Last season, Hunt and Gilberry were forced into a few snaps at defensive tackle following the loss of
Geno Atkins
halfway through the season.
Kareem Martin (DE), North Carolina:
From a build standpoint, Martin looks the part of a Bengals defensive end. He's 6-foot-6 and weighs 272 pounds, just a shade smaller than current Cincinnati pass-rusher
Carlos Dunlap
. The current Bengals lineman has Martin by about 8 pounds. Last season, Martin had 11.0 sacks for the Tar Heels. In addition to finishing sacks, he's noted for his ability to disrupt passes at the line of scrimmage with his long arms. That's something that Johnson has done well, and it's a trait Bengals coaches emphasize with their linemen. Martin comes to Indianapolis with a third-round projection by many.
Taylor Hart (DE), Oregon:
From a Bengals standpoint, the only apparent knock on Hart is that his combination of size (6-6, 286 pounds) and first-step attack makes him probably more suited to play defensive end in a 3-4 scheme. Cincinnati, of course, boasts a 4-3 package, which doesn't require quite as much weight from its edge-rushing spots. But with a late-round projection, Hart could end up making some team feel like it's walking away with a steal. One look at his player card on ESPN's Insiders page and it's clear he possesses some of the intangibles and skills that would impress any coach. It's doubtful he ends up donning the stripes, but he might be one to watch anyway.
February, 7, 2014
2/07/14
10:00
AM ET
With their rookie seasons now done, let's take a day-by-day look at the
Cincinnati Bengals
' first-year players and examine what went right and what went wrong for them individually. Let's also examine the path ahead for the group that will comprise a key chunk of Cincinnati's foundation moving forward.
We'll start near the bottom of the depth and snap charts and work our way up, culminating with the first- and second-round rookies who had a major impact on the direction of the Bengals' offense in 2013.
Tyler Eifert
emerged as a quality blocker and pass-catcher at tight end, while
Giovani Bernard
was Cincinnati's most explosive playmaking threat, catching passes and piling up yards after the catch, and pulling off numerous highlight-show worthy runs.
Due to injuries predating the start of the 2013 season or time mostly spent on the practice squad, several first-year Bengals won't be discussed in this particular series. At a later date, we'll break down what their impact could be going forward. The names you shouldn't expect to see this week include: Cobi Hamilton, T.J. Johnson, David King, Onterio McCalebb, Quinn Sharp, Bruce Taylor,
Larry Black
,
Brandon Joiner
and
Sean Porter
.
After
Shawn Williams on Wednesday
and
Tanner Hawkinson on Thursday
, next up on the Bengals rookie review:
DE Margus Hunt
2013 stats:
Appeared in 10 games and recorded three tackles and 0.5 sacks.
How acquired:
Second-round 2013 draft pick.
The good:
Hunt was able to ease into his rookie season, using six of the first seven weeks to continue learning the defensive end position and understanding what it took to compete at the NFL level. During his limited time playing football in college at SMU, the former track and field standout from Estonia used his raw talent to get to opposing quarterbacks and to knock down field goal attempts at the line of scrimmage. For the first two months of his first season, he continued to be taught the base fundamentals of what he needed to do in order to succeed on the defensive line against Pro Bowl-caliber offensive tackles and tight ends. With so many other talented defensive ends ahead of him, Hunt was able to be eased onto the field. When he got there, he helped shore up depth behind defensive ends
Michael Johnson
and
Carlos Dunlap
, and played on the interior of the line as Cincinnati tried to replace injured defensive tackle
Geno Atkins
.
The bad:
Drafted late in the second round, hopes were high that Hunt would be able to contribute right away. As good as he was in college, Hunt still was a raw talent who lacked experience. He needed the time to learn. Also somewhat disappointing were Hunt's statistics. After appearing on 159 snaps, he only had three tackles to show for his efforts, including credit for a half-sack.
Looking ahead:
Hunt's immediate future depends on what happens with Johnson, an unrestricted free agent whom the Bengals are going to try to re-sign. If they are unsuccessful, the Bengals will turn to a combination of Hunt,
Robert Geathers
and
Wallace Gilberry
to replace him. If Johnson does end up staying in Cincinnati, Hunt's role could be similar to the one he had in 2013, although his playing time should increase. Either way, Hunt's experiences last season will benefit his longer-term future. If 2014 won't be Hunt's year, 2015 or 2016 -- Gilberry and Geathers are free agents after 2015 -- certainly could be.
January, 14, 2014
1/14/14
8:00
AM ET
It was inside Cincinnati Enquirer columnist Paul Daugherty's Monday column that a somewhat interesting possible Cincinnati Bengals practice revelation was unveiled.
The overall column was part retrospective, taking a look back at the innovator of the no-huddle offense and sharing his thoughts on the modern-day league and the modern-day team in stripes that still hasn't won a playoff game since he was in his late 40s.
That man was Sam Wyche, the former Bengals coach who helped set an offensive pace that is replicated across the NFL to this day. Although he hasn't coached since 2005, Wyche, 69, apparently believes he still can. His age and health might be an issue for some, but it seems he wishes that wasn't the case.
Deep in the column, while Daugherty shared Wyche's thoughts on the both good and not-so-good versions of Bengals quarterback Andy Dalton, the former coach discussed what he felt was a problem around the league with respect to practice philosophies. He didn't believe enough coaches these days were practicing pressure situations with their quarterbacks often enough. He felt too few were taking their signal-callers through two-minute drills every day. Not enough were forcing their offense to drive 90 yards or more to score until too late in the week. Not enough were forcing their playmakers to convert on third-and-longs each day between Wednesday and Friday.
He could be right. With practices closed, though, only the Bengals know what really goes on inside their tree-lined, three-field practice cocoon.
Upon first reading them, Wyche's comments took me back to phrases I used to always hear Florida State coach Jimbo Fisher utter when I covered that team. In practice, he'd say, "We like to put our team in positions of failure." What he meant was, he wanted his quarterback to convert that third-and-13. He wanted to see if his receivers could break at the right spot on fourth-and-5. He wanted to see if his offense could go 85 yards and score in fewer than two minutes.
Fisher said it a lot last season and the season before. I'm sure he said it often this past, national championship season, too.
Maybe Wyche is on to something. Or maybe, with respect to the Bengals, he doesn't fully know what he's talking about. Either way, it all sounds like a novel concept. While practice can be a great time to work on fundamentals, and timing with receivers and running backs, and installing game plans, it also ought to be a time when your quarterback and key players are put under extreme amounts of pressure, so they don't feel it on Sundays.
Because if the last three playoff trips are any indication, the Bengals, particularly on offense, just weren't very well prepared when the bright lights came on and the real pressure came.
Here's Tuesday's brief Morning Stripes:
September, 19, 2013
9/19/13
6:40
PM ET
CINCINNATI --
J.K. Schaffer
's time away from the Bengals lasted barely a day. The Cincinnati native and former University of Cincinnati standout was re-signed to the team after clearing waivers Thursday afternoon and was added back to the practice squad.
The linebacker, who led the team with 20 tackles during the preseason and became an instant fan favorite, was waived Wednesday as part of a series of roster moves that also included placing defensive end
Robert Geathers
on injured reserve and re-signing safety
Jeromy Miles
to the 53-man roster.
Like Schaffer, Miles also had been released this week. He was waived hours before Monday night's game against Pittsburgh. With Miles off the roster, a space opened for Schaffer to be moved from the practice squad. Until that point, Schaffer had been on the practice squad since the start of the regular season. Used specifically on special teams, Schaffer played in Monday's 20-10 win over the Steelers.
Schaffer is an undrafted player who officially began his professional career last season on Jacksonville's practice squad. He was signed by the Bengals in the offseason, and made it to the end of training camp before being left just off the 53-man roster.
September, 19, 2013
9/19/13
4:05
PM ET
CINCINNATI -- The Year of the Rookie appears set to continue in Cincinnati this weekend when
Bengals
first-year defensive end
Margus Hunt
finally gets an opportunity to play in front of a regular-season Paul Brown Stadium crowd.
Hunt
After patiently waiting his turn the past two weeks, the second-round pick out of SMU might be getting ready to bounce off the Bengals' inactives list and into a pregame two-deep depth chart for the first time in his young career. As defensive coordinator Mike Zimmer put it this week: "the redshirt may be over."
Redshirting, of course, does not actually exist in the NFL. But the two-week acclimation period the Bengals just put Hunt through was the closest thing to their version of it. With 10-year veteran end
Robert Geathers
now done for the season with an elbow injury suffered in Monday night's win against Pittsburgh, Hunt has become the "next man up" coaches so regularly bring into their lexicon.
"I'm ready to go," Hunt said Thursday. "I mean, I've been ready to play."
Specifically, Hunt, from Estonia, has been ready to get on the field since the last week of the preseason when he was finally beginning to understand the nuances of playing his position at the professional level.
"During the preseason, I got better every game and during the Indianapolis game, I was pretty good playing the run and pass," Hunt said. "I played a lot during that game. I can help out this team. I feel comfortable with the plays we have in, and now it's just a matter of being out there and playing."
Hunt's teammates agree, and have been encouraged by his progress even in such limited time.
"He's getting better. That's what we do," defensive end
Wallace Gilberry
said. "If it's on scout team or on defense, we get better. He's plugging in and making the transition. If his number's called, I'm sure he's going to be there to answer the bell."
Gilberry might have his own bell to answer this week. With Geathers' departure from the rotation, the Bengals likely will be looking for him to cycle in even more in the back end of the depth chart. While starters
Michael Johnson
and
Carlos Dunlap
will be receiving the bulk of the snaps at the end positions, respectively, Gilberry and Hunt anticipate being in the mix behind them.
Both said they feel comfortable playing either end position, although Hunt said he felt better lining up on the left side like he did most of his college career.
Perhaps the most difficult adjustment Hunt has had to make comes in understanding the role of the tight end in an NFL offense. While playing at SMU, Hunt saw very few Conference USA teams that featured tight ends. He mostly was playing spread style teams that employed a single tailback and a slew of shifty receivers. He didn't have to worry much about coverage. His primary objective was to get in the backfield and be a disruptive force in the passing game.
"We rarely saw a tight end," Hunt said. "Here you have two tight ends, two running backs and you have to sort through the personnel groups. It's a different scouting report, and it took me a bit of time to sort through what to look at and get a better feel of what the offense is doing."