Cincinnati Bengals:

ryan clark
December, 13, 2013
12/13/13
3:00
PM ET
CINCINNATI -- If you think tears will be streaming down
James Harrison
's face Sunday night when he's introduced at Heinz Field, you better think again.
Actually, come to think of it, if you really think Harrison will show any type of emotion while standing on the
Cincinnati Bengals
' pregame sideline, then you must know some other player. The James Harrison who ruled the Steel City for all but one of his 12 professional football seasons doesn't show those kind of emotions publicly.
The persona the linebacker has carried onto the field his entire career is someone that is mean, intimidating and perpetually scowling.
[+] Enlarge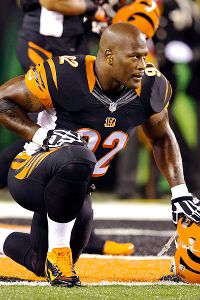 Greg Bartram/USA Today SportsJames Harrison's role in the Bengals defense has increased during the season.
"He's going to be gruff about everything he can," Bengals coach Marvin Lewis said. "That's his fun; to always be on edge and to keep other people on edge."
This game between the
Pittsburgh Steelers
and Bengals may seem like a different one to those who knew Harrison by the way he mauled running backs and frightened quarterbacks while wearing the black and gold. But for Harrison, this game is business as usual.
Because of an illness that forced him to miss the last two days of practice this week, Harrison wasn't around to hold court with reporters and discuss his return to Pittsburgh. That's OK. It's not like he would have said much about it anyway.
The only time he did speak about the game was early in the week when Bengals radio announcer Dan Hoard casually asked Harrison if he was looking forward to going back to Pittsburgh. Harrison simply told Hoard the game wasn't a big deal.
His teammates weren't surprised to hear he felt that way.
"It's just a regular game for us," linebacker
Vontaze Burfict
said. "It's so many guys in this room that played for other teams already, so it's no big deal for me."
It isn't like this is the first time Harrison has played against the Steelers. An offseason acquisition, he was with Cincinnati back in Week 2 when the Bengals hosted Pittsburgh on a Monday night. He didn't see much action in that game, though, playing only 14 snaps.
Since then, he has grown more accustomed to the terminology of Cincinnati's defense. Because of his familiarity and because of defensive tackle
Geno Atkins
' season-ending injury, Harrison's playing time has increased dramatically during the season. Lately, to give the Bengals another big, athletic body on the line in Nickel situations, Harrison has been regularly filling Atkins' spot. He has remained a force at linebacker, too, coming up with a clutch interception, and producing timely stops in goal-line situations.
"He's understanding the defense, he understands what packages he's in," Burfict said. "For me, now I don't have to tell him he has to do this, he has to do that. He understands when he gets out there and he just flies to the ball."
While Burfict has been helping Harrison catch on, Harrison has been helping the second-year linebacker and others in the position group in ways he probably doesn't even know.
"One thing about James that I didn't know is that he's a very consistent man," linebacker
Vincent Rey
said. "If he's going to lift on Monday extra, he's going to lift every Monday extra. The entire year. Guys see that and everyone in this building already is competitive, so we see that and we try to lift extra with him.
"Sometimes we can't keep up."
Don't worry. Neither could some of Harrison's former teammates.
"His edge on the field, especially when he was here, it couldn't be contagious because it couldn't be matched," veteran Steelers cornerback
Ryan Clark
said. "You knew you couldn't run the ball at him, you couldn't run the ball away from him. You had to protect with more than one person. You couldn't put tight ends or running backs on him. That's the thing that permeated throughout our defense because he constantly made plays. He constantly put others in position to make plays because of things he wouldn't allow offenses to do."
A lot of that starts with Harrison's personality, Clark said. Why couldn't that personality be matched?
"Nobody really wants to be as big of a jerk as James can be sometimes," Clark said.
That is precisely why you won't see an emotional Harrison on the Bengals' sidelines. He probably won't shed a tear in the locker room before the game or after it, either. But maybe at some point this weekend, in a quiet place where the world isn't allowed, Harrison will fondly reflect on his return.
That's because deep down, he really isn't the James Harrison we all know.
"James' personality was kind of created by him and also by the people around him; the media," Clark said. "He kind of played into it. And now, he's forgotten that he's actually really a nice dude. For us, the James I know is not the guy that everybody else knows."
Perhaps Harrison will sneak a little Kleenex in his business-trip briefcase.
December, 11, 2013
12/11/13
8:00
PM ET
CINCINNATI --
Ryan Clark
has played in the NFL for a long time; 12 seasons, to be exact.
Burfict
Clark
That means the
Pittsburgh Steelers
cornerback has seen his share of physical play, and he's heard his share of brash, rivalry-induced smack-talk. After all, not only has he played in the rough and rugged AFC North, but he also spent his early years playing for a pair of NFC teams (Washington and New York) that have a long-standing tradition of hatred for one another.
So it's safe to say Clark knows rivalries.
Still, on a teleconference Wednesday, he said something interesting about the rivalry game he will be involved in Sunday night in Pittsburgh. While speaking with media who cover the
Cincinnati Bengals
, he implied that the mostly young Bengals team has been chirping adverse things about his team in recent months and years. He implied that the division-leading Bengals, filled with veterans who started elsewhere and fresh-faced players who have been groomed by the franchise within the last four or five seasons, don't know anything about the Steelers-Bengals rivalry, and that they couldn't care less about it.
"I don't think there's a lot of respect for the Pittsburgh Steelers in Cincinnati," Clark said. "I don't think they necessarily understand the history, or know the history, nor care about it."
That's not the impression second-year Bengals linebacker
Vontaze Burfict
seemed to leave when he spoke with reporters earlier in the day.
"When we played them the first game, we realized they are a physical team," Burfict said, referring to a Monday night meeting back in Week 2. "Even when I played them my rookie year, I knew it would be a physical division; especially at linebacker since you have to go up against some big offensive linemen. They can barely move, but they can hit."
Now, for a little context.
Clark was asked on the teleconference to generally describe his thoughts on the Bengals-Steelers rivalry. He began by citing how competitive the series was throughout the previous decade when
Carson Palmer
was behind center for the Bengals and
Chad Johnson
and
T.J. Houshmandzadeh
were catching passes from him. Even though Pittsburgh was 13-6 in the rivalry between 2001-09, several of those contests were quite competitive, Clark pointed out.
Then came the 2010-11 era, when the Steelers really dominated, Clark continued. "We were beating the Bengals pretty regularly."
Pittsburgh won all four meetings those two seasons.
But since last year's split of the two regular-season games, Clark has detected something different about the Bengals. It's not a bad thing, just different, he said.
"Those guys play hard," Clark said. "They talk. And for me, that's exciting. It's always good to play against good players who feel like they're better than you. It makes for a good game for both teams."
Perhaps the Bengals' feelings of superiority are expressed internally when no one else is looking. Because publicly, they are putting on a much different face. It's one that reeks of respect for the Steelers.
Here's Bengals safety
Reggie Nelson
on the rare 5-8 record Pittsburgh is bringing into this late-season game: "They've always been good to me, to be honest with you. You can see it on film. They've got a great group of athletes over there; a great group of guys. They just had a rough start. But we've got to just come out and play. Their record don't speak for nothing."
Eight-year Bengals vet
Andrew Whitworth
, who played at LSU just after Clark, also sounded respectful when describing the Bengals' preparations for Sunday.
"It's going to be a heck of a game," Whitworth said. "We're preparing to get the best they've got."
Maybe the Bengals are just saying the right things publicly.
As for Clark's take on the rivalry, no matter how much disrespect he may feel off the field, he still knows his team has to be well prepared on it.
"Right now, they're clicking," Clark said. "They're going to be tough to stop. We'll have our work cut out for us."