Cincinnati Bengals:

Ryan Shazier
May, 7, 2014
May 7
1:45
PM ET
CINCINNATI -- You might have seen this week
when we caught up
with
Cincinnati Bengals
Hall of Fame offensive tackle Anthony Munoz at the Pro Football Hall of Fame's Fan Fest in Cleveland.
Though quarterback Andy Dalton's play was among the Bengals-related concerns Munoz touched on, he also spoke for a moment about the direction he felt the franchise was going, and what he anticipated seeing it do when the NFL draft arrives Thursday night.
When it comes to building up the Bengals' roster this weekend, expect them to do so by focusing on defense, not offense, Munoz said.
[+] Enlarge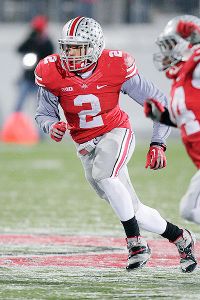 AP Photo/Jay LaPreteOhio State linebacker Ryan Shazier could be a good fit for the Bengals in the first round.
"I don't know names, but I think we need a linebacker," Munoz said. "We can go out and get a pretty good linebacker, maybe a defensive back. I don't think you can ever have too many cornerbacks and defensive backs."
So there you have it.
Munoz, a former Bengal who attends every home game and called preseason games for a local television station last year, is not looking for the Bengals to draft
Teddy Bridgewater
or any other quarterbacks or offensive players in the first round.
"The linebacker position is a good position to go with our D-line," Munoz continued. "Even though we lost one or two [on the defensive line], it's an area that's still strong. As far as linebacker or defensive back, that's what I would look at."
Michael Johnson
was the starting defensive end the Bengals lost this offseason when he signed with Tampa Bay. Linebacker
James Harrison
was also cut in March, leaving a hole in the regular rotation at "Sam" linebacker. The Bengals also probably wouldn't mind having another linebacker who could play the "Will" position, giving them another option in situations where tight ends, running backs and the occasional slot receiver needs to be covered.
Ohio State product
Ryan Shazier
is one linebacker who could provide that level of versatility and depth for the Bengals. If he is there when Cincinnati selects at No. 24, he could be an option. Other options for that draft slot include cornerbacks
Darqueze Dennard
(Michigan State),
Justin Gilbert
(Oklahoma State),
Kyle Fuller
(Virginia Tech),
Bradley Roby
(Ohio State) and
Jason Verrett
(TCU). At least two of those cornerbacks are expected to be off the board before the No. 24 pick, as should the two highest-rated safeties --
Ha Ha Clinton-Dix
(Alabama) and
Calvin Pryor
(Louisville).
If there are no defensive backs or linebackers the Bengals like at No. 24, don't be surprised if they turn to the defensive line and figure out a way to help add to the depth at end. It all depends upon how that player grades on the Bengals' big board, though.
Munoz is probably on to something. It's something we've been saying for a while, but somehow it makes even more sense when a revered Hall of Famer says it: Cincinnati would be best served focusing early in the draft on defense. After that, go to town beefing up the offensive line with another body that can run block, another physical running back and a quarterback to back up Dalton.
The following is Munoz had to say about the Bengals' direction the past few seasons under head coach Marvin Lewis. It's something to keep in mind this weekend as the Bengals draft players. They don't just want good players, they want leaders, too. And lately, they have been among the best at drafting and developing those types of players:
"You can take the last three or four years and really separate it from the previous 18, 19 years. It is a different mindset and it's a totally different group of guys. One of my former teammates who's been a radio announcer or analyst for close to 30 years I think says it best: when your best players are your best guys and your hardest workers, that's when it starts to come around. I really believe that's what the Bengals have going for them. Their best players are their hardest workers and their best guys. ... This is a totally different makeup of the team. They're going in the right direction."
April, 23, 2014
Apr 23
9:30
AM ET
A day-by-day look this week at five position groups where the Cincinnati Bengals have draft needs. We started with quarterbacks, then looked at defensive ends. Now we continue with outside linebackers.
Outside linebackers lost:
James Harrison
, cut in March.
Outside linebackers added:
Dontay Moch
, signed off waivers from Arizona.
Sam Montgomery
, signed out of free agency.*
*The Bengals list both as linebackers, but they have been defensive ends previously.
Draft likelihood:
Medium
Rounds drafted?
Any
Analysis:
The Bengals' plans at outside linebacker are beginning to make sense when you consider who they have added, who they have cut and who they have installed as their new defensive coordinator. This season, it's all about versatility and mobility among the Bengals' linebackers and defensive ends. With the additions of Moch and Montgomery, the defense will get a pair of second-level players who understand what it takes to beat a tight end or an offensive tackle off a block and to get to the quarterback. Both have played hybrid hand-in-dirt defensive end and standing up outside linebacker roles in the past, and it appears they will do the same in Cincinnati. It's also clear based on Paul Guenther's comments earlier this offseason that the Bengals hope to change defensive fronts often, moving their ends to the interior of the line, on occasion, and placing linebackers down there as well. You'll see a steady diet of 4-3 base fronts, but having players such as Moch and Montgomery could allow the Bengals to shift into 3-4 and nickel schemes with some regularity. Guenther was all about creativity in his previous role as linebackers coach, and it appears he'll keep that trait with this defense.
To that end, the Bengals have a draft weekend need -- not a great need, but one nonetheless -- for an outside linebacker who can be flexible enough to adapt to Cincinnati's constantly changing defense. The Bengals also seek an outside linebacker who can help cover in certain passing situations, and who can also be a special teams star, working well on punt and kickoff coverage teams. For weeks, the linebacker's name most connected to the Bengals has been Ohio State's
Ryan Shazier
. That is, of course, if the Bengals feel like spending their first-round pick on a linebacker. It's certainly possible the Bengals believe that is the best route to take, but it's also possible that they want to address other needs first and then circle back around to linebacker later in the draft. If that's the case, Shazier will, of course, be gone. The middle of this draft could hold hidden outside linebacker gems, though. One player who has shot up the draft boards in recent weeks and who could be a second- or third-round option is Georgia Tech's
Jeremiah Attaochu
. Noted for his on- and off-field smarts, he ranks as the fourth outside linebacker on ESPN's draft board. His biggest upside is causing disruption on third downs as an edge rusher. Along with Attaochu, Boise State's
Demarcus Lawrence
and Florida State's
Telvin Smith
and
Christian Jones
could be mid-round options.
I covered Attaochu, Smith and Jones in previous reporting gigs and see NFL potential in all three. I'm probably more a fan of Smith because he seems the most versatile and is better than the rest in coverage and special teams. His size, listed at 218 pounds, is his only real knock. Somehow he played Mike and Will linebacker at FSU at that weight. He's the same height and two pounds lighter than Bengals safety
Taylor Mays
, who has been used in nickel linebacker roles in the past.
Potential picks:
Ryan Shazier (Ohio State), Jeremiah Attaochu (Georgia Tech), Demarcus Lawrence (Boise State), Telvin Smith (Florida State), Christian Jones (Florida State).
March, 13, 2014
Mar 13
2:00
PM ET
To this point, signs have mostly pointed to the
Cincinnati Bengals
drafting a cornerback in the first-round of this year's NFL draft.
ESPN draft insider Mel Kiper Jr. ignored them in his
latest mock draft

that was unveiled earlier Thursday. Instead of taking a cornerback like he suggested in his first two mocks, Kiper now has the Bengals taking outside linebacker
Ryan Shazier
.

An Ohio State product, Shazier would certainly be welcomed by Bengals fans in southwest Ohio. Fellow Buckeyes
Mike Nugent
and
Dane Sanzenbacher
(currently a tendered restricted free agent) are already on the roster.
One of the many underclassmen in this year's draft, Shazier left Ohio State after his junior season. While helping lead his program to the Big Ten championship game, he had 133 tackles and 6.0 sacks in his final year. As a "Will" linebacker, he fits one of the Bengals' many needs.
Vontaze Burfict
currently starts at the "Will" position and figures to do so for a long time, but an injury at the position on the depth chart put Cincinnati in a bind when it came to numbers for its nickel defense.
Emmanuel Lamur
's season-ending injury in the preseason forced the Bengals to get creative with their rotations on pass-specific downs. They even flirted at one point with moving safety
Taylor Mays
into the nickel linebacker spot to give the position a bigger, athletic body in order to help cover tight ends, running backs and extra receivers.
Shazier's coverage ability, particularly his physical style of play in coverage, has been noted as a strength. His speed and range are also positives. ESPN's draft team currently ranks him the third-best outside linebacker on the boards.
While the cornerback need still exists, if Shazier is still around at pick No. 24, he wouldn't be a bad selection for the Bengals.