Cincinnati Bengals:

shawn powell
January, 2, 2014
Jan 2
12:45
PM ET
CINCINNATI -- At the moment
Shawn Powell
's foot connected with the football for a second time last Sunday, all of Paul Brown Stadium knew what would be coming in the next few days.
The punter would be packing his bags.
The odds seemed high that after his 10-yard shank made a beeline for the second row of stands behind the Bengals' bench, his short stay in Cincinnati would come to an end. Tuesday afternoon, it officially did.
[+] Enlarge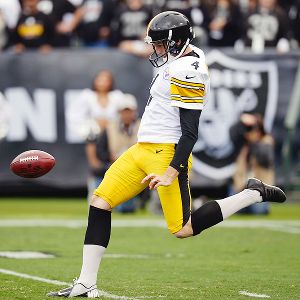 Thearon W. Henderson/Getty ImagesZoltan Mesko was with the Steelers for seven games this season, averaging 42.5 yards per punt.
Bengals special-teams coach Darrin Simmons told reporters this week what most had already assumed: The shanked punt played a key role in Powell getting waived, and
Zoltan Mesko
signed to take his spot ahead of Sunday's first-round playoff game against the Chargers.
"I hated that it didn't work out for Shawn. I know he wanted it to and I wanted it to for him," Simmons said. "But there comes a time when we're trying to win a series of games and a 10-yard punt is like a blocked punt to me. When we're playing critical games and field position is such a factor, that figures into it. Sometimes, it's just not the right place or the right time for someone or something. So we decided to make a change."
The punt didn't end up hurting the Bengals too badly. Although it was part of a rough third quarter that got the Ravens back into the contest, Cincinnati ended up holding on for a 34-17 win in the regular-season finale.
In Mesko, the Bengals are getting a fourth-year punter who has kicked on the big postseason stage before. Signed by the Bills after the 2012 draft, Powell didn't have the experience Mesko had.
Along with spending seven games this season with the Steelers, Mesko punted three seasons for the
New England Patriots
. He performed in the playoffs each of those years, averaging a net of 40.1 yards per punt in the postseason. That figure is actually higher than his regular-season average of 39.0 yards. Mesko is hopeful he can help factor into the Bengals' postseason success, but he's not sure if simply playing in the postseason will be much of a benefit or not.
"Just because I have playoff experience doesn't mean it's going to pay off for me," Mesko said. "The experience is always good. But I'm saying I have to earn it and we all have to earn this victory."
Mesko wasn't part of the five-man group of punters who the Bengals invited to tryout for the position two days after
Kevin Huber
suffered a season-ending injury at Pittsburgh. Huber was lost when a vicious blindside hit from the Steelers'
Terence Garvin
broke his jaw and cracked vertebrae in his neck.
Even though they felt more comfortable going in Powell's direction two weeks ago, the Bengals believe they made the right decision to sign Mesko this time.
"For me, it's a plug-and-play thing," Simmons said. "The thing you try to do with somebody new when it's a crash course is you try to reduce their anxiety with change. So there's little change that we could have for him. That's a positive."
Mesko said he only needed one day to get into a rhythm catching snaps from long-snapper
Clark Harris
. Like Powell and Huber, Mesko will be holding for kicker
Mike Nugent
on field goal and point-after attempts.
December, 31, 2013
12/31/13
6:15
PM ET
CINCINNATI -- Two days after horribly shanking a punt that traveled just 10 yards, punter
Shawn Powell
was released by the
Cincinnati Bengals
and replaced by a more veteran kicker.
Zoltan Mesko
, a fourth-year player who was drafted by New England and most recently punted for the
Pittsburgh Steelers
, was signed Tuesday as the Bengals continue trying to adequately fill the spot that opened when
Kevin Huber
's season ended thanks to a broken jaw suffered three weeks ago against Pittsburgh. Two days after Huber's injury, Powell was added to the roster. The former Florida State All-American appeared in two games, most recently punting three times in Sunday's 34-17 win over the Ravens.
Two of Powell's punts landed inside the 20. One of them actually bounced once before being fielded by a member of the Bengals' coverage team and downed on the 1.
It was the third punt, though, that got Powell in trouble. As part of a third quarter that ultimately resulted in the Ravens rallying from a 17-9 deficit to tie the game at 17, Powell mishit one kick. On the fourth-and-12, the ball traveled just 10 yards before hooking left and drifting out of bounds over the Bengals sideline and into the first two rows of the stands. Before playing for Cincinnati, Powell had been out of work since the beginning of October, when he was waived by the Bills after allowing one punt return touchdown, and coming within a tackle of another.
While with the Steelers during the season's first seven games, Mesko averaged 42.5 yards on 34 punts with a net average of 36.7 yards. He had three punts inside the 20 and two touchbacks. He was released by Pittsburgh on Oct. 29.
Along with with Mesko's signing, the Bengals also added tight end
Kevin Brock
on Tuesday. He will fill the lone available roster spot that came open Monday when the Bengals placed tight end
Alex Smith
on injured reserve. Smith, who served as the No. 1 tight end in Sunday's game, dislocated a wrist against Baltimore. With him out, the Bengals are hoping
Jermaine Gresham
and
Tyler Eifert
will be able to return ahead of Sunday's first-round AFC playoff game against San Diego. Both were inactive last weekend after suffering injuries the week before.
If Gresham is still bothered by his hamstring and Eifert is still dealing with the effects of a stinger, the Bengals would be down to Brock and H-back
Orson Charles
at the position.
Brock spent four games with Kansas City this year, catching three passes for 36 yards. He also played in two games with Buffalo during the 2011 season, catching two passes for 27 yards.
In addition to his signing and Mesko's, the Bengals also signed free agent kicker Quinn Sharp to a future contract. Signed as a reserve, the first-year player cannot work or count toward the active roster until the day following the Super Bowl. He was the third player signed to a Bengals future contract in two days. Sharp spent the preseason with Cincinnati, going 2-for-2 on field goals and 3-for-3 on point-after attempts before getting waived Aug. 26.
December, 30, 2013
12/30/13
1:00
PM ET
CINCINNATI -- With Sunday's
34-17 win
against the
Baltimore Ravens
, the
Cincinnati Bengals
retained their No. 3 seeding entering the start of this weekend's AFC playoffs.

Speaking of the number "3," that's also where the Bengals' defense finished the regular season in the NFL rankings. It's the first time the unit has ranked that high since 1983.
Here are a few other numbers to ponder from Cincinnati's big division win:
27.0:
Ravens' third-down percentage (4-for-15).
54.0:
Bengals' third-down percentage (7-for-13).
61:
Yards on the Ravens' second drive of the game. It resulted in a 22-yard
Justin Tucker
field goal; his second of three field goals.
161:
Yards the Ravens gained on their other 13 possessions.
7:
Total number of interceptions. Baltimore picked off four passes. Cincinnati intercepted three; all in the fourth quarter.
50:
Passing attempts for Baltimore quarterback
Joe Flacco
.
3.4:
Average gain per passing play for the Ravens.
7.8:
Average gain per passing play for the Bengals.
53:
Yards on Cincinnati's first touchdown of the game. It came when receiver
A.J. Green
sprinted right past the Baltimore secondary and got wide open deep downfield.
47:
Yards rushing for Baltimore's running backs.
15:
Yards rushing for Ravens running back
Ray Rice
, who had just six carries.
66:
Yards rushing for Bengals running back
BenJarvus Green-Ellis
, who averaged 6.0 yards on his 11 carries.
5:
Bengals receivers who had more than 10 receiving yards Sunday. Four of them caught three or more passes.
35.0:
Net punting yards for Bengals punter
Shawn Powell
, who was hurt by one 10-yard shank that sailed wide left, over the Bengals' sideline and into the first two rows of seats.
2:
Punts out of Powell's three that landed inside the Ravens' 20-yard line. One took one bounce before getting downed on the 1.
28.2:
Average yards per kick return for Baltimore's
Jacoby Jones
. He had six returns for 169 yards.
14:
Total tackles for Bengals linebacker
Vontaze Burfict
who led his team in stops for the 15th game this season. He finished the regular season with 171 tackles, enough to lead the league and set a new single-season Bengals record.
22:
Snaps Bengals offensive tackle
Dennis Roland
played out of a possible 66, according to Pro Football Focus.
2:
Bengals players who played every offensive snap, according to PFF. Quarterback
Andy Dalton
and offensive tackle
Andre Smith
played all 66 Bengals plays.
26:
Passing routes the Bengals' tight ends,
Alex Smith
and
Orson Charles
, ran, according to PFF.
6:
Hurries PFF credited Bengals defensive end
Carlos Dunlap
with having as he pressured Flacco.
9:
Passes Flacco attempted that were 15 yards or more downfield; the most of his career.
0:
Passes Flacco completed that were thrown 15 yards or more downfield. One of those incomplete passes was a deep throw near the goal line late in the fourth quarter that was intercepted by Bengals cornerback
Dre Kirkpatrick
. Kirkpatrick had two interceptions, including another that resulted in a pick-6.
3:
Passes Flacco had all season on balls that were thrown 15 yards or more downfield.
10:
Times the Bengals used the zone-read option against Baltimore. The play netted them 67 yards and a touchdown. Dalton accounted for 19 of those yards and his 1-yard rushing score early in the fourth quarter.
18:
Times the Bengals had run the zone read entering the game. They previously had no more than six zone-read rushes in a game.
Information from ESPN Stats & Info was used in this report. Follow on Twitter @ESPNStatsInfo.
December, 29, 2013
12/29/13
4:11
PM ET
CINCINNATI -- A few thoughts on the
Cincinnati Bengals
' 34-17 victory against the
Baltimore Ravens
.

What it means:
It may not have been pretty, but the Bengals' victory Sunday was just what they needed to build a little momentum entering the postseason. All week players and coaches talked about how they didn't plan on packing it in despite having already earned a playoff berth and another division title. They had every intention of playing their starters throughout the ballgame and doing whatever they could to beat their AFC North-rival Ravens, thereby helping keep the defending league champions out of the playoffs. If the win itself was the good, the bad and ugly were the four turnovers and poorly struck punt the Bengals had in the ballgame. If a team is going to have those miscues, it has to be glad to have them in a win. They could serve as good motivation for Cincinnati, too, as the Bengals look to correct their issues as they get ready for postseason.
Stock watch:
Andy Dalton
-- Falling. It's hard to truly say the Bengals quarterback's stock is trending downward since he threw for two touchdowns and was close to going beyond the 300-yard mark for a sixth time this season, but he didn't look as good Sunday as he had for most of the rest of the month. Along with his prolific passing numbers, Dalton also threw four interceptions. His first interception came on a deep ball on the game's first play. That pass was slightly underthrown as receiver
Marvin Jones
had to slow his stride in order to get underneath the ball. When he did, he had the ball ripped from him by
Corey Graham
. The next interception was the result of miscommunication between Dalton and receiver
A.J. Green
. They will need to clean that up heading into the postseason. Dalton's performance also came on the same day he set Bengals single-season records in passing yards and touchdowns.
Near-costly Shank:
Bengals punter
Shawn Powell
, brought on two weeks ago in the wake of
Kevin Huber
's season-ending jaw injury, had a near-costly shank on a third-quarter punt. As he reached back to kick the ball, it appeared his foot got caught in the turf before swinging through and glancing off the ball. When the ball left his foot, it hooked immediately to the left, sailing over the Bengals' sideline and into the first two rows of stadium seats. Altogether, the punt traveled 10 yards, two yards shy of the first down marker the Bengals would have needed to reach if they went for it on fourth-and-12. On the ensuing Ravens drive, Baltimore scored and added a two-point conversion to tie the game. The sequence ended up not hurting the Bengals after all.
Dre's day:
Backup cornerback
Dre Kirkpatrick
had the best performance of his young career, coming away with two interceptions late in the ballgame. Both pickoffs came on consecutive plays on consecutive drives. The second opened the Ravens' second-to-last drive and resulted in an interception return for a touchdown with about four minutes remaining that effectively put the game out of reach.
What's next?
The playoffs are up next for the Bengals, who won't
know their opponent
until the conclusion of Sunday's late afternoon games. They either will play Pittsburgh or San Diego next week at Paul Brown Stadium. If the Patriots lose later Sunday afternoon, Cincinnati will have the No. 2 seed and a first-round bye.
December, 23, 2013
12/23/13
9:00
AM ET
CINCINNATI -- An examination of four hot issues from the
Cincinnati Bengals
' 42-14 win over the
Minnesota Vikings
:
Mind-boggling Bernard:
Bengals running back
Giovani Bernard
did it again. He wowed all those watching with yet another dazzling, tackle-breaking, defender-avoiding run. On one third-quarter run after the catch, he completely confounded the Vikings as he cut, spun, shook, stiff-armed and danced his way to a 41-yard gain off a short screen that began near midfield. On the next play,
Mohamed Sanu
's touchdown catch gave Cincinnati a 28-point second-half lead. In all, five Vikings missed tackles on Bernard's run that included a spin move, two jump-cuts and a stiff-arm. The play was reminiscent of a fourth-quarter 35-yard touchdown run Bernard had against the Dolphins on Halloween. That play was completed with a flip into the end zone. Asked Sunday what he said to Bernard after the latest run, offensive coordinator Jay Gruden smiled and said: "He should have scored." Bernard was wrestled down at the Minnesota 7.
Dalton
Bernard
Playmakers:
Bernard wasn't the only Bengal with a head-turning play. Cincinnati's receivers got in on the act as well. It started with
Marvin Jones
' diving catch out of bounds and continued with
Andrew Hawkins
' leaping grab deep in Vikings territory to set up another score. At one point, the Bengals appeared in such a quarterback-receiver rhythm that anything thrown within a 15-yard radius of a particular pass-catcher was going to get caught. Quarterback
Andy Dalton
's completion percentage reflected that fact, too. He completed more than 70 percent of his passes for the fifth time this season. Along with those receptions, the Bengals had a quirky interception. As cornerback
Dre Kirkpatrick
went up to defend one pass -- he appeared to make contact with the receiver worthy of pass interference -- the ball hit his helmet and bounced in the sky. Safety
George Iloka
, who fell and was on his back, reached his hands out as the ball was falling. It fell right into his lap for his first career interception. It was one of three picks for the Bengals on Sunday.
Forty times four club:
Thanks in large part to Dalton's four-touchdown, 366-yard passing effort, the Bengals hit the 40-point mark for a fourth consecutive home game. They also scored 42 points in the previous home game against the
Indianapolis Colts
. They scored 41 against the
Cleveland Browns
the home game before that, and hit 49 against the Jets a game before that. In most of those other games, Cincinnati had a better run-pass average than it had Sunday. On 37 total carries, the Bengals picked up only 81 yards for a 2.19 average. They didn't need to stay on the ground, though. An injury-depleted Vikings secondary had enough soft zones for Dalton to routinely find open receivers.
Powell does enough:
When
Kevin Huber
was placed on injured reserve Tuesday following a hit that broke his jaw and cracked vertebrae in his neck, the Bengals were simply looking for a replacement who could do a good enough job. Shawn Powell may not have been exceptional Sunday, but he was strong. Of his four punts, only one was returned. That return only happened because the ball drifted into the middle of the field. With the rest of the punts booted toward the sideline, returner
Marcus Sherels
couldn't break away. Overall, the Bengals' special-teams units didn't play their best Sunday, but Powell kept field position mostly in Cincinnati's favor.
December, 19, 2013
12/19/13
10:00
AM ET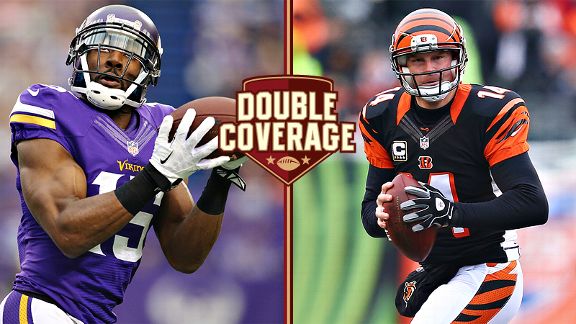 Getty ImagesCan Greg Jennings and the Vikings help spoil the playoff hopes of Andy Dalton and the Bengals?
The
Minnesota Vikings
and
Cincinnati Bengals
are two teams headed in completely opposite directions.
For the Vikings, the 2013 season has been a difficult one, defined mostly by a quarterbacking carousel and the lack of wins because of it. As for the Bengals, the year has been a mostly good one. With home wins over the Packers and Patriots, and road victories against the Lions and Chargers, the Bengals have looked for much of the year like a team poised for a longer postseason run than the past two years. Cincinnati's 2011 and 2012 seasons ended with first-round playoff losses.
If the 9-5 Bengals are even going to get to this postseason this year, though, they first have to bounce back from a Sunday night loss at Pittsburgh and beat the four-win Vikings. Such a win isn't a guarantee. Minnesota has embraced the role of postseason spoiler, rolling NFC East-leading Philadelphia last weekend.
To break down the contest, ESPN.com Vikings reporter Ben Goessling and Bengals reporter Coley Harvey teamed up for this edition of Double Coverage. As this week's visitor, we'll start with Ben:
Ben Goessling:
Andy Dalton
was one of the Vikings' options at QB when they drafted
Christian Ponder
in 2011. The Vikings seem to have given up on Ponder, and while Dalton has been better, it's hard to tell whether he's going to be the answer in Cincinnati long-term. How do the Bengals feel about his progress?
Coley Harvey:
It certainly appears that for now the Bengals feel comfortable with Dalton moving forward. Despite calls at times this season from some groups of angry fans, the Bengals have remained firm in their support of him. No matter how poorly Dalton played, they weren't shopping for another quarterback, and they weren't trying to give backup
Josh Johnson
any shared playing time. In short, they were committed to seeing Dalton through the year. And why not? Although he has had some struggles this season, Dalton has still shown that he can handle the duties of being a starting quarterback. He was the AFC's offensive player of the month for October, and had three consecutive 300-yard passing games during one stretch. If Dalton can't get the Bengals past the first round of the playoffs, it will be interesting to see whether the sides discuss a contract extension, with the 2014 season his last on his current contract.
To your broader point, Ben, that 2011 quarterback class certainly hasn't been all that amazing.
Speaking of progressing quarterbacks, it seems like
Matt Cassel
has given the Vikings some semblance of offensive success in games he's appeared in this season. Why didn't Minnesota stick with him sooner?
Goessling:
That's been the big question all season here, and on Sunday, coach Leslie Frazier finally gave those of us in the media a hint of what we'd expected all along. He said the Vikings always liked Cassel, but had to go through the "process" a little bit, and unfortunately weren't able to win games in the meantime. The "process" I believe he's referring to is the act of evaluating Christian Ponder to a point where the Vikings could be absolutely sure he wasn't the answer at the position. When
Josh Freeman
got inserted into the mix -- and both Frazier and general manager Rick Spielman said the Vikings planned to play Freeman soon -- that complicated things even more. The biggest thing Cassel had working against him was his age (31), and the Vikings didn't necessarily see him as the long-term guy. The question will be whether the quarterback tryouts wind up costing Frazier his job, but now that Cassel's starting, maybe Frazier will be able to make a case to keep his job by showing he can win when he has a competent quarterback.
The Vikings have struggled all year with small, shifty running backs. How do you expect
Giovani Bernard
to fare against them Sunday?
Harvey:
If the Vikings have struggled with those types of backs, then they could be in serious trouble Sunday, Ben. Bernard has been the five-tool player the Bengals thought they were drafting earlier this year and more. Not only can he hit the edge hard on pitches and outside runs, but he has enough power in his smaller body to hit the middle of a defensive line hard and keep going. His most important trait, though, may be what he's able to do as a receiver. You'll see the Bengals use him fairly regularly in the screen game. If the blocking sets up right on those plays, he won't just go for 5 or 6 additional yards. He typically will break off another 10, 15, 20 or more yards after the catch. Once the rookie gets in space, it's like he hits a fourth and fifth gear.
Having said all of that, I do believe he and the more between-the-tackles running
BenJarvus Green-Ellis
will be keys to the game. If they get going, the Bengals have a chance to showcase the balanced offense that has been coming on of late.
Minnesota has obviously had one of the NFL's best rushing attacks the past seven seasons because of
Adrian Peterson
.
Matt Asiata
did a great job of getting to the end zone last week. What kind of challenge do you think he poses the Bengals if he ends up playing in place of Peterson?
Goessling:
Not much of one, based on what we saw last week. Asiata averaged less than 2 yards a carry, and while he runs hard between the tackles, he doesn't offer much else; he doesn't break tackles the way
Toby Gerhart
can, and Peterson's gifts are obviously on a different level from either of those guys. I think Peterson will play, though; he wanted it known last week that he could have gone, and Frazier said after the game that he expected Peterson would be back. The guy prides himself on his pain tolerance, and as hard as he pushed to play last week, I'd be really surprised if he's not in there Sunday.
Assuming he plays, how tough a matchup is this for Peterson? The Bengals have been one of the NFL's best teams against the run this year. What's made them so effective there?
Harvey:
It won't be an easy one for Peterson. This Bengals' defense prides itself on playing physically, emotionally and flowing quickly to the football, particularly when it's on the ground. If this were a normal week, I might contend that as good as Cincinnati's run defense has been that Peterson might still end up surprising them and have a big day. This isn't a normal week, though. The Bengals are coming off a loss that had many questioning their heart and attitude, and they also happen to be playing this game at home. There's something about Paul Brown Stadium this season. Opponents have struggled, and the Bengals have fed off the crowd's energy. Cincinnati is 6-0 at home this season, and the defense is a big reason. If linebacker
James Harrison
(concussion) doesn't play, that could take away a key piece of the Bengals' run defense.
Cincinnati lost punter
Kevin Huber
to a season-ending injury last week and is bringing along his replacement,
Shawn Powell
, this week. He'll be kicking to Minnesota's
Marcus Sherels
. How dynamic is Sherels, Ben? His numbers seem so-so for most of the season, but he does have a return for touchdown.
Goessling:
I think you summed it up nicely there, Coley. Sherels did have the punt return touchdown, but his numbers otherwise have been just OK. The thing the Vikings like about him is that he doesn't make mistakes. He fumbled a punt earlier this year, but he's typically very sure-handed and makes good decisions about when to call for a fair catch. He doesn't get them in trouble by taking unnecessary chances, and special-teams coordinator Mike Priefer is a big fan of his partly because of his decision-making skills. But watch out, though. The Vikings are trying to find ways to get
Cordarrelle Patterson
the ball now that teams have stopped kicking to him, and Frazier mentioned they could give him a look on punt returns. If that happens, the Vikings will have a completely different kind of threat back there on punts.
December, 18, 2013
12/18/13
8:20
AM ET
As we transition fully on the Bengals blog into coverage of Sunday's game between the Minnesota Vikings and Cincinnati Bengals, we start with a look at the relationship between the teams' head coaches, Marvin Lewis and Leslie Frazier.
To those who don't understand the dynamic of Lewis' and Frazier's history, the question about it that was posed to the Bengals coach in the middle of Tuesday's weekly news conference may have been considered an innocuous one.
When Lewis answered, though, it became clear just how complicated the dynamic has been over the years. So difficult, that he took blame for why it went south.
"A difficult thing transpired then, and probably more my fault than Leslie's," Lewis said. "Actually, it was all my fault more than Leslie's."
This offseason will mark nine years since Frazier, formally the Bengals' defensive coordinator, wasn't retained by Lewis following back-to-back horrendous defensive showings by the Bengals in Lewis' first two seasons as head coach. At times during those two seasons, Lewis -- who was weaning himself off being a defensive coordinator -- tried to step in and take over for Frazier. Specifically, Lewis jumped and executed some of the play calling in a midseason loss to Cleveland during the 2004 season, Frazier's last with the Bengals.
Lewis explained his "my fault" referred in part to the way he was still trying to figure things out as a first-time head coach.
"A little bit of that and me just not being supportive enough of him in the right ways," Lewis said. "I'm a lot better now than I was then."
When Frazier brings his 4-9-1 Vikings to Paul Brown Stadium on Sunday, it will be the first time he has coached a regular-season game in Cincinnati as a head coach since his controversial departure. A win might help his tenure in Minnesota, but it's unlikely. He's been on the hot seat much of the year.
As we get into Wednesday's Morning Stripes, we begin with another look at the Frazier/Lewis relationship:
December, 17, 2013
12/17/13
7:30
PM ET
CINCINNATI -- At long last, the list of players in the
Cincinnati Bengals
' locker room who I previously covered has doubled in size.
We've now gone from one (
Michael Johnson
) to two (
Shawn Powell
).
That's obviously a personal win, and one probably only understood by sports writers who have made similar moves to new beats. More important than any of that, though, for the Bengals, it's also a win. A very big one.
Christmas came early for Cincinnati on Tuesday when it signed the free-agent punter Powell to take over for
Kevin Huber
. After taking a vicious shot from Pittsburgh return team blocker
Terence Garvin
, Huber suffered a season-ending injury. The helmet-to-face mask hit sent Huber flying, and caused him to break his jaw and crack vertebrae in his back.
[+] Enlarge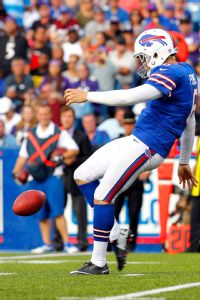 Timothy T. Ludwig/USA TODAY SportsShawn Powell will replace injured punter Kevin Huber.
Huber was formally placed on injured reserve Tuesday and will have oral surgery Friday as he begins the recovery process. According to Bengals coach Marvin Lewis, Huber shouldn't experience any effects of the injury in the long term. He should be able to return by the start of next season.
This late in the season, most teams are well set in their special teams and punting ways. They know precisely what they want their punter to do and their punter knows exactly where to put the ball in each situation. His coverage unit also typically has a feel for where it is that he wants to kick, his hang time and an understanding of how long it can take to get down the field.
That's why the timing of Huber's injury couldn't be worse for the Bengals. As they get set for a playoff push, they need as much familiarity as they can muster across the final weeks of the season.
Powell will provide a semblance of that.
In the 6-foot-4, 243-pound kicker, the Bengals not only get a timely replacement, but they also pick up a player who matches much of what coach Marvin Lewis described in his weekly news conference that preceded the news about Powell's signing.
Lewis said the Bengals were about to sign a punter who: understood special teams coach Darrin Simmons' directional punting philosophy, and could also hold on field goals and point-after attempts. Before his injury, Huber was the team's holder on those plays. After Huber's injury, starting quarterback
Andy Dalton
had to take over and hold for kicker
Mike Nugent
's point-after attempts. Nugent ended up filling Huber's duties at the punter, averaging 40 net yards on his two punts. Those relief efforts by Nugent were enough to get him named an honorable mention selection to ESPN Stats & Info's weekly Punter of the Week awards, compiled by Mark Simon.
Like I mentioned before, I covered Powell before arriving on the Bengals beat earlier this year. Before he was signed by the
Buffalo Bills
following the 2012 draft, Powell played at Florida State. His last year at FSU was my first on the beat there.
When it comes to directional punting, that's certainly something he knows how to do, even as eccentric as his directional style may be to NFL punting traditionalists. Since college, Powell has worked the rugby style of kicking into his repertoire. Back then, he was pretty good at it.
"Coach Darrin told us [the five punters who tried out Tuesday] when we went out there that we're strictly a directional team," Powell said. "That actually benefits me being with Bruce DeHaven my rookie year in Buffalo. He wanted it out of bounds or on the sideline."
Powell, who beat out
Chris Kluwe
and
Drew Butler
among others, said he honed his rugby style of punting in college in an effort to send "line-drive missiles" that will hit the ground and roll down the sidelines. He figured the harder he hit the ball toward the corners, the more difficult it was for a returner to decide whether or not he wanted to pick up the ball and go, or to let it go out of bounds. That's typically where having a coverage team full of fast, athletic players would help.
The Bengals certainly have that type of crew. Coupled with Huber's high hang time, his propensity for kicking long, and the Bengals' quick cover team, Cincinnati had the league's fifth-best net punting average across the first 14 weeks of the season. Before Sunday's game at Pittsburgh, the Bengals had been averaging 41.64 net yards per punt. All of that said, though, the second-year punter didn't do much of the rugby kick while in Buffalo parts of the last two seasons. It's not promised that he'll do them that often in Cincinnati, either.
Hang time -- on his non-rugby style punts -- is something Powell has been working a lot on the last two months since his Oct. 4 release from the Bills. He also has been working on the mental side of punting. His goal has been to avoid letting one bad kick turn into another and another and another.
"One thing I learned is: 'You're only as good as your last punt,'" Powell said. "I'm just teaching myself that if you have a bad punt, let's get it over with. Go out the next time and have a good punt.
"I don't like being on the outside looking in. I like being on the inside and hopefully I finish strong for the Bengals and hopefully another opportunity will arise."
Huber's presence certainly will be missed, but the Bengals ought to quite satisfied with the replacement they signed.