Cincinnati Bengals:

Thomas Howard
November, 22, 2013
11/22/13
8:00
AM ET
Michael Johnson's two long limbs are among the many reasons the Cincinnati Bengals have seven wins and hold a 2 1/2-game lead over the rest of the AFC North.
If it weren't for the 6-foot-7 defensive end's lengthy arms -- particularly his left one -- and his large hands, the Bengals may not have beat the Green Bay Packers. A comeback against the Cleveland Browns, likewise, may not have been possible.
In those games, Johnson got his hands up just when he saw Aaron Rodgers' and Jason Campbell's eyes drifting to the left as they looked to complete a pass. He got his hands on passes three times in those games.
"That's why it looks like that," Johnson said earlier this week, showing reporters his swollen and bruised left hand.
Against the Packers in Week 3, Johnson's pass breakup on fourth down fell to the turf, officially ending a Green Bay comeback bid in the closing minute. Cincinnati held on for a 34-30 win. Against the Browns last weekend, one first-quarter Johnson pass deflection near the goal line saved a would-be touchdown. Campbell was throwing to a receiver who had gotten completely open. Instead, the third-down breakup forced a field goal. Later in the quarter, another ball Johnson finger-tipped fluttered into linebacker James Harrison's hands, giving the Bengals an interception and turnover deep in Cleveland territory. After scoring on the ensuing drive, Cincinnati turned a 13-0 deficit into a 31-13 lead by halftime.
Johnson has six pass breakups in all this season, tied with Philadelphia's Connor Barwin for the league lead. As we kick off this Friday edition of the Morning Stripes, we look a little deeper at what makes Johnson so good at disrupting passing lanes with his long arms:
November, 21, 2013
11/21/13
8:00
AM ET
OK, maybe the headline is a tad misleading. But trust me, it isn't as much of an attempt to grab eyeballs as you think.
Technically, it is true. The Bengals' front office and ticket office have been thinking about the playoffs in recent days, specifically the possibility that their team may end up hosting one or more playoff games. In the coming days, the postseason will certainly be on the minds of season-ticket holders, too. That's if it isn't already.
As you'll read in the first link below, the Bengals on Tuesday released a statement to media and their season-ticket holders, outlining specifics for the process of paying for postseason tickets, and being compensated or reimbursed for those that don't get used in case the Bengals only advance so far.
Why, with six weeks left on the regular-season schedule, are the Bengals already talking about the playoffs?
"Given where the team stands [in the division], the process needs to start now, and we want to accommodate our season-ticket holders first," executive vice president Katie Blackburn said. "Once we have met their needs, we will work to make tickets available to other fans."
In case you're wondering, this isn't some Bengals-specific move to get the ball rolling on the postseason so early. If they haven't already, other teams in the coming days will begin making the same pitches to their season-ticket holders if they believe there is a chance their teams could be hosting games in January. Cincinnati, with a lead of 2 1/2 games over the rest of the AFC North ahead of this week's bye, is in a comfortable enough position to begin believing a home playoff game is a possibility. If that happens, the Bengals stand a good chance of advancing multiple rounds. At Paul Brown Stadium this season, they are 5-0. Twice they have scored more than 40 points in games at home.
As we get into Thursday's Morning Stripes, we start with a little more on the postseason ticket preparations:
November, 20, 2013
11/20/13
9:00
AM ET
CINCINNATI -- They spoke about his infectious smile.
They remembered, fondly, his two little girls and the unquestioned love he had for them.
They reminisced about the football lessons he taught them, and the unwavering commitment he made to the community he served.
When various members of the
Cincinnati Bengals
mentioned
Thomas Howard
's name earlier this week, they did so wishing the man many considered a brother could have been the subject of a different discussion. They wished they could have been talking about him in the present and future tenses. Not in the past.
"Gone too soon," was the way Bengals linebacker
Rey Maualuga
put it, still visibly shaken by the news that one of his friends and former teammates had died at the tender age of 30. "It sucks talking about it because it doesn't seem real."
Unfortunately for the Bengals and staffs representing two other league franchises, it is.
[+] Enlarge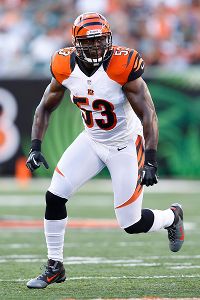 Joe Robbins/Getty ImagesThomas Howard spent two seasons with the Bengals.
According to media reports, Howard, an eight-year NFL veteran who spent two seasons with the Bengals and who had just been released by the
Atlanta Falcons
last week, was killed in a car accident in Northern California early Monday morning. Reports said the BMW he was driving was traveling at a high rate of speed -- upward of 100 mph -- before it clipped a semi truck and was launched across the median and into oncoming traffic. After clipping another car, Howard's slammed into another motorist. The driver of that final car, 64-year-old Zeng Long Liu, also was killed.
A Texas native, Howard was drafted out of UTEP by the
Oakland Raiders
in 2006. He spent five years with the Raiders before getting signed by the Bengals in 2011. He appeared in all 16 regular-season games that year, finishing with 70 total tackles and a sack. After one game the following season, he was placed on injured reserve when he tore an ACL during a Week 2 practice. He remained in Cincinnati during his rehab and continued to be a fixture in the Bengals' locker room despite his injury.
Already a veteran when he arrived, Howard played the role of big brother to several young linebackers who had come to Cincinnati around that same time. Maualuga,
Vincent Rey
and
Vontaze Burfict
were among those who benefited the most from his instruction. When Howard went down with the injury last year, Burfict, then a rookie, saw his role increase. Now the second-year defender leads the NFL in tackles and has become respected as one of the league's most intimidating enforcers.
Those same young players who sought Howard's guidance are vowing to make their former teammate an integral part of the remainder of the season. Maualuga told
Bengals.com
that defensive coordinator Mike Zimmer is working on hanging Howard's No. 53 jersey in the defense's meeting room.
After leaving the Bengals following his injury last offseason, Howard bounced around from tryout to tryout at the start of this season, trying to convince teams he was healthy again. The Bengals were one of them. When
Emmanuel Lamur
went down at the end of the preseason with a season-ending injury, linebackers coach Paul Guenther reached out to Howard. He and Lewis said Tuesday that Howard just wasn't quite back.
"He was still working back from the injury and we just decided to go a different way with it," Guenther said.
Howard eventually signed with the Falcons and spent two games with them before his release. According to media reports, he maintained a home just outside Oakland.
Here is how the Bengals choose to remember Howard:
LB Vincent Rey
"He's a funny guy. The thing about T-Howard, he's a genuine guy. Real. You love people like that. He always had a smile on his face and was all about helping others. He had a program here where every Tuesday he allowed people to come into the stadium, different people locally would come in and get a tour of the stadium and go on the field. He was about other people. That's what life is about.
"My prayers and thoughts go out to this family. He will be remembered here.
"He will not soon be forgotten."
Coach Marvin Lewis
"The first thing that comes to mind is his personality and his smile. How giving and caring he was to everyone. Him here on Tuesday nights taking his foundation group around and last year even when he was injured he continued to follow through on his commitments. He was a great player and a tremendous friend to everyone. It's a shame for his two daughters, his mom and dad, such a warm and giving guy. It really affects our football team because this is someone who everyone had a great relationship with and felt for when he got hurt."
LB Rey Maualuga
"I was lost for words because Thomas, I and
Taylor Mays
, DQ [recently released linebacker DeQuin Evans], we had a strong bond when we were here as far as what we did on and off the field. I got a text from Frostee [Rucker] and I couldn't talk to Taylor about it. This couldn't be the Thomas Howard that we all know. We lost a great teammate, person and friend but my heart goes out to his two little girls. Like I said, you don't wake up in the morning thinking it is your last time on earth. Things happen for a reason and you have to cherish your time here.
"Vontaze showed me the [accident] photo and they said how they couldn't get him out of the car. Hopefully he didn't have a slow, painful death. Gone too soon. Wish the best for his family and kids. We'll try to do something for them when we return and they can be well taken care of."
OT Andrew Whitworth
"He was very involved in the community. Just kind of what the emphasis is now. A lot of the guys on this team are as good off the field as they are on it. That's really what's kind of helped change the culture. He was one of those people."
November, 20, 2013
11/20/13
8:00
AM ET
Good Wednesday morning, everyone. Can you believe it? The Cincinnati Bengals' bye week is already almost half over. Time flies when ...
Speaking of time, it seems like forever ago when Bengals quarterback Andy Dalton was scorching through his schedule, putting up the types of numbers that not only made him the AFC offensive player of October, but also had him looking like the engineer of a possible Super Bowl-bound team. For four weeks, Andy wasn't only good. He was great.
But here we are, sitting in the middle of the Bengals' bye, wondering where that quarterback went. Over the past three games, he has looked like a considerably different player. Interceptions have been the norm -- eight in this stretch alone -- and the lowest consecutive showings of completion percentages in his entire career. Defenses in recent weeks, Dalton has said, have been better. This is true.
But the defenses during his assault on October weren't very bad, either.
As the Bengals and their fans continue to scratch their heads over the Jekyll/Hyde nature of their inconsistent quarterback, he let it be known on the final practice day of this week that confidence is not the issue. Like he said in this
ESPN.com report
from Tuesday, he believes he's "confident as ever."
It's a fair statement for him to make. After all, he was asked by a reporter where his confidence level stood entering the bye and on the heels of the worst three-game stretch, statistically speaking, of his career. It was a fair question, too. As the Bengals' corner of the football universe continues wondering what's going on with Dalton, lacking confidence seems like a logical explanation for his struggles at this point.
With Dalton's comments from Tuesday as the pacesetter, let's kick off the rest of our Wednesday Morning Stripes:
November, 19, 2013
11/19/13
8:00
AM ET
Usually when an offense turns the ball over in its own territory, it sets up a subsequent chain of bad events for that same team's defense.
Given a short field on which to stop the opposing offense on the sudden possession change, the aforementioned defense doesn't always stand firm. Touchdowns are often the product of the quick field flip and can push a team further and further out of contention in a game.
That hasn't really been the case, though, for the Cincinnati Bengals in recent weeks. For the most part when Cincinnati's offense turns the ball over at any point on the field -- but particularly in its own territory -- its defense has been able to answer with a hold. We'll get into it more with the first link of this Tuesday edition of the Morning Stripes, but the Dayton Daily News' Jay Morrison provided the figures that show whether its on a short field or long field, the Bengals' post-turnover defense has been really strong of late.
In the last three games, the Bengals' offense has turned the ball over 19 times. Three of those turnovers, like Joe Haden's interception that was returned for a score in Sunday's 41-20 win over the Browns, came when the opposing defense returned the turnover for a touchdown. So that leaves 16 other drives when the Bengals' defense has been asked to stand firm and not allow a touchdown.
According to Morrison's research, on 15 of those drives, it has done just that. Only once in the past three games has a Bengals offensive turnover led to a turnover given up by their defense. And that, ladies and gentlemen, is one reason why Cincinnati's offense
has its defense to thank
for keeping it in arguably all but one game this season.
Let's get to the rest of the Morning Stripes:
September, 2, 2013
9/02/13
8:00
AM ET
Here are some headlines from the
Cincinnati Bengals
beat:
The Bengals are bringing in linebacker Thomas Howard this week to check on the ACL he tore a year ago, according to Geoff Hobson of the team's official website. Howard was the Bengals' leading tackler in 2011 and plays the same outside linebacker spot as Emmanuel Lamur, who went on injured reserve with a shoulder injury. "If they think Howard can help, they won't do anything until next week." Hobson wrote.
Quarterback Greg McElroy, who was cut by the Jets, is going to sign with the Bengals' practice squad, the NFL Network reports. Josh Johnson is currently the backup to Andy Dalton.
Some expected the Bengals to sign defensive end Dontay Moch to the practice squad. Moch led the team with three sacks in the preseason, but he has been a disappointment as a former third-round pick. The Cincinnati Enquirer's Joe Reedy wrote: "Originally drafted as a linebacker, Moch was moved to the defensive line but was caught up in a numbers game. One might also wonder where Moch is a better fit – as a defensive end in a 4-3 alignment or as an outside linebacker in a 3-4."