December, 6, 2013
Dec 6
4:42
PM ET
What the
Cleveland Browns
are up against this weekend: Since he became New England's full-time starter in 2001,
Tom Brady
has gone 42-6 with a 93.9 rating in games played in December, and a 23-2 record with a 97.0 rating in games played in December in New England. The Browns have won 23 games total the previous five seasons before this one.
December, 6, 2013
Dec 6
4:20
PM ET
Cleveland Browns defensive lineman Desmond Bryant had a cardiac ablation procedure Friday at the Cleveland Clinic, the team announced.
Bryant needed the procedure because of an irregular heartbeat.
The Browns placed Bryant on the reserve/non-football illness list Tuesday, ending his season. He is expected to make a full recovery and play next season.
Bryant signed a five-year, $34 million contract with the Browns in the offseason. He finishes the season with 3½ sacks and 45 tackles. He also has a team-best 32 "harassments," a stat the Browns use that combines quarterback hits and pressures.
Bryant, 27, had problems with an irregular heartbeat while with the Oakland Raiders last season, and this season he left an Oct. 3 game against Buffalo with shortness of breath.
Doctors tried to treat the condition with medication, but Bryant needed the procedure.
The Browns will use a combination of Billy Winn, rookie Armonty Bryant and John Hughes at Bryant's position.
December, 6, 2013
Dec 6
3:59
PM ET
The world lost an icon this week when former South African president Nelson Mandela died at 95.
His life touched many, including some of the
Cleveland Browns
from afar.
Here is a sampling of reaction:
Quarterback
Jason Campbell
: "He's a guy that all of us have admired, especially what he had to go through. He never gave up and just kept pressing on. That's one thing you take from a guy like him. No matter how rough some patches look or how dim things look, you have to keep pressing on."
Tight end
Jordan Cameron
: "He did so much for South Africa and the world. I send prayers to his family. It's a tremendous loss."
Wide receiver
Davone Bess
: "He's an icon. A guy I've absolutely always admired just because of what he stood for. He was a positive guy who wanted to make a difference and did it the right way."
Safety
T.J. Ward
: "Oh man ... we lost an icon. He's done so much for humanity, period, not just blacks. The suffering he had to go through, the sacrifices. We lost a great man. This should open a lot of people's eyes that if you don't know much about him it should make you interested to learn what he did, not just for South Africa but for the entire world. The man is an icon. And a hero."
December, 6, 2013
Dec 6
2:46
PM ET
Jason Campbell
gave the
Cleveland Browns
two starts this season, two days of practice this week and seven years of mostly uninspired play coming into 2013.
It was enough for the team to make Campbell the starter for Sunday's game in New England against the Patriots.
That's where the Browns are at the quarterback position, ready to send up fireworks when a guy who struggled his last two games after splitting his previous two was back on the field. Campbell's return does mean the Browns don't have to face Bill Belichick's defense with completely untested
Alex Tanney
or relatively untested
Caleb Hanie
.
Which is something.
Campbell spoke to the media for the first time since he was hit in the head by
William Gay
of the Steelers in the Browns' Nov. 24 loss to Pittsburgh. He said the hit to the head caused the injury, but he did not think the play was dirty.
"He was coming in trying to hit me, and I think when I saw him at the last minute I kind of ducked down a little bit and that's when he hit me right across the face," Campbell said. "I don't think it was a dirty hit. I don't think he was trying to do it. It was just right in the middle of the action of the play."
Campbell said his symptoms included dizziness, being light-headed and an inability to look at glaring lights.
"I was quarantined for a little bit," he said.
The Auburn product was able to watch the school's win over Alabama in the Iron Bowl. He said he felt by Wednesday that he was confident he would play.
"[It's] probably the best I've felt since I had a chance to play," Campbell said.
He also admitted his injured ribs sent him to the sidelines in the Pittsburgh loss, and that he was in significant pain in the loss to Cincinnati.
The team said the ribs were not broken, so what was wrong?
"Just hurting," Campbell said.
The week of practice had the Browns scratching their heads and wondering if they would be facing the Patriots with one hand tied behind their back.
Campbell said he couldn't even try to do anything until he was symptom free, and that didn't happen until Monday.
But in a big way the Browns really only have themselves to thank for it.
It was the Browns, after all, who put
Colt McCoy
back into the game with a concussion after
James Harrison
's vicious and late hit in Pittsburgh in 2011.
December, 6, 2013
Dec 6
12:48
PM ET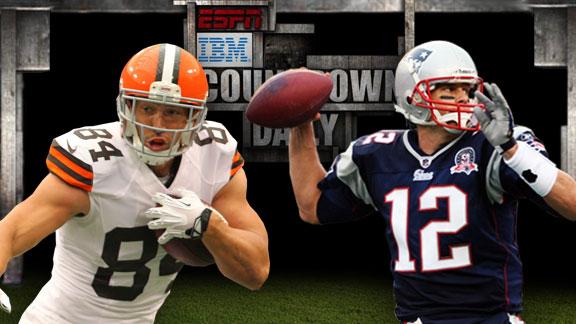 BEREA, Ohio -- Jason Campbell will start at quarterback for the Cleveland Browns on Sunday against the New England Patriots, coach Rob Chudzinski said Friday.
Campbell was cleared to play and was a full participant in practice. He had been limited on Thursday. He suffered a concussion Nov. 24 during a loss to the Pittsburgh Steelers.
"It was tough to sit out," Campbell said. "I thought it was important to get back playing, but at the same time there's life after football, so I wanted to make sure that part was handled correctly before I got back on the field."
Brandon Weeden will not play. He suffered a concussion in a Week 13 loss to the Jacksonville Jaguars.
Before Campbell was cleared, the Browns (4-8) were planning to face the Patriots (9-3) with either Alex Tanney or Caleb Hanie at quarterback. Both have been with the team less than two weeks.
Chudzinski said the Browns will decide on the backup when the coaching staff meets Friday and would announce the decision on game day.
"Whatever happens during the game, we have to be ready for," Chudzinski said. "That's part of this league."
December, 5, 2013
Dec 5
4:41
PM ET
Ray Horton brought another stat to support his team's defense, but he also didn't hide his disappointment or his feelings about the
Cleveland Browns
letting
Chad Henne
drive 80 yards for a game-winning touchdown for Jacksonville.
"Those are the kind of drives, if you will, that cement or help build that legacy, that ability to be mentioned as a good, top defense," Horton said.
Horton lamented an offside on
Paul Kruger
that he said negated a potential sack and fumble -- an odd statement given the play continued after the offside and Henne threw an interception.
[+] Enlarge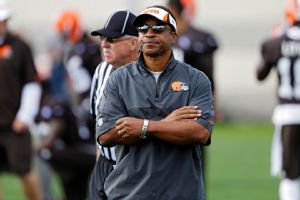 AP Photo/Mark DuncanRay Horton's defense is ranked 30th in the league in the red zone, allowing teams to score 64.7 percent of the time.
He also lamented a 25-yard pass to
Ace Sanders
that moved the Jaguars to midfield, and the touchdown to
Cecil Shorts
on a double move on
Joe Haden
.
It all happened after
Josh Gordon
's electrifying 95-yard touchdown catch that had given the Browns a 28-25 lead with 3:55 left.
"For us not to seal the deal was very disappointing," Horton said. "I think everyone was highly, highly disappointed."
A week earlier Horton had rattled off a slew of stats to bolster his claim that the Browns' defense was laying the foundation for winning.
He admitted a defense that doesn't stop that drive cannot be considered elite.
"That's how you make a name, a reputation in this league," he said, "of big-time players making big-time plays in big-time games. I would hope most of our guys would hope to be in that situation.
"I know I did. I had wanted it to be kind of like when we had talked about the halftime of the Kansas City game being maybe an epiphany of how good we can be."
The Chiefs loss seemed to be a turning point for the defense -- but Jacksonville's 32 points were the most given up by the Browns this season. And the league's 32nd-ranked offense scored those points. It was the fourth time in the last seven games the Browns had 31 or more points scored on them.
Critics would blame the offense for turnovers, as if the offense stays on the field after a turnover to play defense as well. Horton said that his mantra is for the defense to get off the field, that it doesn't matter how the opposing team gets the ball.
To Horton, turnovers should not be an excuse.
But he pointed out -- yes, this is the return of the HOSH (HOrton Stats Highlights) -- that if the Browns had given up just four fewer red zone touchdowns this season, they'd be ranked 12th. If it were five fewer, they'd be ninth.
As it stands, the Browns are 30th, allowing teams to score 64.7 percent of the time they are in the red zone.
"It's awful," Horton said. "I'm used to being one or two the past two years. Is it awful? It's hideous to me. But how far away from average, which we don't want to be? We're four stops from average. We're five away from No. 9."
Fifty percent is average, he said.
"I understand there's two areas that need to be fixed. I believe we fixed one of them, the third down," he said.
Horton said the third-down percentage is fixed even though the Browns rank 28th in the league (41.6 percent). But at the bye, the Browns were 31st (46.4 percent). In the past four games -- three losses -- the defense has held opponents to 22-for-64 (34.3 percent) on third-down conversions.
Of course Jacksonville was 2-for-2 on third down on the game-winning drive, including on the game-winning touchdown.
Horton, though, refuses to think negatively. He focuses on improvement.
"That's why I wouldn't say the glass is half empty," he said. "I think it's not gloom and doom. That's why I use the Sisyphus thing. It's not an uphill battle where the rock's going to come back and pound us on the head all the time. I don't see it that way."
Which is his right, as a coach and as an American.
Thing is, Sisyphus had nothing on Browns fans.
December, 5, 2013
Dec 5
3:42
PM ET
NFL coaches can usually find a kind word, or a thousand, about an upcoming opponent.
Brady
Even a bad team becomes disciplined and well coached when they're the upcoming opponent.
So perhaps Ray Horton's adoration of Patriots quarterback
Tom Brady
should be taken with a grain of salt.
Or perhaps it shouldn't.
"I believe he's the greatest draft pick in the history of football," Horton, the
Cleveland Browns
defensive coordinator, said. "I might go so far as to say he may be the greatest player that's ever played. That's not just because we're playing him.
"That's my belief."
He continued.
"The things he's overcome, his will, his heart, his preparation for the game, I don't know if there's a better player in the history of the game than Tom Brady," Horton said.
Brady was a sixth-round draft pick, someone every team in the league passed on several times before New England chose him in 2000 -- after the Browns had taken
Spergon Wynn
.
Horton's challenge now is drawing up a way to defend Brady.
"You've got to give him different looks," Horton said. "You've got to pressure him. You have to play at your best because I'm pretty sure he's going to prepare; he won't take any game, an opponent lightly.
"It's an ultimate test for me as a coordinator, this one player. I think he's everything you want in a franchise quarterback."
December, 5, 2013
Dec 5
2:54
PM ET
Norv Turner probably thought he had seen it all when his starting quarterback in Washington,
Gus Frerotte
, sprained his neck by head-butting a wall after a touchdown.
But in this, his first season as the
Cleveland Browns
offensive coordinator, Turner has dealt with a lot of unusual situations.
He's used a different word each week for some element of the Browns' offense.
He's discussed the run game as something that needs to be managed, and said the situation with the backs he has has been different.
Now he's talking about not knowing the Browns quarterback with a game three days away.
"It's a challenge," Turner said.
That's one word for it.
If
Jason Campbell
does not recover in time for Sunday's game, the Browns appear headed to starting either
Alex Tanney
or
Caleb Hanie
, neither of whom have been with the team two weeks.
Either way the Browns could be making their fifth quarterback change this season, and perhaps starting their fourth different quarterback.
"There's a lot of firsts for us this year," Turner said.
Which kind of sums up the season. The last time the Browns went through four quarterbacks in a season was 2008, when
Ken Dorsey
played the final three games and
Bruce Gradkowski
was brought in off the street to start the finale. Gradkowski's rating in that game: 2.8.
Now Turner works with the Tanney-Hanie combination.
"It's a challenge," Turner said. "But it's not as hard on the coaches as it is on the players."
Because players have to adjust to different throwing styles, different cadences, different feels from different passers.
If Campbell is back, there is at least some familiarity.
But if he isn't, well ...
December, 5, 2013
Dec 5
2:19
PM ET
Jason Campbell
took a step closer to starting for the
Cleveland Browns
Sunday in New England.

Campbell
Campbell, who has been out since receiving a concussion against Pittsburgh, was cleared by team doctors to practice. But he still must be cleared by an independent neurologist before he can play in a game.
That process will take place in the next day or two.
Teammates had said last week that Campbell was doing well, but coming back from a concussion brings a lot of uncertainty. The Browns hoped Campbell might practice Wednesday; he was deemed not ready.
Having him back Thursday is a help, but the team will not say how much Campbell did in practice until it releases the injury report, usually around 4 p.m. ET.
"He is cleared to practice, and that's the next step," offensive coordinator Norv Turner said. "I'm not a doctor, but he's been real sharp in the meetings and seems to be doing well. Obviously the doctors have to confirm that, and then we'll see how he is."
The one thing that seems clear is that
Brandon Weeden
will not play in New England. Weeden has yet to be cleared to practice.
The process the NFL uses in bringing folks back from concussions was partly of their own making. They put
Colt McCoy
back in a game in Pittsburgh after he had taken a vicious late hit to the jaw from linebacker
James Harrison
.
That contributed to the league strengthening testing to ensure nobody returned too early.
The Browns no doubt would welcome Campbell on the field in New England, but it is pretty much out of their hands.
December, 5, 2013
Dec 5
11:32
AM ET
ESPN.com news services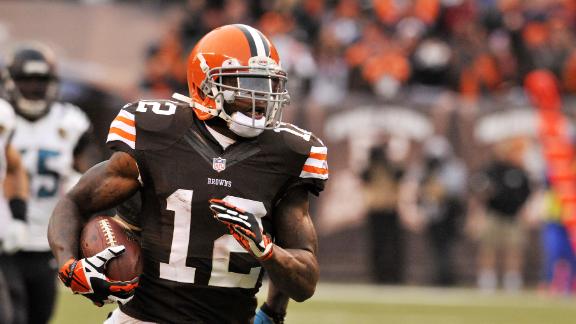 Cleveland Browns quarterback Jason Campbell returned to practice Thursday after receiving clearance from team doctors.
However, he must be cleared by an independent neurologist before he can play in a game after suffering a concussion against the Pittsburgh Steelers on Nov. 24. The Browns visit the New England Patriots this week.
Campbell will get some reps at practice Thursday, along with the other quarterbacks, and if he's cleared in time and coaches feel good about his situation from a game-plan standpoint, he would start Sunday.
"He still has not and will not pass the independent neurologist test until we see how he does today," Coach Rob Chudzinski said. "In the next 24-to-48 hours, obviously we would have more information on that. But he would need to pass that before he would be cleared to play in the game."
Offensive coordinator Norv Turner said Campbell has been "real sharp" in the team's meetings.
"Just getting him back in the walkthrough, I think everyone felt a sense of relief in that there was some continuity. Now we're gonna work all three guys and make sure we've covered all the bases in terms of getting ready," he said.
There is no change in quarterback Brandon Weeden's status -- he still hasn't been cleared to practice from the concussion he suffered last Sunday against the Jacksonville Jaguars.
December, 5, 2013
Dec 5
10:00
AM ET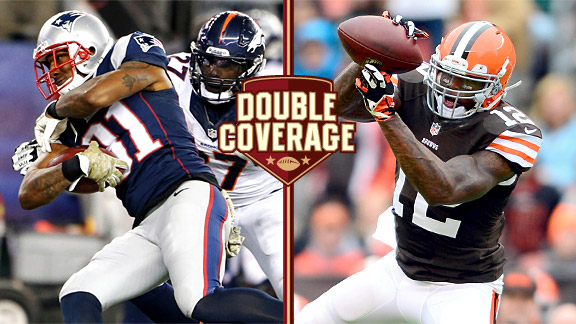 USA TODAY SportsJosh Gordon is one player Aqib Talib and the New England defense need to keep an eye on.
FOXBOROUGH, Mass. -- The last time the
New England Patriots
faced the
Cleveland Browns
, it wasn't pretty. The Browns posted a resounding 34-14 win.
Eric Mangini was the Browns' coach at the time, Mike Holmgren was the president and Patriots tight end
Rob Gronkowski
was a still-learning-the-ropes rookie whose miscue in attempting to field a kickoff contributed to a forgettable on-the-road disaster for New England.
The year was 2010, and that game turned out to be a high point for Mangini before he ultimately was fired at the end of the season. The Browns later hired Pat Shurmur as coach, but he was let go after two seasons, in part because of a change in ownership and front-office structure.
The new Browns regime, led by CEO Joe Banner and general manager Mike Lombardi, has since talked about building a sustainable team with the long haul in mind. One model it'd be happy to emulate is that of the Patriots, who just clinched their 13th straight winning season, three shy of the post-NFL-merger record set by the Cowboys and 49ers.
Here to break down the matchup are ESPN.com NFL Nation reporters Mike Reiss (Patriots) and Pat McManamon (Browns):
Reiss:
Pat, let's open it up with a big-picture look at the Browns. Lombardi worked under Bill Belichick with the Browns in the early-to-mid 1990s, and that connection has been well documented. I often enjoyed reading and listening to Lombardi's media-based analysis, and now he's back in the team-building business. How would you describe his first year on the job and how the Browns are positioning themselves for sustainability?
McManamon:
Well, Mike, the short term is pretty gruesome. Last weekend's loss to Jacksonville was as bad as any since 1999, and the team is an emotional mess. Cleveland actually believed it could and would take a step forward this season, but in all likelihood the Browns are headed for their sixth season in a row with four or five wins. How's that for consistency and sustainability? The only thing the Browns confirmed this season is they'd rather not have
Brandon Weeden
at quarterback next season. Other than that, they're as muddled today as they were when training camp started. The drafted players have not helped, there is no run game, there is no second receiver and the defense let
Chad Henne
go 80 yards for a game-winning drive on Sunday. Other than that, Mrs. Lincoln ...
Mike, as you say, the Patriots are a model of sustainability. Part of that reason is they hit on
Tom Brady
in the sixth round of the 2000 draft. How much of their sustained success is due to Brady and how much is due to other factors? And can you say what those factors are that the Browns might be lacking?
Reiss:
Brady is a huge factor in what the Patriots have accomplished, as his excellence helps mask other deficiencies. At the same time, it was no fluke that in the one year he tore his ACL on the 15th offensive play of the season (2008), the Patriots finished with an 11-5 record. That accomplishment continues to look better as the years go by, especially when looking at a team like the 2013 Packers and how they are struggling without injured starter
Aaron Rodgers
in recent weeks.
Belichick has built a strong program from top to bottom, and one of the key parts of it is depth. Many teams talk about building a roster that is strong from 1 to 61 (53-man roster plus eight-man practice squad), but it takes discipline to follow through on it. Some unpopular decisions have to be made at times for clubs that take that approach. This year is a good example, as the Patriots have lost some big-time players on defense (
Vince Wilfork
,
Jerod Mayo
) to season-ending injuries, but it hasn't sunk their season. This is an exceptionally well-coached team, and the players, for the most part, buy in to the team concept.
So, no doubt, it's huge to have someone like Brady to build around. And that's a position that I'd expect, from this faraway view, the Browns to target in 2014. That said, quarterback
Brian Hoyer
was the backup in New England from 2009 to 2011, and it looked like he created a spark for the Browns before tearing his ACL. What do you think his future looks like in Cleveland?
McManamon:
He did create a spark, and at this moment he probably heads into 2014 as the Browns' starter. Hoyer is recovering and rehabbing aggressively from his surgery, to the point that no limp or sign of the injury is visible when he walks. Hoyer played with smarts and savvy, and played well. But the problem is that he played only two games, which is hardly a fair sample size. So Hoyer should expect competition, whether it's another veteran free agent, whether it's
Jason Campbell
returning or whether it's a drafted player. Hoyer will be back, but he'll have to prove himself again.
Mike,
Josh Gordon
is the Browns' lone bright spot. His 498 receiving yards over the past two games is an NFL record. He's also the first to have more than 200 yards in a season. Am I correct in assuming that
Aqib Talib
will cover him, and what do you think Belichick will do to disrupt Gordon's route running? The guy is so big and strong that it's extremely hard to rough him up at the line the way Belichick likes to do.
Reiss:
One thing Belichick often says is that if a defense decides it's going to take away something from an offense, it usually can. It's just a matter of how many resources the defense wants to devote to do so because it will weaken itself in other areas. Several times this season, we've seen Talib match up against the opponent's top receiver, and outside of one game, Nov. 18 at Carolina against
Steve Smith
, he has been excellent. So it makes sense to think that would be a matchup the Patriots consider, in addition to devoting safety help to Gordon's side of the field, if they feel that strongly about Gordon's big-play ability. It doesn't look like the Browns have many other top weapons that could make that type of plan hurt.
Pat,
if we go back to our early-season predictions
, which show that the term "expert" should be taken lightly in my case, I picked the Browns as a surprise playoff team in part because I thought their defense would carry them. Call it my mistake by the Lake. Even as they are building with 2014 in mind, which seemed to be the plan from the get-go, I thought they'd be further along this year. So why the struggles?
McManamon:
Pretty simple -- they were overrated. The Browns have some decent players, and one guy pushing to be great (
Joe Haden
), but they don't have a great player yet. Combine that with learning a new system and an offense that has turned the ball over 11 times the past three games, and struggles will follow. Defensive coordinator Ray Horton has backed up his claims about his guys with numbers, but at some point the old adage "stats are for losers" comes into play. No defense that gives up an 80-yard touchdown drive to the 32nd-ranked offense can call itself great, or even good.
Mike, on paper, this is a huge mismatch. Do you see any way Brady or Belichick kicks this away and lets the Browns steal this game?
Reiss:
I don't, Pat, but let's toss out a scenario that could give the Browns their best chance. They would have to possess the ball, playing keep-away from Brady, and somehow come up with a "bonus" score on either defense or special teams. The Patriots' defense has looked vulnerable the past two games, so it's not like this is an invincible unit that can't be exploited in certain areas. But given the quarterback questions the Browns have entering this one, and their general struggles overall, it's just hard for me to see how they can escape Gillette Stadium -- traditionally one of the toughest places to win at this time of year -- with a victory unless Belichick decided to give his pal Lombardi an early holiday gift to take some of the pressure off him.
December, 4, 2013
Dec 4
5:45
PM ET
Josh Gordon
may be setting
Cleveland Browns
records, but the fans have barely noticed.
Early Pro Bowl voting results released Wednesday show Gordon is not even among the Top 10 receivers.
Calvin Johnson
of Detroit leads, followed by
A.J. Green
(Cincinnati),
Dez Bryant
(Dallas),
Demaryius Thomas
(Denver),
Wes Welker
(Denver),
Brandon Marshall
(Chicago),
DeSean Jackson
(Philadelphia),
Jordy Nelson
(Green Bay),
Andre Johnson
(Houston) and
Eric Decker
(Denver).
Gordon is eligible for the Pro Bowl even with his two-game suspension because he was not disciplined for using performance enhancing drugs.
The highest ranked Brown by position is at fullback, where
Chris Ogbonnaya
is second (go figure).
Jordan Cameron
ranks fourth among tight ends,
Joe Thomas
third among tackles,
T.J. Ward
seventh among strong safeties, and
Joe Haden
is ninth among cornerbacks.
Fan balloting counts for one-third of the vote, with votes from coaches and players accounting for the other two-thirds.
The NFL also is not dividing Pro Bowlers by conference. Instead, the top players are thrown in a pool with
Deion Sanders
and
Jerry Rice
conducting a "fantasy draft" of two teams.