April, 23, 2014
Apr 23
8:03
PM ET
»
NFC
:
East
|
West
|
North
|
South
»
AFC
:
East
|
West
|
North
|
South
»
Predictions
Breakdown:
A tough start and a tougher finish could make for a tough first season for coach Mike Pettine, as the NFL gave the Browns a schedule most coaches don't like. Included is a Week 4 bye, which means the Browns play 13 in a row to end the season, something no coach wants. That's tough for a team that's young and growing and could lack depth. The Browns open in Pittsburgh, then play New Orleans and Baltimore at home. The final stretch includes games against the Colts and Bengals at home, with road games at Carolina and Baltimore to end the season. Those four teams combined to go 42-22 last season.
Complaint department:
An opener in Pittsburgh sounds exciting, and probably is. But to the Browns lately, trips to Pittsburgh have been like pouring iodine in an open wound. The past two years the Browns ended the season in Heinz Field, then fired their coach. The year before was the
Colt McCoy
concussion game on Thursday night. The Browns have not won in Pittsburgh since 2003. Pettine boldly said there's no better way for a coach to start his career as Browns coach than in Pittsburgh, but in this case he's facing a monumental challenge right out of the gate.
In the middle:
The first three games and last four are tough, but in the nine games between the Browns face only one team that had a winning record in 2013: Cincinnati. If the Browns are going to take any steps forward this season they have to survive the open and finish, and make some hay in the middle.
Strength of schedule:
26th, .465 |
Vegas over/under

:
6.5
Browns Regular-Season Schedule (All Times Eastern)
Week 1:
Sunday, Sept. 7, at Pittsburgh, 1 p.m.
Week 2:
Sunday, Sept. 14, New Orleans, 1 p.m.
Week 3:
Sunday, Sept. 21, Baltimore, 1 p.m.
Week 4:
BYE
Week 5:
Sunday, Oct. 5, at Tennessee, 1 p.m.
Week 6:
Sunday, Oct. 12, Pittsburgh, 1 p.m.
Week 7:
Sunday, Oct. 19, at Jacksonville, 1 p.m.
Week 8:
Sunday, Oct. 26, Oakland, 4:25 p.m.
Week 9:
Sunday, Nov. 2, Tampa Bay, 1 p.m.
Week 10:
Thursday, Nov. 6, at Cincinnati, 8:25 p.m.
Week 11:
Sunday, Nov. 16, Houston, 1 p.m.
Week 12:
Sunday, Nov. 23, at Atlanta, 1 p.m.
Week 13:
Sunday, Nov. 30, at Buffalo, 1 p.m.
Week 14:
Sunday, Dec. 7, Indianapolis, 1 p.m.
Week 15:
Sunday, Dec. 14, Cincinnati, 1 p.m.
Week 16:
Sunday, Dec. 21, at Carolina, 1 p.m.
Week 17:
Sunday, Dec. 28, at Baltimore, 1 p.m.
April, 23, 2014
Apr 23
6:17
PM ET
The
Cleveland Browns
announced their preseason dates and times on Wednesday, and in doing so made a move that will surely rankle some of their fans.
Former quarterback
Bernie Kosar
has been removed as analyst on preseason telecasts. Instead, Solomon Wilcots will team with radio voice Jim Donovan on TV telecasts. While this is only a local issue, for the fans it may be a larger matter.
Kosar is beloved in Cleveland. Still.
Even though Kosar received criticism last preseason from Rams coach Jeff Fisher for negative comments on backup
Kellen Clemens
("Bless me Father for I have sinned, I have to watch him the whole fourth quarter"), Kosar did not back down. A national outcry and criticism from Fisher essentially led Kosar to say he understood the position, and he had a way of analyzing games. If people didn't like it, well then so be it. Browns fans rallied to Kosar's defense, though then-CEO Joe Banner did give Kosar a public lashing. In the offseason, Kosar also was arrested for DUI; he pled not guilty.
Now Kosar is out, and Wilcots is in.
What Browns fans will miss is the local connection, and local knowledge, as well as Kosar's sometimes amazing insights into the game. Kosar could diagnose a play immediately, and was very adept at understanding the problem with a call or the good points about a quarterback's decision. He understands the game, and communicates it well. The Clemens comments overshadowed that part of what he brought. Kosar was raised in northeast Ohio, played for the Browns and has a great understanding of the team's history. He was not afraid to be blunt, and he was critical of everyone -- including Browns players. That type of honesty and candor in the booth were welcome. Add the connection to the fans and it's an ... interesting decision.
The Browns did say in their release that they would find other ways to include Kosar, perhaps on the team's website or its in-house radio show.
As for the preseason games themselves, the Browns will play them this way:
April, 23, 2014
Apr 23
2:02
PM ET
Since 1999, the NFL has had the
Cleveland Browns
open at home for 14 of their 15 season openers.
It hasn't helped, as the Browns have started the season since their return in '99 losing 13 of 14 openers at home. They've lost twice by 9-6 scores at home in the season opener (think about the odds of that), have been obliterated by Pittsburgh twice and the second time traded the starting quarterback two days later, lost the
Dwayne Rudd
helmet game and lost to Cincinnati when the defense didn't get on the field and set up on time.
Of course, the one year the Browns opened on the road they also lost, in Tampa Bay.
Who will the Browns open against in 2014?
Start with three facts:
The league tries to have cold-weather teams without domes play games early in the season at home, to minimize the impact of weather late in the season.

It also tries to match teams of equal ability early in the season to keep interest high. Think about it: If the Browns played (an example) Denver, New England and Seattle the first three games, odds are it would be a bad start and fans would be giving up less than a month into the season. If they open against Tampa Bay or Oakland, a team not expected to be among the strongest is going to get a win.

Finally, it likes to reserve division games until late in the season to make sure they're meaningful. The Browns have opened within the division, but that doesn't seem likely this season given all three teams are considered so much better than the Browns.
So let's take a look.
Based on fact No. 2, Baltimore, Cincinnati, Pittsburgh, Indianapolis and New Orleans would be out, leaving home possibilities of Houston, Oakland and Tampa Bay. Away games that could be eliminated are the three in the Division and Carolina. Which leaves Jacksonville, Tennessee, Buffalo and Atlanta.
I don't see the league making Oakland travel for an opener, not with a late Monday night game slot to fill. And I don't see them taking Bill O'Brien on the road for his first game in the NFL. Which leaves Tampa Bay at home; the Bucs also have a new coach in Lovie Smith, though.
Which may point to a road opener. Which to me makes it mandatory to look for compelling stories. The Jaguars and Browns would be the up-and-coming team story, which might work. Last year's defensive coordinator -- Ray Horton -- is in Tennessee, as is the coach who twice spurned the Browns, Ken Whisenhunt; that angle would be more compelling if Joe Banner were still with the Browns. The Titans are out. The Browns have a coach who spent last season in Buffalo -- Mike Pettine vs. his old team. Hmmm. Atlanta is one of those teams that could bounce back strong. Eliminate the Falcons.
Which leaves two options: On the road at Jacksonville or the Bills.
I say the Pettine-former team scenario is just the right amount of juice for the opener.
With a one-in-16 chance to get it right, I predict the Browns will open in Buffalo against the Bills, with Jacksonville the second choice.
April, 23, 2014
Apr 23
2:00
PM ET
Lost:
There really was no fullback to lose.
Added:
Chris Pressley
, last with Cincinnati
Extra points:
Pressley at least gives the Browns a fullback to call their own. Until he signed, the Browns were working with
Chris Ogbonnaya
. It often does not work well to stick a running back at fullback just because he's the biggest guy, and in the Browns' case it didn't work. Nothing against Ogbonnaya, who gives everything he has and is a good guy. He was just the proverbial fish out of water. Pressley barely played in 2013, so if he doesn't work out the team can compensate by using new tight end
Jim Dray
as an H-back.
Draft likelihood
: Medium, on the third day.
Then there's this ...
Last FB drafted by the Browns:
Owen Marecic
, fourth round in 2011.
Last first-round FB drafted:
Jim Brown, 1957. No, he doesn't fit the definition because he played running back, but when he was drafted he was taken as a fullback.
Last FB taken fourth overall:
Tom Nowatzke, by the Jets in 1965.
Last three FBs taken fourth:
Nowatzke, Johnny Olszewski (1953), Leon Heath (1951).
Last FB taken 26th overall:
It's never happened at that slot.
April, 23, 2014
Apr 23
8:30
AM ET
Draft day looms ever closer. As it approaches, it seems appropriate to start your day with a tidbit or two each day on draftable guys -- with an eye toward those the Cleveland Browns might select. All information is courtesy of ESPN Stats & Information.
Derek Carr
had 74 completions of 20 yards or longer in 2013, but he also threw 143 screen passes in 2013. When pressured, Carr completed 30.9 percent, the lowest of any draft prospect. When not pressured and he had the ability to survey the field and stand in the pocket, he completed 72 percent.
April, 22, 2014
Apr 22
2:00
PM ET
Lost:
Willis McGahee
Added:
Ben Tate
, FA from Houston
Extra points:
Tate's signing was a key move that had domino effect in that it now allows the Browns to be selective with how they fortify the position. It would be a shock if the Browns don't add another back in the draft to go with Tate,
Dion Lewis
and
Edwin Baker
, but they can do it when they want and not be forced. A complementary back to go with Tate makes the Browns better.
Draft likelihood:
High, but not necessarily in the high rounds.
Then there's this ...
Last RB drafted by the Browns:
Trent Richardson
, third overall in 2012.
Last first-round RB:
Richardson.
Last RB taken fourth overall:
Darren McFadden
, by the Raiders in 2008.
Last three RBs taken fourth:
McFadden, Cedric Benson (2004), Edgerrin James (1999).
Last RB taken 26th overall:
Chris Perry, by Cincinnati in 2004.
Last three RBs taken 26th:
Perry, Cleveland Gary(1989), Reggie Dupard (1986).
April, 22, 2014
Apr 22
1:00
PM ET
April, 22, 2014
Apr 22
11:27
AM ET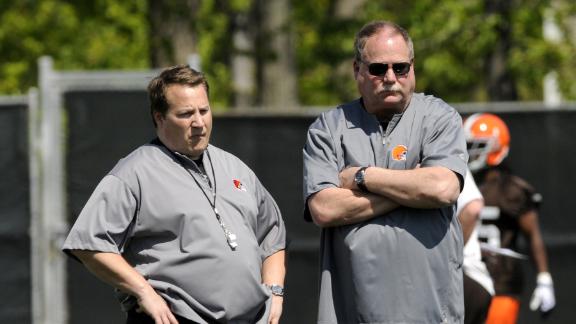 Now Mike Holmgren says he should have just coached the
Cleveland Browns
when he was the team's president.
No kidding.
Of course he should have.
In his previous two stints as a coach, Holmgren took two teams to the Super Bowl (Green Bay and Seattle) and won one, with
Brett Favre
as the quarterback.
[+] Enlarge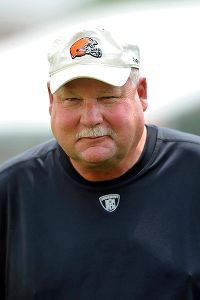 David Richard/USA TODAY SportsThe Browns had a 14-34 record during Mike Holmgren's three seasons as the team's president.
Of course he
should have coached the Browns
. That's his calling, his place. It's a little late to bring it up now, though, as Browns fans wonder about yet another rebuild. And it's a little easy to pin not coaching on former owner Randy Lerner after saying for years he (Holmgren) didn't want to coach.
Holmgren wasn't hired to coach the team. He was hired to be the credible leader and voice of football that the team lacked when Eric Mangini was coach and there was no general manager after the departure of George Kokinis.
The need for a credible football leader led then-owner Randy Lerner to Holmgren, and somehow he wound up as team president instead of the guy in charge of football. Which changed the dynamic of many things, especially the way Holmgren viewed his job.
The time for Holmgren to take over as coach was after the 2010 season, when he fired Mangini. For a football guy to take over the coaching job would have been a simple step. But for the president ... well that would have let down the guy who hired him, and if Lerner didn't want Holmgren to coach (as Holmgren said) then it would have complicated things further.
Holmgren's tenure is not looked on fondly by Browns fans. There is a strong and vocal group that says he didn't put in the work or the hours, a statement Holmgren vehemently refutes. There was his anger over the entire way
Colt McCoy
's concussion and subsequent return to a game against Pittsburgh was handled. And there was the way he left after Jimmy Haslam took over, with great regret.
Holmgren would counter that with former GM Tom Heckert doing the drafting, the team was headed in the right direction. He and Heckert may have had to make a change at coach after the 2012 season, and had they done so their first choice would have been Bruce Arians.
Imagine how the team's fortunes would have changed last season had Arians been the coach with Heckert still doing the drafting.
But that's been the Browns' history since 1999, filled with a bunch of what ifs.
Would the Browns have been better off if Haslam left Holmgren and Heckert in place and not brought in Joe Banner?
Good question.
Just like it's a good question to wonder why the heck Holmgren didn't just coach.
Yes, he'd have had
Seneca Wallace
,
Colt McCoy
and
Brandon Weeden
at quarterback.
But it sure would have been nice to see what happened.
April, 22, 2014
Apr 22
9:43
AM ET
ESPN.com news services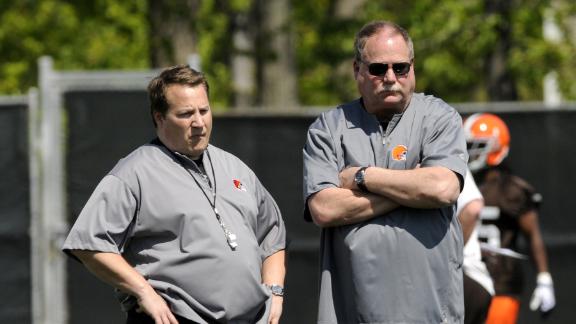 Mike Holmgren acknowledged in a recent interview that he should have coached the Cleveland Browns during his brief stint as the team's president.
Holmgren, who guided his teams to three Super Bowl appearances during his 17-year coaching career with the Green Bay Packers and Seattle Seahawks, failed to build a winner during his two-plus years in Cleveland.
The 65-year-old Holmgren recently told TheMMQB.com that he should have coached the Browns but that former team owner Randy Lerner was against it.
"I really just should have coached the team, but [Lerner] didn't want me to," Holmgren told the website.
Holmgren, who was hired by the Browns in December 2009, retained coach Eric Mangini for the 2010 season, when Cleveland went 5-11 for the second straight year. Holmgren replaced Mangini with Pat Shurmur, who went 9-23 in two years before being fired following the 2012 season.
"At that particular time, I wasn't ready to do it again," Holmgren told the website. "I thought I'd be shortchanging the organization."
Holmgren compiled a 161-111 career coaching record, guiding his teams to the playoffs 12 times in 17 years. The Packers won Super Bowl XXXI under Holmgren following the 1996 season and reached the Super Bowl again the following year. Holmgren also coached the Seahawks to the first Super Bowl appearance in franchise history following the 2005 season.
But Holmgren was not nearly as successful as an executive with the Browns, a franchise that hasn't reached the postseason since 2002 and has had six consecutive losing seasons.
Cleveland struggled to find a franchise quarterback under Holmgren, who signed aging veteran Jake Delhomme
April, 22, 2014
Apr 22
8:30
AM ET
Draft day looms ever closer. As it approaches, it seems appropriate to start your day with a tidbit or two each day on draftable guys -- with an eye toward those the Cleveland Browns might select. All information is courtesy of ESPN Stats and Information.
Wide receiver
Marqise Lee
produced for USC quarterbacks. In his career, USC passers completed 69.7 percent with 29 touchdowns and one interception when throwing to Lee. They gained an average of 10.3 yards for each pass thrown to Lee. On passes of 20 yards or more, USC passers completed 39.7 percent with 14 touchdowns and no interceptions.
April, 21, 2014
Apr 21
2:00
PM ET
Lost
:
Brandon Weeden
,
Jason Campbell
Added
: Nobody
Extra points
: Mike Pettine said at the NFL scouting combine that the position was obviously a need, and since that day the Browns have released two quarterbacks and signed none. Clearly, the team needs to add someone, but whether they do it with the fourth pick, the 26th or a second- or third-round selection is the great unknown. Not even the National Security Agency has been able to determine the Browns' plans with the most important position on the team.
Draft likelihood
: Is there a ranking on the high-medium-low scale that's higher than high?
Then there's this ...
Last QB drafted by the Browns:
Weeden, 22nd overall in 2012.
Last first-round QB drafted:
Weeden.
Last QB taken fourth overall:
Philip Rivers
, by the Giants in 2004; Rivers was then traded to San Diego for
Eli Manning
.
Last three QBs taken fourth:
Rivers, Art Schichter (1982), Bob Griese (1967).
Last QB taken 26th overall:
Jim Druckenmiller
, by San Francisco, in 1997. One of the poster boys for QB busts.
Last three QBs taken 26th:
Druckenmiller,
Jim Harbaugh
(1987) -- they are the only two.
April, 21, 2014
Apr 21
8:30
AM ET
Draft day looms ever closer. As it approaches, it seems appropriate to start your day with a tidbit or two on draftable guys -- with an eye toward those the Cleveland Browns might select. All information is courtesy of ESPN Stats & Information.
Quarterback
Blake Bortles
completed 52.9 percent of his passes that were thrown at least 25 yards downfield last season. Only
Tajh Boyd
(55 percent) did better (minimum 25 attempts). However, no quarterback taken in the first round the past two years had a higher completion percentage than Bortles on long passes. The best prior to Bortles and Boyd this season was
Robert Griffin III
at 51.9 percent. Others:
Brandon Weeden
(38.1 percent), EJ Manuel (36.4 percent),
Ryan Tannehill
(28.3 percent) and
Andrew Luck
(24.1 percent).