July, 30, 2014
Jul 30
12:52
AM ET
[+] Enlarge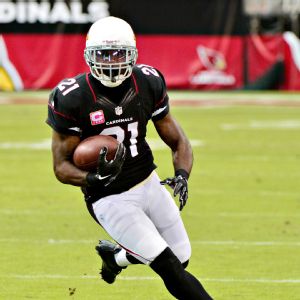 Matt Kartozian/USA TODAY SportsPatrick Peterson, who has agreed to a five-year deal worth what he says is $70 million with $48 million guaranteed, is a three-time Pro Bowler and a two-time All-Pro. He has 12 career interceptions.
The Arizona Cardinals have agreed with Patrick Peterson on a five-year contract extension, a deal the Pro Bowler said Tuesday night is worth $70 million with $48 million guaranteed, which makes him the highest-paid cornerback in the NFL.
The deal will surpass extensions signed recently by the Cleveland Browns' Joe Haden (five years, $68 million) and Seattle Seahawks' Richard Sherman (four years, $56 million).
The team announced the extension, which will keep Peterson under contract through 2020, without specifying the pay.
Peterson followed up on Twitter:
July, 29, 2014
Jul 29
7:16
PM ET
BEREA, Ohio -- A daily review of the hot topics coming out of the
Cleveland Browns
training camp:
Tuesday was a day for the defense, with offense struggling in major ways. Four passes were intercepted -- by Jordan Poyer, Justin Gilbert, Tashaun Gipson and Josh Aubrey. Only one really strong pass was completed, when Brian Hoyer dropped, threw on time and hit Miles Austin perfectly at the sideline. Pettine ended practice with an offense-defense competition in which the winners were rewarded with orange practice jerseys on Thursday. Doesn't seem like much, but it meant something to the players, who obviously love to compete. "We want to train our guys that it doesn't matter what goes on over the course of a game, we've got to make sure we can finish," Pettine said. "I think that's important to realize that it still comes down to playing at the end." Browns fans remember well that that did not happen last season.
It took four days, but Tuesday marked the first time that Pettine was not asked about one of the quarterbacks in his post practice media gaggle. It's amazing how despite the hype and hoopla over a player, eventually a training camp settles into a predictable pattern that has nothing to do with the hyped player.
Linebacker Eric Martin was probably as responsible as anyone for starting the tussles that "highlighted" practice. Martin threw Dion Lewis to the ground in a nine-on-nine run drill, then taunted the offense. Shortly after Ben Tate was throwing the ball at Ahtyba Rubin (the two made amends after practice). The nine-on-nine drill was a new one in practicing the run game. "If we can run the ball in that period, then we'll be able to run the ball against anybody," Pettine said.
Pettine had some high praise for defensive tackle Ahtyba Rubin, saying he's as good anyone he's coached at defending the run. Rubin remains one of the team's most active and, along with Gipson, underrated players.
Martin Wallace has shown some ability backing up Joe Thomas at left tackle. He's active and nasty, both good offensive line traits. … Wednesday is a day off for the players, with no curfew Tuesday night and nothing required until 10:30 p.m. on Wednesday. Choose the state you feel Johnny Manziel may be photographed in at your own discretion. ... Inside linebacker Craig Robertson showed up on several defensive plays and on special teams; he and Chris Kirksey continue competing to start alongside Karlos Dansby ... Garrett Gilkey is getting a lot of reps at right guard with John Greco out, but this is what Pettine said about him: "He's been solid. It's still early. He's probably getting some more reps than maybe he would have." Greco, Phil Taylor and Billy Winn continue to miss time. Tight end Gary Barnidge returned to practice and said he was fine after the conditioning test, just dehydrated.
July, 29, 2014
Jul 29
5:10
PM ET
BEREA, Ohio --
Donte Whitner
plainly admitted what the naked eye showed: Monday's first practice in pads for the
Cleveland Browns
was uninspiring.
"Below standard," Whitner said.
But one day after it seemed like the Browns missed a memo about being fast and aggressive, they were active, noisy, aggressive and chippy. Guys went to the ground, pads were audible and taunts were present. It was much more spirited and energetic than it was 24 hours earlier.
Soon after linebacker Eric Martin taunted the offense after flinging Dion Lewis to the ground -- a supposed no-no -- Ben Tate flung the ball at Ahtyba Rubin when Rubin was too physical for Tate's taste.
"That's OK," Whitner said. "Throwing the football at someone never killed anybody."
It still led to a scrum and a dog pile that involved a large percentage of the team that didn't seem to bother anyone.
"That was a big [fight]," Whitner said. "That's how we like it really. We don't want any soft guys around here."
"You don't want one side of the ball to get bullied by the other," coach Mike Pettine said. "There has to be some pushback."
Martin Wallace got into two scuffles, one at the end of the dog pile and the other shortly after Lewis had been thrown to the ground again. Soon after the second flinging, Wallace was mixing it up with Armonty Bryant.
"It's the price of doing business," Pettine said.
Interesting, because a day earlier he had said he wanted his team to be competitive, not combative. And he had criticized safety Johson Bademosi for lowering his shoulder after a reception.
"Everybody thinks that fighting is bad, but fighting is not bad when guys have helmets on and you're not throwing punches," Whitner said. "It's guys getting frustrated, both sides of the ball getting heated, both sides of the ball getting physical. And that's what we want."
Pettine ended practice with a competitive drill. The offense has to move 20 yards, and it's best-of-5 to see if it makes it or if the defense wins. In this case, the defense dominated, winning three of four. As a result, the defense gets to wear orange "pride" jerseys on Thursday, which may not sound like much but is meaningful.
"Yeah it means something," Whitner said. "It kind of gives you the feel of a real football game. Toward the end of the game when the game is tight, your muscles get tight, you start to tense up a little bit, you understand that something is on the line and one play can cost you the game. It kind of gives you that feeling a little bit."
Clearly simply winning that competition matters. Pettine is not the first coach to institute a reward for a drill, either. Whitner said Jim Harbaugh had something similar in San Francisco.
"I know it's kind of weird," Whitner said, "but the winner had to run gassers. He wanted to see how bad you really wanted to win."
July, 29, 2014
Jul 29
4:20
PM ET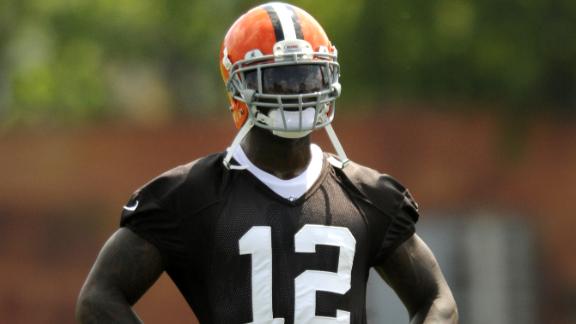 BEREA, Ohio -- The
Cleveland Browns
and WR
Josh Gordon
may not know what to expect from Friday's meeting with league officials in New York.
But this much is clear: Gordon has looked at times in practice as if he expects to lose his appeal of his yearlong suspension.
Either that or he's just his usual self.
Not to say that Gordon is not giving effort. But his involvement with the offense and his approach to recent practices bring to mind the criticism a year ago that he is lazy in practice. Keep in mind that former Browns offensive coordinator Norv Turner blistered that criticism and staunchly defended Gordon, who rarely goes 140 mph in practice but led the league in receiving yards (in 14 games) in 2013.
Gordon
In short, Gordon presents the same conundrum in the small picture that he presents in the big one: His immense talent brings risks, and because of his immense talent the slightest lackadaisical effort takes on large meanings.
Gordon will argue at an appeal hearing on Aug. 1 in New York that he was the victim of secondhand marijuana smoke and that his test results were questionable and inconsistent between two samples,
per ESPN's Adam Schefter
. What happens is anyone's guess. Clearly the public negativity toward
Ray Rice
's two-game suspension for allegedly knocking out his then-fiancée creates the perception that Gordon's penalty is excessive. But the substance-abuse penalties were negotiated in the collective bargaining agreement and the personal conduct decisions are up to commissioner Roger Goodell. Gordon has hired a high-powered attorney to plead his case.
On the field, Gordon is not getting all his reps with the starters, and he has loafed through some routes. On Tuesday, he wisely backed off a route that would have led to a serious collision with a safety, something nobody wants in practice. But other times, he has not gone all-out; he has given up on routes; he has not extended himself; and he has let passes go through his hands.
There is no mistaking the reality that the Browns have Gordon practicing with different units. If things were normal, Gordon and
Miles Austin
would be paired with
Jordan Cameron
to form an impressive pass-catching trio.
But things are not normal.
Sometimes Gordon lines up with the 2s, sometimes the 3s. It's only occasionally that he's with the starters. The team is caught in the middle and has to protect itself if Gordon is suspended. It's a tough balancing act. The Browns can't give him all the reps ahead of others who will be around, but they also have to get Gordon ready in case he avoids suspension.
It's understandable if he is distracted and his mind is on the hearing, but Gordon has to cooperate by going all-out in the reps he does receive. Occasionally, he does. On Monday, QB
Johnny Manziel
badly underthrew Gordon on a fade. DB
T.J. Heath
was all over Gordon. But Gordon stopped and simply outmuscled and outmaneuvered Heath to make the catch. It was tough to imagine any other Browns receiver making that catch, but it was also tough to see Gordon make it, knowing he might not be around in September to make similar catches in games.
July, 29, 2014
Jul 29
3:18
PM ET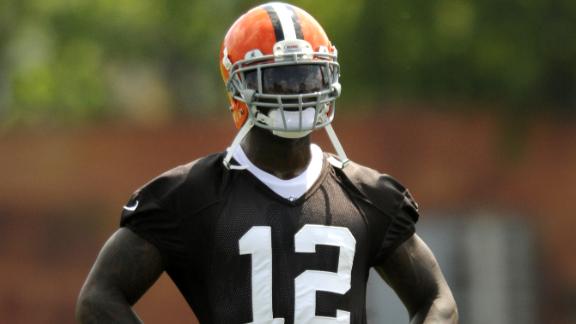 The legal team for Cleveland Browns wide receiver Josh Gordon will argue in a hearing Friday that its client has disputed test results that were caused from secondhand marijuana smoke, according to sources.
Gordon is appealing the NFL's imposition of a yearlong suspension for a positive test for marijuana.
Gordon's legal team will argue that the positive tests are so marginal that they show uncertainty as to whether the test results were truly positive, and even if so, were the result of exposure to secondhand smoke, according to sources familiar with the case.
Gordon's "A" sample tested at 16 nanograms per milliliter, a bare one nanogram per milliliter above the 15-nanogram-per-milliliter threshold, while Gordon's "B" sample -- which should theoretically be consistent with the "A" sample, as it comes from the exact same specimen -- tested at 13.63 ng/ml, lower than the threshold.
With both samples coming from the same specimen test, the results should be consistent. Gordon's attorneys do not believe their client should be suspended for a year for differing disputed test results, especially when only one was barely higher than the threshold, sources said.
Gordon's attorneys also plan to introduce witnesses who will testify that Gordon's scores indicate he was the victim of breathing in secondhand smoke, according to sources. The league has maintained that it does not intend to suspend players for secondhand smoke.
July, 29, 2014
Jul 29
3:06
PM ET
Associated Press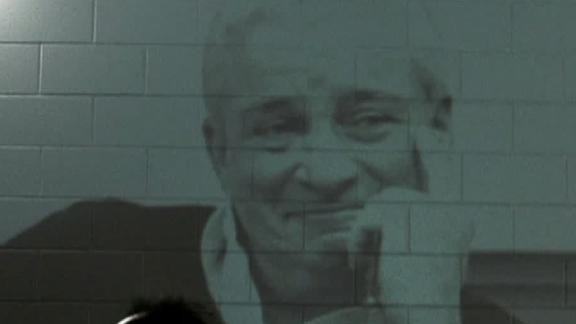 BALTIMORE -- Maryland authorities said Tuesday they will charge a man with disorderly conduct in a cemetery for allegedly urinating on the grave of former Baltimore Ravens owner Art Modell.
The man, who so far has been identified only as a Cleveland Browns fan, could face up to two years in jail and a $500 fine. He posted a video of the incident to YouTube this month.
"Everyone who has buried a loved one has the right to believe that their final resting place will be treated with respect," Baltimore County State's Attorney Scott Shellenberger said in a written statement. "Bringing charges against this individual should act as a deterrent to others and assure the rest of us that no matter who you are, indecencies will not be committed against your final resting place."
Shellenberger said the man will not be identified until charges are filed and served.
Art Modell died in 2012 at the age of 87. He spent 43 years as an NFL owner, overseeing the Browns from 1961 until he moved the team to Baltimore in 1996, when they became the Ravens. Modell served as league president from 1967 to '69, helped finalize the first collective bargaining agreement with the players in 1968 and was the point man for the NFL's lucrative contracts with television networks.
Modell and his wife, Patricia, are buried at Druid Ridge Cemetery in Baltimore.
David Modell, Art Modell's son, said the family is thankful for the efforts of Baltimore County police and the decision by the state's attorney to file charges.
July, 29, 2014
Jul 29
2:25
PM ET
A day-by-day and honest look at
Johnny Manziel
's first training camp with the
Cleveland Browns
:
THE WORK:
Wednesday was not a particularly good day for either quarterback, as the defense responded to prodding from head coach Mike Pettine to produce a much more lively, active and chippy practice. That beings said, Manziel has not shown the spark in practice that produced the glittering numbers in college. Any neutral observer who has watched practice has left with the impression that
Brian Hoyer
is far ahead in the quarterback competition. Manziel has taken steps, but none strong enough to firmly take the job. He looks like a rookie learning an offense and struggling as he goes -- while usually facing the second-team defense.
GOOD THROW:
This was a defensive day, with the defense playing aggressive and with energy. The offense did not match that energy, Manziel among them. To say he did not have a good throw probably isn't fair; coach's film could probably find one. But there was not one single throw that jumped out live. He did complete a lot of passes in five-on-five (mainly short), when the team drills took place he struggled.
BAD THROW:
It might have been a sack live because Manziel stepped up to avoid a rush. But when he stepped up, he had a chance to complete a throw. Instead, he sailed it well over the receiver's head and into the hands of
Jordan Poyer
, who would have had a clear path to the end had the pick been in a game.
THE WORD:
"I don't react to that because I want to know the why." – coach Mike Pettine on how he reacts to interceptions thrown in practice.
START
CHART:
On a 1-to-10 scale, with 10 being Manziel certainly starts the opener -- Manziel started with a 3, dropped to a 1, went back to a 3 and Tuesday moves to a 2.
July, 28, 2014
Jul 28
6:44
PM ET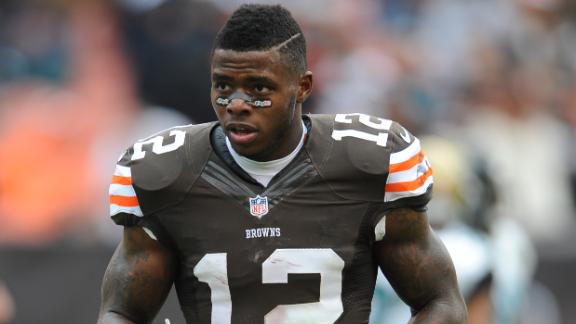 Browns wide receiever Josh Gordon, facing a one-year suspension, has hired attorney Maurice Suh, who helped Seattle Seahawks cornerback Richard Sherman win his appeal of a contested positive test, a league source said.
Suh will work alongside NFLPA attorney Heather McPhee, who has an excellent reputation in league circles, to try to help salvage as much of this season as possible for Cleveland's Pro Bowl wide receiver.
At the very least, Gordon has recognized how important it is to have such strong legal representation. Gordon began working with Suh earlier this month in preparation of an appeal that has been scheduled for Friday.
McPhee has been on the case all along. McPhee and Suh -- a partner at Gibson, Dunn & Crutcher, in Los Angeles -- helped Sherman avoid a suspension when they argued that a cup with a broken seal was used during Sherman's urine test.
At the time, Suh released a statement saying: "We are very pleased that the hearing officer recognized that the egregious errors that occurred with Mr. Sherman's collection required overturning the NFL's discipline. Mr. Sherman provided honest testimony about a severely flawed process, and the hearing officer found him to be a credible man. We couldn't be happier for Richard, and we were thrilled to help him and the union present a very strong case."
July, 28, 2014
Jul 28
5:30
PM ET
BEREA, Ohio -- A daily review of the hot topics coming out of the
Cleveland Browns
training camp:
Monday was the first day the Browns could put on pads, and when they did, coach Mike Pettine said he wanted to hear the practice because if he could hear it, it meant players were being physical. There must be varying definitions of loud and physical, because Pettine said he was pleased, even though there wasn't much to hear. It was probably the quietest full-pad practice in memory, as the Browns practiced at what almost seemed like a slower pace than normal. A blitz drill that with some teams involves yelling and serious competition did take place, but without much interplay and without much competition. Pettine said he liked it all though, and said the work was "solid," so there is that. #whatever
Pettine became agitated when safety Johnson Bademosi dropped his shoulder into Nate Burleson after a reception, saying: "I told the guys that that stuff is not going to help them make the team. We want to be tough. We want to be nasty, but we want to play within the rules. We certainly want to protect each other while we're practicing." Burleson spun away from the "hit" and ran toward the end zone. #notsooldschool
Cornerback Justin Gilbert was active, with a couple interceptions and a pass knocked down. It was the most noticeable he'd been all camp. He even took some reps returning kicks, though Pettine said that would happen only in emergency. "I think I'd hold my breath or watch with one-and-a-half eyes covered if he was returning a kick," he said. Gilbert is very adept as a returner, but teams do not like risking their first-round pick that way. "It's much more intriguing for (special teams coordinator) Chris Tabor than it is for me," Pettine said. #defensive
Joe Thomas on whether it was good to hit someone again: "Not really, but it's a necessary part of football." Yes, he was smiling. ... Of a car in the parking lot decorated with Packers gear, Thomas said with another smile: "That could be a relative." He's from Wisconsin. ... In a mild surprise, the Browns released OT Chris Faulk when they activated LB Tank Carder. Faulk was trying to come back from tearing multiple knee ligaments in 2012 at LSU. ... The team and Jason Pinkston's agents released a statement saying Pinkston had not been cleared medically to play. No further details were provided. ... WRs Charles Johnson and Travis Benjamin were given a day of rest for their surgically repaired knees. .. Running backs coach Wilbert Montgomery shrugged at Ben Tate showing some attitude by saying nobody in the running backs room scared him. "I think it's funny," Montgomery said. "I think that's what all of them would say. For him, if that's the way that he's going to motivate himself to try to win a job, that's good for him." #dot-dot-dot-com
The last word:
Pettine on what it's like having his father watch practice, and the tape: "I usually get about a page of notes a day sitting on my desk."
July, 28, 2014
Jul 28
4:05
PM ET
BEREA, Ohio --
Joe Thomas
has reached the point in his career where he is given days off during
Cleveland Browns
' training camp.
[+] Enlarge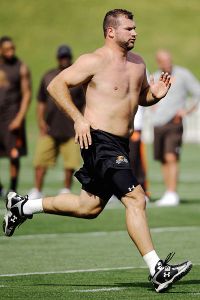 AP PhotoVeteran tackle Joe Thomas runs sprints during a conditioning test at the Browns' training camp facility in Berea, Ohio.
It's a sign of respect, and in Thomas' case it's respect for sustained and consistent excellence in each of his seven previous seasons in the league, when he's made seven Pro Bowls and never missed a snap.
Thomas remains ever dedicated, ever courteous. He also is unfailingly humble. But as his career progresses, he has become more and more insightful about the game's nuances and games within the game.
So when he speaks, it's worth listening. There will be no outrageousness, and no fudging of the truth either. Monday, Thomas spoke with the media for the first time since training camp began, touching on two issues of interest -- the running game and
Brian Hoyer
(he was not crusading for Hoyer, merely answering questions).
Thomas spent most of last season talking about the running game being an NFL dinosaur and saying that to win in the modern age teams had to throw the ball. He even went as far as to say he'd never draft a running back in the first round. Now, though, he plays for a team that (assuming
Josh Gordon
is suspended) will have to run the ball effectively to win.
Thomas acknowledged the irony, but added the Kyle Shanahan system -- an offshoot of his father Mike Shanahan -- would have the Browns closer to a 50-50 run-pass split than at any time in his career regardless. He said Shanahan's zone-blocking scheme is dependent on the run because it relies heavily on play-action.
"You need to be able to run those wide zones, even if it gets one or zero yards, to keep the safeties up," Thomas said. "It's when they're trying to fill in the run game that you can hit those big plays over the top."
Thomas said the Browns and Baltimore (with Shanahan disciple Gary Kubiak as offensive coordinator) are the only two teams to run the zone-blocking system, which requires lateral movement from linemen and a back who can read the hole, plant and hit the hole with authority. Thomas said the zone-blocking scheme is drastically different than anything he's done, but it fits the skills of the team's offensive line better than any system in his career. That's because the Browns have guys who can move in Thomas,
Joel Bitonio
,
Alex Mack
and
Mitchell Schwartz
.
"This is in my opinion one of the only schemes that you can run the ball consistently," Thomas said, "because you make those defensive linemen run sideline to sideline. And it does set up the passing game that we run very, very well."
Regarding Hoyer, Thomas had nothing but praise. He was careful not to compare Hoyer to
Johnny Manziel
, or to say that one or the other would start. He simply praised Hoyer as "every bit one of the best competitors in the NFL."
"No matter if we drafted a quarterback No. 1 overall, I knew that in his mind he expected to win the job," Thomas said.
He added Hoyer is never hesitant or afraid to challenge teammates on the field, and he is much more vocal than it might appear.
"He has less starts than probably any guy but a rookie who's out there starting right now," Thomas said. "He commands a level of respect because of the way he goes about his business doing things the right way and acting like he's the starting quarterback that's taken us to five playoffs.
"I think it's that attitude and that swagger that demands respect, and he also goes out and he backs it up on the field where he throws the ball to the right person, he's doing the right things, he's getting everybody on the same page. That's just as much the role of the quarterback as throwing touchdown passes."
July, 28, 2014
Jul 28
2:41
PM ET
A day-by-day and honest look at
Johnny Manziel
's first training camp with the
Cleveland Browns
:
THE WORK:
Better than Sunday, which coach Mike Pettine described generously as "inconsistent." Manziel seemed more comfortable in the pocket, and with the calls. For whatever reason, he was less hesitant than Sunday, and he drove the ball better. His play still did not match that of starter
Brian Hoyer
's, but Manziel clearly put a tough day behind him and rebounded to make some throws and run some read-option. The highlight: The Browns ended the day with two-minute drill, with Manziel and Hoyer each receiving two opportunities. Manziel was the only quarterback to score, setting up a six-yard play-action roll-out touchdown throw to fullback
Ray Agnew
with a nice throw over the middle to
Taylor Gabriel
.
GOOD THROW:
The throw down the middle of the field to Gabriel on the final two-minute drill was not a tight spiral, but it got there and it was accurate. It also was one of a few throws when Manziel stepped into the pass and drove the ball, which was nice to see.
BAD THROW:
In 11-on-11 work, Manziel found no one open and scrambled to his left. At one point, he looked behind him -- away from the line of scrimmage. He then tried to sidearm a throw downfield, but rookie linebacker
Chris Kirksey
intercepted it. It was the kind of play and throw that would have had fans howling if it were
Brandon Weeden
doing it.
THE WORD:
From coach Mike Pettine on the play-by-play process with a rookie quarterback: "You're going to have some good ones, you're going to have some bad ones and you hope you can minimize the bad ones."
START CHART:
On a 1-to-10 scale, with 10 being Manziel certainly starts the opener Manziel started with a 3, dropped to a 1, and Monday goes back to a 3.
July, 28, 2014
Jul 28
8:00
AM ET
Examining the
Cleveland Browns
' roster:
QUARTERBACKS (3)
If an alien landed from outer space, he or she would look at this list and think it's a guy with three starts, a rookie and a veteran who didn't play last season. Which is accurate. Thigpen did little to impress in the offseason work, but the Browns have to keep a third behind Hoyer and Manziel.
RUNNING BACKS (3)
Tate and West are givens. Dion Lewis was a favorite of the team a year ago, but that was a year ago. This season's staff really is high on Crowell, and he's got a lot of early looks. It might be tough to bring him back to the practice squad if he's released.
FULLBACK (2)
By taking a quick look at Chris Pressley in the offseason and then releasing him, the Browns showed they don't want a road grader at the position. By moving Gray there later, they confirmed that they want their fullback to be more active. Ogbonnaya is the kind of guy teams like and need. Smart, plays anywhere and contributes on special teams.
WIDE RECEIVER (5)
We'll assume that
Josh Gordon
is suspended. If he's not, add him and remove Armstrong. But don't sleep on Willie Snead, an undrafted free agent who has done some good things; he could force his way into the mix.
TIGHT ENDS (3)
Gray moved to fullback during the offseason, so we'll assume he stays there. The Browns are well fortified with the three tight ends they have.
OFFENSIVE LINE (9)
Jason Pinkston's sudden absence is concerning, especially when Pettine merely said "possibly" when asked if he would be back. Pinkston had issues with blood clots earlier in his career, but it's not known if this is a repeat. The Browns have built an offensive line that is talented, deep and smart. They have a lot of money invested here, but they have some good players as well.
DEFENSIVE LINE (7)
Another deep group with a lot of talent. Coaches should be able to keep fresh linemen on the field, and keep active linemen playing.
LINEBACKERS (8)
Mingo showed a lot on the first day. He'll be given plenty of opportunities to play this season. Sheard is a linebacker who will also play with his hand down.
CORNERBACKS (6)
The most interesting competition remains Skrine and Gilbert to see who starts opposite Haden. Finding a cornerback who can play press-man coverage is vital in this defense, and Skrine showed up in excellent shape and has been very aggressive the first weekend.
SAFETY (4)
No big mysteries here, but Bademosi makes the team based on his value on special teams. Whitner seems to be a very good veteran addition, and Gipson is the most underrated player on the team.
SPECIALISTS (3)
No need to change anything here from last season, as all were strong and dependable contributors.