September, 17, 2014
Sep 17
7:00
PM ET
BEREA, Ohio -- Small actions matter in games, and can sometimes make the difference between winning and losing.
Karlos Dansby
said after the win over the Saints that he was able to come up with a key sack late in the game because he recognized
Drew Brees
' protection call and he knew he'd have an open lane to Brees.
"That's just from watching film," Dansby said Wednesday as the Browns prepared for their next game against the
Baltimore Ravens
.
[+] Enlarge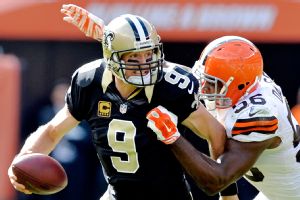 AP Photo/David RichardKarlos Dansby said he was able to get a late sack on Drew Brees because he recognized Brees' protection call from watching film.
He then went through the play, against Brees, explaining that once he knew he'd get the sack his next focus was to make sure Brees did not throw the ball before he was tackled.
"Make sure he don't throw the ball in the dirt," Dansby said. "Because he threw the ball in the dirt when a couple other guys had him wrapped up. He just got rid of it at the last second."
He didn't against Dansby, because Dansby didn't let him.
"Grab his arm," Dansby said. "That's what I tried to do. I tried to get the ball out period, but he tucked it at the last second where I couldn't get it. I just got him down. I was kind of mad about that situation. I wanted the ball.
"The whole mindset was getting the ball. I knew he wasn't going to get away from me."
Getting the ball out would have given the Browns the ball with excellent field position. Making the sack forced a punt. Knowing Brees wouldn't get away from him was the result of film study that showed Dansby in that particular formation when Brees slid the protection to the offense's right, there would be nobody in the backfield helping with protection.
"Once he slid the front, it was just me and him," Dansby said.
What would Dansby do if he faced a more mobile quarterback?
"Watch the film," he said. "You'll see when guys come free on (a quarterback) what he likes to do."
That knowledge might be the difference between winning a play and losing it, and sometimes one play can have a huge effect on winning a game or losing it -- like Dansby's sack.
"Like Ben (Roethlisberger)," Dansby said. "Ben would have tried to spin out and I would have been right there waiting on him. He'd have taken one step to the right and he'd have tried to spin out. That's his thing. That's what he likes to do."
He pointed out in the opener that rookie
Chris Kirksey
almost had Roethlisberger for a sack, but he stepped right and spun away from Kirksey for a completion.
His words were reminiscent of a couple years ago, when
Joe Thomas
said he always tries before a game to find a pass-rusher's signature move because in a key situation the player will depend on that move. His approach and Dansby's is the kind that separates the better players from the ordinary ones.
"I watch film, man," Dansby said. "I'm not just physical and playing a game. I have to watch these things because these situations are going to come about and you have to envision yourself in these situations and know how you're going to attack them."
September, 17, 2014
Sep 17
4:10
PM ET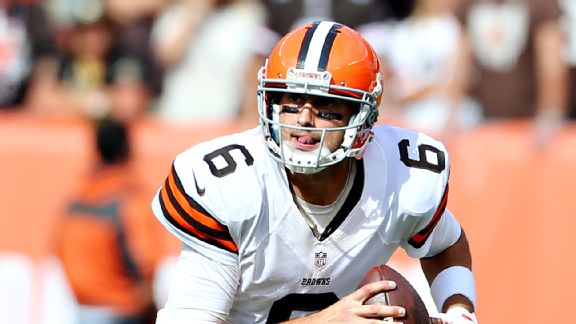 Ron Schwane/USA TODAY SportsBrian Hoyer has tightened his grip on the starting quarterback job.
BEREA, Ohio -- It's clear that
Cleveland Browns
coach Mike Pettine will always do what he can to keep his next opponent guessing.
So he may never admit he's junking the occasional use of
Johnny Manziel
in games.
Which is fine; gamesmanship is part of the NFL and even
Terrell Suggs
admitted on a conference call with the Cleveland media that the
Baltimore Ravens
were preparing for Manziel. That's just the way Pettine wants it.
But even if he doesn't admit it publicly, it might be time to admit it privately: The Browns don't need the Manziel presence during games.
It's time to put the Manziel package of plays on the shelf.
Brian Hoyer
is handling things, and handling them well.
It's time to treat Manziel as the backup and Hoyer the starter. If Hoyer falters or struggles, Manziel can be ready. If Hoyer plays well and wins the Browns have the best of everything. They'd have a starter with experience playing well while Manziel learns, observes and grows behind him.
It would lead to an interesting offseason situation with Hoyer's contract up, but that's for the offseason. For now, the Browns can do what Pettine said he wanted all along -- not force the rookie quarterback on the field immediately.
This is no knock on Manziel, who since he's been with the Browns has handled things well and adeptly. He makes no secret he has a lot on his plate adjusting from a quick-play, one-side-of-the-field offense in college to Kyle Shanahan's tome. He makes no secret he did not expect to walk in and understand everything right away. He's been spot on in the way he's acted, with the team and media.
But he's not ready.
And he was not a read-option quarterback in college. He ran it a little bit at Texas A&M -- enough that he can run it -- but his forte was not the read-option.
The Browns had him run three read-option plays against New Orleans. The results: Two handoffs for zero yards and one incomplete pass.
This isn't like putting Josh Cribbs in the game. As Shanahan said, Manziel is a quarterback getting some plays.
The incompletion got fans excited because it came on a Manziel scramble left when he didn't see his first two reads and spun around to run left.
What's far more exciting in the NFL, though, is a guy who can drop back, read and throw -- what Tom Brady does -- because that's what an offense needs.
Hoyer produced a lot more excitement when he guided the game-winning drive.
Yet he was twice yo-yoed in and out of the game. At this point, the risk of disruption seems far greater than the potential gain.
Hoyer's track record in four starts is this: He's led two last-minute game-winning drives, he led a game-securing drive with the game in balance and he came back from 24 down at halftime to lose on the last play of the game in Pittsburgh. His only loss came when he erased a 24-point deficit.
The sample size remains small. He has to sustain this for an entire season. But he's earned that right to do so.
"He's played great for them," Ravens coach John Harbaugh said. "I know their history at quarterback. Put it that way."
The pressure on the incumbent quarterback trying to fend off the phenom -- the Tim Tebow factor -- can be immense. Hoyer showed he felt it in training camp when he struggled. But Manziel never did enough to take the job.
Pettine did the right thing naming Hoyer the starter when he did. Hoyer settled down, got the practice time and now is approaching the level he played at in his brief time in 2013.
He's not perfect. He threw two early floaters against the Saints that could have been intercepted.
But he's shirked any pressure and beat the Saints. If ever he was going to cave, it would have been in Pittsburgh at halftime, with Manziel ready and eager to step in. Instead, Hoyer scored 24 points in less than 20 minutes to tie the game.
The Browns have been so lacking at the quarterback position for so long that they seem to be constantly searching. At this point, the search can be called off.
The guy who deserves the shot -- the guy they may need -- is right in front of them.
It's time to let Hoyer be the starter and ride with it as far as it will go.
September, 17, 2014
Sep 17
1:42
PM ET
The
Cleveland Browns
are taking a wait-and-see approach to the availability of tight end
Jordan Cameron
(shoulder) and linebacker
Barkevious Mingo
(shoulder) for Sunday's game against Baltimore. However, coach Mike Pettine said he does not expect
Ben Tate
(knee) to be ready to play.
Tate
Tate will probably rest his injured knee this weekend and then take the bye week before coming back to play in Tennessee in Week 5.
Cameron and Mingo are iffy at best. Both were listed as limited for Wednesday's practice after both missed Sunday's win over New Orleans.
Cameron's absence would be felt significantly against the Ravens, whose aggressive corners will do all they can to play press-man on the Browns receivers.
Gary Barnidge
and
Jim Dray
have played well in Cameron's absence, but having the Pro Bowl tight end on the field against Baltimore would help counter the Ravens' strategy.
September, 17, 2014
Sep 17
10:00
AM ET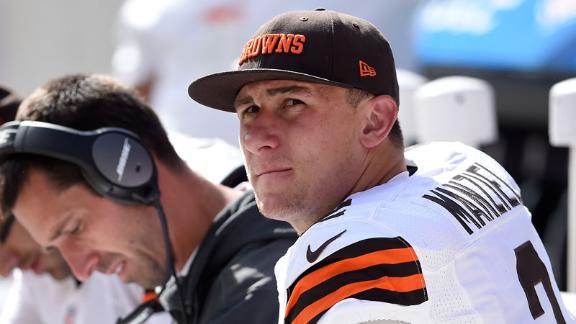 ESPN
Cleveland Browns
reporter Pat McManamon discusses how the quarterback situation is playing out perfectly.
September, 16, 2014
Sep 16
6:00
PM ET
JACKSONVILLE, Fla. -- The
Jacksonville Jaguars
are relying heavily on rookie receivers
Marqise Lee
,
Allen Robinson
and
Allen Hurns
. Together, the trio has 19 receptions through the first two games.
How does that stack up against other rookie receivers across the league? Pretty well, actually, especially when you break it down by targets, which is a true measure of how much a receiver is utilized.
Here's a look at the top rookie receivers in terms of targets. Based on a benchmark of 50 catches being a very good season for a rookie -- only 42 have hit that mark since 1995 -- we'll use the qualifier of having a minimum of three targets per game. That equates to 48 catches by the time the regular season ends.
Here's the list of the top-targeted rookie receivers through Week 2 (minimum eight targets):

Benjamin
Kelvin Benjamin, Carolina (16 targets):
Eight catches for 138 yards and one touchdown.
Sammy Watkins, Buffalo (16):
He leads all rookies with 11 catches for 148 yards and one touchdown.
Allen Hurns, Jacksonville (14):
He has six catches for 123 yards and leads all rookies with two touchdown catches. He has one drop, which could have been a long touchdown reception.
Marqise Lee, Jacksonville (13):
He has eight catches for 73 yards.
Mike Evans, Tampa Bay (12):
Has nine catches for 86 yards.
Brandin Cooks, New Orleans (12):
He and Watkins are the only rookies with double-digit catches. He has 10 for 94 yards and a touchdown.
Taylor Gabriel, Cleveland (10):
Has five catches for 26 yards.
John Brown, Arizona (9):
Has five catches for 57 yards and one TD.
Allen Robinson, Jacksonville (9):
Has five catches for 75 yards.
Ryan Grant, Washington (8):
Has five catches for 57 yards, all of which came last Sunday against Jacksonville.
Jordan Matthews, Philadelphia (8):
Has three catches for 54 yards.
September, 16, 2014
Sep 16
3:10
PM ET
A weekly by-the-numbers look at the
Cleveland Browns
' next game, at home against the
Baltimore Ravens
:
83.2 -- Joe Flacco's passer rating
87.4 -- Brian Hoyer's passer rating
$51 million -- The guaranteed portion of Flacco's contract
$1.965 million -- The complete value of Hoyer's contract
4.5 -- The Ravens' average yards per carry in the run game
5.1 -- The Browns' average yards per carry in the run game
89 -- Rushing yards allowed per game by Baltimore
152.5 -- Rushing yards per game by the Browns' offense
78.2 -- Opposing quarterbacks' passer rating vs. Baltimore
33 -- Total first downs Baltimore's defense has allowed
32.4 -- Average number of yards the Ravens have given up per drive
27 -- Total points allowed by Baltimore in two games
5 -- Said total points rank in the NFL by Baltimore's defense
26.5 -- Points scored per game by the Browns' offense
5 -- Browns' rank in total points in the NFL
6.2 -- Yards per play when Baltimore faces a no-huddle offense
8 -- Yards given up rushing in the red zone
6 -- Yards given up passing in the red zone
0 -- Opposing quarterback rating in the red zone
2.33 -- Average yards given up on red-zone plays
1 -- Baltimore's rank in the NFL in red-zone efficiency
1 -- The number of touchdowns the Ravens have given up in two games
Clearly the Ravens present a more serious test defensively to the Browns than Pittsburgh or New Orleans. The Ravens are a physical, aggressive group that has been very stingy giving up points. The only touchdown they allowed was a 77-yard deep throw by
Andy Dalton
to
A.J. Green
. Teams have yet to sustain any drives against them.
Offensively, both teams have had effective running games, but Baltimore has been stingy giving yards up as well. Baltimore's struggles against the no-huddle has to have caught Mike Pettine's eye.
If Hoyer and the offense can get something done on this Baltimore defense, it will be the first time it happens. But Baltimore has yet to play away from home and the Browns' crowd provided a huge lift in the win over New Orleans.
The numbers say this will be a tough game, but it will also be a very interesting one -- and can reveal much about where the Browns stand with the big boys of the NFL as they head to the bye week.
September, 16, 2014
Sep 16
1:36
PM ET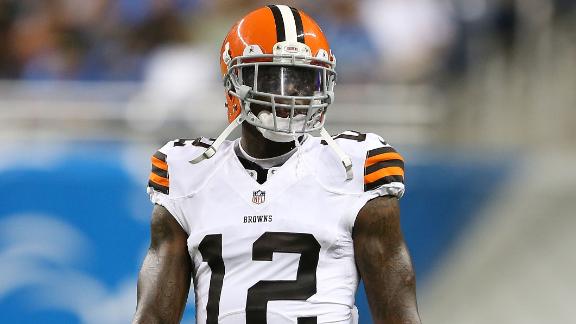 Josh Gordon pleaded guilty to a DWI charge in Raleigh, North Carolina, on Tuesday.
The charge against the Cleveland Browns wide receiver has been pending since July.
In lieu of a 60-day suspended jail sentence, Gordon received 12 months' unsupervised probation, a $100 fine and $290 in court costs as a result of the plea, according to the Wake County Clerk of Courts office. He also had his driver's license suspended.
A league source told ESPN NFL Insider Ed Werder that Gordon pleaded guilty Tuesday in the hopes he can avoid a mandatory two-game suspension, which is one of the new rules that would be enacted when the NFL and NFLPA formalize a new drug policy, something that could happen any day.
The agreement between the league and union will contain a date by which players must resolve related court cases without being subjected to harsher discipline, a league source told Werder.
An NFL spokesman said regarding a potential two-game suspension, "We'll decline comment as we work through the revisions to the drug programs."
Gordon was not in court and was represented by his attorney Trey Fitzhugh.
Gordon is serving a season-long suspension after failing a positive marijuana test, although that ban is expected to be reduced to 10 games under the new agreement.
If the two games is added to the 10, Gordon would miss 12 of the Browns' 16 games this season.
Gordon was arrested and charged with speeding and driving while impaired during the July Fourth weekend. The Clerk of Courts said Gordon's blood-alcohol level was found to be .09. The legal limit in North Carolina is .08.
The speeding charge was dismissed.
September, 16, 2014
Sep 16
1:00
PM ET
A look at the
Cleveland Browns
' snap counts in their
26-24 win
against the
New Orleans Saints
in Week 2:
OFFENSE (75 snaps)
Quarterback:
Brian Hoyer
72,
Johnny Manziel
3
Running back:
Terrance West
47,
Isaiah Crowell
28
Fullback:
Ray Agnew
27
Receiver:
Andrew Hawkins
63,
Miles Austin
52,
Taylor Gabriel
50,
Travis Benjamin
23
Tight end:
Gary Barnidge
43,
Jim Dray
41,
Gerell Robinson
1
Offensive tackle:
Joe Thomas
75,
Mitchell Schwartz
75
Guard:
John Greco
75,
Joel Bitonio
75
Center:
Alex Mack
75
Thoughts:
Hoyer is now 3-0 starting in Cleveland. His 40 passes were the second-highest attempts of his career. ... With
Ben Tate
sidelined, Crowell's play tally doubled. The way he runs he might get more against Baltimore. ... Then again, West and Crowell are a pretty good tandem right now; West averages 4.8 per carry, Crowell 5.4. ... Second week in a row Hawkins led the wideouts in snaps. He also leads the team in receptions and receiving yards. ... Gabriel's 50 were two-thirds of the offensive plays, up from 33 and just less than one-half in the opener. ... The offensive line retain their perfect mark. ... Barnidge had 43 plays two weeks in a row, which should mean something. ... Meanwhile, I'm still trying to figure out what was up with those three plays given to Manziel.
DEFENSE (70 snaps):
Cornerback:
Buster Skrine
70,
Joe Haden
69,
Justin Gilbert
47,
K'Waun Williams
10
Safety:
Donte Whitner
70,
Tashaun Gipson
70,
Jim Leonhard
9
Outside linebacker:
Paul Kruger
67,
Jabaal Sheard
65
Inside linebacker:
Karlos Dansby
70,
Chris Kirksey
40,
Craig Robertson
22,
Eric Martin
2
Defensive line:
Desmond Bryant
38,
Ahtyba Rubin
38,
Billy Winn
31,
Phil Taylor
30,
Armonty Bryant
23
Thoughts:
Dansby has yet to miss a play, and based on two games played he is an upgrade. Guy makes plays and runs all over the field. His sack of
Drew Brees
set up the game-winning drive. ... With
Barkevious Mingo
out, Kruger and Sheard got all the OLB snaps. Coach Mike Pettine said it was too much, but they were both active. ... Kruger looks like a different player from a year ago. ... Pettine said Gilbert's play-time would be cut, and it was by 20 percent, from 59 to 47 snaps. Pettine said Gilbert responded with a better game. ... The Browns clearly rotate their linemen, but they like Bryant. He returned from preseason wrist surgery to lead the DL in snaps. ... Joe Haden's only missed snap was due to cramps. ... In two games, Kirksey has 99 snaps, Robertson 34. ... Jim Leonhard and Barnidge share the Oddity Award; Leonhard had nine snaps two weeks in a row.
September, 16, 2014
Sep 16
8:00
AM ET
BEREA, Ohio -- One of
Brian Hoyer
's most important throws in the win over New Orleans on Sunday was to his third read, and to a receiver he had never thrown to on that particular play call.
That came on the fourth-and-6 throw that kept the
Cleveland Browns
' game-winning drive alive, a throw that Hoyer either makes or the game ends in a loss.
[+] Enlarge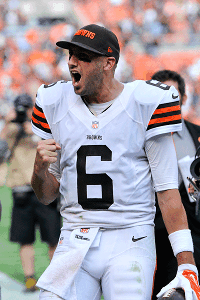 AP Photo/David RichardBrian Hoyer gave Browns fans reason to cheer on Sunday with his clutch play during the final drive.
Hoyer broke down the play, saying it was similar to a third-down play call against Pittsburgh when he forced a throw to
Gary Barnidge
when Barnidge was well covered. Hoyer admitted in Pittsburgh he thought pre-snap of getting five yards to try a field goal. Because he forced it, the Browns had to punt.
As he lined up against the Saints, he saw a coverage he didn't like and reminded himself to let the play develop and go through his reads.
His first was outside to
Taylor Gabriel
, but he was double-covered.
His second was to
Andrew Hawkins
over the middle, but he was short of the first-down marker and well covered.
His third took him to Barnidge, who had safety
Jairus Byrd
at his feet as he made the catch.
"I've probably never thrown that ball to Gary in my life [on that play]," Hoyer said "That read on that fourth-down play, I don't think I've had on that play with him."
But he explained the way the play developed.
"You know exactly what you need to get and when they take No. 1 away, [No.] 2 is in front of the sticks, you gotta get to No. 3 and that's what we were able to do," Hoyer said.
The pass was on the money, and Barnidge made the catch with Byrd spinning him to the ground immediately.
"That was a heck of a throw and an even better catch," coach Mike Pettine said. "He had Byrd just hanging on his back. That was clutch."
Barnidge has 36 career receptions, and he was playing at the time because starting tight end
Jordan Cameron
was sidelined with a shoulder injury. In the Browns' system, Barnidge is the receiving tight end,
Jim Dray
the blocker. Trusting the backup tight end in that situation might take some gumption, but Hoyer didn't hesitate to throw the ball where it should go, saying he trusts all the backup receivers "with all my heart."
"He's a solid player," Pettine said of Barnidge. "He's not going to be on anybody's Pro Bowl ballot, but I believe in the guys that we have. You have to because they feel it if you don't."
Hoyer understands any and all skepticism because he's been released three times and is coming off major knee surgery.
But in four starts for the Browns when he finished the game, Hoyer has led the team back from 24 points down against Pittsburgh, led a late game-securing drive against Cincinnati and led late game-winning drives against Minnesota and New Orleans. Against the Saints, he converted two third downs and the fourth-down throw to Barnidge.
"We talk about, 'If you're going to be a great player, you need to make great plays when your best is needed,'" Pettine said. "He certainly did that for us. That's when you gain respect. Respect can't be manufactured that way. It can't be artificial. It just has to be earned, and it has to be earned through his play, through his actions. I thought he handled himself real well [Sunday]."