July, 25, 2014
Jul 25
9:00
AM ET
The final two positions where there will be serious competition for a starting role for the
Cleveland Browns
lie on each side of the ball.
At guard, it appears
Joel Bitonio
is penciled in already as the starter on the left side.
"We feel good about Bitonio," coach Mike Pettine said. "The other guard spot is a question. But we have some guys there who are competing."
Bitonio is a rookie the Browns celebrated drafting, a guy the team has the highest of hopes for. That he starts his career lined up between
Joe Thomas
and
Alex Mack
can only help him.
It's on the right side, where
John Greco
and
Garrett Gilkey
line up, that the most significant competition will take place.
Greco would seem to have the inside track, but Gilkey came on as the offseason progressed. He has to show he can get something accomplished fullspeed in pads, though, and he also has to start avoiding the fights he got into during minicamps.
Greco plays better than his publicity would say. He's a veteran with toughness and smarts.
Paul McQuistan
, signed in the offseason, appears to be valuable for versatility and depth.
The final competition (along with quarterback, running back, receiver, cornerback and guard) lies at inside linebacker, where the Browns will have to trust that the scheme will help.
Because at inside linebacker they have one guy who struggled at times in 2013, and another who is a rookie.
The rookie is
Chris Kirksey
, a third-round pick who will be groomed inside and outside. The Browns surprisingly released
Quentin Groves
in the offseason, which meant Kirksey practiced at two spots after the personnel move.
Kirksey has the advantage of being a draft pick of this regime, but
Craig Robertson
has played. He started last season, and though at times he struggled in coverage, he does have game experience.
"I feel good about both those guys," Petine said. "Even if they end up sharing that job together, that makes both of them fulltime special teamers, which [special teams coach Chris] Tabor would be thrilled with."
July, 24, 2014
Jul 24
2:20
PM ET
ANDERSON, Ind. -- There was one substantial trade in the NFL last season. One that was supposed to give
Indianapolis Colts
quarterback
Andrew Luck
his complimentary piece in the backfield that he would team with for years to come. Too bad that hasn't happened yet.
The move to acquire running back
Trent Richardson
from the
Cleveland Browns
in September 2013 is not favoring the Colts so far. The more Richardson struggled last season, which was on a regular basis, the more he was criticized and the more Indianapolis general manger Ryan Grigson was questioned for making a trade that wasn't panning out.
[+] Enlarge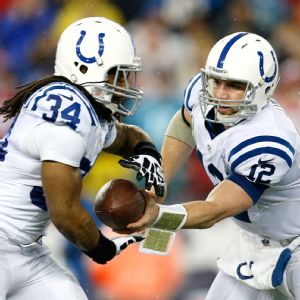 AP Photo/Michael DwyerTrent Richardson averaged only 2.9 yards per carry as a Colt last season.
Richardson was eventually benched and ended up averaging only 2.9 yards a carry last season.
To Richardson's defense, he was thrown on the field less than a week after being acquired, teams stacked the box at times, and he was running behind an interior offensive line that wasn't any good.
New season, fresh start?
That's what you would like to believe.
In Richardson and Grigson's case that has to happen. No more excuses. Richardson has had an entire offseason to familiarize himself with the offense, get in better shape and let his shoulder heal.
Richardson revealed for the first time Thursday that he had a chipped collarbone and his AC joint had separated last season.
"Toward the end of the season I felt a lot more comfortable, but the other time I was more injured," Richardson said.
Richardson's offseason, according to him, was spent working with his high school coach in his hometown of Pensacola, Florida, running the beaches, working his speed and learning the playbook like he's studying for the bar exam.
"He's a lot more comfortable," Colts coach Chuck Pagano said. "Basically it was survival for him at first, memorization. Now he has a better understanding scheme-wise, why we're doing things, why we're calling certain things, how we run plays. He has a better feel for guys he's playing with, the line, guy in front of him, the fullback. He's obviously in a much better place."
Richardson is expected to get the first shot at starting because not doing so would be a sign of admission of the trade not working in the Colts' favor. Don't expect the Colts to stick with Richardson in the starting lineup for as long as they did last season if he struggles like he did last season. He'll be pushed by
Ahmad Bradshaw
and
Vick Ballard
for playing time.
"I think through the course of camp it's all going to take care of itself, shake itself out," Pagano said. "You'd like to have a bell cow. We'll see if that happens…We'll do a good job of getting the guys the necessary reps to make evaluations. If someone separates himself and becomes that guy then that's your bell cow."
July, 24, 2014
Jul 24
1:19
PM ET
July, 24, 2014
Jul 24
1:03
PM ET
Ben Tate
doesn't see a ton of competition for the
Cleveland Browns
starting running back spot.
He clearly believes the job is his. In the offseason, Tate, who brings a bit of a 'tude to the arena after signing as a free agent, said there's nobody in the running back room who scares him.
Interesting, because the Browns are tremendously high on rookie
Terrance West
. West begins camp on the non-football injury list because he failed his conditioning test, but he is expected to be working on Saturday -- along with several other NFI players.
Tate
Tate, by his own admission, is penciled in as the starter. But West showed a lot of quickness and ability to plant and hit the hole in offseason work. That may not sound like much, but in the zone blocking system that stretches a play out, being decisive in mind and action is important.
Tate and West, barring an injury, will be the Browns' running back hydra, with the starter determined by who is playing best when camp ends. Tate is ahead, West has the opportunity to catch up.
It almost seems like the Browns will enter camp preparing to use both backs a lot. When asked about the spot, coach Mike Pettine said he would be interested to see how it played out for the third back spot.
Edwin Baker
,
Isaiah Crowell
and
Dion Lewis
figure to be the main competitors there.
Baker finished 2013 as the starter, which says something about the team's dedication to the run game. Lewis was the story of training camp in 2013 before getting hurt. And Crowell caught the coach and GM's eye in the offseason as an undrafted free agent.
The most encouraging thing is that the run game is being discussed as a viable, important part of the team. A year ago, it was, at best, an afterthought.
"I want to always have the ability to run the football," Pettine said. "You're in Northeast Ohio. Look at the division and a lot of your games are going to be played in not-so-great weather. If you run the ball well, that means you have a good offensive line, and if you have a good offensive line, you can also protect your quarterback.
"If you run the ball well, it also minimizes what the quarterback has to do. Put the best quarterbacks in the league constantly in third-and-7-plus, they're not going to be among the best quarterbacks in the league anymore. If you put them in third-and-2 to third-and-5, you're going to convert one heck of a lot more."
July, 24, 2014
Jul 24
1:00
PM ET
Johnny Manziel
on Wednesday reported for his first professional training camp with the
Cleveland Browns
' rookies, quarterbacks and other players recovering from injury, which means for Manziel and the Manziel-watchers in the world, things get really real immediately.
Manziel will compete with
Brian Hoyer
to be the team's starter, but Hoyer is the starter heading into camp.
How does Manziel win the job?
[+] Enlarge

Nick Cammett/Diamond Images/Getty ImagesKnowing the playbook and protecting the ball will be crucial for Johnny Manziel in training camp.

Be a gamer: NFL football is quite the interesting phenomenon. Players spend hours in meetings, they lift weights, they work out, they practice for hours and then they watch every single play of practice. And whether they make the team or don't comes down to a handful of plays in the third quarter of a practice game with the stands half full. Practice makes perfect, but how Manziel performs in a game will determine whether he starts. That means executing the offense with precision, and showing the knowledge required to read, understand and attack an NFL defense -- vanilla as it will be in preseason. Practices will matter, but the most important days of Manziel's first training camp will be in Detroit and Washington in the practice games.

Be ready: Know the playbook and the plays and the calls and the reads. There is not time for learning on the fly anymore. Jobs are at stake at every position on the field, and the team can't live with an uncertain quarterback botching the plays. This work had to be done in the offseason, and if Manziel didn't do it there will be issues.

Don't throw away a single rep: It would be interesting if every profession operated the way NFL teams do. Imagine the cashier filmed for every transaction, the placement of hands while giving change, the way he or she scans items. Imagine if the lawyer were videoed during every argument, an accountant during a tax audit. NFL players have every play, every snap scrutinized. If they mess up on the field, they hear about it after -- and they watch it. Manziel can't afford half-hearted plays or silly mistakes. He needs to be aware, smart and careful. It's not easy while trying to learn a new offense and teammates, but that is what is expected. There are no throwaway plays in training camp.

Protect the ball: Mike Pettine is a studier of the game, and he no doubt knows that a team that does not turn the ball over has a better chance to win. Since 1999, the year of the Browns' return, teams that had a turnover margin of plus-two in a game won 88 percent of the time (per profootballreference.com). Teams that had one more turnover than the opposition won 79 percent of the time. The fastest way for a quarterback to be shown the bench -- especially a rookie -- is to turn the ball over frequently in camp and in preseason games (vanilla defenses come to mind).

Ditch the parties; act like a professional: It might not be necessary to state this, because Manziel might have this planned regardless. But what has become clear about Manziel since he joined the Browns is that he knows how to have a good time. From town to town and beverage to beverage, he was a regular presence on the Internet. Manziel is not innocent in this either; he willingly posed or posted some of the photos. He can still enjoy himself, but nobody who puts the fun ahead of his profession succeeds in the long run. At this point, it's up to Manziel to show his teammates and his team that the parties were simply an offseason pursuit.
July, 24, 2014
Jul 24
7:36
AM ET
ESPN.com news services
Cleveland Browns star receiver Josh Gordon will appeal his one-year suspension in a meeting with NFL officials on Aug. 1, a league source told ESPN NFL Insider Adam Schefter.
Gordon, who is facing a yearlong ban after a failed drug test earlier this offseason, will file the appeal in New York, the source told Schefter.
Gordon, 23, spent two weeks in rehab in California after he was subsequently arrested and charged with driving while intoxicated and speeding in Raleigh, North Carolina, earlier this month, a source confirmed to Schefter on Thursday.
Fox Sports earlier reported Gordon's rehab stint.
The Browns open their training camp on Saturday, meaning they will have at least one more week of uncertainty regarding the status of the talented but troubled Gordon.
ESPN's "Outside the Lines" reported in May that Gordon was facing the suspension after failing the drug test months prior.
Gordon ran into more off-the-field trouble when he was arrested and charged with the DWI.
Browns first-year coach Mike Pettine acknowledged earlier this week that Gordon's situation is "concerning" but said that Cleveland still was awaiting the NFL's ruling.
"It is concerning and you want to address it, but until we know where he stands with the league we don't know really where he stands with us," Pettine said Monday. "I've stated before that we've had the meetings, we've discussed all the options, from the best case to the worst case. And we're still in that mode of waiting."
July, 23, 2014
Jul 23
9:00
PM ET
The party's over for Johnny Manziel.
[+] Enlarge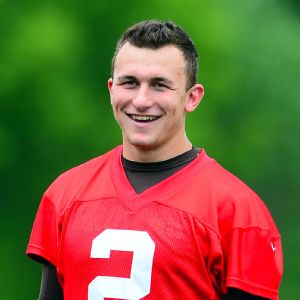 Andrew Weber/USA TODAY SportsThe Browns would do well to give Johnny Manziel time to develop instead of thrusting him in as a starter.
The offseason of Vegas-Austin-Mexico-Los Angeles clubs and beverages/bottles has concluded. The social media photos with rolled bills are complete. Manziel reported for his first NFL training camp on Wednesday in Cleveland to try to become the
Cleveland Browns
' starting quarterback. On Thursday, workouts begin. It's not exactly a brave new world for the Browns' first-round draft pick -- he did manage himself quite well in college during the season while having a good time in the offseason, thank you very much -- but it is a more challenging situation than anything he has dealt with in his life. The young wunderkind who was simply always better than those around him finds himself at a whole new level, having to earn his place in the world of professionals.
But while attention will be focused on his every move, his coach has made no secret he'd prefer Manziel not be the team's immediate starter. Coach Mike Pettine told SI.com that in his "ideal world," Manziel would not start on opening day.
Go figure.
The Browns, a team in need of a new image, excite the area and the football world by drafting the most exciting player eligible, and they want him to wait.
But there's sound logic and strong precedent behind Pettine's thinking.
He talks about success stories for people who wait to start --
Aaron Rodgers
,
Tom Brady
,
Carson Palmer
-- and compares them to guys he has seen rushed into the starting lineup too soon -- Kyle Boller -- for a team not good enough to support them.
That's a scenario Cleveland fans know all too well, as they have seen quarterback after quarterback forced into the lineup, only to struggle with a bad team and fail: Tim Couch, Brady Quinn, Charlie Frye and
Brandon Weeden
among them.
The other cycle that has been repeated in Cleveland is that a quarterback ballyhooed as a savior watches as the team drafts another. The public and media -- and eventually the team -- grow weary of the first "savior" struggling because the team is not equipped to help him. This starts the clamor for the next guy. He then is rushed in and struggles for the same reasons the first guy did.
Savior after savior has flamed out, quickly. Heck, a year ago in Cleveland,
Jason Campbell
was briefly considered a savior. He finished 1-7 as a starter.
"It's a bad cycle," Pettine said, "until you get the team around him."
Pettine has to balance a lot, starting with hype and expectation (multiplied exponentially because it's Manziel) that comes with any quarterback drafted in the first round. But he also has to balance what he has seen -- that a quarterback will struggle if the team around him struggles.
"There's no doubt [the quarterback is] the most important guy on the field," Pettine said. "But he's so much the product of his supporting cast."
In many past years, the Browns built the team from the inside out. Start with the quarterback and hope to add pieces. It can work, but the danger in that process showed constantly as a lack of a supporting cast left each young quarterback battered, shell-shocked and fragile.
Pettine wants to build from the outside in while still working with the best quarterback he can find.
That's why in the offseason the Browns rebuilt the running game with personnel and system. It is why they bolstered the offensive line, and why they've implemented a defensive scheme that has been successful everywhere it has been used. It's also why they brought in prominent defensive veterans
Donte Whitner
and
Karlos Dansby
, guys used to winning who might change the vibe in a locker room accustomed to losing.
The final piece was a quarterback to compete with
Brian Hoyer
. In Manziel, the Browns got a guy who threw for 7,800 yards and 63 touchdowns at Texas A&M, a guy who for whatever reason has become a social media phenomenon.
"I don't think even he can get a handle on the why," Pettine said
At this point in his NFL career, Manziel has done nothing but be successful in college. As any Browns fan can attest, college success and/or a college resume does not automatically translate to wins in the NFL.
Pettine said Manziel was a great teammate in the previous time he was in Cleveland, calling him "very humble." The typical litany of positives followed: good in the weight room, attentive in meetings, smart.
Pettine then added this tidbit: "I think he's ahead of the learning curve."
In the world of hype, parsing and interpreting what has formed around Manziel, that comment would translate on the conversion chart to: "Holy smokes this guy is good."
But there are many factors at play, not the least of which are the beliefs and principles of the head coach. In organized team activities and minicamps, Manziel had his moments but never consistently looked like a no-brainer to be the starter. He never played like a guy who immediately had to be put in the lineup. Manziel himself admitted the Browns' offense is a lot more complex than the one he ran in college, where he didn't even have a playbook. There's the reality that the Browns open in Pittsburgh and then play at home against the
New Orleans Saints
and the
Baltimore Ravens
. Those are three very tough, physical and aggressive defenses that might make a team hesitate to start a rookie.
Two things are steadfastly true, though. First is that if Manziel doesn't turn out the lights, his on-field party will be over. Because he won't be able to succeed on the field if he's living the extreme high life off it. Pettine said he expects the off-field to be a "non-story" soon.
The second is that Pettine is determined to not give Manziel the job simply because of who he is.
"It's very simple for us," Pettine said. "Who gives us the best chance to win?"
July, 23, 2014
Jul 23
7:43
PM ET
It isn't often that a guy from Cleveland agrees absolutely and completely with David Modell.
[+] Enlarge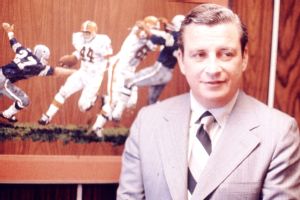 AP Photo/NFL PhotosAny follower of the Cleveland Browns should be disgusted with the incident that took place at Art Modell's grave.
But in this case he's right.
What was done at his father's grave
is vile, disgusting, ill-conceived and an embarrassment to any reasonable resident of Cleveland and any reasonable fan of the
Cleveland Browns
. To simply be associated by location with someone so proud of something like this prompts an immediate reach for the Lysol.
It's one thing to not like the fact that Art Modell moved his football team to Baltimore and left Cleveland without a team for three years. It's quite another to be so brazenly disrespectful and proud of it.
Any Cleveland fan should be disgusted that one man chose to urinate on Modell's grave, then post the video on YouTube. It's not funny, and it's not the kind of statement anyone should support.
David Modell pointed out that the grave belongs to his father, to a grandfather.
"Can any of your readers imagine, for one second, seeing someone do that to their parents' grave?"
he asked the Baltimore Sun.
"The act is so offensive, and I'd like to publicly say, isn't enough enough? When is enough enough."
He called it cowardice and "incredibly distasteful, revolting and mean-spirited."
He also said he would try to prosecute the unidentified fan, who has only a YouTube identity.
There's nothing funny about this. Nothing even close to OK.
And David Modell's question is appropriate. Isn't 19 years long enough? Shouldn't the anger nowadays be directed more appropriately at the string of ineptness since 1999?
When Art Modell died the outcry against him was so ugly in Cleveland that the team, at David Modell's request, declined to even acknowledge his death.
LeBron James
and Dan Gilbert apologized to each other. This happens at Modell's grave.
Enough is enough.
July, 23, 2014
Jul 23
4:13
PM ET
The
Cleveland Browns
will not have the last unsigned rookie in the league.
Cornerback
Justin Gilbert
, the eighth overall pick, agreed to terms Wednesday and should be on the field for practice when training camp opens to the public Saturday.
Gilbert
ESPN's Chris Mortensen first reported the contract. Spotrac.com reported the deal is for four years and $12.8 million, with a $7.65 million signing bonus.
Gilbert's presence completes the cornerback group, a postion "where we upgraded the most," Browns coach Mike Pettine said.
Given the additions elsewhere, that's an interesting statement.
Joe Haden
will be one starter. Gilbert and
Buster Skrine
will compete for the other spot.
Isaiah Trufant
and
Aaron Berry
will be in the mix. Pettine sounded intrigued with both -- especially Berry, a veteran who had off-field issues but is trying to resurrect his career.
"You'll enjoy watching him in camp," Pettine said. "If you don't see him, you'll at least hear him. He's got a lot of swagger to him. He'll definitely energize practice for us."
Pettine simply smiled when asked about Trufant and said he's a "good player." His body language and expressions were so positive it seems possible Trufant could be the nickel corner. He is a pure slot cornerback though, so he would compete at that spot.
The Browns have stressed competition, and Pettine is a huge believer that players who push each other make each other better. That's why Pettine is so happy to have Gilbert, and have him signed. Not only does the scheme demand aggressive cover corners, it adds depth and competition.
Skrine and Gilbert will push each other, with Trufant pushing both, and Berry evidently forcing his way into the mix.
July, 23, 2014
Jul 23
4:11
PM ET
Associated Press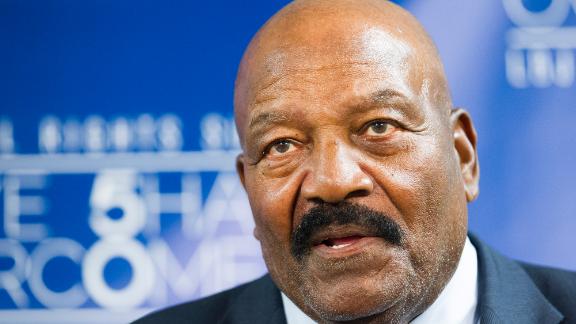 NEW YORK -- Hall of Fame football star Jim Brown is running out of time to retrieve his 1964 NFL championship ring and has sued a memorabilia dealer in New York.
The Los Angeles resident filed the lawsuit Tuesday in Manhattan federal court against Lelands.com and Lelands Collectibles Inc.
The lawsuit seeks to halt the sale of the ring in an online auction that ends Friday. It also seeks unspecified damages over broadcast remarks Lelands founder Joshua Evans made about Brown.
Evans says Brown's claims "are entirely without merit."
The lawsuit says the ring is priceless to the former Cleveland Browns player. The bidding was around $59,000 Wednesday afternoon.
Brown rushed for 12,312 yards and scored 106 touchdowns in nine seasons before retiring at the peak of his career in 1965.
July, 23, 2014
Jul 23
3:12
PM ET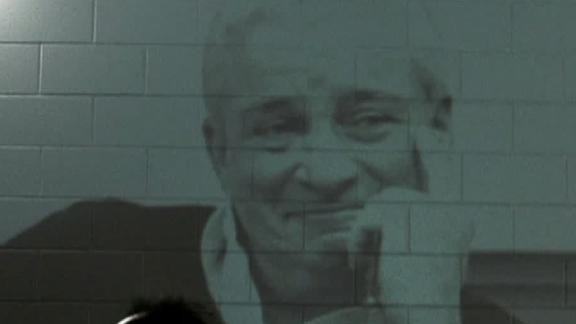 A Cleveland Browns fan posted a video on YouTube showing himself urinating beside Art Modell's grave in Pikesville, Maryland.
The unidentified man in the video, titled "Browns Fan 'Pays Respects' to Modell," arrives at the gravesite dressed in a Baltimore Ravens Ed Reed jersey.
He then pulls it off to reveal a Browns Lyle Alzado No. 77 jersey and apparently urinates on Modell's grave out of the bottom of his pants leg using a catheter.
Afterward, he speaks to the camera.
"You know, Art, when you ... tried to kill the Cleveland Brownie, you didn't do so good, the Browns fans wouldn't let you, you piece of s---," he says. "I'm in rat land, and I'm going to use the words you used a few years ago.
"As far as pissing on your grave, I had no choice."
When Modell moved the team to Baltimore in 1996, he said he had "no choice."
The video has received more than 10,000 hits. A spokeswoman for the Druid Ridge Cemetery told The Baltimore Sun that the Browns fan's decision to urinate beside Modell's grave was "disappointing and disrespectful."
Police did not immediately respond to the paper on the situation and its legality.
Modell died in 2012.
July, 23, 2014
Jul 23
11:01
AM ET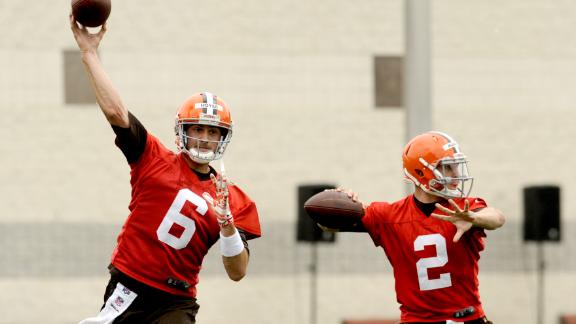 Brian Hoyer
took a grand total of five days off this offseason.
He probably would have done the exact same thing had the
Cleveland Browns
not taken
Johnny Manziel
in the first round of the NFL draft.
"He's a gym rat," coach Mike Pettine said.
The phrase is timeworn, but accurate. Because it sums up the work ethic and dedication of the Cleveland-area kid trying to hold off the challenge of the first-round pick to live his dream of starting for his hometown team.
In the team's first minicamp before the draft, Hoyer was a confident guy, talking about the Browns being his team until he was told otherwise. The night of the draft, he was part of the Manziel maelstrom, and affected by it much more personally than anyone. By the team's organized team activities, he was saying that the best thing he could do as a teammate would be to be the best quarterback he could be. By the end of OTAs, he was eager and anxious to have limitations removed as he recovers from a torn knee ligament that ended a promising 2013 season too soon. In the time between minicamp and training camp, he took a brief respite from rehab and work. But only a brief one.
He enters training camp as the Browns' starter, but he's as aware as anyone what it means to not only be competing with a first-round draft pick, but a first-round pick with significant cachet, resume and achievements.
Pettine, though, has seen no sign that any of the public chatter over Manziel has affected Hoyer.
"I think he's confident," Pettine said, "and I think he's getting his confidence through his preparation."
Which is where it all begins and ends with Hoyer, who learned from the best as
Tom Brady
's backup. Last season when he had three starts, he talked about being as prepared as he could be. This offseason, with or without Manziel, he's taken the same approach.
The Browns believe Manziel's presence will help Hoyer, will make him better by forging his competitive juices and focusing his already-strong drive.
"The alternative would be that we didn't draft Manziel and we took somebody in the fifth round," Pettine said. "Would Brian Hoyer be as good then as he would be after taking Manziel and having to deal with the circumstances that we're in?"
It's one of his core foundations -- competition makes people better. He has that at running back with
Terrance West
and
Ben Tate
, at cornerback with
Justin Gilbert
and
Buster Skrine
, at guard with four guys fighting for two spots. And at quarterback.
"There's no substitute for it, and there's no better motivator than competition," Pettine said. "If you're not willing to compete, then you shouldn't be here."
Hoyer seems to relish it. On a recent radio interview on ESPN's "Mike & Mike," he called the drafting of Manziel "a relief" because he then understood what he was facing. Manziel has talked about wanting to start, but while Hoyer has been spending time with his family and children, Manziel has been on the party circuit. Whether that matters remains to be seen.
Pettine does not hide from the reality of what it means to take a quarterback in the first round, especially one like Manziel. But he also understands why he was hired.
"We can't lose sight as a staff that it's very simple for us: Who gives us the best chance to win this coming Sunday?" he said.
He points out that nobody from the Browns on draft night said they had drafted their starting quarterback.
"There's so much credibility when he earns it on the field," Pettine said. "Sure, [Manziel] comes in here with an incredible background of being a playmaker and having success. But there's the question of getting it to translate to the NFL level.
"We're confident that will happen. That's the reason we took him. But at the same time we feel we have a quarterback here in Brian who can win games for us."
Pettine values mental toughness. And Hoyer has shown no sign of being rattled or shaken by the hoopla over the rookie. In fact, it might have honed his desire.
"To me," Pettine said, "you have to be the strongest guy on the field mentally if you're the quarterback. To me, if he had issues with that mentally then you would question, 'Does he have the wherewithal to be an NFL quarterback?' If he's going to let that bother him, you would question it.
"I'm not worried about it. I think that cream rises to the top."