November, 25, 2014
Nov 25
10:32
PM ET
Been traveling today so was a bit late getting to this week's ESPN power rankings, which again have the
Cleveland Browns
in last place in the AFC South despite an identical record to the Steelers and Ravens at 7-4 and having a convincing win over the 7-3-1 Bengals.
The
Browns come in at No. 16 this week
, one spot better than last week, and the worst among seven-win teams.
The Browns' rankings last four weeks have gone like this: 19, 11, 17, 16.
With a difficult December schedule looming, the Browns will earn any upgrades they get.
November, 25, 2014
Nov 25
4:00
PM ET
Every team in the AFC North is at least three games over .500, and every team has playoff hopes.
The situation will sort itself out the next five games, but studying the schedules of the Browns, Bengals, Ravens and Steelers shows that Baltimore has a clear advantage, and the toughest roads belong to the Bengals and Browns.
Not all agree it's that tough for the Bengals, though. The website numberfire.com lists the Ravens with the best chance of making the playoffs, though the Bengals are not far behind. Numberfire lists the Ravens with a 59-percent chance, the Bengals at 56 percent, the Steelers at 50 percent and the Browns at just 23 percent.
None of the four has an easy finish, though at this point of the season nothing is easy.
Here's a look:

The Baltimore Ravens
play San Diego, at Miami, Jacksonville, at Houston and finish at home against Cleveland. Those teams are a combined 26-29 (.472). ... Three games are at home, three against winning teams. ... Baltimore is the only North team whose remaining opponents are below .500. ... After winning on the road impressively in New Orleans, the Ravens have to feel they control their fate if they keep winning. ... The flip side: The opponent won-lost is skewed by one-win Jacksonville. But Baltimore plays just two teams that have won at least seven games, fewest of the North teams, and it has three of their last five at home.
The Cincinnati Bengals
play at Tampa Bay, Pittsburgh, at Cleveland, at Denver and end against Pittsburgh. ... Yes, it's as tough as it sounds. ... The combined record of those teams: 31-24 (.564). ... Three of five are at home, four of five against winning teams. ... How about that final four for a gantlet? Pittsburgh, Cleveland, Denver and Pittsburgh again. ... Splitting those four game might mean the Bengals miss the playoffs. ... Three are within the division, and Denver is among the AFC's best. ... This finish is the most difficult in the division.
The Cleveland Browns
play at Buffalo, Indianapolis, Cincinnati, at Carolina and at Baltimore. ... That combined record is 30-24-1. ... The Browns also play four winning teams, with three of the final five on the road. ... That the Browns are even in the discussion is good news for Cleveland, but now the Browns would like to finish the task they've started. ...It's not easy, especially since the Colts are one of the non-division games. That's an exceptionally tough late draw. ... The Browns would love to be alive for the season finale in Baltimore, but to do so they have to take care of business in three of the next four games. Buffalo is close to a must win.
The Pittsburgh Steelers
play New Orleans, at Cincinnati, at Atlanta and finish at home against Kansas City and Cincinnati. ... The combined record: 29-24-2. ... Three are at home, three against winning teams. ... Finishing at home the final two weeks helps, but Pittsburgh's hopes might come down to how they fare against Cincinnati. ... Do the Bengals split, or does one team escape with two wins? If the Steelers can sweep, that might propel them. ... The negative about the final two home games: They figure to be against two teams fighting for their playoff lives as well.
November, 25, 2014
Nov 25
2:20
PM ET
BEREA, Ohio -- A look at the
Cleveland Browns
' snap counts in their
26-24 win
over the
Atlanta Falcons
in Week 12:
OFFENSE (75 snaps)
Thoughts:
Gordon comes off a 10-game suspension, goes out and leads the team in receiver snaps, receptions and yards. Not many folks can do that, and it appeared Gordon was perhaps 85 percent of his former self. As he gets better, his production may as well. ... The Browns were careful not to oversell Gordon during the week, but they were wise not to limit him during the game. Credit to the coaching staff for not hesitating to play him. Credit to Gordon for being ready to go. ... The team still found plenty of snaps for Austin and Hawkins. Austin got 47 snaps after averaging 48.6 the previous five weeks. Hawkins' 46 were right where he'd been when healthy. Both were extremely productive, too, with Hawkins getting 93 yards and Austin coming up with two big catches in the game-winning drive. ... Gabriel's snaps were the ones that dropped, from an average of 46.6 the previous five weeks to 21 in Atlanta. This in no way diminishes Gabriel's contributions this season. He has been a find. But somebody's had to give. ... It did not feel like Crowell had 50 percent more snaps than West, probably because West had two more carries. Crowell clearly is showing that if he holds onto the ball, he is a dangerous, explosive back.
DEFENSE (71 snaps):
Thoughts:
There's no underestimating the contributions of Robertson in stepping in for
Karlos Dansby
and playing every snap -- and playing well. He proved a lot of people wrong. This Browns team really has done a fine job of having people step in when others were injured. ... Sheard made a surprisingly quick comeback from a foot issue, but Mingo had his best game given more playing time. ... The defensive line has been decimated, but the group that played limited Atlanta to 2.7 yards per carry and no run longer than 7 yards. ... Now the defense has to figure a way to replace Gipson, who was playing so well. The way his knee bent on that collision, he's very fortunate not to have a far more serious injury. ... Gilbert went from zero plays to eight.
November, 25, 2014
Nov 25
1:00
PM ET
A quick observation of quarterback
Brian Hoyer
and how he played in the
Cleveland Browns
' 26-24 win in Week 12:
Hoyer
The Bills shouldn't feel comfortable in the fourth quarter Sunday without a sizable lead. Hoyer can find scoring opportunities late in games, especially on the road. The Browns are 3-2 when Hoyer has the ball in the final three minutes with the chance to win.
Three-and-outs contributed to early-season losses at Pittsburgh and against Baltimore, but Hoyer's overall stat line in those pressure moments is 16-of-22 for 176 yards and one touchdown pass while setting up two game-winning field goals.
In the past two late-game road chances, both wins, Hoyer completed 3 of 3 passes for 29 yards and a score at Tennessee and 4 of 5 passes for 61 yards Sunday at Atlanta (coming after interceptions on back-to-back drives).
Want to know why Hoyer has kept
Johnny Manziel
on ice? Those numbers are why. He's able to shrug off bad play. Let's not call Hoyer the comeback kid, but he has done enough to make Doug Marrone think twice about giving Cleveland the ball late.
November, 25, 2014
Nov 25
12:13
PM ET
ESPN.com news services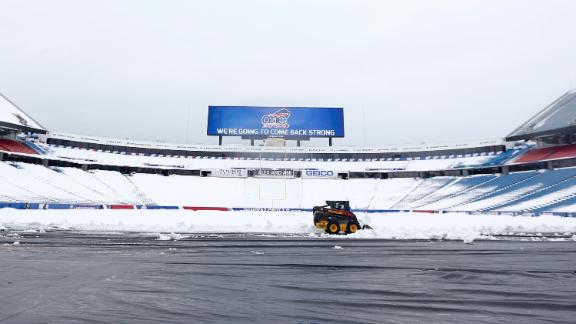 Ralph Wilson Stadium will be ready to host the Buffalo Bills' game against the Cleveland Browns on Sunday, team president Russ Brandon announced Tuesday.
He said he expects the stadium to be "100 percent operational'' on Sunday.
The team was forced to play Monday night at Ford Field in Detroit as Ralph Wilson Stadium had been snowbound from last week's severe lake-effect storms.
The Bills defeated the Jets 38-3 Monday night to improve to 6-5 this season. After the game, Bills coach Doug Marrone gave a ceremonial game ball to all of the first responders in Erie County who assisted during last week's snow emergency in Buffalo. There were none present in the locker room, but Marrone held up the ball for his players.
The Lions stepped up to host Monday's game, even going as far to paint the Bills' logos on the Ford Field turf and to set up a temporary locker room at their facility. Marrone thanked them after the game.
"I don't think we would have been as prepared if it wasn't how they opened their arms up this week to do everything to help us," he said.
A team official had told ESPN NFL Insider Adam Schefter earlier Monday, however, that the team would be able to return home on Sunday. Brandon made that news official Tuesday.
The Bills tweeted out a before-and-after picture of Ralph Wilson Stadium on Tuesday.
Brandon provided the update Tuesday after a tour of the stadium uncovered some minor damage from the storms that dumped more than 6 feet of snow on the Buffalo region last week.
November, 25, 2014
Nov 25
11:54
AM ET
Cleveland Browns
coach Mike Pettine made clear the Browns' concerns with the hotel lobby scrum that involved
Johnny Manziel
early Saturday are largely because of when it happened.
"We're never comfortable -- and I think [general manager] Ray [Farmer] alluded to it in our release -- with guys being involved in incidents that late at night," Pettine said
on the Mike and Mike show
. "We trust that they're going to be making good choices. The saying in the league, nothing good happens after midnight. That's certainly the case the closer you get to the game."
Manziel
The police report about the scrum indicated it happened at 2:36 a.m. the same day the team was going to fly to Atlanta.
Two vastly different versions of events have been published, with the person involved saying he was a fan trying to talk to Manziel and Manziel's agent saying the fan approached Manziel and a friend aggressively.
Either way, the team clearly is concerned that Manziel was in the position to be involved in something as 3 a.m. approached.
The concern is valid for a professional. It's never good when a player has an incident in the wee hours before he and his teammates are flying to a game. It's a spin off the old Irish saying: Don't be going out when you should be coming in.
Pettine was also asked if what happened would affect his decision to play Manziel, if he ever decided to do so.
He hesitated briefly before saying: "Unless something unforeseen comes up, given what I know it would not have an impact on any decision to play him."
This doesn't mean Manziel is about to see the field.
Pettine made it more than clear on Monday that
Brian Hoyer
is the Browns quarterback.
November, 25, 2014
Nov 25
10:55
AM ET
ATLANTA -- The
Cleveland Browns
drafted
Joel Bitonio
as a nasty finisher on blocks, but his 4.97 speed in the 40-yard dash might have saved the Browns' playoff hopes.
Bitonio was one of several Browns rookies to make huge contributions in the
26-24 win
against the Falcons. The starting left guard tackled
Devin Hester
on a return off a missed 60-yard
Billy Cundiff
field goal, stopping a touchdown as time expired at the half. Bitonio was the last line of defense in this case.
"Hall-of-Fame, greatest kick returner of all time versus slow, fat, left guard rookie and the guy [freakin'] makes the tackle," left tackle
Joe Thomas
said. "Unbelievable."
Added coach Mike Pettine: "That could end up being the play of the year for us."
Here's a look at rookies that played big Sunday. The Browns' success with rookies this season, mainly those outside the first round, has helped bolster a season ravaged by injuries.
Bitonio:
Did his usual work on the line that helped the offense post 475 total yards. A Pro Bowl appearance is not out of the question for Bitonio. Been steady all season.
Running backs Isaiah Crowell and Terrance West
: The tandem combined for 162 yards, with Crowell carrying lead-dog status after 88 yards and two scores, one of which was absurdly nice (
WATCH him redirect the play
when action behind the tight end block wasn't there). Crowell has taken ownership of the starting job, but the Browns still gave West more carries (14 to Crowell's 12). It's clear they believe in both players, even if Crowell has the edge right now. "I think he's figured out the practice part," said Pettine about Crowell, suggesting Crowell's lack of carries midway through the season was a byproduct of weekly preparation.
Corners K'Waun Williams and Justin Gilbert
: A sequence from the Falcons' game that probably deserved more focus was Williams on back-to-back corner blitzes to hit
Matt Ryan
on Atlanta's second-to-last drive. The second blitz knocked Ryan to force a wobbly airball that
Buster Skrine
almost intercepted. Williams said after the game those were his only two blitzes all game. Timely, indeed. The undrafted Williams was a brilliant find for Cleveland. Gilbert got more playing time because of the Falcons' three- and four-receiver sets, and he produced with a late-game stop on third-and-2 downfield, breaking up a Ryan lob pass down the sideline.
Linebacker Chris Kirksey
: His stat line Sunday didn't show it -- five tackles, no splash plays -- but Kirksey's development was a big reason why the Browns felt they could handle Atlanta without lead linebacker
Karlos Dansby
, who's injured. Kirksey has good range and plays the run well. He and veteran
Craig Robertson
were reliable up the middle in Dansby's absence.
November, 25, 2014
Nov 25
10:15
AM ET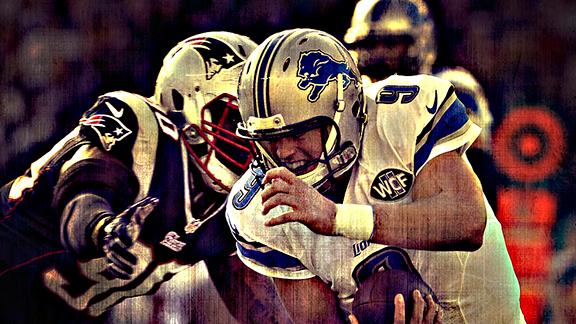 Let's take our weekly deep dive into the Sunday performance of five NFL quarterbacks, using data supplied by analyst Jacob Nitzberg of ESPN Stats & Information. After all, the numbers don't always speak for themselves. (For all Inside Slant posts, including the weekly QB Report,
follow this link
. For a full statistical breakdown of all NFL quarterbacks, see
ESPN.com's QBR page
.)
WEEK 12
CMP: 18
ATT: 46
YDS: 264
PCT: 39.1
TD: 0
INT: 1
WHAT YOU MISSED
Stafford completed just 18 of his 46 passes, giving him the lowest single-game completion percentage (39.1) in his career. How much of it was his fault? And how much of the blame falls on his receivers or pass protection? Here's what we found out: Of the 28 incompletions, 10 were judged to be over- or under-thrown in ESPN video review, tied for Stafford's second most in a game this season. Four of the incompletions were judged to be dropped and nine more were defended -- broken up, batted or intercepted -- by the Patriots. Both of those last two figures were season highs for Stafford. Seven of those defended passes were intended for receiver Calvin Johnson or Golden Tate. (Stafford targeted each of them with 10 passes and completed four apiece.) That provides a reliable explanation for most of the misses. Meanwhile, Stafford found himself under duress or hit on 10 of his dropbacks, third most for a quarterback in a game during Week 12.
FINAL ANALYSIS
When you throw 46 passes and complete only 18, there is plenty of blame to go around. Stafford's inconsistent accuracy was the biggest culprit, but the Patriots also played excellent defense. The drops, on the other hand, are best seen in context. Their total of 18 for the season is the sixth most in the NFL, but part of that is the result of 417 overall attempts, which ranks eighth in the NFL. The drop percentage, a more reliable measure, is 4.3 -- slightly higher than the NFL average of 4.0. Receiver drops shouldn't be disproportionately blamed.

WEEK 12
CMP: 38
ATT: 53
YDS: 349
PCT: 71.7
TD: 2
INT: 1
WHAT YOU MISSED
The Patriots used a pass-first approach against the Lions, but see if you can pick up on its true intent. Brady threw 11 screen passes and completed all of them, his highest total of both completions and attempts in at least five seasons. Of his 53 attempts, 29 traveled 5 yards or fewer past the line of scrimmage. Brady completed 25 of them, including 12 that were caught at or behind the line. Brady threw 21 passes on first down, tied for his most in a game this season, and converted eight first downs on those throws. He also completed 5 of 6 play-action throws on first down and 8 of 9 overall. The Lions backed off their blitz against him, sending an extra rusher on 15 percent of his dropbacks, and overall they pressured him on only 9.4 percent of his dropbacks, a season low for the Lions and for Brady. He was put under duress on five attempts, completing all five.
FINAL ANALYSIS
A week earlier, the Patriots defeated the Colts behind 201 rushing yards from power back Jonas Gray. They pivoted noticeably against the top rushing defense in the NFL, but they used their passing game often to simulate the run. The end result: The Patriots lit up the Lions for 34 points, more than twice their defensive scoring average entering the game.
WEEK 12
CMP: 17
ATT: 27
YDS: 130
PCT: 63.0
TD: 1
INT: 0
WHAT YOU MISSED
Cutler posted season lows in dropbacks, attempts, completions and passing yards for a game -- and it appeared by design. Playing against a defense that discourages downfield throws, Cutler attempted only three passes that traveled more than 10 yards past the line of scrimmage. His longest pass traveled 17 yards in the air past the line of scrimmage. The three attempts were Cutler's fewest in a game that he has finished since joining the Bears in 2009. His average air yards per throw was 3.85, by far his shortest this season and his second shortest in his Bears career. He attempted only five outside passes (passes thrown beyond the numbers). Entering the game, he had completed at least seven of those passes each week this season. He threw five play-action passes and three screens, completing all eight such throws. In eight red zone plays, the Bears threw only once -- the second time in as many weeks when they have run more often than passed in the red zone. The reverse had been the case the previous 10 weeks.
FINAL ANALYSIS
For at least one week, the Bears dialed it way back for a quarterback who entered the game with 17 turnovers. In the past two weeks, tailback Matt Forte has carried or caught a pass 60 times for a total of 287 yards. That makes sense, given Cutler's struggles and the arrival of December weather.
Cleveland Browns
WEEK 12 vs. ATL:
W, 26-24
WEEK 12
CMP: 23
ATT: 40
YDS: 322
PCT: 57.5
TD: 0
INT: 3
WHAT YOU MISSED
Hoyer's worst game of the season coincided with the return of downfield threat Josh Gordon from suspension. Hoyer targeted Gordon 17 times against the Falcons, completing eight but also throwing two of his interceptions on those throws. He threw downfield to Gordon -- at least 15 air yards -- eight times and completed two of them. Those 17 targets were tied for the most passes thrown to one player in an NFL game this season. Eight of his 17 incompletions were judged to be overthrows by ESPN video analysis, including two of his interceptions. In the red zone, Hoyer missed all six of his attempts, including one interception. His 0.0007 QBR in the red zone was the worst of his career. All three of his interceptions came against the Falcons' standard pressure, the same as his previous five this season. Hoyer had not previously thrown an interception against the blitz in 2014.
FINAL ANALYSIS
Did the Browns' eagerness to unleash Gordon knock Hoyer off his previously efficient game? It's difficult to dismiss that possibility as at least a partial explanation for his performance. Hoyer regained his composure to lead another game-winning drive in the fourth quarter, his fifth in 10 victories as a starter during his career, giving him a successful outcome with which to evaluate his approach.
WEEK 12
CMP: 17
ATT: 22
YDS: 211
PCT: 77.3
TD: 1
INT: 0
WHAT YOU MISSED
Wilson took seven sacks, tying his career high, and they came in a variety of ways. He spent an average of 2.56 seconds in the pocket per throw, his longest in a game this season, but three of the seven sacks came outside the pocket. The Cardinals blitzed him on 50 percent of his dropbacks, a season high for Wilson. They sacked him on three of those plays, but he also completed 11 of the 13 passes he got off against the blitz for 153 yards. When under duress, Wilson completed 5 of 6 passes for 70 yards and a touchdown. Wilson kept most of his passes short, attempting only three that traveled at least 15 yards downfield. Of his 211 passing yards, 138 came after the catch. He attempted a season-low seven passes to receivers and kept the ball on five of the Seahawks' 14 zone-read plays, accounting for 46 yards.
FINAL ANALYSIS
It's probably best to view the seven sacks as a byproduct of Wilson's ability to make plays against the blitz. When an opponent blitzes on half of your passing plays, you find any way you can to make it work. The Seahawks are more than happy to take the end result.
November, 25, 2014
Nov 25
8:00
AM ET
Happy early Thanksgiving!
Join us today at 1 p.m. ET, 10 a.m. PT for ESPN NFL Nation TV's Spreecast as episode No. 33 gives a Turkey Day preview, revisits
Odell Beckham Jr
.'s insane three-fingered catch, and discusses several teams' futures given the varying quarterback situations they have inherited this season.
Host Coley Harvey (
Cincinnati Bengals
reporter) and co-host Mike Wells (
Indianapolis Colts
reporter) will be joined by Michael C. Wright (
Chicago Bears
reporter), John Keim (
Washington Redskins
reporter) and Phil Sheridan (
Philadelphia Eagles
reporter).
Plus, Rob Demovsky (
Green Bay Packers
reporter) and Mike Reiss (
New England Patriots
reporter) will debate in this week's "Main Event" about Sunday's big game at Lambeau Field that will feature MVP candidates
Aaron Rodgers
and
Tom Brady
.
Viewers are encouraged to log in and ask the panelists questions as well as contribute
in the chat feature
.
November, 24, 2014
Nov 24
6:25
PM ET
It would be tough to find anybody who supports
Cleveland Browns
quarterback
Brian Hoyer
more than the man who matters: His coach.
Mike Pettine, speaking on a conference call the day after Hoyer survived a rough outing to lead a game-winning drive in Atlanta, said the Browns never thought of removing Hoyer for
Johnny Manziel
.
"We never considered it," Pettine said.
[+] Enlarge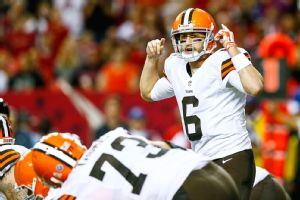 Kevin C. Cox/Getty ImagesBrian Hoyer threw three interceptions on Sunday, but still rallied his team to a victory at Atlanta.
The question lingers as long as Manziel is the backup, because there is always a vocal crowd ready for Manziel to play. But the blunt nature of Pettine's reply spoke volumes. And -- his statement related to football and not to the 2:30 a.m. fight at Manziel's downtown place of residence the morning the team flew to Atlanta (timing that is never ideal).
The Browns coaches believe in Hoyer, and Pettine made that more than clear. In the game, Hoyer threw three interceptions, struggled and afterward said he had let his team down. He also won.
"I'm proud of Brian," Pettine said. "He was very hard on himself after the game because I know how much he expects of himself."
Pettine said Hoyer was right to acknowledge his mistakes, and that it was time to move on to Buffalo -- the team Hoyer faced a year ago when he tore his knee ligament.
Sunday, Hoyer's final two interceptions nearly cost the Browns the game. One was in the end zone on first-and-goal from the 6, the next as the Browns clung to a two-point lead and tried to run out the clock.
Hoyer watched from the sidelines as the Falcons kicked a field goal to go up by one, took off his Browns hat and went on the field with 44 seconds left figuring he had nothing to lose.
He completed 4 of 6 passes on the game-winning drive, the last one with no timeouts. He immediately spiked the ball so
Billy Cundiff
could kick the game-winning field goal.
"The way he handled it was outstanding," Pettine said, adding it was a testament to Hoyer's mental toughness.
Players stood by Hoyer, with
Gary Barnidge
shrugging off two bad throws and
Andrew Hawkins
saying on a conference call that "I won't lose sleep over it."
He shouldn't. Hoyer has been sound, dependable and clutch this season -- with four fourth-quarter comebacks and five as a starter in Cleveland. Atlanta was the third time the winning score came in the final two minutes, the second in the final 10 seconds.
The Browns have not lost consecutive games this season and are 7-4 for only the second time since 1999.The team reported today that since 2013, the Browns average 22.9 points and are 10-4 in Hoyer's starts, and average 17.6 points and are 1-12 in other games.
It's easy to pick at a guy for what he doesn't do, and Hoyer himself would admit he has areas he can improve. Pettine -- rightly -- prefers to focus on what Hoyer can do, what he does well and what he brings to the team.
"I think the guys realize we wouldn't be where we are without Brian," Pettine said.
Where the Browns are is 7-4, one-half game behind Cincinnati in the AFC North. They are one of four teams not in first place at 7-4, with 6-4 Baltimore playing New Orleans Monday night.
"The bottom line is we got to keep winning," he said.
Without hesitation or equivocation, and with firm trust and confidence, Pettine believes that Brian Hoyer gives the team its best chance to do that.