October, 24, 2014
Oct 24
6:00
PM ET
Oakland Raiders
coach Tony Sparano would not commit to whether cornerback
D.J. Hayden
will be activated off the physically unable to perform list by Saturday, which would enable him to play Sunday at the
Cleveland Browns
.
However, Sparano did say Friday that Hayden is "good to go," and the Raiders are expected to make two roster moves by Saturday. Defensive end
LaMarr Woodley
(biceps) and safety
Usama Young
(knee) are expected to be put on injured reserve list so the Raiders can make two additions.
The Raiders will likely make at least one practice-squad promotion. If healthy, it makes sense that Hayden is part of the transactions.
The Raiders have 12 days to either activate Hayden or put him on injured reserve. The activation of Hayden, who broke his foot in June and returned to practice nine days ago, appears inevitable.
Meanwhile, defensive end
Justin Tuck
didn't practice because of a knee injury Friday and is questionable to play Sunday. He didn't play in Week 7, but he practiced the past two days. Sparano said tight end Davis Auberry (foot), receiver
Vincent Brown
(hamstring) and cornerback
Keith McGill
(groin) will not play against the Browns. None of those decisions are surprises.
Sparano wouldn't say whether
Menelik Watson
or
Khalif Barnes
starts at right tackle. Barnes is back practicing after missing two games with a quad injury. Still, Watson, a second-round draft pick last year, has played well in Barnes' absence. It would be a surprise if Watson didn't start.
Also, as part of changes under Sparano, the Raiders will not hold a walk-through practice Saturday. All of the team's Saturday work will be in meetings.
The team flew to Cleveland on Friday
October, 24, 2014
Oct 24
5:25
PM ET
If the
Cleveland Browns
ever call to the bullpen at quarterback, the season will get weird in a hurry. But that's not a reality this week.
As written here
,
Brian Hoyer
struggling against Oakland and Tampa Bay would qualify as a three-week stretch of bad play against inferior opposition, which might --
might
-- be enough to nudge coach Mike Pettine to change. But Browns coaches don't foresee that.
Johnny Manziel
said Friday that he's the backup and "that's that." He knows nothing he says right now helps him or helps the situation, so he's not about to call for himself to play, even if he believes he could do better.
West
Crowell
Tate
The position that gets the most run in this offense is running back, and the competition remains as open as a soft spot in the zone. Kyle Shanahan said it Thursday, and running backs coach Wilbert Montgomery punctuated it Friday.
"Someone has to take charge," Montgomery told ESPN. "At some point you have to say, 'The job is mine.'"
The workload suggests
Ben Tate
is the primary option, with 63 carries in the three weeks since returning from injury. He's reliable. He doesn't fumble. He was strong in back-to-back games against Tennessee and Pittsburgh, recording 202 yards and two touchdowns on 47 carries.
But Tate did little to set up the passing game in Jacksonville, where the Browns lived in second-and-9 and third-and-8. Tate finished with 36 yards on 16 carries, signaling a drop-off in each of the last three weeks.
Undrafted rookie
Isaiah Crowell
leads all rushers with four touchdowns but he's still trying to wash the stain of three fumbles against Pittsburgh. Third-round rookie
Terrance West
watched his workload dwindle since his 168 combined yards in Weeks 1 and 2. In Jacksonville, West got back-to-back carries on second-and-2 and couldn't convert.
Still, the Browns are high on the potential of both rookies. If they weren't, Tate would have closed the door on the competition two weeks ago. All three want to be the workhorse, Montgomery says, but he doesn't know who will get there first.
"I think they've all got their own qualities," Montgomery said. "It can happen at any time. I've always said, you've got to get a hot hand. You've got to break a run for 7 or 8 yards and you've got to come back and get another one for 7 or 8. You've got to separate yourself from the other guys.
"Ben is the veteran of that group, but at some point you want to decide on one guy and let him ride. You're looking for it."
My take: Coaches are publicly trying to motivate Crowell/West, who are still adjusting to life as professionals. The coaches didnt seem keen on West's comments earlier in the week that running backs need a rhythm to feel out a defense, and they are pouncing on it. Crowell and West offer big-play ability. Tate offers dependability. Why can't they have both? Not sure one guy needs to shoulder the entire burden. Two-back systems thrive in the NFL, so by November there might be one player left out.
October, 24, 2014
Oct 24
3:14
PM ET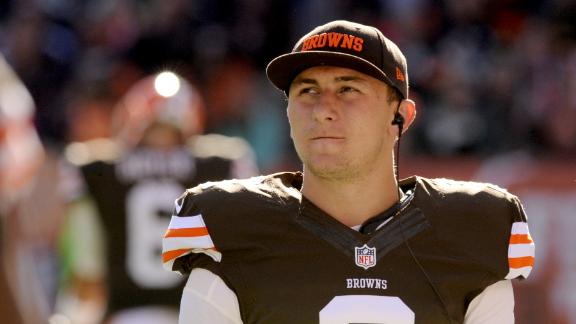 BEREA, Ohio -- Johnny Manziel plans to attend the Cleveland Cavaliers' home opener Thursday against the New York Knicks to support friend LeBron James, who keeps in touch with the Browns quarterback.
Manziel is still the Browns' backup to Brian Hoyer, who's led Cleveland to a 3-3 record.
"He's done a good job, which I'm thankful for, of kind of checking in on me, making sure things are good," Manziel said of James. "I've gone out to his house a couple of times and gotten the chance to kind of get away and relax."
Manziel, who has signed a marketing deal with James' longtime partners LRMR and Maverick Carter, said he's spent time observing how James "goes throughout every day of his life" for pointers on how to navigate professional sports life.
Manziel hasn't seen a snap in three games and it's uncertain when he will next. He doesn't seem to be clamoring for attention during his time in the shadows.
"There's been enough drama around me and my life for a couple of years now," said Manziel, a lightning rod for publicity ever since his Heisman Trophy-winning campaign in 2012. "For me, I know whenever camp was over, when we got into the roles of who was going to play what role, Brian was named the starter, I was named the backup.
"Now I need to play my role of being the backup and that's that."
October, 24, 2014
Oct 24
3:11
PM ET
BEREA, Ohio -- The
Cleveland Browns
likely will have defensive lineman
Ahtyba Rubin
on the field when they play the
Oakland Raiders
on Sunday.
"He's had a good week," said coach Mike Pettine. "He feels good. He's been cleared. Obviously feel real good about him."
Rubin missed the last two games with an ankle injury, but though Rubin is a confident guy, don't expect the return of one player to be a panacea for the Browns' ailing run defense. In the four games Rubin played, the Browns gave up 152.5 yards rushing. For the season, they are giving up 155.5 yards. Improvement has to come from more than just one guy.
Pettine also said he had decided who would start at center and right guard, but declined to name them, citing a strategic advantage in withholding the information until Sunday.
John Greco, who started at center following the injury to
Alex Mack
, said he got reps at center and right guard, but didn't know how the Browns would line up. The team has until Saturday at 4 p.m. if it wants to activate Nick McDonald off the non-football injury list.
Backup safety and designated punt-catcher
Jim Leonhard
missed Friday's practice after hurting his ankle in practice on Thursday. Pettine said he expected Leonhard would play.
There's a chance
Billy Winn
could return from the quad injury that sidelined him for two games. Winn practiced Friday, and if healthy, he could improve the depth on the defensive front.
October, 24, 2014
Oct 24
1:19
PM ET
BEREA, Ohio -- If
Johnny Manziel
was going to get any game action last week at Jacksonville, it would've been fairly brief and at the end of a game already out of hand.
Manziel
Offensive coordinator Kyle Shanahan said Thursday playing Manziel was discussed only "toward the last drive."
Cleveland Browns
coach Mike Pettine said earlier in the week coaches briefly discussed playing Manziel for a series or two but decided to let starter
Brian Hoyer
finish the game strong.
"Once the game is over, then you always discuss putting in your backup players, not just at the quarterback position but all the positions," said Shanahan, referring to the Browns' 24-6 loss. "We did discuss it as the game dwindled down. Then once they got a first down, we knew they were going to be able to run the clock out, so it quickly ended."
If the Browns blowout the Raiders on Sunday, getting Manziel some garbage snaps could be valuable. He gets limited reps during the week. The Browns simply won't know what they have in Manziel until he sees live action.
Manziel would've had a chance to spark the Browns, Shanahan said, in part because "none of us played well" Sunday.
The Browns work a Manziel package -- a group of plays designed for Manziel to utilize his skill set in brief relief of Hoyer -- every week in practice, but haven't played Manziel in three weeks.
"We try to put him in all those situations so that when the time comes, he is ready," Shanahan said. "We've gotten him in for a series once this year. Like I say every week, there's always a possibility (that) we could get him in. Hopefully when the time does come, he'll be ready."
My take
: Whether Manziel played a snap or 10 snaps wouldn't have created any threat toward Hoyer. Manziel is still spending three hours every Sunday with a towel around his neck and a headpiece in. If the Browns don't see a Hoyer bounce-back against Oakland and Tampa Bay, inherit pressure will be inevitable because this is the situation the Browns created with their draft selections in May. But expecting three straight duds from Hoyer seems unlikely because of the inferior competiton. The Browns have enough offense to thwart the Raiders and Bucs.
October, 24, 2014
Oct 24
1:00
PM ET
Losing to the
Jacksonville Jaguars
raised eyebrows around the league and ruffled the confidence of the Browns, a team desperate to prove it is not the "same old Browns." The Browns firmly believe they have the talent and ability and plan to win this season, but until they actually do it, the questions will linger.
In Jacksonville, the Browns said they faced a team whose strengths matched the Browns, and the Jaguars played better. Against Oakland, they face a team whose weaknesses counter the Browns' strength. Oakland has trouble stopping the run, which should help an offense that struggled against the Jaguars precisely because it could not run the ball. The Raiders are yielding 145.3 rushing yards per game, which is 29th in the NFL.
The Browns get back to their foundation against Oakland. They run well and
Brian Hoyer
plays well. And the home crowd helps.
Prediction:
Browns 27, Raiders 14.
October, 24, 2014
Oct 24
12:24
PM ET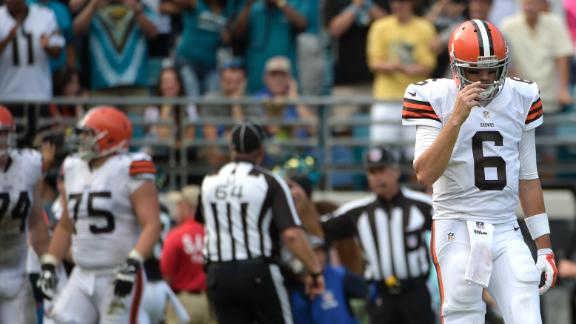 BEREA, Ohio --
Brian Hoyer
is finding out what life is like for a
Cleveland Browns
quarterback.
Win, and he's celebrated. Lose, and he's suddenly asked about the backup. It's happened for 15 years in Cleveland, since Ty Detmer was given one game to hold off Tim Couch in 1999.
With Hoyer, the scrutiny becomes more intense because his backup is the darling of Instagram,
Johnny Manziel
, a guy who threw for 7,000 yards in college. That increases the scrutiny exponentially, which Hoyer learned in training camp.
Now the chatter about Manziel arises again after what Hoyer called the first bad start of his career. It's not even stopped by coach Mike Pettine, who said that Hoyer is still "firmly" the team's starter.
Which raises the question: How committed should the Browns be to Hoyer? How long is his leash? And how long should it be?
Browns reporters Jeremy Fowler and Pat McManamon take a look at that bubbling issue:
Pat McManamon says
:
Hoyer
If the Browns backup's last name was anything other than Manziel, this discussion would not take place. If Hoyer played anywhere other than Cleveland, this also might not be a discussion.
Hoyer simply has to deal with this.
What's lost in the discussion is the judgment that's made about every backup in the league, that the backup will be better than the guy starting.
It's illogical. No coach should keep a player on the bench if he's clearly better than the starter.
Manziel is still working in a vastly different environment than what he did in college. In his preseason playing time, he struggled. Watching has no doubt helped Manziel grow and better understand the system, but he still is a rookie going from a fast-paced, one-read, one-side-of-the-field system to one that has paragraph-long plays.
Hoyer had one bad game. He admits it. But one bad game does not make a guy a bad player. Nor does it suddenly mean that a coach who a week earlier was praised for beating Pittsburgh has suddenly lost his mind.
Hoyer deserves to remain the starter until his bad games become a pattern, or until the playoffs are out of the picture. At that point seeing what Manziel offers is logical. But seeing what a guy can do does not always equate to trying to win.
The Browns have suffered too long with knee-jerk reactions and short-term quarterbacks.
Hoyer deserves the long term -- along with the team and the fans.
Jeremy Fowler says
:
Manziel
The Browns were never going to pull Hoyer after one bad game, just like they weren't going to sign him to a lucrative contract after five good ones. Have to let this one breathe a bit until Browns coaches know exactly what they have, good or bad.
But the way the schedule is set up, it's difficult to imagine Hoyer struggling three straight weeks, and the Browns not at least giving Manziel serious consideration in meeting rooms. In other words, the leash is three bad games in a row.
Jacksonville (last week), Oakland (this week) and Tampa Bay (next week) are all considered inferior talent. Can't lose to all three. Can't look skittish against all three.
Even then, would the Browns want to start Manziel at Cincinnati on a Thursday night? Maybe, at 3-5 by that point, the Browns would be in season-salvage mode, with which Manziel would be happy to help.
Hoyer's three-game leash is based on a few factors -- the equity he built up with five good games, Pettine's soft spot for Hoyer and the Browns' dump-happy nature with quarterbacks that has plagued the franchise.
Still, if Hoyer continues to struggle but finds a way to beat Oakland or Tampa Bay, the Browns would be .500 with eight games to go, setting up nicely for a veteran to manage the season. Hoyer should be able to handle that, right?
Crucial times in Berea, no doubt. Maybe the solution is playing Manziel for a series or two if the Browns find themselves in a significant hole again. You wouldn't be pulling Hoyer outright but could see what type of spark Manziel is ready to provide.
Everyone wins.
October, 24, 2014
Oct 24
8:00
AM ET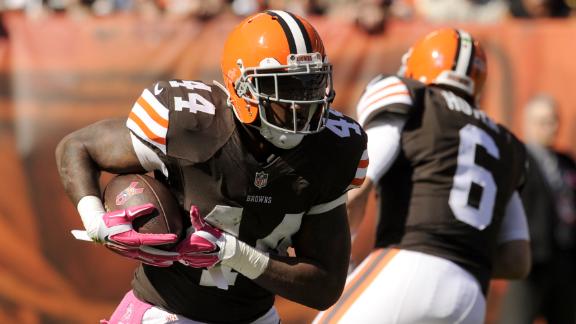 The
Cleveland Browns
face their second winless team in a row Sunday at 4:15 p.m. ET at FirstEnergy Stadium. Last Sunday in Jacksonville, the Browns took the Jaguars from the winless column, as the Jags completely outplayed the Browns.
Now the
Oakland Raiders
come to Cleveland. Oakland rookie
Derek Carr
is the starting quarterback and the long-term answer, while
Brian Hoyer
is trying to right his ship so he can keep staving off the more-celebrated rookie,
Johnny Manziel
.
The Browns won't want to lose two in a row to winless teams. The Raiders will want to win a stinking game. Browns reporter Pat McManamon and Raiders reporter Bill Williamson take a look at Sunday's game.
McManamon:
Everyone asks me about Manziel, so I'll ask you about your rookie quarterback. What's your assessment of Carr, and can he be the long-term answer Oakland has long sought?
Williamson:
I think, yes, Carr can be the long-term answer. I think the Raiders think so as well. He may not ever become elite, but he could be a guy who goes to more than a few Pro Bowls and who gives his team a chance to win for the long haul. The Raiders aren't 0-6 because of Carr. He shows great poise and, when the Raiders get more talent around him and when he gets more experience, he could be dangerous. Finally, the Raiders look like they have a quarterback they can build around.
Are the Browns worried about Hoyer's poor game against Jacksonville? Do you think it's a sign of things to come?
McManamon:
It could be, but not because of that one game but because of the past three. Hoyer started very well, with more than 60 percent on completions in three games (two close losses and one win). Since, he has been below 60 in one game, below 50 in the next and his completion percentage for the season is just below 56, that's not trending well. Whether this is one of those mini-slumps that affect a guy during a season or a sign that defenses have figured out how to defend him will play out over the next two or three weeks. The Browns say they are not worried about Hoyer, but the concern will grow if he continues on the same path against Oakland and Tampa Bay.
The Browns and Raiders have been neck-and-neck in the past decade for clumsiness and ineptitude. Is there a reason to believe the Raiders are finally getting it right, or will the fire drill continue?
Williamson:
Other than the hope for the quarterback, no, there isn't any reason to think this team is turning the corner anytime soon. They are 0-6 and have holes everywhere. Add in the fact that they are the NFL's oldest team and there are big long-term problems, the Raiders will start over again in the offseason. With luck, maybe they will be three years away. But they were supposed to be three years away when Reggie McKenzie took over a general manager in 2012. Little if any overall progress has been made.
Do you think the Browns have figured it out or do you think the playoffs are still a long way off?
McManamon:
They're figuring it out, but until they actually do it the playoffs are a distant dream. Mike Pettine's moves make sense. The Browns run the ball well, and they have some talented people to build around. But the nagging quarterback question popped its head out of the gopher hole last week, and the defense is giving up 155.5 yards per game rushing. GM Ray Farmer does not try to prove he's the smartest guy in the room; he merely makes logical decisions. On that hope and on the hope that Jimmy Haslam will probably give Pettine time, there is hope.
Williamson:
What is the vibe around the Browns after that loss? They have to be a little tight about the prospect of losing back-to-back games to winless teams.
McManamon:
The mood was pretty somber early in the week. A team desperate to prove it has grown past these gaffes laid a gigantic egg in Jacksonville. If the Browns truly had turned the corner to respectability, they'd have handled business. That they didn't, raises concerns. But teams have lulls in seasons. The Browns' job now is to prove that game was just "one of those days" and show they can rebound. They do have two very real chances to get that done the next two weeks. If the Browns do take care of things against the Raiders and Bucs, they'd be 5-3 at the midway point and very happy about what they'd done to that point.
Jacksonville won their first game last week, naturally over the Browns. Do the Raiders believe they can match the magic in a road game?
Williamson:
There is hope. Oakland interim coach Tony Sparano mentioned the Jacksonville win Monday. There is a lot of hope in the locker room. I will say this: The Raiders are professional. They work hard and they try. The team has not quit. They will go to Cleveland with the intention of winning. But can the Raiders finish? They have competed in the two games since Sparano took over for the fired Dennis Allen. But they haven't played well enough to win. If the Browns stumble around the field, though, Oakland could perhaps take advantage.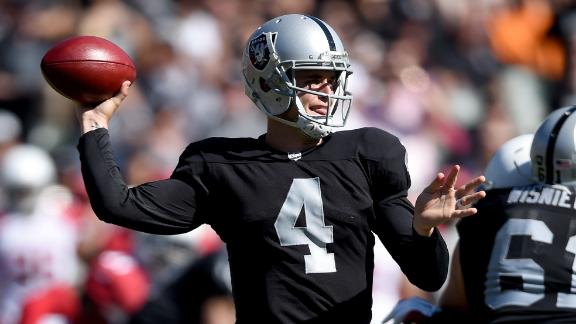 October, 23, 2014
Oct 23
6:37
PM ET
BEREA, Ohio -- Offensive coordinator Kyle Shanahan indirectly fired some pointed remarks to the
Cleveland Browns
running backs on Thursday.
Shanahan described the play of
Ben Tate
,
Terrance West
and
Isaiah Crowell
as "solid" and added "all have done a good job." But he wants more.
"I would love for one to step it up and separate himself from the others," Shanahan said.
Tate
West
Shanahan's comments came in the context of discussing the team's three-headed rotation. It's a system that doesn't necessarily make all the backs happy, but it's a system the Browns are using.
"We got a bunch of solid guys who do a good job," he said. "For one of those to get the bulk of the carries and take off, then that's up to them. They got to show us they're ahead of the other guys."
Shanahan does not buy that rotating backs might be an issue.
"I don't ever worry about running backs getting into a rhythm," he said. "They're not quarterbacks. When you hand them the ball they better run hard and do as good as they can. If they want to be out there more they need to separate themselves and show that they're better than the other guy, and we'll keep them out there more.
Which would indicate that nobody with the Browns has separated himself. In six games the play breakdown has gone 150 for Tate, 135 for West and 125 for Crowell. Tate missed two games because of injury, West was inactive for one.
Tate signed as a free agent in the offseason, ostensibly to be the team's starter. He had 124 yards against Tennessee in his first game back after a knee injury, but has gained just 114 in the two games since. West is a third-round pick whose sideways running in Jacksonville set him back. And Crowell is an undrafted rookie who has had impressive moments.
"I've never had to rotate a bunch of running backs, because usually I've had a running back who's usually able to separate himself from the others," Shanahan said.
In Washington the past two seasons it was
Alfred Morris
, who had 611 carries. Before Morris arrived Shanahan did not have a standout back, but did have a back who had at least twice as many carries as the others. In Houston in 2008, Steve Slaton had 268 carries, with the next highest amount guy at 74.
For the Browns, Tate has 69 carries, West 59 and Crowell 51.
Average it out by games played and Tate is at 17, West at 12 and Crowell at 8.5.
That tilts toward Tate, and seems comparable to Morris averaging 19 carries per game the past two seasons. But Morris averaged 90 yards per game while Tate has averaged 70 (with one game cut short by injury).
Shanahan said he's ready, willing and anxious for one guy to separate from the pack.
"When one guy does a lot better than the other guys, it means one guy's the man and you're going to ride that guy," he said. "I think all of our guys are solid. They've all done a good job. I would love for one to step it up and separate himself from the others."
October, 23, 2014
Oct 23
6:14
PM ET
BEREA -- Cleveland Browns defensive tackle Ahytba Rubin, who's missed the last two games with an ankle injury, said Thursday he expects to be a game-time decision. His presence would help a struggling run defense and could impact Oakland Raiders running back Darren McFadden, who rushed for 48 yards and a touchdown last week against the Arizona Cardinals.
Rubin said he will test his ankle in pregame, before putting on pads, to make sure his explosion off the line of scrimmage will be there. He thought he'd play last week but couldn't get ready in time. He's been limited in practice all week. The Browns are already missing defensive lineman Phil Taylor to a knee injury.
"I consider myself pretty good at the run-stopping," Rubin said. "When I'm out there, that's a big piece of the puzzle that's missing."
The Browns have given up a league-worst 155.5 rushing yards per game but held the last two opponents to a combined 10 points for much of the game (the Steelers and Jaguars both scored in garbage time). Rubin credited Ishmaa'ily Kitchen for filling in admirably.
"When I go back in there, I know I'm going to go in and be dominate like I was when I left, make plays, run around and have fun," Rubin said.
In other injury news, defensive lineman Billy Winn is still limited in practice with a quad injury but nickel corner K'Waun Williams, who missed last week with a concussion, was a full participant.
October, 23, 2014
Oct 23
3:45
PM ET
The
Cleveland Browns
' matador approach to rushing defense is not sustainable for winning football over 16 games, something defensive coordinator Jim O'Neil acknowledges.
The Browns are last in the league with 155 yards allowed per game, but at least they have been consistent -- consistently allowing big gains for opponents. The Browns' best rushing defense effort was 127 yards allowed in Week 1 against Pittsburgh. That number would be good enough for a 25
th
ranking among NFL teams' current season averages.
Two NFL rushing defenses have failed to record sub-100-yard games -- Green Bay and Cleveland. Only one of those teams has elite quarterback play to mask defensive problems.
The league average is 112.2 rushing yards allowed per game.
"I'm confident we can get it fixed," O'Neil said. "We understand it's an issue."
Taylor
Rubin
To be sure, the Browns have been without two starting linemen,
Phil Taylor
and
Ahtyba Rubin
, for a few weeks. Rubin could be back for the Oakland game. Considering Buffalo's defense gave up nearly 130 yards per game last season, perhaps coach Mike Pettine's 3-4 scheme sometimes concedes rushing yards in exchange for red-zone or deep passing stops, depending on the gameplan that week. Pettine takes over a new defense for the second time in two years. Adjustments take time.
The Browns faced top-five rushers (Pittsburgh's Le'Veon Bell, Baltimore's
Justin Forsett
) in three of their six games; No other opponent had a top-40 rusher.
Jacksonville's
Denard Robinson
looked like 2009
Maurice Jones-Drew
against the Browns last week. Before Robinson's 127 yards, no Jacksonville back had compiled more than that in five total games. At this rate, the Browns' old friend
Trent Richardson
will get 100 in Week 14.
Despite all that, the Browns played well enough to win Sunday and held Jacksonville to 10 points for most of the game.
O'Neil wants better math on the field -- defensive linemen taking up two blockers to give linebackers a free lane to stop the rusher.
If there was ever a week to get that done, Oakland week is it. The Raiders' 69.3 rushing yards per game is last in the league by a 13-yard margin. And the Browns' secondary has had a good two weeks. Reading the tea leaves in recent weeks, I get the sense the Browns know they have suffered up front because of the injuries and there haven't been as many free lanes for
Karlos Dansby
and the linebackers to attack early in the play.
"I'm not saying what we've done and what we've put on tape is acceptable," O'Neil said. "We want it to be better than where it has been. I'm not going to sit up here and say our game plan is for them to allow them to rush for 130 yards."