Cleveland Browns:

Buffalo Bills
October, 5, 2013
10/05/13
1:00
PM ET
Two quarterbacks went down in Thursday night's game in Cleveland, one lost for the season and the other for a month to six weeks.
This is life in the NFL, where a quarterback who does not go out of bounds immediately risks his livelihood.
[+] Enlarge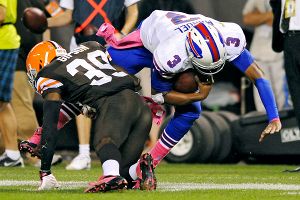 AP Photo/David RichardTashaun Gipson's hit on EJ Manuel didn't look dirty, but his antics afterward weren't necessary considering the Bills QB was injured on the play.
But the Bills had a bigger complaint regarding how the Browns conducted themselves after the injury to their quarterback,
EJ Manuel
. They may have a point.
Neither the Browns nor the Bills thought the hits by Buffalo's
Kiko Alonso
on
Brian Hoyer
or Cleveland's
Tashaun Gipson
on Manuel were dirty.
"I don't think there was any intention there," Browns coach Rob Chudzinski said. "Brian was sliding and as he was sliding there was contact. That was just an unfortunate thing. I think he just got caught up."
The hit was high, to Hoyer's shoulder, so it will be interesting to see what the league decides after it reviews the tape. Viewed at full speed, it did not seem dirty.
Nor did Gipson's, which took place on the sideline as Manuel was running and about to head out of bounds. Gipson did his job and tackled Manuel, but he went low. The days of running through a player to get him out of bounds or simply pushing him out are apparently over.
The contact with Manuel's knee was traumatic and led to a sprained ligament.
"It's the game of football," Gipson said. "Things like that happen."
What didn't need to happen was for Gipson to stand and gesture with his arm toward Manuel as he lay on the ground clutching his knee. Gipson admitted that gesture "didn't suit it well," and he's right. It didn't.
It wasn't too long ago when the Browns and their fans were irate when
Hines Ward
stood and stared at
Earl Little
after knocking him out on one of Ward's patented blocks. Gipson seemed to celebrate the injury.
The Bills were in his face afterward, and the next day center
Eric Wood
called the way the Browns acted after the hit "classless." One Bills player accused Browns safety
T.J. Ward
of saying to Alonso that he "told him to warn [Manuel] that we were going to get him."
Ward denied saying anything of the kind, calling the claim "completely inaccurate."
Pressed on whether he said anything at all, Ward said: "No, I didn't."
The Bills' reactions on the field might indicate otherwise. They were in the faces of the Browns defenders for several plays after the injury -- and especially after the extra point following the touchdown set up by Manuel's run.
Gipson intimated that there might have been a one-for-one discussion.
"Our quarterback took a shot, their quarterback took a shot," he said. "Not to say that we were trying to one for one, but it's the game of football."
Who's right on the claims is up for debate. The statements by Gipson, Wood and Ward are emphatic.
Gipson's tackle was fine, but his gesture after wasn't.
Simple respect would indicate there's no reason to celebrate another's misfortune.
October, 3, 2013
10/03/13
7:31
PM ET
Brandon Weeden
will be the backup quarterback for the
Cleveland Browns
, and running back
C.J. Spiller
is active and will play tonight for the
Buffalo Bills
. That's the fallout from the team's inactives list, which were just released.


Browns inactives include quarterback
Jason Campbell
, which makes Weeden the backup to
Brian Hoyer
. Also inactive are injured linebackers
Quentin Groves
(ankle) and
Jabaal Sheard
(knee) as well as defensive lineman
Billy Winn
. Newly-acquired running
Fozzy Whittaker
will not play, nor will offensive linemen
Martin Wallace
and
Patrick Lewis
.
Shawn Lauvao
is active, and likely will start at right guard. Lauvao has not played since injuring an ankle in training camp, and his replacement,
Oniel Cousins
, had mixed results, especially in pass protection. Lauvao's return means the Browns have their first-team offensive line in place for the first time this season.
Buffalo will not have safety
Jairus Byrd
active. He practiced the past two days, but his foot injury will sideline him. Other inactives include cornerback
Stephon Gilmore
, kicker
Dustin Hopkins
, cornerback
Ron Brooks
, offensive lineman
Sam Young
, receiver
Marquise Goodwin
and tight end
Chris Gragg
. Both Spiller and running back
Fred Jackson
will play through pain, Jackson with a knee and Spiller with an ankle. It's likely the Bills will give
Tashard Choice
more carries than any back.
October, 3, 2013
10/03/13
7:00
PM ET
By
ESPN.com staff
| ESPN.com
Join our ESPN.com NFL experts for Thursday night football as the Buffalo Bills take on the Cleveland Browns.
Contribute your thoughts and questions beginning at 8:30 p.m. ET. See you there.
October, 3, 2013
10/03/13
12:00
PM ET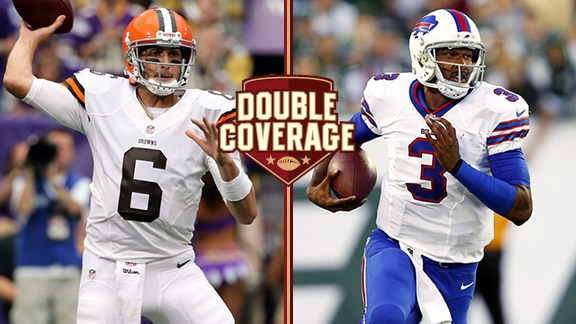 Getty ImagesQuarterbacks Brian Hoyer and EJ Manuel have led their teams to surprisingly strong starts.
Teams trying to revive themselves following some tough seasons meet tonight, with both teams coming in at .500. Two wins in four games should not be cause to pop champagne, but Cleveland hasn't had a .500 season since 2007, and Buffalo hasn't been over .500 since 2004.
Clearly, in this case being 2-2 matters.
The game features two young quarterbacks, two new coaches and teams representing two industrial cities on Lake Erie that have been hit hard economically. They also are two cities that take great pride in and have great passion for their football teams. ESPN.com Bills reporter Mike Rodak and Browns reporter Pat McManamon take a look at the matchup.
Mike Rodak:
Both of these teams are a surprising 2-2. What has surprised you most about the way the Browns have reached .500?
Pat McManamon:
Mike, the most surprising thing about the Browns is the way they've gotten to 2-2. Most teams that promote their third-string quarterback to starter and trade their starting running back don't seem to be pointing to a winning streak. Especially when the starting running back was hailed as a key component/savior when he was drafted just one year before. The Browns somehow have responded, and the main reason they have is good quarterback play has transformed the team to the point that
Trent Richardson
is barely missed.
Brian Hoyer
has made fast, smart decisions. He's been accurate, and he's changed a stagnant offense to one that converts 90-yard drives for touchdowns. In the Browns' world, that's significant.
Rodak:
The most surprising thing for me about the Bills has been their ability to overcome injuries in the secondary. When a quarterback like
Joe Flacco
throws five interceptions, it can be tough to decipher whether it's a problem with the receivers or just good play by the defense. On Sunday, I think it was a combination of both, and that speaks well to what coach Donnie Henderson has done with the secondary this season. Buffalo gave him a game ball after the win, ESPN NFL Insider Adam Schefter reported. The secondary will need to continue its strong play, though, as
Stephon Gilmore
,
Leodis McKelvin
and
Jairus Byrd
may not be ready to return by Thursday.
Pat, we saw
Steve Johnson
catch just one pass for negative-1 yard last week. On Sunday, he'll likely draw coverage from one of the better cornerbacks in the NFL,
Joe Haden
. What have you seen out of Haden so far this season, and how has the Browns defense fared on the whole?
McManamon:
Haden has always had the potential to be one of the better cornerbacks in the league. But he's always gotten in his own way. Last season he was suspended for the first four games, and the Browns lost all four, including one to the Bills. In that game Johnson caught a touchdown and had seven catches, as the Browns had no one to cover him. Haden's role is vital in Ray Horton's aggressive blitzing scheme. To do that, Horton must have corners he can trust to cover man-to-man. Last week he had a very good game against
A.J. Green
. This week he'll no doubt be on Johnson.
Mike,
C.J. Spiller
and
Fred Jackson
were both injured last Sunday. What is their status for the game, and might the Browns' defense avoid having to face the Bills' top two rushers?
Rodak:
Pat, I think Spiller and Jackson will both be active for the game. Both returned to Sunday's game after being injured, and given that the Bills will have 10 days' rest before their next game, Buffalo may try to get something out of both of them Thursday night. How much, though? I think we'll see more of Jackson than Spiller. Through four games, Jackson is seventh in the NFL with 5.33 yards per rush, and second in yards after contact per rush (2.75), behind only Houston's
Ben Tate
. Jackson has a sprained MCL so I don't think he'll be able to post those same numbers Thursday, but we saw more of him at practice Tuesday than Spiller, who was limping in the locker room afterward. The Browns are likely expecting more of
Tashard Choice
, who amassed nearly half of his entire yardage last season against the Browns in Week 3, gaining 91 yards on 20 carries.
.
October, 2, 2013
10/02/13
4:57
PM ET
We already touched on
Cleveland Browns
defensive coordinator Ray Horton saying
the best way to defend the read-option
is to hit the quarterback early and often, but Horton touched on a few other issues during a conference call today as well, and he did so in his typically and refreshingly honest way:
Horton clearly loves -- that would be l-o-v-e-s -- linebacker D'Qwell Jackson. The first thing Jackson said to Horton when the two met in the offseason was "We're tired of losing." Understandably. Horton then called Jackson the Browns "unquestioned leader," and said he is leading the way in the defense "taking ownership" in its play. Jackson is doing that by holding post-practice Friday meetings with players to discuss plays and watch film, and then having them to his house Friday night to talk more. Horton said he encourages input from his players, and even allows them to draw up and suggest plays, and Jackson and the defense are doing just that. "They feel empowered," Horton said.
One reason the players may feel empowered is Horton's attitude. He knows well that a team is best run when its leadership comes from within. That he is comfortable and confident enough to allow that to happen goes against the ultimate credo of control of some NFL folks, and speaks well to him as a person, and a coach. Said Horton: "I coach men."
Horton had some very positive things to say about E.J. Manuel, a rookie whom Horton said does not play like one. Horton pointed out that Manuel has faced New England, the Jets and Baltimore, and he had the Bills competitive in every game. He even said Rex Ryan gave Manuel "a ton of different looks" on defense. "The kid is pretty unflappable," Horton said, adding he was impressed that Manuel is "not the kind of rookie who is going to make a ton of mistakes."
The Browns scouted Manuel in the draft, and chose linebacker
Barkevious Mingo
first. Horton said as a defensive coach, he'd take Mingo "every time." But he added that in the long run "both teams will be happy with the players they picked."
As for how Mingo played in his first start, Horton balked when the word "well" was used. "I did not use that word, 'well,'" he said. Horton said Mingo had some good plays -- which were very visible -- and some plays that were not good. "We're trying to eliminate the rookie mistakes," Horton said. "He's a work-in-progress."
The final word from Horton, on cornerback
Joe Haden
being called a Pro Bowl caliber corner: "We're challenging him to take the caliber off."
October, 2, 2013
10/02/13
3:26
PM ET
Ray Horton has drawn up defenses to stop the read-option offense that
EJ Manuel
and the
Buffalo Bills
will run Thursday night. And Manuel might want to be prepared for the
Cleveland Browns
' approach.
Because Horton, the Browns' defensive coordinator, makes no secret that the first principle in his approach to defending the read-option is to hit the quarterback.
Manuel
"If you want to put a $100 million Ferrari out there, it's going to get hit," Horton said. "Is that what you want to do?"
Some might say no, but in the read-option with late pitches and the quarterback running, it's inevitable he gets hit. Horton would never advocate cheap shots or dirty play, but he loves physical football, saying he wants "big men who can run and small guys who can hit."
"If you do, that's OK," Horton said of putting a Ferrari on the field. "We'll hit that Ferrari and try to dent it up and kick the tires a little bit."
Horton's attitude for this game is reflective of the new attitude he's brought to the Browns. A team normally used to sitting back and reacting is being the aggressor defensively, and it's been successful through four games as the Browns have twice given up 14 points or fewer.
Horton said he had the Browns' defense working on a fair amount of read-option stuff, both in camp and as the game approaches.
"We practiced a bunch of different defenses to handle the onslaught of potential stuff," Horton said. "We think we're prepared."
And part of the preparation is to hit Manuel so he knows there is a price for taking risks.
"That's been my mantra from early on," Horton said. "If they're gonna put the quarterback out there to get hit, hit him."