Cleveland Browns:

Cincinnati Bengals
December, 19, 2013
12/19/13
2:39
PM ET

Voting is underway among the four ESPN.com reporters for the All AFC North Team of 2013.
Results will be announced after the season.
But we thought it might be fun to get input from readers on one of the tougher positions to select the best: wide receiver.
We are picking three for the All AFC North Team, and the division includes four standouts and one up-and-coming rookie: Cleveland's
Josh Gordon
, Pittsburgh's
Antonio Brown
, Cincinnati's
A.J. Green
and
Marvin Jones
, and Baltimore's
Torrey Smith
.
Their numbers:
.
November, 29, 2013
11/29/13
9:15
AM ET
Jason Campbell
is sidelined by a concussion and
Brandon Weeden
will start Sunday against Jacksonville.
Yet there's no outrage.

Campbell
No anger.
No pounding on tables.
Not locally, not nationally, not on the talk shows, not even on "The View."
Campbell was sidelined by a hit that the NFL is trying to abolish. Breathe on a quarterback's head these days, and a flag is thrown. Brush his helmet with a feather, it's a flag.
Yet last Sunday
William Gay
clubbed Campbell in the face mask, forcing a fumble and key turnover, and little is mentioned.
This isn't to vilify Gay, whose tackle was made fast and aggressively in a game that is supposed to be fast and aggressive. He did not seem to go for Campbell's face mask the way
James Harrison
ducked his helmet and drove it into
Colt McCoy
's jaw.
But it was a penalty.
And somehow a referee -- Terry McAulay of Bottle Game fame -- and an umpire standing in the backfield missed Campbell's head snapping to the side as he was hit.
Perhaps it was even too fast for them, but to think two people missed the call ...
And to think it's not the subject of discussion nationwide is even more baffling. Campbell was hit in the face mask, pure and simple. It should have been a penalty and it should be the topic of discussion.
The outrage is completely missing.
And that's wrong. It sure seems that if this hit had happened to
Tom Brady
,
Drew Brees
,
Ben Roethlisberger
or
Peyton Manning
it would be a topic. That it happened to Campbell, or to a losing team like Cleveland, does not diminish the impact of the hit or the consequences.
Had that flag been thrown, the Browns might (emphasis on might) have gotten into the game. They did little to show they could or would, but the chance was there.
Worse, they're without their starting quarterback because of a hit that should have been flagged.
It will be interesting to see what the league has to say about it.
It'd be nice if there was some outrage from them.
November, 18, 2013
11/18/13
3:58
PM ET
Breakdowns by the
Cleveland Browns
and good plays by the
Cincinnati Bengals
led to the crucial special teams mistakes that contributed significantly to the Browns' 21-point loss.
"We had two major breakdowns there," coach Rob Chudzinski said.
One tipped punt and one blocked punt gave the Bengals two touchdowns and helped turn the momentum toward Cincinnati.

The first rush came up the middle, as the Bengals drove a rusher into center
Christian Yount
and looped
Shawn Williams
up the middle. Williams was able to tip the ball, which was not considered a block because it went beyond the line of scrimmage.
But the nine-yard "punt" set up the Bengals' second touchdown.
Yount said he should have changed the protection before the play. He also said his snap drifted right, which took punter
Spencer Lanning
closer to Williams as he rushed.
The second was a block, by
Jayson DiManche
. He lined up on the left side of the Bengals' rush, and split the gap between linebacker
Eric Martin
and linebacker
Barkevious Mingo
. He also easily avoided fullback
Chris Ogbonnaya
to reach out with his left hand and block the punt.
Mingo lined up off Martin's right shoulder, a couple yards off the line of scrimmage. When DiManche took an outside-in move, Martin went inside to help and Mingo basically whiffed. As did Ogbonnaya.
In the scramble for the ball, Lanning also had a chance to touch
Tony Dye
when he recovered the ball, but Lanning said he was trying to recover the ball.
Though Mingo took the blame, coach Rob Chudzinski said the scheme called for zone blocking, so both players were responsible. Chudzinski hinted the responsibility was more on Martin.
"There needs to be help from the inside guy, and he ultimately is responsible for that guy," Chudzinski said.
Martin actually turned inside to help on a player a teammate was blocking.
The Browns have shuffled players on the punt team, in part because of an injury to special teams captain
Quentin Groves
.
Mingo had played in various spots on the punt protection, including that one, Chudzinski said.
"The effect of losing Quentin is having to move guys around," Chudzinski said. "But that's no excuse. There's no excuse for getting punts blocked."
November, 18, 2013
11/18/13
12:25
AM ET
CINCINNATI -- If it seems like the
Cleveland Browns
accomplished something unusual in their 21-point loss to the
Cincinnati Bengals
, it's because they did.
The Browns had a blocked punt returned for a touchdown and a fumble returned for a touchdown.
That's a daily double that hasn't happened in the NFL in three years, since the Raiders did it against San Diego on Oct. 10, 2010, according to the Elias Sports Bureau.
As for the Browns, Sunday was the first time it happened in team history.
That's right, since the Browns entered the NFL in 1950, they had never had a blocked punt and a fumble returned for a touchdown in the same game.
Until Sunday.
For good measure, it's also the first blocked punt against the Browns in 20 years.
And ... the Browns almost hit the trifecta, because Bengals linebacker
James Harrison
returned an interception for a touchdown -- except it was called back by a penalty.
It was part of the disastrous second quarter, when the game unraveled and the Browns turned a 13-0 lead into a 31-13 halftime deficit.
November, 17, 2013
11/17/13
8:33
PM ET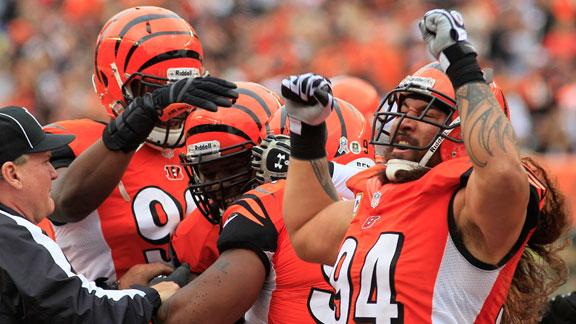 CINCINNATI -- It's not common for a team to have a punt blocked and returned for a touchdown.
It's less common that a team has that happen in the same game when it has another punt tipped, holding said punt to 9 yards.
But that's part of the reason the
Cleveland Browns
fell apart in the 41-20 loss to the Bengals: They couldn't get off a punt. There were other miscues, of course.
Jason Campbell
's pass from his 20-yard line with the Browns ahead 13-0 was tipped at the line and intercepted by
James Harrison
. It would have been a touchdown had a Cincinnati player not blocked in the back for a penalty.
No matter, it merely set up Cincinnati's first touchdown.
[+] Enlarge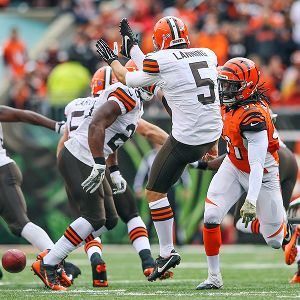 Kevin Jairaj/USA TODAY SportsBengals linebacker Jayson DiManche, 51, blocked Spencer Lanning's punt, which Tony Dye returned for a touchdown.
The Bengals forced a punt, which Lanning had tipped and went 9 yards. That set up the Bengals' second touchdown, which put them ahead for good.
Two possessions later, rookie
Barkevious Mingo
missed a block in protection and Lanning's punt was blocked, except this time the Bengals ran it in for a touchdown and a 21-13 lead.
The barricade was starting to cave.
"It's definitely a game-changer," Lanning said of the blocks.
Mingo took responsibility for the second blocked punt. Lanning said the snap, step and kick from his point of view were fine.
"I felt the operation was good," Lanning said. "Credit to them for dialing up good rushes."
Lanning was amid the scrum for the ball with
Tony Dye
, but he neglected to touch Dye when he recovered the kick on the ground. That let Dye get up and run.
"I have no idea," Lanning said when asked if he touched Dye. "I slid and was trying to fight for the ball."
Lanning said he expected to be rushed kicking into the wind, and he got the pressure he expected. It could be, too, that the Bengals saw something they liked on the first tipped punt and decided to go after the second.
"Unacceptable," coach Rob Chudzinski said of the poor special-teams protection.
The Browns then compounded their problems. On their ensuing possession,
Chris Ogbonnaya
fumbled after a short completion and the Bengals returned it for a touchdown and a 28-13 lead.
Then on third-and-13 with 42 seconds left,
Jordan Cameron
caught a short throw from Campbell and ran out of bounds. That allowed Cincinnati to save a timeout, and when the Browns didn't cover the punt well Cincinnati was able to kick a field goal.
The Browns implosion led the Bengals to score 31 points in the quarter, a franchise record.
"A few plays here and there, it could have been a different outcome to the game," defensive lineman
Desmond Bryant
said.
Which, technically, is true.
But when every play goes against the team making the errors, it creates a steamroll effect that is next to impossible to fight.
And when the same team makes mistakes big and less big -- like
Armonty Bryant
jumping offside on a Cincinnati punt in the third quarter on fourth-and-2 -- it adds up.
Figure that Campbell returned to his pre-last-two-weeks self and threw three interceptions, and it's not hard to grasp why Browns lost a game by 21 when they held the opposing quarterback to 93 yards passing (on 27 attempts) and when they held the opposing star (receiver
A.J. Green
) to two catches for 7 yards.
"We handed them the game," said wide receiver
Josh Gordon
.
"Too many mistakes," said safety
T.J. Ward
. "Too many errors. We're not ready … we're not ready."
November, 17, 2013
11/17/13
4:29
PM ET
CINCINNATI -- A few thoughts on the
Cleveland Browns
' 41-20
loss
to the
Cincinnati Bengals
.

What it means:
Special teams can determine a game. The Browns had things going their way early, but they imploded in the second quarter with a punt blocked and another tipped. For good measure a good Bengals return set up a late field goal. Then the Bengals' defense scored twice -- though one was called back by a penalty. All told the Browns saw a 13-0 lead flip into a 31-13 deficit at halftime even though Cincinnati had just three first downs at the half.
Stock watch:
Jason Campbell
, this is the earth. After two of his best back-to-back games, Campbell found plenty of difficulty with the aggressive and nasty Bengals defense. Campbell did complete a 74-yard TD to
Josh Gordon
in the second half, but more often that not it was checkdowns to backs or running to avoid a rush. Campbell did very good things for the Browns for two weeks, but he's had seven seasons to show the kind of player he is. A "correction" seemed inevitable.
Missed chances:
In the first quarter, the Browns had first-and-goal at the 2 and first-and-10 at the 14. With a chance to take command early, the Browns wasted those chances. Cincinnati's red zone defense forced field goals. Even with
Joe Haden
's interception return for a touchdown, those early field goals kept the game manageable for the Bengals, who took charge in the second quarter.
Not ready yet:
It was nice to think and talk that the Browns could make a playoff push -- ESPN's Merrill Hoge picked them to win the division before the game -- but this is a team that is a ways from that level. They have done something with what they have, but they walk too fine an edge to be playoff-caliber yet.
What's next:
The Browns return home to play the Steelers, a game that prior to this Sunday looked winnable. Now, who knows?
November, 17, 2013
11/17/13
10:30
AM ET
By
ESPN.com staff
| ESPN.com
Join our ESPN.com NFL experts as they break down the Cleveland Browns' visit to the Cincinnati Bengals. Contribute your thoughts and questions beginning at 1 p.m. ET. And, be sure to visit our
NFL Nation Blitz page
for commentary from every game, as well as fan photos and the latest buzz from Twitter. See you there.
November, 15, 2013
11/15/13
11:00
AM ET
The best thing about the rivalry that's developing between
Cleveland Browns
cornerback
Joe Haden
and
Cincinnati Bengals
receiver
A.J. Green
?
Both are in their NFL infancy, so this matchup will be something to watch for many years.
A close second?
There is such respect and maturity about the competition. Haden and Green seem to genuinely like each other, and admire the way the other plays. There is no trash talk, nothing ridiculous.
[+] Enlarge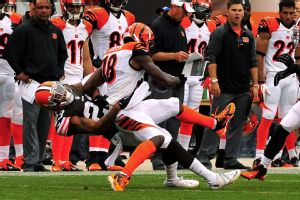 Nick Cammett/Diamond Images/Getty ImagesBrowns cornerback Joe Haden facing Cincinnati's A.J. Green is one of the NFL's best matchups.
Just good, competitive football.
"It's all in love," Haden said.
It's pretty much the way it should be. Both will fight like mad for their teams, but both are more than friendly off the field.
"That's the same with
Torrey (Smith)
, with a lot of these receivers I go up against," Haden said. "There's no extra beef. We're really good competitors. And it's cool. Because after the game you can sit and talk and hang out.
"It's super cool having the players I go up against being good guys."
The Bengals have a rare talent in Green, and a rare person. He entered the league with the professionalism of a veteran, standing in the locker room after the Bengals' playoff loss his rookie season and saying of the next season: "I'm ready to go to work."
"He's a fantastic young man," Browns defensive coordinator Ray Horton said. "He's in the mold of a professional, meaning that you don't see the hyperbole with him. He just goes out and does his job and gets back in the huddle. He doesn't want the extra attention from off of the field. He wants to be known as a stand-up professional, a guy-that's-been-there-before player."
Presumably Green would say he has the same kind of respect for Haden. No player on the Browns seems to have grown more in one offseason. He seems more dedicated, more focused and more mature than a year ago, when he missed the first four games because of a suspension.
Maybe it was that experience, maybe it was getting married, but Haden is reaching his on- and off-field potential more than ever this season.
His first game against Green was the first indication that Haden was ready to, as Horton said, take the "potential" from "potential Pro Bowler" from his name.
Green caught seven passes, but had just 51 yards -- and had no catches longer than 16 yards. That game sent Green on a streak of five games when he had 36 catches for 598 yards, with three touchdowns, as if he took the game against Haden personally.
"If he does, he does; if he doesn't, he doesn't," Haden said. "No matter how you take it, you still have to go out and do it. I'm taking the game with my approach. He can go out however he wants to. But it's going to be a battle."
Haden has been doing good work all season. Every game he is assigned to the opposing team's best receiver, be it Baltimore's Smith, Detroit's
Calvin Johnson
or Miami's
Mike Wallace
, who had one catch for 15 yards.
"He's stepped up to the challenge of matching the other team's No. 1 receiver," Horton said.
Green enters the game with the longest catch in the AFC (82 yards), and the most receiving yards in the NFL (1,013). Haden's goal: Keep Green from the big play, because in just three seasons in the NFL, Green has done some serious damage to the Browns with big catches.
"Stay on top," Haden said. "Make sure he doesn't really affect the game like that. He's a really, really good player at the same time. We make sure we pay a little extra attention, make sure he doesn't affect it."
It's the kind of matchup players enjoy, and fans enjoy watching.
And if both players continue on their career paths, it could be a matchup that folks will see on NFL Films for many years to come.
September, 29, 2013
9/29/13
12:45
PM ET
By
ESPN.com staff
| ESPN.com
Join our ESPN.com NFL experts as they break down the Cincinnati Bengals' visit to the Cleveland Browns. Contribute your thoughts and questions beginning at 1 p.m. ET. And, be sure to visit our
NFL Nation Blitz page
for commentary from every game, as well as fan photos and the latest buzz from Twitter. See you there.
September, 26, 2013
9/26/13
12:00
PM ET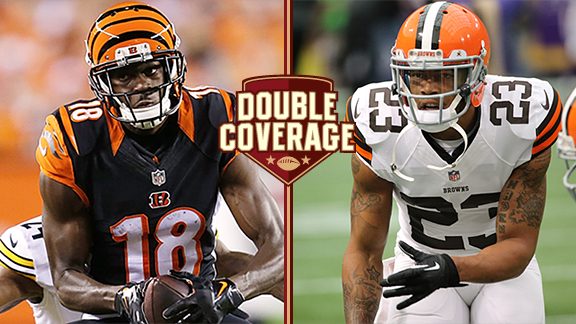 Getty ImagesJoe Haden, right, hopes to contain A.J. Green, who had two TDs in his last game in Cleveland.
The 80th edition of the Battle of Ohio may be one of the more intriguing ones in quite some time.
Then again, it is still very early in the season, so maybe not.
Yes, in general, victories have seemed to elude both teams throughout their long tenures. But perhaps the winds have shifted this year. With a new quarterback and a revamped offensive look after the blockbuster trade of their biggest young star, the
Cleveland Browns
enter the game buoyed by a win and believing in
Brian Hoyer
.
For the
Cincinnati Bengals
, hope and hype have meshed this season as their fans think this might finally be the year Cincinnati gets past its first-round playoff hurdle.
As you get set for Sunday afternoon's contest between the 2-1 Bengals and 1-2 Browns, check out the spirited exchange between Coley Harvey and Matt Williamson as they pondered a few storylines:
Matt Williamson:
The Browns' pass protection improved dramatically in Week 3 in Minnesota.
Joe Thomas
and the edge protection did a great job against
Jared Allen
& Co., but
Michael Johnson
is coming off a spectacular performance himself. Do you think the Bengals' pass-rushers continue their dominant ways?
Coley Harvey:
It certainly seems the Bengals' pass rush has finally hit its stride. All season their fans had been waiting for a performance like Sunday's against the Packers, when they hurried quarterback
Aaron Rodgers
for eight sacks, and limited him to just 244 yards of passing offense. The week before, he threw for 480. The line also accomplished something that hadn't been done in five years: batting down three of Rodgers' passes at the line of scrimmage. Johnson was key in those deflections, coming away with arguably the game's biggest when he swatted Rodgers' fourth-and-5 passing attempt on Green Bay's last play of the 34-30 Cincinnati win.
One name that hasn't appeared much on stat sheets through the first three games is
Geno Atkins
. The newly re-signed defensive tackle has been swallowed up by double-teams and has been chipped by virtually every player on the offensive lines he has faced. The attention teams are giving him has benefited players such as Johnson and fellow defensive end
Carlos Dunlap
. You have to imagine that trend continues.
Pressure is something Hoyer seemed to handle pretty well in his start against Minnesota last week. If he gets the nod behind center again this week, do you think he'll pick up where he left off?
Williamson:
I like Hoyer quite a bit ... as the Browns' long-term backup quarterback. It has surprised me a great deal that he bounced around the league so much in a short amount of time, and I respect how he played in Minnesota, but again, I think his ceiling is that of a high-end backup. Can he spark this team, though? For sure. He clearly has eyes for
Jordan Cameron
and especially
Josh Gordon
-- for good reason. Gordon being out of Cleveland's lineup had a much bigger effect on this offense than many realize. But overall, yes, I think Hoyer can have a nice day once again targeting Gordon and Cameron.
A.J. Green
is obviously a very special wide receiver, but the Bengals have gotten away from him at times. They now have a wealth of other receiving options, including the rookies
Giovani Bernard
and
Tyler Eifert
, but if
Joe Haden
can slow down Green one-on-one, much as
Ike Taylor
did in Week 2, could the Bengals struggle to create offense through the air?
Harvey:
Yeah, I suppose that could happen, but I'm not banking on it. There's just something about playing on the road that seems to get Green going. His home-road splits are actually quite creepy. In the 16 road games he has played in his career, Green has 106 receptions for 1,619 yards and 16 touchdowns. In the 18 games he has played at Paul Brown Stadium in Cincinnati, he's caught just 75 passes for 1,037 yards and eight touchdowns. He's even been targeted by quarterback
Andy Dalton
about 8 percent more often on the road than he has been at home. The two games in which Green was stifled this season? Yep, you guessed it: They were at home.
OK, so maybe I'm reading too far into the home-road splits, but I have a feeling Green will do well this weekend. He had a tough matchup in Week 1 at Chicago. Even though
Charles Tillman
intercepted two passes while covering him, Green still caught nine passes and two touchdowns. Still, Browns fans should watch Bernard and Eifert. The two rookies figure to be an even larger part of the offense.
There obviously has been a lot made of Cleveland's offense in the past few weeks, but it looks like
D'Qwell Jackson
has been the unsung hero of the defense. He had 10 tackles last week. How much should Bengals wideouts and running backs be wary of going across the middle with Jackson out there?
Williamson:
Jackson has played very well and is highly productive, for sure. He has excellent range, reads plays well and is excelling against the run and in coverage. But I would say the true unsung heroes are those in front of him.
Phil Taylor
is a personal favorite of mine as a dominant interior presence that demands extra blocking attention. Taylor makes room for everyone, especially Jackson, to do what they do best, but
Desmond Bryant
,
Ahtyba Rubin
,
John Hughes
and others are also playing very well on the interior for Cleveland and should give Cincinnati's guards and center all they can handle against both the run and pass.
I briefly mentioned Gio Bernard earlier and I must say, I don't think it will be long before he is putting up Pro Bowl numbers year after year for the Bengals. But right now, he and
BenJarvus Green-Ellis
split carries, which makes some sense so early in Bernard's career. However, coach Marvin Lewis needs to unleash his rookie running back. When do you see that happening?
Harvey:
I agree with you, Matt. At some point, Lewis needs to start going even more with Gio. And that's not a slight to Green-Ellis. He's been a solid back since he arrived in Cincinnati, and has even benefited from having Bernard on the field. When they're on the field together, Green-Ellis' yards-per-carry average is higher than it is when he's back there in a one-back formation.
I suspect the Bengals will keep bringing along Bernard slowly, but before the season is over he should be seeing 20 touches.
August, 26, 2013
8/26/13
7:30
AM ET
If Week 3 of the preseason is truly a dress rehearsal for the regular season, the AFC North teams have some work to do. All four division teams lost, and most of the starters had forgettable performances. Speaking of losing, the AFC North wake-up call will no longer have the Steelers in this space every morning. Steelers team reporter Scott Brown now will provide a post with morning links for the Black and Gold. So, let's see what is happening with the two Ohio teams and the franchise that used to located in Ohio:
RAVENS
: Running back Delone Carter has only a few days of practice and the preseason finale to prove he's worth a roster spot. He was acquired by the Ravens last week in a trade with Indianapolis, and is looking to make the team as the No. 3 running back. "It's a hurried evaluation, that's what it is," coach John Harbaugh said, via
The Baltimore Sun
. "We're going to have to see if we see enough. That's what it really boils down to. First impressions are positive, and we'll just see where it goes this week." ... For a look at the roster cuts made by the Ravens on Sunday, you can
click here
.
BENGALS
: Right tackle Andre Smith left in the second quarter of Saturday's preseason game with a left knee injury. According to
The Cincinnati Enquirer
, Smith appeared to be walking fine in the locker room after the game. "He should be ready to go for [the season opener against] Chicago," coach Marvin Lewis said. ... The Bengals released six players Sunday: tight end Richard Quinn, defensive tackle Vaughn Meatoga, wide receiver Jheranie Boyd, cornerback Terrence Brown, linebacker Jordan Campbell and kicker-punter Quinn Sharp. The team needs to make six more moves to get down to the league limit of 75 players by Tuesday afternoon.
BROWNS
: Kicker Shayne Graham and punter Spencer Lanning are leading the candidates to remain the Browns' specialists, but coach Rob Chudzinski wouldn't fully commit to them just yet, according to
The Akron Beacon Journal
. Graham made field goals of 50 and 44 yards against the Colts while undrafted rookie kicker Brandon Bogotay sat out with a strained groin. "It was good to see him be able to do that," Chudzinski said of Graham's 50-yard kick. ... According to
The Plain Dealer
, Chudzinski is leaning toward playing his starters in the preseason finale, although it may be just a cameo appearance. "We're going to approach this next game that those guys are going to play," he said. "And then I'll make that determination later in the week as it goes on."
August, 23, 2013
8/23/13
8:00
AM ET
The third preseason game, which is often considered the dress rehearsal, was more of a disaster at times for the Baltimore Ravens in a 34-27 loss to Carolina on Thursday night. You can
click here
for my observations on the game. For what's happening around the division, here's the wake-up call ...
RAVENS
: The
Baltimore Sun
's Mike Preston believes the Ravens failed Thursday night to build any sort of offensive momentum heading into the regular season. "There is no need to panic yet, because most offenses are behind the defenses at this time of year, and the Ravens have some proven commodities with [Joe] Flacco, running back Ray Rice, fullback Vonta Leach and receiver Torrey Smith," Preston wrote. "But you'd at least like to see more life in the offense, and so far there hasn't been much."
BENGALS
: Taylor Mays is no lock to survive the final cutdown, and the final two preseason games could determine the safety's fate. "If they went with four [safeties], Mays could be on the bubble," wrote Joe Reedy of
The Cincinnati Enquirer
. "Reggie Nelson, George Iloka and Shawn Williams figure to be locks with Mays and Jeromy Miles vying for a spot. Miles saw the second-most snaps on special teams during the regular season and was second in tackles."
STEELERS
: Ben Roethlisberger is the oldest and most experienced quarterback on the Steelers for the first time since he entered the league in 2004. He is the player responsible for making sure the new quarterbacks -- Bruce Gradkowski, Landry Jones and John Parker Wilson -- know what they're doing. "It's definitely different," Roethlisberger told
The Pittsburgh Post-Gazette
. "I wish I knew the offense even better than I do, just because I feel I know my answers will be even more right. I do the best I can to talk with Todd, to know the answers, so I can help these guys because they come to me and ask. And even if they don't come and ask, even in practice, if I see something, I'll come up to them and say, 'Do this,' or 'I'm thinking do this.' It helps to have that growth in this offense."
BROWNS
: Wide receiver Greg Little said he will act more responsibly after it was reported that he wrecked his car driving 127 mph, which was more than 70 mph over the legal speed limit. "It's obviously something that I've got to take very seriously and slow my speeds down and be cautious of others on the road," Little said, via
The Plain Dealer
. "I could have seriously put my life and other lives in danger." Little was cited in April for drag racing after he crashed his expensive, high-performance Audi into a guardrail, took out a light pole and left more than 40 yards of brake tracks, according to a police report. Little was not hurt in the crash, which records say took place at 2:47 a.m., but said he understands his behavior was unacceptable.