Cleveland Browns:

New England Patriots
December, 10, 2013
12/10/13
12:11
PM ET
Cleveland Browns
safety
T.J. Ward
became a major part of the national discussion with his tackle that destroyed the right knee of New England tight end
Rob Gronkowski
.
[+] Enlarge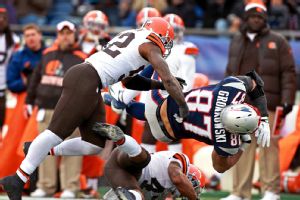 Jim Davis/The Boston Globe/Getty ImagesT.J. Ward has acknowledged he made a choice to hit Rob Gronkowski low but insists it was not attempt to inflict injury.
Ward acknowledged he made a choice to tackle Gronkowski low and said he did so because if he went high he ran the risk of a fine and, since he's been fined before, a suspension.
The play angered many in New England, who thought Ward's hit was dirty. In former times it might have been, as players had an unwritten rule not to hit a guy in the knee from behind or the side. Ward said he went for Gronkowski's thigh, and the hit was worsened by the timing -- Ward caught Gronkowski as he planted his right knee with his leg extended.
Some New England fans thought Ward's hit was a response to Gronkowski throwing his arms in the air on the previous play and drawing a pass interference penalty on a ball 10 yards over his head.
The Patriots came back with a similar route, but Ward was deep safety on the play and not covering Gronkowski man-to-man. The hit was low, fast and it turned ugly in a hurry. But Ward said he would never try to hurt another player, that he is a 200-pound guy trying to bring down a 265-pound guy running pretty fast.
To Ward, he had no other choice if he wanted to make the tackle.
The national and local discussion included the following:
Longtime Browns writer
Tony Grossi of WKNR, ESPNCleveland.com
points out that earlier in the season
Tashaun Gipson
had taken out Bills quarterback
EJ Manuel
with an open-field hit to to the knee as well. "When NFL rules-makers gather in March to consider what they have wrought from efforts to make the game safer, they can pretty much run a Browns' defensive highlight reel," he wrote.
A huge crowd of Boston reporters talked to Ward after the game, but the media in Boston did not take after Ward. Longtime Patriots writer
Ron Borges wrote in the Boston Herald
that Ward "did nothing wrong." He add: "In fact, he did exactly what the suits in New York insist is the right thing by avoiding the kind of high hit that has resulted in Ward being fined three times and threatened with suspension."
Former Patriots linebacker
Tedy Bruschi
regularly writes a feature for ESPN-Boston answering fans' questions, and one was related to whether Ward's hit was dirty. Bruschi answered in part by saying: "Even in today's NFL, I can see how people may think that hit was dirty. But I look at it this way -- what are defenders supposed to do now?"
Greg Bedard
covered the Patriots for the Boston Globe before he joined the MMQB (Monday Morning Quarterback) on SI.com. Bedard called for rules changes outlawing hits to the knee, but added he was not buying Ward's explanation: "There are plenty of other places to tackle opponents below their heads that don't involve ending someone's season. The players are using it as an excuse when accused of delivering a dirty hit."
Tom Curran of CSN New England
also has covered the Patriots for some time. He joins Bedard in saying that low hits to the knees should catch the attention of the NFL in the offseason when rules are addressed, then wrote: "The chance of T.J. Ward bouncing off Gronk and the tight end continuing downfield would have risen with every inch Ward raised his target zone. But the odds of Gronkowski having his knee destroyed with the kind of hit Ward chose to deliver in that situation were off the charts."
December, 8, 2013
12/08/13
8:33
PM ET
FOXBORO, Mass. --
Josh Gordon
continues to set new standards for himself, and the league.
Gordon had his fourth amazing game in a row in the
Cleveland Browns
'
27-26 loss
to New England, accounting for 37 percent of the Browns' offense with 151 yards receiving and 34 rushing on a reverse.
[+] Enlarge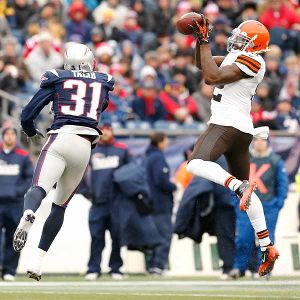 David Butler II/USA TODAY SportsGoing up against Patriots CB Aqib Talib, Josh Gordon creates room to run. The Browns' WR finished Sunday's game with 185 total yards.
The 34 yards led the Browns.
Gordon also scored an 80-yard touchdown, giving him touchdowns the past two weeks of 95 and 80 yards. Both were eye-opening, as he ran away from defenders with what looks like little effort.
On Sunday's touchdown, he caught a slant from
Jason Campbell
-- who had quite a day on his own with 391 yards and three TDs -- and ran away from
Aqib Talib
.
Talib is one of the league's most physical and talented corners, and the
New England Patriots
used him a lot on Gordon.
But Gordon was more physical.
"Hey," Talib said. "He's a hell of a player, man ... He's going to make some noise in this league."
Ahem.
He already is.
In his past four games, Gordon has 774 yards receiving -- an NFL record. In his last three, he has 649.
He also has 1,400 yards for the season -- a Browns record (that, probably thankfully, breaks the mark held by
Braylon Edwards
).
He has seven 100-yard games this season, and five touchdowns the last four games. Tight end
Jordan Cameron
is having an excellent season (72 catches, seven TDs), but Gordon's play is unprecedented.
The way he ran away from Talib on the touchdown was a sight to behold. Talib had the early angle on Gordon when he caught the pass, but within four steps Gordon was pulling away.
The skills, size, speed and talent that prompted Tom Heckert to shock the league by taking Gordon in the second round of the supplemental draft are exploding on the NFL scene. He is an extremely talented player doing everything he can to help his team.
Too, one of these weeks the Browns will actually win one of these games in which Gordon is so special.
December, 8, 2013
12/08/13
10:00
AM ET
By
ESPN.com staff
| ESPN.com
Join our ESPN.com NFL experts as they break down the Cleveland Browns' visit to the New England Patriots. Contribute your thoughts and questions beginning at 1 p.m. ET. And, be sure to visit our
NFL Nation Blitz page
for commentary from every game, as well as fan photos and the latest buzz from Twitter. See you there.
December, 5, 2013
12/05/13
3:42
PM ET
NFL coaches can usually find a kind word, or a thousand, about an upcoming opponent.
Brady
Even a bad team becomes disciplined and well coached when they're the upcoming opponent.
So perhaps Ray Horton's adoration of Patriots quarterback
Tom Brady
should be taken with a grain of salt.
Or perhaps it shouldn't.
"I believe he's the greatest draft pick in the history of football," Horton, the
Cleveland Browns
defensive coordinator, said. "I might go so far as to say he may be the greatest player that's ever played. That's not just because we're playing him.
"That's my belief."
He continued.
"The things he's overcome, his will, his heart, his preparation for the game, I don't know if there's a better player in the history of the game than Tom Brady," Horton said.
Brady was a sixth-round draft pick, someone every team in the league passed on several times before New England chose him in 2000 -- after the Browns had taken
Spergon Wynn
.
Horton's challenge now is drawing up a way to defend Brady.
"You've got to give him different looks," Horton said. "You've got to pressure him. You have to play at your best because I'm pretty sure he's going to prepare; he won't take any game, an opponent lightly.
"It's an ultimate test for me as a coordinator, this one player. I think he's everything you want in a franchise quarterback."