Double Coverage: Jaguars at Browns
November, 29, 2013
11/29/13
12:00
PM ET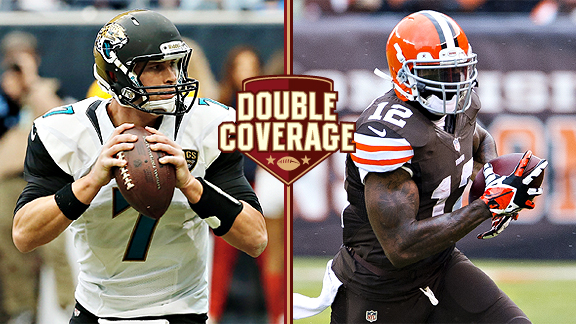 Getty ImagesChad Henne and Josh Gordon lead two struggling franchises still looking for an identity.
Cynics would call Sunday's game a battle for draft pick position. Cynics might be right.
The
Jacksonville Jaguars
started 0-8 before winning two of their past three, and the
Cleveland Browns
have lost five of their last six. Combined, the two teams have six wins and a boatload of problems. Both wonder who will be the long-term answer at quarterback, and both struggle to score points.
For the Jaguars, a win represents another positive step -- which any win is at this point in the season. Jacksonville would love to establish something good heading into 2014, and three wins in four games qualifies as good. The pressure would not seem to be on the Jaguars, because nobody expects them to win, and if they do it's a good thing.
The situation is far different for the Browns, though. Cleveland fans will turn downright nasty if the Browns lose to the Jaguars. Any goodwill built earlier this season would disappear in a cloak of hostility. The Browns are at home, but they absolutely need to win a game like this. It's one thing to lose to Cincinnati and Pittsburgh; it's quite another to lose to Jacksonville.
ESPN.com Jaguars reporter Mike DiRocco and Browns reporter Pat McManamon discussed the game.
Pat McManamon:
Mike, the Browns and their fans checked this game off as a gimme when the season started. They never dreamed they could lose to the Jags. But now Jacksonville has won two of three games while the Browns have lost six of seven. Are the Jaguars playing that much better that they feel they can win a cold-weather game this weekend?
DiRocco:
I'm sure the Titans and Texans felt that way, too, but they also fell to the Jaguars at home. The Jags are playing significantly better run defense than earlier in the season and did a fantastic job against
Andre Johnson
on Sunday, holding the Texans receiver to just two catches for 36 yards. They also ran the ball better than they have all season against the Texans (season-high 118 yards). But the biggest improvement the team has made is eliminating many of the stupid mistakes that had been regular occurrences in the first half -- things like defensive penalties on third downs and offensive penalties that negate big plays.They're still making those mistakes, but they're occurring less frequently. As for winning in Cleveland, the Jaguars are pretty confident. Both of their victories this season have been on the road, against the Titans, who are suddenly a playoff contender, and the Texans, who despite a 2-9 record have a top-10 defense and a pretty talented roster.
Pat,
Trent Richardson
hasn't exactly lit it up since the trade to Indianapolis. Did the Browns know something that the rest of us didn't? The Browns have to feel like they won that one, right?
McManamon:
Sort of. They like it because they got a first-round pick, but they really have done little to solve a run game that is completely inept. The Browns average 81 yards per game rushing, but they've not topped 100 yards as a team in five of the last seven games, and the two they did they gained 102 yards in one game and had a long end-around run in the other. Trent Richardson hasn't been close to good for the Colts, but as a rookie for the Browns he had 950 yards and 11 touchdowns. The Browns would be thrilled to have those numbers now.
Mike, the Browns love to pressure the lesser quarterbacks with a variety of Steeler-like blitzes and rushes. Can the Jaguars hold up under that pressure?
DiRocco:
The offensive line, especially the interior, has struggled in pass protection all season. It hasn't helped that the top two offensive tackles are gone:
Eugene Monroe
was traded to Baltimore earlier in the season and
Luke Joeckel
, the No. 2 overall pick in the 2013 draft, is on injured reserve with a broken ankle. Houston battered
Chad Henne
pretty good last week, sacking him four times and hitting him nine other times. Henne hung in there, though, and that's what he's going to have to do for the rest of the season because teams are going to attack the middle of the line.
Speaking of quarterbacks, where do the Browns stand with their quarterback situation? Is anyone on their roster the long-term solution or will they be looking quarterback in the first round, too.
McManamon:
The only possible long-term solution is recovering from a torn ACL. That would be
Brian Hoyer
, who played very well when he played. Problem is he only played two games, which is far short of a fair indicator of what he can do in the long term. It's highly likely the Browns draft a quarterback at some point, but the goal may well be to let Hoyer have the first chance in 2014 and bring along a young player. That seems wise, at least. But the constant change and flux with this team will not slow down in the next two years. If anything, it will increase -- unless Hoyer proves to be the second coming of
Tom Brady
.
Mike, the Browns have had two winning seasons since 1999 and have won 27 games since 2008. The Jaguars haven't done a whole lot better. Which team do you think is closer to actually becoming relevant in the NFL?
DiRocco:
The Browns have several good, young players around which to build:
Joe Haden
,
Josh Gordon
,
Jordan Cameron
and
Barkevious Mingo
, for example. But like the Jaguars, they've got a first-year coach trying to redirect the franchise and, other than the young guys mentioned before, the roster needs an overhaul. Both teams are also searching for a franchise quarterback. Not trying to weasel out of a direct answer, but the team that finds its quarterback first will become relevant first. If it is indeed Brian Hoyer, than the Browns are ahead of the Jaguars because he already has experience in the offense and is being tutored by Norv Turner, one of the better offensive minds in the game. The Jaguars would be a step behind, even if the QB they draft -- whether it's Teddy Bridgewater, Johnny Manziel or someone else -- turns out to have the kind of impact that
Russell Wilson
had with the Seahawks.
What kind of a season is Joe Haden having? Is he being overlooked because of Cleveland's lack of success?
McManamon:
It's not hidden in Cleveland, and it shouldn't be hidden nationally. Haden is that good. And his stature should not be that tarnished by the touchdown pass
Antonio Brown
had on him a week ago. Haden has matured, he's playing smarter and he's dedicating himself more to being a professional. Barring a run of Brown-like touchdown receptions on him, he should spend several Januarys in Hawaii.