Cleveland Browns:

2013 Week 11 CLE at CIN
November, 18, 2013
11/18/13
12:25
AM ET
CINCINNATI -- If it seems like the
Cleveland Browns
accomplished something unusual in their 21-point loss to the
Cincinnati Bengals
, it's because they did.
The Browns had a blocked punt returned for a touchdown and a fumble returned for a touchdown.
That's a daily double that hasn't happened in the NFL in three years, since the Raiders did it against San Diego on Oct. 10, 2010, according to the Elias Sports Bureau.
As for the Browns, Sunday was the first time it happened in team history.
That's right, since the Browns entered the NFL in 1950, they had never had a blocked punt and a fumble returned for a touchdown in the same game.
Until Sunday.
For good measure, it's also the first blocked punt against the Browns in 20 years.
And ... the Browns almost hit the trifecta, because Bengals linebacker
James Harrison
returned an interception for a touchdown -- except it was called back by a penalty.
It was part of the disastrous second quarter, when the game unraveled and the Browns turned a 13-0 lead into a 31-13 halftime deficit.
November, 17, 2013
11/17/13
8:33
PM ET
CINCINNATI -- It's not common for a team to have a punt blocked and returned for a touchdown.
It's less common that a team has that happen in the same game when it has another punt tipped, holding said punt to 9 yards.
But that's part of the reason the
Cleveland Browns
fell apart in the 41-20 loss to the Bengals: They couldn't get off a punt. There were other miscues, of course.
Jason Campbell
's pass from his 20-yard line with the Browns ahead 13-0 was tipped at the line and intercepted by
James Harrison
. It would have been a touchdown had a Cincinnati player not blocked in the back for a penalty.
No matter, it merely set up Cincinnati's first touchdown.
[+] Enlarge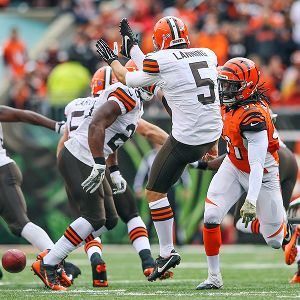 Kevin Jairaj/USA TODAY SportsBengals linebacker Jayson DiManche, 51, blocked Spencer Lanning's punt, which Tony Dye returned for a touchdown.
The Bengals forced a punt, which Lanning had tipped and went 9 yards. That set up the Bengals' second touchdown, which put them ahead for good.
Two possessions later, rookie
Barkevious Mingo
missed a block in protection and Lanning's punt was blocked, except this time the Bengals ran it in for a touchdown and a 21-13 lead.
The barricade was starting to cave.
"It's definitely a game-changer," Lanning said of the blocks.
Mingo took responsibility for the second blocked punt. Lanning said the snap, step and kick from his point of view were fine.
"I felt the operation was good," Lanning said. "Credit to them for dialing up good rushes."
Lanning was amid the scrum for the ball with
Tony Dye
, but he neglected to touch Dye when he recovered the kick on the ground. That let Dye get up and run.
"I have no idea," Lanning said when asked if he touched Dye. "I slid and was trying to fight for the ball."
Lanning said he expected to be rushed kicking into the wind, and he got the pressure he expected. It could be, too, that the Bengals saw something they liked on the first tipped punt and decided to go after the second.
"Unacceptable," coach Rob Chudzinski said of the poor special-teams protection.
The Browns then compounded their problems. On their ensuing possession,
Chris Ogbonnaya
fumbled after a short completion and the Bengals returned it for a touchdown and a 28-13 lead.
Then on third-and-13 with 42 seconds left,
Jordan Cameron
caught a short throw from Campbell and ran out of bounds. That allowed Cincinnati to save a timeout, and when the Browns didn't cover the punt well Cincinnati was able to kick a field goal.
The Browns implosion led the Bengals to score 31 points in the quarter, a franchise record.
"A few plays here and there, it could have been a different outcome to the game," defensive lineman
Desmond Bryant
said.
Which, technically, is true.
But when every play goes against the team making the errors, it creates a steamroll effect that is next to impossible to fight.
And when the same team makes mistakes big and less big -- like
Armonty Bryant
jumping offside on a Cincinnati punt in the third quarter on fourth-and-2 -- it adds up.
Figure that Campbell returned to his pre-last-two-weeks self and threw three interceptions, and it's not hard to grasp why Browns lost a game by 21 when they held the opposing quarterback to 93 yards passing (on 27 attempts) and when they held the opposing star (receiver
A.J. Green
) to two catches for 7 yards.
"We handed them the game," said wide receiver
Josh Gordon
.
"Too many mistakes," said safety
T.J. Ward
. "Too many errors. We're not ready … we're not ready."
November, 17, 2013
11/17/13
7:00
PM ET
CINCINNATI -- The Browns talked big all week about playing big in a big game.
They didn't.
They started well, fell apart in the second quarter and never recovered. Cincinnati won going away,
41-20
, giving the impression the Bengals are a team at a certain level while the Browns are trying to get to that level.
"We're not ready," said safety
T.J. Ward
. "We're not ready."
[+] Enlarge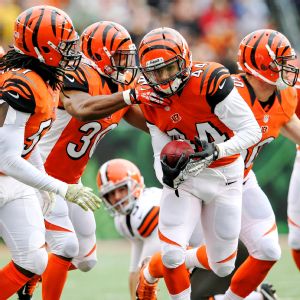 Kevin Jairaj/USA TODAY SportsBrowns punter Spencer Lanning can only look on as Tony Dye returns a blocked punt for a touchdown -- part of Cincinnati's 31-point second quarter.
"We are all working to get there, and we're going to continue to do so," said coach Rob Chudzinski. "It's one game. We have to accept the outcome and get better from it."
The practical implications of one game are more than large, though.
The day started with Merrill Hoge of ESPN jumping on the excitement bandwagon to say he thought the Browns would beat the Bengals and win the AFC North.
In the week leading up to the game, people in Cleveland talked about how
Jason Campbell
was the best quarterback in the division -- logic that seems illogical given the other guys playing.
It had the Browns talking about how exciting it was to play in a meaningful game in November.
It had fans abuzz and national chatter growing.
Some it was justified, of course, especially viewed through the Browns prism of ineptitude and struggle for 13 years. But some of it was quirky for a sub-.500 team that now has lost four-of-five games.
It ended with the Browns tied for last in the AFC North with Pittsburgh and Baltimore. Instead of playing Pittsburgh in a week with a tie for first place at stake, the Browns and Steelers play to see who gets out of the basement -- or to stay in second place if that's your point of view.
Cincinnati has seven wins and is headed to a division title barring an epic collapse.
To even think about the playoffs the Browns have to finish 9-7, which means winning five of six, with games left against New England, Chicago and two against Pittsburgh.
This would be a long longshot.
And this reality is why the Browns were so bitter after the game.
They saw Cincinnati score 31 points in the first half despite having just three first downs.
"That's something you don't see very often, that's for sure," Chudzinski said.
For the game the Browns had more first downs (15-10), more yards (330-224) and more passing yards (228-118), yet they lost by 21.
"At no point did we feel like they enforced their will on us," cornerback
Joe Haden
said. "We were never sitting on the sidelines saying, 'What's going on?' with our head spinning."
Yet they lost, and they lost because they had a punt blocked and returned for a touchdown. They had a fumble returned for a touchdown. They threw an interception that set up a touchdown. And they had another punt tipped that went 9 yards and set up a short field and a touchdown.
And that all happened in one quarter.
In cases small and large, they bungled their chance. After Haden gave them a 13-0 lead with an interception for a touchdown in the first quarter, they gave the Bengals 31 points in the second quarter, a franchise record for a single quarter.
"You have to play every play," Chudzinski said. "When you don't, that turns the game."
That was a common theme with the team. They need everyone to do their job on every play.
"That's why this is the greatest team sport," Ward said. "Everybody has to pull their weight. No group is less important than the next.
"Today, we proved that."
Some of the Browns disputed it, but the game gave the clear indication of one team at a certain level beating up on a team that is trying to get to that level.
November, 17, 2013
11/17/13
4:29
PM ET
CINCINNATI -- A few thoughts on the
Cleveland Browns
' 41-20
loss
to the
Cincinnati Bengals
.

What it means:
Special teams can determine a game. The Browns had things going their way early, but they imploded in the second quarter with a punt blocked and another tipped. For good measure a good Bengals return set up a late field goal. Then the Bengals' defense scored twice -- though one was called back by a penalty. All told the Browns saw a 13-0 lead flip into a 31-13 deficit at halftime even though Cincinnati had just three first downs at the half.
Stock watch:
Jason Campbell
, this is the earth. After two of his best back-to-back games, Campbell found plenty of difficulty with the aggressive and nasty Bengals defense. Campbell did complete a 74-yard TD to
Josh Gordon
in the second half, but more often that not it was checkdowns to backs or running to avoid a rush. Campbell did very good things for the Browns for two weeks, but he's had seven seasons to show the kind of player he is. A "correction" seemed inevitable.
Missed chances:
In the first quarter, the Browns had first-and-goal at the 2 and first-and-10 at the 14. With a chance to take command early, the Browns wasted those chances. Cincinnati's red zone defense forced field goals. Even with
Joe Haden
's interception return for a touchdown, those early field goals kept the game manageable for the Bengals, who took charge in the second quarter.
Not ready yet:
It was nice to think and talk that the Browns could make a playoff push -- ESPN's Merrill Hoge picked them to win the division before the game -- but this is a team that is a ways from that level. They have done something with what they have, but they walk too fine an edge to be playoff-caliber yet.
What's next:
The Browns return home to play the Steelers, a game that prior to this Sunday looked winnable. Now, who knows?