Cleveland Browns:

2013 Week 5 BUF at CLE
October, 4, 2013
10/04/13
5:18
PM ET
A review of four hot issues from the
Cleveland Browns
' 37-24 win over the
Buffalo Bills
:
Out for the season:
Browns quarterback
Brian Hoyer
will miss the rest of the season after tearing his anterior cruciate ligament in the win over Buffalo. It's a tough blow for Hoyer, who performed well in his two full starts playing for his hometown team. Injury is the risk of playing in the NFL, but it's a tough part of the game.
[+] Enlarge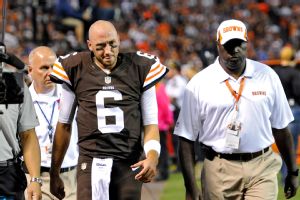 AP Photo/David RichardLosing quarterback Brian Hoyer forces the Browns to turn to Brandon Weeden again.
Back to Brandon:
Browns coach Rob Chudzinski was asked on a conference call why he believed he could get from
Brandon Weeden
what he needs now that Hoyer is out. "Because we have no other choice," Chudzinski said. He doesn't. Hoyer was a pleasant surprise, but the Browns are back to where they started with their quarterbacks. Weeden is the starter and
Jason Campbell
the backup. If Weeden does not improve in a hurry, this season could turn long very fast.
Bryant OK:
Desmond Bryant
left the game and was taken to the Cleveland Clinic in an ambulance after experiencing shortness of breath. Chudzinski said Bryant also had an irregular heartbeat. "We took him to the hospital," Chudzinski said. "He stayed overnight as a precaution. He's fine; everything is back to normal. We're not expecting any issues going forward." Between Bryant having an irregular heartbeat and
Barkevious Mingo
bruising a lung, the Browns have had some scary-sounding injuries this season.
Above breakeven:
Lost in the injury to their starting quarterback is the fact that the Browns have won three in a row, are over .500 and are in first place in the AFC North. Those are all figures that cause double-takes for a team that won 23 games the five seasons coming into this one. Just less than one-third into the season, the Browns can actually ponder the possibility of competing for the division. Pittsburgh is winless. Cincinnati is not playing close to expectations. And Baltimore has its struggles. The Browns can think big, but the key is their quarterback. Since they are back to square zero at that position, it's a rather big question.
October, 4, 2013
10/04/13
3:09
AM ET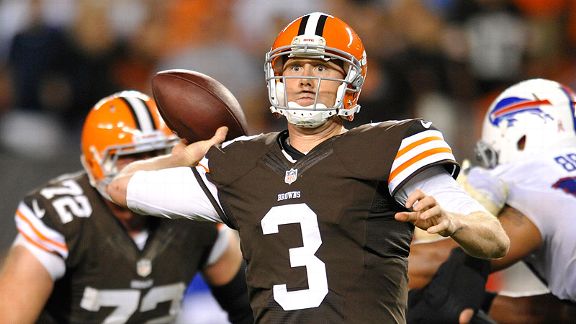 AP Foto/David RichardBrandon Weeden first won over the crowd and then helped lead the Browns to victory Thursday.
CLEVELAND --
Brandon Weeden
remembered clearly the time he last came off the bench to play in a game.
He rattled off the details in rapid-fire fashion in the early hours of Friday morning.
"A Thursday night," he said after leading the
Cleveland Browns
to a
37-24 win
over the
Buffalo Bills
on Thursday night. "My redshirt sophomore year [at Oklahoma State]. We wore all-black uniforms, like the brown [uniforms] tonight. Came back to beat Colorado.
"Kind of eerie, the similarities."
Yes, kind of eerie.
And kind of quirky how Weeden has gone from starter to nearly forgotten to starter again, assuming
Brian Hoyer
's knee injury is as serious as feared. A photo circulates around Cleveland Internet sites and Twitter. In it, a fan wears a jersey with the names of the 19 Browns quarterbacks who have started since 1999 on the back, the ones no longer with the team or no longer starting crossed out.
Weeden's name no doubt will soon be placed at the end of the list -- again.
For two games, Hoyer seemed to be one of the warm and fuzzy stories of the NFL. The local kid who grew up in Cleveland was not on a roster most of last season. He had started one game before this season. Suddenly, Weeden hurt his thumb and Hoyer was promoted from third string to starting.
Then Hoyer won. Weeden noted what he learned while watching Hoyer: "Don't get hurt." He was written off in the minds of some fans and media members, and, though he denies it, he had to wonder about the NFL future of a second-year guy who will be 30 on Oct. 14.
But on an 11-yard run early in the first quarter of Thursday's victory over Buffalo, Hoyer was tackled and his legs bent awkwardly underneath him. He left the game with a knee injury, and left the stadium on crutches.
"It happened right in front of me," said Weeden, who learned only the day before that he would be the backup ahead of
Jason Campbell
.
His immediate thoughts?
[+] Enlarge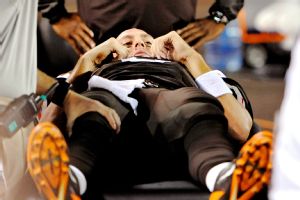 AP Photo/David RichardBrian Hoyer is treated on the sideline after suffering an injury to his right knee.
"Here we go," he said. "This football team was relying on me. Whether I played the last two weeks or not, this team was relying on me."
He didn't pull a "Poltergeist" -- "I'm baacck" -- when he got to the huddle. He just had some blunt words.
"Some of it I can't tell ya," he said. "Just, 'Let's go. Let's do this. Let's go win a football game.'"
Which sounds good when a team wins. A team loses, and nobody ever knows what the quarterback said upon arriving in the huddle.
Weeden had played poorly his first two games, completing just 54.7 percent of his passes, throwing one touchdown and three interceptions and taking 11 sacks. Fans who had hoped he would be the team savior had turned on him and embraced Hoyer. The anger intensified when Weeden badly overthrew his first two passes after replacing Hoyer on Thursday.
But as often happens, the tone changed with each completion. Weeden started to get things going late in the second quarter as he guided the Browns on a 74-yard touchdown drive. In the third quarter, he hit
Greg Little
with a perfectly thrown 47-yard pass down the middle of the field. After a penalty, Weeden lofted a pass to the corner of the end zone that
Josh Gordon
ran under -- and the Browns had their third touchdown.
Weeden's numbers stood out for their efficiency. He completed 13 of 24 attempts for 197 yards and one touchdown. He did not throw an interception -- though he came close a couple times. His game rating: 95.3.
He played after missing two games and going full speed only once during the week, on Tuesday, and with Hoyer getting the bulk of the practice reps.
"There's no excuses," Weeden said. "I have to run the offense that we installed all week."
Weeden has all the skills of a passer. He is tall, has a strong arm and the ball flies out of his hands. But he can lock onto a receiver, and he's not great at avoiding the rush -- Buffalo sacked him five times.
He now appears to have what many thought he'd never have again -- a second chance. And the way he acted when he was hurt might have helped him take advantage of this opportunity.
"Eyes are still on you, to see how you respond, see how you react," he said.
And they are especially on the backup when he takes the field after the starter is hurt.
"It's tough," said Browns left tackle
Joe Thomas
. "Obviously you can't dwell on it because they don't end the game when the quarterback goes down. The next man in just has to come in and do his best and move the ball down the field just as if he's the first guy up. I don't know what happened to Brian or how long he's going to be out or whatever, but Brandon did a nice job stepping in there."
Weeden settled down after the early overthrows. It wasn't a superstar's performance, but it was a winning one. And it was enough to give the Browns a little more confidence in Weeden as they prepare for the next game, at home against Detroit.
Confidence does not equate to wins, of course. Nor do these stories always work out.
But if the likelihood of Weeden bookending backup appearances in wins on Thursday night with all-dark uniforms in college and the NFL is slim, the odds of him reviving his career in Cleveland were even slimmer 24 or 48 hours ago.
Suddenly, Weeden is looking right at what he himself may have thought he'd never have: another chance.
October, 3, 2013
10/03/13
11:42
PM ET
CLEVELAND -- A few thoughts on the
Cleveland Browns
' 37-24
win
over the
Buffalo Bills
at FirstEnergy Stadium:
What it means:
Brandon Weeden
regained the Browns' quarterback job in the worst possible way -- through an injury to
Brian Hoyer
. Hoyer was injured just more than three minutes into Thursday's victory over the Bills when both his knees caught awkwardly under him as he was attempting to slide at the end of a run. The initial diagnosis was a right-knee injury, and NFL.com reported during the game Hoyer would need an MRI. That put Weeden back in the game. The carousel that has been the Browns quarterback situation since 1999 keeps right on turning, and right now it appears Weeden will be riding the lead pony.

Stock watch:
The Browns moved over .500 for the first time since the third game of the 2011 season. That has to help a team trying to find itself. If anyone benefitted from the night, it was Weeden, who missed two games with a thumb injury and seemed to have lost his job. He finished with a quarterback rating of 95.3 and took steps toward re-establishing himself.
Private Benjamin:
Browns punt returner
Travis Benjamin
had as much to do with the result as any player. Benjamin set up Cleveland's first score,
Billy Cundiff
's 30-yard field goal, with a 57-yard return, then scored its second touchdown with a 79-yard return. By game's end, Benjamin had broken Eric Metcalf's team record (166 yards in 1993) for punt return yards in a game, finishing with 179. Benjamin is too small to contribute regularly on offense, but his quickness and speed are extremely dangerous in the return game.
Defense does it:
With an assist from
Jeff Tuel
. One thing that can be said is that the Browns' backup quarterback is better than Buffalo's. Once Tuel got in the game, the Bills got little done. In the final two minutes, the Browns secured the win when
T.J. Ward
intercepted a Tuel pass and returned it 44 yards for a touchdown.
What's next:
The Browns get a 10-day break before finishing the last of three games in a row at home, with the
Detroit Lions
visiting Cleveland. The stakes get a little higher, as the Browns go from Tuel with no
Stevie Johnson
to
Matthew Stafford
and
Calvin Johnson
.
October, 3, 2013
10/03/13
7:31
PM ET
Brandon Weeden
will be the backup quarterback for the
Cleveland Browns
, and running back
C.J. Spiller
is active and will play tonight for the
Buffalo Bills
. That's the fallout from the team's inactives list, which were just released.


Browns inactives include quarterback
Jason Campbell
, which makes Weeden the backup to
Brian Hoyer
. Also inactive are injured linebackers
Quentin Groves
(ankle) and
Jabaal Sheard
(knee) as well as defensive lineman
Billy Winn
. Newly-acquired running
Fozzy Whittaker
will not play, nor will offensive linemen
Martin Wallace
and
Patrick Lewis
.
Shawn Lauvao
is active, and likely will start at right guard. Lauvao has not played since injuring an ankle in training camp, and his replacement,
Oniel Cousins
, had mixed results, especially in pass protection. Lauvao's return means the Browns have their first-team offensive line in place for the first time this season.
Buffalo will not have safety
Jairus Byrd
active. He practiced the past two days, but his foot injury will sideline him. Other inactives include cornerback
Stephon Gilmore
, kicker
Dustin Hopkins
, cornerback
Ron Brooks
, offensive lineman
Sam Young
, receiver
Marquise Goodwin
and tight end
Chris Gragg
. Both Spiller and running back
Fred Jackson
will play through pain, Jackson with a knee and Spiller with an ankle. It's likely the Bills will give
Tashard Choice
more carries than any back.