Cleveland Browns:

2013 Week 7 CLE at GNB
October, 21, 2013
10/21/13
10:30
AM ET
The
Cleveland Browns
had won three-of-four leading up to Sunday's loss at Lambeau Field to the
Green Bay Packers
.
You'd never have known it spending time with the team.
Players discussed mistakes and seemed badgered by questions dealing with negativity. Defensive coordinator Ray Horton was (ahem) defensive as he discussed his unit, and came ready with numbers and stats to back up his claims.
[+] Enlarge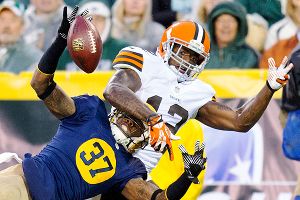 Jeff Hanisch/USA TODAY SportsBrandon Weeden had problems connecting with receiver Josh Gordon in the Cleveland loss.
Offensive coordinator Norv Turner sounded a little resigned when he talked about trying to make the most of the team's running game.
All this going on, mind you, for a team that had won three of the previous four.
This is life in Cleveland with the Browns, where so many bad years and so many catastrophic sports plays have the populace waiting for something to go wrong. Each loss feels like four, each mistake seems like it never happens to anyone else. The constant losing put fans on edge, and when a loss happens the negatives are magnified.
The Browns carried this to Green Bay, and after losing that mental load became heavier.
There's a lot going on with this team, and at this point more of it is mental than physical.
Against the Packers, players made mental mistakes. They didn't get off blocks. They missed tackles. They didn't compete for passes on offense.
And after the game many seemed weary at the offensive futility.
The quarterback seems to have thought himself into a straightjacket.
Brandon Weeden
did not play well. At the same time he's had so much hammered into his head about what not to do that it seems like he's playing with fear of making a mistake. That won't work in the split-second world of the NFL.
In Green Bay, the Browns wanted to max protect and go to quick passing. It didn't work. At times the receivers didn't win. At other times Weeden didn't trust he could get the ball to his receivers, at times he missed them and at other times he seemed unwilling to take a chance on throwing them the ball.
This screams of a guy playing afraid of failing, as opposed to a guy who will play winning football.
Weeden has many things against him. Consider that
Aaron Rodgers
has been in the same system in Green Bay his entire career. Weeden is in his second in two years.
That doesn't excuse poor play, and he played poorly. But at the same time he's so bound up in himself it looks like he can't just go play.
The game started with some bad throws and some drops. It continued with more drops, and with
Josh Gordon
making what appeared to be a lackluster effort at a key fourth-down throw.
After the game, the same group of receivers that didn't talk after the Lions game spoke, but with short words. They may have been angry, and nobody could blame them. But it smacked of a team starting to fray.
The Browns learned what it was like to win the two games
Brian Hoyer
started. They liked it.
They saw they could win in Buffalo after Hoyer was hurt and Weeden took over. But they've seen little go well the last six quarters. Since taking a 17-7 halftime lead against Detroit, the Browns have been outscored 55-13.
That's a scary number. And it's a number that can burn into a team's psyche.
Rob Chudzinski's biggest challenge this week isn't to coach around his team's limitations, it's to ensure his team's mind is right as it heads to Kansas City.
Because if the Browns have shown nothing else the past few years, they've shown is a season can go South in a hurry.
And this one seems to be teetering right on that edge after seven games.
October, 20, 2013
10/20/13
10:38
PM ET
D'Qwell Jackson
scoffed at the notion that the difference between the
Green Bay Packers
and
Cleveland Browns
is that
Aaron Rodgers
plays for the Packers and not the Browns.
"I can come up with 100 different excuses why we didn't win," Jackson said. "We just didn't win."
The quarterback play was a factor. Rodgers is one of the best and
Brandon Weeden
is trying to make it. Rodgers had two injured receivers for this game, but threw 10 times to
Jarrett Boykin
. He had one catch coming in, but had eight for 103 yards and a touchdown against the Browns.
[+] Enlarge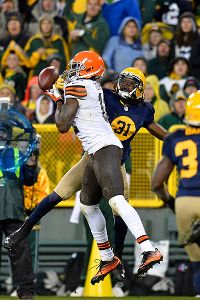 Brian Kersey/Getty ImagesJosh Gordon was targeted six times Sunday against the Packers but he came up with just two catches for 21 yards.
Weeden needs to help his team the same way, though for Weeden it's not nearly as simple, or easy.
Weeden needs help, and when he does the players around him need to provide it. Wide receiver
Josh Gordon
has immense talent, clearly more talent than anyone else on the Browns' offense. But against the Packers he was handled by
Sam Shields
and
Davon House
.
This simply should not happen -- not if Gordon wants to be among the elite in the league, which he says he does.
Gordon also needs to go after every ball like it's his life savings. If he doesnt, it matters.
Early in the fourth quarter, the game was still a game. The Browns offense was struggling, but the defense wasn't -- and one key play could have changed the tenor of things.
The Packers led 17-6 when Browns coach Rob Chudzinski went for the first down on fourth-and-15 from the Green Bay 31. He bypassed a long field goal attempt because he felt the odds were not in the team's favor kicking into the wind.
So he went for the first down.
And Weeden threw a high pass down the left sideline to Gordon, who was covered but had space to catch the ball.
But instead of going up aggressively for the ball, Gordon let it come to him. He tried to cradle it in his body, which gave House a chance to knock the ball away. Receivers are taught to catch with their hands, not with their body. Gordon tried to catch with his body.
"It seemed like it was a playable ball," Chudzinski said. "And you'd like to see him come up with that catch."
Had Gordon extended his arms and gone after the ball, he'd have clearly had the strength and position to come down with it. That was not the play for a half-hearted effort. Not at that point in the game.
Gordon, though, thought his effort wasn't half-hearted.
"I definitely think I did attack it the way I usually do," Gordon said. "The DB made a great play on the ball."
House made a great play on the ball because Gordon gave him the chance to make the play. A guy like
Calvin Johnson
or
A.J. Green
or even
Anquan Boldin
doesn't give the defensive back that chance. It's what elite receivers do.
After the game Gordon and Little both were short and curt with their responses. That's their right; the team did lose.
But if that attitude was a reflection of their lack of faith in Weeden, it spells trouble for the Browns.
Because they aren't good enough to beat a team without every player doing everything he can to win. If the team truly believes in Weeden, it has to play like it does.
On that play, Gordon did not.
October, 20, 2013
10/20/13
10:05
PM ET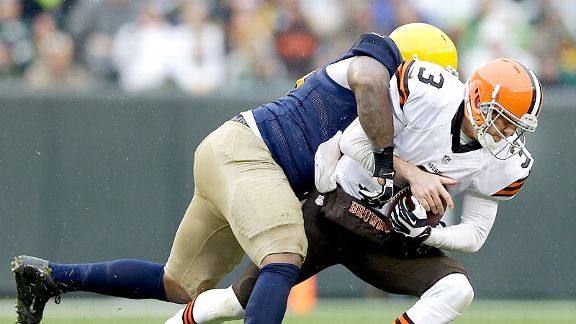 AP Photo/Tom LynnThe Packers pressured quarterback Brandon Weeden into a number of mistakes in Cleveland's 31-13 loss Sunday.
The numbers for
Brandon Weeden
in Sunday's
31-13 loss
to the
Green Bay Packers
included these:
-- The
Cleveland Browns
quarterback threw for 149 yards.
-- He threw 42 times to get those yards.
-- He completed 40 percent.
-- He averaged 3.5 yards per attempt.
Those numbers speak volumes that something drastic has to change for the Browns and their offense or the next two months will seem endless -- sort of like the last two months of the last five seasons have seemed in Cleveland.
Either the Browns have to find some magic somewhere, Weeden has to improve or the offense/team has to find a way to win playing a style that fits Weeden's strengths and limitations.
None would be easy.
The Browns already found magic once with
Brian Hoyer
. But since he hurt his knee the offense has regressed. After Hoyer's injury, coach Rob Chudzinski said the offense would trust Weeden, in part because they had no other choice. They still have few choices. Brian Sipe and Otto Graham are not walking through any doors.
If Weeden is to improve it will have to be marked. He had at least three balls dropped against the Packers, and he saw
Josh Gordon
make a half-hearted effort on a key fourth down play in the fourth quarter. But Weeden also overthrew folks, made other bad throws and at times seemed outmatched as he looked downfield.
The Browns played a bad first half, but even with that had chances down 17-3 to get back in the game. The offense never did its part.
It appeared the Browns gave Weeden extra protection given Green Bay's aggressive blitzes, and at times receivers didn't win and at other times Weeden didn't see them when they did win.
The team says it has confidence in Weeden. If so, it needs to play like it does -- and Weeden needs to help.
In his two starts since Hoyer was hurt, Weeden is barely over 50 percent (43-for-85) and has three touchdowns and three interceptions, with the TD against Green Bay late with the game virtually decided.
Chudzinski said Sunday he never gave a thought to pulling Weeden. He said he would evaluate this week and always play guys who give the team the best chance to win.
Clearly something has happened with
Jason Campbell
-- and it might have been the underhand throw out of bounds in the fourth quarter against Baltimore in a 14-6 game.
The Browns best chance might be for Chudzinski and offensive coordinator Norv Turner to try to adjust the scheme to fit Weeden better. Or to rely on the defense more. Or to try to gimmick some things up to help on special teams (something they're doing already). Or to go to the running game more -- though that's tough because the Browns don't have a legitimate running game.
What they do might challenge the team's offensive minds, especially since the next game is at undefeated Kansas City and then home against Baltimore, two aggressive pass-rush teams much like Green Bay.
But at this point the Browns are winless in Weeden's four starts and he's completing 56.2 percent, which is 30th in the league.
But ... the guy ahead of him is
Alex Smith
(56.5 percent) and he's unbeaten in Kansas City. Obviously teams can win with the right plan with a guy completing a low percentage. (Though Smith's 50.0 Total Quarterback Rating is double Weeden's 24.9.)
It takes time to build a team and Chudzinski deserves that time. But in the short term something has to give, or change.
If it doesn't, or if it can't, the final two months of the season will be about the 2014 draft.
Again.
October, 20, 2013
10/20/13
9:27
PM ET
GREEN BAY, Wis. -- Observed in the locker room after the
Cleveland Browns
'
31-13 loss
to the
Green Bay Packers
.
Gordon
Little
Angry faces:
The angriest people in the locker room seemed to be the Browns' receivers. Interpreting their anger probably isn't wise, but their answers were ... curt. Said
Josh Gordon
of the offense: "We just didn't get it going as well as we should have." Said
Greg Little
: "Have to get better. That's it." There was a bit of an edge to their voices.
Evening grimace:
This came from
Brandon Weeden
when he was asked how frustrated he is that he can't get the offense going. It either meant, "Geez, I'm doing my best" or "of course I'm frustrated."
Stay the course:
Coach Rob Chudzinski said he gave no thought to pulling Weeden during the game, even though Weeden finished just 17-for-42. As for the future, Chudzinski said: "We'll always put the guys out there that give us the best chance to win."
Against the wind:
Chudzinski said he eschewed a field goal on fourth-and-15 from the Green Bay 31 because the wind in that direction was strong and unpredictable. Kicker
Billy Cundiff
said
Mason Crosby
told him he hit a 52-yard try in that direction well, but it came up three yards short. Cundiff said the wind would have had to die to make the 48-yard kick worth trying. "(Coaches) get paid big bucks for a reason," Cundiff said.
Concerned for Finley:
Safety
Tashaun Gipson
said a prayer for injured Packers tight end
Jermichael Finley
after Gipson's violent hit left Finley laying on the turf for several minutes. "I shot a prayer up for him and if I can reach out after the game I'm going to try to get in contact with him and let him know my condolences go out to him," Gipson said, adding the hit was all shoulder and it went so fast he still doesn't know what happened.
October, 20, 2013
10/20/13
7:37
PM ET
GREEN BAY, Wis. -- A few thoughts on the
Green Bay Packers
'
31-13 win
over the
Cleveland Browns
:

What it means:
The Browns have a long way to go before they're among the elite of the NFL, which is where the Packers reside. Either that or the Browns' quarterback position has a long way to go. Though
Aaron Rodgers
didn't have glittering numbers, he was more than efficient in throwing three touchdown passes and leading the Packers to 31 points -- with Green Bay playing without some of their top receivers.
Brandon Weeden
had an awful start and the Browns never recovered. Where the Browns go from here is anyone's guess. Bernie Kosar isn't walking through that door.
Stock watch:
Weeden's future in Cleveland, or lack thereof, is becoming clearer and clearer. For a number of reasons -- his play, the lack of a running game, the receivers' inability to get to the spot, Weeden losing confidence, two systems in two years -- his play has regressed since midway through his rookie year. It's not working for him, and because of that, the Browns' offense is struggling. Teams just aren't going to give a 30-year-old quarterback a whole lot of time.
Not there yet:
Josh Gordon
is the biggest, fastest, most athletic player on the Browns' offense. But in this game, Gordon was handled by
Davon House
and
Sam Shields
. And on one of the more important plays of the game, Gordon waited for the ball to come to him, which allowed House to make a play on it and break it up. Instead of jumping and extending for the ball and using his ability, Gordon was lazy. As a result, a key fourth-down pass fell incomplete.
Interesting decision:
Down 17-6 early in the fourth quarter, the Browns had fourth-and-15 at the Green Bay 31. A long field goal would have been a challenge, but
Billy Cundiff
has the leg. The value of the field goal: three points makes it an eight-point game -- a touchdown and a two-point conversion. Browns coach Rob Chudzinski chose to go for a tough fourth-and-15, and the Browns didn't convert. Had they kicked the field goal, they'd have been down eight in the fourth quarter instead of 11.
What's next:
It gets no easier for the Browns and their quarterback as they travel to Kansas City to face the undefeated Chiefs and their pass rush, which is among the league's best.