Cleveland Browns:

2013 Week 9 BAl at CLE
November, 3, 2013
11/03/13
11:18
PM ET
CLEVELAND -- Rob Chudzinski told his team on his first day as the
Cleveland Browns
coach that they should expect a certain approach.
He wanted to be aggressive, and he wanted his team to be aggressive.
"He hasn't disappointed," left tackle
Joe Thomas
said.
No, he has not. Twice in the 24-18 win over the
Baltimore Ravens
Chudzinski called for his team to go for the first down on fourth-and-1. Both were important moments in a close game. Both went the Browns' way.
[+] Enlarge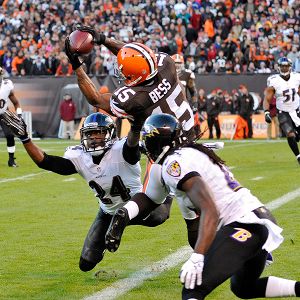 AP Photo/David RichardDavone Bess came up big on both of Cleveland's fourth-down conversion attempts.
That makes it 19 times this season that Chudzinski has gone for the first down on fourth down, a league high. (The Browns have made it 10 times.) Some coaches might not go for it on fourth down twice in a season; Chudzinski is doing it twice a game.
"That's his mindset," said wide receiver
Davone Bess
. "That's his mentality."
The Browns knew they'd have an attacking defense, but Chudzinski's attacking approach on offense goes against the grain of almost every NFL coach. In a league where most talk about "managing the game" and "having a chance" to win, Chudzinski goes after it. That it came in a division game against the Super Bowl champions was even more noteworthy.
"We've been a kid brother in this division for a long time," Chudzinski said. "You have to go play, and if you want to change that then you have to go do things to change it."
Players love a coach who has faith in them -- especially when he's not afraid to show that faith. Over time, the aggressive message seeps in and players start to believe as much as their coach.
Chudzinski shows this aggressiveness with a team that has not won six games in any of the previous five seasons, but heads into the bye week two games behind the Bengals in the AFC North with a 4-5 record -- a mark in Cleveland worth smiling about.
The first fourth down against Baltimore came in the first quarter, at the end of the Browns' second drive. The Browns got to the Ravens 1, and on fourth down Chudzinski went for the touchdown.
"I felt good about what we had game-plan wise to be able to score," Chudzinski said. "I think it was important in this game for our guys to have the mentality to play to win."
Jason Campbell
was able to thread a pass to Bess for a touchdown.
In the fourth quarter, the Browns led by three and had a fourth-and-1 from the Baltimore 43 with 3:12 left. Again, the conventional thinking would be to punt, pin the Ravens deep and play defense. But often, that conventional thinking prevents a win. Chudzinski again went for the first down.
"We had the opportunity to take the game at that point," he said.
Campbell had to scramble and throw back across his body, but he again found Bess for a sliding catch and a first down. Eight plays later the Browns kicked the game-securing field goal with 17 seconds left.
"It's not just a matter of being reckless," Chudzinski said. "But it's a matter of being aggressive. Sometimes it's going to work; sometimes it's not going work, and I understand that.
"Fortunately it paid off today."
Chudzinski has set the tone with his decisions, which have included fake punts and field goals. And he's been consistent all season.
His attitude is aggressive, it's determined -- and it's refreshing.
November, 3, 2013
11/03/13
9:57
PM ET
CLEVELAND --
Cleveland Browns
quarterback
Jason Campbell
played in Sunday's
24-18 victory
against the
Baltimore Ravens
in extreme discomfort.
After the game, Campbell had X-rays on his ribs. He judged based on his experience that they were not broken, but results of the X-rays will be announced probably on Monday. The chance he has broken ribs remains.
"I kept telling [the team] to just give me time because my ribs were really bothering and hurting me," Campbell said. "It was bothering me on a couple of throws. I really wanted to cut it loose and it was kind of grabbing me. I couldn't really get what I wanted to put on the ball as far as speed and accuracy sometimes.
"But this league is all about pressing on."
Campbell was hurt in the first quarter when he scrambled for a short gain. At the end of the run, Baltimore's mammoth defensive tackle
Haloti Ngata
tried to jump over a teammate, but tripped and his momentum put his entire 340 pounds on top of Campbell. To make it worse, the ball was between Campbell and the ground, which exaggerated the blow.
"I felt that one," Campbell said. "I'm not even gonna tell you what was in my mind. That one was big."
Though Ngata was penalized, nobody thought the hit was dirty. Campbell said Ngata came to him after the game to apologize. Ngata told the Browns quarterback he jumped so his teammate didn't hit his legs, which caused the hit.
"Haloti is in the air while Jason Campbell is in the air," Ravens coach John Harbaugh said. "Jason's running and because he ends up landing on him it's hard for me to understand why that's called."
"He's not a dirty player," Campbell said of Ngata. "He's a really good, standup football player."
That Campbell had the game he did with the physical problems he had was all the more impressive. He finished 23-for-35 with three touchdowns, no interceptions and 262 yards. He guided the Browns on a 6:30 drive in the fourth quarter that sealed the victory. On the drive, he scrambled for a first down on third down, hit
Chris Ogbonnaya
for 17 yards on second down and found Ogbonnaya again for 14. He also scrambled from the blitz to find a sliding
Davone Bess
for a fourth-and-1 conversion at the Baltimore 40 with just more than two minutes remaining.
That pass was the biggest play of the game.
"I'm not even sure I call the play right," Campbell said with a smile.
But on that play, Campbell was again hit in the ribs as he threw. As he lay on the ground in pain, running back
Willis McGahee
came over."
"We're the old guys on the team," Campbell said. "All I could hear was him, 'Get up! Get up! I'm hurting, you got to get up.' I was like, 'Give me 10 seconds. I can't even breathe here.'"
If Campbell has an injury that lingers, he'll have an extra week to heal because the Browns have a bye. That would be good news to the team, because Campbell has stepped into the quarterback spot and played beyond every expectation.
In two starts, he's thrown for 554 yards with five touchdowns and no interceptions.
More important, his calm demeanor combined with an inner confidence seems to bring something the team needs, and appreciates.
Which is why he'd be missed if he is hurt worse than he thought. Campbell is basing his diagnosis on his experience.
The Browns will hold their breaths on the results of the X-rays.
November, 3, 2013
11/03/13
9:24
PM ET
CLEVELAND -- Observed in the locker room after the
Cleveland Browns
' 24-18
win
against Baltimore:

Campbell
X-Rays for Campbell:
Browns quarterback
Jason Campbell
went immediately to the X-ray room next to the locker room to have his injured ribs checked. Campbell said he had trouble breathing after
Haloti Ngata
landed on him, and that continuing to play was difficult -- but he was not leaving a game he called a "must-win." Campbell said he didn't think he had broken ribs, but asked if he could play in a week if the Browns were not off, he said: "Who knows?"
Also hurt:
Wide receiver
Greg Little
never made it into the locker room after the game, presumably because he needed treatment on an injured shoulder. Little had one of his best games as a Brown, with seven catches for 122 yards, but left the game in the fourth quarter after hurting his right shoulder.
Confident crew:
The Browns seemed almost arrogant heading into the game, but after they simply seemed confident. The defense has been a completely different crew since receiving a tongue-lashing from the coaching staff at halftime in Kansas City, and the Browns now are in second place in the AFC North. It's been a long time since the Browns beat the Ravens (since 2007), but this win was complete, efficient and impressive.
Confused by the Ravens:
Brown defensive tackle
Phillip Taylor
said it seemed like the Ravens changed their entire offense form a year ago. He said it seemed like fullback Vontae Leach only was in for a couple plays, then added: "They're not gonna win like that."
Reaching out:
Owner Jimmy Haslam reached into the huddle around
Davone Bess
to shake the wide receiver's hand after his two-touchdown game. Haslam then turned around and crossed paths with Campbell and offered the quarterback a greeting -- two guys who played key roles in the win.
November, 3, 2013
11/03/13
7:38
PM ET
CLEVELAND -- A few thoughts on the
Cleveland Browns
'
24-18 win
over the
Baltimore Ravens
:

What it means:
The Browns can think about competing in the AFC North. Only one team in the division is over .500, and that's the Bengals. But they lost their best defensive player to a knee injury when
Geno Atkins
went down in Thursday night's game. The Browns are 4-5, one-half game ahead of the Ravens and one-and-a-half behind the Bengals, with a game in Cincinnati after the bye. Cleveland is in second place and after everything that's happened this season can actually think about doing something the final seven games other than playing out the string.
Stock watch:
Jason Campbell
is here to stay. Or until he gets hurt. Campbell shrugged off an early late hit when 340-pound
Haloti Ngata
fell on him after a scramble to throw three touchdown passes against a Ravens defense that should have been rested and organized after a bye week. Instead, Campbell played the same kind of calm, composed game he played in Kansas City. In two games, he has zero interceptions and five touchdown passes.
The swarm:
The Browns' defense made the Ravens look pretty bad at times with their combination of pressure and blitzes. The Browns were aggressive against the run, and attacking against the pass. It made
Joe Flacco
look bad, and never let noted Browns-killer
Ray Rice
get going. If the Browns get consistent effort like that the rest of the season, they will be in a lot of games.
End of the streak:
The Browns had lost 11 games in a row to Baltimore heading into the game. Coach Rob Chudzinski said the division had treated the Browns like a kid brother and it was time for the team to step up. They did, and despite trading their starting running back and using three different starting quarterbacks they are in second place in the division nine games into the season.
What's next:
The Browns have their bye week and won't play again until Nov. 17 when they visit Cincinnati to play the Bengals.