Cleveland Browns:

A.J. Green
December, 19, 2013
12/19/13
2:39
PM ET

Voting is underway among the four ESPN.com reporters for the All AFC North Team of 2013.
Results will be announced after the season.
But we thought it might be fun to get input from readers on one of the tougher positions to select the best: wide receiver.
We are picking three for the All AFC North Team, and the division includes four standouts and one up-and-coming rookie: Cleveland's
Josh Gordon
, Pittsburgh's
Antonio Brown
, Cincinnati's
A.J. Green
and
Marvin Jones
, and Baltimore's
Torrey Smith
.
Their numbers:
.
November, 15, 2013
11/15/13
11:00
AM ET
The best thing about the rivalry that's developing between
Cleveland Browns
cornerback
Joe Haden
and
Cincinnati Bengals
receiver
A.J. Green
?
Both are in their NFL infancy, so this matchup will be something to watch for many years.
A close second?
There is such respect and maturity about the competition. Haden and Green seem to genuinely like each other, and admire the way the other plays. There is no trash talk, nothing ridiculous.
[+] Enlarge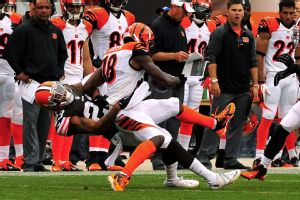 Nick Cammett/Diamond Images/Getty ImagesBrowns cornerback Joe Haden facing Cincinnati's A.J. Green is one of the NFL's best matchups.
Just good, competitive football.
"It's all in love," Haden said.
It's pretty much the way it should be. Both will fight like mad for their teams, but both are more than friendly off the field.
"That's the same with
Torrey (Smith)
, with a lot of these receivers I go up against," Haden said. "There's no extra beef. We're really good competitors. And it's cool. Because after the game you can sit and talk and hang out.
"It's super cool having the players I go up against being good guys."
The Bengals have a rare talent in Green, and a rare person. He entered the league with the professionalism of a veteran, standing in the locker room after the Bengals' playoff loss his rookie season and saying of the next season: "I'm ready to go to work."
"He's a fantastic young man," Browns defensive coordinator Ray Horton said. "He's in the mold of a professional, meaning that you don't see the hyperbole with him. He just goes out and does his job and gets back in the huddle. He doesn't want the extra attention from off of the field. He wants to be known as a stand-up professional, a guy-that's-been-there-before player."
Presumably Green would say he has the same kind of respect for Haden. No player on the Browns seems to have grown more in one offseason. He seems more dedicated, more focused and more mature than a year ago, when he missed the first four games because of a suspension.
Maybe it was that experience, maybe it was getting married, but Haden is reaching his on- and off-field potential more than ever this season.
His first game against Green was the first indication that Haden was ready to, as Horton said, take the "potential" from "potential Pro Bowler" from his name.
Green caught seven passes, but had just 51 yards -- and had no catches longer than 16 yards. That game sent Green on a streak of five games when he had 36 catches for 598 yards, with three touchdowns, as if he took the game against Haden personally.
"If he does, he does; if he doesn't, he doesn't," Haden said. "No matter how you take it, you still have to go out and do it. I'm taking the game with my approach. He can go out however he wants to. But it's going to be a battle."
Haden has been doing good work all season. Every game he is assigned to the opposing team's best receiver, be it Baltimore's Smith, Detroit's
Calvin Johnson
or Miami's
Mike Wallace
, who had one catch for 15 yards.
"He's stepped up to the challenge of matching the other team's No. 1 receiver," Horton said.
Green enters the game with the longest catch in the AFC (82 yards), and the most receiving yards in the NFL (1,013). Haden's goal: Keep Green from the big play, because in just three seasons in the NFL, Green has done some serious damage to the Browns with big catches.
"Stay on top," Haden said. "Make sure he doesn't really affect the game like that. He's a really, really good player at the same time. We make sure we pay a little extra attention, make sure he doesn't affect it."
It's the kind of matchup players enjoy, and fans enjoy watching.
And if both players continue on their career paths, it could be a matchup that folks will see on NFL Films for many years to come.
September, 26, 2013
9/26/13
12:00
PM ET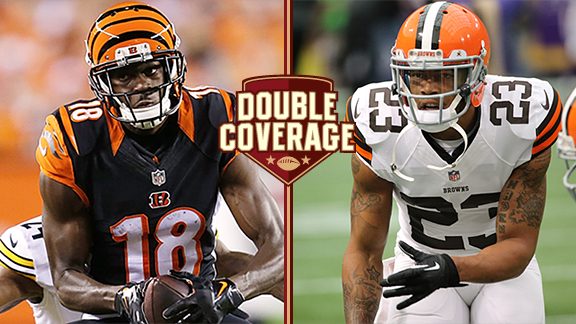 Getty ImagesJoe Haden, right, hopes to contain A.J. Green, who had two TDs in his last game in Cleveland.
The 80th edition of the Battle of Ohio may be one of the more intriguing ones in quite some time.
Then again, it is still very early in the season, so maybe not.
Yes, in general, victories have seemed to elude both teams throughout their long tenures. But perhaps the winds have shifted this year. With a new quarterback and a revamped offensive look after the blockbuster trade of their biggest young star, the
Cleveland Browns
enter the game buoyed by a win and believing in
Brian Hoyer
.
For the
Cincinnati Bengals
, hope and hype have meshed this season as their fans think this might finally be the year Cincinnati gets past its first-round playoff hurdle.
As you get set for Sunday afternoon's contest between the 2-1 Bengals and 1-2 Browns, check out the spirited exchange between Coley Harvey and Matt Williamson as they pondered a few storylines:
Matt Williamson:
The Browns' pass protection improved dramatically in Week 3 in Minnesota.
Joe Thomas
and the edge protection did a great job against
Jared Allen
& Co., but
Michael Johnson
is coming off a spectacular performance himself. Do you think the Bengals' pass-rushers continue their dominant ways?
Coley Harvey:
It certainly seems the Bengals' pass rush has finally hit its stride. All season their fans had been waiting for a performance like Sunday's against the Packers, when they hurried quarterback
Aaron Rodgers
for eight sacks, and limited him to just 244 yards of passing offense. The week before, he threw for 480. The line also accomplished something that hadn't been done in five years: batting down three of Rodgers' passes at the line of scrimmage. Johnson was key in those deflections, coming away with arguably the game's biggest when he swatted Rodgers' fourth-and-5 passing attempt on Green Bay's last play of the 34-30 Cincinnati win.
One name that hasn't appeared much on stat sheets through the first three games is
Geno Atkins
. The newly re-signed defensive tackle has been swallowed up by double-teams and has been chipped by virtually every player on the offensive lines he has faced. The attention teams are giving him has benefited players such as Johnson and fellow defensive end
Carlos Dunlap
. You have to imagine that trend continues.
Pressure is something Hoyer seemed to handle pretty well in his start against Minnesota last week. If he gets the nod behind center again this week, do you think he'll pick up where he left off?
Williamson:
I like Hoyer quite a bit ... as the Browns' long-term backup quarterback. It has surprised me a great deal that he bounced around the league so much in a short amount of time, and I respect how he played in Minnesota, but again, I think his ceiling is that of a high-end backup. Can he spark this team, though? For sure. He clearly has eyes for
Jordan Cameron
and especially
Josh Gordon
-- for good reason. Gordon being out of Cleveland's lineup had a much bigger effect on this offense than many realize. But overall, yes, I think Hoyer can have a nice day once again targeting Gordon and Cameron.
A.J. Green
is obviously a very special wide receiver, but the Bengals have gotten away from him at times. They now have a wealth of other receiving options, including the rookies
Giovani Bernard
and
Tyler Eifert
, but if
Joe Haden
can slow down Green one-on-one, much as
Ike Taylor
did in Week 2, could the Bengals struggle to create offense through the air?
Harvey:
Yeah, I suppose that could happen, but I'm not banking on it. There's just something about playing on the road that seems to get Green going. His home-road splits are actually quite creepy. In the 16 road games he has played in his career, Green has 106 receptions for 1,619 yards and 16 touchdowns. In the 18 games he has played at Paul Brown Stadium in Cincinnati, he's caught just 75 passes for 1,037 yards and eight touchdowns. He's even been targeted by quarterback
Andy Dalton
about 8 percent more often on the road than he has been at home. The two games in which Green was stifled this season? Yep, you guessed it: They were at home.
OK, so maybe I'm reading too far into the home-road splits, but I have a feeling Green will do well this weekend. He had a tough matchup in Week 1 at Chicago. Even though
Charles Tillman
intercepted two passes while covering him, Green still caught nine passes and two touchdowns. Still, Browns fans should watch Bernard and Eifert. The two rookies figure to be an even larger part of the offense.
There obviously has been a lot made of Cleveland's offense in the past few weeks, but it looks like
D'Qwell Jackson
has been the unsung hero of the defense. He had 10 tackles last week. How much should Bengals wideouts and running backs be wary of going across the middle with Jackson out there?
Williamson:
Jackson has played very well and is highly productive, for sure. He has excellent range, reads plays well and is excelling against the run and in coverage. But I would say the true unsung heroes are those in front of him.
Phil Taylor
is a personal favorite of mine as a dominant interior presence that demands extra blocking attention. Taylor makes room for everyone, especially Jackson, to do what they do best, but
Desmond Bryant
,
Ahtyba Rubin
,
John Hughes
and others are also playing very well on the interior for Cleveland and should give Cincinnati's guards and center all they can handle against both the run and pass.
I briefly mentioned Gio Bernard earlier and I must say, I don't think it will be long before he is putting up Pro Bowl numbers year after year for the Bengals. But right now, he and
BenJarvus Green-Ellis
split carries, which makes some sense so early in Bernard's career. However, coach Marvin Lewis needs to unleash his rookie running back. When do you see that happening?
Harvey:
I agree with you, Matt. At some point, Lewis needs to start going even more with Gio. And that's not a slight to Green-Ellis. He's been a solid back since he arrived in Cincinnati, and has even benefited from having Bernard on the field. When they're on the field together, Green-Ellis' yards-per-carry average is higher than it is when he's back there in a one-back formation.
I suspect the Bengals will keep bringing along Bernard slowly, but before the season is over he should be seeing 20 touches.