Cleveland Browns:

Adam Gase
February, 3, 2014
Feb 3
1:24
PM ET
The
Cleveland Browns
might not be able to win on an issue related to their coaching search.
They're criticized for the length of time they took to hire a coach and now they're questioned because they didn't wait longer.
That's because the first guy they interviewed --
Seattle Seahawks
defensive coordinator Dan Quinn -- went on to win the Super Bowl. Which conveniently ignores the fact that the offensive coordinator the Browns asked about before they talked to Quinn lost the Super Bowl.
No matter.
The immediate reaction is that the Browns waited a long time, then didn't wait for a second interview with a Super Bowl winning coordinator and hired one whose team went 6-10.
[+] Enlarge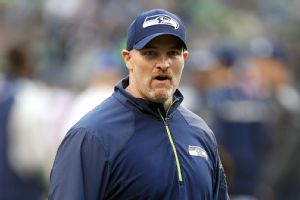 AP Photo/Paul JasienskiWaiting for Seahawks defensive coordinator Dan Quinn might have led to the Browns missing out on their top two choices.
Quinn told the Cleveland Plain Dealer after the Seahawks had kicked sand in Peyton Manning's face Sunday night that he was definitely intrigued by the Browns job.
"I certainly would have been interested,"
Quinn told Mary Kay Cabot
. "I mean, it's a big-time place. It's the Cleveland Browns."
Quinn could have interviewed in the week after the NFC Championship Game, but he declined, preferring to focus on the Super Bowl. He simply wanted to wait until after the game out of respect for his players.
The Browns chose to go ahead and hire former
Buffalo Bills
defensive coordinator Mike Pettine.
CEO Joe Banner called the decision not to interview Quinn for a second time "the toughest decision" in the search. He addressed the issue on Jan. 23, the day Pettine was hired.
"I think we felt that we knew [Quinn] well enough to make the comparison," Banner said.
He had nothing but praise for Quinn, calling him "an outstanding guy, an outstanding coach."
"If we had felt that he would be likely to prevail, we would not have liked to wait, we would not have liked to take 10 more days of pummeling, but we would have," Banner said.
Pettine made the story a little more complicated by saying the day he was hired that if the Browns' search had dragged out a little longer -- Rob Chudzinski was fired Dec. 29 and Pettine was hired Jan. 23 -- he would have withdrawn.
Pettine felt he couldn't keep the Bills waiting any longer.
If the Browns knew that -- and it would be shocking if they didn't -- they were looking at either ...
Hiring Pettine immediately. Which was the right move if they felt he was the guy.

Waiting for Quinn and risk losing Pettine -- who would have withdrawn -- without being certain if Quinn would have taken the job.
That could have left the Browns without both coaches and the Super Bowl over, which would have led to even more criticism.
They went with the sure thing, a guy they liked while knowing they were turning down a guy they liked.
"That was probably the toughest decision because there's no doubt we were very impressed with [Quinn] and there's no doubt he's going to be a head coach, an outstanding head coach," Banner said. "There are a lot of people around the league that think very highly of him. But in the end we decided to move forward."
The Browns simply can't win in this situation, and in many ways questioning this is classic second-guessing.
The first coach the Browns sought permission to interview was Broncos offensive coordinator Adam Gase.
His offense looked bad in the Super Bowl against Quinn's defense. Which led many of the same folks who were clamoring for Gase to be thankful the Browns didn't get him.
One game doesn't define a coach, good or bad. It does create reactions.
Because Quinn won, questions come up about why the Browns didn't wait.
The questions are fair, but the answers don't guarantee Quinn or Pettine will be the better head coach.
January, 29, 2014
Jan 29
12:31
PM ET
Adam Gase's decision not to interview to be the
Cleveland Browns
coach was a matter of timing and was not affected by the perceptions of the Browns.
That's the word from Gase, who spoke in New Jersey at Super Bowl interviews, with transcripts provided by the NFL.
"My decision was strictly because we went (to) the playoffs," Gase told the assembled media at the Super Bowl. "It would have been hard for me to change gears that fast, especially once we beat San Diego (in the Division Round)."
Gase was one of the first people the Browns asked to interview. He initially put off interviews until the Broncos were eliminated from the playoffs, then decided not to interview as the Broncos advanced.
He said the external noise and criticism did not affect his thinking.
"I can't speak for everybody else, what their thoughts were," Gase told the assembled media. "That wasn't what I was thinking."
Gase pointed out that the timing in hiring a staff and coordinating draft and scouting would have been difficult had he waited until early February.
"After this game, we're like two weeks from the combine," he said. "The turnaround is going to be unbelievable."
It's admirable. Gase simply wanted to concentrate on his team, his players.
"My mindset was on what we wanted to do to get to this point here to try and finish this off," he said. "I just remember how I felt last year after we lost that Baltimore game. Me personally, I would not have been able to forgive myself if something would have happened that first playoff game. I felt like I didn't spend enough time doing what God needed me to do to fulfill my role."
January, 21, 2014
Jan 21
12:56
PM ET
Adam Gase will not interview to be the
Cleveland Browns
' head coach.
Gase, the Broncos' offensive coordinator, withdrew Tuesday,
according to the Denver Post and ESPN's Adam Schefter
. Naturally soon after, the Browns put out the word they were moving on regardless.
So ... the purposefully methodical search marches on.
Gase was the first person the Browns sought permission to interview. They waited this long just to talk to him, but Gase evidently feels he's in too good a spot and wants to focus on the Super Bowl.
That leaves candidates like Buffalo defensive coordinator Mike Pettine, Seattle defensive coordinator Dan Quinn, former Tennessee coach Mike Munchak and Cowboys special teams coach Ron Bisaccia still available.
The names of Quinn and Pettine continue to circulate -- to the point that Pettine will be given a second interview. Bisaccia's name has hardly been mentioned since his interview on Saturday. Munchak has interviewed to be the Steelers offensive line coach, but his name also has not been mentioned often with the Browns since his interview. A surprise candidate is always a possibility, though the chances seem slim at this point.
Schefter indicated the Browns will also consider other coaches, which might imply a coach off the 49ers' staff.
Whatever happens, the impression from outside is the Browns have followed a wayward path to find their coach. They never got to interview Bill O'Brien, Josh McDaniels pulled out early, James Franklin stayed in college and Ken Whisenhunt chose to coach in Tennessee. Others interviewed and pulled out, or went elsewhere. Twitter jokes abound.
Fan unrest and national criticism got to such a point that owner Jimmy Haslam released a letter saying the team was being purposefully methodical and asked for patience, which of course the Browns did not give former coach Rob Chudzinski, who was fired after one season.
Now the team can turn to Pettine, wait on Quinn or find another coach.
Methodically marching.
Seems there's a Stephen Stills song in there somewhere.
January, 19, 2014
Jan 19
2:09
PM ET
Go away for a couple days so your daughter can knock a college interview into the top row of the bleachers and a lot happens.
We'll catch up on that stuff soon, but at this point it's worth going over the following information about the
Cleveland Browns
' coaching search:
Obviously what happens with Denver in the AFC Championship Game Sunday is key. If the Broncos win, the Browns have to decide if they want to wait two more weeks to see if offensive coordinator Adam Gase will interview. If the Broncos lose, the Browns can find out in a hurry what he'll do. There's a lot of thinking Gase, 35, will not take a head coaching job this offseason, but he may go through the interview. ESPN's Chris Mortensen reported Sunday that the Browns want to find out if they can get Gase to interview, so nothing seems certain.
Mortensen also dropped this interesting tidbit: The Browns want to find out if New England offensive coordinator Josh McDaniels has changed his mind about not leaving the Patriots. Clearly, McDaniels ranks high on the Browns' list, though there's no indication anywhere that he might reverse course to coach the Browns.
Bills defensive coordinator Mike Pettine must have been impressive. The Browns will give him a second interview this week, Mortensen said.
The Browns are interested in Seattle's Dan Quinn and ex-Titans coach Mike Munchak. Quinn's situation has to play out, but Munchak is coveted by the Steelers to be the team's offensive line coach.
It seems that the Browns are still sorting through things in the coaching search. A lot of names remain active and viable, and the Browns could make this wait last through the Super Bowl. But the news about
Davone Bess
' off-field issues -- amidst the reality that the Browns gave up draft picks for him and gave him a contract extension -- and the continuing negativity in Cleveland about a search that from the outside seems a little too slow and methodical can't help the team. The job is one of 32 in the NFL, but the front office has issues to overcome when selling it. In Cleveland, the majority thinking is not that the Browns are in a great spot being last to hire, but in a scrambling spot.
The Browns waited until the Super Bowl to hire Romeo Crennel. He led them to their only 10-win season since 1999, and to their last winning season. But he was fired one year after that 10-win season. Since, it's been nothing but struggles and drama -- including the last month, which started with the Browns firing a coach less than a year after hiring him. The end could be near this week -- or it could not be.
January, 17, 2014
Jan 17
10:30
AM ET
Our most recent poll on who you'd like to see the Browns hire as head coach drew twice as many voters as any of our previous polls.

More than 4,100 voted, and the statement made was clear and strong: The people want Jim Tressel.

Even if they're not going to get him.

Fifty percent of the vote went to Tressel even though the Browns have shown no interest in talking to the former Ohio State coach (unless they're doing it secretly).

For one person to garner 50 percent of the vote in a five-person vote is significant. It means Tressel had as many votes as the other four combined.

Methinks the fans are serious about this.

If it were an electoral college, Tressel would have run away with the vote: Only six states did not vote for him: Maine, Vermont, North Dakota, Montana, Nebraska and Alaska (?). Yes, the great state of Alaska, with its majestic mountains and gnarly grizzlies, cast its two votes for the man with the vest from the great state of Ohio, Jim Tressel.

What's equally as interesting is that none of the other four names listed garnered more than 15 percent of the vote.

Adam Gase, whom the Browns have waited patiently to interview, drew 15 percent, but didn't even win in Colorado, where he coaches a guy named Manning.

Auburn's Gus Malzahn received 14 percent, former Tennessee coach Mike Munchak 14 percent and Seattle defensive coordinator Dan Quinn just seven percent.

The poll was posted before Mike Pettine (Bills DC) and Rich Bisaccia (Cowboys special teams) interviewed, but it doesn't seem those two names would have chipped away at Tressel's 50 percent.

It's clear the man they call "the Vest" remains popular, liked and respected in the state of Ohio.
January, 16, 2014
Jan 16
9:00
AM ET
The
Cleveland Browns
defensive coordinator in 2013 was a Dick Lebeau disciple who loved the blitz.
The latest candidate to interview for the team's vacant coaching spot is a Rex Ryan disciple who loves the blitz.
Mike Pettine will interview with the Browns on Thursday.
He becomes the seventh coach to meet with Cleveland, the second defensive coordinator and the most recent unexpected interview. The Browns say they are being methodical about their search, but the perception from outside -- locally and nationally -- is more of a team that keeps casting into the water hoping to find a bite.
Pettine, 47, coached with Ryan in Baltimore and was the Jets defensive coordinator under Ryan for four years before he went to Buffalo last season. The Bills defense had a team-record 57 sacks, ranked 10th in total defense, and 20th in scoring defense (that compares to Ray Horton's defense, which had 40 sacks, ranked ninth in total defense and 23rd in scoring defense).
Pettine was one of the names on a list created by an NFL-created panel of former coaches and general managers to circulate to teams with vacancies. Defensive coordinators Dan Quinn of Seattle and Todd Bowles of Arizona are also on the list. Both were interviewed by the Browns, though Bowles withdrew from consideration.
The Browns are also waiting to interview Denver offensive coordinator Adam Gase after the season. No other word has broken on whether they'd talk to other coaches involved in this weekend's championship games -- like San Francisco offensive coordinator Greg Roman.
Owner Jimmy Haslam sent a letter to fans Wednesday saying the team was being methodical and asking for patience. He also said the team knew it would have to wait for teams in the playoffs to be eliminated before talking to their coaches.
There is growing belief in the league that Haslam is acting on the strong recommendation of
Peyton Manning
in waiting for Gase, 35. Manning and Haslam are friends from Tennessee.
The Lions admitted that Manning's unsolicited phone call and recommendation led them to give stronger consideration to hiring Jim Caldwell. If Manning did that with an owner he does not know, it's not unreasonable to believe he did it with an owner with whom he is close.
Gase has made it clear he will not interview as long as the Broncos are in the playoffs. The earliest he then could interview would be Monday. If the Broncos beat the Patriots and advance to the Super Bowl, the interview would wait at least two more weeks.
January, 14, 2014
Jan 14
4:33
PM ET
Some words from Freddie Mercury seem strangely appropriate at this point: Another one bites the dust.
Arizona Cardinals
defensive coordinator Todd Bowles informed the
Cleveland Browns
Tuesday that he was removing his name from consideration to be the team's head coach. Bowles interviewed Jan. 2, and simply did not want the job, according to a source close to Bowles.
The reason: The situation with the Browns is not perceived as a strong one, in part because of the team's constant flux and in part because Rob Chudzinski was fired after one season. The Browns insisted they could find a strong candidate -- and they still may -- but the perception is things are not going swimmingly.
Bowles had coached in Cleveland before, and he's a good coach. But he, like Josh McDaniels of New England, withdrew.
The team is being patient, and insists it is not flailing -- a picture painted by many.
But at this point, the team's coaching searches the past two years have hardly been smooth. Nick Saban and Chip Kelly turned the Browns down a year ago, and Kelly went to Philadelphia where he led the Eagles to the playoffs. The Browns were negotiating with Ken Whisenhunt a year ago when those talks fell apart; this offseason Whisenhunt interviewed with the Browns and Lions before taking the job with Tennessee. The Browns also could not lure McDaniels and now Bowles has withdrawn. Bob Stoops did not interview -- though it's not known if the Browns interest was serious in Stoops. Jim Tressel also has not been contacted. It all follows the decision to hire Rob Chudzinski, then fire him less than one year later.
The Browns still seem focused on Denver offensive coordinator Adam Gase, 35, the first person they requested permission to interview. He is expected to talk with the Browns once Denver is out of the playoffs, but with the Broncos in the Super Bowl that interview might wait three weeks. Also, Gase is not believed to be itching to get out of Denver, where he works with
Peyton Manning
and where his stature should only improve next season.
Other candidates interviewed include former Tennessee coach Mike Munchak, Green Bay quarterback coach Ben McAdoo and Seattle defensive coordinator Dan Quinn. [Update: McAdoo was hired to be the New York Giants offensive coordinator.] None of the remaining names have generated much buzz and excitement in Cleveland.
In a separate matter, the Browns have given former defensive coordinator Ray Horton permission to pursue other jobs. Normally a coach would have to take a promotion to leave, but the Browns have given permission for Horton to pursue any job. That information comes from ESPN Insider Adam Schefter.
Which of course means the team will have a new defensive coordinator, and most likely a new system, in 2014. Again.
When they hire a coach. Any coach.
Weeeee are the champions, my friend.
January, 14, 2014
Jan 14
9:01
AM ET
Another coach goes by the wayside for the
Cleveland Browns
.
It's impossible to know how seriously Ken Whisenhunt was considering the Browns or how serious a candidate he was in the team's eyes, but the bottom line is he accepted the
Tennessee Titans
job. The Browns either did not offer him the job, he did not take it or he didn't think it was worth waiting to see what happened.
A lot of signs seem to be pointing to the team badly wanting to talk to Denver offensive coordinator Adam Gase. They've interviewed several folks, are putting the word out they will be patient and Gase was the first person they requested permission to interview.
Gase has put off all interview decisions until Denver is out of the playoffs, and the Broncos play in the AFC Championship Game on Sunday. Even then, there's no certainty he'll interview. Gase's stock won't sink as long as he has
Peyton Manning
throwing passes.
Gase is 35 and has spent one year as a coordinator. His hiring is a risk, but at this point any hire would be a risk.
In the Browns coaching search Josh McDaniels has withdrawn from consideration and now Whisenhunt -- the most viable candidate with experience -- has chosen Tennessee. (The ripple effect from Whisenhunt's hiring could be that defensive coordinator Ray Horton joins him in Tennessee, although Whisenhunt could take another run at prying Keith Butler out of Pittsburgh.)
The Browns did interview Mike Munchak on Monday, and he is a take-charge kind of leader. But he had a mediocre record in Tennessee, and if the Browns choose to hire him they'd be hiring the guy Whisenhunt replaced.
Yes, the NFL world turns oddly sometimes.
Nobody has flat out turned the Browns down (that we know of). Gus Malzahn's name won't go away, Bob Stoops chose to stay at Oklahoma. Jim Tressel is sitting in Akron sounding like he'd love a chance.
Where does this leave the Browns as they search for a coach?
Same place they've been since the day the 2013 season ended: Looking.
January, 13, 2014
Jan 13
9:10
AM ET
The
Cleveland Browns
' coaching search goes on.
It's time for you to weigh in.
With the
Denver Broncos
advancing to the AFC Championship Game, the Browns have to decide if they want to wait one more week to interview offensive coordinator Adam Gase -- assuming he will. Gase was the first person the Browns asked to interview the day after Rob Chudzinski was let go, so it would seem logical that if they've waited this long they would wait one more week.

Or they can hire one of the people they've talked to already.
So far, the Browns' search has focused on these types of coaches, and we'd like to hear which you favor:
-- The young "it" coordinator, like Gase. Todd Bowles of Arizona and Dan Quinn of Seattle both fit this category as well.
-- The one experienced coach out there willing to consider the job: Former Cardinals coach Ken Whisenhunt.
-- College guys, like James Franklin (who chose to go to Penn State) and Gus Malzahn of Auburn, though it's not known that either has even interviewed.
-- The one category they haven't gone with is the former Ohio State coach, Jim Tressel. It appears more than unlikely the Browns will talk to Tressel, perhaps put off because he is 61 and he hasn't been coaching for two years.
We'll include the Tressel-type category in the poll anyway, because this is about the type of coach you want to hire, not picking from the guys who were interviewed.
Cast your ballot and we'll catch up with results as the week goes on.
January, 12, 2014
Jan 12
1:42
PM ET
Something should become clearer about the
Cleveland Browns
' coaching search today.
Whether that leads to a coach being hired in the short term is a complete unknown, though. Either Denver or San Diego will lose in the playoffs today when they play each other. That means Chargers offensive coordinator Ken Whisenhunt or Broncos offensive coordinator Adam Gase can be hired by another team.
Whether that team is the Browns remains to be seen. Running down the candidates:
Ken Whisenhunt
-- Clearly the leader in the clubhouse when résumé and fan opinion are taken into account. But he also is considered the runaway favorite to be hired in Detroit, where a talented team, including a quarterback, is in place. Many in the league feel once San Diego loses it's merely a matter of time for Whisenhunt to be hired by the Lions.
Adam Gase
-- At 35 he's the "it" candidate. But he's also been a coordinator for one year, and that was with
Peyton Manning
. Former Vice President Richard Cheney would probably be a good coordinator with Manning at quarterback. Gase has delayed interviews until after the playoffs, which is admirable. But a lot of word is leaking that Gase will think twice about interviewing with the Browns -- or anyone for that matter -- because he is in a good spot, and the fact his name is out now will help him gain a job in the future.
Ben McAdoo
-- The
Green Bay Packers
' quarterbacks coach has the benefit of
Aaron Rodgers
. The "Cheney Rule" above applies to Rodgers. McAdoo's name came from nowhere, much like Andy Reid's did in 1999 in Philadelphia. McAdoo was a virtual unknown when the Browns decided to interview him, and he remains that. It's interesting that the Browns would turn to a young up-and-coming coach after firing a guy they described the same way a year ago. Usually teams go the opposite.
Todd Bowles
-- Arizona's defensive coordinator interviewed early in the process and his name has hardly been mentioned since.
Dan Quinn
-- Seattle's defensive coordinator reportedly is a popular option, but he's now preparing for the NFC Championship Game and the Browns have to wait on him until the Seahawks are out of the playoffs.
Gus Malzahn
-- His name continues to flit about, even though he's happy at Auburn and he agreed to a contract extension in early December.
By the wayside
-- James Franklin was hired by Penn State and Josh McDaniels pulled his name from consideration.
At least the Browns, and their fans, will know something tonight. It may not take them any closer to hiring a coach, but they'll know something.