Cleveland Browns:

Ahtyba Rubin
February, 28, 2014
Feb 28
9:59
AM ET
The release of
D'Qwell Jackson
leads a wandering mind to wonder: What players will cost the
Cleveland Browns
the most money this season?
[+] Enlarge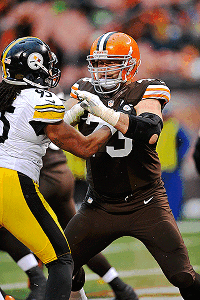 AP Photo/David RichardJoe Thomas' $10.9 million base salary is the highest among offensive linemen in the league.
Here they are, in terms of their cash cost, which equals base salary plus any bonuses.
LT Joe Thomas, $11.1 million (includes $200,000 workout bonus)

LB Paul Kruger, $7 million

CB Joe Haden, $6.878 million ($200,000 workout bonus)

DL Ahtyba Rubin, $6.8 million ($200,000 workout bonus)

QB Jason Campbell, $3.25 million ($325,000 roster bonus)

WR Davone Bess, $3.067 million

DL Desmond Bryant, $3.0 million

OG John Greco, $2.43 million ($1.7 million roster bonus)

DL Phil Taylor, $1.478 million ($728,625 roster bonus)

CB Buster Skrine, $1.389 million

TE Jordan Cameron, $1.389 million

OG Jason Pinkston, $1.389 million
A few thoughts:
Yes, Paul Kruger is indeed the second-highest paid player on the team.
Kruger's base salary is the fourth highest among linebackers in the league, behind only St. Louis'
James Laurinaitis
($10 million), Jacksonville's
Paul Posluszny
($7.45 million) and Pittsburgh's
LaMarr Woodley
($8 million).
Yes, Campbell ranks fifth on the Browns. And Bess sixth.
Sigh.
It will be shocking if either Campbell or Bess is with the team in 2014.
Four of the top seven highest paid were signed in the Joe Banner-Mike Lombardi era: Kruger, Bess, Campbell and Bryant.
Greco's $1.7 million roster bonus is due the fifth day of the league year, which would be March 16.
Thomas has the highest base salary ($10.9 million) among the league's offensive linemen, and his cash cost for 2014 ranks second among linemen to Philadelphia's Jason Peters' $12 million. The contract extension Thomas signed in 2011 included $29.5 million in guaranteed money.
ProFootballTalk.com reported that Rubin could be on the cut list due to his salary. We'll see.
Here are the 10 most expensive Browns as they fall under the salary cap, with prorated signing bonuses included in the calculations:
Thomas, $12.3 million

Haden, $8.9 million

Kruger, $8.2 million

Rubin, $8.175 million

Bryant, $4 million

LB Barkevious Mingo, $3.715 million

Taylor, $2.575 million

Grego, $2.43 million

QB Brandon Weeden, $2.204 million

Campbell, $3.25 million
January, 28, 2014
Jan 28
3:00
PM ET
2014 Free agents:
None
The good:
The Browns have the makings of a serviceable 3-4 line -- provided Mike Pettine and Jim O'Neil do not change the system. Phil Taylor showed he can be disruptive, and
Ahtyba Rubin
continues to give full effort on every play. There is depth here too, which is always needed with a three-man line (assuming it does not change).
The bad:
Taylor needs to be in better shape so he can be disruptive on every play. He has
Casey Hampton
-like potential but was often taken off the field. No 3-4 lineman can play every play, but Taylor could play more than
the 47.4 percent he played in 2013.
The money:
Desmond Bryant
's $8.175 million salary cap figure might make some teams shudder, but on a team with $40 million in cap space his cost can be carried -- provided the Browns believe he will produce.
Draft priority:
It's rare that a 3-4 lineman makes a huge impact given the requirement to play two gaps. But players like Pittsburgh's
Brett Keisel
and Hampton are out there to be had. Any competition via depth that is added at this position is welcome.
Previous positions:
Quarterback
,
running back
,
receivers
,
tight end
,
offensive tackle
,
guard and center.
December, 27, 2013
12/27/13
3:42
PM ET
As the season winds down, it seems a good time to provide some facts about the
Cleveland Browns
' salary cap situation.
-- The Browns used $113.5 million of this season's salary cap.
-- Which means $24 million went unused.

-- The team used $4.17 million of its cap space on quarterbacks, 4.34 percent of the total cap and 59.34 percent below the league average.
-- No running back used more than $775,000 of the cap -- and that was
Chris Ogbonnaya
.
-- The receiver who cost the most under the cap was
Davone Bess
, $2.68 million; he's ninth on the team in cap space.
--
Gary Barnidge
used the most salary cap space among tight ends, $1.4 million.
-- While the Browns were 70.6 percent below the league average in cap spending at running back and 51.1 percent below the league average at wide receiver, they were 25.8 percent above the average on the offensive line.
-- That's partly because they have 11 linemen under contract, and because
Joe Thomas
costs $11.4 million under the cap.
-- The total cap space used for the offense: $39.03 million, 28 percent below the league average.
-- Defensively, the four top players under the cap are
Joe Haden
at $9.09 million,
Paul Kruger
at $8.2 million,
Ahtyba Rubin
at $7.474 million and
Desmond Bryant
at $7.5 million.
-- Signing bonuses have a lot to do with some of those figures. Bryant was given $5 million and Kruger $6 million to sign their contracts.
--
Barkevious Mingo
's salary cap figure is $2.97 million, more than
Jabaal Sheard
,
Phil Taylor
and
T.J. Ward
.
-- The Browns are using more than the league average at every position but safety.
-- Total spending on the defense under the salary cap: $54.825 million, nine percent above the league average.
-- Heading into 2014, the Browns have $95.7 million in cap space committed to players, which means they have $40 million in cap space to use on roster bonuses, draft picks, free agents and restructured deals.
-- The biggest candidates for new deals this offseason: Haden and receiver
Josh Gordon
. The biggest roster bonuses due players: $4 million to
D'Qwell Jackson
, $1.7 million to
John Greco
.
November, 25, 2013
11/25/13
4:38
PM ET
There were some oddities in the way the
Cleveland Browns
defended the
Pittsburgh Steelers
on Sunday.
Defensive coordinator Ray Horton changed things, often using two linemen and two outside linebackers to provide pressure. He rarely called blitzes; as a result the Browns rarely got pressure.
It's the third time season Horton dialed back the aggressiveness -- the same happened against the
Detroit Lions
and the
Green Bay Packers
.
The common denominators?
Matt Stafford,
Aaron Rodgers
and
Ben Roethlisberger
-- the guys at quarterback.
When the Browns have faced an experienced and talented quarterback, they dial back the pressure. There's two ways to look at this of course. Pressuring an experienced guy only gives that guy more room to throw. The flip side is pressuring him disrupts the passing game, which is what Horton and the Browns tried to do with the less talented guys.
Defensive lineman
Desmond Bryant
said after the game the Browns did not blitz as much, and added: "Ray makes the calls and I do my job."
The Browns' thinking revolved around the Steelers getting rid of the ball quickly. Roethlisberger worked a lot from the shotgun, threw several quick screens to receivers and held the ball less than he got rid of it.
That puts the onus on the secondary and linebackers to disrupt routes, and to make tackles to prevent yards after catch.
Neither happened Sunday, at least not well.
The end result of using two down linemen meant somebody would not have as much playing time. That fell on Phil Taylor, who was on the field for just 25 of the 69 defensive snaps. The majority of the play went to Bryant (44 plays) and
Ahtyba Rubin
(39 plays). Taylor's plays were the third highest among linemen.
Which, combined with the bad losses the past two weeks, may have contributed to Taylor's silence the past two days.
Sunday he said he was "not answering any questions" before he left the locker room.
Monday, Taylor walked to his locker, grabbed some items and strolled right past a waiting group of reporters.
It should be said out of fairness to Taylor that he's been one of the more cooperative and accessible players for the Browns this season.
"I'm sure," said linebacker
D'Qwell Jackson
, "a lot of guys are frustrated."
November, 22, 2013
11/22/13
3:22
PM ET
The
Cleveland Browns
were doing some chattering today in the locker room.
The subject: The
Pittsburgh Steelers
.
The feelings: Not exactly great.
Ahtyba Rubin
said a lot of people in the locker room hate Pittsburgh, and
Willis McGahee
said he expects the game will be nasty.
"Hate is a strong word," defensive tackle
Phil Taylor
said. "But I really do dislike them."
Rubin went further.
"They're playing dirty," Rubin said. "We're playing dirty. It's just that type of game."
The Steelers and Browns have a long history of nastiness. Several years ago, punter
Chris Gardocki
took on the Steelers bench after what he thought was a cheap shot after a punt from
Joey Porter
.
James Harrison
changed the NFL's rules for concussion protocols for his late and cheap hit on
Colt McCoy
.
Even in a meaningless 24-10 Pittsburgh win to end the 2012 season, there were hijinks.
First Pittsburgh's Steve Legursky gave Browns linebacker
Craig Robertson
a late hit to the knees.
Later in the game, Browns defensive tackle
Phil Taylor
shoved Steelers tackle
Kelvin Beachum
from behind well behind the play; Beachum's head hit the frozen ground and he left with a concussion.
"I was just playing through the whistle," Taylor said.
Pittsburgh disagreed in the strongest terms, and the league fined Taylor for the hit.
In some ways the Browns words sound a little hollow. The Steelers have dominated the Browns since 1999, and the Browns have yet to prove consistently they are at Pittsburgh's level.
Talk means little when a team is flailing.
But the Browns and Steelers usually produce some gnarly football.
With something at stake, Sunday should be no different.