Cleveland Browns:

Aqib Talib
December, 11, 2013
12/11/13
4:04
PM ET
The one illogical fact that continues to follow
Josh Gordon
as he has huge game after huge game is this: Teams continue to cover him man-to-man.
Gordon admitted Wednesday that New England basically assigned
Aqib Talib
to him.
And Talib, as is his wont, did a lot of yapping during the game. The result: Gordon had the best game by a receiver against New England this season.
"He definitely talked a lot like I expected him to," Gordon said. "We exchanged some words, but you know I think the plays spoke for themselves a lot more."
Gordon finished with seven catches for 151 yards and an eye-popping 80-yard touchdown. But he talked about it as if he had just cleaned his glass table.
"Because I feel as though there's a lot more to come out of it I haven't gotten yet," Gordon said. "I haven't reached where I'm trying to go and I try to stay humble and that's really just my personality through and through."
It seemed as if Gordon meant it when he said he hadn't thought about the four-game NFL record of 744 receiving yards. In interviews, he's accessible, polite, cordial, not expansive but honest.
Asked if he's playing as well as any receiver now, he said: "I hope I am."
Gordon has caught the attention of other players, one of whom is
Brandon Marshall
of the Bears. Marshall has dealt with borderline personality disorder in his life, and has dedicated himself to helping others deal with mental health issues.
He said seeing that Gordon "gets it" after his problems in college (he went to three schools and failed two drug tests) is what is most impressive.
"We all know that what you do off the field affects you on," Marshall said. "So if he can continue to grow as a man and as a teammate, the sky is the limit for this kid."
If a guy who leads the league in receiving yards (1,400) and average yards per game (127.3) hasn't hit his limit yet, it's a tad scary. Yet Gordon is 22, and he probably will improve.
Talib does not have his reputation for nothing. He held
Demaryius Thomas
to four catches, Saints tight end
Jimmy Graham
to none.
But Gordon was the clear winner Sunday. Besides the catches, yards and touchdown, Gordon forced Talib into three penalties (one was declined).
"It didn't work too good for them," Gordon said of the decision to go man.
The marvel is teams have yet to double-team Gordon, to flat out say: We are not going to let this beat us one-on-one.
When will it happen?
"Hopefully no time this season," Gordon said.
"I don't know man," cornerback
Joe Haden
said. "They gotta ... I don't know ... they gotta start doing something."
December, 10, 2013
12/10/13
11:17
AM ET
Numbers simply do not do enough to measure the impact and achievement of Cleveland Browns wide receiver
Josh Gordon
the past month.
Which is significant because the numbers for Gordon are off the charts.
In the past four games, he has 36 receptions for 774 yards and five touchdowns. He also has averaged 21.5 yards per catch.
This is a season's work for some receivers.
[+] Enlarge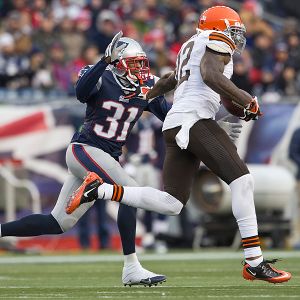 Matthew J. Lee/The Boston Globe via Getty ImagesJosh Gordon has put up big numbers against even top corners like Aqib Talib.
Gordon did it in four games.
And he's doing it in eye-popping ways.
To put in perspective what he achieved, consider that
Aqib Talib
has the reputation as one of the league's more physical corners. He beats people up, something New England Patriots head coach Bill Belichick loves, and Talib uses his size and strength to run receivers off routes and disrupt the timing of plays. Denver's
Demaryius Thomas
managed just four receptions and 41 yards against Talib.
But Talib didn't have a chance against Gordon. The numbers from ESPN Stats & Information show that Gordon had the best overall receiving day against the Patriots this season. His 151 yards were the most given up by New England this season.
His 21.6 yards-per-catch average was also the best by anyone who had at least three catches against the Patriots. (For perspective, consider that the guy ahead of Gordon with 24.5 yards is the Browns'
Gary Barnidge
, who had a 40-yard touchdown catch thanks to the fact, in part, that Talib was penalized for dragging Gordon to the ground after Gordon ran right through him.)
Gordon's 90 yards after the catch are also the most New England gave up.
As was his 80-yard touchdown pass.
Gordon ran 40 routes, was targeted nine times and caught seven for 151 yards and a touchdown.
He didn't drop a single pass, accounted for four first downs (including a vital one on third-and-17 on the Browns' last touchdown drive).
On the flip side, Talib did not have a single pass breakup.
The point isn't to disparage Talib, whom the Browns would love to have. The point is that Gordon is playing so well that he makes one of the league's most physical corners struggle.
Gordon's touchdown illustrates it. The Browns had noticed that the Patriots were stacking the box and bringing extra pressure, so they called a slant to go against that defense. New England helped by going cover zero, which means taking both safeties out of pass protection.
Gordon got a clean break at the line -- something that isn't easy to do against Talib. He got a clean break on the slant, but when he caught Jason Campbell's perfectly thrown ball, Talib was behind Gordon with the angle to tackle him.
At that point it's like Gordon is Chuck Yeager in "The Right Stuff," flicking the switch to Mach 1 -- he just jets past guys. He raced away from Talib when Talib had the angle. Against Jacksonville, he leaped for a pass, landed, turned and ran away from two defenders. Against New England, he went Mach 2 to run away from Talib.
Since the day Gordon was drafted there has been discussion about his immense potential.
Unrealized potential, though, gets coaches fired.
Gordon has emerged this season in a way beyond even his biggest supporters envisioned. He is a player with immense talent and a rare combination of skills. If he stays on the right path and remains dedicated in the right ways there's no telling the numbers he can produce. It's not overstating it to say these past four games have shown the emergence of a superstar.
And ... he's 22.